Aldeburgh. This may be a new destination to many of you as this beautiful town on Suffolk's long and picturesque coastline is somewhat of a hidden gem. But if you're looking for a weekend break with long pebble beach, delicious seafood, intriguing landmarks, and a distinctive time-warped charm then Aldeburgh may be the place for you!
Aldeburgh and its surrounding attractions are perfect for both families and couples hoping for a mixture of adventure, relaxation, and indulgence from their weekend escape. Whether you find this in the pretty coastal scenery and surrounding landscapes, the hypnotic sounds of the sea, or the fantastic range of boutique shops that line the Aldeburgh streets; you're sure to be charmed by this gem on the Suffolk coast.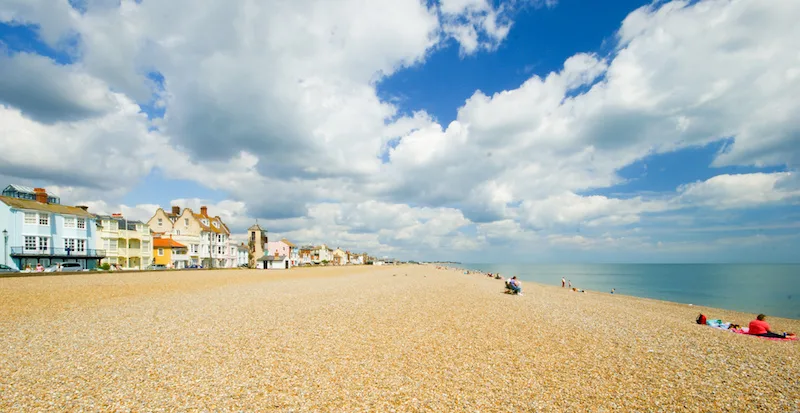 How to get to Aldeburgh
Whenever possible, I'd recommend driving to Aldeburgh. If you have your own car you'll have more flexibility to explore once you arrive.
If you don't have a car available then it's really easy to get to Aldeburgh by train. You'll get the train to Saxmundham and then take another train from there. Check out Greater Anglia for more details about the local trains. Book your ticket to Saxmunham as far in advance as possible for the best fares.
Where to stay
You can't go wrong with a holiday cottage for your weekend in Aldeburgh. You'll have the space for everyone to spread out and relax and the option to cook for yourself if you'd like. Check out Suffolk Secrets for some gorgeous options, whether you're looking for something cosy and quaint or spacious and modern. I've got my eye on this one called Shoreline which is right on the beach and has a lovely area to eat dinner or enjoy a glass of wine while looking out to sea!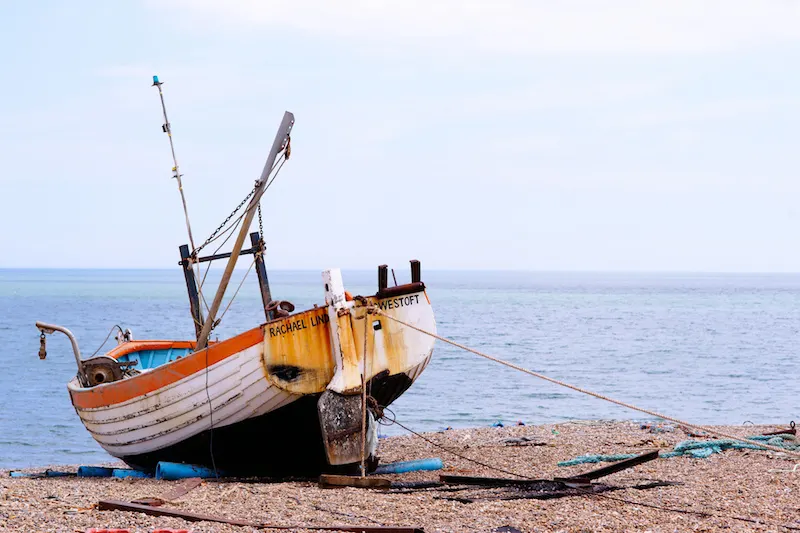 Top 10 things to do in Aldeburgh
Pay a visit to the Red House
One of the most famous aspects of Aldeburgh's history is the iconic Suffolk composer, Benjamin Britten. The Red House was once the home and studio of Britten and today it is open to the public, showcasing where musical magic came to life. A gallery, library, and pretty gardens can also be explored during a visit to the house.
Celebrate the life of Britten at the Aldeburgh Festival
A festival celebrating music and arts, primarily classical, and founded by Benjamin Britten in 1948. The Aldeburgh Festival is the most popular event in the town's annual calendar. It's hosted in June and feels like a celebration of Britten's achievements, and there's no better way to experience this than by catching a performance of one of Britten's works.
Walk the Sailor's Path
Offering the perfect morning walk on a countryside trail between Aldeburgh and Snape, the Sailor's Path is a hotspot for birdlife. Of the various species on display, the headline acts are the oystercatchers with their distinctive orange beaks.
Catch a concert at Snape Maltings
If you won't be in Aldeburgh for the festival then make sure you check out the concert hall stages at Snape Maltings as there's lots going on throughout the year. Several musical triumphs are showcased, from opera to contemporary performances. Check out the listings before you set off for your weekend away.
Check out Martello Tower
Located at the southern end of Aldeburgh's beach, Martello Tower was built in the early 1800s as part of a defensive expanse against an invasion by Napoleon. The tower is an interesting landmark to visit, and looks rather imposing sat along the beachfront.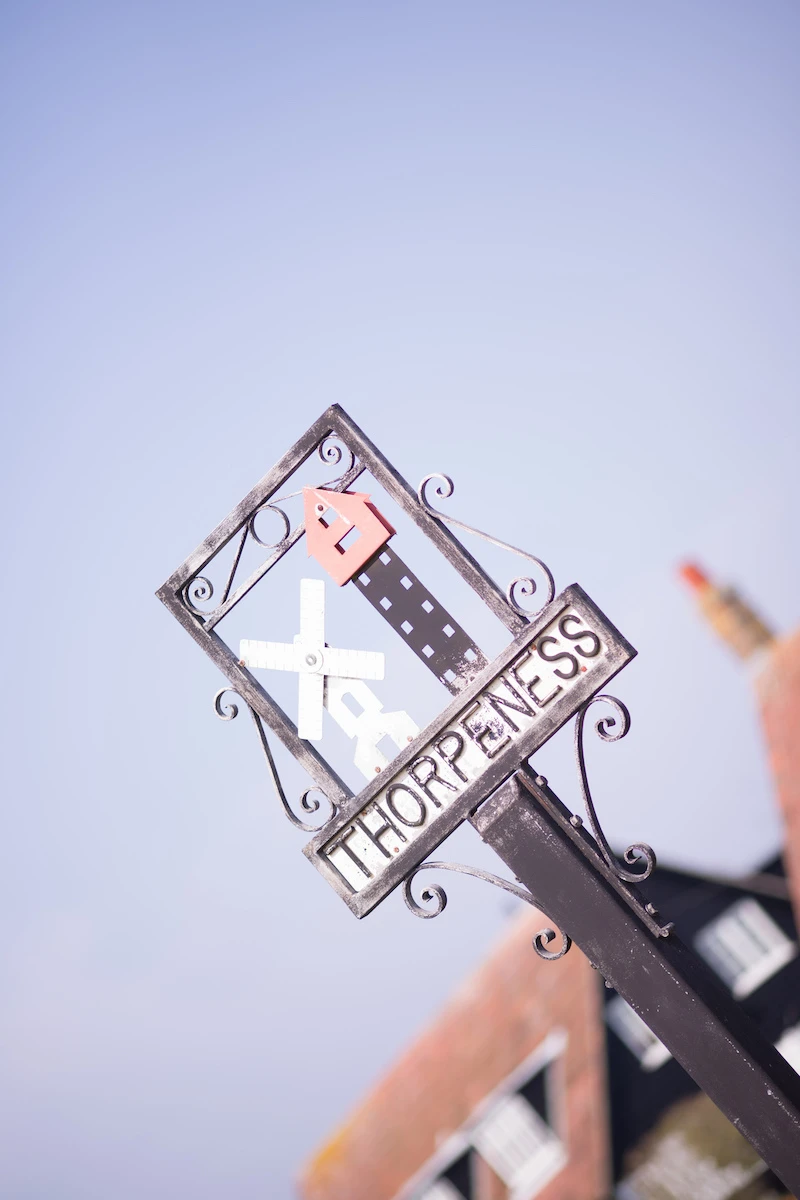 Relax on the beach
This goes without saying, especially in the summer when the temperatures rise and the beachfront is bustling. Grab yourself a deck chair, an ice cream and a good book and enjoy a good old fashioned beach holiday. Whether you want to admire the historic buildings on the beachfront or just lay back and relax to the sounds of the waves; Aldeburgh's beach is an undeniable draw during a weekend visit.
Decide if you love or loath The Scallop
Dividing locals and tourists alike since its unveiling in 2003; this stainless-steel sculpture is dedicated to Benjamin Britten and set on the beach that he loved to walk along. Some find the sculpture to be a bit of an eyesore, though others find it quite visually striking, yet pleasing. See what you think! – If you don't like it, there's a perfectly good sea to admire just behind it.
Shop till you drop at Aldeburgh's independent shops
Aldeburgh has a surprisingly good shopping scene for such a small town. In addition to a number of high street favourites such as Crew Clothing and Fat Face, there are also a several great independent shops on the streets of Aldeburgh too. You'll find clothing, crafts, and plenty of local produce to take back home with you.
Visit Thorpeness
Thorpeness is a great place to spend the afternoon. It's a pretty village located two miles to the north of Aldeburgh, and best reached via a scenic country path walk. As well as boasting another appealing stretch of beach, the village is home to a family-friendly boating lake called The Meare. Here you can hire out a boat and go exploring on the water, darting between little islands and keeping an eye out for birdlife.
Head out on the Eastbridge Pub and Dog Walk
You don't have to have a dog and be a lover of pubs to enjoy this walk (though it may help), with many embarking on this famous local trail with the aim of absorbing some of Suffolk's most beautiful countryside. Kicking off at the Eels Foot pub in the hamlet of Eastbridge, the walk features numerous landscapes, including meadows, forest, and beach.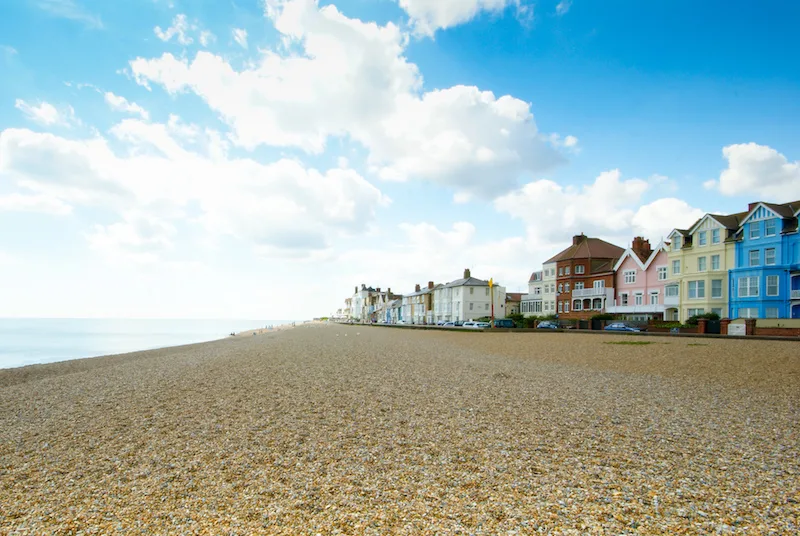 Off the beaten track
Aldeburgh and its surroundings, shrouded in an artistic and culturally-rich vibe, are home to many secrets and surprises throughout the year. From the quirky and charismatic to the historic and cultural, whether you've come as a couple, a family, or a group of friends, it's easy to delve into the layers of Aldeburgh's identity.
For a touch of charm and history all in one, catch a film at the Aldeburgh Cinema. The cinema in itself has a rich history, having screened films since 1919 and previously been co-run by Benjamin Britten himself. Much of the cinema's original design has been retained, such as the beautiful art deco lights in the auditorium.
More family fun can be found in the form of the Aldeburgh Treasure Trail, presenting a unique way for the entire family to discover the local area, and maybe a pot of gold or two if you're lucky (figuratively speaking unfortunately). This 'treasure hunt' is full of clues and information that will lead you around the town and introduce you to some of its primary attractions or hidden secrets, creating a fun and interactive way for the little ones to enjoy exploring a new place!
Where to eat and drink
Seafood predictably takes centre stage when it comes to the culinary scene in and around Aldeburgh, with fresh seafood available in abundance. But it isn't all cod this and sea bass that, in fact, you may be surprised at the diversity and the quality of Aldeburgh's flavoursome offerings.
For the sake of tradition, you can't turn down the classic. Fish and chips is taken seriously in these parts, and for many, those served up at the Aldeburgh Fish and Chips Shop are among the best in the UK. Providing the perfect lunchtime snack or warming beachside supper since 1967, you can decide for yourself if these are the best fish and chips that have passed your lips.
Located in Snape Maltings, you can enjoy some fine food alongside your arts and culture by paying a visit to Café 1885. Overlooking the House & Garden, the café offers some great local produce across its all-day brunch and lunch menu, which changes every month to coincide with the local Farmers' Market.
If it's a traditional pub lunch or dinner you're after, you can't look beyond The White Hart. Here you can enjoy a range of British pub meals, but The White Hart is perhaps most famous during the summer when it opens a wood-fired pizza oven in its beer garden – perfectly wash downed with a pint of local Adnam's ale.
Speaking of Adnam's ale, the iconic Suffolk brewer is best enjoyed at The Mill Inn, one of the brewery's pubs, which is also another great place to head for a pub meal. The drinks continue to flow at DP's Bar with its art deco décor and regular live music. The bar's wide selection of beers, wines and spirits go hand in hand with some of the best Thai food in Suffolk. For a warming drink when the sea air is a little chilly, most locals head to Cragg Sister's Tearoom. Here you can get your mitts around a seemingly endless array of teas, and if you're feeling extra cheeky, you can treat yourself to a filling cream tea – a UK break wouldn't be the same without one!
[one_half]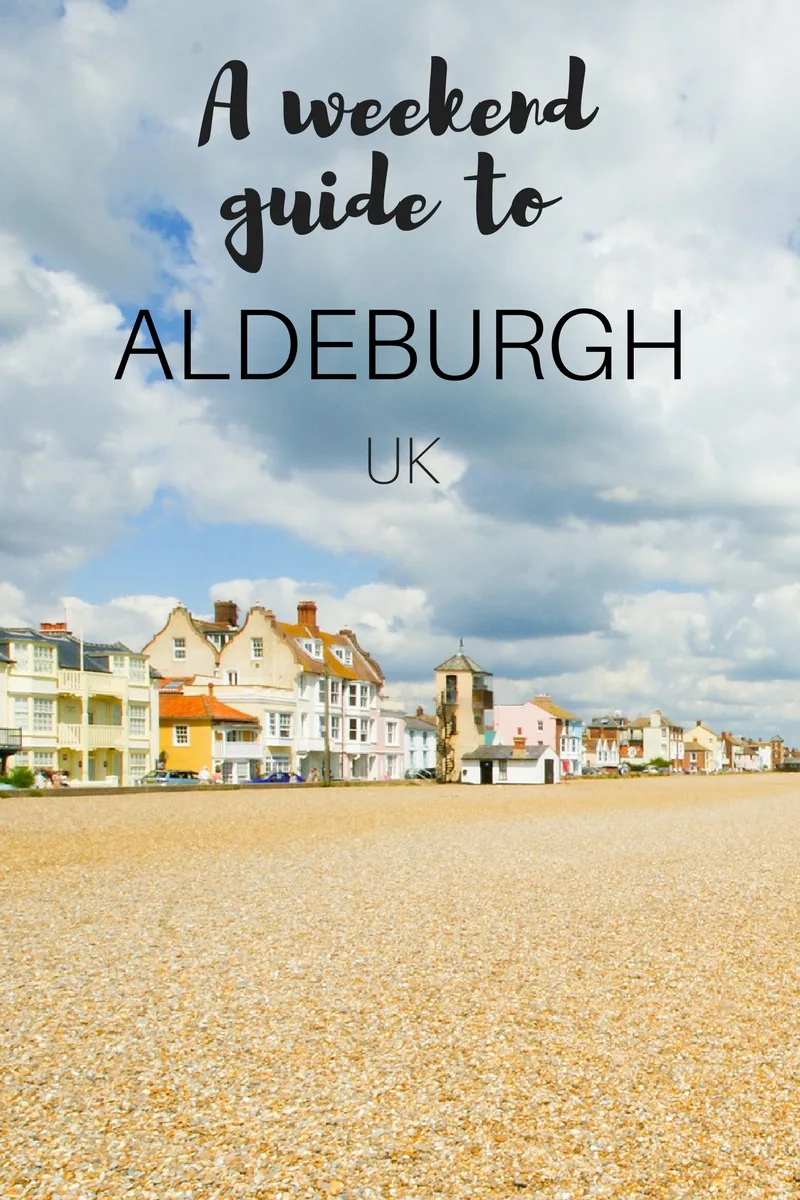 [/one_half]