I've walked up Snowdon quite a few times now. I'm very lucky to live less than an hour and a half from Pen-y-Pass, which is a popular spot to begin a walk up Snowdon. I've done it in the rain, in the snow, in the blazing sunshine and, more often than not, in the chilly Welsh drizzle!
I've also climbed up Snowdon at sunrise once before – something I 100% recommend as you get to the summit at the most beautiful time of day and it's less likely to be shrouded in cloud.
There are countless guides out there with advice about climbing Snowdon but today I'd like to share some tips on what to wear to climb Snowdon.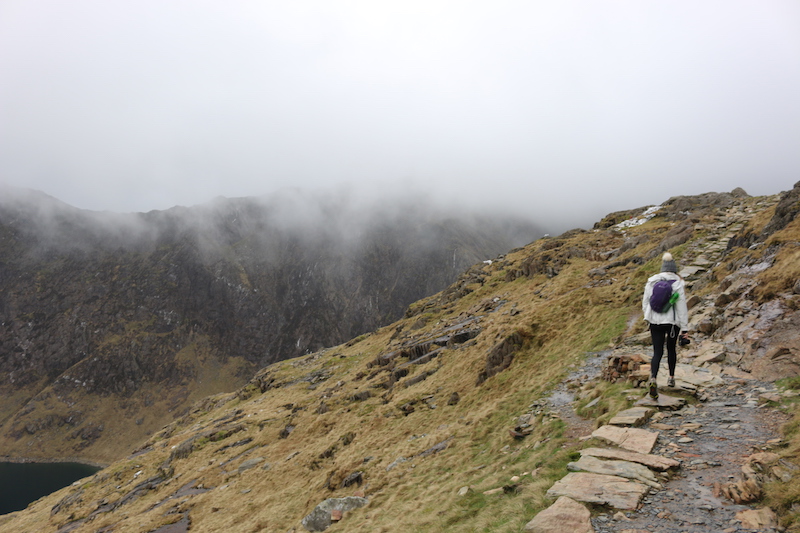 When you're deciding what to wear to climb Snowdon you could be a little confused by the advice and photos you'll see online.
I've seen some people walk up in Converse trainers, jeans and a jumper with nothing more than a bottle of water in their back pocket. I've seen other people hike up in the fanciest walking boots with enormous backpacks filled with all the latest survival gear and hi-tech clothing!
The season you're hiking will make a big difference to what you wear to climb Snowdon – but I do not recommend hiking up in the depths of winter. There may be snow and ice near the top and this is when you need the specialist equipment which is a whole different ball game!
Today I'm not talking about specialist equipment of climbing Snowdon when it's snowing.
I'd recommend hiking up Snowdon in the summer (or the shoulder seasons either side of summer) and opting for clothing and equipment that's somewhere in the middle of the two extremes I mentioned above.
You're not exactly hiking Everest so you don't need anything majorly specialised, but this is more than a stroll around the park so you do need to be prepared.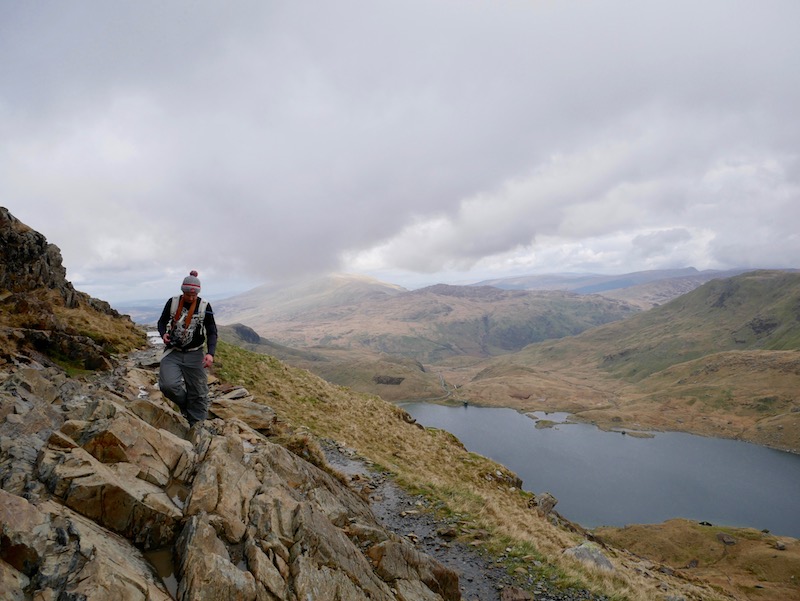 The hike up Snowdon is challenging but it's something most people will be able to do. You see people of all ages up there and, last time, I even met a little girl who was 5 and her grandma who was 72. It looked like they were having plenty of tea and snack stops along the way but they're definitely proof that most people can do it if you take your time.
Here's what I recommend you wear to walk up Snowdon…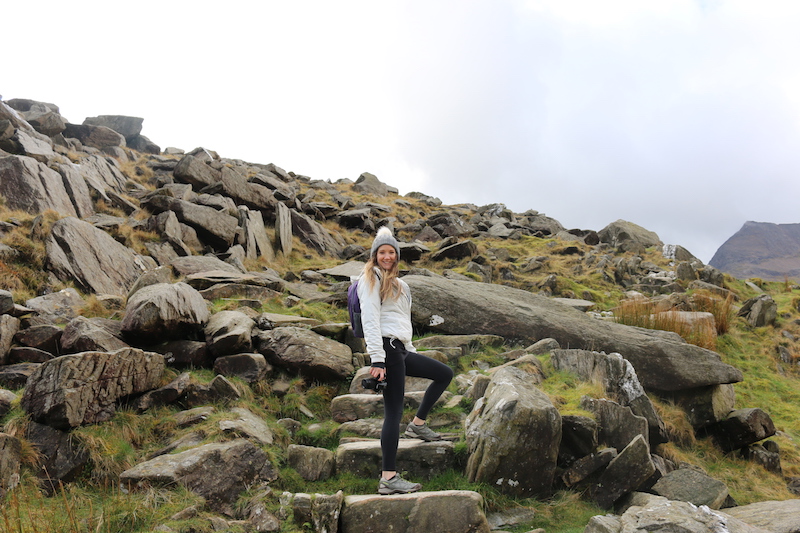 Shoes
If there's only one piece of 'proper' equipment you wear when you walk up Snowdon, make sure it's a decent pair of shoes. You don't want to get a blister half way up as that's going to totally ruin your hike.
Personally, I'm not a big fan of hefty hiking boots as I often find them to be too heavy. If you have ankle or knee problems you might benefit from the extra support and stability of an ankle boot but I personally don't.
I like to feel lightweight and bouncy on my feet so I prefer sports style walking shoes such as the Merrell Sport Siren Q2's. These are almost like trainers with really good grips. They're comfy and lightweight but give you the grippy support you need for those steep and slippy surfaces.
Something like the Keen Targee III is very similar which they have in both an ankle boot and a shoe.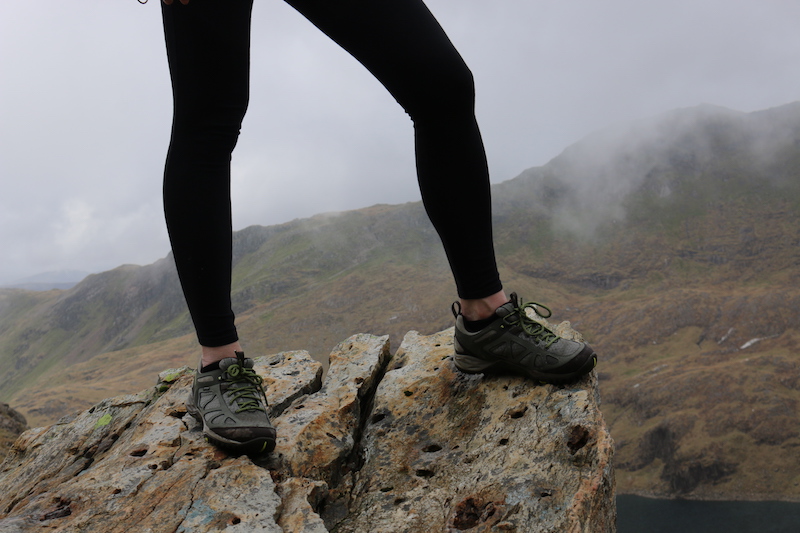 Clothing
Starting from the bottom up seen as we've already covered shoes…
Socks – My husband, Sam, swears by good quality walking socks and pays a small fortune for them. I'll admit that I've actually never had a pair of really fancy walking socks! I've always hiked in normal trainer socks and I've been fine but maybe one day I'll invest in some and I'll be converted too!
On your legs – I'd recommend wearing sports leggings to hike up Snowdon. They're comfortable and flexible and if you've ever been to a gym you probably have a pair already. If it's hot then any kind of shorts will do. I just wore normal cotton leggings last time I did the hike and they were fine but lycra ones would have been warmer and better when it rained.
Base layers on top – Start with a normal vest and then add a thermal style long sleeve top.
I like the thermal base layers from M&S because they're great quality but much cheaper than the outdoor brands. Then take a sweatshirt for on top of this but keep in mind that you'll probably take this off pretty quickly and it will be stuffed in your backpack or tied around your waist. I usually wear my sweatshirt at the bottom of Snowdon when I'm first warming up and then again at the top when we stop for a rest.
A waterproof jacket – This is an absolute must! Take a thin, lightweight waterproof with a hood. In these photos I'm wearing a North Face jacket.
It wasn't the cheapest but I've had this jacket for about 10 years now and it's still doing well!
Waterproof trousers – I know they're ugly but you'll thank me when it starts raining. I prefer the waterproof trousers you wear on top of your leggings or shorts so you can slip them on and off if you need them.
Hat and gloves – Any hat and gloves will do unless you're walking in the winter when I'd recommend wearing ski gloves
A SMALL backpack – You don't need to pack a lot to hike up Snowdon. Most people are up and down in less than 5 hours so leave the kitchen sink at home!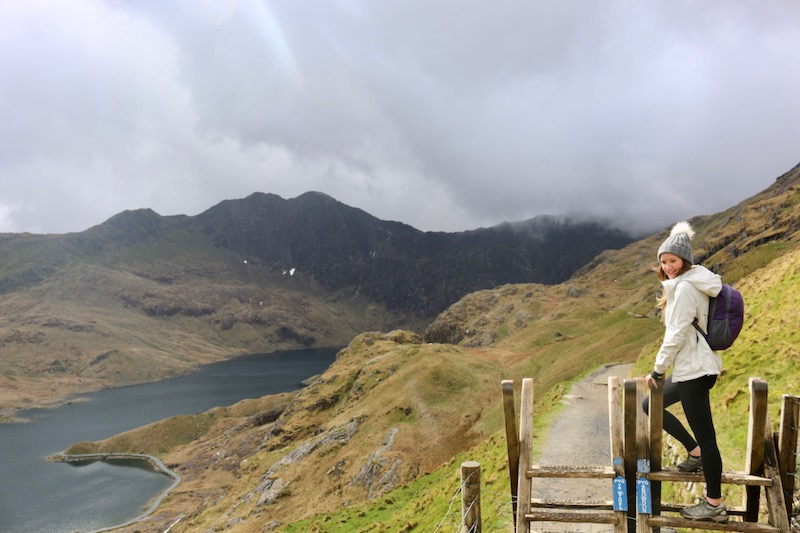 What to pack in your backpack
About 1 litre of water
Suncream
Blister plasters
Snacks – Include a few high energy options in case the walk takes longer than you think and you get really tired. Personal favourites include bananas, cereal bars and jaffa cakes.
Packed lunch – an optional one. I like to stop at a café for a big breakfast on the way to Snowdon and stop again at the pub on the way home for some hearty pub grub!
Camera
Phone
Ibuprofen – You may find you need some painkillers for the way down. This is when my knees start to hurt.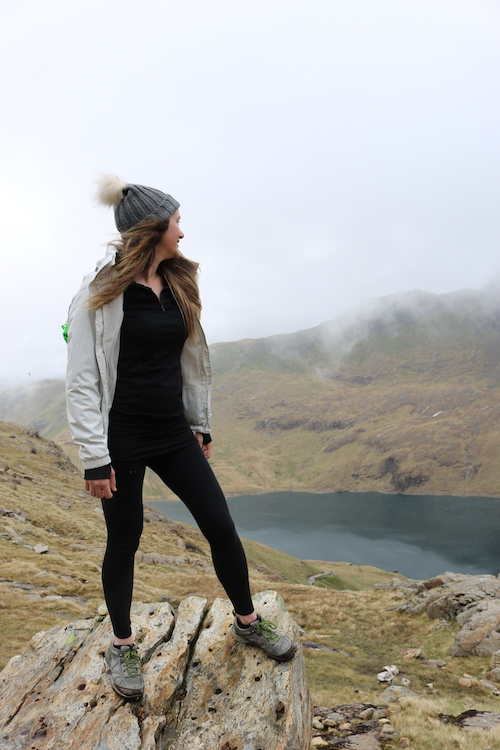 Other tips for walking up Snowdon
Take a thermos for tea or coffee and leave it in the car. There are cafes around but you might want a hot cuppa as soon as you get back. The café at Pen-y-Pass closes early so it might be closed by the time you get down. I wouldn't bother taking a thermos in your backpack as it's unnecessary extra weight to carry.
Don't wear mascara – either the sweat, drizzle or rain will wipe it all off. You always see girls walking back down the mountain with mascara smeared across their cheeks.
If you're not much of a hiker then wait for good weather and go in the summer. I love hiking in all weather but hiking up Snowdon is much more enjoyable when it's sunny.
It gets busy – really busy! Between about 11am-3pm the tracks are crowded and in the places where only one person can pass at a time you'll need to constantly wait to allow people to pass. I definitely recommend an early morning hike!
Leave little dogs at home – unless you're happy to carry them. Towards the end of the hike there are lots of steep sections and rocks you need to climb up. Bigger dogs can usually jump these but little dogs struggle and you always see them being carried. Little, lightweight dogs seem OK being carried but my little chunk of a pup is too heavy.
If you're going to be camping in the area, I recommend staying at Llyn Gwynant Campsite. It's lovely and very close to Pen-y-Pass carpark. It's next to the lake, has gorgeous views, allows campfires AND has a pizza oven food truck!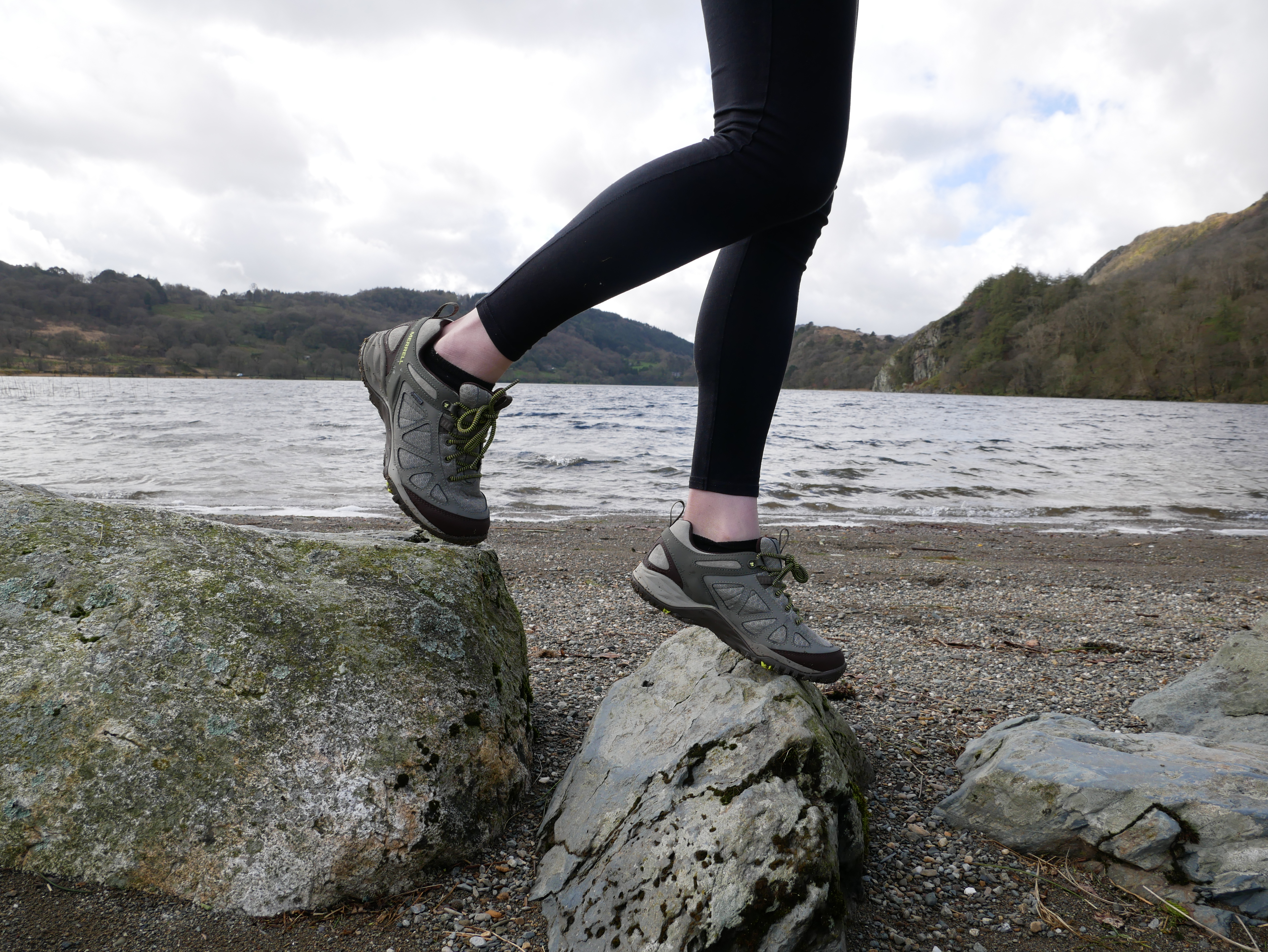 Photo taken at Llyn Gwynant
Pen-y-Pass carpark gets full very quickly and if you don't get a space in there you may need to park quite a long way away or on the road. DO NOT park in an area where you're not meant to because they do give out parking fines. I've seen a row of about 50 cars before, all with parking fines slapped on their windscreens. This isn't a huge issue but when you're tired on the way back it's torture walking past the car park while you walk another mile to get to your car. Once again, go early to get a space!
After your hike, stop for a pint at Pen-Y-Gwryd Hotel. It's a real old fashioned pub and filled with history because it's where Hillary and Tenzing stayed when they were training to climb Everest in 1953.
FAQs about what to wear to climb Snowdon
Can you wear trainers to climb Snowdon?
I'll be honest here. The expert climbers out there will tell you that climbing Snowdon in trainers is a big no no, but I honestly don't see why you can't. If you're walking up Snowdon when the weather is nice then I think you'd be fine in a comfortable pair of trainers with a good grip.
You'll need to tie the laces to make sure your feet are secure. If your trainers are loose there's more chance you'll slip, fall over or they'll rub your feet and give you blisters.
Choose trainers with a good grip and don't wear brand new trainers. I'd wear them in first to make sure they don't give you blisters.
How long does it take to walk up Snowdon?
If you're relatively fit and you're leaving from Pen-y-Pass car park then you should be up and down in about 5 hours.
Some people will sprint up and down and some people will spend all day.
I always aim to get to the top as quickly as possible and then take my time coming back down. If you hike up slowly and then you get cold, tired and hungry it's going to feel like a long walk down.
What's the best time to hike up Snowdon?
It gets very busy so I'd aim to leave as early as you can. If you can start hiking at 7.30am then that's absolutely ideal. You'll also be down in time for a big lunch!
Pin this and save it for later!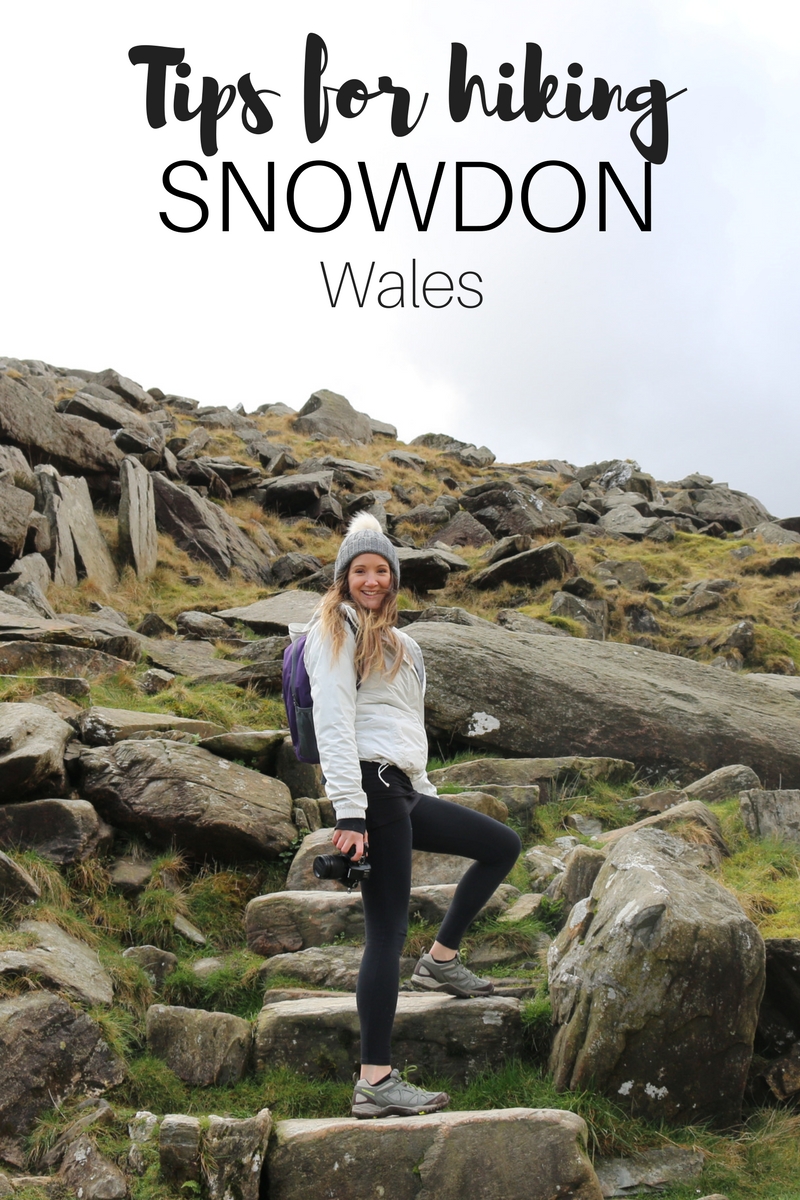 Read more
An adventurous weekend in Snowdonia
A spontaneous weekend in Aberdaron, Wales
A weekend guide to Chester and North Wales
A sustainable lobster sea safari in North Wales
Camping in the forest in Beddgelert, North Wales
Staying in a Bath Tower on the town walls of Caernarfon, Wales
3 days in North Wales: Portmeirion, Criccieth and Nefyn
Gorgeous glamping in Swansea Bay in a Shepherd Hut
Visiting North Wales' best beaches and a stay at Bron Eifion Country House
Visiting Portmeirion: The Italian style village in Wales
Niagra Lodge Review: Llangollen, North Wales
A weekend at Lake Vrynwy Hotel, Wales
And if you needed any more inspiration to visit Wales…
Watch my video featuring the hike!