I'd like to take a minute to introduce you to one of the most magnificent and surprising places I've ever visited, the Isles of Scilly off the coast of Cornwall, England.
This is a place of powdery white sand, bright blue seas and crystal clear water. It's a place with tiny islands that all have their own charming personality. It's where swaying palm trees are home to bright and beautiful birds. It's a place where life slows down to a pace where you can finally just sit back and relax and enjoy the incredible world that surrounds you.
This is the Isles of Scilly. And this is England. But not as you know it.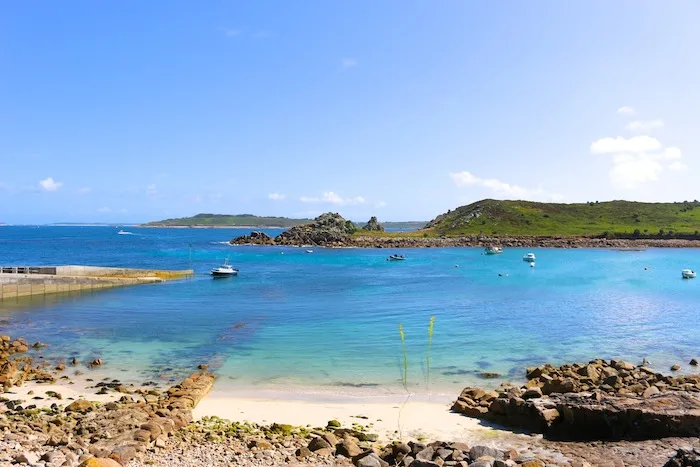 Last summer I visited the Isles of Scilly for a 6-day break with Sam and George. George was just 4-months old at the time and it was one of our first family holidays. I've been looking back at our photos from those 6 days away and I can't even begin to tell you how happy they make me. Sometimes it can take a few months to fully appreciate how incredible an experience was – and that's exactly what's happened for this trip.
We spent the entire trip walking along completely deserted beaches and wondering why on earth we'd never been here before. Sandy footpaths led to tiny villages where cute cottages were decorated with flowers. We dipped our toes in the water and ate salty fish and chips and Cornish ice creams. We visited tropical gardens and discovered hidden bays and bought homemade jams from honesty stalls outside people's homes.
It was just so perfectly beautiful.
I'm writing this blog post now for anyone out there who is planning a holiday in the UK this summer but isn't sure where to go. We're very lucky and there are a lot of incredible places to visit in the UK, but seriously, go to the Isles of Scilly! You won't regret it.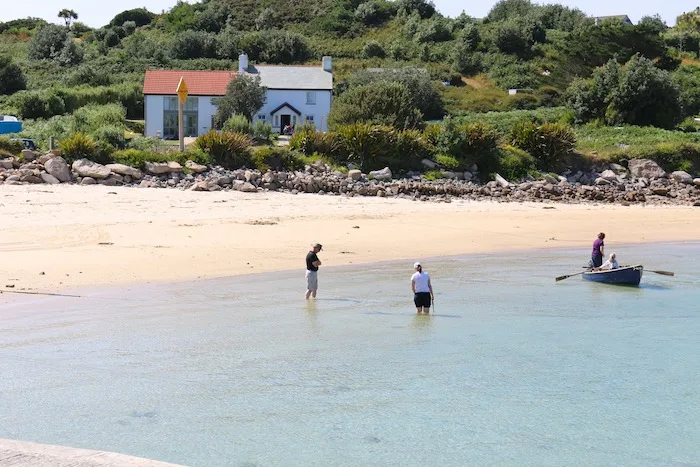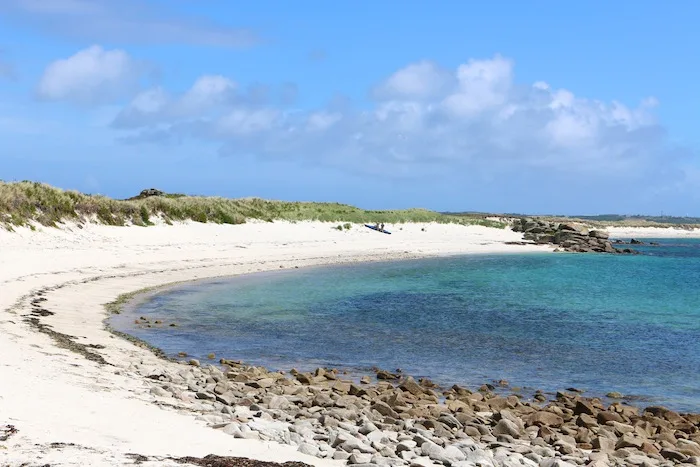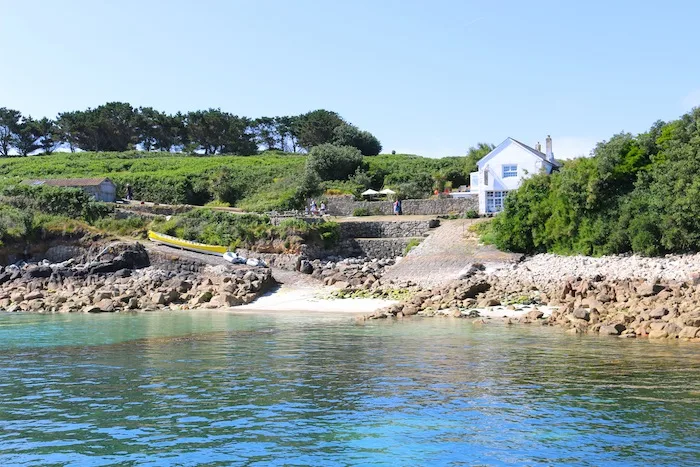 How to get to the Isles of Scilly
You can take a seaplane from Newquay, Landsend or Exeter to St Mary's Island, the main island and the first port of call for anyone visiting the Isles of Scilly. The views from the seaplane are incredible so if you've got the extra budget then I'd highly recommend this.
A more budget friendly option is to take the passenger ferry to the Isles of Scilly which takes about two hours from Penzance to St Mary's.
I took the plane on the way there but due to bad weather we had to take the ferry back. We were told that it's very unusual for the seaplane to be cancelled due to bath weather in the summer months but it was a good experience to do both. The ferry takes longer but it's actually a bit easier if you're travelling with kids.
Here's more info about the plane and the ferry to the Isles of Scilly.
If, like me, you live up north and you're thinking it's a long old journey down to the Isles of Scilly then you'd be right. I live on the border of Chester and North Wales and it took us about 4 hours to drive down to Exeter, followed by an hour or so wait for the plane, followed by about 40 minutes on the plane. It's a long journey but it's worth every single second. I'd do it again in a heartbeat.
If you're travelling with kids I'd recommend trying to do the drive at nighttime – especially if you're travelling in the summer when you'll get stuck in the traffic heading down to the coast.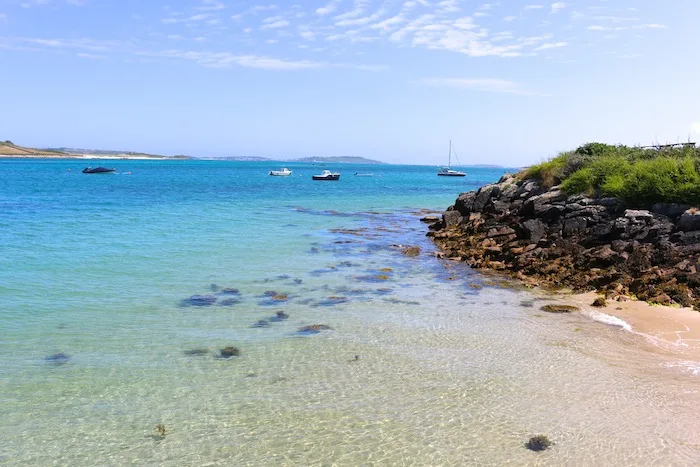 Where to stay on the Isles of Scilly
I hate using this phrase but there really is something for everyone in terms of accommodation on the Isles of Scilly. You can choose anything from basic camping (the good old-fashioned type with a regular tent and a sleeping bag), glamping, self-catered cottages, mid-range hotels, luxury hotels, luxury cottages, beach houses or even stay on a boat.
Check out Visit Isles of Scilly for more info about the different options.
St Mary's is the main island so stay here if you want to be close to a handful of shops, pubs and places to eat. The islands are all well connected by small boats so I wouldn't worry too much about which one you're on as you can easily travel between them.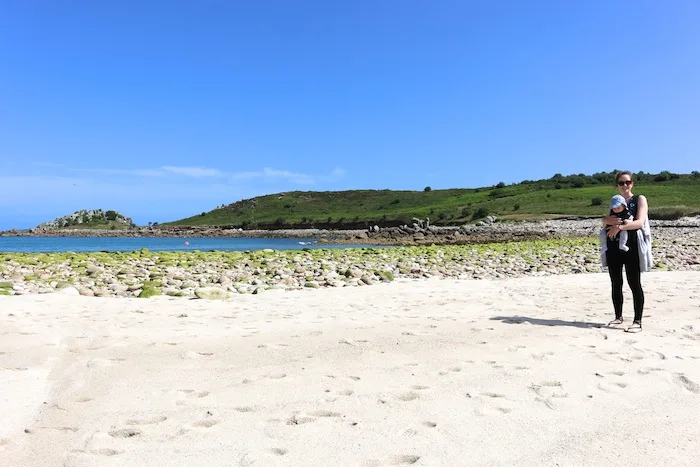 What to do on the Isles of Scilly
As you'd imagine, most of your time will be spent in the great outdoors soaking up that gorgeous sea air and admiring those beautiful views.
Once again, Visit Isles of Scilly has loads of info about what to do. They also have a section for wet days, just incase you get rained off.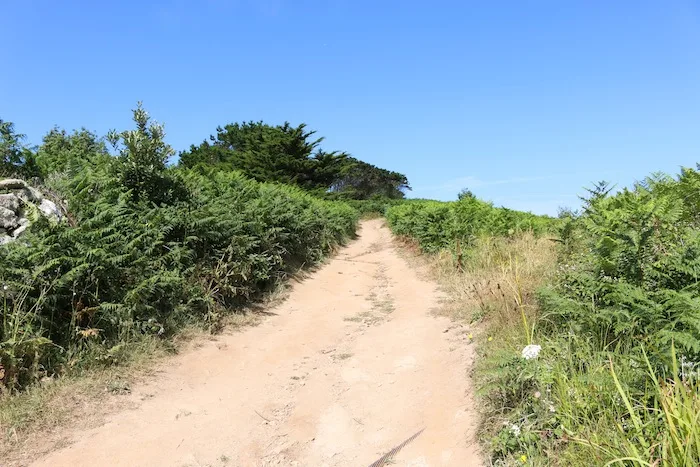 Read more:
What to do on a tranquil and unique weekend in the Isles of Scilly, UK – By Hand Luggage Only
Lady on the Isles of Scilly – By A Lady in London
Family Travel: What to do on the Isles of Scilly – By A Modern Mother