Last week I wrote about how Christmas in Sydney was a total let down and I was really disappointed. Thankfully, New Year's Eve in the city was a million times better and possibly even the best night of my life! That's a bold statement I know but it really was amazing.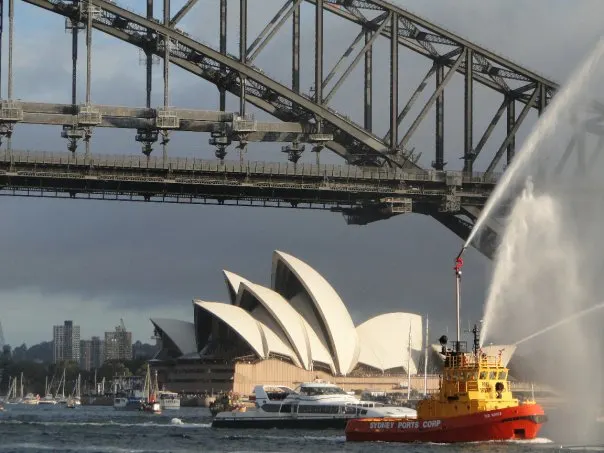 There are a couple of options on where you can go on New Year's Eve but most backpackers opt for the botanical gardens where you can enjoy them for free and sneak in your own booze. We went to Blue's Point which is basically just a patch of grass by the side of the water but it's directly opposite the Harbour Bridge and the Sydney Opera House so promised a perfect view of the fireworks.
We headed down there around 1pm to get a good spot and we were lucky enough to bag the best view possible. I'd definitely recommend arriving in the early afternoon as there was no where to sit by 3pm meaning it would be a long night on your feet!
It was an alcohol free zone and we'd been told that the police would be really strict but we managed to get through security with our bags of goon (cheap wine in a bag) and enjoyed an afternoon in the sun. If you're doing this, remember to take to some cups or bottles that aren't clear – you don't want to police to see what you're drinking!
The first set of fireworks went off at 9pm for the kids and another lot went off at midnight. The usual hugs and kisses and 'happy new year!!' were totally forgotten once the fireworks began. To say it was amazing was such an understatement. They made our Bonfire Night fireworks look like nothing more than a kid's sparkler. They were going off all around us so I didn't know which direction to look and they just kept going and going and going…
The fireworks would die down for a minute so you'd think that they were going to stop but then they'd start up again to a fresh chorus of applause and 'oooh's and 'arrrhh's. The whole sky, for as far as I could see, was lit up by a every colour I could imagine and they were accompanied by whizzes and bangs and pops and screams.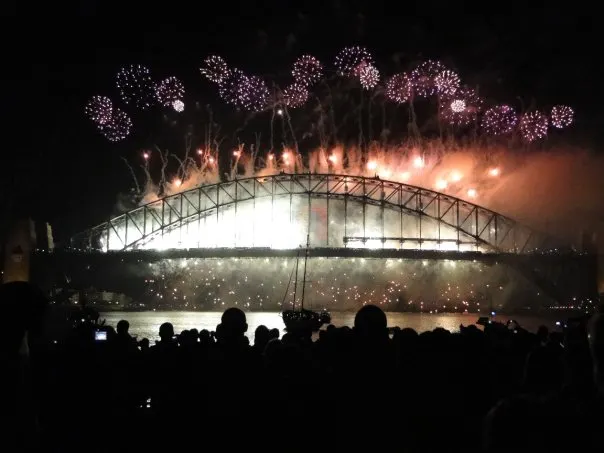 I usually find that NYE is a bit of a let down. There is so much excitement and anticipation beforehand but once midnight strikes you realise that it's pretty much the same as any other night out, except everything is twice the price. But everyone was on such a high from all the fireworks that there was a great atmosphere in the crowd and it was this that made it such an amazing experience. Even the police were friendly as we were herded up and squished onto the train like kids on a school bus. We sang Ozzie anthems all the way back to Kings Cross with the main one being, 'Ozzie Ozzie Ozzie, Oi oi oi!'
The party carried on all night back at the hostel and it really was the best new years I've ever had and I barely spent a penny!
What was the best night out on new year's you've ever had?