Aside from a delicious cup of tea (because we are British), there is nothing better than capping off a sun filled day with a crisp glass of wine. Todays choice is a Riesling from Clare Valley, South Australia. It's refreshing with a hint of grapefruit, guava and pear taste noting a delightfully fresh orange bloom and lemon aroma.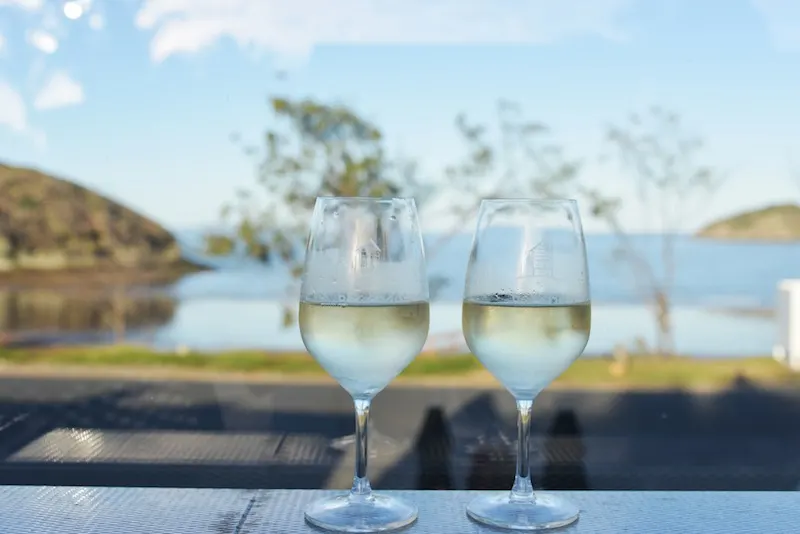 Ok, I have a confession, I read that off the menu; I am no connoisseur yet but we can all have goals. What I do know is we love Australian Riesling, it's delicious and exactly what our taste buds craved in this moment.
After touring countless vineyards around Australia we have come to know what we like in a wine, and from which wine region as they all taste different. Like most things, your mood and situation reflects what kind of wine you are after.
On a cold wintery day, a Tawny port it is. After a busy day at work unwinding with a large glass of Shiraz does the trick, an evening with friends and you can't go wrong with a Sauvignon Blanc (New Zealand do this best, but Aus can give it a run for its money), and when you're eating, each wine will bring different flavours out depending on what your choice of cuisine is. We also learnt the temperature alters the flavour of each wine, make sure you ask what temperature your wine should be served at when you purchase it.
Australia exports around 750 million litres of wine each year, that's one billion bottles of wine, and four billion glasses consumed each year from the delicious juice created in Australia. In other words, the world loves Australian wines! With over 60 wine regions, it's no surprise that the hills across the southern parts of Australia are strewn with vines growing an array of juicy grapes.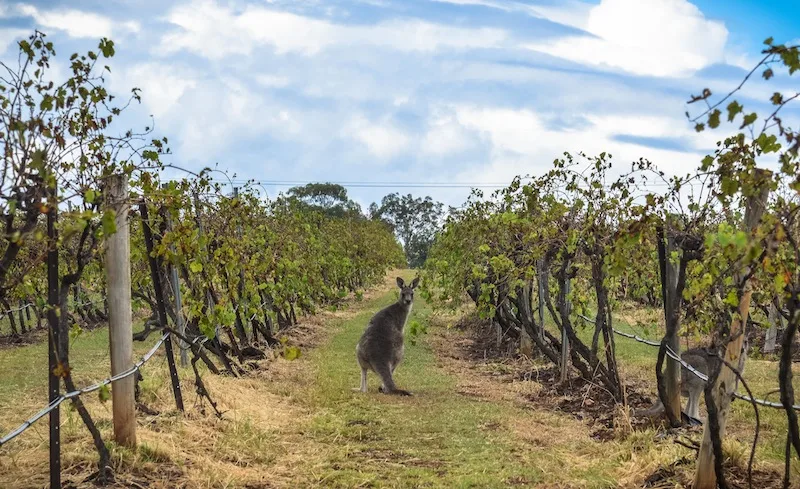 We've only just scratched the surface with the vineyards around Australia but the ones we have visited has allowed us to develop a taste for all wines, learn a little more in our aim to become connoisseur and have a great time.
Hunter Valley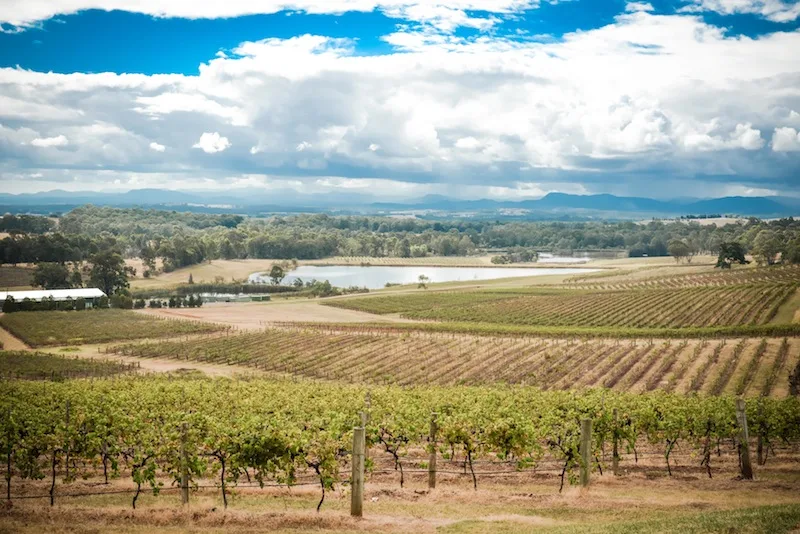 The Hunter Valley was one of the first wine regions we visited when arriving in Australia. Known for its Semillon but also produces wines from a variety of grapes including Shiraz, Chardonnay, Cabernet Sauvignon and Verdelho. It is the oldest wine region in Australia with the first grape planted in the 1820s, some are still going strong such as Audrey Wilkinson winery which has a museum!
During our brief stay we opted for a half day tour with Two Fat Blokes, a highly recommended bus tour with a small number of people, a great mix of ages, group sizes and a humorous tour guide. We stopped at First Creek and Gun Dog Hunter Cellar for a taster of their wines.
The highlight was a stop at Two Fat Blokes very own restaurant where they were able to team up with the next door winery De iuliis and share their knowledge on partnering delicious, delicate whites to deep red wines with creamy, subtle and crumbly cheeses. We bought a bottle of the De iuliis Verdelho and De iuliis Shiraz and all the cheese we could carry, it was too good not to.
Top Tip: First Creek in Hunter Valley have reinvented Chardonnay after it's years of over oaking the taste, a very talented wine producer has created a superb bottle, it's not one to miss and interesting to taste the transformation.
Make sure you keep an eye out for wine festivals around Sydney and Hunter Valley. We loved the festival in Manly, north Sydney.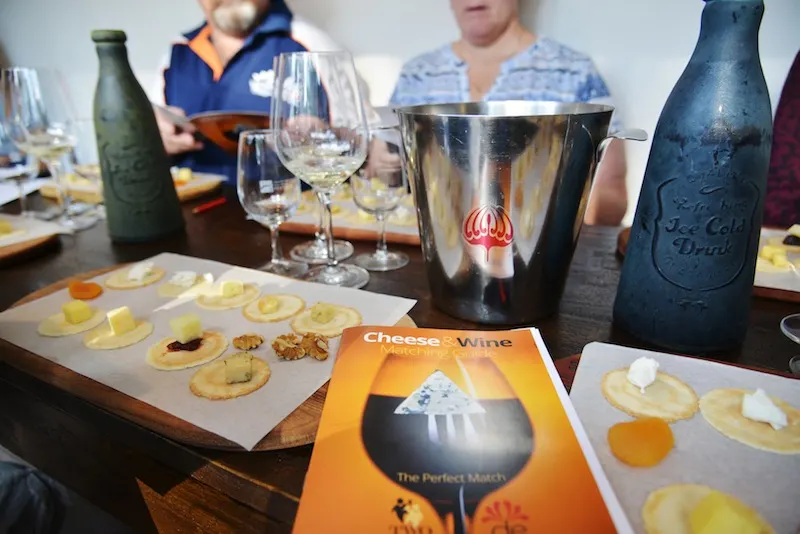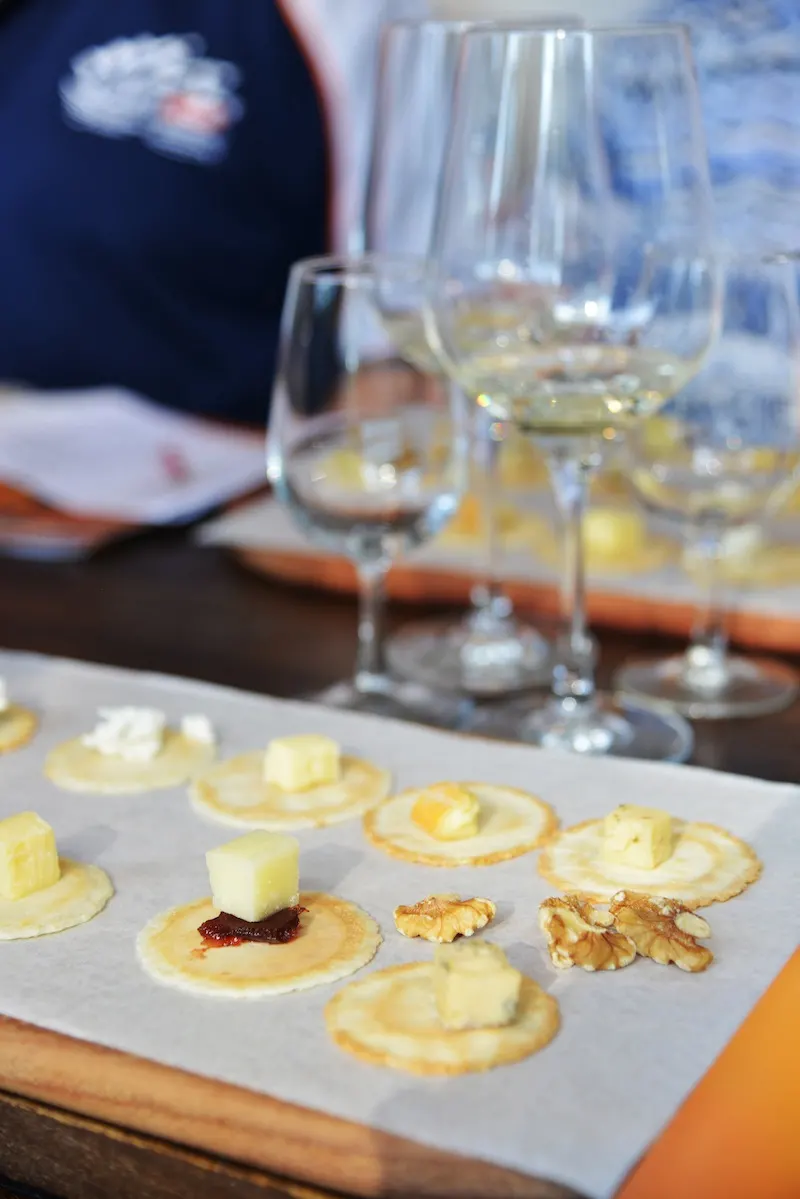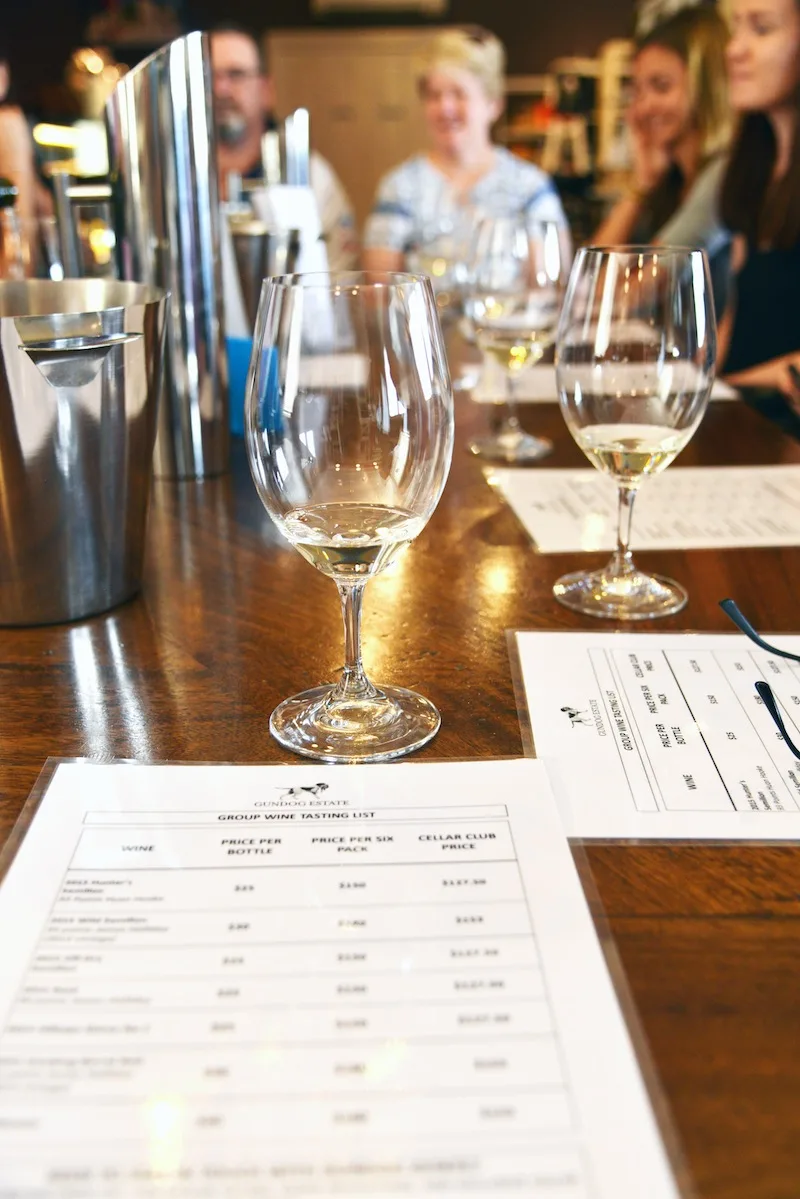 McLaren Vale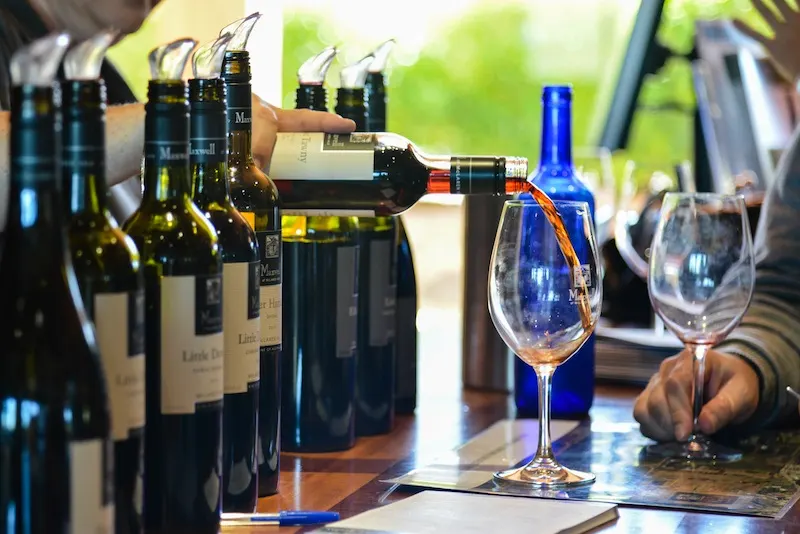 A huge region with around 65 smaller wineries and 270 independent grape growers. The McLaren Vale region is known for its impressive wines, lush regional produce and its outstanding scenery.
It is the birthplace of the South Australian wine industry and home to some of the world's oldest grape vines. The types of wines produced in each region is dependent on what grape can be grown in the blossoming hills, for McLaren Vale its Mediterranean climate has the ideal conditions for a Shiraz grape which accounts for around half the grapes produced here. The region also specialises in Chardonnay, Cabernet Sauvignon and Grenache, as well as Merlot, Sauvignon Blanc and Riesling.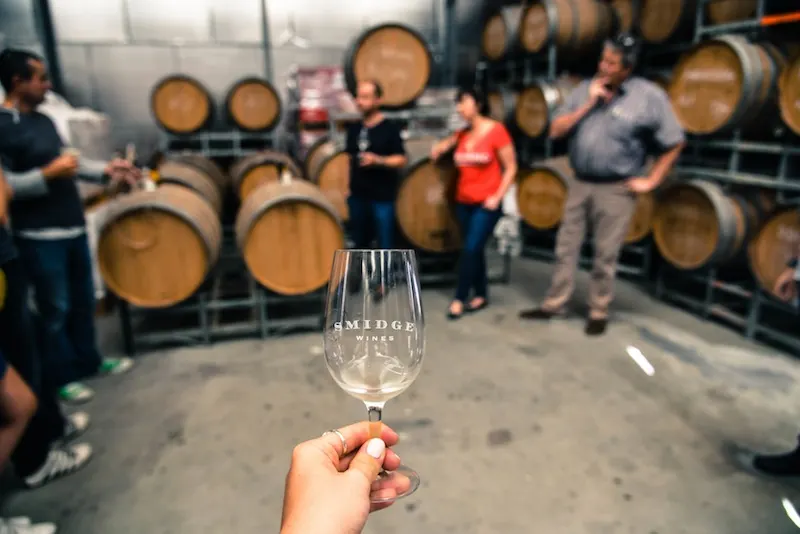 We opted for Wine Diva tours, a professional tour group, which was highly recommended with outstanding reviews. Wine Divas took us on a full day tour; yes, a full day of wine tasting, we left our hotel at 9am, this is the true meaning of daytime drinking where no one is frowned upon.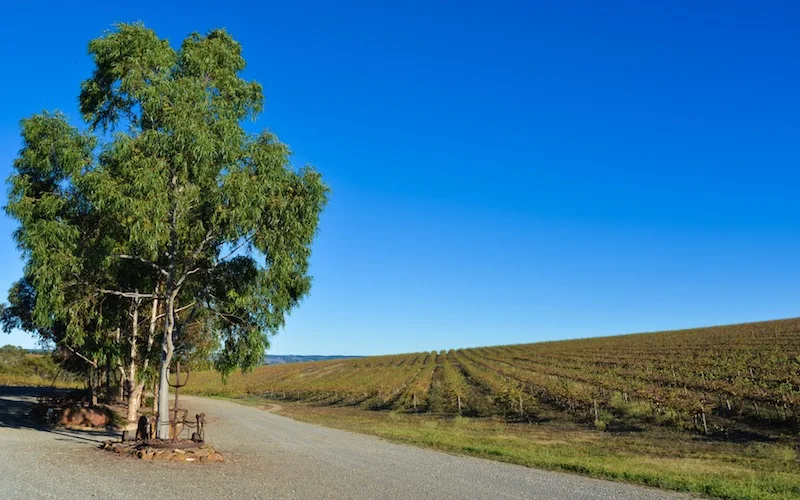 We managed to taste an outstanding 40 wines throughout the day, red, whites, meads you name it, we tried it. We were the first visitors to try wines from a small specialist called Smidge winery, with exceptional reds and an outstanding array of knowledge; you need to keep an eye out for this winery as I have no doubt they will be splashing into your glass in the coming years. One regret I have from this trip was not purchasing the Maxwell Winerys' Honey Meads, warmed for a winter feel, it's an alternative to mulled wine and truly unique and exceptional.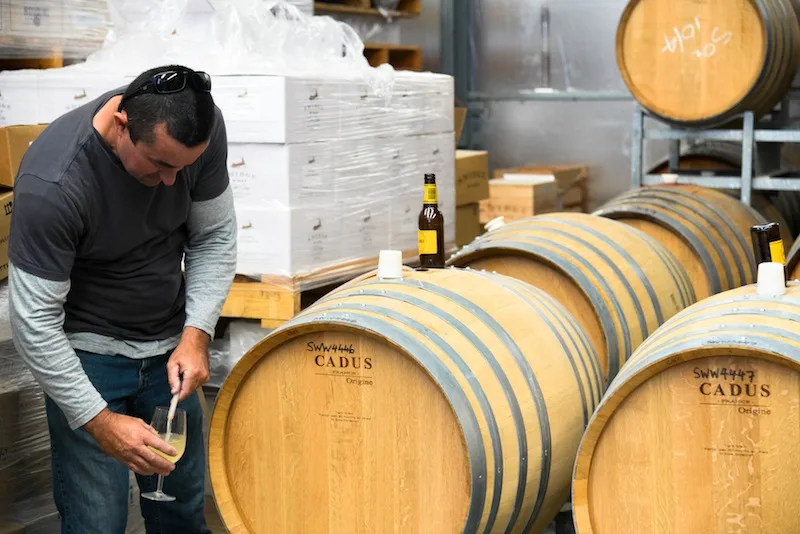 Top tip: Pop to Folk in the Road, a new winery with a cellar door, for a delicious white Moscato. And head to Oliver Taranga if you're keen to try a variety of reds, there's one for everyone; I fell for the 2015 Alfresco Granache. This is a red wine you refrigerate because it's light bodied red with a spice and red berry fruit taste, yum!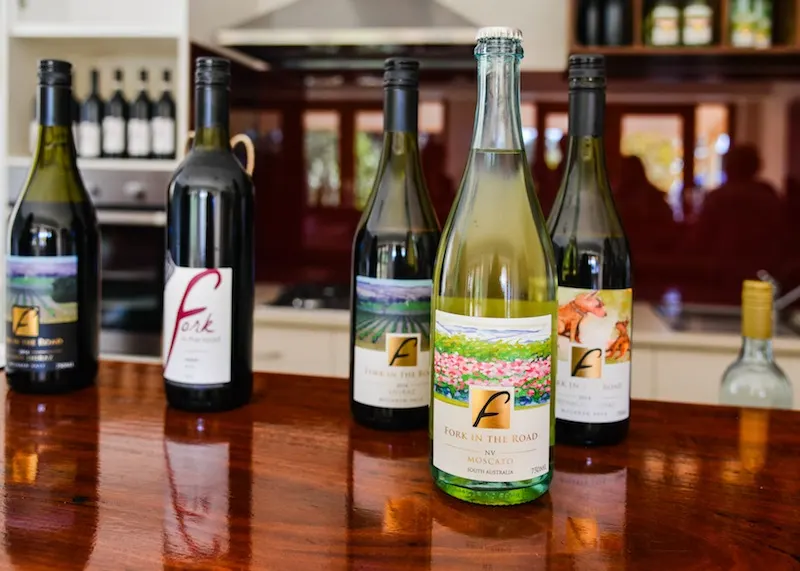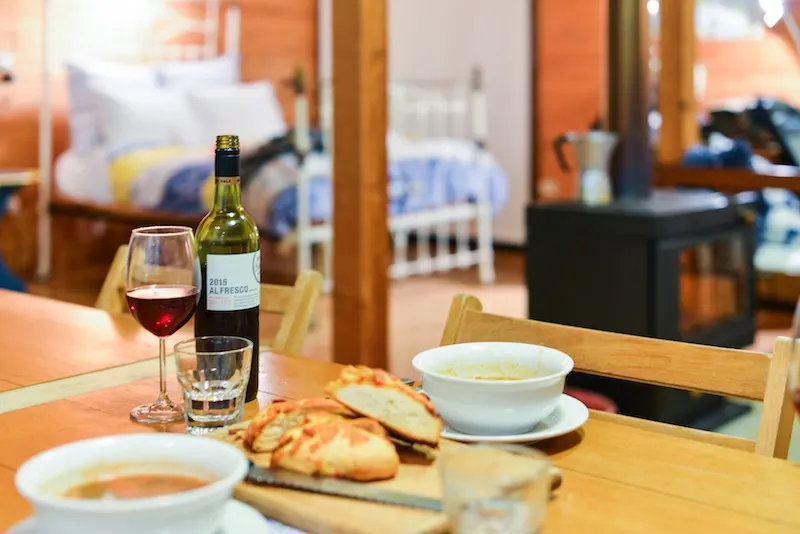 Kangaroo Island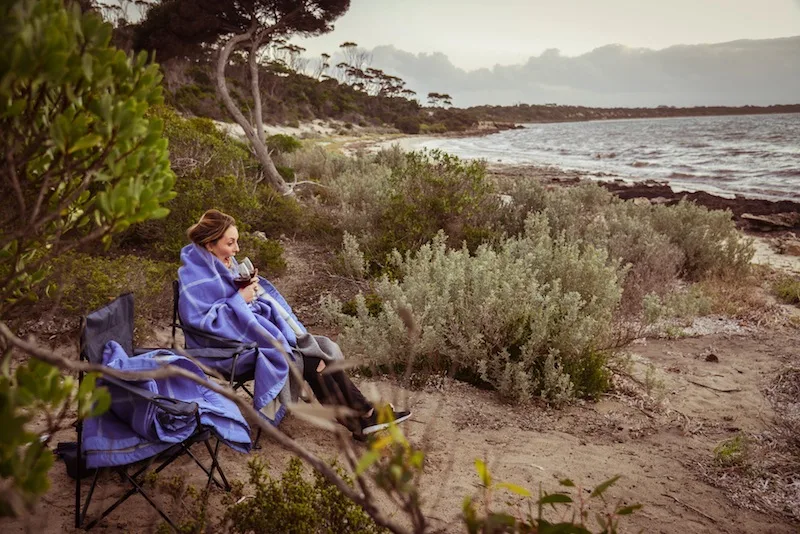 Not technically a wine region but this cute island does produce some of the most delicious bottles we have come across. It is where our beloved Tawny is grown, produced and bottled by Bay of Shoals. There are two key wineries you need to visit, Bay of Shoals and Dudley's Winery, both have something different to offer and are key for particular bottles.
Bay of Shoals:
Just in case we haven't mentioned it enough, the Tawny is a key one to taste but this little vineyard also produces delicious and slightly different white wine called a Savagnin. They also produce an array of whites, reds and sparkling wines. Owned by the same wine loving person who grew its first grape in 1993, and you can taste the care that goes into the bottles. The staff at Bay of Shoals are awesome making the wine tasting great fun, big thumbs up to them for their efforts.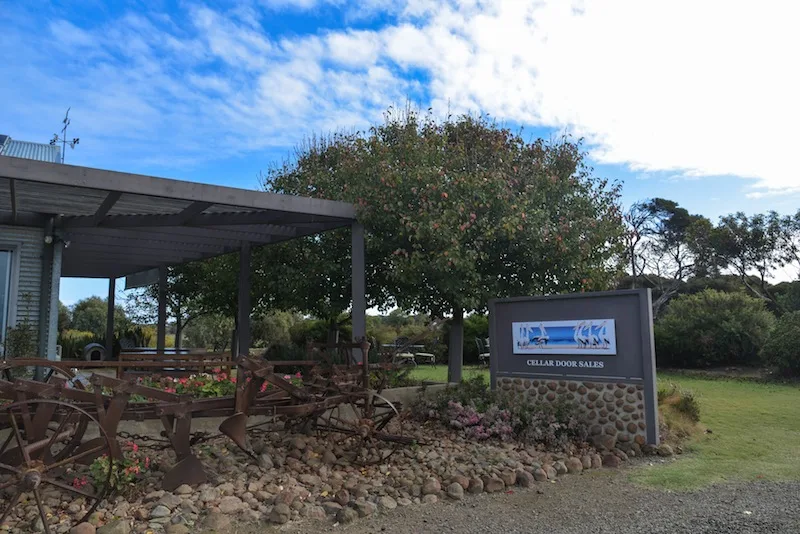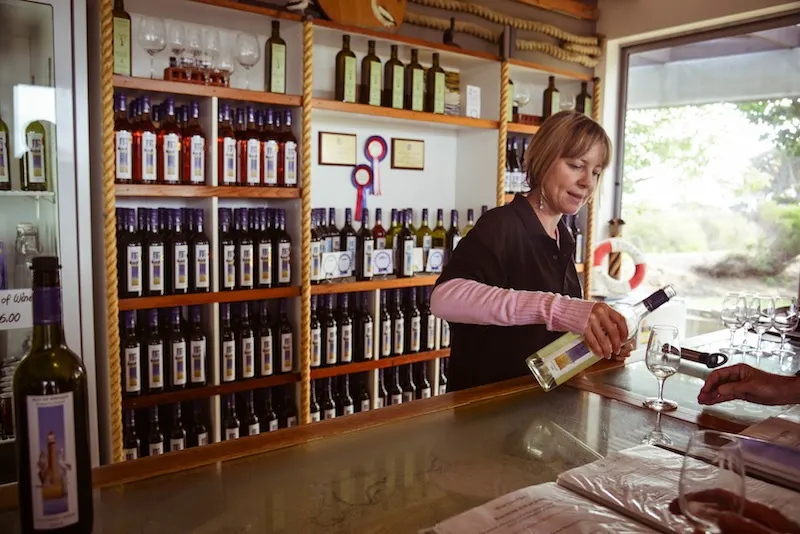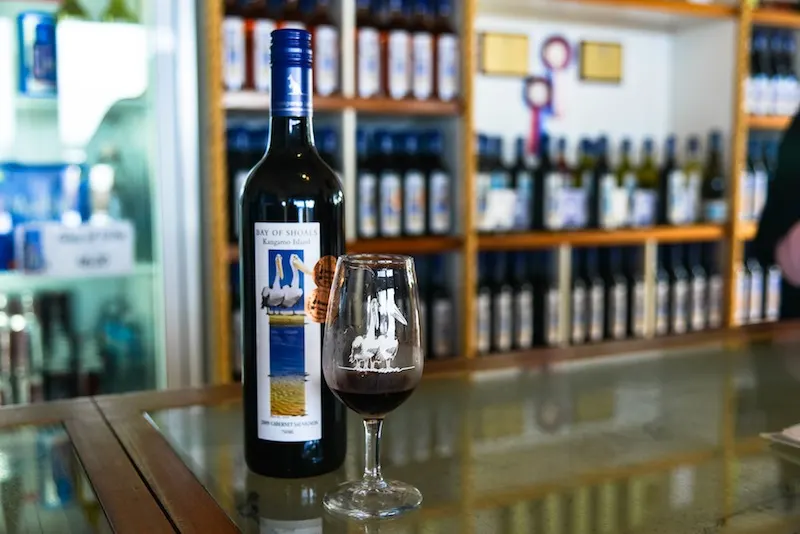 Dudley's Winery:
A lovely family run business, Dudley Winery, is in a beautiful setting offering food as well as wine tastings. A striking and unusual bottle was the sparkling Merlot, a refreshingly light bottle of merlot produced for the first time in this vineyard; we hope they continue to make this scrumptious wine.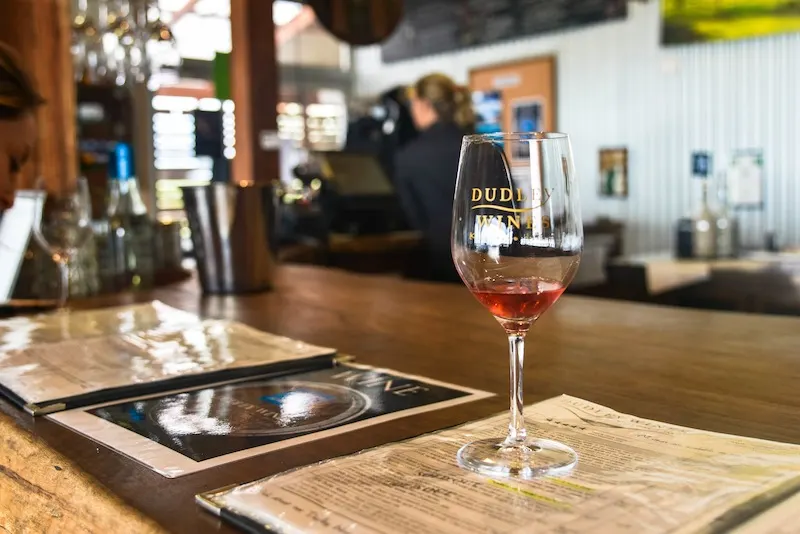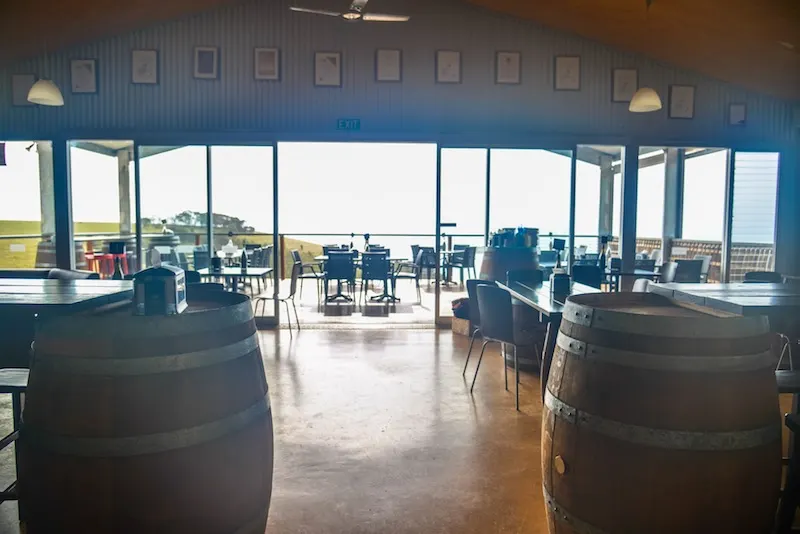 Port Macquarie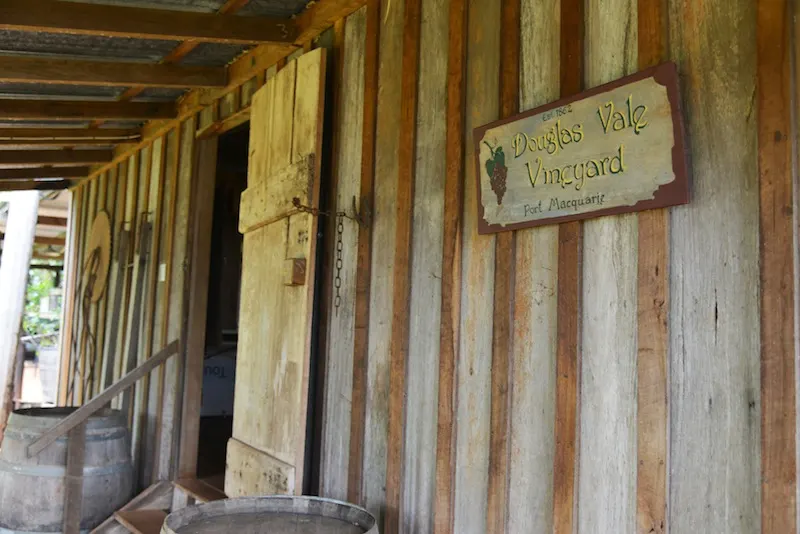 Compromising of just one vineyard in this small area of wine producing, Douglas Vale has a historic and intriguing story behind it's wine and a very unusual grape. The Black Isabella grape is rare, and this vineyard creates its wine from the very special grape. Why is it special? Because the skin of the grape is dark purple with a yellow flesh giving the wines a drier flavour.
The vineyard is now entirely run by volunteers, and they produce some beautiful wine. Pop in and show your support and definitely try the Port, it's where we discovered out love for it.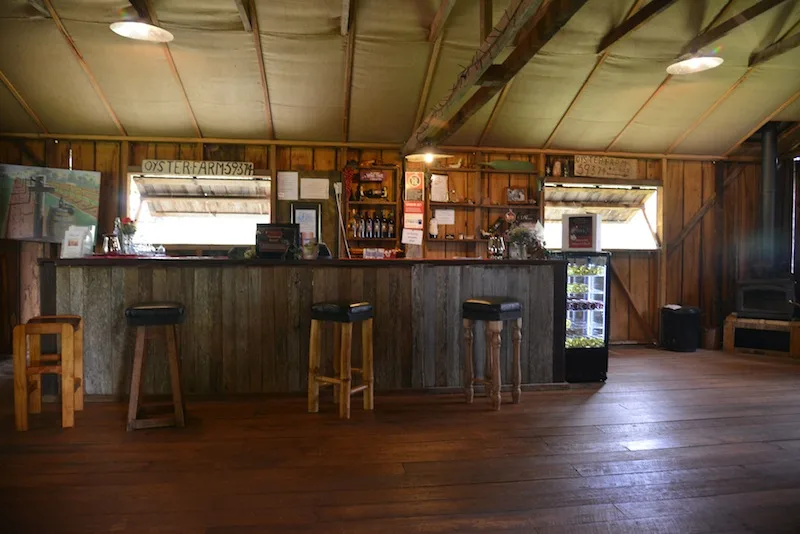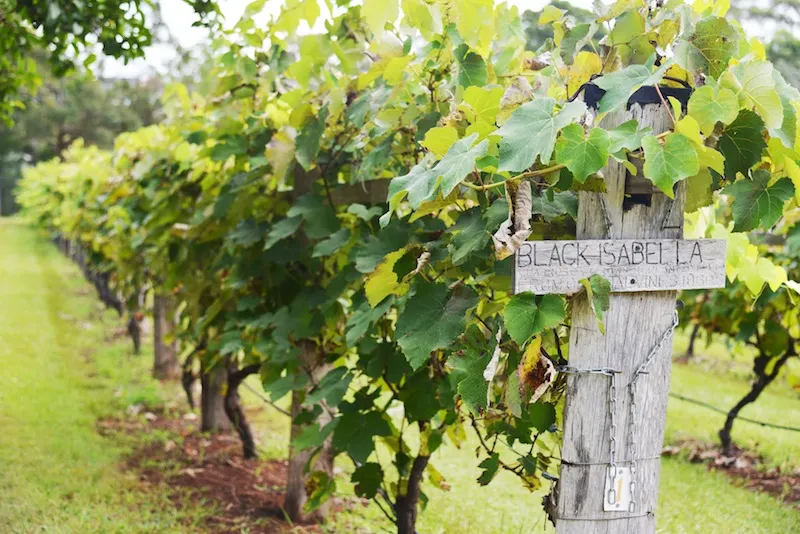 Next on our 'to go to' list…
Barossa Valley

Orange Wine region

Clare Valley
Wine is not for everyone, but if you're not sold on wine yet you just haven't found the one for you. Your wine love is out there, and it will be worth the searching, we promise.
Where will you go first?
Cheers!
[column size=one_half position=first ]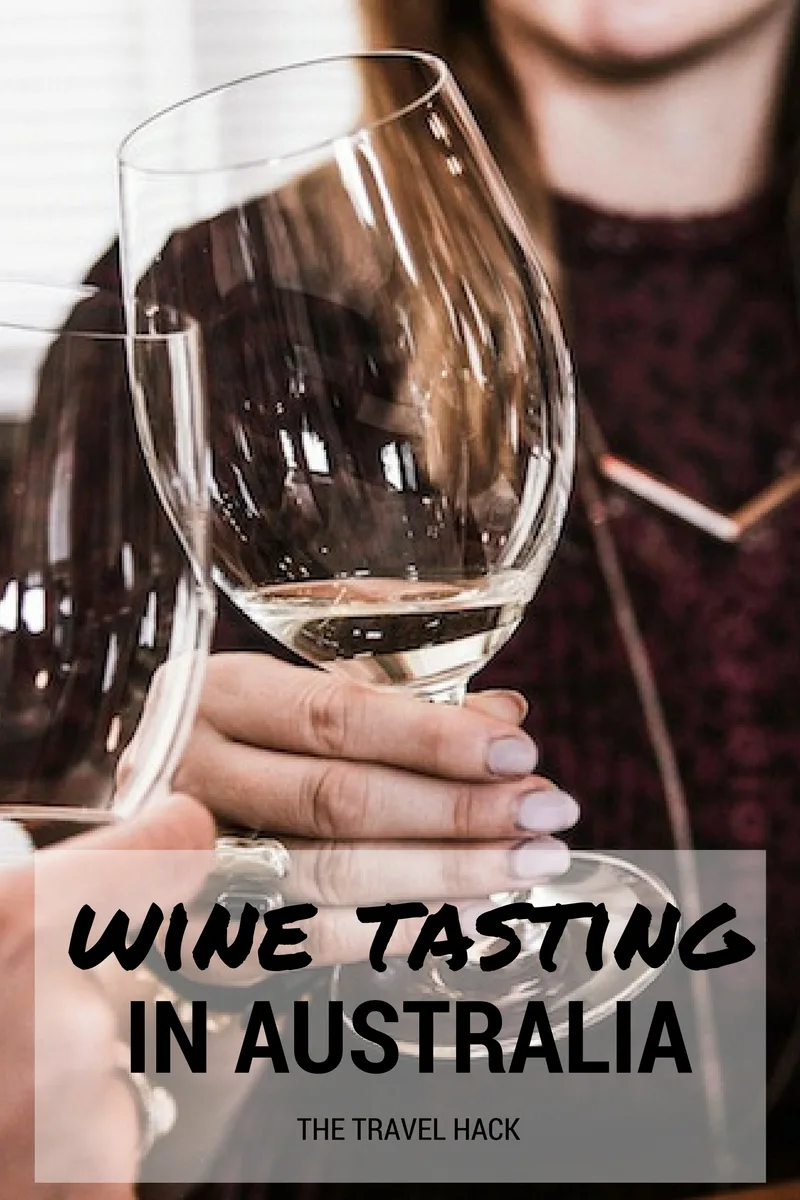 [/column]
[column size=one_half position=last ]
Read more:
Introducing Steph and Leah, our glampackers Down Under
10 things you need to know about Sydney
[/column]