This is what holidays are meant to be like.
Laying on the deck of the Cool Runnings Catamaran, sipping rum punch and soaking up the Bejan sun. I couldn't help but smile happily to myself like a smug cat snoozing in the sunshine. Except this cat was in Barbados and about to swim with turtles!
We boarded the Catamaran at around 10.30am and were welcomed aboard with cold drinks. We sailed out to the first snorkelling point and were immediately greeted by four turtles! Yes, four!
There are no words to describe what it feels like to swim with turtles. I thought that perhaps a video (below) could give a glimpse into how magical it feels to see them glide through the water, using their fins to propel themselves forwards. They make it look so effortless as they speed past with inquisitive glances and then disappear again into the turquoise void around us.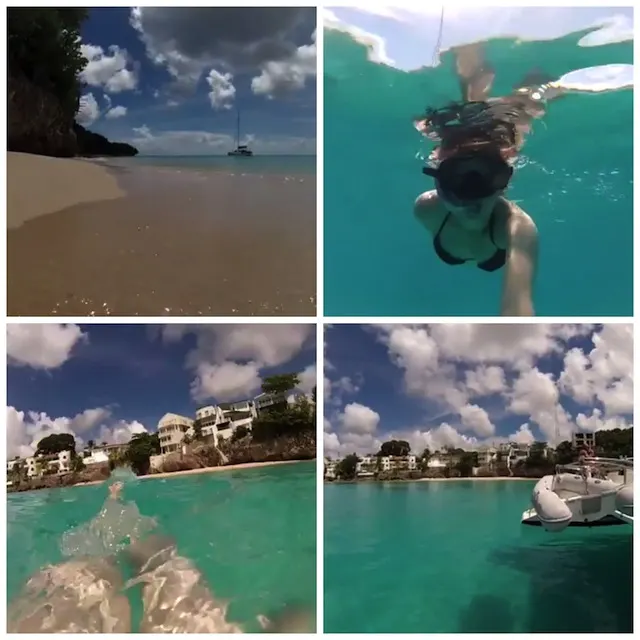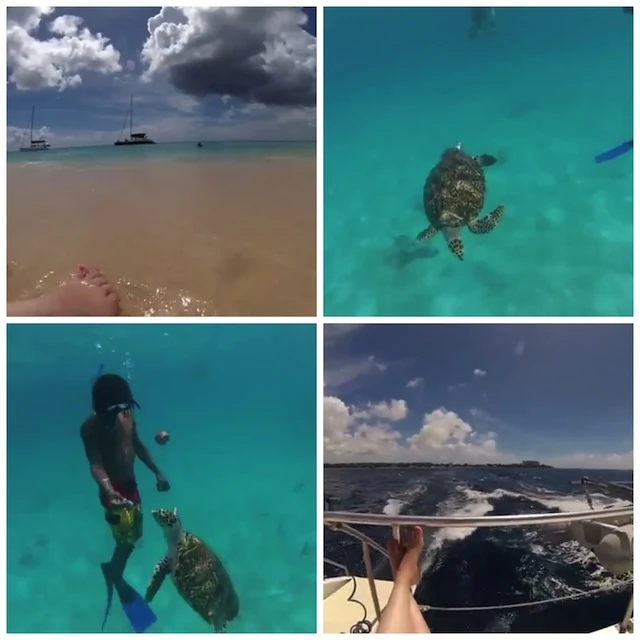 The three adults were confident around us humans as we thrashed away on the surface but it was a cute, little baby that caught my attention. Something about the underdog or the shy guy that made me want to leave the group and see what he got up to. I floated on the surface, kicking slowly to keep up with his slow pace as he swam around the adults and stayed close to the sandy seabed. He darted up the surface to take a quick breathe before nose diving back down to safety.
Turtles are usually so difficult to spot and I realised then that their elusive nature is part of their charm. When the little turtle realised he had a stalker he sped off into the depths of the blue while I struggled to keep up.
The next stop on the cruise was a shipwreck that now provides a home to hundreds of colourful fish. They would pop their heads out of the ship to investigate the intruders before retreating back to safety as we floated above their homes.
Lunch onboard was welcomed with eager eyes and empty bellies after all that swimming. Warm and cold salads were served with chicken or fish and followed by carrot cake and banana bread.
After lunch was when the party really got started as we drank rum punch and white wine while floating on 'noodles' (those long, thin floats that kids learn to swim on) in the sea. The volume of the music was cranked up and the guys onboard soon had everyone dancing on the deck.
Hips swayed, rum flowed and the sun shone as we sailed through the glittering turquoise sea.
Yes, this is what holidays are meant to be like.
Please excuse the wonky video and imagine you're swimming with me!
Massive thanks to Cool Runnings for this amazing experience. While I was in Barbados I stayed at the lovely Colony Club Hotel and I'll be sharing that experience here soon.