I couldn't help but giggle as I sat on the Eurostar with a glass of champagne in one hand and over €3,800 in cash in the other. I couldn't believe this was actually happening and I couldn't believe how lucky I was to have been selected for this 'challenge'.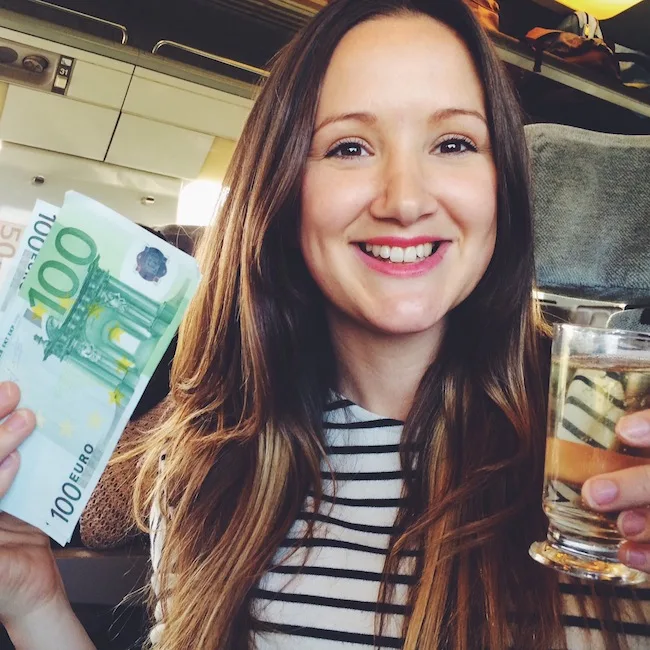 In case you missed it, I was set a #24hrMillionaire challenge by The National Lottery to spend £2,739.72 in 24 hours. This is the amount you'd have every day for one year if you won £1million. Every Wednesday in May there has been an extra chance to win £1 million with a millionaire raffle that you're automatically entered into when you buy a Wednesday Lotto ticket. It's the final millionaire raffle tomorrow (May 27th) if you're interested!
I asked you guys where you thought I should go with my new found wealth and after hundreds of comments, tweets and emails, the clear winner was Paris!
Ooh la la. 24 hours in Paris with a millionaire's budget is pretty much a dream come true so I knew I was in for a treat. My blogging buddy, Vicky Flip Flop, came along to help me splash the cash during my epic 24 hours.
So what did we get up to with all this cash!?
Here's how to spend 24 hours in Paris like a millionaire…
#1: Dinner at an incredible restaurant
The first stop for the challenge was dinner at La Dame De Pic. We enjoyed a delicious 5-course menu that included some of the best duck I've ever tasted and a delicious bottle of fizz. As the bubbles went to our heads we were starting to get the hang of this millionaire lifestyle.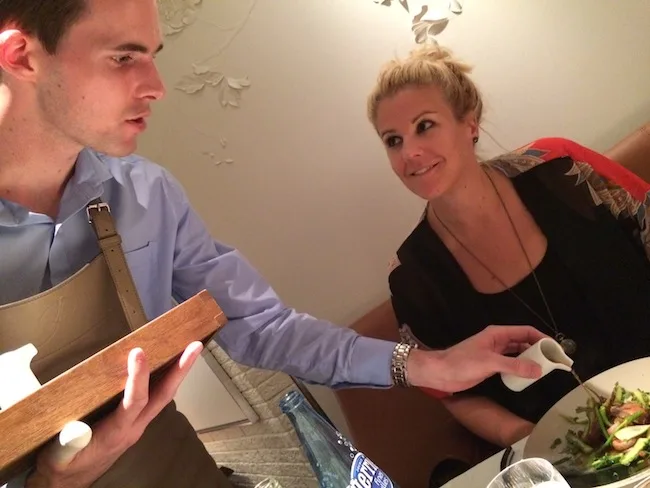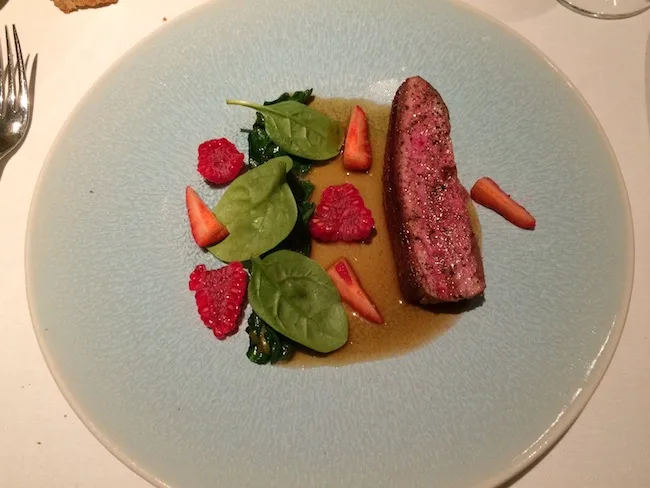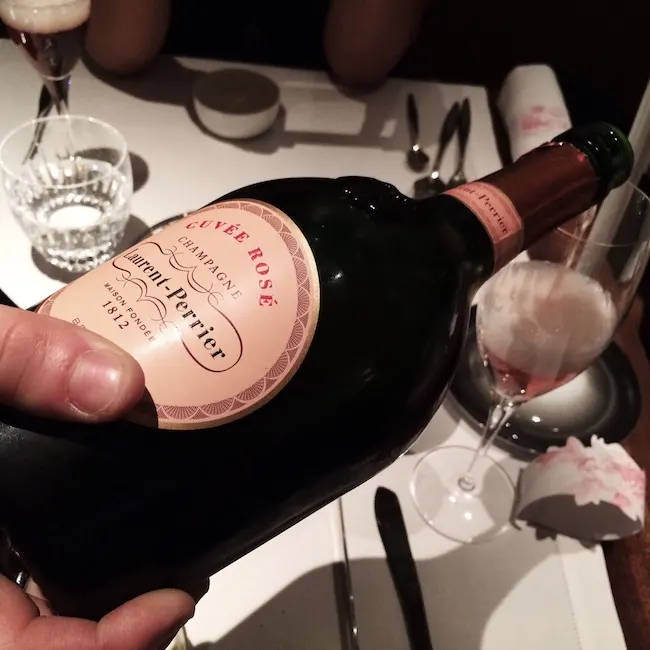 #2: Cocktails at one of the fanciest hotels in town
As we left the restaurant we asked for a recommendation for somewhere 'fancy' for cocktails. It took a while for us to translate 'fancy' but our waiter obviously understood as he sent us off in the direction of Le Meurice.
I was sure they wouldn't let us in but we casually strolled across the marble floor and into the bar as though we did this everyday. We immediately spotted a famous model sat opposite us (although after 15 minutes of wracking our brains we couldn't remember her name!) and DJ Swagg Man, a famous French rapper sat behind us. DJ Swagg Man is instantly recognisable by the Louis Vuitton tattoos across his head. Yes, his head looks very much like a handbag. Classy guy.
We sipped our cocktails on a plush chaise long and I still couldn't quite believe we were here.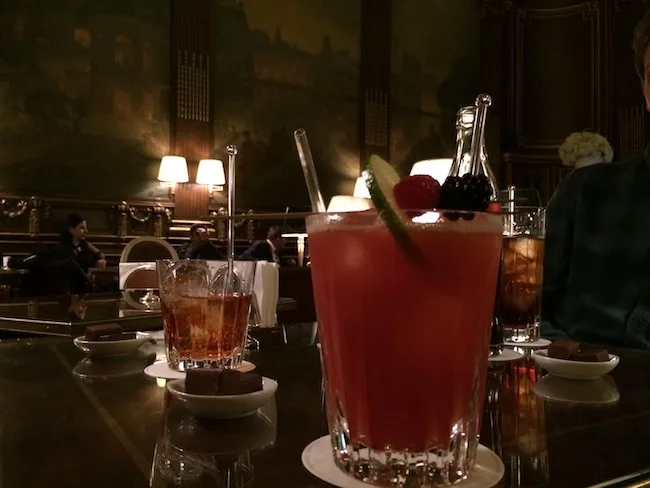 #3: A stay in a luxury apartment
A millionaire wouldn't stay in any old hotel so we'd opted for an enormous apartment with a view out to the Eiffel Tower. The 3-bedroom apartment came with a huge kitchen and a luxurious living and dining area. A balcony wrapped around the side of the building and made the perfect place for sipping espressos and soaking up the Parisian vibe.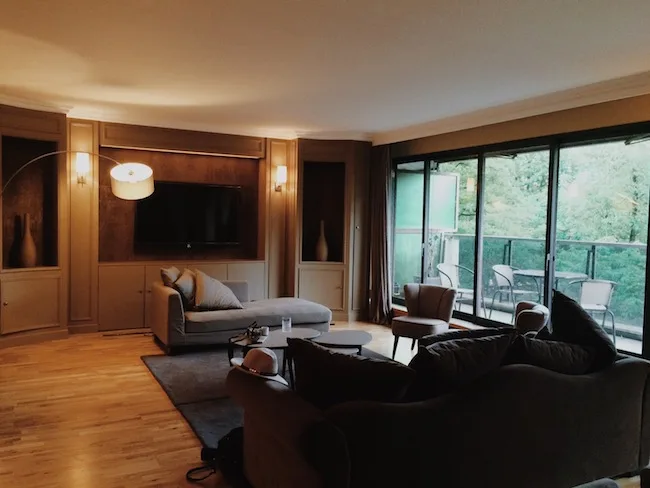 #4: The fanciest breakfast of my life
Breakfast is my favourite meal of the day and French breakfasts are the best. Who can resist baskets filled with fresh bread and pastries!?
We headed to Hotel Plaza Athenee where we were greeted like old friends by the super friendly staff. We were ushered into an enormous booth where we ordered pots of tea and coffee and fresh juices while we browsed the pastry menu. Yes, there was a pastry menu with all the croissants and tasty treats that had been freshly made that morning.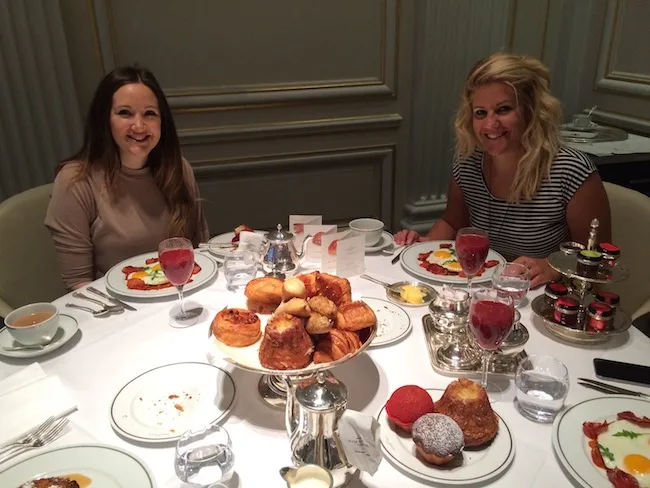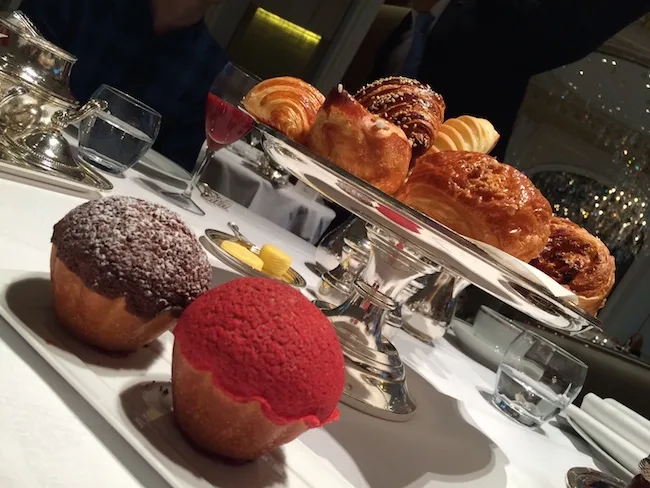 #5: Shopping!
I couldn't visit Paris without a trip to Champs Élysées for a mini shopping spree. I was straight into the MAC store for some new make-up and my favourite lippy, Lady Danger.
Next up was a pair of millionaire style sunnies. I've never owned a (real) pair of designer sunnies and I instantly fell in love with these Christian Dior sunglasses.
My favourite thing about shopping with a big budget was being able to pick the first thing I fell in love with. As soon as I enter a shop I always spot something I fall in love with. I then check the price tag and realise it's WAY over budget so I spend half an hour hunting around for the next best thing. Being able to walk in a buy that first item I laid eyes on was awesome.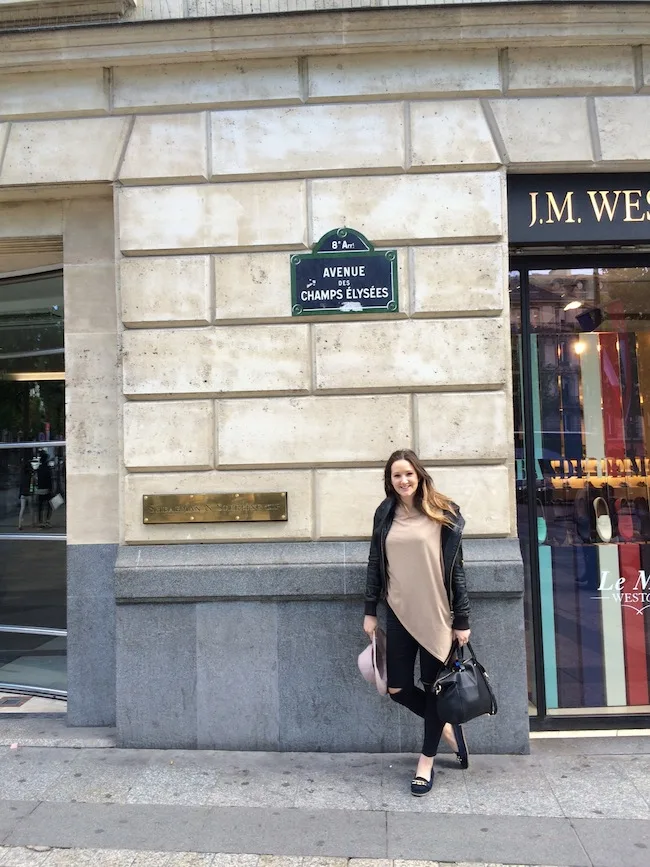 #6: Macaroons at Ladurée
When I asked for your suggestions for places to go in Paris, I was overwhelmed by the amount of people who recommended Ladurée. It's a beautiful café that serves some of the best macaroons in town and while it may be touristy, it is beautiful and it was well worth a visit.
I indulged in the thickest hot chocolate I've ever had before in my life – I could have eaten it with a knife and fork – and the softest, tastiest macaroons you can imagine. I also picked up some macaroons for someone who was following along. I hope you enjoyed them @SaraVox74!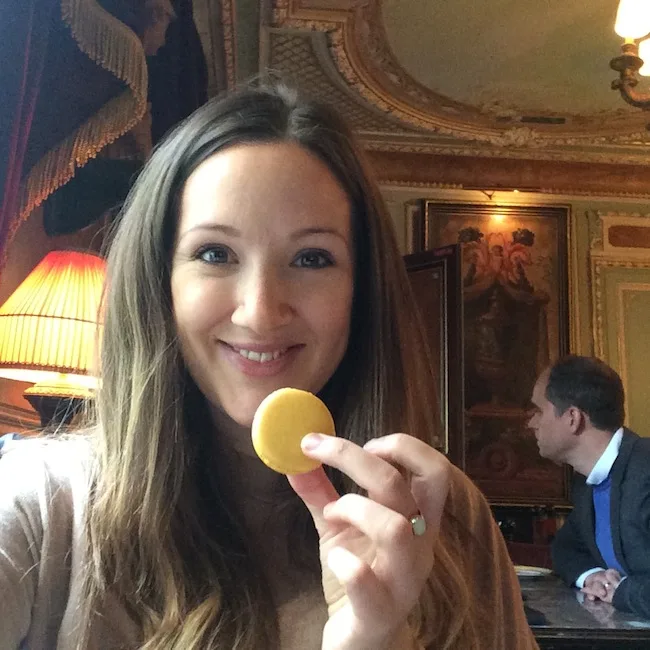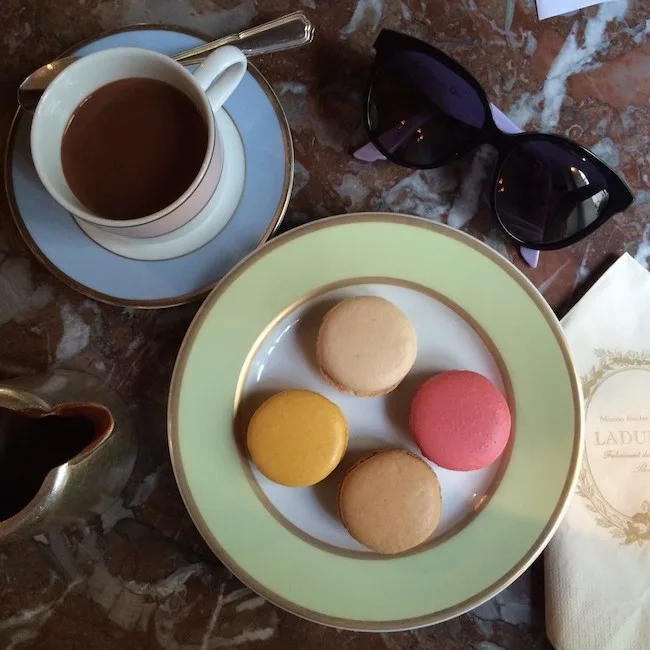 #7: Horse and carriage ride around Paris
It was a quick dash over to the Eiffel Tower where a horse and carriage was waiting to whisk Vicky and I around the streets of Paris. This was such a lovely and relaxing way to see the city and enjoy Paris at a slower pace.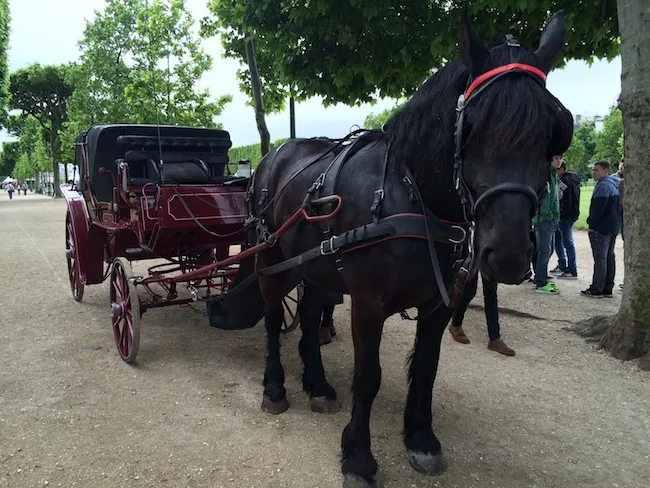 #8: Lunch overlooking the Louvre
The next stop was the Louvre where we ducked into Café Marly for lunch. This beautiful restaurant has one of the best locations in Paris with the huge terrace overlooking the Louvre. I may have been a millionaire but I couldn't resist a cheese and bacon burger and a nice, cold beer.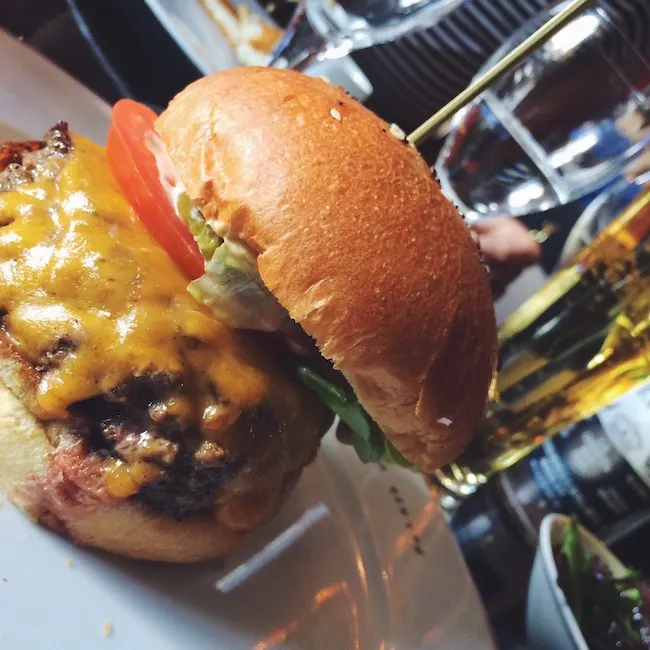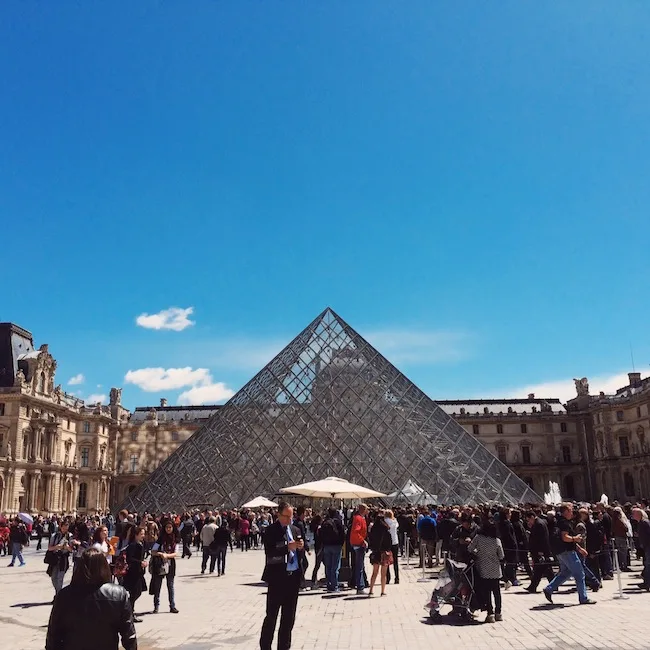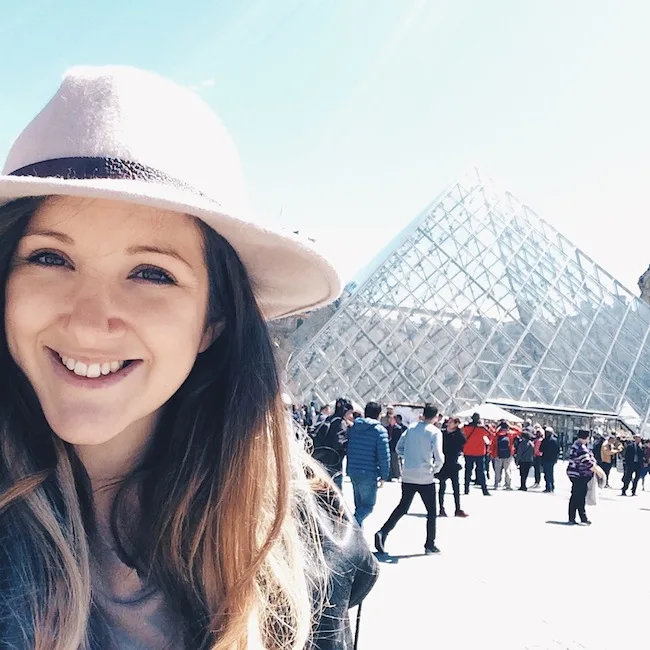 We then took a post-lunch stroll along the river and made our way to Love Lock Bridge. Through Twitter, I'd asked @TNLUK followers who would like a lock on the bridge with their name on it. So many people got back to me but one lucky followers got the lock!
#9: Shopping at Galaries Lafayette
The day was coming to an end so we made a quick pit-stop at Galaries Lafayette for a spot more shopping and to buy some presents for @TNLUK followers.
I bagged myself a new handbag and some perfume and chocolates for followers.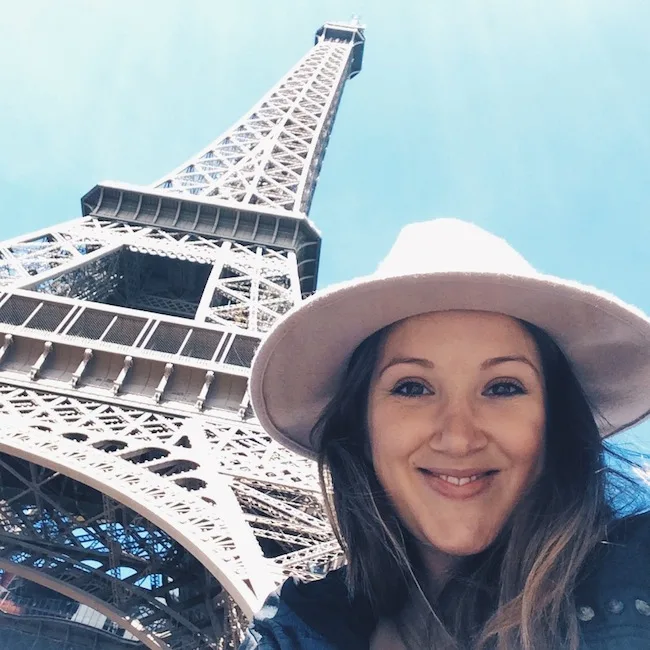 #10: Giving out gifts
One of the strangest parts of the day was as we were waiting for the Eurostar. I bought some boxes of chocolates to give out to people at the train station and, to my amazement; it took a lot of encouragement to get people to accept them. A strange, English girl handing out chocolates must seem suspicious!
I had the most incredible time as a 24 hour millionaire. Paris is definitely the city to visit if you've got a big budget!
Massive thanks to The National Lottery for making this possible!