I'm absolutely delighted to have Angie Silver from Silver Spoon London as the second guest blogger on The Travel Hack. Angie is such a romantic so I can't think of anyone better to tell us about 5 of the most romantic hotels around the world. She's also seriously well travelled and has stayed in some of the most luxurious hotels you can imagine. And with Valentine's Day approaching, it's not too late to book a last minute trip….
Warning: This post will have you swooning with jealousy and wanderlust in equal measures!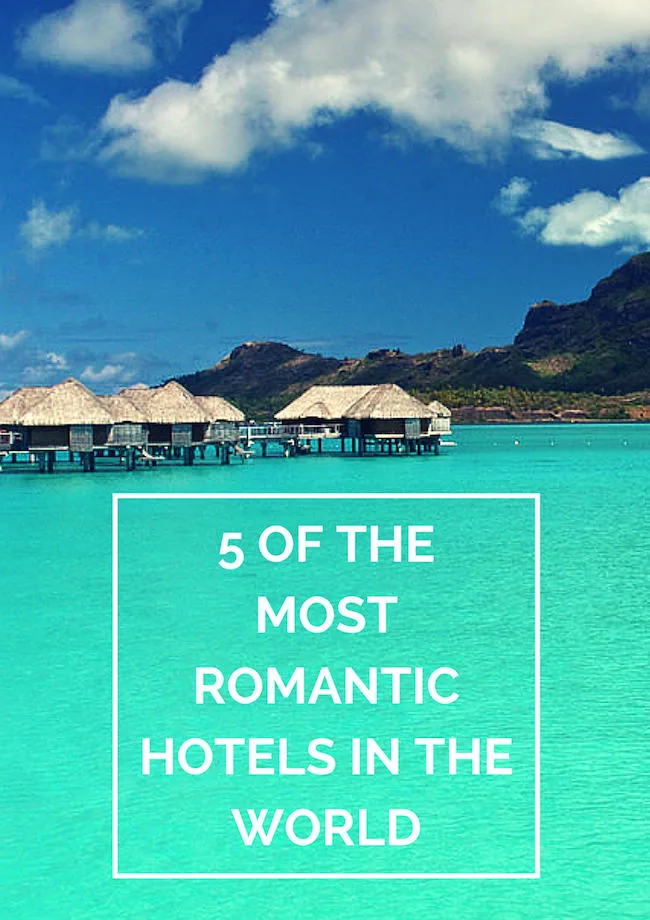 Romance is different for everyone whether it's rose petals and champagne, adventure on the high seas or a picnic on the beach; I think it's just fantastic when hotels offer you the chance to have these wonderful experiences with the one you love….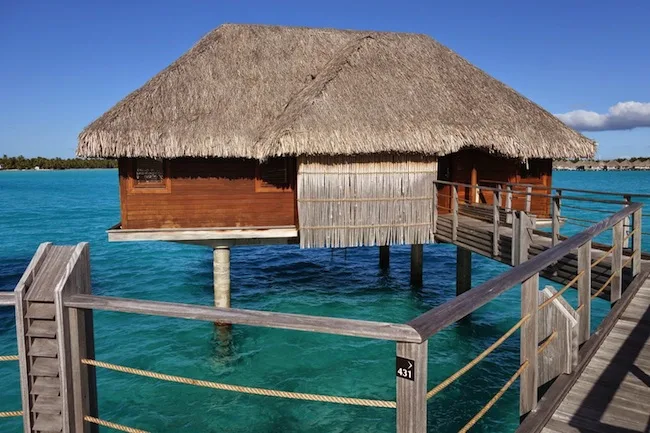 I'd always gazed at photographs of the beautiful island of Bora Bora, dreaming of one day travelling almost all the way around the world to visit. My honeymoon was the perfect opportunity to make that journey and stay at the incredible Four Seasons Bora Bora.
Beautiful thatched huts are perched on stilts rising out of the perfect clear blue lagoon and looking out on to the twin peaks of the extinct volcano Mount Pahia and Mount Otmanu. Mr Silver and I had a bungalow at the end of the jetty for our honeymoon, ensuring a perfect view and total privacy. Ahhh…bliss….
On the first day we found the 'Romance menu' in our room, we knew we were for a treat and decided to take full advantage of what this gorgeous hotel had to offer.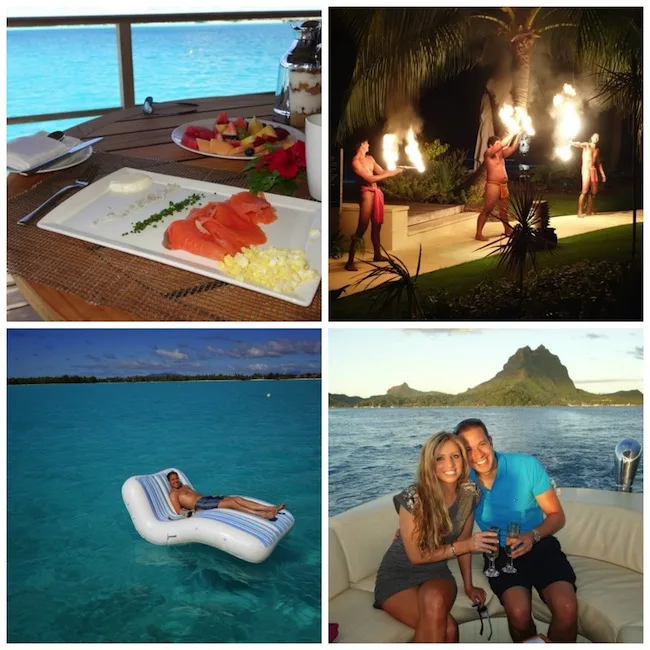 Every morning we had a private breakfast on the terrace of our bungalow and in the evening we could enjoy cocktails and sushi at the sunset bar before going to watch traditional Polynesian fire dancing. We hired a 'floating love seat' which was tethered to our bungalow so that we could drift out on to that calm blue lagoon without a care in the world… Best of all, one night we took a glorious sunset cruise in a private yacht and drank champagne and ate canapes whilst watching the sun dip below the horizon.
Another adventure saw Mr Silver and I hurtling along Highway One with the wind in our hair and views of the Pacific Coast Highway flying past. The stunning St Lucia Mountains rose around us and below was the coast and the beautiful beaches sprawling into the Pacific.
Higher and higher we climbed until we arrived at a beautiful ranch perched 1200 metres above sea level. Post Ranch Inn would be our home for the next two days, and what a stunning home it was. We totally loved our cabin, which was one of only 39 rooms dotted around the cliff top.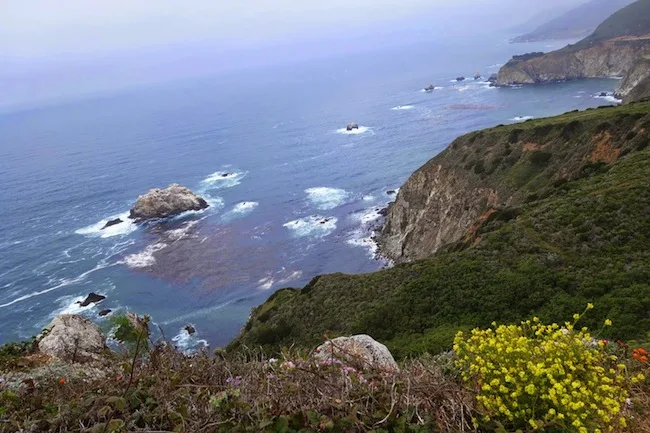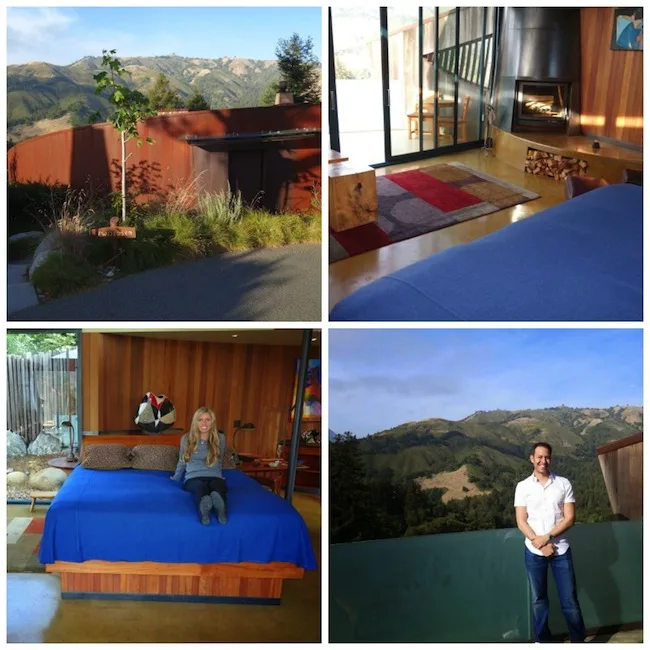 The gorgeous cabin interior is designed with nature in mind and floor to ceiling glass walls framed the mountain vista perfectly; furniture is made from reclaimed wood and enhanced with local handicrafts and pottery. There was a huge fireplace that was perfect for warming up in the cool mountain air as well as a hot tub on the balcony from which you could sip champagne and admire the view. The fridge was full of fresh produce and all included in room plus homemade cookies were delivered every day! Mr S found me with my hand in the cookie jar on several occasions.
On the other side of the hotel there are panoramic views of the sea and from Meditation Pool…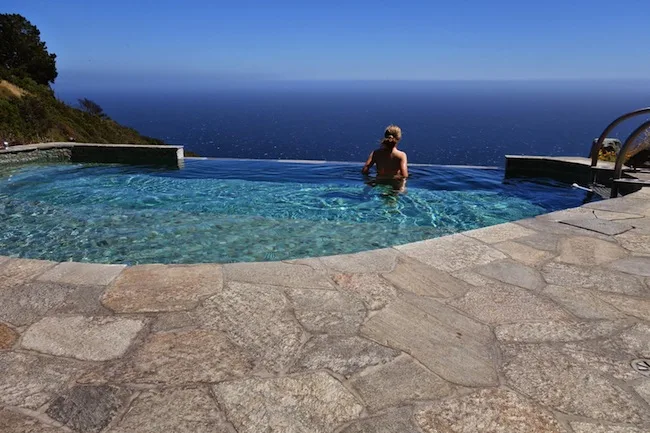 I could see to infinity and beyond!
In the evening we enjoyed a fantastic tasting menu at the hotel's award-winning restaurant Sierra Mar. It also featured floor to ceiling glass walls and felt just so romantic as it gives the impression of floating above the ocean. In between courses Mr Silver and I were invited outside on to the terrace to take a peek through the telescope at a sky that was blanketed with stars…
As Mr Silver and I ascended the hill surrounded by the verdant trees, the air was heavy with anticipation. Visiting Florence, the birthplace of the Renaissance, and staying at Il Salviatino had been high on my bucket list for years.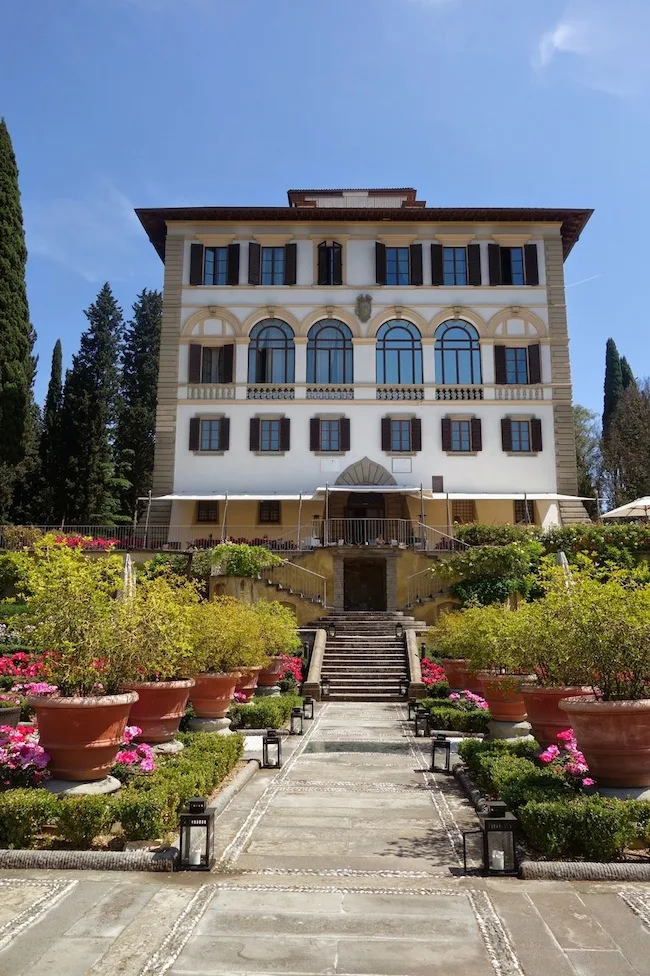 As soon as our taxi drew up at the restored 15th Century villa, we were quickly welcomed in and a cool glass of prosecco was pressed into our hands. The manager gave us a tour of the lush gardens that surround the hotel before leaving us to enjoy more bubbly while sat in a secluded alfresco nook. The most delicious fresh bread, caprese salad and al dente pasta were bought out for us to nibble on while we gazed out at the panoramic view of Florence.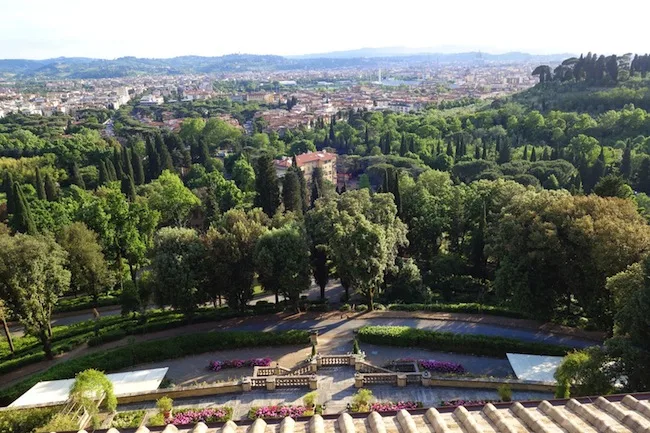 The hotel has a rustic antique feel and is full of gorgeous original artwork and mosaics but still feels contemporary and fresh. We were in the Ojetti suite which was just a dream come true; with a huge living space including a bedroom, dining room and conservatory and upstairs a rooftop jacuzzi and a huge private balcony, it was definitely a room for romance. While we were there we enjoyed a candle lit dinner on the terrace, al fresco breakfasts and relaxing romantic time together by the pool under the Tuscan sun.
For me, romance isn't all about rose petals and champagne, it's about sharing incredible experiences together. Once in a life time moments that you'll remember forever.
The Four Seasons in the Golden Triangle is perhaps the most incredible hotel I've ever stayed in. Mr Silver and I were dropped off at the roadside to board a traditional long-tail boat to carry us down the Mekong river to the hotel. Here in Chiang Rai, is where Thailand meets Myanmar and Laos and there is something rather special about the feeling of being in three countries all at once.
The boat carried us deep into the lush and exotic Thai jungle and to this totally unique hotel. There are only 15 rooms, which are actually luxuriously appointed tents, trust me these give a new meaning to the word glamping!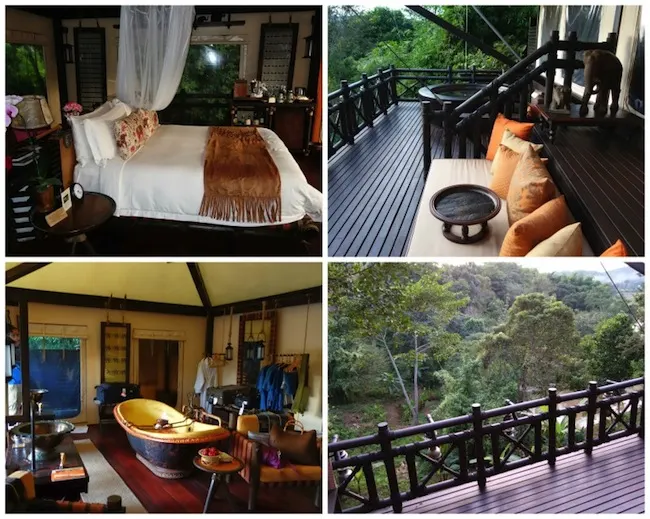 As you can see the room had a Safari feel to it with leather and hardwood chairs, a paddle fan and a gorgeous two person-hand made copper bath. On the balcony was a huge sofa to recline on and a large wooden hot tub that was refilled every day. Now I haven't told you the best thing about this hotel yet… the remote hills are shared with an elephant sanctuary and the hotel itself owns four elephants!! From our balcony we could view the elephants taking their shower in the morning before joining us for breakfast!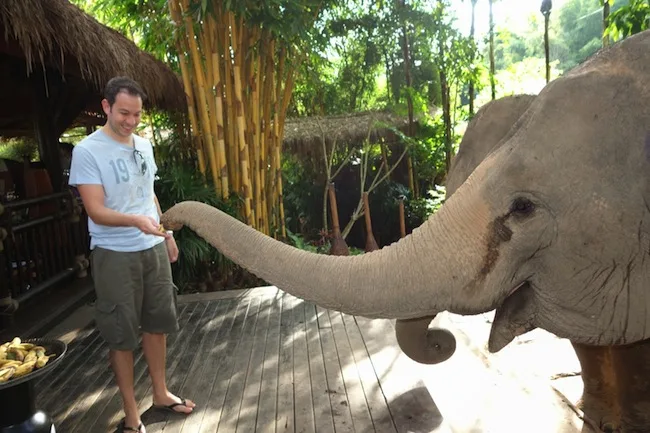 The hotel is pretty pricey but everything is included: meals, drinks, excursions and activities are all part of the package. Best of all is the opportunity to go on an elephant trek with resident mahouts.
I'm not going to lie, I was pretty scared but it was one of the most amazing experiences of my life – and nothing bad can really happen to you at the Four Seasons! One of the real romantic highlights was our dinner in the elephant camp. We were guided down to a secluded area and greeted by the gentle giants before dining in a candlelit setting with a tailor made menu and traditional Thai music to entertain us.
I can't praise this hotel enough and a few other amazing highlights were delicious sundowner cocktails in the bar, wine and cheese tasting and an amazing couples massage in the treetop treatment room. Staying in a tent in the jungle may not sound glamorous but the Four Seasons at The Golden Triangle is literally perfect for a honeymoon!
5. qualia, the Whitsundays
Back in 2012, Mr Silver and I embarked on an epic adventure in Australia. It was a journey that took us to the city, the mountains, the rainforest and the desert… and we decided to end this journey with some relaxation time at the beach.
Located on the luxe Hamilton Island in the Great Barrier Reef, qualia is quite simply stunning. From the beautifully designed sea view rooms to the gorgeous Pebble Beach pool that leads down to the crisp white sands: it's heavenly!
Each guest is provided with a golf buggy and Mr S absolutely loved zipping around the hills on Hamilton Island! There's lots of other stuff to see there but actually there's no need to leave the sanctuary of qualia. We enjoyed fabulous romantic treats including a delicious tasting menu in the Long Pavillion restaurant, a Champagne sunset cruise and wonderful spa treatments.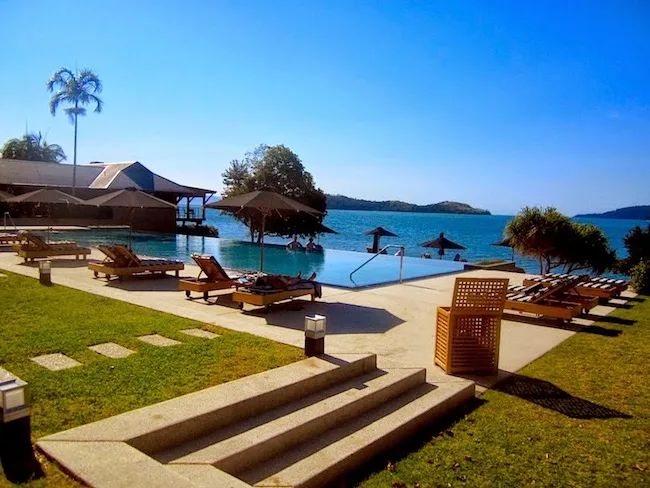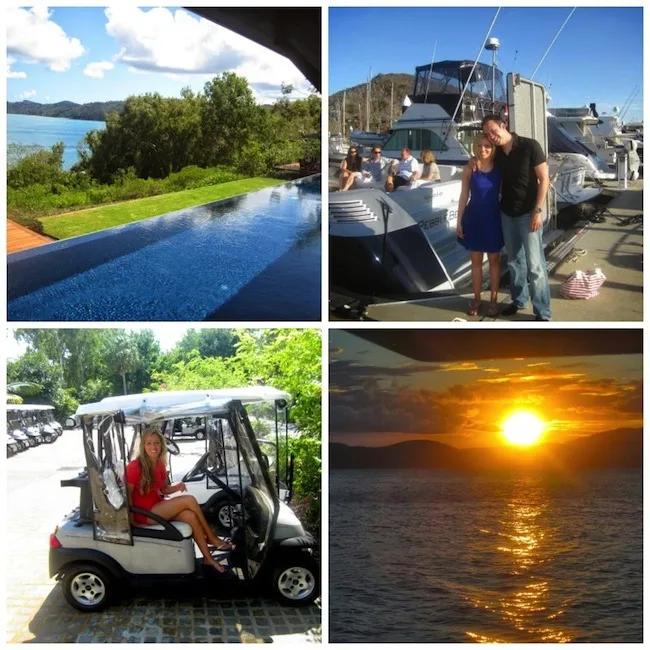 Perhaps the most romantic thing that we did was a beach drop off. A little speed boat whisked us away to a deserted island where beach mats, towels and a parasol had been set up along with a gourmet picnic and wine. We loved our little secluded spot and later Mr S revealed that he'd actually considered proposing to me there. I'm glad he didn't I mean I was wearing hardly any makeup and my hair was a mess ;). Fortunately, he chose the perfect moment once we were back in Sydney at a beautiful cliff top hotel called Jonah's.
All of these hotels were truly beautiful and unique and I'm so happy that I had the chance to experience them with my now-husband the lovely Mr Silver.
---
Massive thanks to Angie for sharing 5 of her favourite romantic hotels around the world. Take a look at her luxury lifestyle blog, Silver Spoon London, for more on luxury travel and wining and dining in London.
If you'd like to guest post on The Travel Hack, please email me at [email protected]
Which of these hotels would you most like to stay in? I'm going to have to say the Four Seasons in Bora Bora!