Last year I took part in a yoga retreat with Azul Fit on the island of Fuerteventura. It was a fantastic week and it left me feeling fitter, healthier, slimmer and more relaxed. I vowed to make yoga retreats a yearly ritual and I'm desperate to take another one this year.
Ibiza looks like the perfect place for a yoga retreat. The island is beautiful, flights are cheap and the weather is perfect. Even in the low season during the spring and then throughout October it is usually warm and sunny. Ibiza also has the perfect level of affordable luxury I'm looking for. What more could you want?
Ibiza might be famous for it's clubbing scene but it also has a laid back wellbeing scene that I'm keen to check out.
So without further ado, here are 5 yoga retreats I'm drooling over in Ibiza.
Best for: Yoga + healthy eating
Mirella is a health chef as well as a yoga teacher so this detoxing retreat has a huge emphasis on cleansing and healthy eating too. The retreat house has a hippy chic vibe and a gorgeous pool overlooking the valley.

Best for: If you're short on time
This is perfect if you only have a long weekend to spare and you're looking for a stylish and luxurious retreat. The retreats run from Thursday-Monday so you'll only need 3 days off work.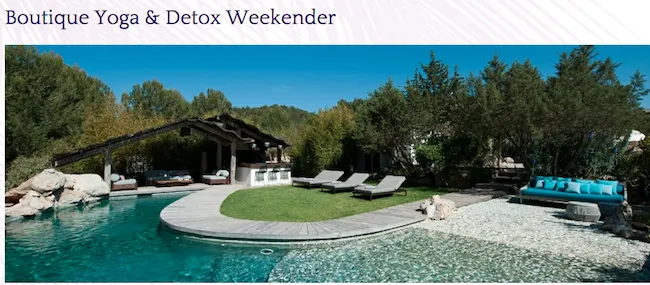 Best for: If you're travelling with non-yogis
If you've never tried hot yoga (often known as Bikram Yoga) you need to get it in your life. It takes a bit of getting used to but once you're in the swing of things it leaves you feeling amazingly energized.
Hot Yoga Ibiza offers classes rather than retreats and they also have ashtanga and core yoga too. You can buy a bulk of up to 30 classes and it can work out more affordable.
There are plenty of options for villas to rent in Ibiza which can be a perfect option if you're travelling with people who aren't interested in yoga as they can do their own thing while you're at your class.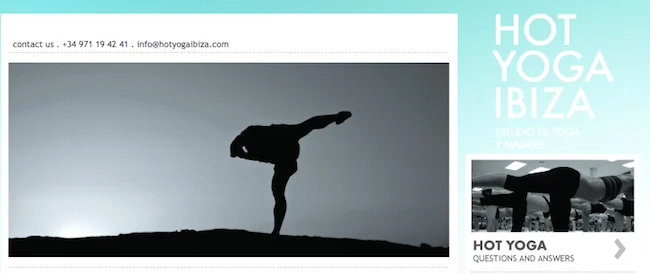 Best for: Yoga for the mind and body
With ocean views from the yoga deck, wooden bungalows, hammocks swinging around the pool and 3 hours of intense yoga per day, this pretty much sounds like my perfect retreat!
This retreat also offers 3 hours of yoga theory as well as the physical yoga practice. Yoga is as much about the mind as it is the body so I think this would be an interesting addition for yogis and great if you're thinking about becoming a yoga teacher.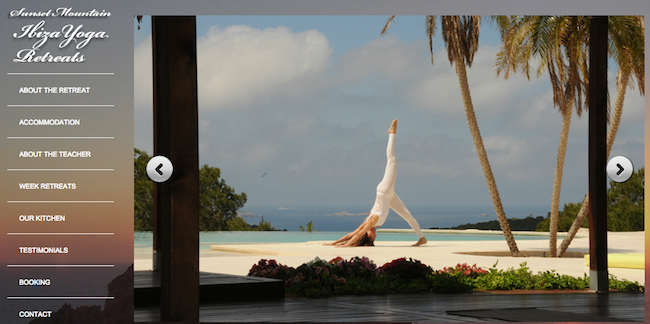 Best for: Beginner on a budget
Prices start from just £421 for 8 days and 7 nights. This includes accommodation, a three-hour yoga class per day and your food. Classes are aimed at beginners so this could be the perfect option for newbies to yoga.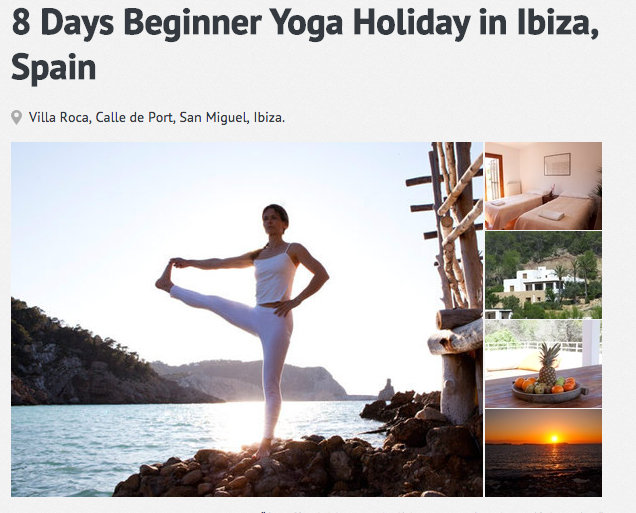 Have you ever taken a yoga retreat or are you tempted to take one in the future?