Aber Falls (Rhaeadr Fawr in Welsh) was the first hike we did as a family of five and it was the best way to begin!
What's not to love about a magical forestry walk leading to an incredible waterfall with rock pools at the bottom to dip your feet in!? It was perfect for our young family and I highly recommend it if you're in North Wales.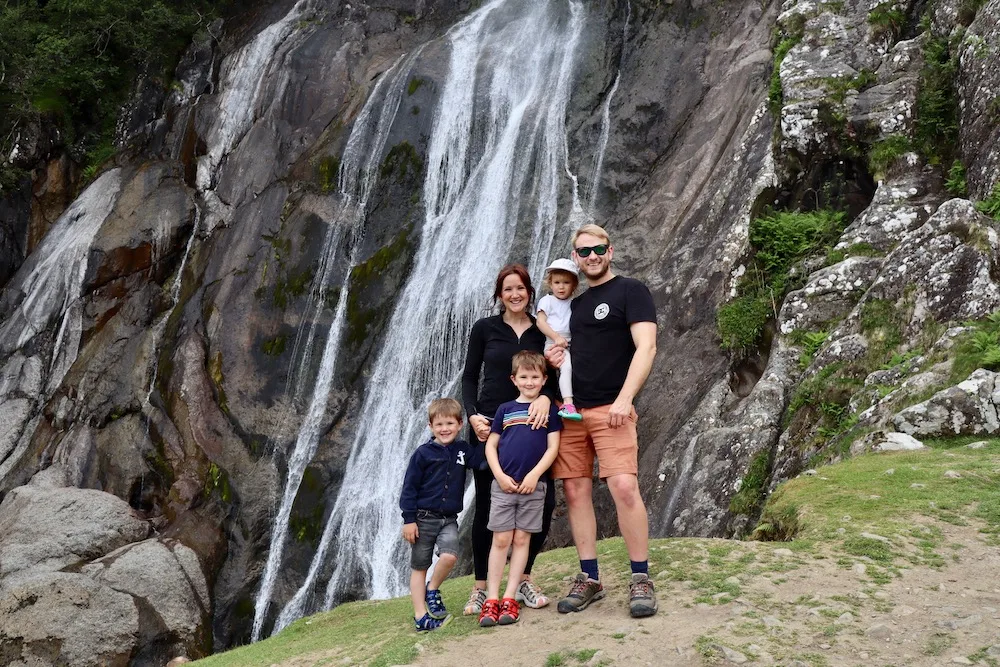 1. Where is Aber Falls?
Aber Falls is in Gwynedd in North Wales. It's just off the A55 at junction 13 and it's very easy to find and get to.
Use the address: Abergwyngregyn, Llanfairfechan LL33 0LP
to find Aber Falls car park with Google Maps or your sat nav. It is signposted when you get close so it's hard to miss.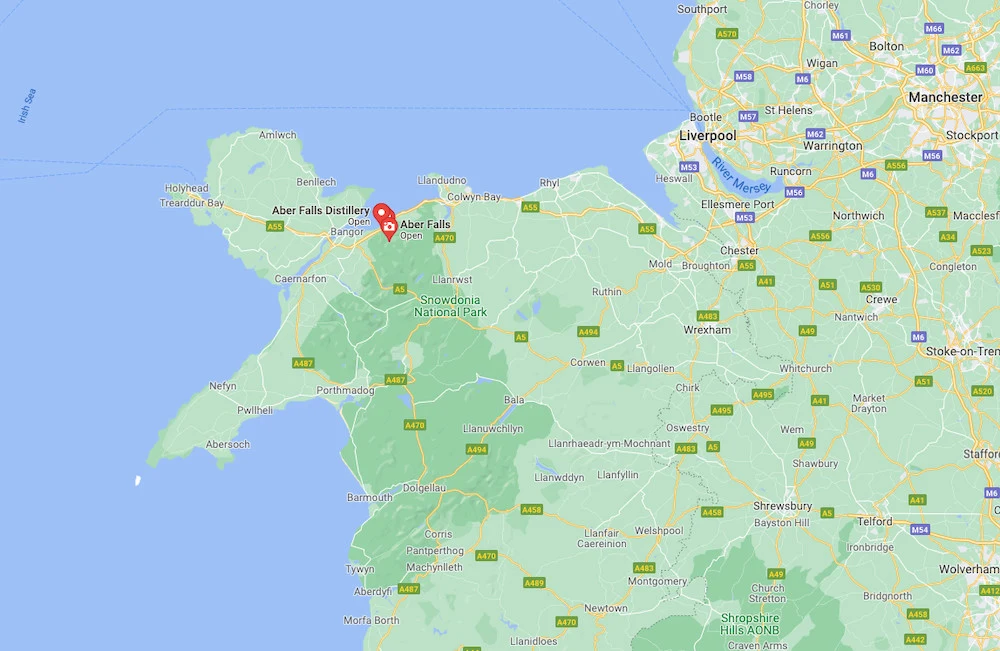 2. How high is Aber Falls Waterfall?
The waterfall is 37 metres high and plunges into a pool that is perfect for brave swimmers!
At the bottom of the falls there are lots of shallow, rocky pools that are great for kids to clamber over and climb.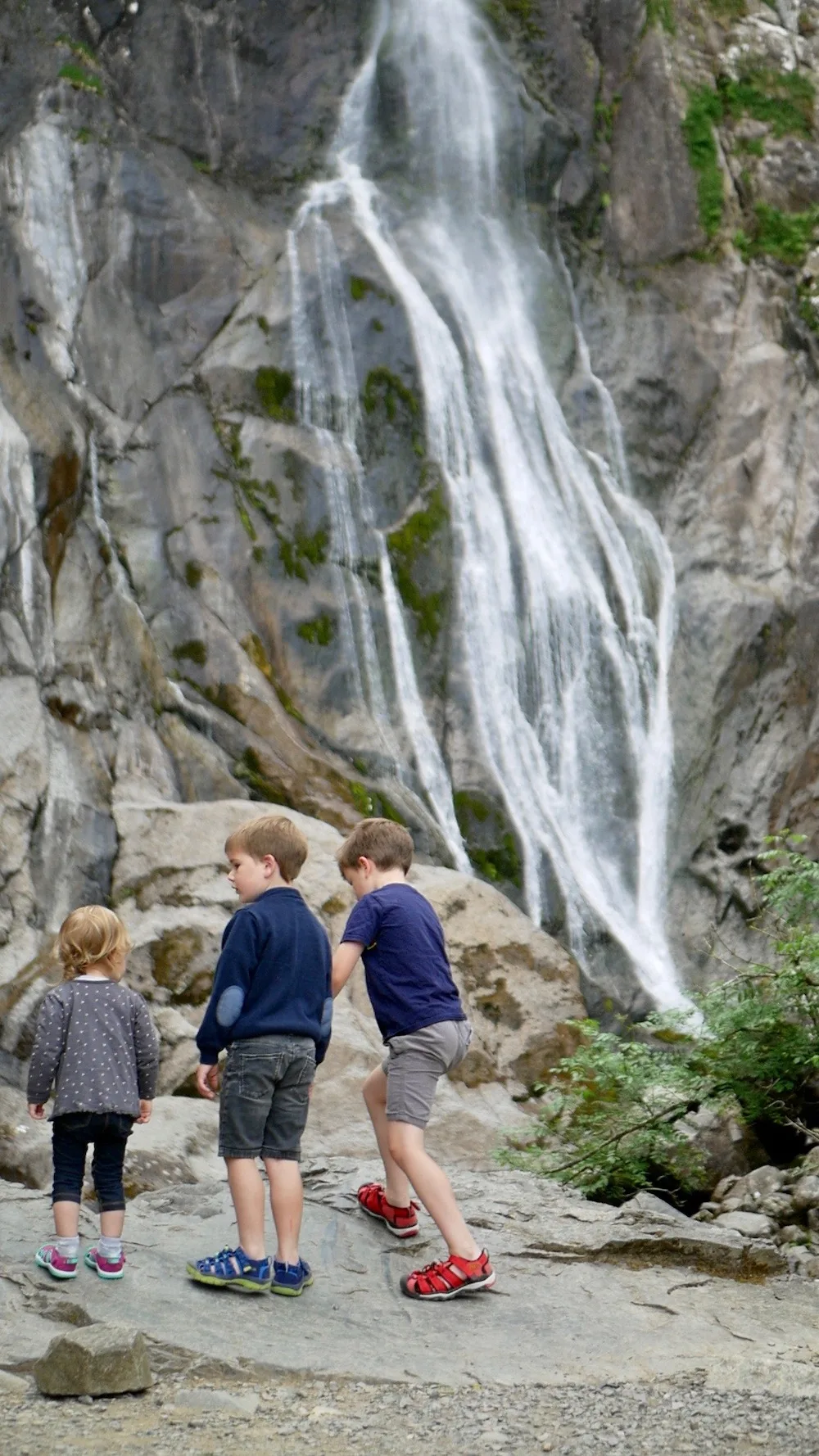 3. Is it suitable for children?
Lots of things I read online about the Aber Falls footpath suggests that the hike is very difficult and you need to be an experienced hiker to do it. This is absolutely not true.
We did the Aber Falls walk with a double pushchair!
My six year old son managed it with no problems. My four year old did ¾ of the walk but got tired on the way back to the car so he jumped in the pushchair at the end. And my 18 month old even walked some sections of it. It really isn't difficult. I'm not saying it's a walk in the park but you don't need to be an experienced hiker!
And that's why it's such a perfect hike for a young family or groups with inexperienced walkers, mobility issues and different fitness levels.
The pushchair we have is an off-road buggy. It's the Mountain Buggy Duet so it is good for all-terrain and you would struggle with a wheelchair or a regular pram but we did see plenty of families with normal umbrella strollers!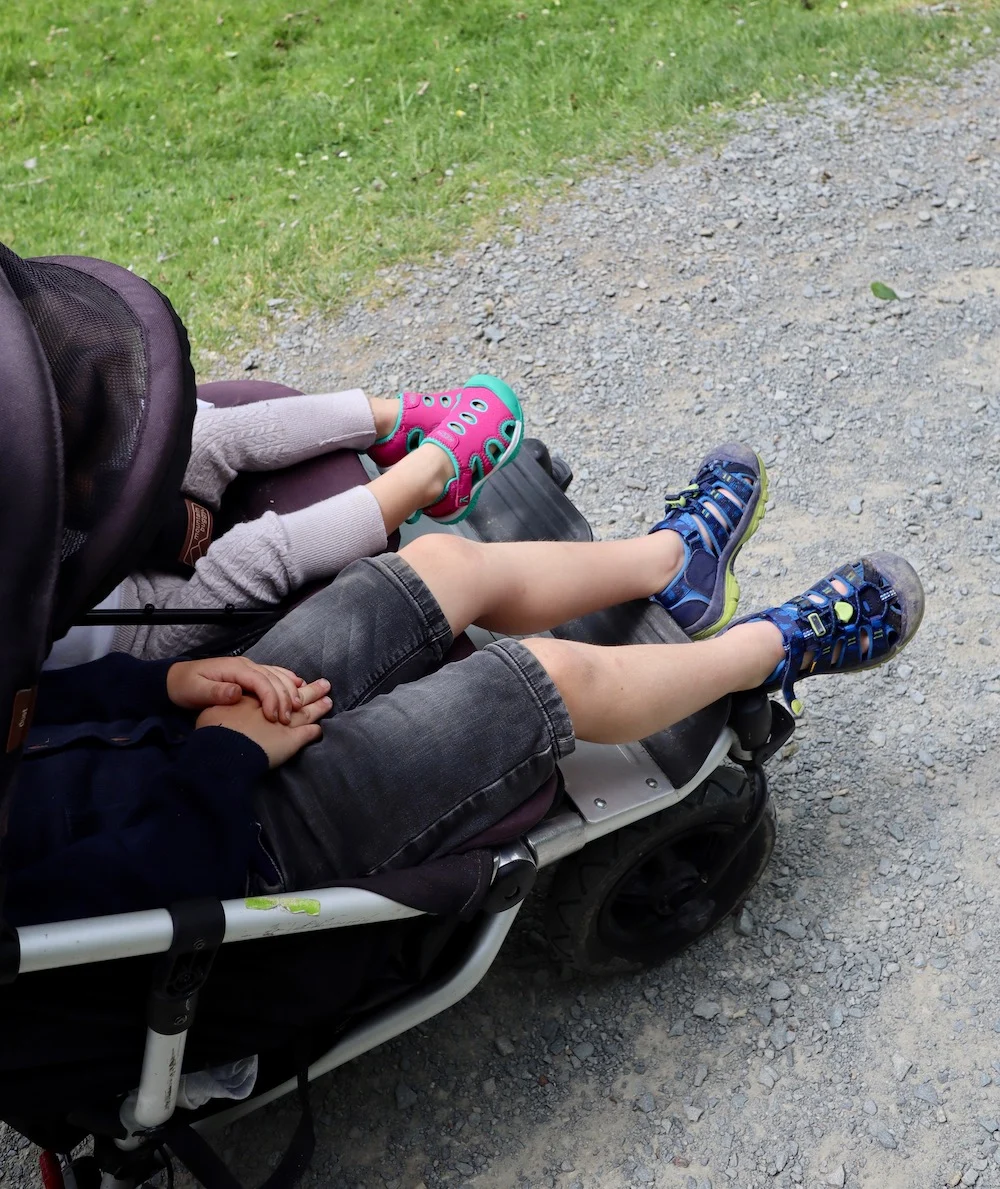 4. The Aber Falls trail
The Aber Falls footpath is beautiful so this walk isn't all about the waterfall! There are lots of native plants along the footpath and loads of wildlife and things to stop and look at. There are even archaeological remains thought to date back over 2,000 years!
The trail is well signposted and easy to follow. You literally couldn't get lost.
The trail doesn't run alongside the river like many waterfall walks do. You'll walk through the trees and fields so you almost lose your bearings and feel unsure as to when the waterfall will appear.
How long does the walk take?
The walk to the waterfall would take less than 30 minutes for a fit adult.
As we were with young children it took about an hour each way and that included lots of stops and snack breaks!
There are two car parks but they're close together so don't worry about which one you end up parking in.
The trail is stoned all the way so it's easy to walk along but it does have a steady incline on the way to the waterfall. I wouldn't say you need to be particularly fit, you may just need to go slow! Thankfully, the walk back is a gradual downhill so it's much easier.
We pushed our pushchair for 90% of the way until we came to some steps at the end. We then left the pushchair on the side of the path and carried our little girl. I'm not going to lie, parts of the walk were a bit of a hard slog with the pushchair but we managed it together and it was so worth it to have on the way back with an easy push downhill with two tired kids!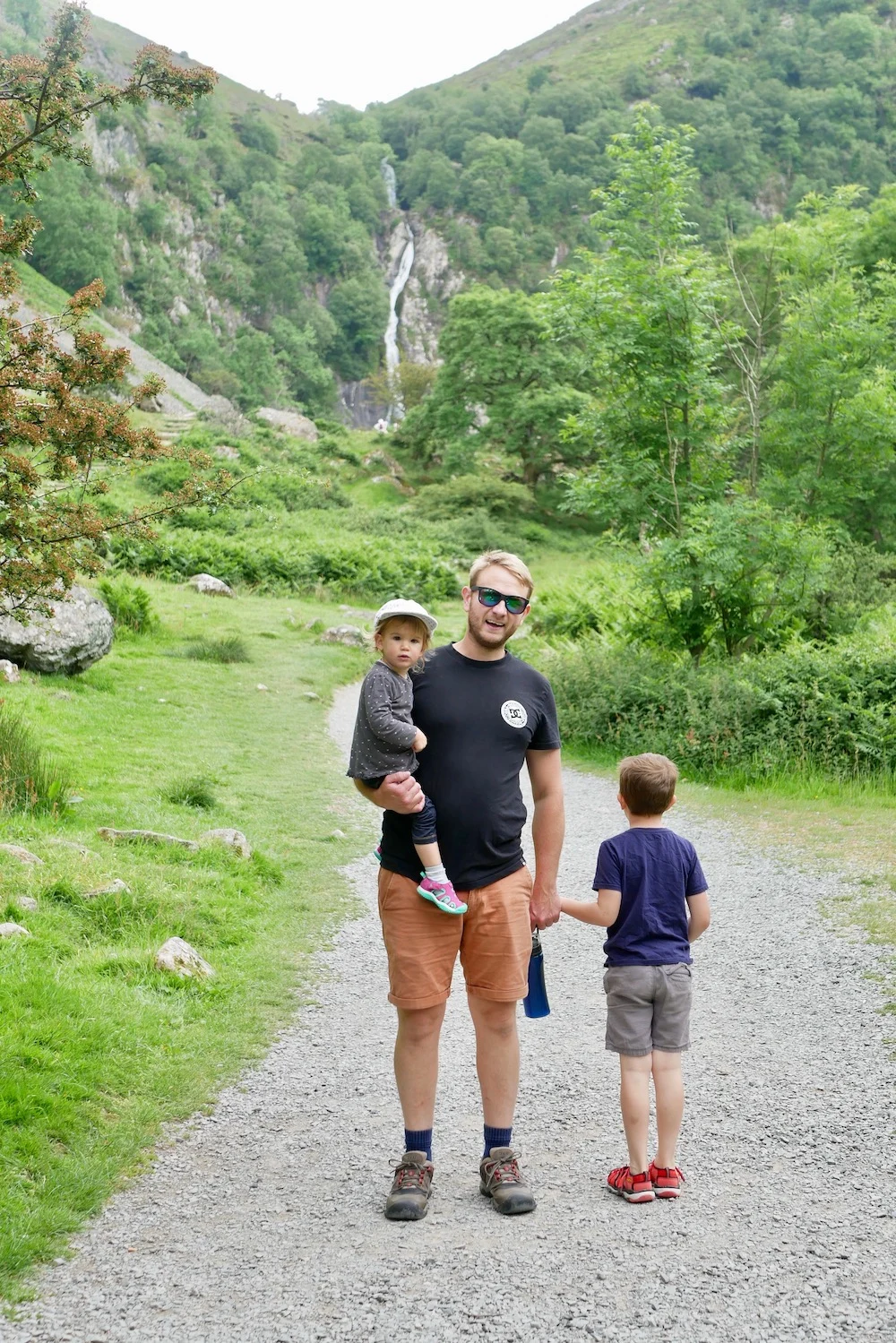 5. Aber Falls car park
Aber Falls has two small car parks and can accommodate around 30 vehicles. There is an upper car park and a lower car park. It's often very busy so it's unlikely you'll have much choice about which car park you end up in!
It costs £5 and needs to be paid in cash so make sure you've got 5 x £1 coins!
This is a popular walk so I highly recommend arriving at around 9am to ensure you get a parking space.
We visited on a lovely Saturday in June. We arrived at 10am and got one of the last parking spaces in the car park.
If there is no space in the car park then there's a car park at the entrance to the village and it's an extra 30 minute walk.
When driving into the Aber Falls car park you'll go along a single track road through Abergwyngregyn. We've heard that on busy days the road can become congested and it's difficult to get through the village. We didn't have any problems during our visit but make sure you get there early just in case!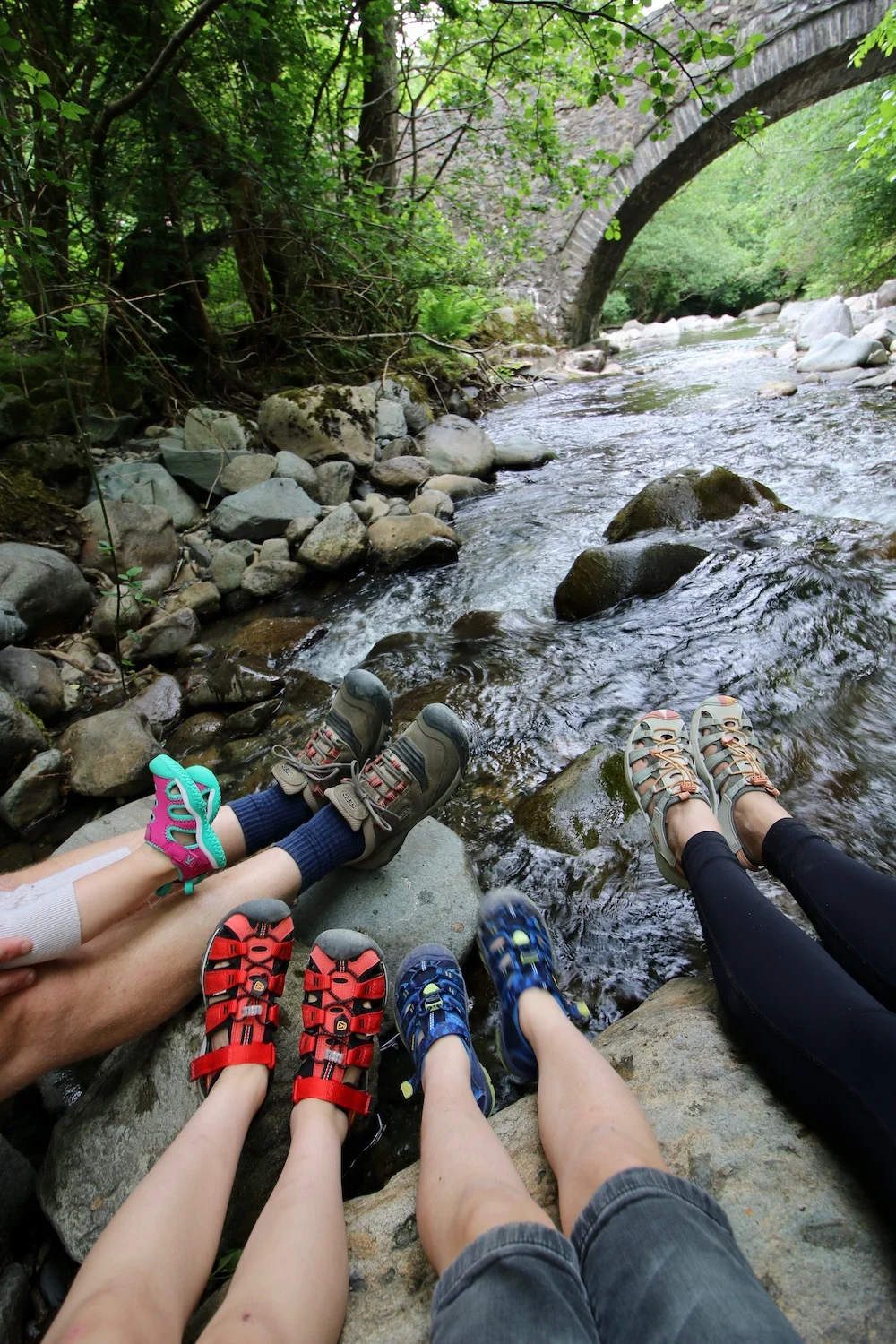 6. Is it busy?
Yes, it is busy. It wasn't busy enough to ruin it for us but I wouldn't go here if you're expecting solitude.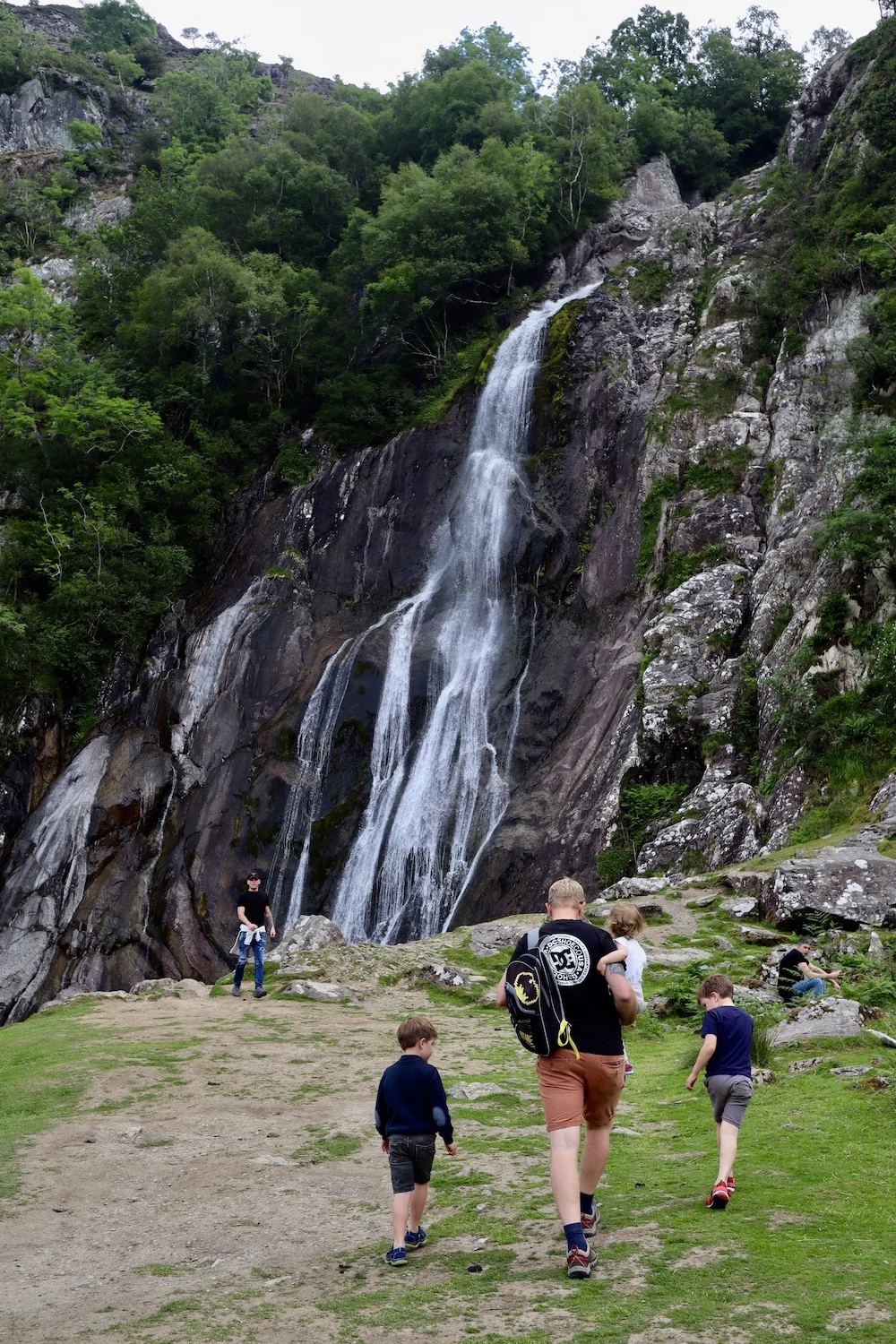 7. What's the Aber Falls Circular Route?
There is another walk you can do called the Circular Route. It's a 4 mile walk and takes about 3 hours. We didn't do it but you can find more info here. This walk gives you views across to Anglesey on the way back. Hopefully I'll be updating this post when my kids are a bit older and we're able to do this one too!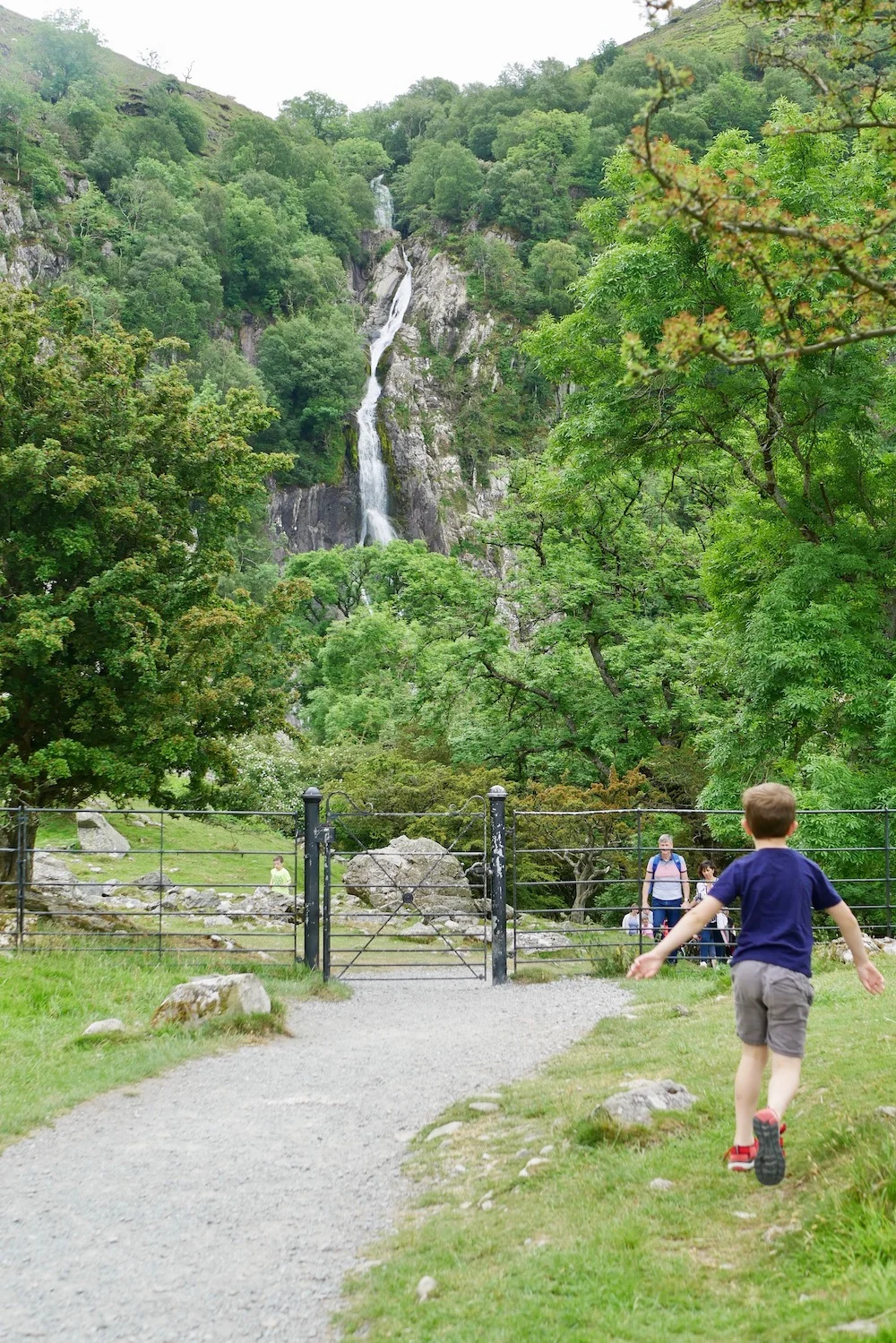 8. What should you wear to walk to Aber Falls?
I wouldn't say you need any specialist equipment but this is Wales so it's always best to be prepared for rain! I wouldn't wear flip flops and definitely wouldn't wear heels and I also wouldn't wear jeans if there's a chance of rain. But other than that you'd be OK in most clothing!
Disclaimer: These photos were all taken for a campaign I was working on with Keen Footwear, which is why we're all wearing Keen sandals. They were absolutely perfect for this walk and we all loved them. It's nearly a year later and we're still all wearing them.
I recommend wearing/packing:
Comfortable, grippy footwear
Possibly walking sandals if it's a hot day and you might paddle in the river
Comfy activewear (but realistically you could wear anything)
A packable waterproof jacket
Packable waterproof trousers if it looks like it might rain
A small backpack for drinks and snacks
Caps for sunny days and hats for cold days
A flask of tea or coffee (I usually leave this in the car for after the walk)
A towel if you plan to paddle or swim
Swimsuit if you plan to go right in!
Camera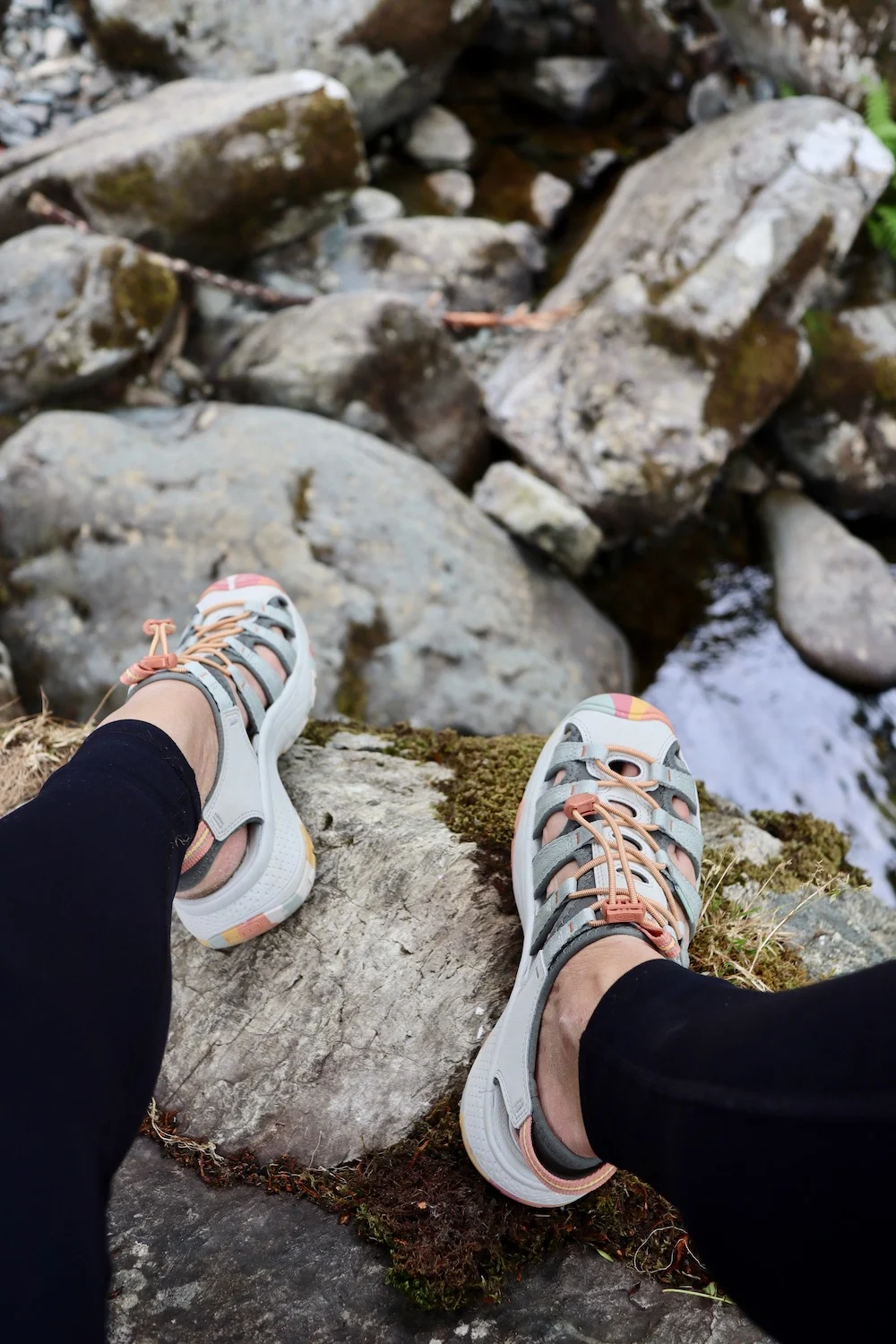 9. Aber Falls Whiskey Distillery
The Aber Falls Whiskey Distillery is nearby and you can make this a full day out by tagging on a distillery tour! You can also do a gin lab experience to make your own gin.
There is also a visitor centre and a riverside bistro which looks lovely!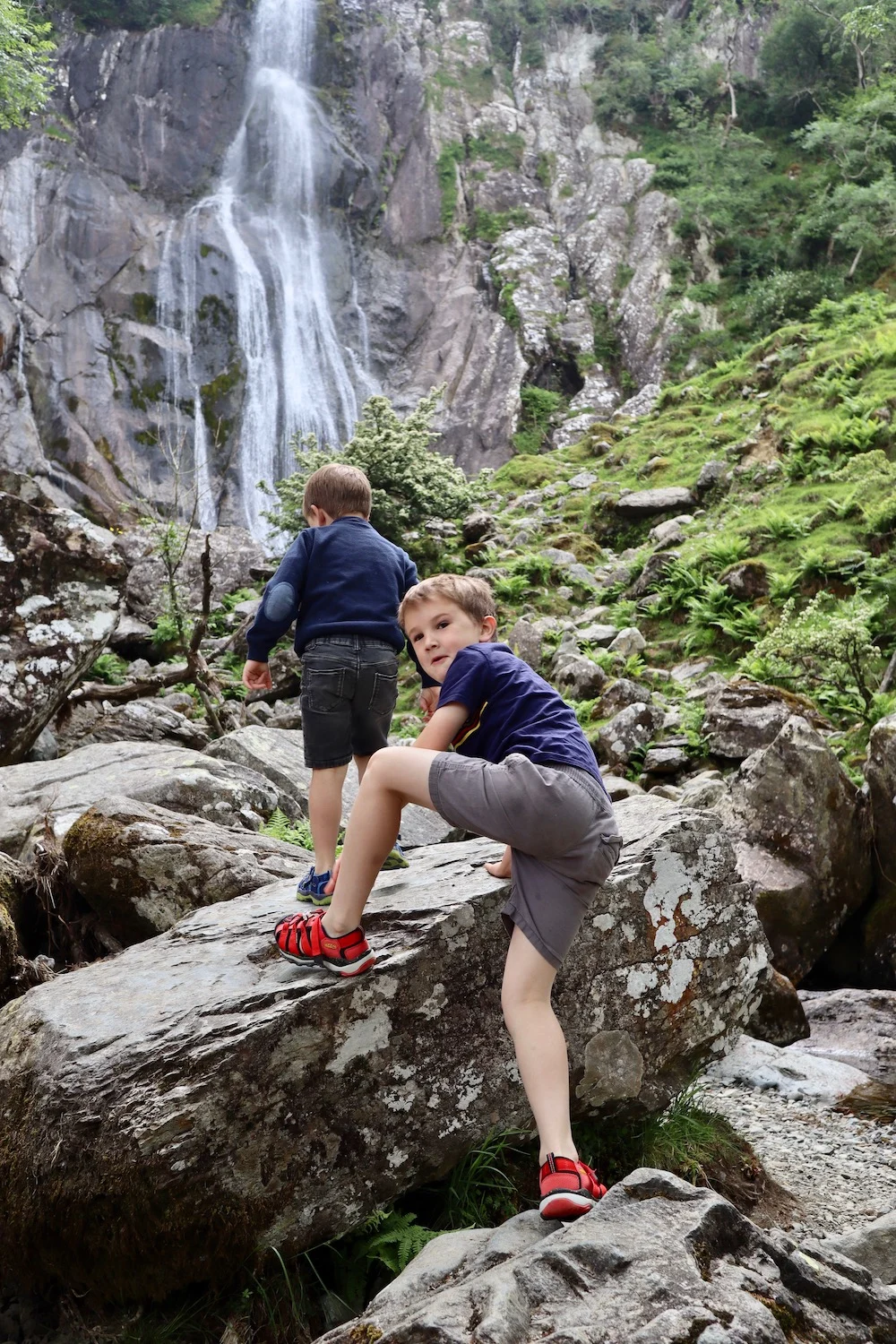 10. Tips for visiting Aber Falls
Get there early – before 9am if it's a nice weekend
Take 5 x £1 coins for the car park
If it's busy be aware you'll need to park in the free car park in the village (30 minute walk to the start of the trail)
Take a picnic
Consider visiting the Aber Falls Whiskey Distillery and bistro afterwards
It is suitable for off-road prams
If you don't have an off-road pram, a baby carrier would be better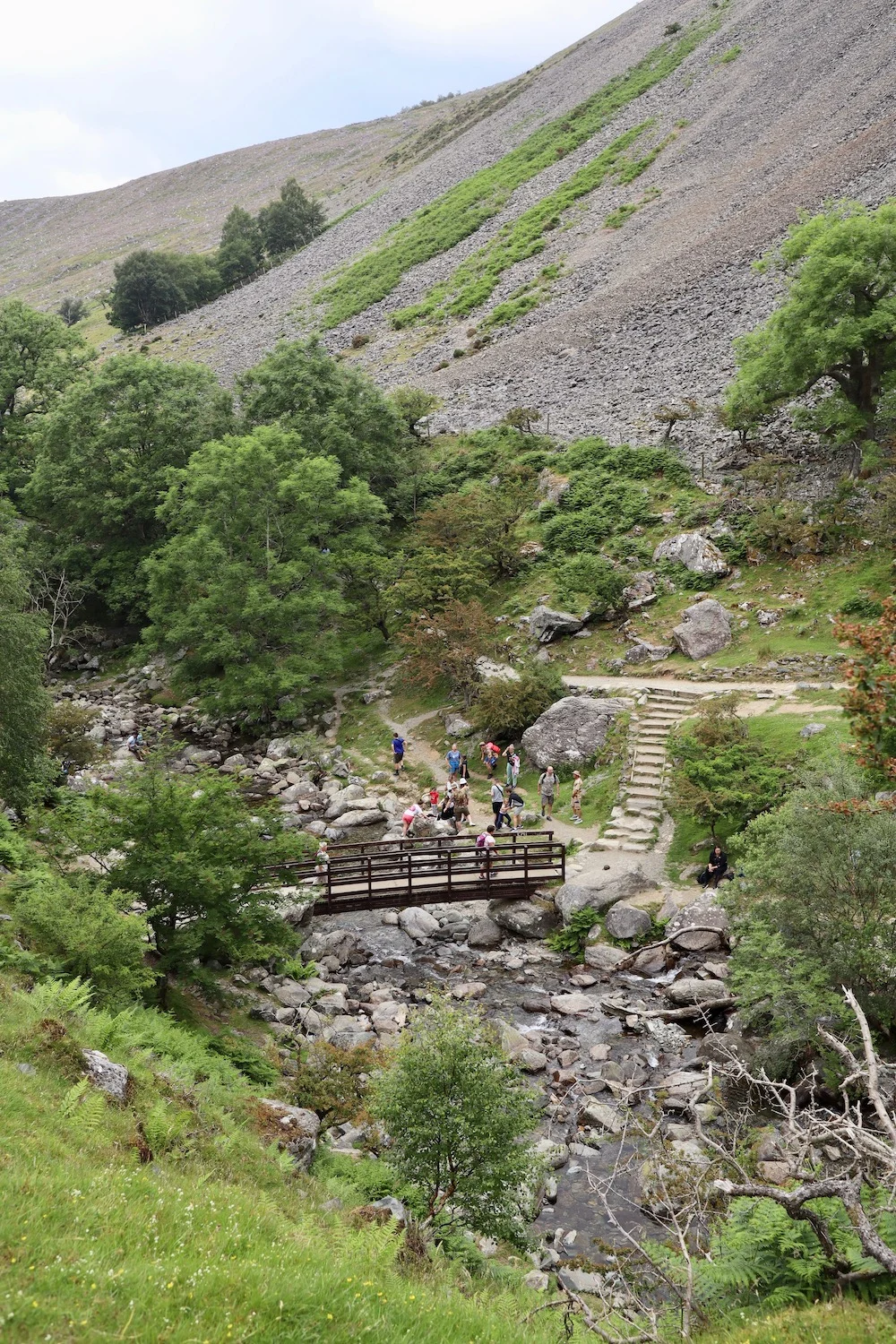 Read more:
25 things to do in North Wales
1 week itinerary to see the best of North Wales
The best places to camp in North Wales
Visiting Portmeirion, the Italian style village in North Wales
Visiting Gwyrch Castle (the one from I'm a Celeb!)
See more photos