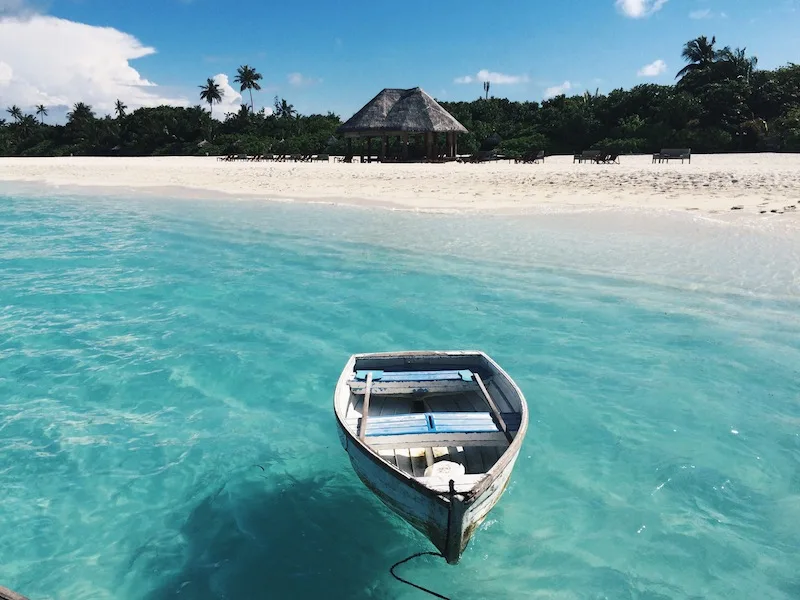 We'd been in the Maldives for just a few hours. We'd had a walk around the island, swam in the ocean, had a cold beer and then – boom – the long flight finally caught up with me and I sank into our enormous bed with a sigh of relief.
The air-con was on max so it was chilly and fresh while I snuggled under the duvet and gave in to sleep. It was the kind of sleep that hits you over the head and I disappeared into a dreamless state.
I could have been asleep for an hour or it could have been a day, I genuinely had no idea when Sam started calling me from outside.
"Mon, come outside, George wants you!" Sam shouted.
"No chance," I thought. I'd held George on my lap for the entire flight so it was Sam's turn to play babysitter.
I sank back to sleep.
"It's really nice out here, you should come out!"
No way. I knew it was nice but this bed was nicer right now.
"Wow, you should see this sunset, it's really nice. You should get up quickly and take some photos."
Well, that got me. Both the blogger and the sunset lover in me couldn't resist and I sleepily stumbled out of bed. I hadn't even considered the fact that our villa didn't face the sunset and there was no way Sam could have seen it from where he sat.
"Can you hold George a minute?" Sam said as he placed George in my arms. "I brought a new top for him. I bought it….at home….new top…vest….."
Sam was stumbling over something to do with a new vest, which was really weird because he only ever buys George novelty clothes like football kits and rugby kits. And why wouldn't he tell me this at home?
I held George up who was grinning at me like he hadn't seen me all week.
I couldn't help but grin back and kiss his chubby little cheeks.
"…new vest…" Sam was still talking about this vest.
So I held George up to read it again.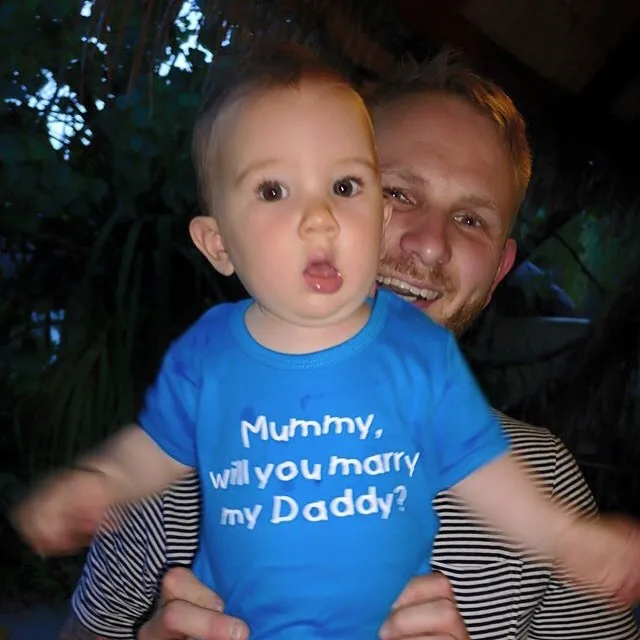 And the rest is a bit of a blur.
"Mummy, will you marry my Daddy?"
I looked from Sam to George. Back to Sam. Back to George. It wasn't like George was going to give me any answers but this vest was a pretty big clue.
I read it again.
"Whaaaaat? Wha, what? Really!?"
I'd sat down on the sun lounger and Sam was next to me. He was on one knee. He was opening a small box and staring at me with wide green eyes.
"Will you marry me?"
I was so shocked I don't even know what happened next. All I know is that there were hugs and kisses and 'I love you's' and George was giggiling and a cork was popped and a sparkly diamond was on my finger.
And I was engaged!
I was engaged in the Maldives on a paradise beach. I'm engaged!
It still feels funny to say that. "I'm engaged". As you can probably see, I like to say it as much as I can.
Whenever possible I drop 'my fiance' into any conversation. It's like playing Word of the Day but I don't think this is ever going to get old.
Looking back now, I can't believe I was so surprised. Sam and I have been together for years now. We've travelled the world together, had a baby, renovated a house and I've been dropping not-so-subtle hints for at least a year! And what's more, we were in paradise. An absolute paradise, dream destination. The kind of place we've been dreaming about visiting for years and this is a story we're never going to get bored of telling.
The boy done good, it doesn't get much better than this for proposals.