I'm so excited to finally say that The Travel Hack Pro Cabin Case is ready!!
Sale
Travel Hack Cabin Case with Hand Bag Compartment
Generous 28 litre main compartment with packing straps and a variety of zipped pockets for everything from toiletries to straighteners.
Rear padded compartment for a Macbook or a small laptop.
Stylish 600D PU outer shell with faux leather inserts and rose gold detailing.
Please note that this suitcase now has a light pink interior which has replaced the original hot pink.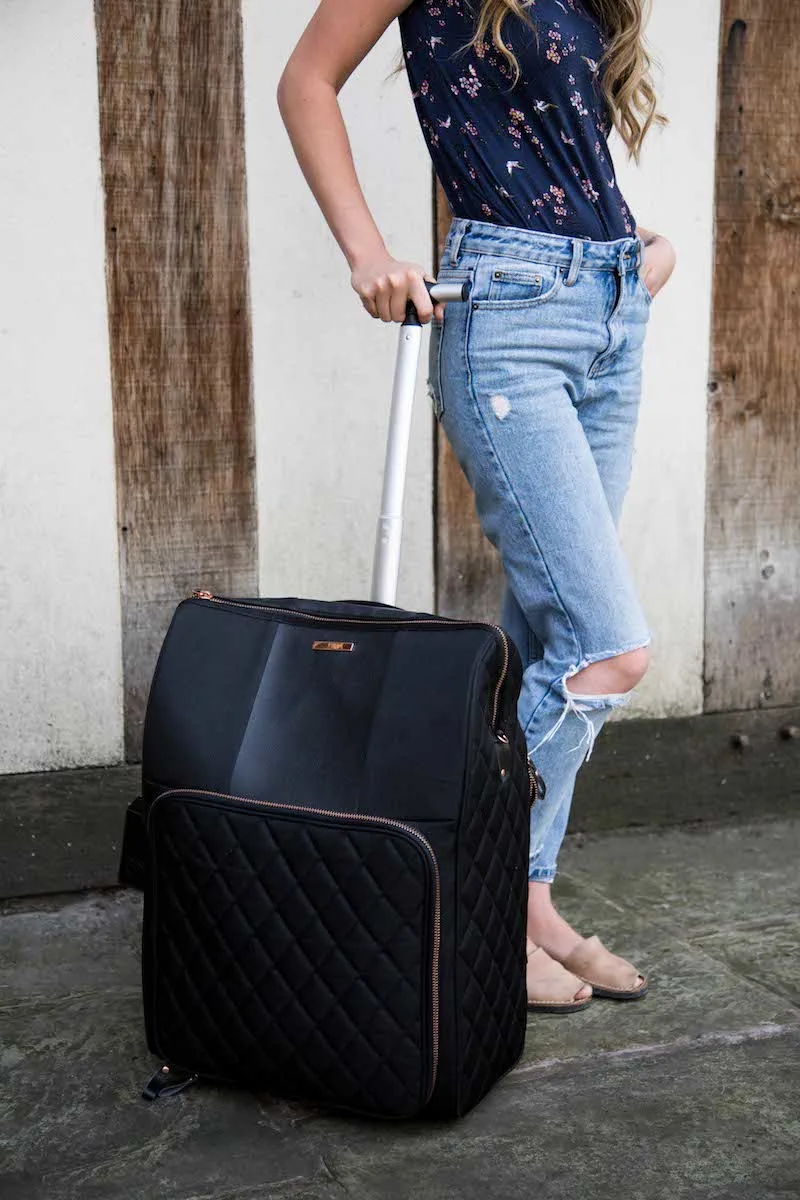 I've designed the perfect women's cabin case in partnership with a company called Cabin Max.
I'm so proud of this case as it's literally my dream cabin bag with all the features I've been wishing I could have for years.
It's got a compartment for everything (but not so many little pockets you lose everything!) and – what's even better – is that each pocket and compartment is easily accessible! Meaning you can get to everything really easily while you're travelling.
I was so fed up of those hard shelled suitcases where you have to open up the entire case to get to one little thing!
Here are just some of the other reasons I love The Travel Hack Pro Cabin Case (and why I think you will too!)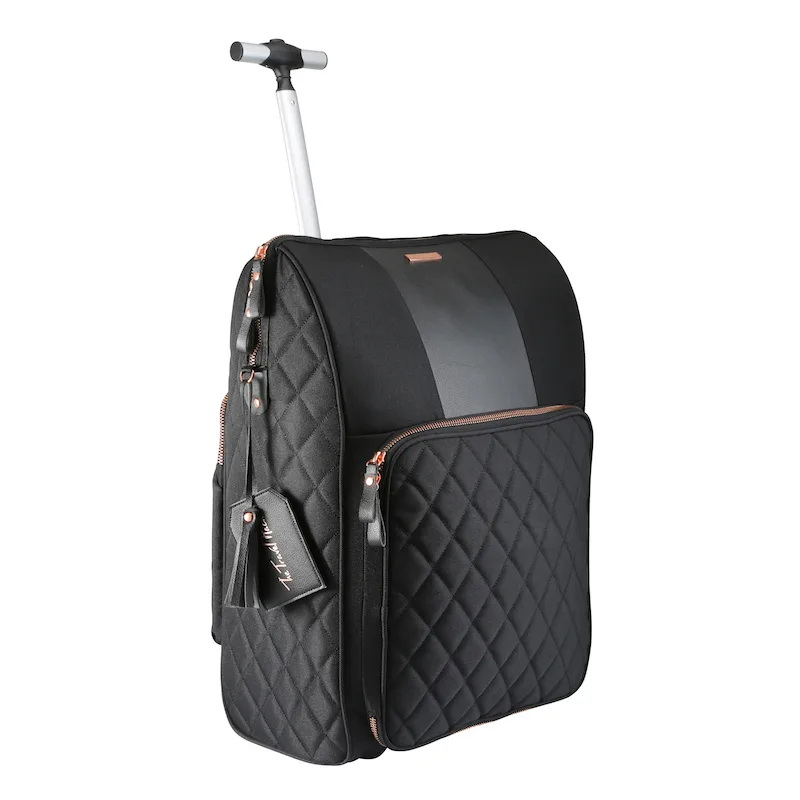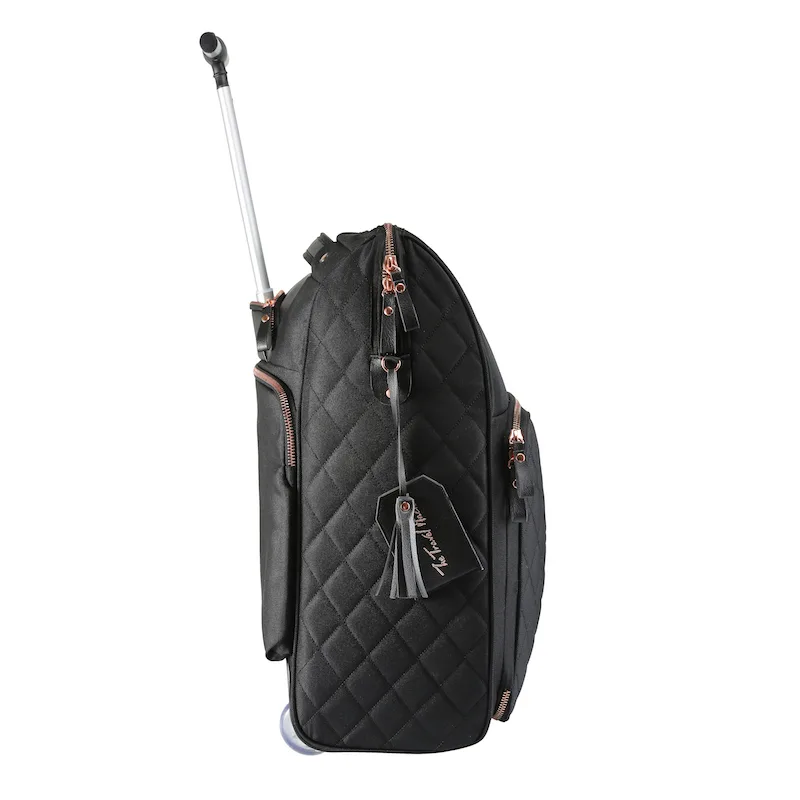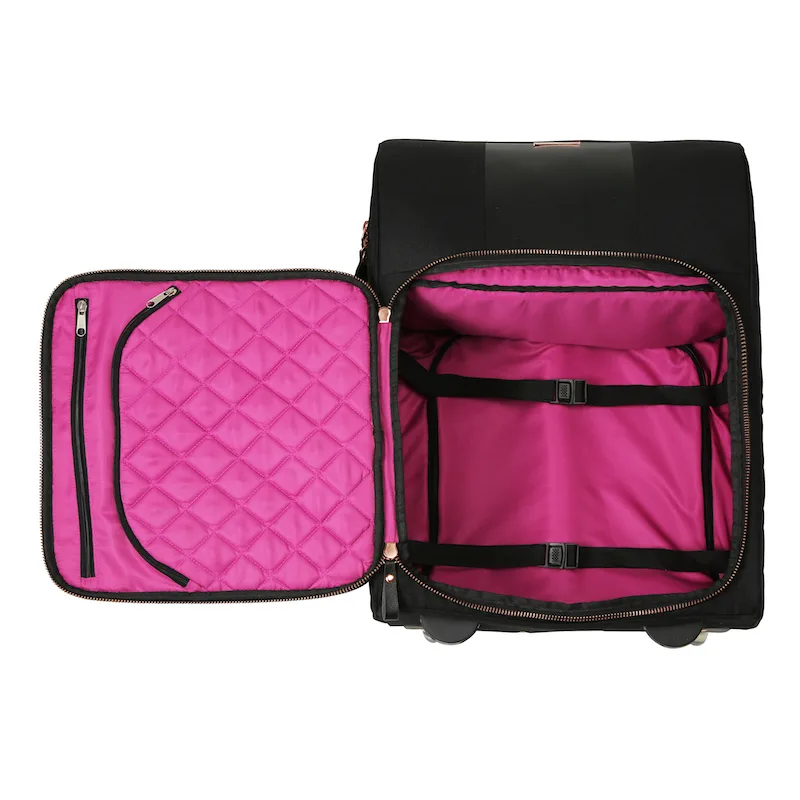 The Travel Hack Pro Cabin Case Features
It has a large compartment on the top (this is my favourite feature!) that can be used for your handbag when you're travelling with those airlines that, annoyingly, only allow one piece of hand luggage. You can also use it for liquids (to avoid the awkward suitcase rummage at security!) or items you want to quickly remove once you're on the plane. It's also great to store cameras or delicate items or things you don't want to touch your clothes, like shoes or food.

It's enormous (the main compartment is 28 litres)

It's the perfect dimensions so it'll be accepted as cabin baggage on most airlines

It's 55cm x 40cm x 20cm so even stingy airlines like Ryanair will accept it

It's black and rose gold – those chunky rose gold zips are gorgeous!

It's a combination of lovely soft faux leather and more durable 600D PU material so it's stylish but you don't need to worry about bumps and scratches (practical AND stylish!)

It's lightweight at just 2.7kg – so not only is there plenty of space but also plenty of weight left for your belongings

It has a large padded laptop pocket at the back so it's easy to slip my laptop or iPad out while I'm travelling

It has lots of interior pockets to keep things organised

It has a handy water bottle holder on the side

It has a strong, sturdy handle

There's a large handle on the top to easily lift and carry it

It's beautiful!!
A cabin case with a handbag compartment
Finally, there's a cabin case with a handbag compartment!
I honestly don't know why there aren't more cabin suitcases with handbag compartments!?
One of my biggest bugbears when travelling with hand luggage is that you can often only take one bag onto the plane with you, meaning you have to try and squish your handbag into your suitcase to board the plane, only to remove it again the second you get to your seat.
The Travel Hack Pro Cabin Case puts an end to this struggle because you can easily slip your handbag into that top handbag compartment to board the plane, and then easily get it back out when you get to your seat.
And if you don't use this for your handbag, it's still a really handy pocket for anything you'll want easy access to while you're at the airport or on the train etc.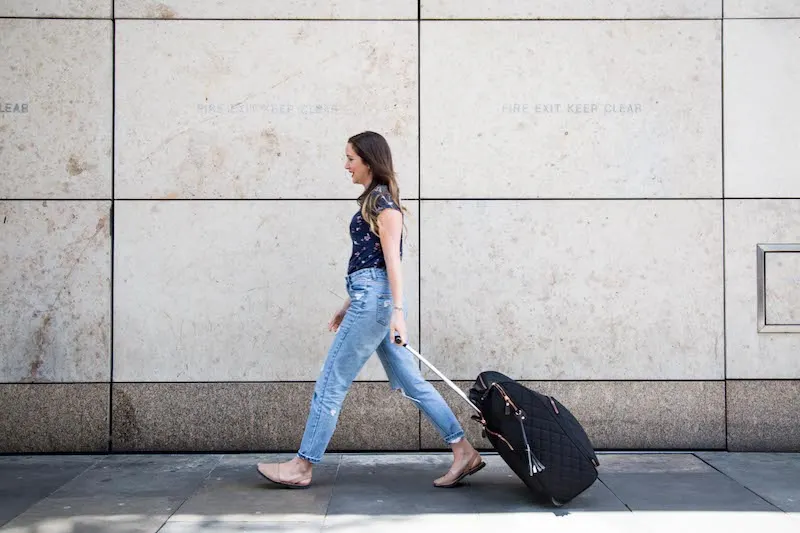 A Cabin Case with a top toiletries pocket
Another use for this top handbag compartment is to use it for your toiletries and tech you'll need to remove from you suitcase at airport security.
When you go through airport security you need to remove all large electronics and your liquids.
I find this process surprisingly stressful (especially when flying from Manchester Airport where they're super strict and super mean!)
I hate having to open up my suitcase and dig around for my liquids and tech!
But The Travel Hack Pro Cabin Case makes it easy because you can pop all of these items in the top compartment, making it easy to quickly whip them out and place them onto the security belt.
You can then place the entire suitcase on the security belt without needing to open up the main case at all.

What size is The Travel Hack Pro Cabin Case?
The Travel Hack Pro Cabin Case is 50cm x 40cm x 20cm so it can be used as an onboard cabin case for most airlines – even Ryanair!
The size and shape is a little unusual as it's a little taller and thinner than most suitcases. When it arrives many people think it's too big but it's actually the perfect dimensions as it maximises every centimetre of your luggage allowance! This cabin case gives you the most bang for your buck because it's as big as it possibly can be!
Most cabin cases are too fat to be accepted as cabin luggage. And when they're the right width, they're much shorter than they could be, meaning you're missing out on so much space!
The integrated telescopic handle and tucked away wheels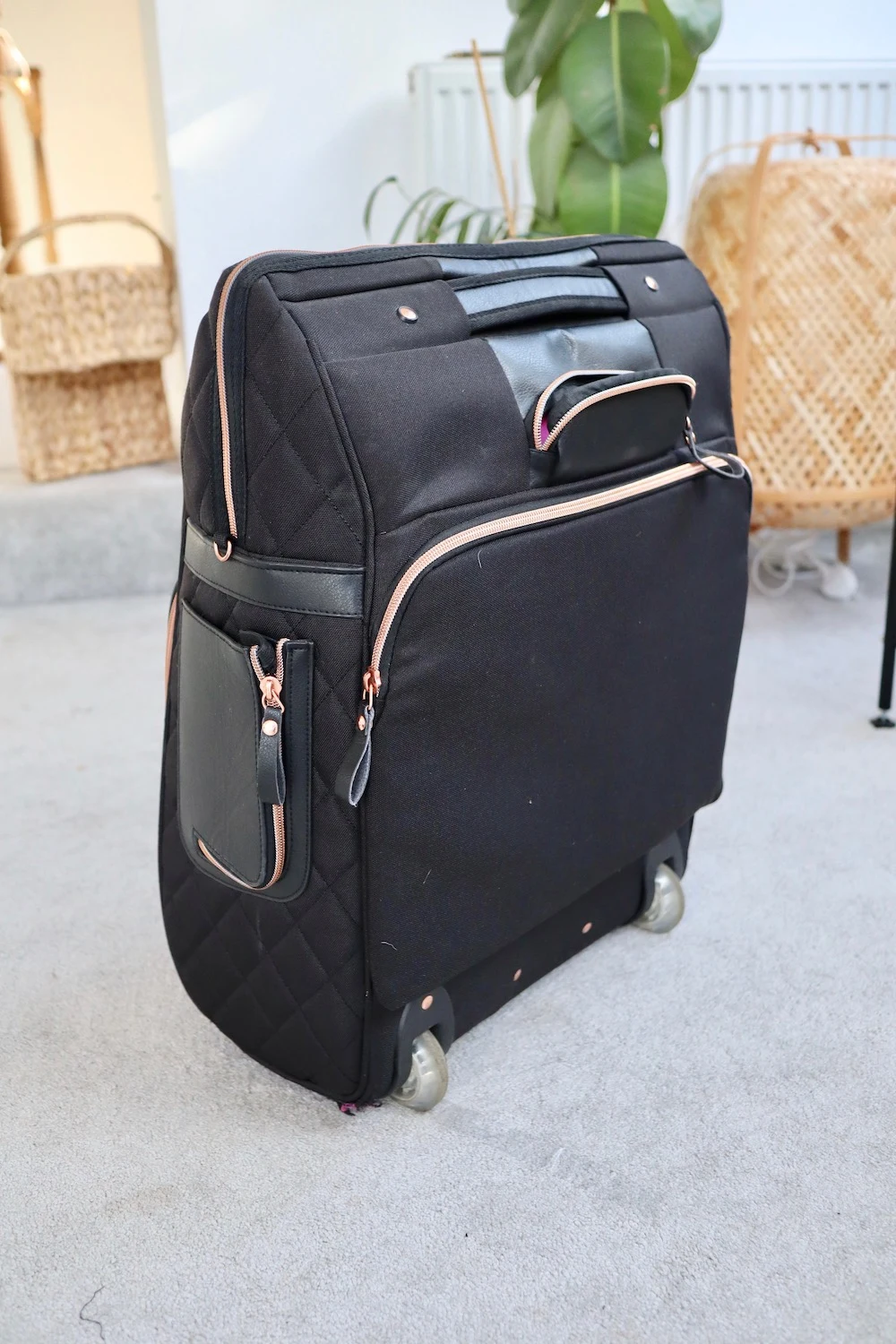 One of the genius design functions of the Travel Hack Pro Cabin Case is the integrated telescopic handle. The handle tucks right into the suitcase with a zippable cover so it's fully integrated and doesn't stick out which would add extra bulk and make the suitcase unnecessarily big.
The same applies to the wheels. The wheels don't stick out at all! Many suitcases have 4 wheels which stick out by 3-4cm which is valuable space you lose from your case! This doesn't really matter when you're travelling with a large suitcase but when you've only got a small cabin case then every centimetre counts – especially when you're trying to squeeze in that last pair of shoes and you wish you had just a tiny bit more space!
The laptop compartment
The cabin case has a large laptop compartment on the back. This pocket is padded but it's also big enough to add your laptop inside the usual laptop sleeve you use.
This extra large laptop pocket was a feature I really wanted to have, not only for people who travel with extra large laptops, but I also like to have my laptop in a padded sleeve when I arrive and I find it annoying when suitcases does have enough space in the laptop pocket to pack your laptop inside the sleeve.
So how did this collaboration come about?
I've created this cabin case with a company called Cabin Max, a local company I've worked with a few times in the past. Cabin Max specialise in creating hand luggage that is just the right size to fit airline restrictions. They make the most of every centimetre you're allowed so you get the biggest bag possible without worrying you'll have to check it in (and pay extra because your bag is too big!) Their bags are really good quality, but also really great prices at around £40-£50 for most cases.
Everything about Cabin Max fits with The Travel Hack ethos perfectly. They create quality, affordable products that make travelling that little bit easier.
Cabin Max got in touch to see if I'd like to work with them on designing a 'Travel Hack Cabin Case'. As you can imagine, I was pretty excited!
You may have noticed that I've reviewed a lot of luggage on The Travel Hack in the past. I'm definitely a 'bag girl' and I love bags in all shapes and sizes – whether that's a designer handbag, a canvas shopper or a family-sized suitcase, I love them all!
Of all these bags I've reviewed, I've never found one that is 'just right'. They're a little bit too big, a little bit too small, difficult to pull, overpriced, poor quality or don't have the right assortment of pockets and pouches. They've always been good, but never been great.
I arrived at my first design meeting with Cabin Max with a list of things I wanted from a bag but it soon turned into a conversation about travelling, airports, airport security, packing and the stresses of travelling. It was this chat that sparked lots of ideas for a perfect cabin bag.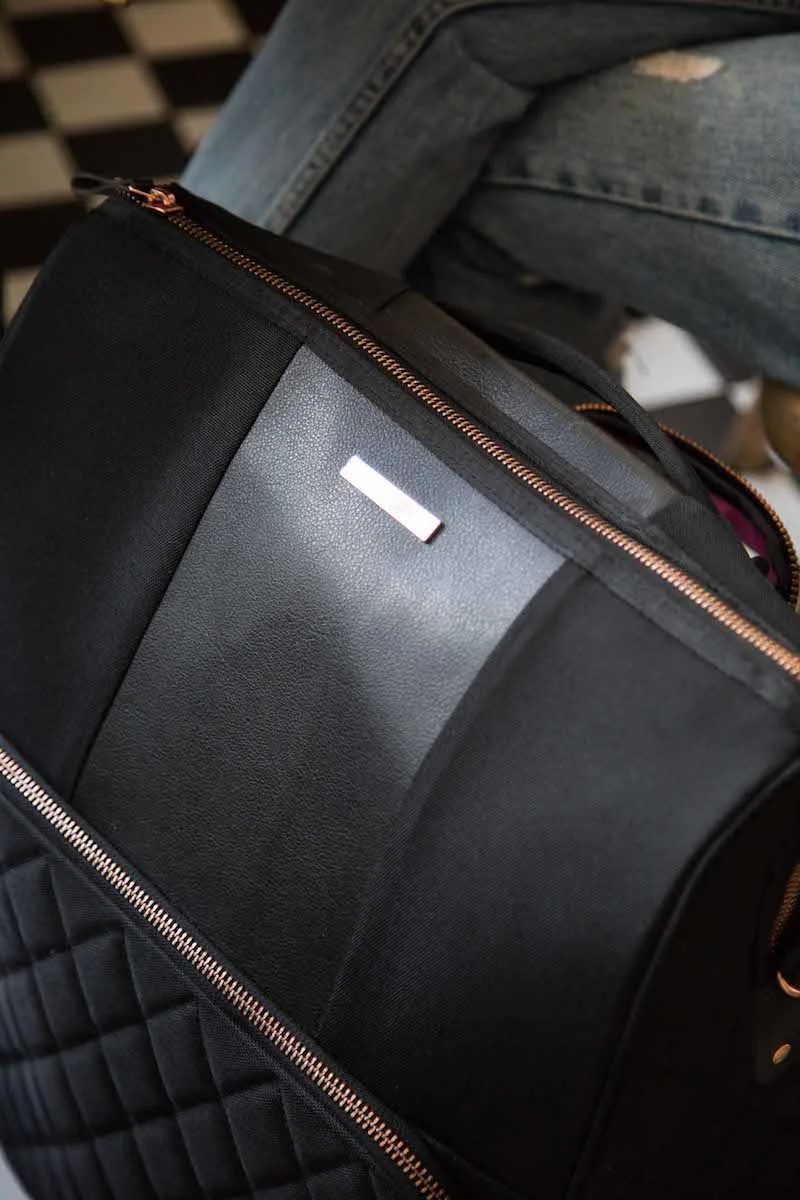 When I'm at the airport, I see a lot of people stressing about security. It's that moment where the security staff are rushing you through the conveyor while barking orders at you, listing rules, shoving sandwich bags in your face and telling you to remove virtually everything in your suitcase.
You see people struggling to open up their entire bag, revealing all their belongings to everyone in the queue and rummaging through their clothes while digging around for liquids, then struggling to squeeze laptops, iPads and Kindles out of tiny compartments.
Wouldn't it be easier if there was one easy-to-access pocket at the top of a case you could whip open and remove all this stuff?
And then you're ready to board the plane and the air stewards are telling all the ladies to pack away their handbags and you see them trying to squeeze it into their suitcase alongside their shoes and toiletries and clothes. This is annoying….but it's even more annoying when you board the plane and you want to get your handbag right back out again! So you see all the ladies in the isles of the plane trying to wiggle it back out without everything else falling out their case.
And what about camera equipment? Any photography enthusiast out there will know how difficult it can be to travel with cameras and lenses. I've actually bought this cheap camera pouch off Amazon to insert in the top pocket of the Travel Hack Cabin Case and it works perfectly as a camera compartment.
I feel like virtually everyone has a different need for this top compartment and everyone will use it differently.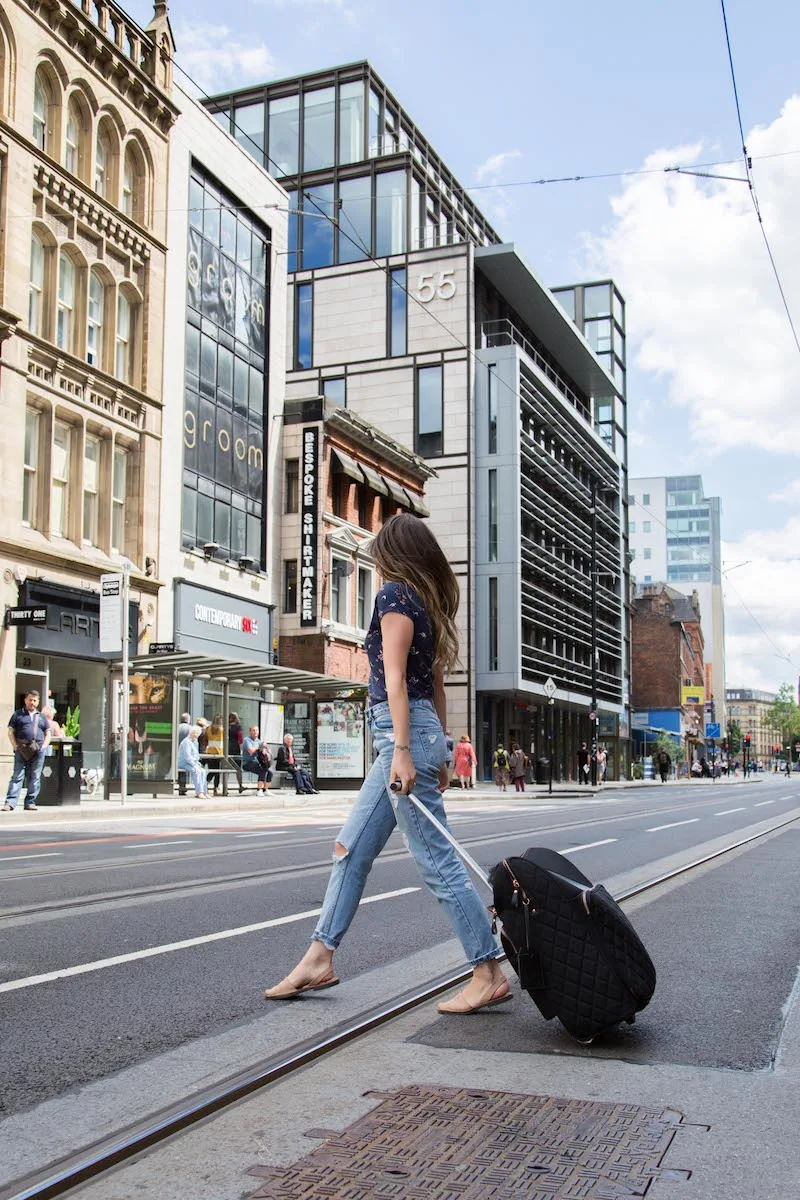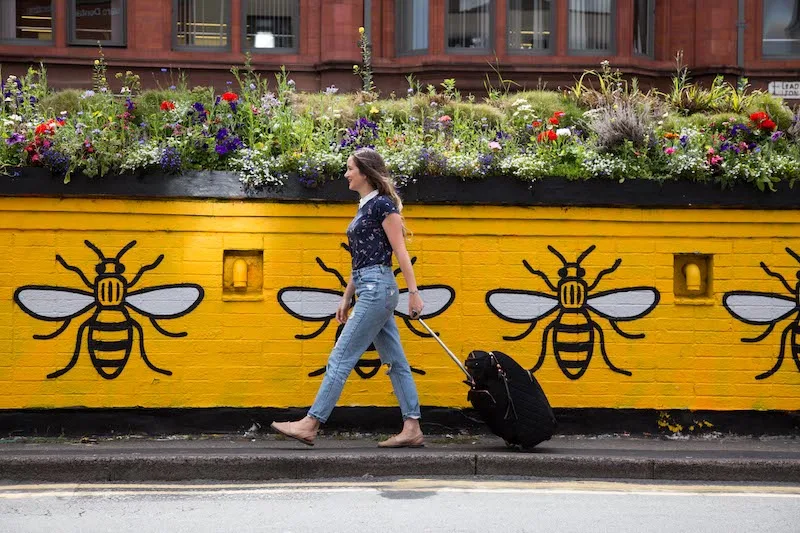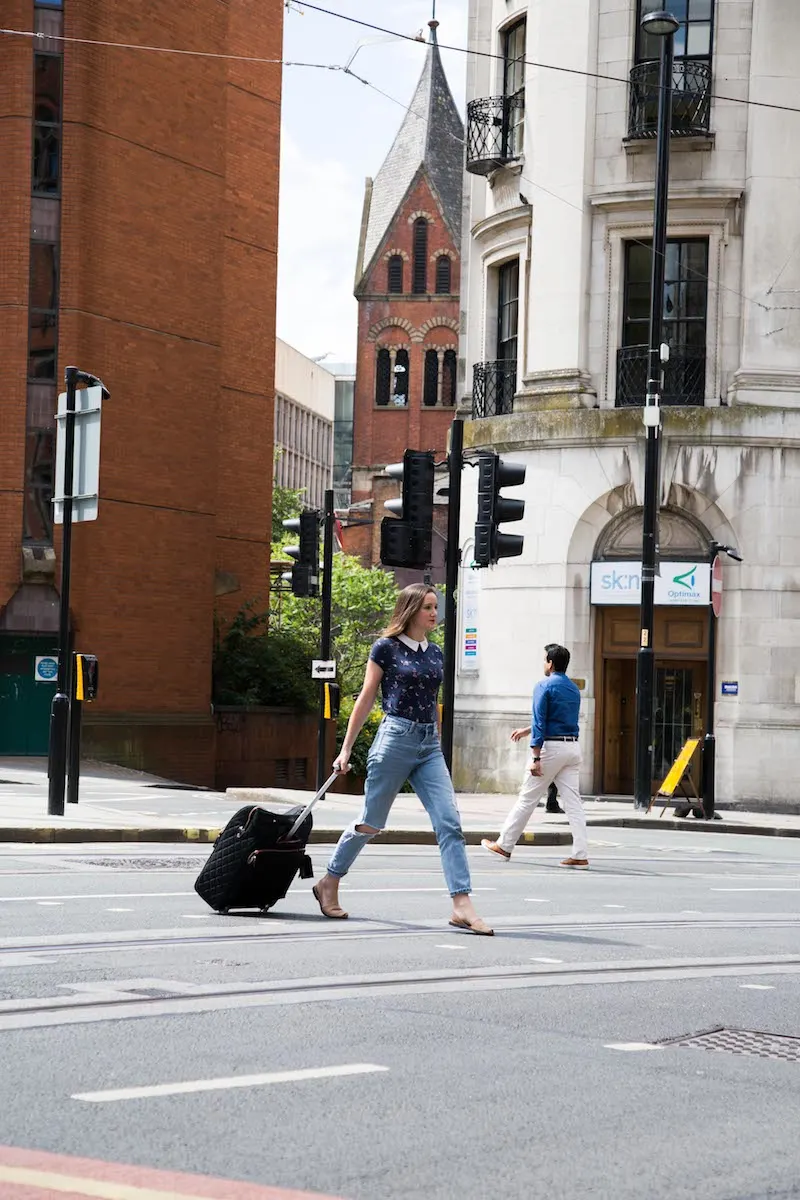 The Travel Hack Cabin Case is available to buy directly from Cabin Max or via Amazon.
Sale
Travel Hack Cabin Case with Hand Bag Compartment
Generous 28 litre main compartment with packing straps and a variety of zipped pockets for everything from toiletries to straighteners.
Rear padded compartment for a Macbook or a small laptop.
Stylish 600D PU outer shell with faux leather inserts and rose gold detailing.
I'll be making a video this week to give you a better look at the case but I was just too excited to not share a few photos!
There's another great video review by Brogan Tate here!
Read more about The Travel Hack Pro Cabin Case with these reviews:
10 best cabin bags – The Independent
The Travel Hack Pro Cabin Case review – Elle Croft
The Travel Hack Pro Cabin Case with handbag compartment – Yoko Meshi
A travel blogger designed the ultimate cabin case and it's only £60! – Pop Sugar
The best carry on luggage for women – Girl Tweets World
The most stylish women's carry on – While I'm Young
The Travel Hack Pro Cabin Case reviewed – Taylor Hearts Travel
The terrific Travel Hack Pro Cabin Case – Adventures of a London Kiwi