I wish I'd be alive in the days when flying was glamorous and exciting. When people dressed up for a flight and the air stewards breezed through the cabin in a stylish waft of expensive perfume. It was a fun and fascinating time that few people had the chance to experience and this only added to appeal.
Virgin have been doing their best to put the sexy back into flying with their 'red hot' adverts. Seriously, watch these ads below, they're super sexy (and they'll make you want to be an air hostess).


These days, flying is a chore for most people. It's a fairly cheap way to cover massive distances and the excitement of flying has turned to boredom. I don't mind flying because it means I'm visiting somewhere new and exciting. It's also a lovely chance to switch off all your devices and have a few guilt-free hours doing nothing. Have a movie marathon, read a trashy novel, have an epic Candy Crush session or take an afternoon nap. You might as well relax because you don't have enough space to do much else.
But when I got to the gate at Gatwick airport for my flight to Barbados and was told I had been upgraded to Upper Class I nearly burst with excitement. Highflying luxury, here I come…
The luxury treatment began in the V Room, Virgin's lounge at Gatwick. It's a light and modern cafe with great views over the runway and a tasty breakfast on offer. It was nice to escape the frantic crowds in the rest of the airport and relax before the flight.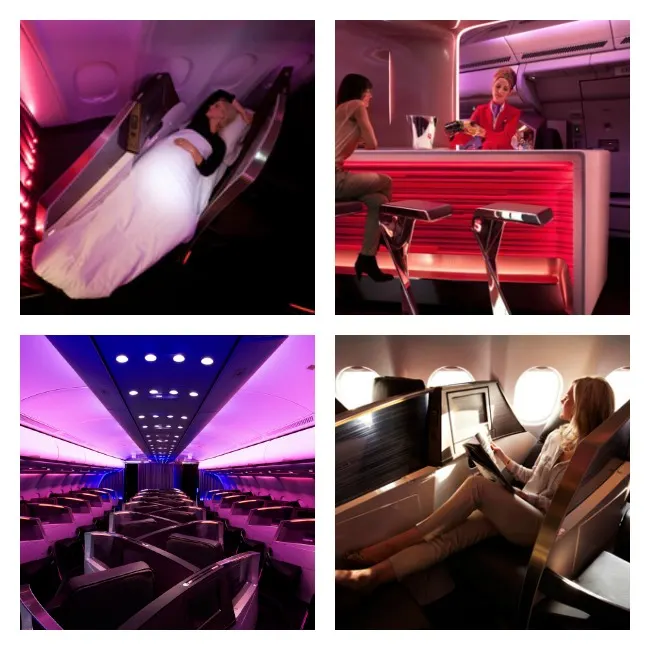 Once on the plane I got settled in my huge and comfy chair and watched the other passengers to see what the upper class protocol was. We had a foot rest but I wasn't sure if that would be like putting your feet on the coffee table at someone else's house. It turns out that you're fine to sit back, pull up your in-flight socks and use your fluffy pillow and duvet to help you get comfy. Yes, duvet!
Champagne was poured while the cabin crew helped people place their bags in the overhead lockers. There are no lockers down the middle of the plane so it felt light and airy unlike the darker and slightly claustrophobic feel in the back.
I loved having plenty of space on the plane so I could spread out and get some work done. Surrounded by my laptop, notepad, iPad and hundreds of scraps of paper, notes and flyers that I pick up during my travels I spent the first few hours writing and editing photos. And I could do all this while my phone was on charge and I had a proper cup of coffee in a real mug by my side. I paid for the wifi which cost a hefty £25 for about 3 hours usage but it was well worth it for the amount of work I got done.
For the first meal I had:
Dill and Caper-infused Potter Salmon with warm breads
*****
Herb-crumbed Fillet of British Beef
*****
Rich Chocolate Marquise
After this mammoth meal I wrapped myself up my duvet, had another glass of champers and snuggled down to watch some films with the noise cancelling headphones you're given.
Afternoon tea was served an hour or so before we landed and consisted of lovely little sandwiches, a fairy cake and a warm scone with jam and clotted cream.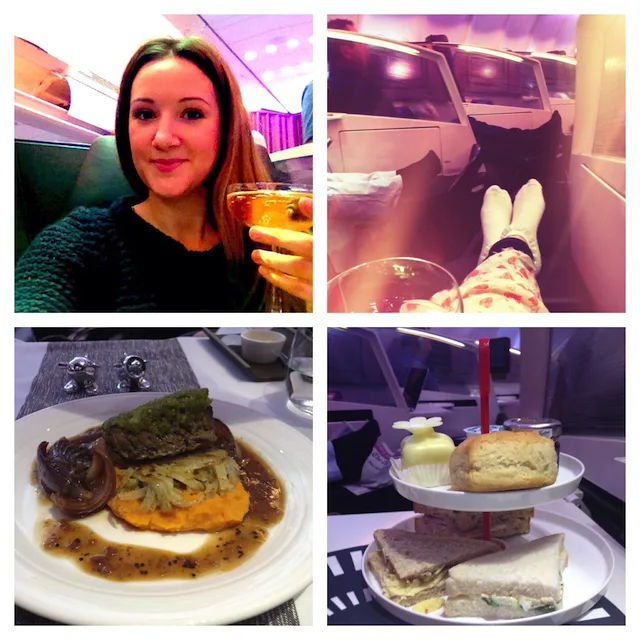 All in all, flying Upper Class with Virgin Atlantic is the best way you can possibly travel. I've only ever flown business class before so this was something else. The only problem I have now is how I'm going to go back to economy?
Massive thanks to Virgin Atlantic and Virgin Holidays for this amazing experience.