Today I'm reviewing the Micralite ProFold, a compact stroller perfect for both travelling and everyday adventures. As the name suggests, it's the fold of this pushchair that is a real selling point and one of my favourite features! This pushchair was gifted in exchange for an honest review.
We've had a few compact strollers over the years, starting with the Maclaren Mark II (nice but doesn't recline), the Silvercross Jet (great for babies but wobbly with bigger toddlers) and the Babyzen Yoyo (a really good one but bumpy on uneven surfaces). So I was excited to try out the Micralite ProFold, a multi-award winning compact stroller. Micralite launched a new colour, Graphite, in October 2020 and we were sent one to review.
Here are some of the features on the Micralite ProFold that I love and at the end there are some things I think could be improved and are worth reading before you buy.
The Micralite ProFold review
Stylish design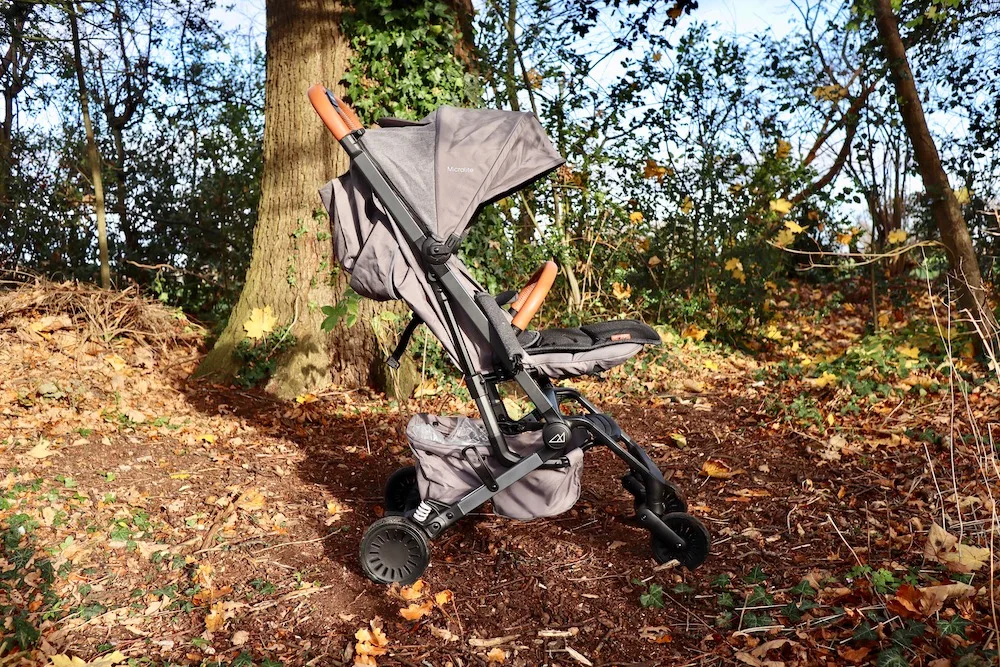 The Micralite ProFold Graphite comes with grey melange fabrics and a vegan faux leather handlebar and bumper bar for babies to hold on to. I love the look of it! It's sleek and stylish and this graphite colour is lovely.
It's also a slim stroller so it's easy to squeeze through tight spots and maneuver. The slim design might not be ideal for people with bigger toddlers but this would probably be an issue with any lightweight stroller.
Can be used from birth
The stroller can be used from birth thanks to the lie-flat recline. If you do plan to use it from birth then I recommend getting the coordinating footmuff for extra cosiness for newborns! I would feel that the lie-flat position would feel too exposed for a newborn baby without the footmuff.
The lie-flat position is also great for naps for kids of any age.
The Micralite ProFold One-handed fold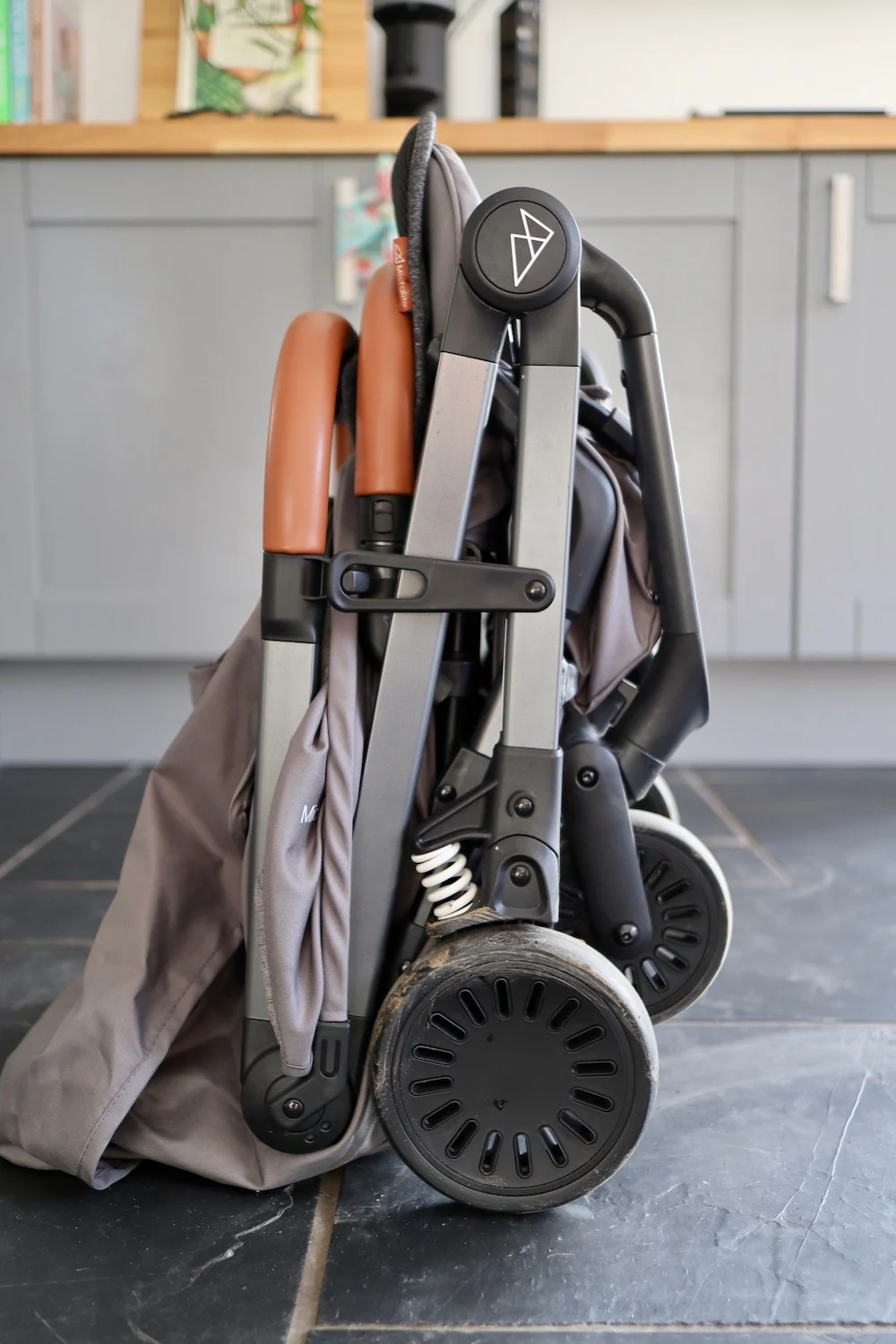 Yes! The first pushchair I've used where you really can fold it down with one hand. It isn't overly complicated and even my mum can do it (honestly, my mum hasn't been able to fold any of our pushchairs!)
When we got our first pushchair for George – now almost 6 years ago – I didn't think one-handed fold was an important feature in a stroller. But have you ever tried to get on a bus or a train on your own when you need to fold down the pushchair whilst also holding your child!? It's pretty much impossible.
It's not just when using public transport that one-handed fold is handy. There's a baby class I go to where you have to fold up pushchairs if you want to store it somewhere dry. A local cafe I go to is too small for pushchairs so I have to fold it away and tuck it under the table –
Not just for travelling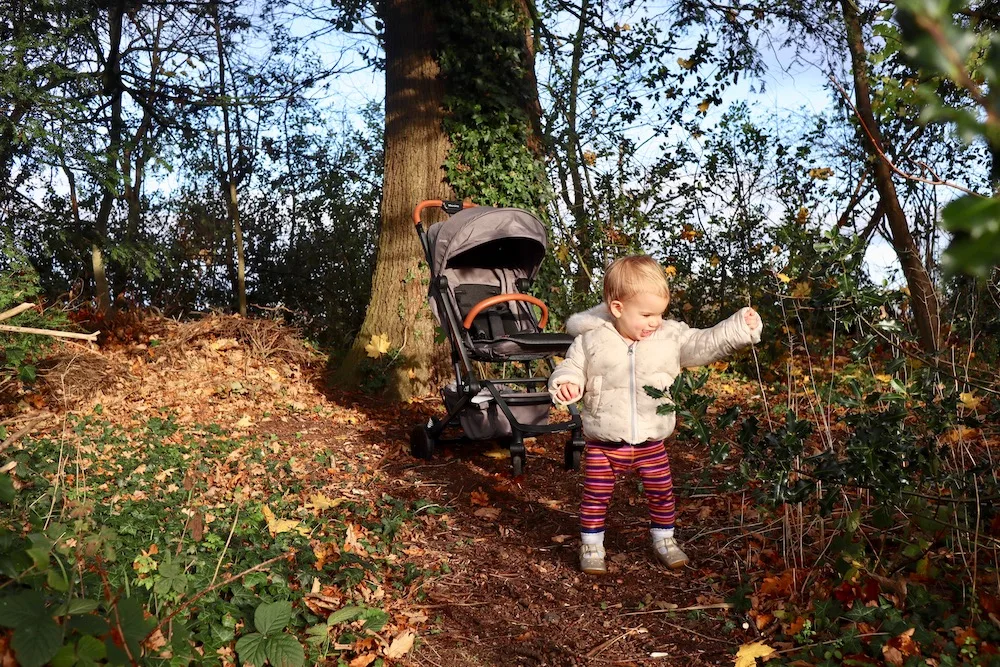 Compact strollers are often associated with travelling but they're also really useful in everyday life.
A compact stroller won't take up much space in your car so you can free up your boot again! The Micralite ProFold will fit in the footwell of my car without impacting the space Alba has. It also won't take up much space when you bring it into the house and most people will be able to fold it up and pop it by the front door – so there's no hefty pushchair blocking your front door!
It's also really handy if you're at that stage where your child will usually walk but you're not quite ready to go out without a pushchair! You can take it everywhere with you without a bulky pram in the back of the car.
Lightweight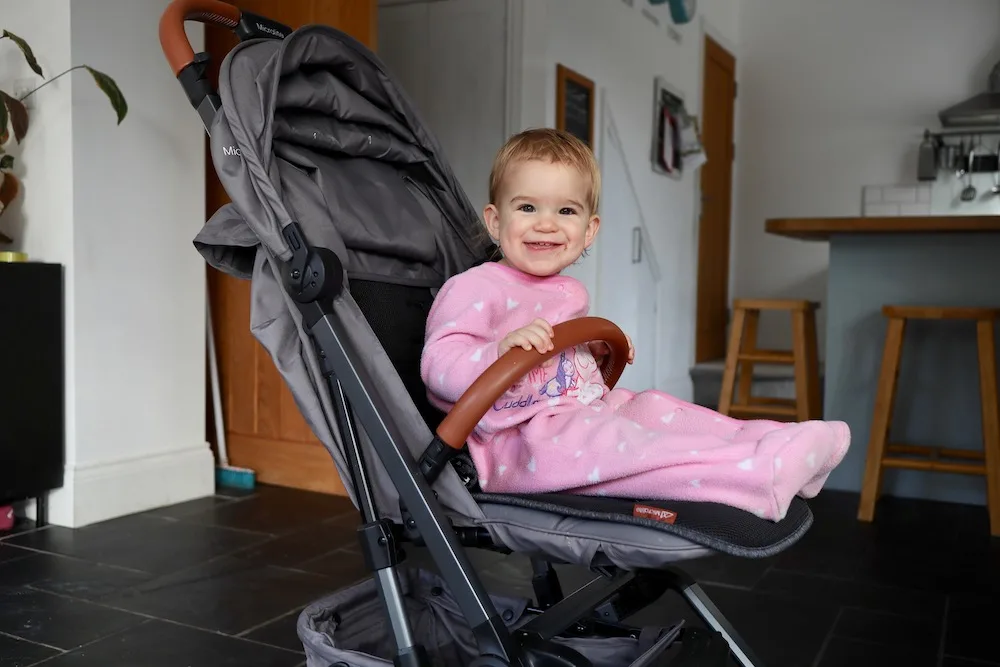 The stroller weighs just 7kg so you'd easily be able to carry it whilst also carrying your child. I live near a river and there are steps to get across the bridge over the river and it's so annoying I have to walk all the way around to avoid the steps. But when I've got the Micralite ProFold, I just pick the whole thing up with Alba inside and carry it up the steps.
The Micralite ProFold isn't the lightest pushchair on the market but this actually isn't a bad thing. We also have the Silvercross Jet which weighs just 5.9kg and I find it to be too lightweight when pushing an older baby. If your toddler weighs twice as much as the pushchair and suddenly leans to the side while you're pushing then your pushchair will wobble and possibly even tip over. A pushchair needs a bit of weight behind it or it'll just feel flimsy when pushing a bigger baby or toddler.
I do worry that the Micralite ProFold will feel wobbly when Alba gets older. She currently weighs 8kg and it's not an issue at all but I wouldn't want to push my three year old in it.
A smooth ride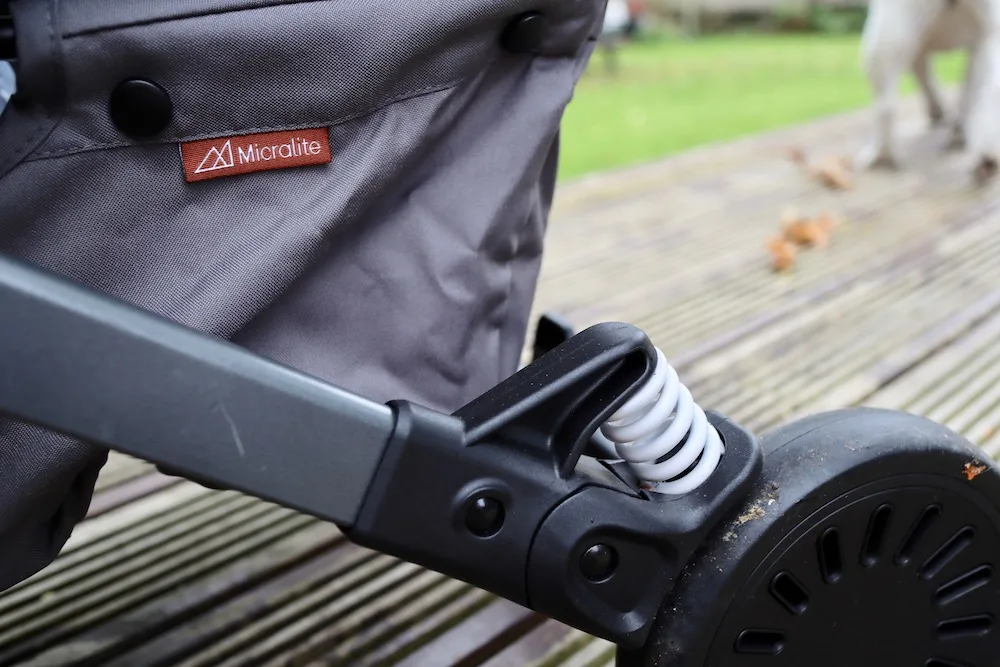 The Micralite ProFold is the smoothest compact pushchair we've ever used. It actually made me realise how bumpy the Babyzen Yoyo is in comparison. The suspension on it makes a huge difference and makes this stroller a genuine option for everyday use as it can easily be used on most surfaces.
In the summer months, we'll actually use this stroller on the beach because we can just fold it away and carry it when we get there. So that's a good option for the surfaces that aren't pushable!
It also feels very stable and can handle curbs and steps with no issues. And, like I said above, because it's so light, you can just pick the whole thing up with your baby inside if you come to a huge step!
Easy to access shopping basket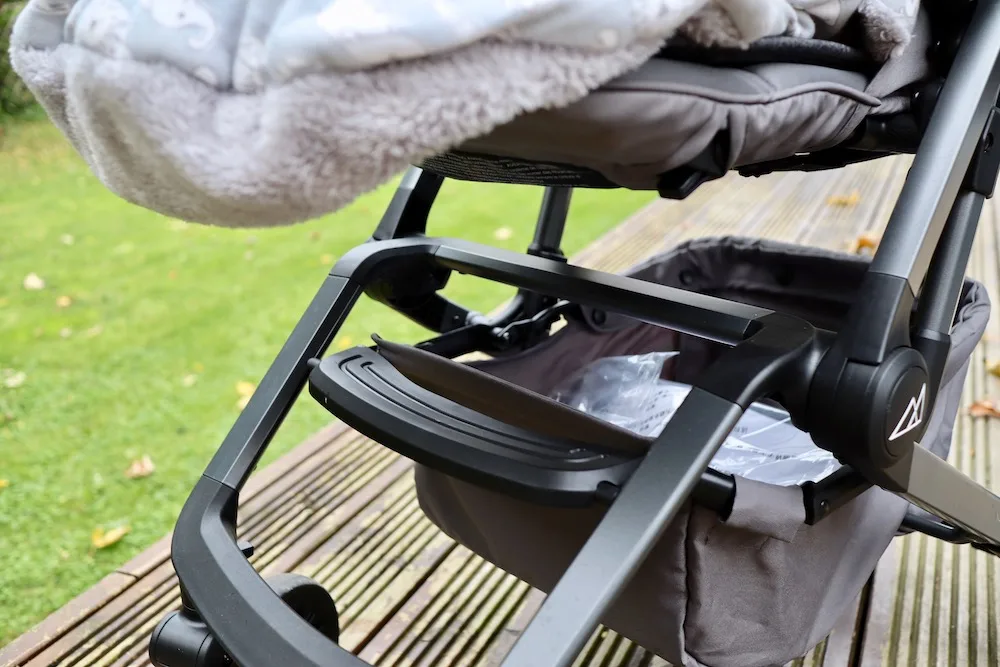 This stroller has a great sized shopping basket. But do you know what's even better? You can actually get into it! The Babyzen Yoyo has a big bar across the shopping basket so it's really difficult to get in it! I'm usually out and about with three children so a big shopping basket is absolutely vital!
Great price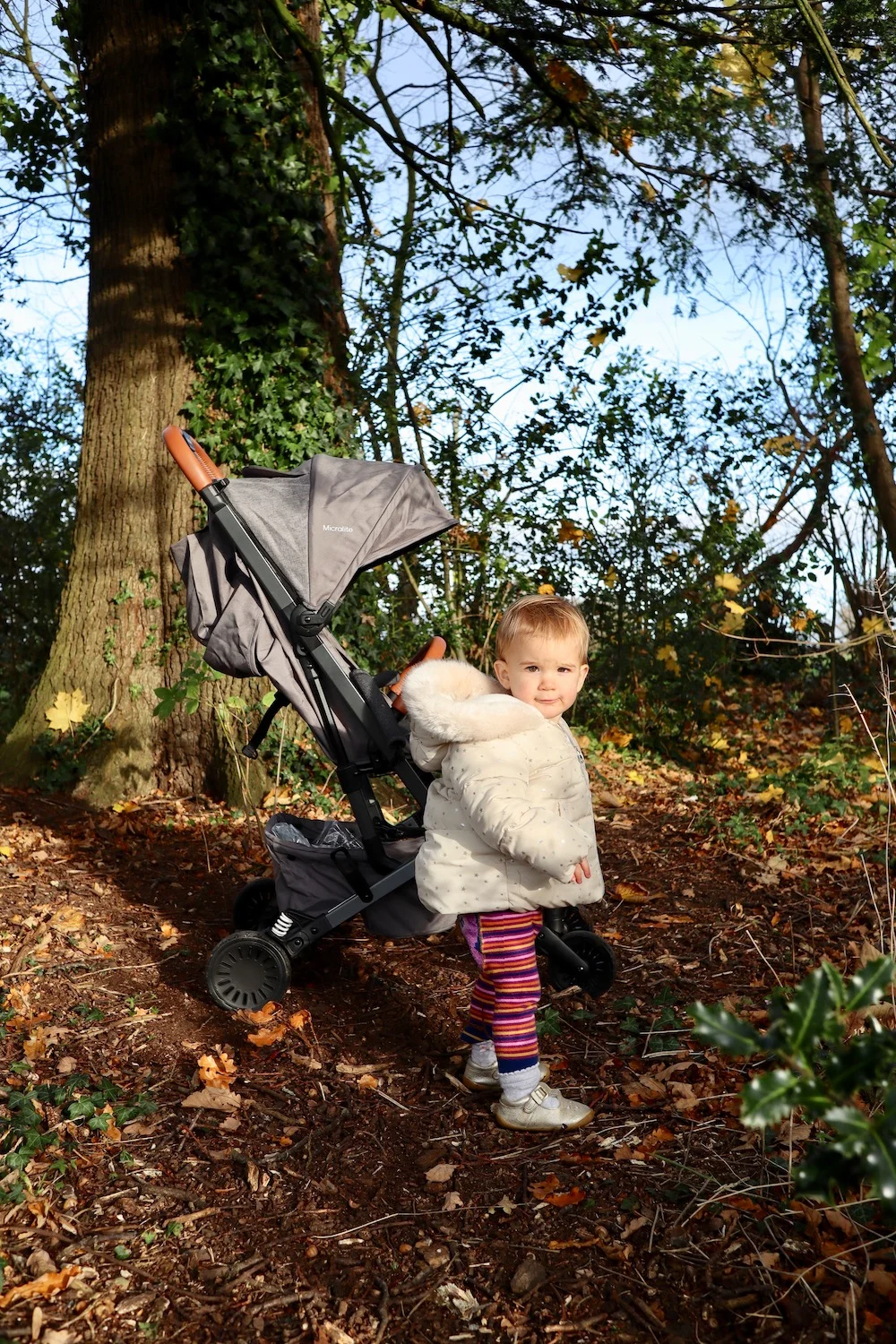 The Micralite ProFold is currently £150 (£125 off the original price!)
When you consider that similar pushchairs are around the £400 price mark (£359 for the Babyzen Yoyo 2 and £549 for the Bugaboo Bee 5) it's a great price. The raincover and a carry strap are also included and these are often optional extras with many pushchairs.
Good sized hood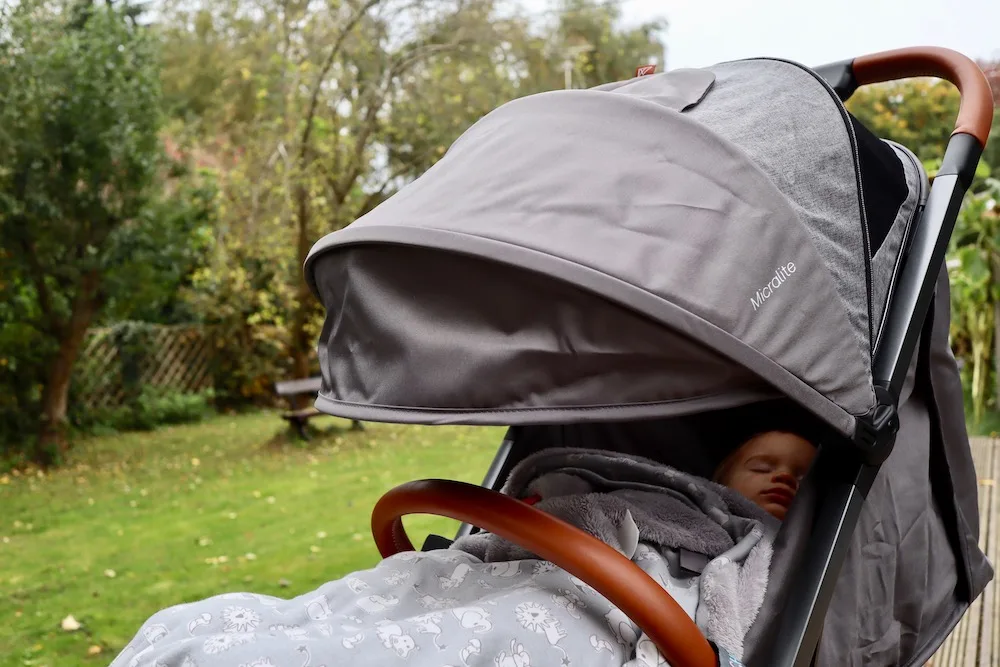 One of my biggest bug bears with lightweight strollers is that they usually have small, flimsy hoods. But thankfully, the Micralite ProFold has a great hood that is extendable, has UPF50+ protection, it's breathable and has a peep window too. So it's great for both shade and protection from wind, rain or cold weather.
The Micralite ProFold is Cabin Approved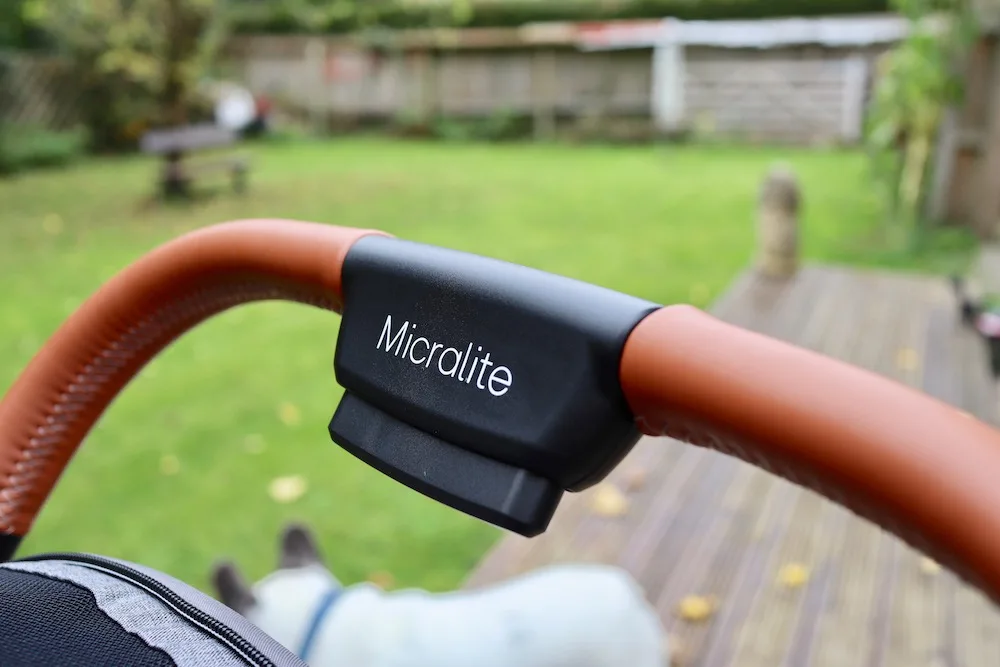 OK, I know most of us won't be flying anywhere right now but the Micralite ProFold is small enough to be taken onboard a plane as cabin luggage and stored in the overhead locker.
OK, so we've chatted about all the good things about the Micralite ProFold, what about the things that aren't so good? For me, there's only really one downside to this lightweight stroller and that's the break…
The badly placed brake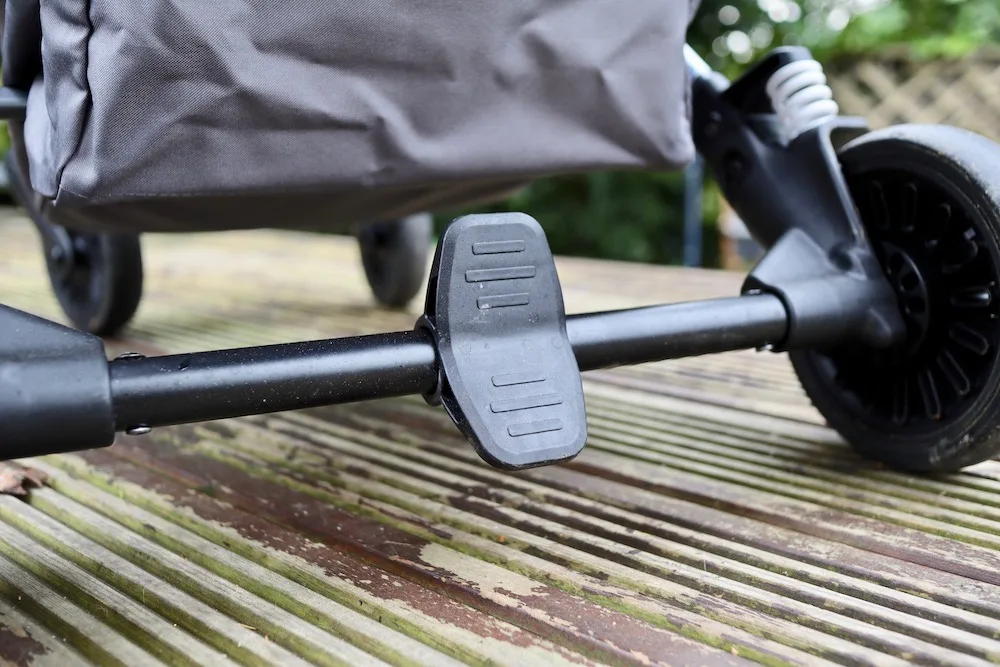 I found the break to be awkwardly placed so I kicked it while walking. Maybe I walk in a strange way, I don't know? But the first time I used it, I kicked on the break. The brake is really good so it stopped me in my tracks and we nearly fell over! After that I became very conscious of not kicking the break so I don't fully relax while I'm walking.
You can't adjust the handlebar so I feel like I'm walking too close to that brake. I don't expect the handlebar to be adjustable on a compact stroller but it definitely needs to be longer. I'm only 5'3 and I find it too short so I'm guessing that someone who is 6ft would find it almost impossible.
I will say that when I wanted to kick the brake on, it actually is in a really handy position to flick on. We've had other strollers where the brake is really difficult and impossible to use if you're wearing open-toed shoes – meaning you have to bend down and put it on and off with your hand. So at least if you're buying this for a holiday and will be wearing sandals, you know you'll be able to operate the break!
Final thoughts on the Micralite ProFold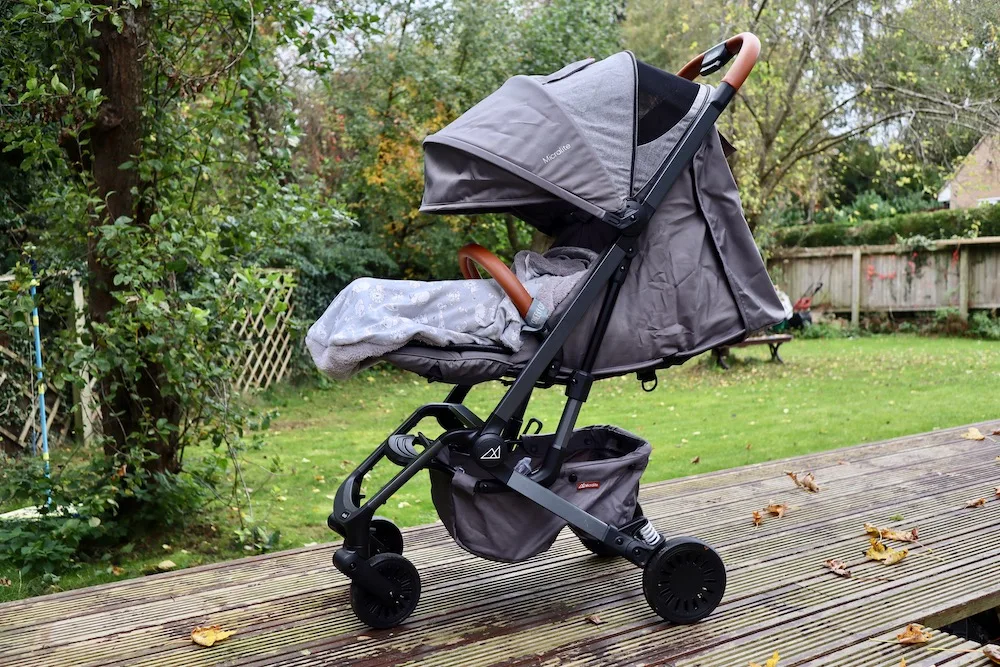 Despite the badly placed brake, the Micralite ProFold is one of my favourite compact strollers. I am a big fan of the Babyzen Yoyo but it's currently £225 more expensive than the Micralite ProFold and, personally, I couldn't justify that extra expense for a pushchair that isn't much better.
The smooth suspension, extendable hood, easy to access shopping basket and compact fold are huge selling points. But the real winner for this pushchair is the one-handed fold! It's so simple and easy to fold, even when holding a wriggly baby in one arm. If you take public transport and need to be able to fold this with one hand then I can't recommend it enough!
If you'd like to see more details and get a closer look at the Micralite ProFold then please do check out this video…
Find out more about the pushchair here on the Micralite website