If you're looking for the best women's paddle board and paddle board clothing then you're in the right place. I've tried out countless women's paddle boards and I purchased my own a couple of years ago. I truly believe I've got the best paddle board for smaller women and I am so pleased with it!
Today, I'd like to share the paddle board I believe is best for women (particularly smaller or petite women) along with my paddle board clothing for all seasons.
The best paddle board for women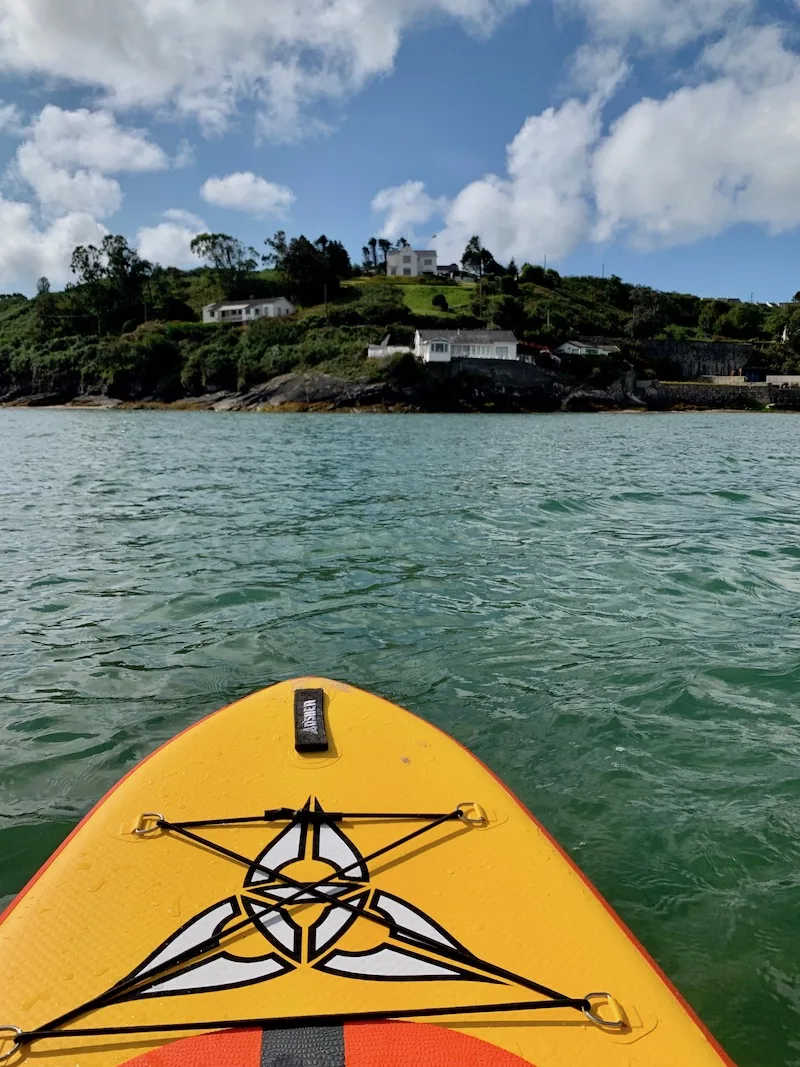 I have the O'Shea 9'8" HPx Tangerine and I think this is best paddle board for women. I've tried so many paddle boards over the years and this is 100% my favourite.
This is such a great paddle board for women as it's slightly smaller than many boards and is ultra lightweight.
This board was designed for light to medium riders weighing less than 80kg so it's great for women and teens too.
This paddle board for women weighs just 7KG and is 20% lighter than any fusion or MSL, making it much easier to carry and transport. It's stiffer too and there's compromise on its durability and resistance to wear and tear and UV.
The board is compact and easy to fold. Once folded away it goes into a backpack with all the accessories and weighs 10.1kg.
If I'm totally honest, I still find this 10.1kg backpack really heavy! I do carry it for short distances but I'm carrying it a long way then I'll pop it into our beach trolley!
Best wetsuit for women paddle boarding
I have a 2XU Propel wetsuit that I originally bought for open water swimming during a triathlon.
I absolutely LOVE this wetsuit. I feel like a Power Ranger whenever I'm wearing it.
It's comfortable and flexible so it's great for the movement needed when paddle boarding.
It is an expensive one but I've had mine for over 10 years now and it's still looking great (although a bit tighter than it was when I was 24!!)
Best life jacket for women paddle boarding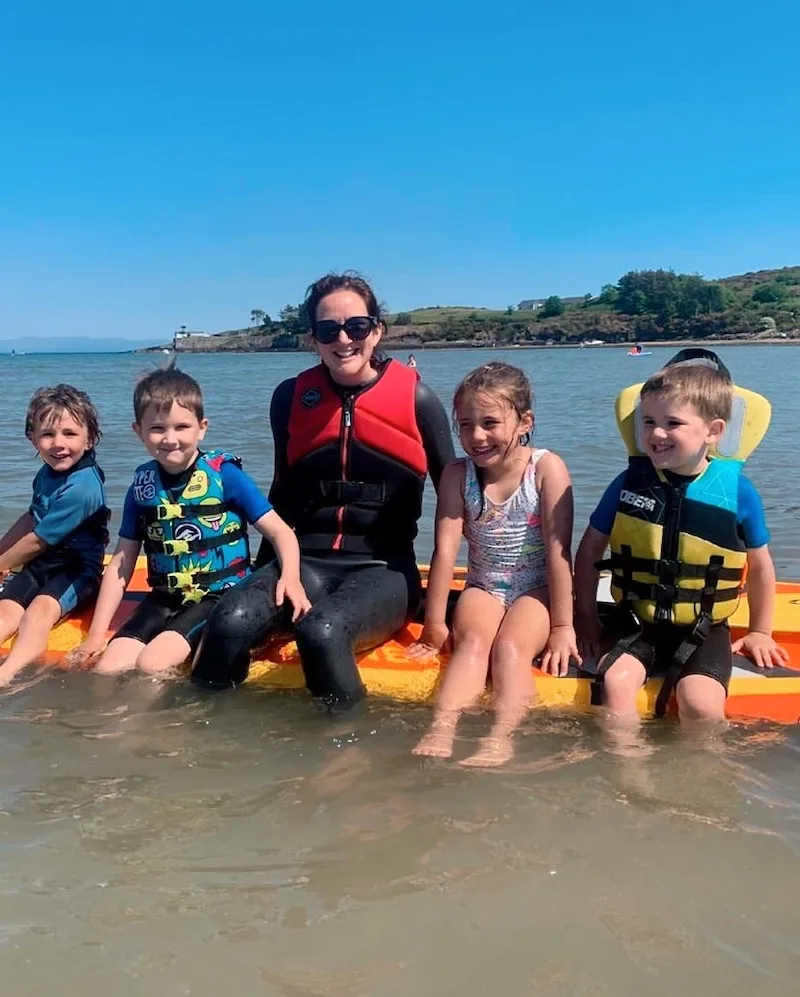 I have the Jobe Unify Life Vest and it's THE BEST. I love this life jacket. It's so comfortable and soft and offers me lots of flexibility and movement.
A comfortable life vest is something that's really important to me because I know I'd be tempted to not wear it if it's uncomfortable. As a child I always had uncomfortable life vests and I hated wearing them. I kayaked a lot when I was a kid and my life jackets would often ruin my experience as they chafed my chin and made it difficult to move.
So I'm a bit of a softy now and me and my kids all have these Jobe life vests.
Yes, they're expensive but they're worth every penny!
My paddle board clothing when it's warm
When temperatures are cooler, I'll always wear the wetsuit I've mentioned above. Yes, sometimes I get hot but the thought of falling into cold water without a wetsuit keeps me in a wetsuit! It could also be dangerous to fall into very cold water without a wetsuit.
Throughout the summer months I find it's warm enough to paddle board without a wetsuit, particularly on the river where I know it's unlikely I'll fall in.
When it's warm enough, I actually don't believe you need any specialist paddle board clothing, more just basic exercise clothing.
My paddle board clothing when it's warm and I know it's unlikely I'll fall in is:
Sports leggings (the kind you'd wear to exercise or go to the gym)
A sports bra
A t-shirt
A fleece
Barefoot
My paddle board clothing when it's warm and I'll probably fall in is:
Swimsuit
Board shorts
Rash vest
Barefoot
My paddle board clothing when it's hot is:
A long sleeved swimsuit (or just a bikini if it's really hot)
A cap
Barefoot
My paddle board clothing when it's cold
(Now this is where some specialist clothing comes in and I've linked it all below!)
My swimsuit
My wetsuit
Aquafleece
Gloves
Waterproof socks
Watershoes
Woolly hat
Best women's shoes for paddle boarding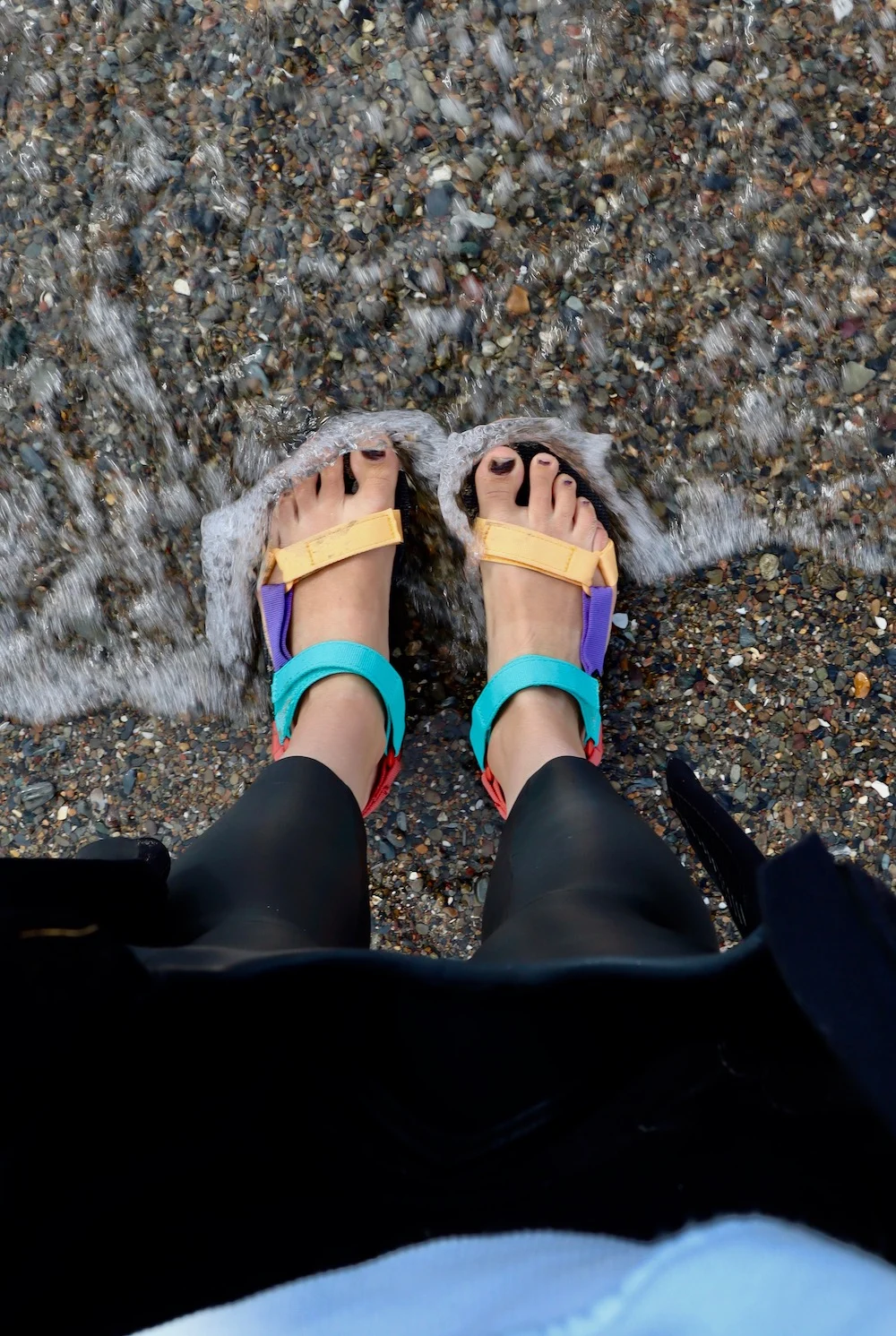 When it's warm enough I'll always paddle board barefoot. This is always fine if I'm on the beach or beside a grassy river but if I'm paddling somewhere where it will be awkward to get out of the water barefoot then I'll wear my Teva sandals and attach them to my board using the velcro straps. (I like the Teva Midform sandals as they have a nice wedge on them!)
Paddleboarding shoes when it's cold
When it's too cold to go barefoot then I wear watershoes and if it's really cold I'll wear waterproof socks underneath them. I have the funmoon barefoot watershoes and I really like them. Waterproof socks are actually intended for cold water swimming but they're also great beneath watershoes for extra warmth.
Best changing robe for paddle boarding
I have the Red Pro Change robe and I love it. It's so snug and cosy and it's great for putting on when you're cold after a paddle. As the name suggests, it's also great for getting changed beneath whether you're on the beach, by the side of a river or in a car park!
I'll often pop this on ontop of a damp swimming costume and drive home wearing it so I don't need to even bother getting changed.
I also highly recommend the Red Changing Robe Stash Bag which compresses your robe into a tiny bag. It's then easy to carry and cuts down on unnecessarily bulky bags. You could then easily take it on your board with you or it just makes it easier to store. I keep mine in the boot of the car all year round because it doesn't really take up any space!
Best waterproof bag for paddle boarding
I have two waterproof bags I use when I go paddle boarding.
The first is a small waist bag I use for my phone and my keys and if I'm just going for a quick paddle then this is the only one I take. I like the way it sits comfortably around my waist and as it's slim on my hips and doesn't get in my way with any added bulk. (These come in a pack of two which is a bit annoying because I only needed one but these are the best I could find. So at least if you order them you can gift one to a friend!)
I have a second, larger dry bag I'll take with me when I'm going for a longer paddle and I'll usually put some snacks and drinks and a fleece inside it. I have elastics on the front of my board so I can secure this larger bag onto my board.
Best gloves for paddle boarding
I highly recommend getting yourself a pair of neoprene non-slip gloves if you're planning to go paddle boarding in cold temperatures. As soon as your hands get cold it's so hard to hold onto your paddle and it will cut your time on the water short.
I have very small hands so I actually have kids neoprene gloves. I like buying things like this from Amazon so you can order a few pairs and easily send back the ones that don't fit.
Best electric pump to inflate your board
I made do with a hand pump for almost two years but I finally upgraded to an electric pump. Why oh why didn't I do this sooner! I was finding I was so tired before I'd even got on the water and the thought of pumping up my board was putting me off from going for a quick paddle.
I have the Outdoor Master Paddle Board Pump and I highly rate it.
I plug it into my car which is fine for me because I almost always drive to wherever I'll be paddleboarding.
If you don't drive when you paddle board then it's worth getting a rechargeable paddle board pump such as this one. They're a bit more expensive but well worth it so you don't need to pump it up at a plug or car.
Best flask for your cuppa!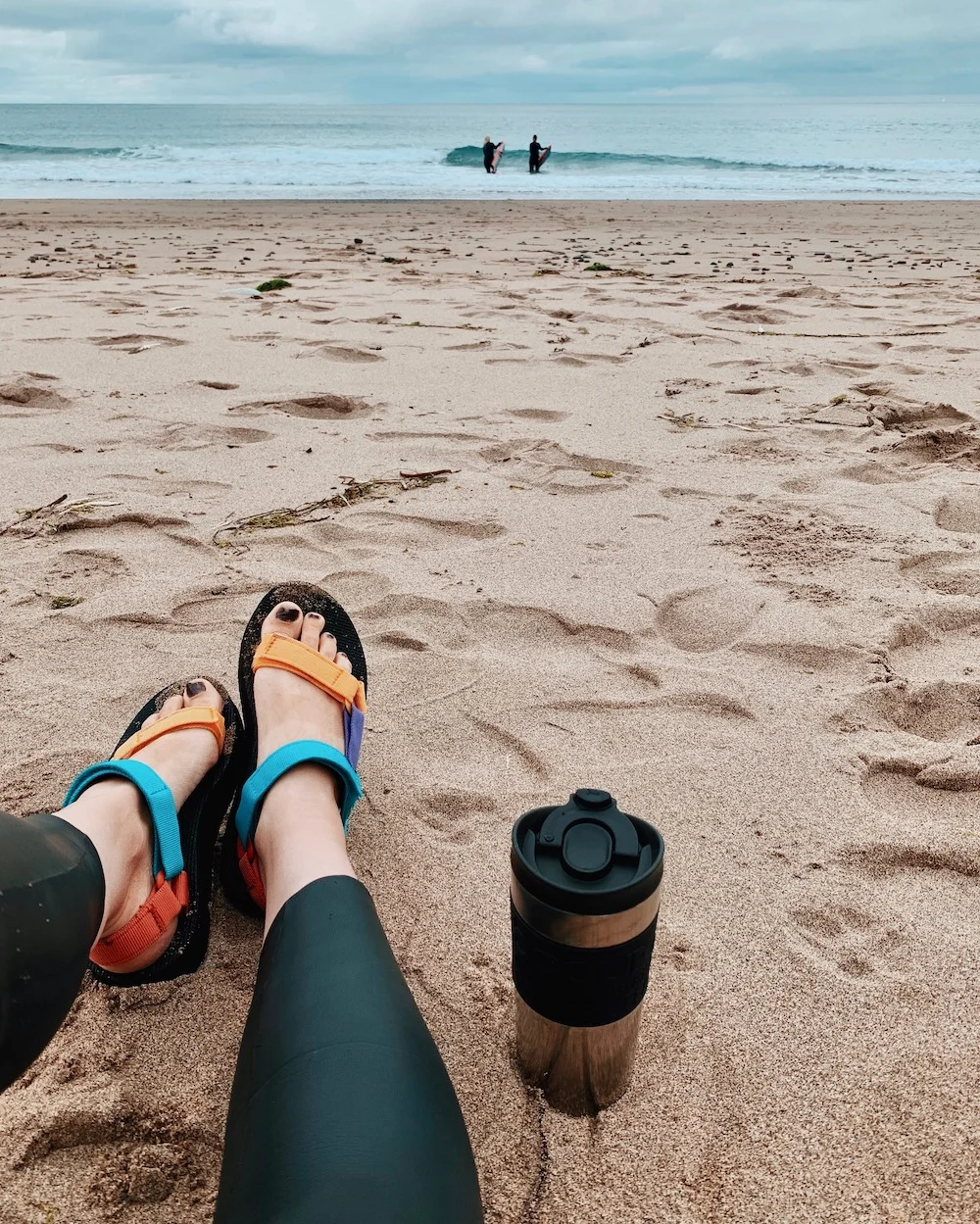 Now this might just be the most important item on the list! You've got to have a flask for your cuppa!
I tend to take 2-3 insulated flasks when I go paddleboarding.
I take an insulated water bottle so I've got cold water when it's hot.
I take a small, leak-proof flask for a coffee while I'm paddling. I like the Bodum travel mugs. I've had mine for years and it doesn't leak and is easy to clean.
And I take this 1.2 litre thermos filled with hot water which I leave in the car along with some coffee and tea bags, so I can make a fresh cuppa when I get back to the car and offer one to anyone else I'm with. Sometimes I'll fill this with soup too which is the best snack after a chilly paddle.
Should you wear a waterproof watch when paddleboarding?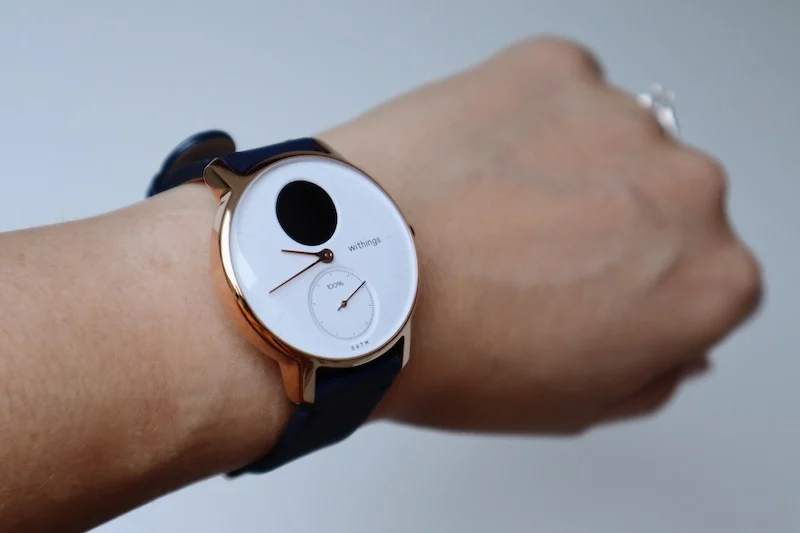 As long as you're paddle boarding with your phone (which you always should be – read about for a waterproof bag recommendation) then wearing a waterproof watch isn't totally necessary but it is recommended.
I always wear a waterproof watch when I'm paddle boarding so I can quickly and easily check the time. I also like to measure my heart rate and calories burned, but that's just me being geeky, it's not a necessity.
I wear a Withings Steel HR watch (I have a full Withings Steel HR review here). I really like this because it looks like a simple, elegant and stylish watch but it actually does everything a bulky activity tracker does.
I often go for a quick paddle before I pick my kids up from school so it's really important I keep an eye on the time.
You may also need to know the time so you know what to expect with tides and it's particularly important if you're paddling in the winter when it can quickly get dark.
I also find I can easily lose track of time when I'm paddleboarding. Time goes so fast when I'm on my board so I like to wear a watch!
If you don't already have a waterproof watch then I wouldn't say you need to rush out and buy another expensive piece of kit. But I would set an alarm on your phone to remind you when it's time to get out of the water – just in case you lose track of time. This also means you won't need to keep checking your phone as you know you'll get the alert when it's time to get out.