Have you ever been to a festival where the star of the show isn't the headline act but the location?
How about a festival where the food is so good you wish you could grow a second (or third) stomach so you could try everything?
What about a festival where you constantly stumble upon surprise after surprise? You discover musicians hidden away in the woods, dancers emerging on the beach, enormous parades in the streets and performers in the gardens.
This was the kind of experience I had last weekend at Festival Number 6, a boutique arts and culture festival in the magical Welsh village of Portmeirion. This was the fourth year Festival Number 6 had run and it was bigger and better than ever.
Portmeirion must be the most difficult location to organize a festival but these people know what they're doing as everything ran without a hitch, even the weather behaved itself!
If I were to describe everything that happened at Festival Number 6 you'd probably think I was telling snippets from a crazy, fragmented dream. And that's how it felt too. One minute I was lost in the woods, the next I was surrounded by bubbles and then I was on a floating pontoon on a pond. I'm then surrounded by dancers, drummers, singers and the strangest performers I've ever seen. I'm then bouncing on a trampoline listening to gospel karaoke and then I'm listening to Grace Jones. Wow, it's all a bit too much to take in.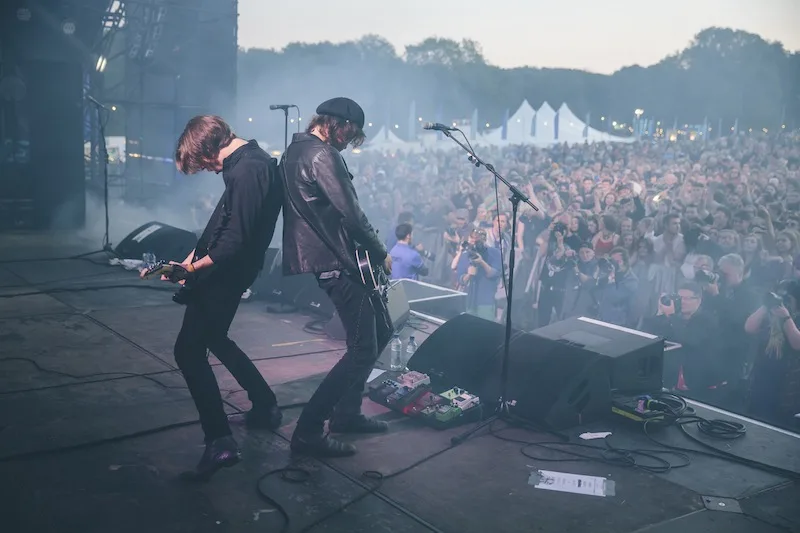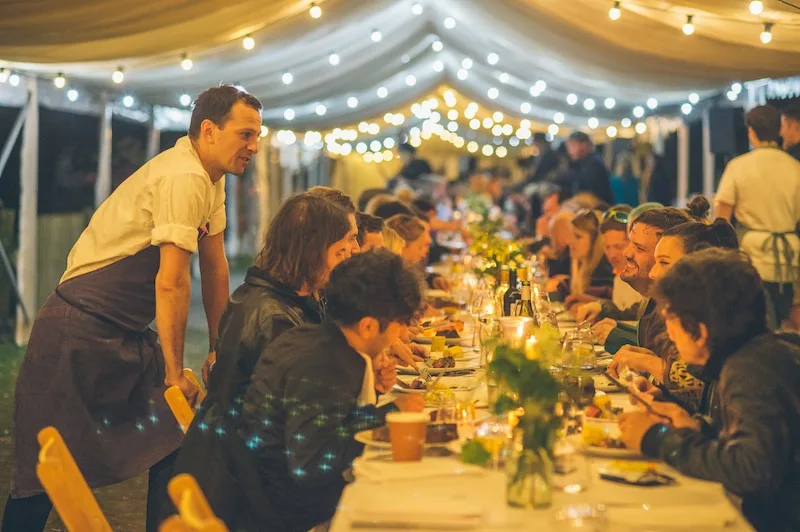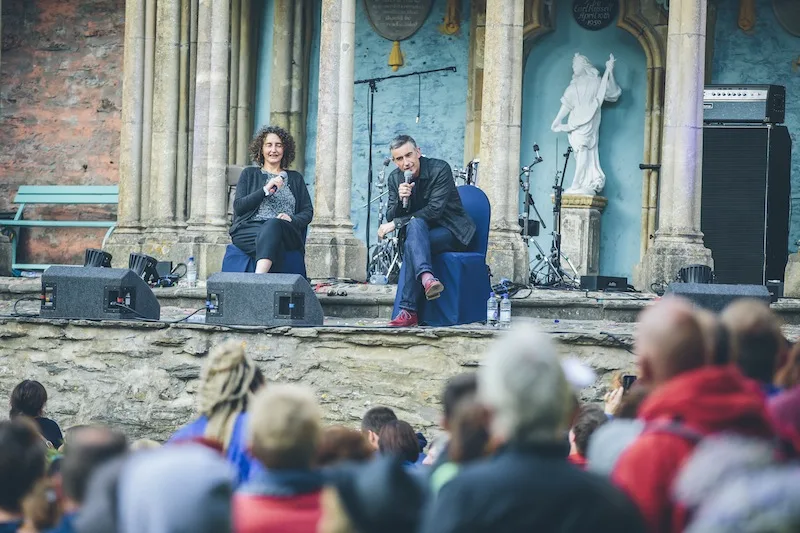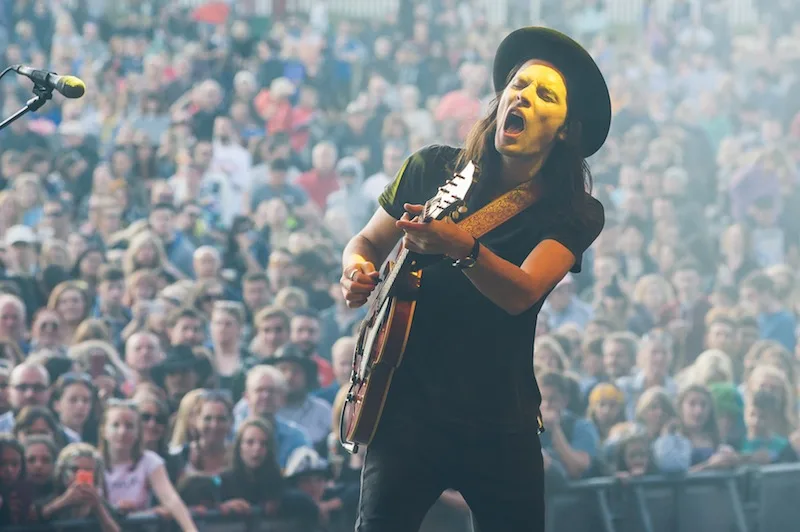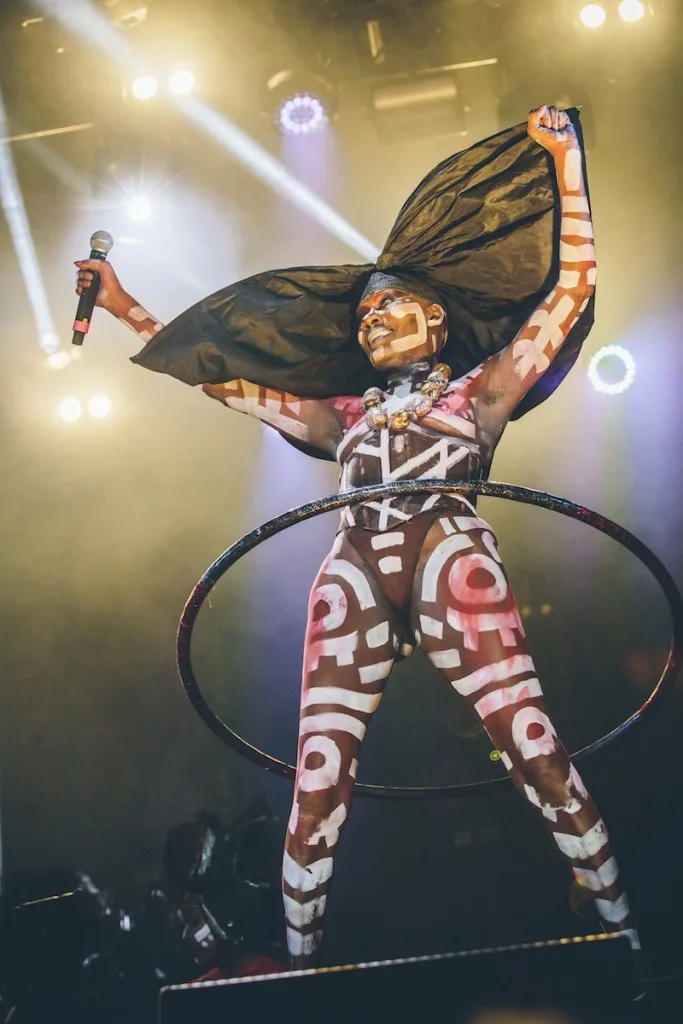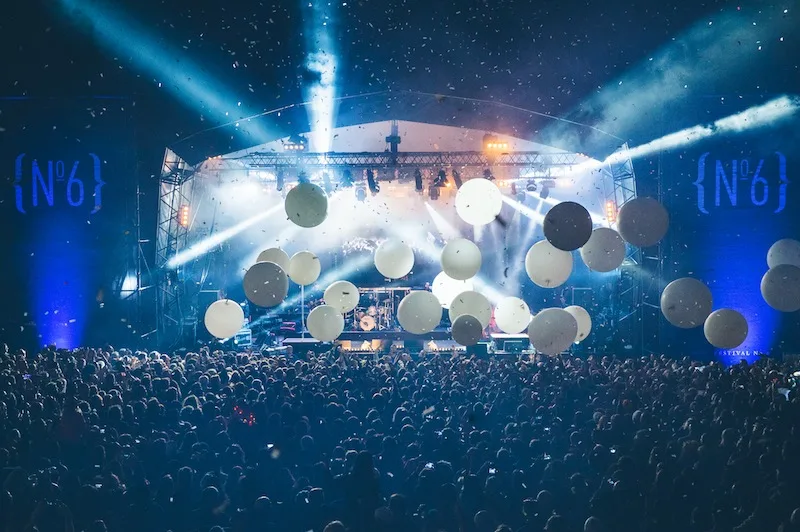 Highlights from the festival included the legend Grace Jones, Mark Ronson, Years and Years, Catfish and the Bottlemen, Belle and Sebastian, Steve Coogan chatting in the central piazza, Everything Everything, The 2 Bears and Justin Robertson to name just a few.
But my favourite moments were the moments in between these biggies. It was dancing in the sunshine on a floating stage in the middle of the forest while someone nearby blew enormous bubbles that we all jumped to pop. It was eating ice cream on a deck chair while listening to a Welsh choir sing One Day Like This by Elbow. It was watching two performers making 'The Most Dangerous Cup of Tea in the World'. It was eating two lunches and two dinners because I just couldn't decide what I wanted – there was so much choice!
One of the things I loved most about Festival No. 6 was that everyone there seemed to have a difference experience. We camped near a 'yoga chick' who was rising early for yoga and meditation and healthy smoothies in the sunshine. Her sister on the other hand was rolling into the tent at 4am and emerging at midday to start again. Their dad was watching all the unknown but up-and-coming bands while their mum was going to poetry readings and specialist talks. When they go home and tell their friends about their experiences you'd honestly think they were at different festivals.
Festival Number 6 is also really family friendly. I don't think I've ever seen so many babies in one place. (We'd left George at home with my mum and I was missing him terribly so maybe I was a little more sensitive to the amount of babies around!) There's a special family camping area, toddler play area and loads of activities for the kids. Next year we'll definitely be bringing George!
Tips for Festival Number 6
Buy a program as soon as you arrive. Unlike most festivals you're not give any kind of schedule but you have to buy one for £10. At first you'll probably turn your nose up at paying £10 for a program but it'll be the best £10 you'll spend all weekend. There's a lot going on that you'd never know about so study your program and make sure you're in the right places at the right times.
You get out of it what you put into it. There's SO much going on that it can be overwhelming but try and get involved with as much as you can.
Camp at the top of the hill. When you first arrive with all your stuff you'll just want to dump it and set up your camp but if you walk to the top of the hill you'll have a perfect spot. You'll have gorgeous views and it's more likely to be flat.
Don't take your own food. There's too much amazing food on offer to bother cooking your own.
Arrive on the Thursday. The festival doesn't technically start until the Friday but you can arrive the day before. I loved getting there when there were fewer crowds and we could get our bearings before everything began.
Don't take too much alcohol. You're allowed to take your own alcohol into the area where you camp but not into the main festival areas. Unlike most festivals we didn't do much 'pre-drinking' in the campsite as there was too much going on inside the festival to be stuck at the tent downing warm beer. (It was £5 per beer inside the festival.)
What to pack
The warmest sleeping bag you can possibly find – it was FREEZING.
An airbed – worth the extra weight for the extra warmth and comfort
The coolest tent you can find. My sheep tent from Field Candy went down a treat and was a conversation starter all weekend.
Comfy shoes – you'll do a lot of walking. Wellies aren't necessary unless you're expecting a lot of rain as a lot of the festival in on proper paths and surfaces.
Stylish clothes – you're in with the cool kids now
The first set of pictures in this post are media images courtesy of Festival No.6. The second set were taken by me (before my battery died) using a Lumix 4G CM1 camera phone.