Have you heard of a Toniebox? If you've got young children and you're always looking for fun, creative and educational ways to keep them entertained then keep reading because this is a toy you'll want on your radar! Here is my honest Toniebox review…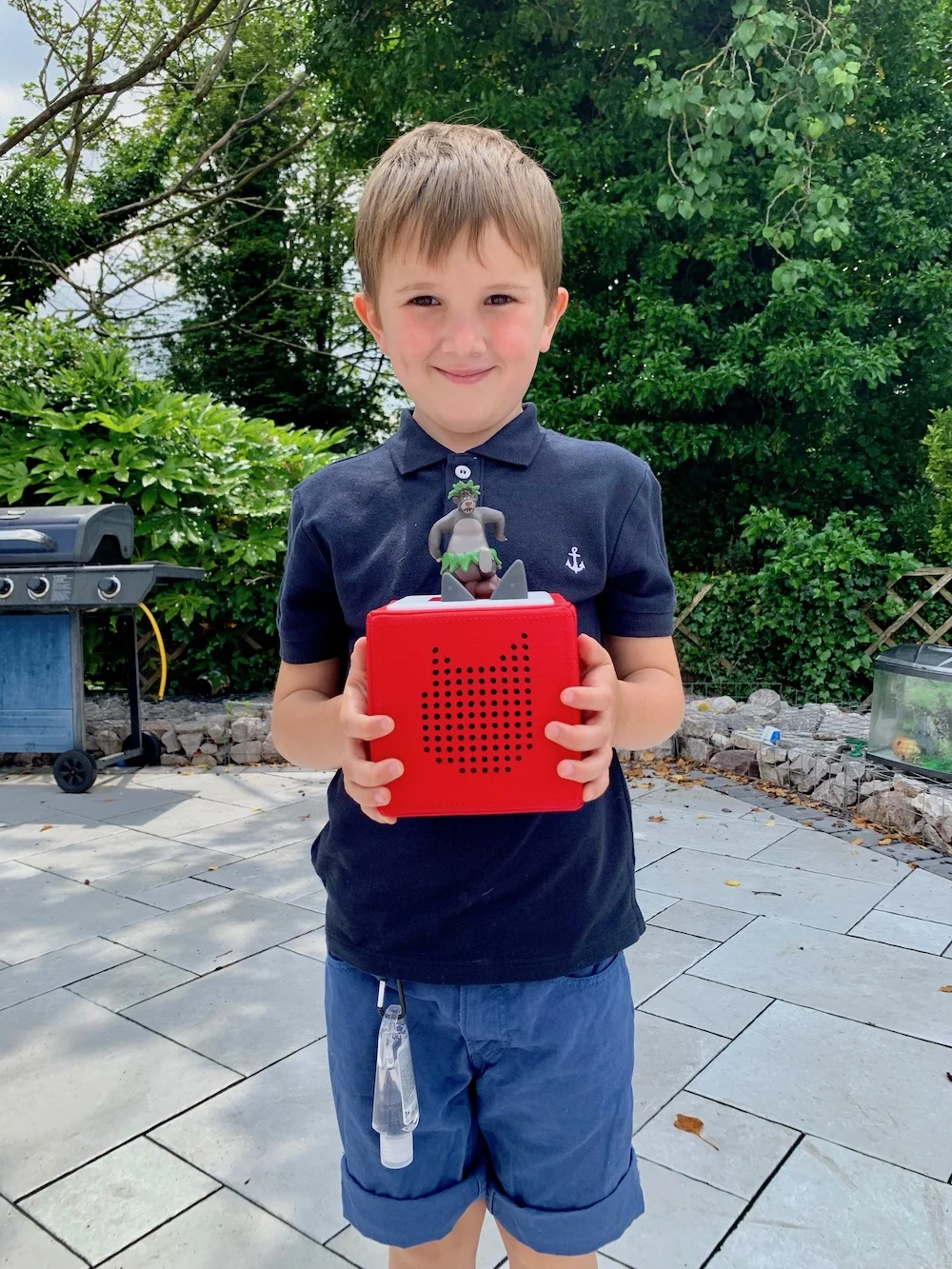 My Toniebox review
What is a Toniebox?
A Toniebox is a speaker for children.
It's a simple, square box that's slightly cushioned and water repellent (perfect in case little hands drop it!)
It has two little ears to control the volume and a rechargeable docking station. When it's not on the docking station, it's completely wire-free with no screens or complicated buttons.
It works by placing a Tonie character on the square on top of the box. When the character is in place (there's a magnet that guides it into the correct spot) it will play the pre-recorded content on the Tonie.
You can tap the side of the box to skip to the next song or next section of a story but other than that, the controls are very simple.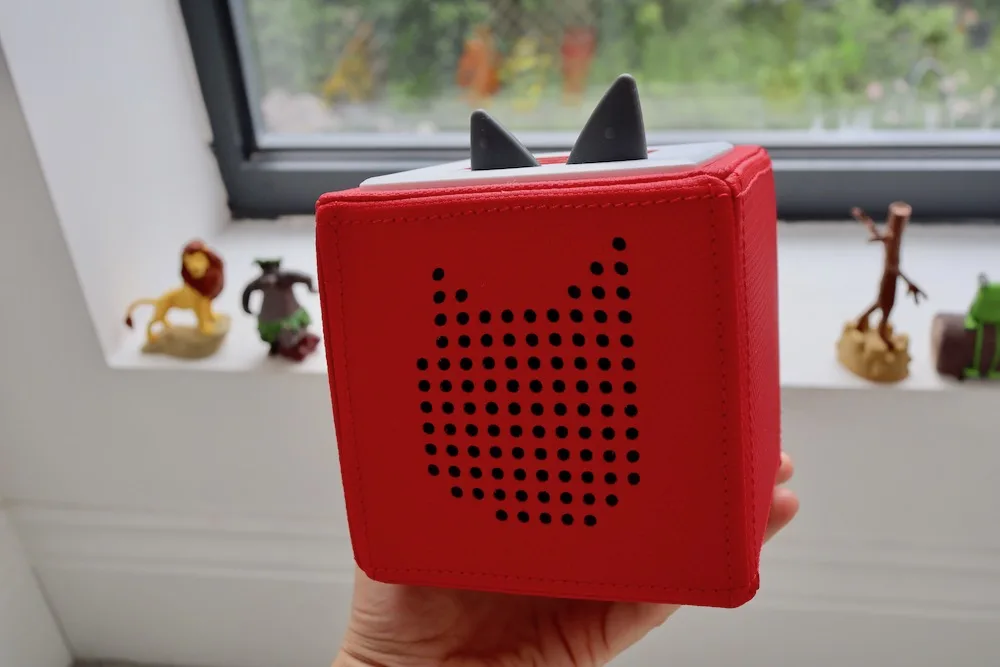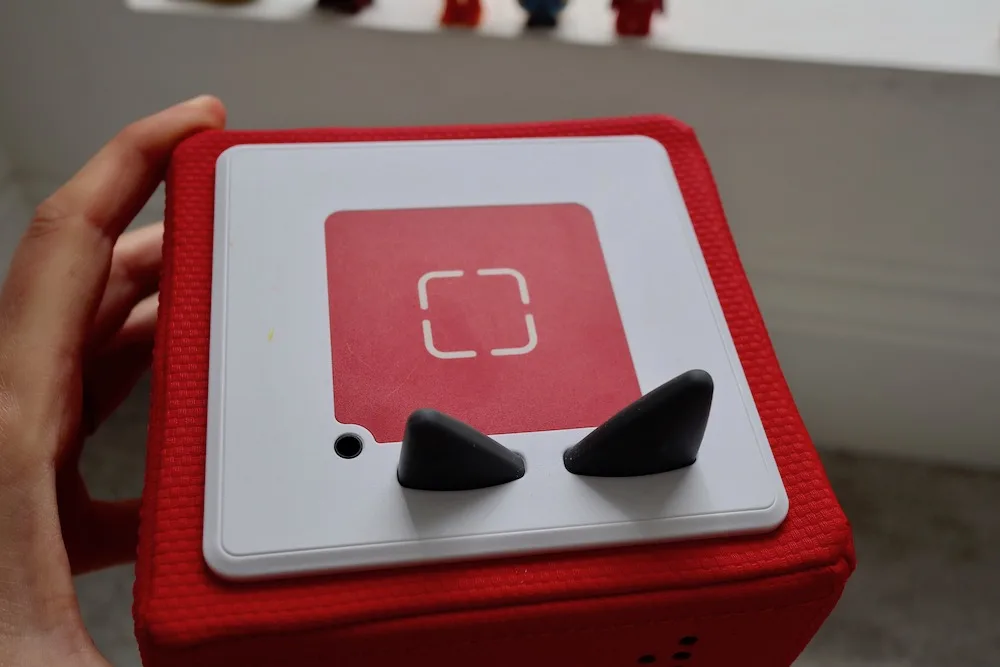 What is a Tonie character?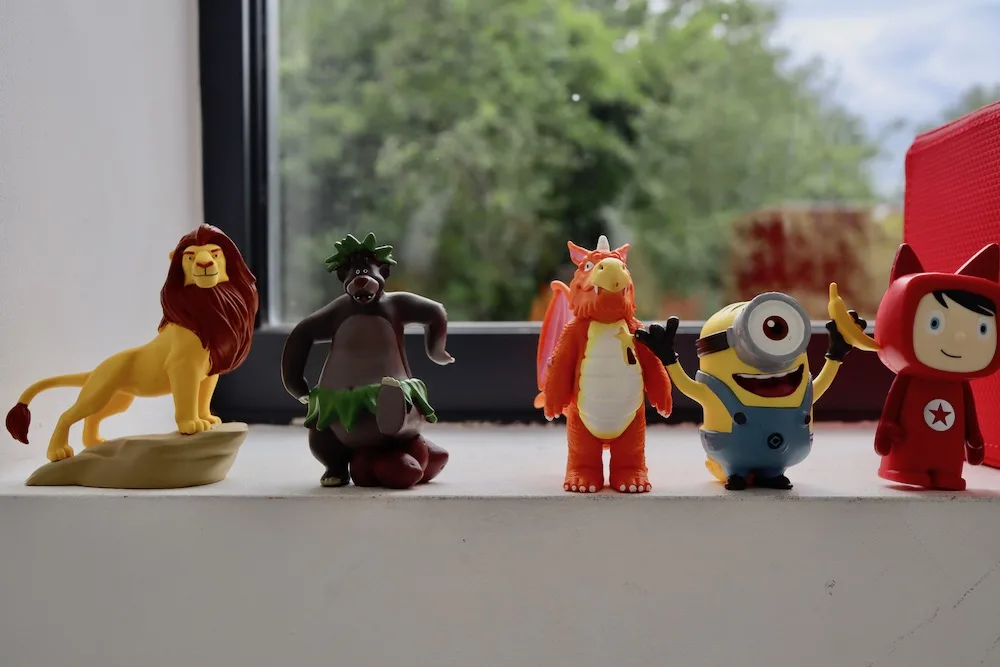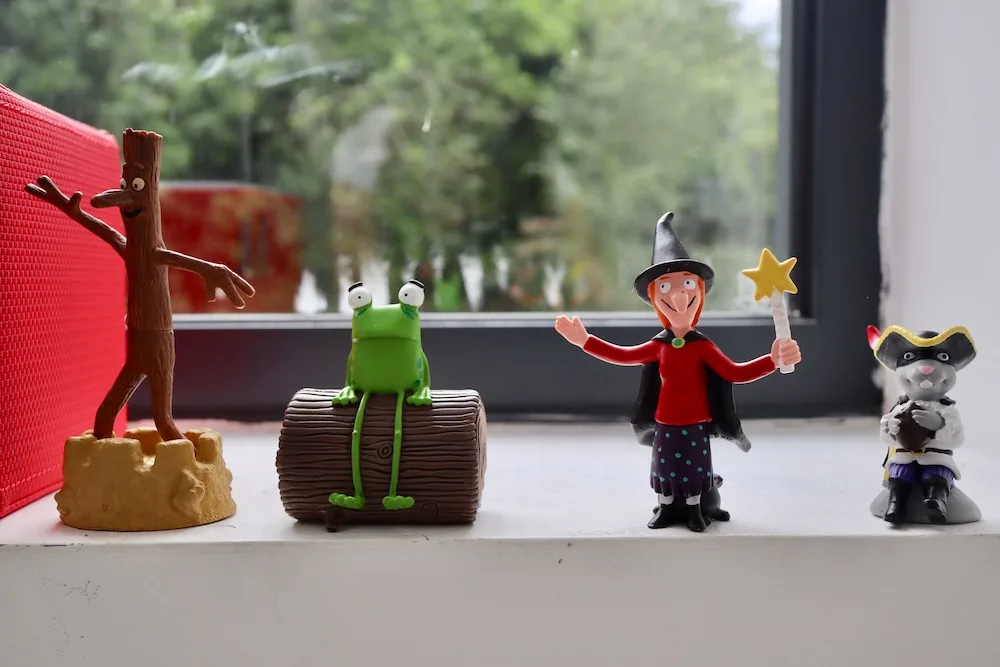 It's the Tonie characters that make the Toniebox really special and unique!
Tonie characters are 2-3" figures that are preloaded with audio content that plays through the Toniebox. Think of it like a modern day CD for young children!
You place the Tonie on top of the box and it instantly begins playing stories and music as well as theme tunes and songs. When the Tonie is removed from the box, it instantly stops playing.
Many of the characters will be recognisable from your children's favourite films, books and TV shows. You'll see the likes of Frozen, Peppa Pig, Minions, The Little Mermaid and The Gruffalo.
There are around 60 Tonie characters available in the UK and each Tonie is priced around £14.99.
The Tonies are a fun yet simple way for young children to control what they listen to and they can play with the hand-painted figures like they would any other toy.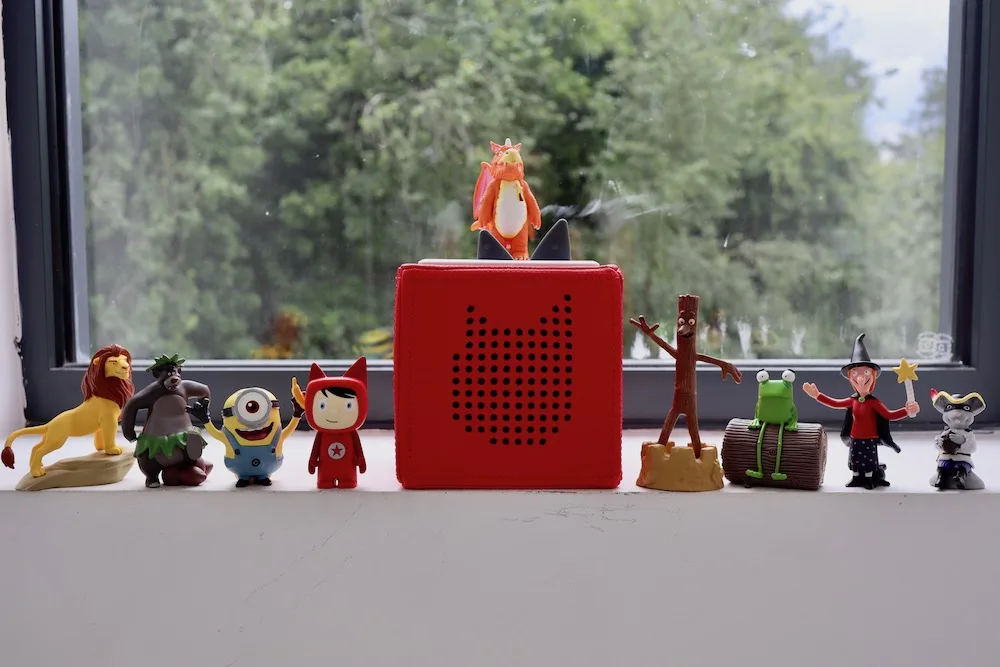 ---
Alternatives?
Another option for a kid's smartspeaker is a Yoto Player. I have a full Yoto Mini review over here!
---
Toniebox Review: What is a creative Tonie?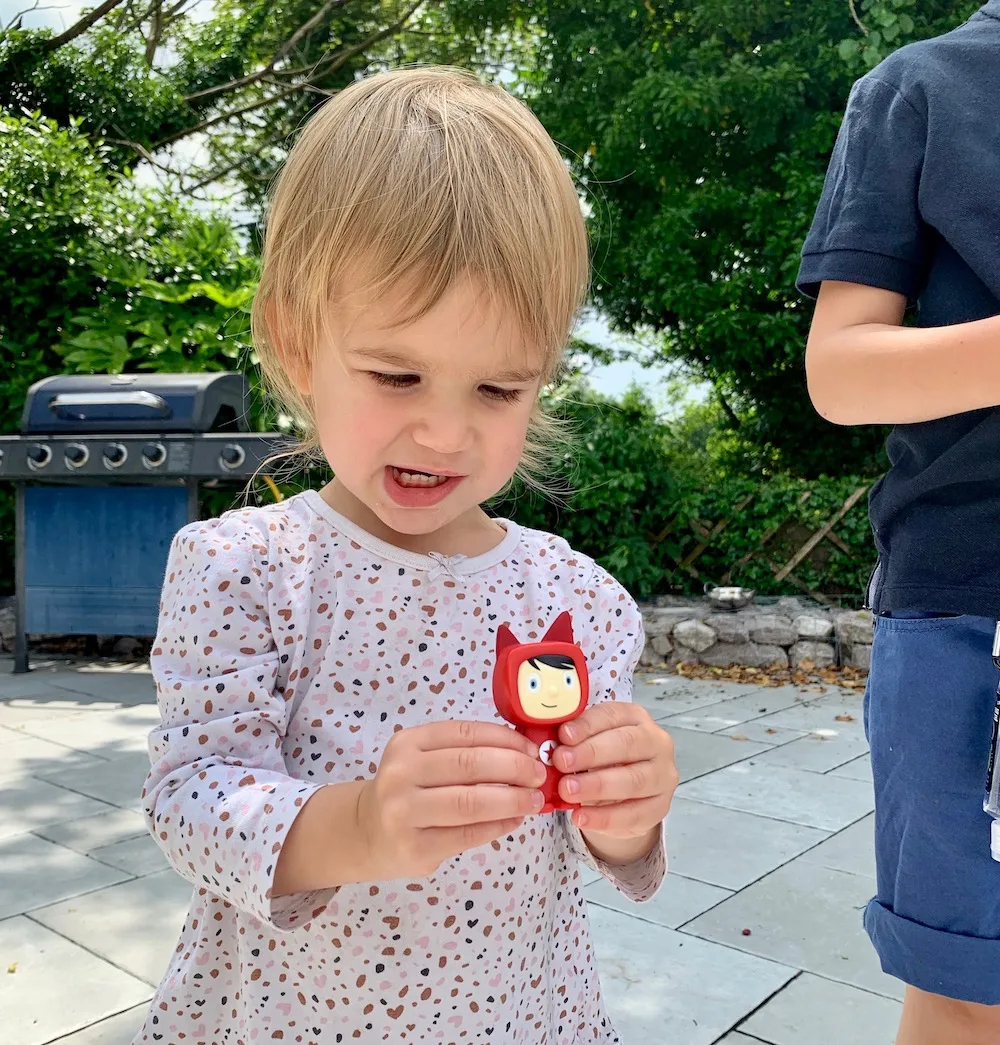 As well as the pre-loaded Tonie characters, you can also get a Creative Tonie which is a figure you can use to upload up to 90 minutes of your own content. You use the Tonies app to upload the content and the app is very straightforward and easy to use.
Maybe you want Grannie and Grandpa to read a bedtime story or Uncle Nick in Canada wants to record a message? You could preload it with your child's favourite songs. Maybe someone wants to sing happy birthday or maybe your child just likes to hear their parents voice while they're at work?
I think you could have a lot of fun with creative Tonies and they could be used in an educational way too.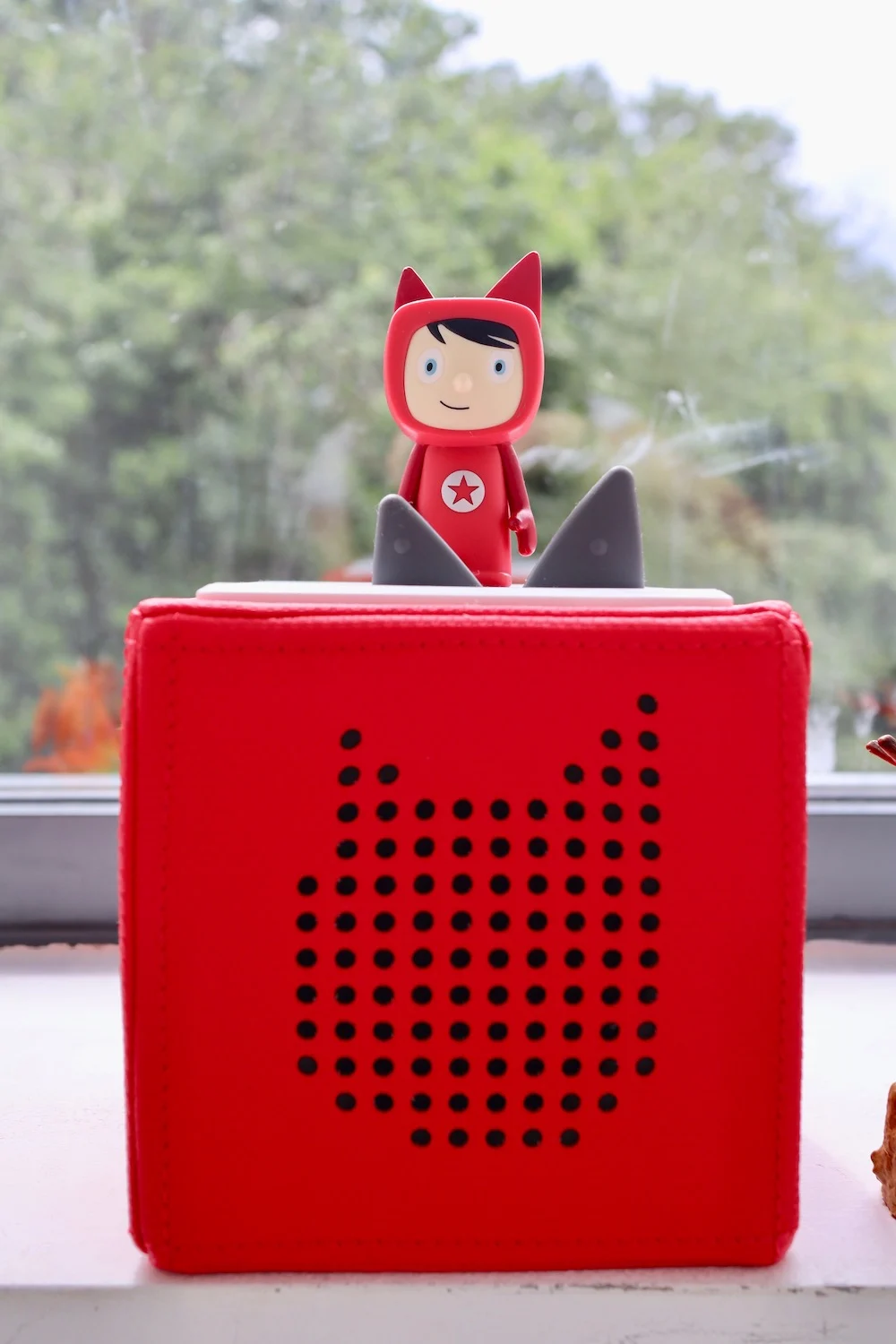 Toniebox review: What ages is a Toniebox suitable for?
While there is no specific age bracket for a Toniebox, I'd say it's perfect for ages 1-8. I have read on another Toniebox review that it's suitable for children aged 3+ but I'm sure my kids would have all been able to use it from 18 months and would have enjoyed it from birth (I played audiobooks for Alba when she was a newborn because she didn't like silence).
My three children are 20 months, 4.5 and 6.5 and they all love it.
It's actually really lovely to have a 'toy' they can all play with together. They can all work it alone but they can also enjoy it together.
Once we got into the habit of taking it in turns to choose a Tonie they actually play with it really nicely together! They like to set up a den and fill it with blankets and take their Toniebox inside to listen to stories. It's the cutest thing and any parents with more than one child will know it's a rare thing for kids to sit and play nicely together all day with one toy!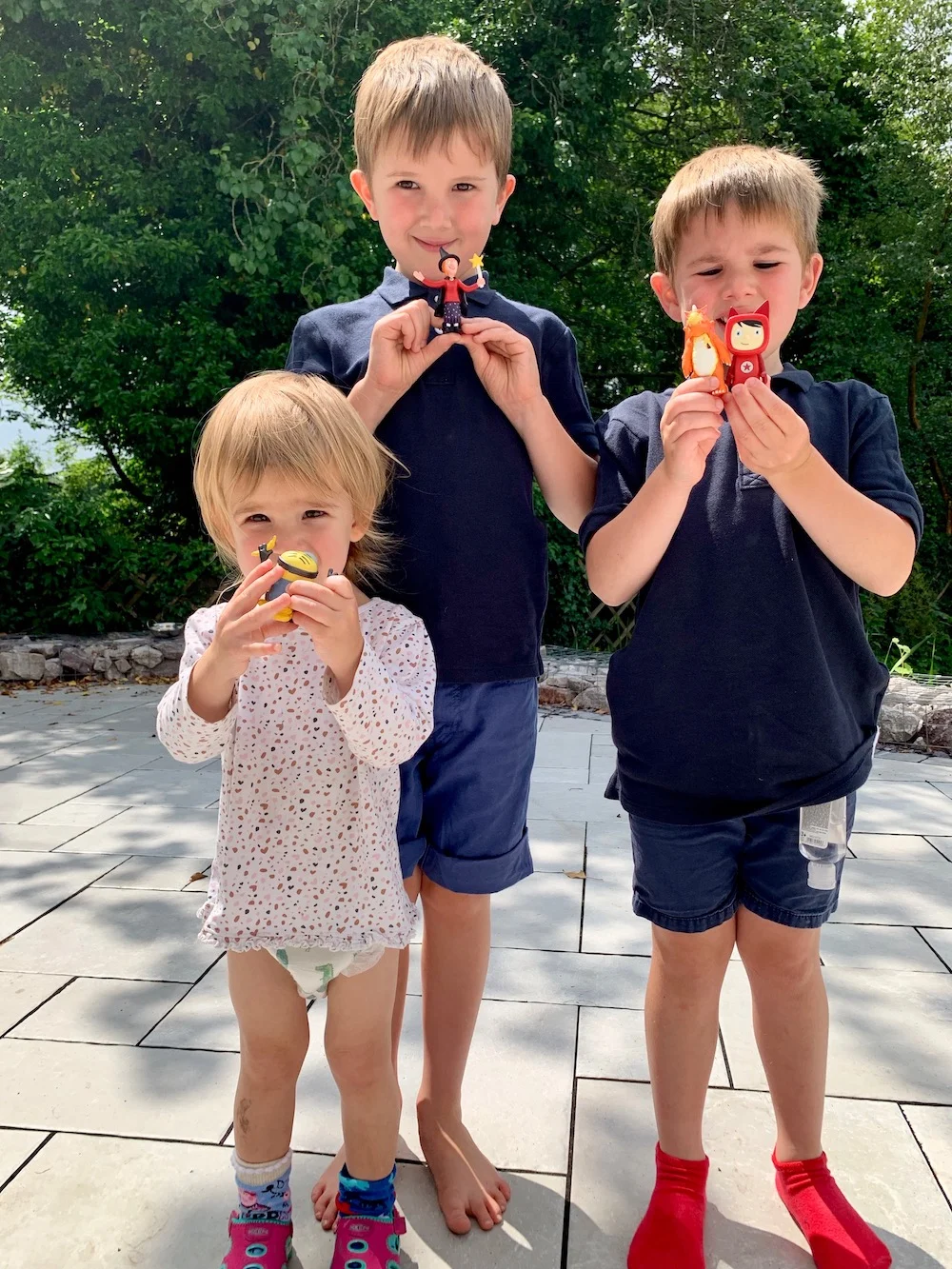 A screen-free media device!
One of my favourite things about the Toniebox (and what had led to such a positive Toniebox review!) is that it's a screen-free media device. My kids are getting the modern, interactive element they love, but they're not glued to a screen so it encourages them to be creative and play at the same time.
You do need an app to set up the Toniebox when you first unbox it, but once you're set up there's no need to use the app other than if you want to preload a Creative Tonie. I really love this because so many multimedia toys require the use of an app — which inevitably leads to my kids using my phone and everyone inevitably getting distracted by the phone.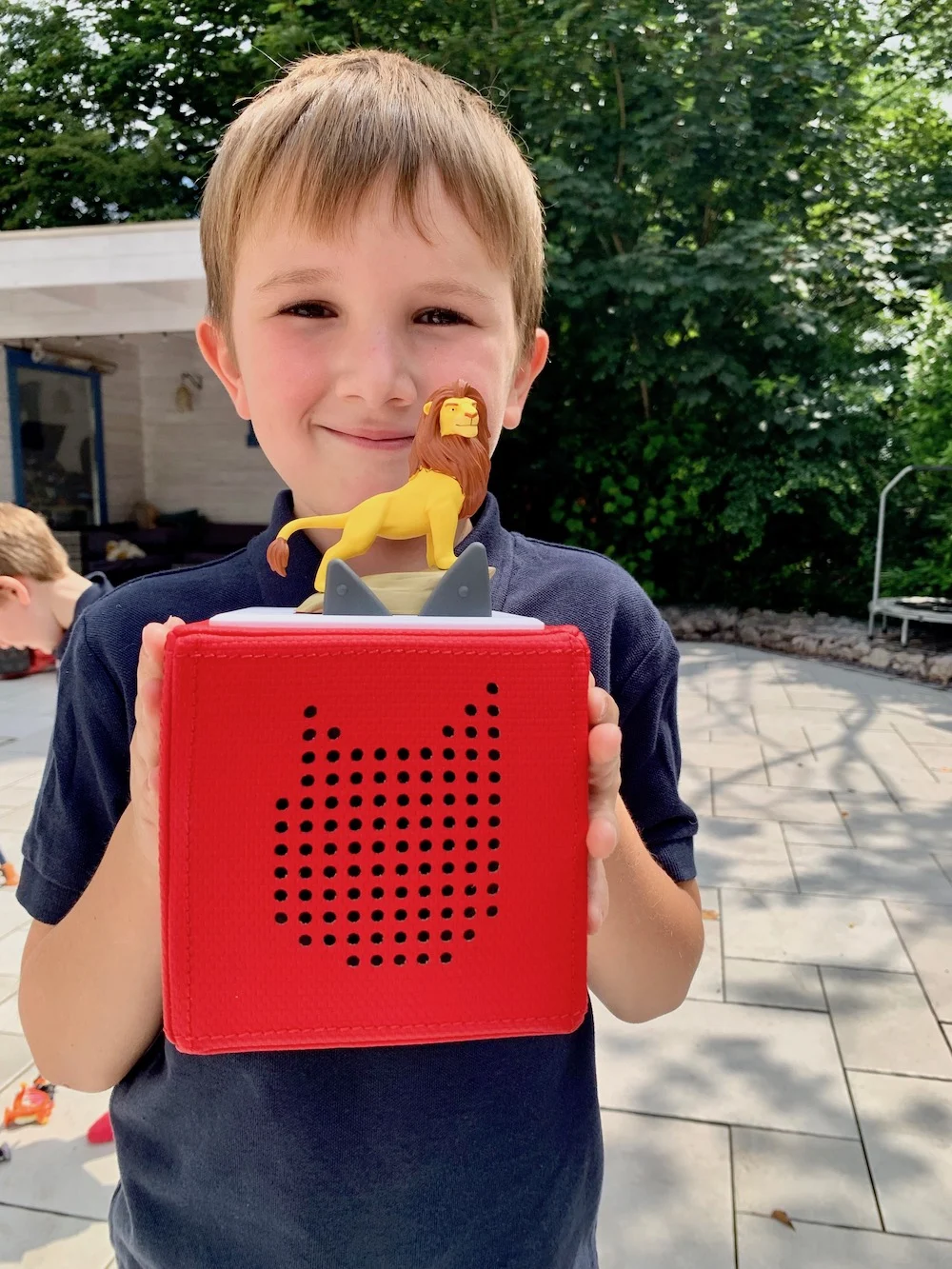 Can you use a Toniebox on a plane and while travelling?
Of course, we haven't used our Toniebox for travelling just yet (this blog post was created during the Covid pandemic!) but it's going to be so good when we do!
The Toniebox has a battery life of 7 hours so it can be used when you're out and about and on a plane. It also has a headphone jack to avoid annoying your fellow passengers – but if you're kids don't like wearing headphones I wouldn't worry because the noise of the plane does drown out a personal device when it's playing quietly.
It's also great for while you're travelling because once the device has downloaded the content from the Tonie, you can use it without WiFi.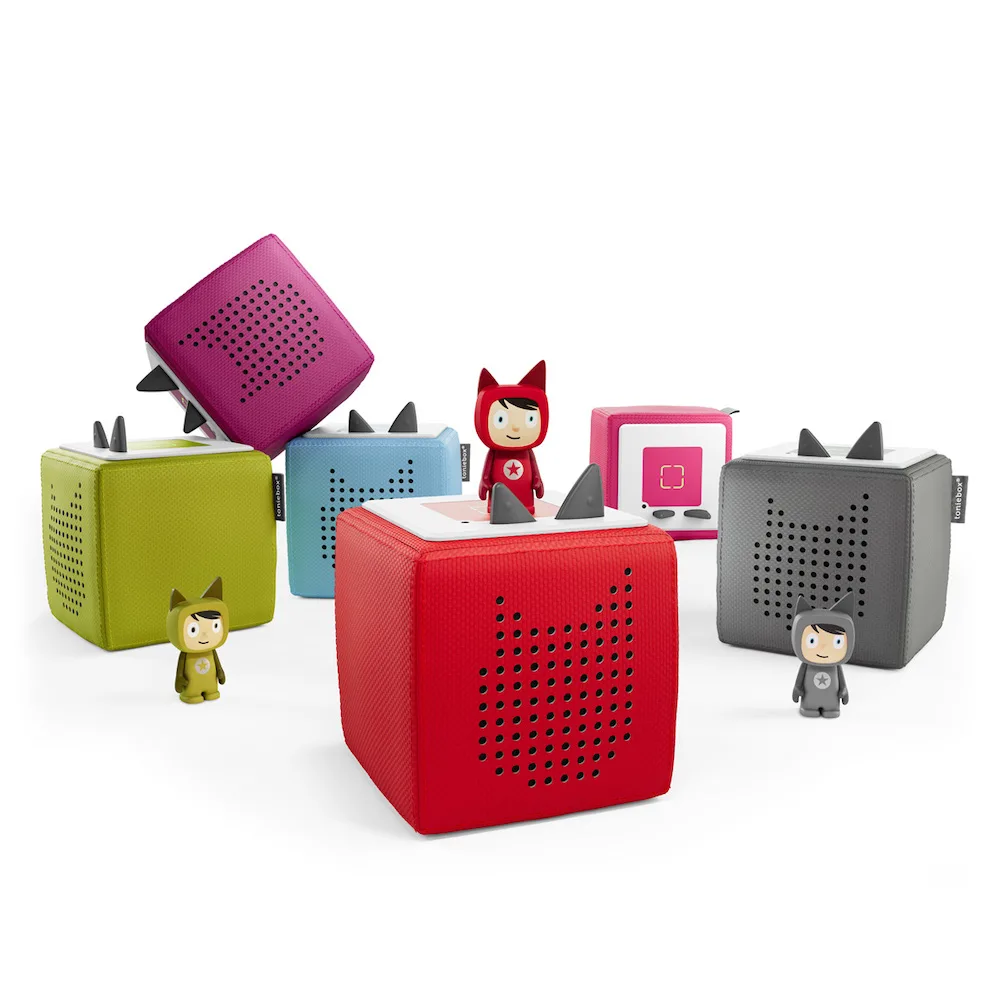 Toniebox awards
It's not surprising the Toniebox has won its share of awards!
Red Dot Design Prize 2016
The German Design Award 2017
The IF Design Award 2017
The LIMA Award 2017 and 2018
German Founders Award 2019
Loved By Parents Award for "Best Innovative Toy 2019"
European Product Design Award 2019 for "Children's Products"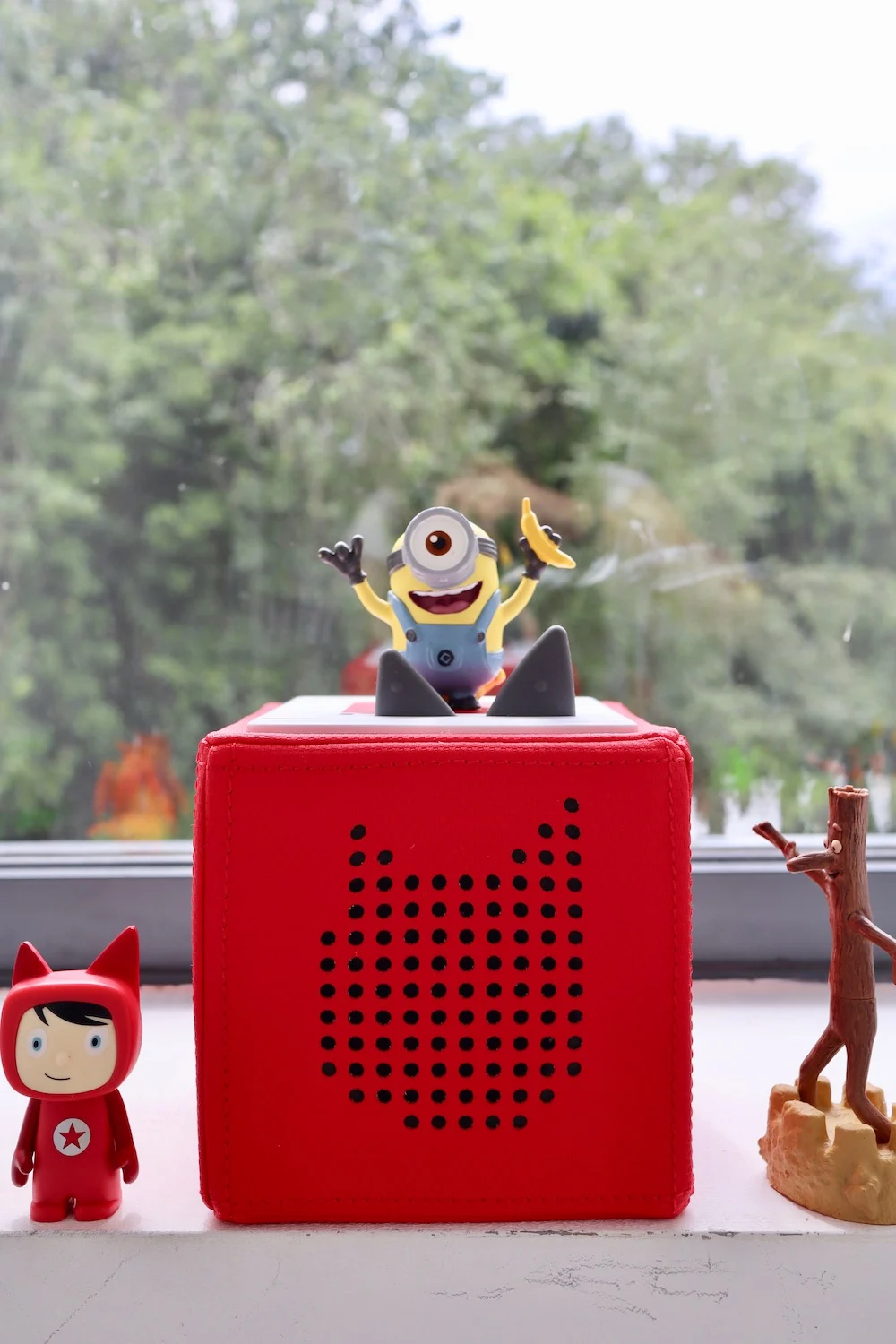 Benefits of a Tonie over a smart speaker?
You may be wondering if it's worth buying a Toniebox when a smartspeaker can do something similar? We do have a few Alexa smart speakers dotted around our house and we'll often play audiobooks through it at bedtime for the kids.
Smart speakers are great but I'd say the Toniebox is more of a toy that kids hold and interact with. Children can choose what they want to listen to and the Toniebox is their device. It's fun and exciting and they can take it places with them – it's as much about the fun of choosing their Tonie as it is actually listening to it. They like to hold their Tonies and play with them and sneak off into a quiet corner with their Toniebox.
Another benefit of a Toniebox is that it's portable so it's great for long car journeys, travelling or taking out and about with you.
Should I just get a smart speaker?
If a Toniebox is out of your budget then I do think an Alexa smart speaker from Amazon is a great gift for kids. As I mentioned above, we do have these speakers dotted around our house and the kids love them. They do need to be plugged in so you're restricted as to where you can use them but they aren't too expensive so you can have a couple around the house.
Our kids use them to play music (via Amazon Music which we do subscribe to) and audio books. We purchase audiobooks via Audible and they are considerably cheaper than buying a Tonie. A Tonie, for example, costs £14.99 but most children's Audible books cost between £4-£7.
This music and Audible books can also be played via your phone so you can play them in the car or while travelling.
They kids also use the smart speak to ask Alexa questions. Admittedly, sometimes they are silly questions but sometimes they are educational questions or they'll ask what the weather will be like or what time it is. They love doing this, especially Joseph as he can't tell the time but the Alexa gives him some independence.
At the time of writing this, Alexa dots were just £17!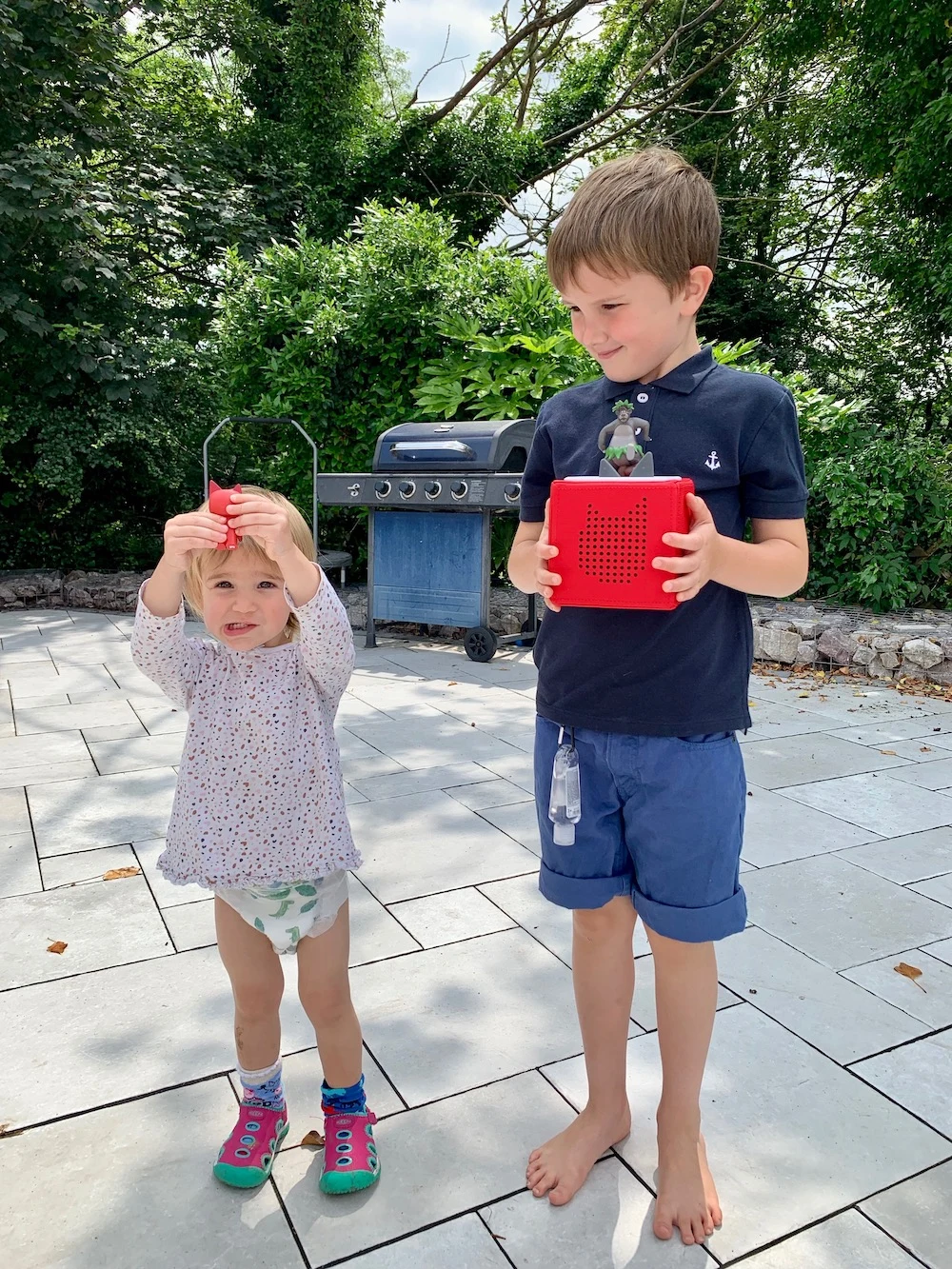 If you're still not sure if a Toniebox is a good idea, I've listed a few of the pros and cons
Pros of a Toniebox
The simple design means young children can use it themselves – promoting independence and less frustration with devices they can't work
It's fun
Tonies are also little toys they love to play with
It's rechargeable so can be used anywhere – great for travelling!
Makes a lovely gift and Tonies can be bought as smaller gifts
It's a toy that will last a number of years
It's slightly cushioned and water repellent so it's durable
Cons of Toniebox
Content can't be paused and skipping a section by tapping the box doesn't always work. You have to tap in the exact right spot and I imagine if you had a creative Tonie with 30 songs on it, this could be annoying!
It's more expensive than a smartspeaker + audiobooks. The Toniebox with one creative Tonie costs £69.95 and each Tonie is around £14.99. You can see how this can quickly become expensive! (But I also do think it's a very easy gift – I can imagine Nana and Grandpa buying a Toniebox for Christmas and buying new Tonies for each birthday and special occasion thereafter).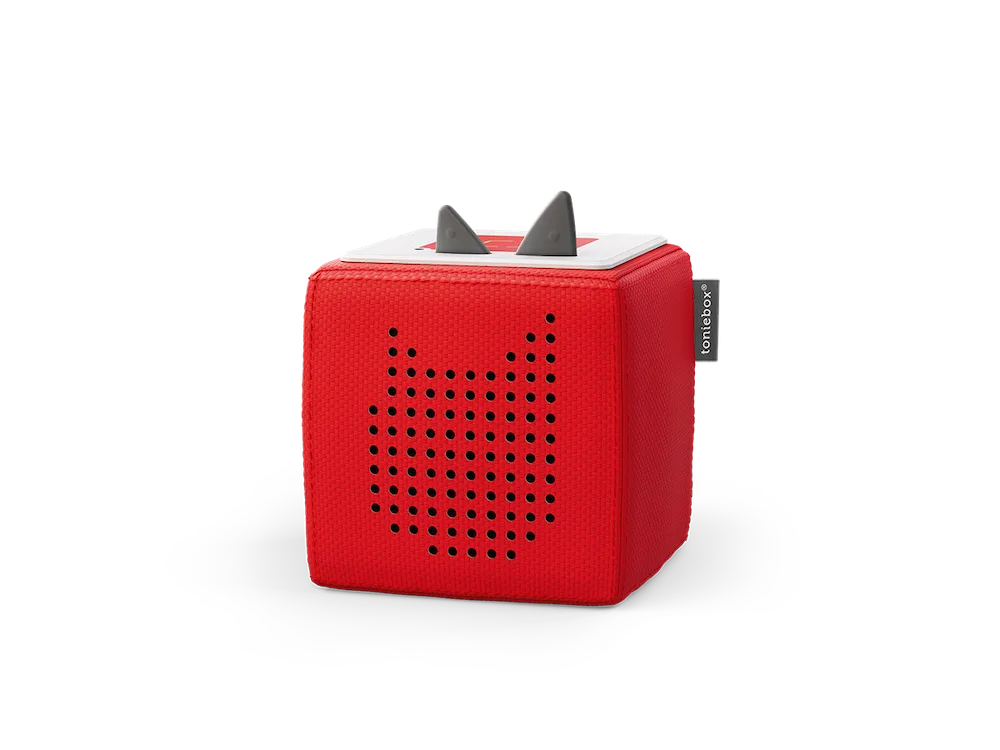 There you have it, my Toniebox review! If you have any questions please do drop them in the comments below!
You can find out more at Tonies.com and Tonieboxes and individual Tonies can also be purchased on Amazon.
And don't forget I have a review of the Yoto Mini on the blog too.
Read more from the blog:
The Travel Hack: How it all began – A 10 year timeline of my travels, blogging and life
What's it like having 3 kids? The good, the bad and the chaotic
Also, if your child is a big Toniebox fan, you can get these gorgeous Toniebox wall shelves on Amazon. I love this one below but there are lots to choose from!