I feel bad even calling this a challenge because we all know it was the best 'challenge' ever. World Duty Free set me the task to buy all my Christmas presents from their store in Terminal 5 (read more about my travel blogger shopping challenge here).
As always, I was running a little behind schedule with my Christmas shopping (ie. I hadn't actually started) so the challenge came at the perfect time and even gave me the chance to visit Berlin. You have to go through security to reach World Duty Free so why not take a quick pre-Christmas trip to one of the most festive cities in Europe?
So how did the challenge go?
I had a suitcase to check-in so I couldn't go through security until two hours before my flight. This left me with just two hours to buy ALL my presents. Two hours, one store and presents for 14 people. I usually spend 2-3 full days Christmas shopping, could I really do it in two hours?
I was met by Marylin, a manager and personal shopper in Terminal 5, who greeted me with a huge hug and the promise that we were about to have a lot of fun. I instantly fell in love with her.
Marlyin gave me a tour of World Duty Free while encouraging me to taste everything, smell everything and try everything. She showed me the most expensive bottle of wine (£5,000!), products that are exclusive to the airport and introduced me to the whiskey connoisseur who selected a few whiskeys to include in my gifts. I hadn't realized that they would have whiskey experts at the airport and they were so knowledgeable and even judged whiskey competitions. I told them a little about the guys I was buying whiskey for and my price range and they instantly picked out what they thought would be best. As the Aussies would say, 'Too easy, mate'.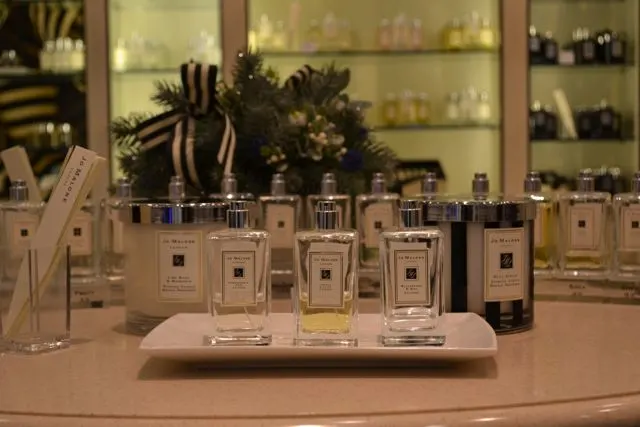 Once my duty free tour was over it was time for some pampering and I was treated to a lush hand and arm massage at Jo Malone. If you're not familiar with Jo Malone then I'd recommend imagining the most delicious smell you can think of and then multiply it by about 4,000 and you've got a Jo Malone scent. You can find candles and scents for your home as well as perfumes and body lotions.
I told the guy that I like sweet, vanilla scents and he selected a combination of Blue Agava and Cacao and Peony & Blush Suede for my hand massage. I'm sure you're not meant to say this about yourself but I smelt divine. The guy who sat next to me on the plane actually caught me sniffing my own arm at one point. He gave me a strange look and I wanted to shove my arm in front of his nose and demand that he smelt it but I thought that may have been a bit too weird and would have resulted in an awkward flight to Berlin!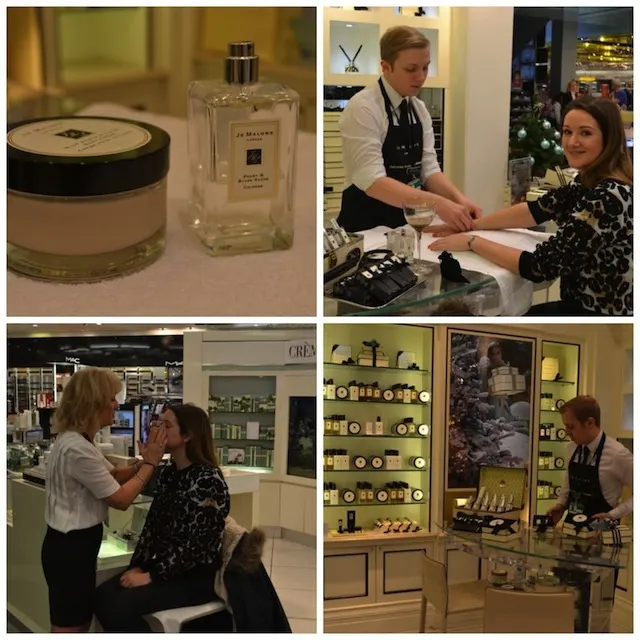 After my hand massage I had a mini facial at Crème De Lamere. I'd never heard of this super luxury brand before and when I discovered the prices I understood why (yikes!) It was created by a scientist when he realized that fishermen's hands were often soft and smooth and he discovered that the kelp and algae that they frequently touched helped their hands appear young. I have no idea how true this is but the products I tested made my skin feel soft and smooth and well hydrated for the entire flight.
The pampering didn't end there. After my skincare session I was whisked over to the makeup artist on the YSL stand to have a full makeover.
I wished I'd had someone meeting me at the airport in Berlin because I don't think I've ever looked this glamorous or smelt this good on a flight before. Actually, scrap that. I've never looked glam or smelt good on a flight, ever. I hope my taxi driver who picked me up from the airport appreciated my efforts.
As you can imagine, all this pampering and drooling over expensive goodies took a fair bit of time and before I knew it I had half an hour until the gate closed for my flight. Argh.
Marylin sensed my panic and handed me a basket as I rushed around World Duty Free in search of the perfect Christmas gifts.
Half an hour. 14 gifts. 1 shop.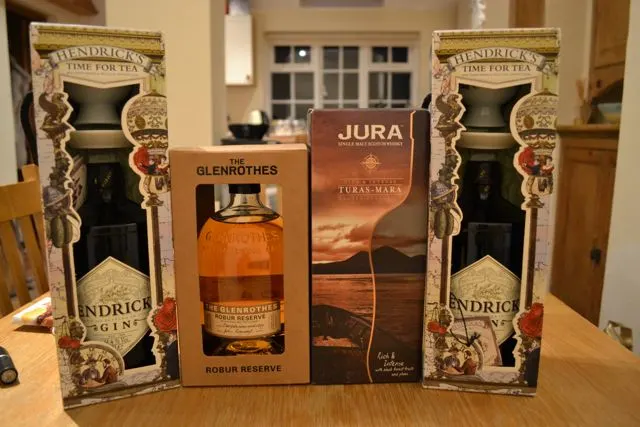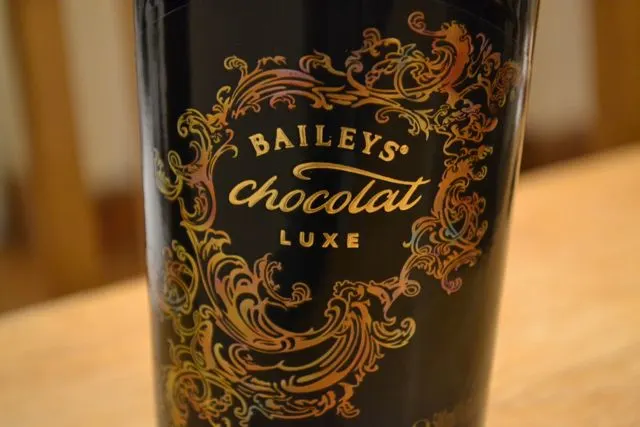 I whizzed to the alcohol section first and selected two bottles of whiskey, two bottles of Hendricks gin that came with a little tea cup ('Too cute", I could already hear my friends saying on Christmas Day.) I also got two perfume box sets, some choccies, some makeup and a delicious bottle of Baileys Chocolat Lux which I'm pretty sure will go down nicely on Christmas Day evening.
And I couldn't leave without getting a little Christmas gift for myself – even Marylin insisted so I couldn't say no! I bought myself a bright red Mac lippy in the perfect colour for Christmas and a Benefit mascara.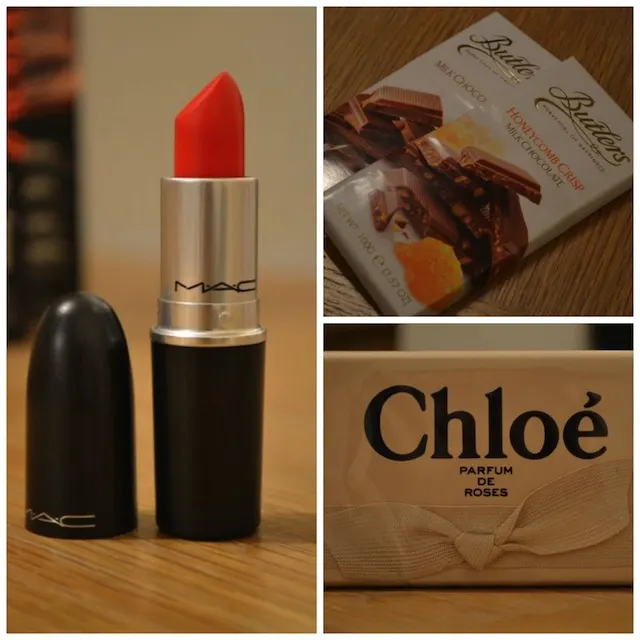 My presents were all packaged up and I taken away so I could pick them up on my way back through Heathrow Airport with their brilliant Shop & Collect service. I wouldn't have been able to manage those heavy bottles to Berlin so this service is really handy and you can use it no matter how much or how little you buy.
The verdict?
Firstly, I didn't know I could have so much fun in World Duty Free. I had no idea that there were so many free treatments available to try and there's nothing like a hand massage or a facial before a flight.
Buying my gifts from World Duty Free was super easy. I sometimes overthink Christmas presents and spend hours deciding on the perfect gift. Sometimes this is necessary but who doesn't love a bottle of their favourite drink and some choccies on Christmas day? You can't go wrong with perfume gift sets, cuddly toys for kids and luxury makeup for a special lady (whether that's your mum, your BFF or yourself) so sometimes I think it's best to keep it simple and not overcomplicate your Christmas shopping.
The challenge to buy all my gifts in one store in a short amount of time actually made the whole experience a lot easier and less stressful rather than the opposite like I expected. Everyone is getting something I know they're going to love and I've managed to save myself three days of trawling the high street looking for the perfect gift.
In total I spent £250.71. I didn't quite manage to get all my presents but what I didn't get at the airport I did manage to find at the Christmas markets in Berlin. So I had a mini-holiday AND came home all ready for Christmas! Perfect.
Merry Christmas everyone!
I'd like to say a huge thank you to everyone at World Duty Free at Heathrow Terminal 5 for a great shopping experience.