Please tell me I'm not the only one who hasn't even thought about Christmas shopping yet, let alone even bought anything.
Christmas is in 9 days away and every year my circle of family and friends seems to double (you guys really need to stop getting married and having children!) I'm away for the next four days (Berlin, whoop!) and then have four days of parties and merriment to enjoy. I'm pretty sure I'm too late for internet shopping so I really had no idea when I'd get all these gifts in.
Thankfully, I've been asked to complete a Travel Blogger Challenge with World Duty Free that I'm pretty sure is going to solve my problem. The challenge is to buy all my close friends and family's Christmas presents from World Duty Free before a flight.
This is the best challenge I've ever been set. I need to go shopping, get it all done and dusted pretty quickly AND get to take a flight somewhere new and exciting.
The aim of the challenge is to show how easy it is for frequent travellers to buy all their Christmas presents in World Duty Free.
I really love Christmas but I don't love the stress of high street shopping and the pressure to get a million gifts in one day. I'm terrible for traipsing around the shops at Christmas, umming and arrring over which present to buy for which person, spending far too much money and also taking days to get it all done.
Now World Duty Free have come along and simplified the whole process. I'll have about two hours before my flight in one shop to get it all done. I'm pretty sure that everyone will get exactly what they want too. There's going to be lots of perfume, aftershave, alcohol, cosmetics, chocolates and toys. My family are going to love me this year and it will definitely beat the year when everyone got a mix CD!
I'll also be using World Duty Free's shop and collect service so I won't need to lug my shopping around with me. I'll select it all on my way out and pick it all up on my return journey.
Berlin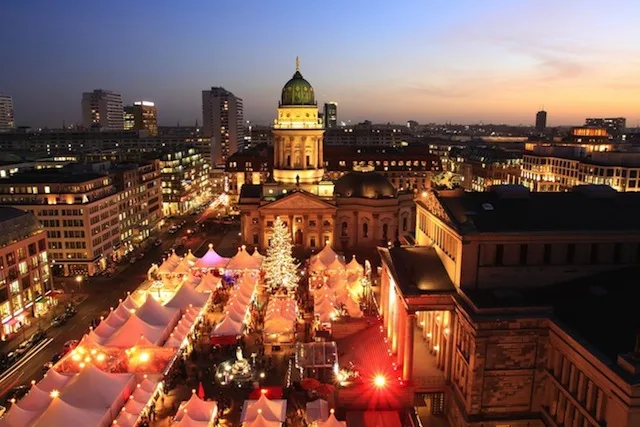 I chose to fly to Berlin as part of my Travel Blogger Challenge. Berlin is one of those cities I've wanted to visit for years and I think it will be amazing at this time of year. Germany is known for magical Christmas markets and it sounds like such a cool city too.
I'll have two and a half days in Berlin so if you have any recommendations, please let me know!
Massive thanks to World Duty Free for organising this challenge and providing my flights to Berlin.