After spending an incredible three days in Barbados my journey got even better as I travelled to the island of St Kitts.
I'd been told that St Kitts is much more chilled out and less developed than Barbados. I had no idea what to expect because Barbados is one of the most chilled out places I've ever been so I couldn't imagine what level of gorgeous relaxation we were talking about.
Travelling on a tiny plane, we first stopped in Antigua before landing in St Kitts during a tropical rainstorm. I actually love the excitement of tropical storms with the incredible forks of lightening, intense humidity and fat drops of rain that leaves you drenched but warm. I was met by Dele from the tourism authority who was all set to show me around this gorgeous island for the next three days.
We headed straight to my hotel at Timothy Beach Resort and then went straight back out to the bar across the road called Shiggidy Shack – named at one of the top 10 beach restaurants and shacks in St Kitts by the Guardian.
Even at 9pm the bar was banging and swaying as a live band blasted through the speakers. It was more than enough to brush away my jetlagged cobwebs and join the crowds singing and dancing in the higgildy piggldy shack. I instantly loved this this place as I feasted on jumbo shrimp and local beer.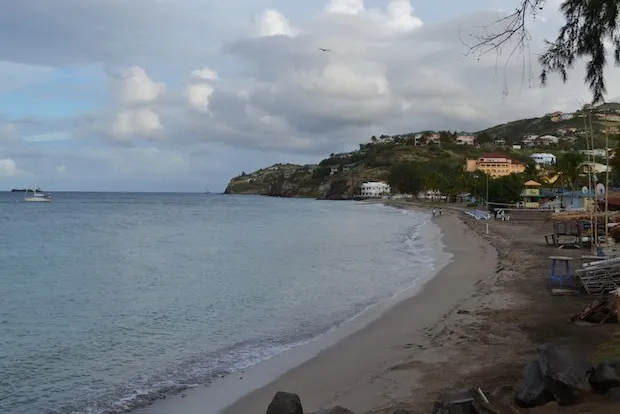 My breakfast spot at Timothy Beach Resort
It was an early start the following day as we headed to the Wingfield Estate where there's lots of things to do like zip lining, exploring the forest, checking out the ruins of an old rum distillery or visiting the Caribelle Batik factory in Romney Manor.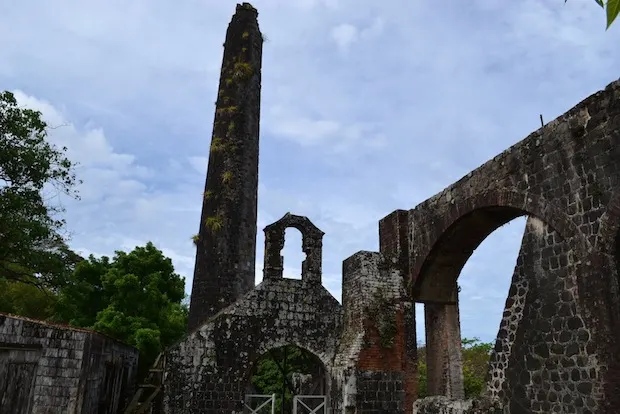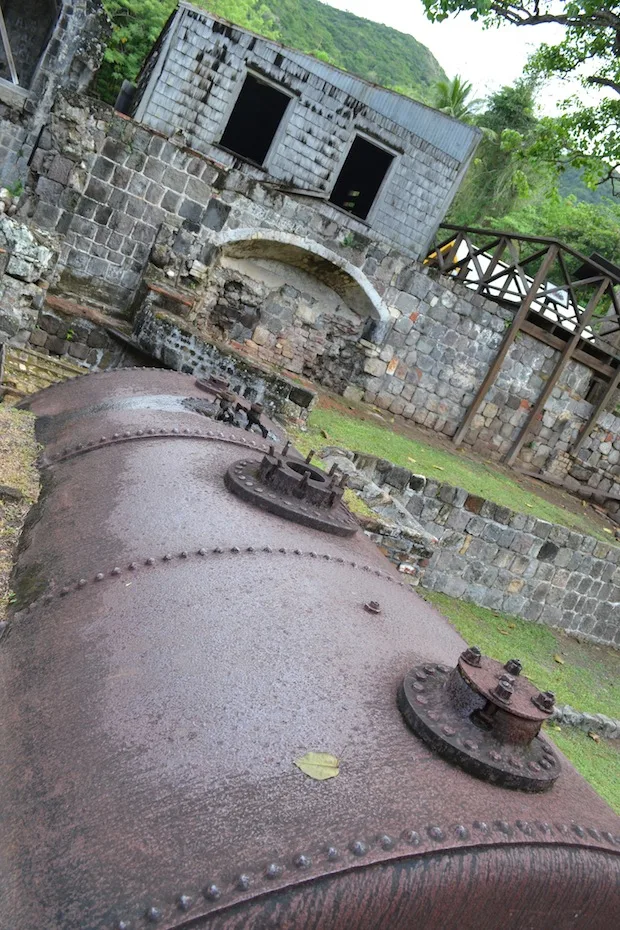 I was shown around Romney Manor by the very lovely Maurice Widdowson, a British guy who bought the manor and brought batik to the island. He gave me a tour of the beautiful gardens but I particularly loved the spaces in between where tropical rainforest meets the well-groomed plants. It's where nature meets humanity and, to me, shows how beautiful the world can be when we work together. It's wild and untamed but there's structure and beauty in the bright flowers and cascading trees.
As you'll see by the end of this post, St Kitts had a real effect on me in terms of appreciating the beauty of nature. I met some incredible people with so much passion for nature that it rubbed off on me in a big way.
After my garden tour I was shown around the batik factory. Batik is an ancient Indonesian method of dying materials. Wax is applied to the fabric and then dye is applied to the areas without wax. This is done multiple times to create incredible designs with beautiful colours. Many local artists work in the factory and I was lucky enough to get behind the scenes and give it a go.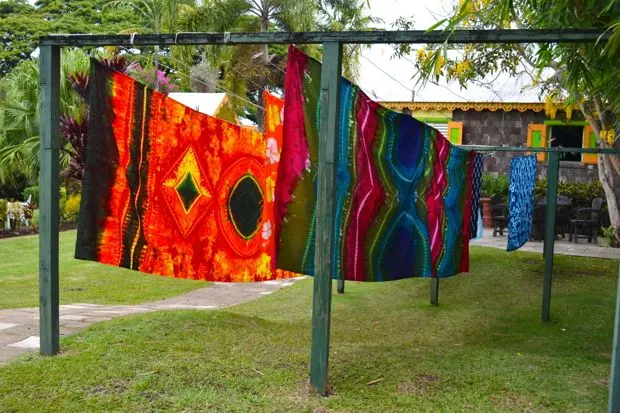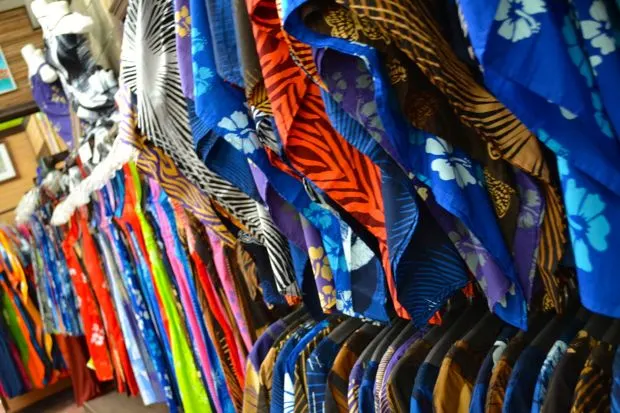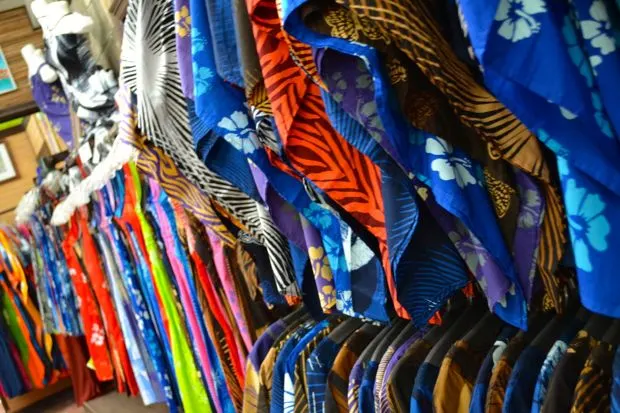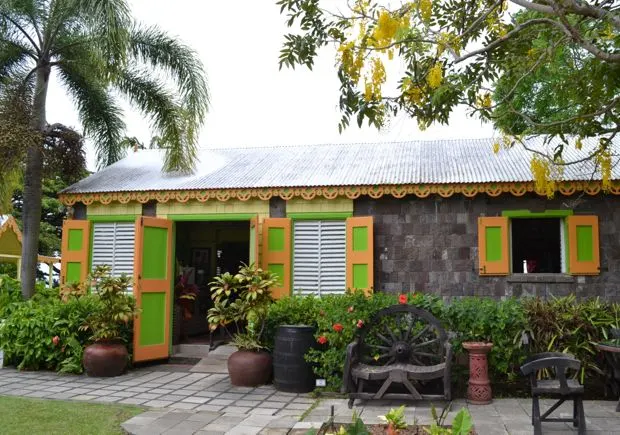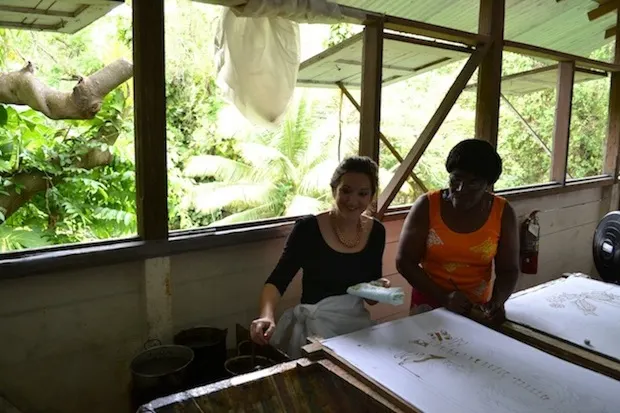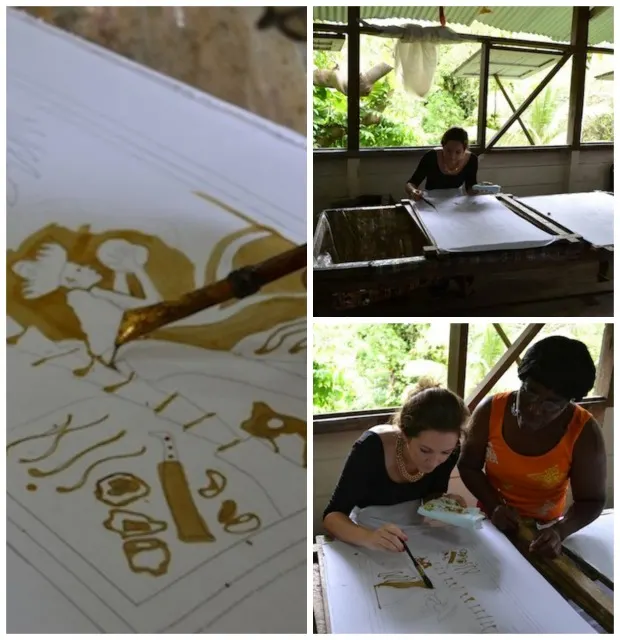 As I took my seat next to a pot of boiling wax I warned Pats, my teacher for the day, that I didn't have a single artistic bone in my body. She laughed at me but over the course of the next hour she patiently taught me the art of batik. Using a tjanting tool and a thin paintbrush I carefully painted wax over the lines that had been pencilled onto the fabric. I felt like a child learning to paint again and there was something wonderfully therapeutic to it. Once I'd got the hang of not dripping the wax and staying within the lines I relaxed and got to work.
When I say I was in a factory you may be thinking it was some kind of warehouse but this was the most beautiful 'factory' I've ever been to. Made from wood and perched on the side of the mountain, Caribelle Batik overlooks the rainforest and countryside. A gentle breeze sweeps through the open windows and washes over the artists as they work quietly. I could have stayed here all day but was prised away for my next tour. Maurice and Pats have promised to finish my work and send it over to me so I'm really excited to see the final product.
Greg's Safaris
My next stop was a tour of the forest with Greg from Greg's Safaris. This was another guy with an incredible passion for nature and wildlife and we explored the forest with a childlike enthusiasm.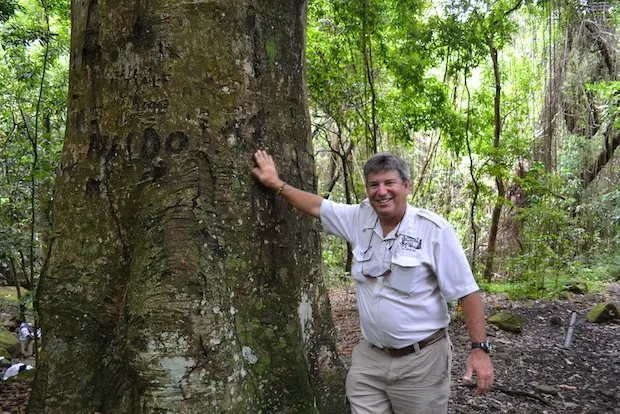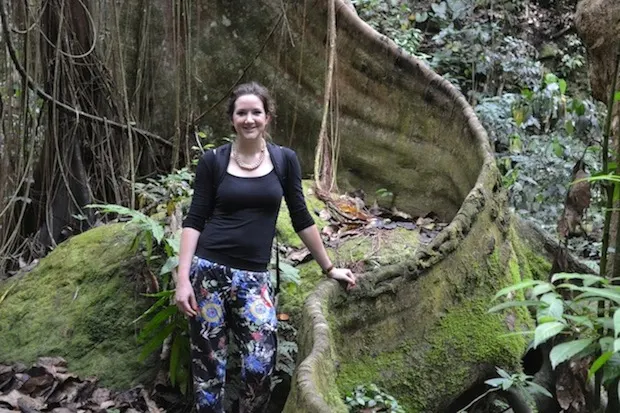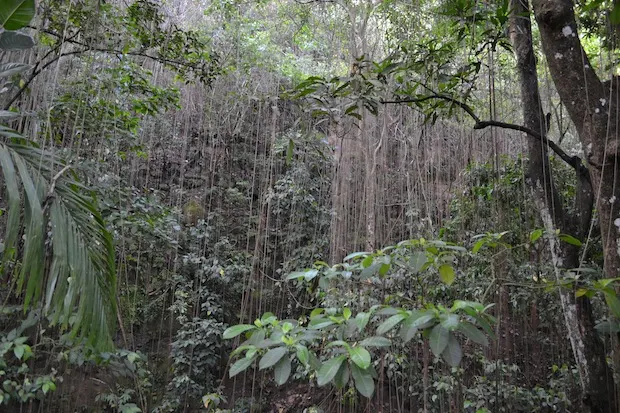 Caribbean Cooking Class
By this point in the day I was well and truly ready for my cooking class at Nirvana Fairview. Nirvana Fairview is a 300 year old great house and was once home to a French military commander and other wealthy and significant families. It still retains the grand splendor it was originally built for and it's a fascinating place to explore.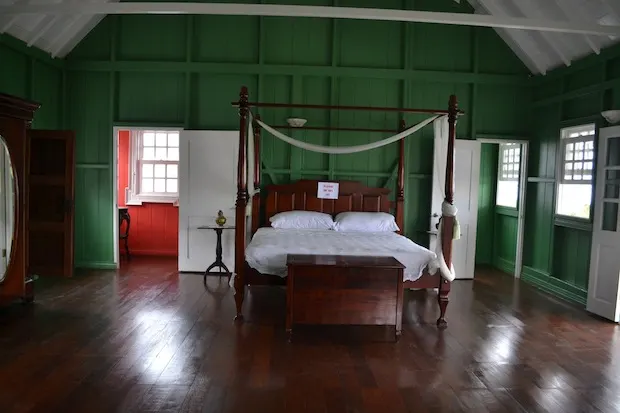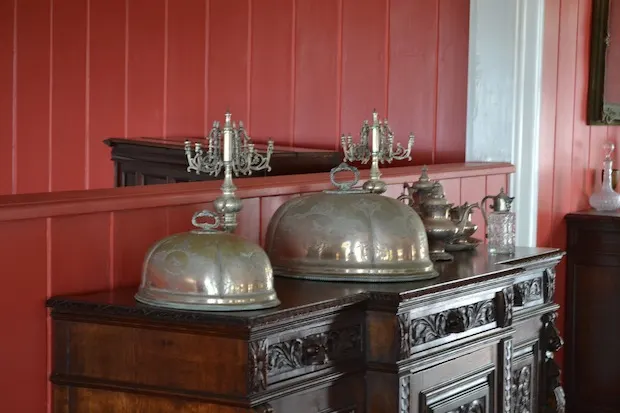 The main reason I was here was to meet Chef Janice, the resident Caribbean cooking class teacher.
One of my favourite things about travelling is discovering new food and Caribbean food is no exception. I love taking cooking classes so I can bring home a perfect souvenir from my trip and that's a recipe to recreate my favourite dishes!
Janice made:
Chicken with plantain stuffing
Green banana escabeche
Plantain topped fish
Black beans and rice
I'm going to be recreating some of these dishes from the class (as soon as I'm home for long enough!) so keep your eyes peeled for those posts coming soon. I loved seeing all the different ways to use plantain and I can't wait to add it to some of my dishes at home.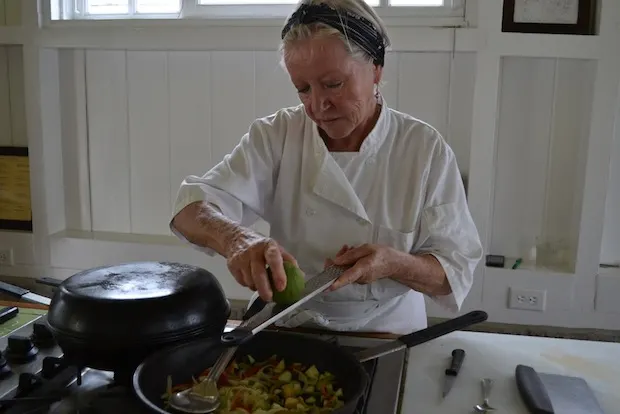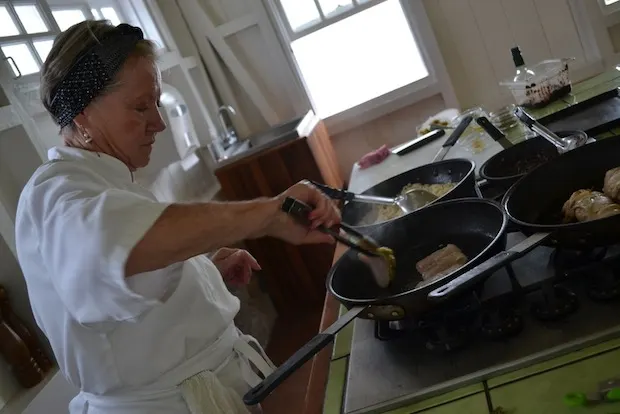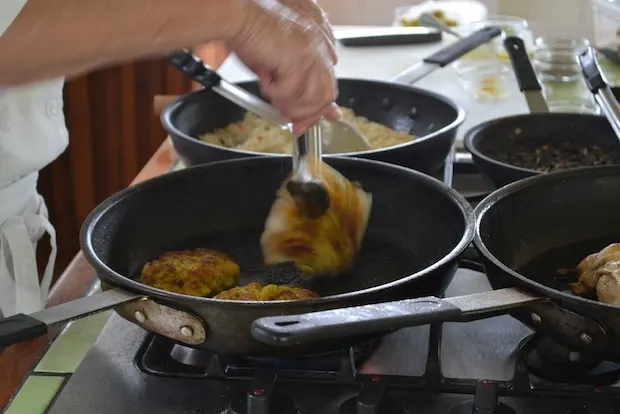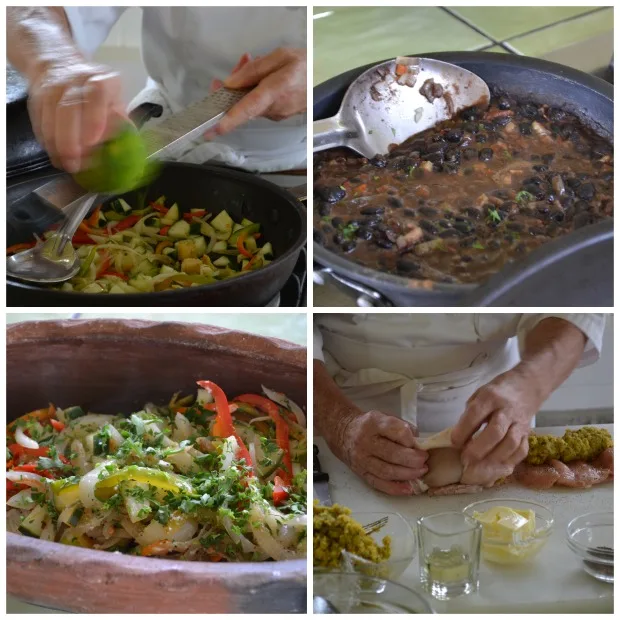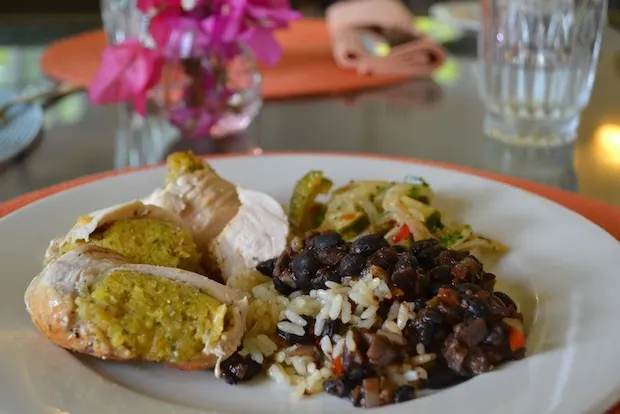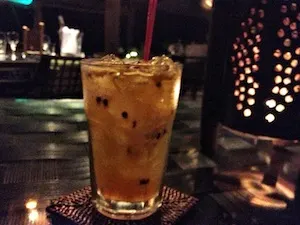 That evening the rains returned in time for my dinner at Spice Mill. I have never in all my life seen rain like it and we were even trapped inside the car for 20 minutes before we dared to get out!
Luckily, Spice Mill was worth getting drenched for and there was a cozy and excitable atmosphere inside. The restaurant is open to the elements but we just about managed to stay dry as we ate delicious food by candle light. I then sipped mango cocktails while I sat back and watched the storm
My final day in St Kitts is another action packed adventure and it begins with horse riding along the beach. I kid you not.
Horse riding
Horse riding along the beach sounds incredibly romantic, doesn't it? You imagine the wind in your hair and a salty breeze. Your horse would look like Black Beauty but would be gentle as you take a relaxing stroll and take in the view.
My experience was absolutely nothing like this but it was so much more fun!
My horse had two speeds; so slow you're almost stopped and gallop like you're in the Grand National. I'd just start to relax into the slow waddle when it suddenly realise it was lagging behind and zoom off without any warning.
The weather wasn't perfect but I loved the dramatic clouds rolling in off the sea.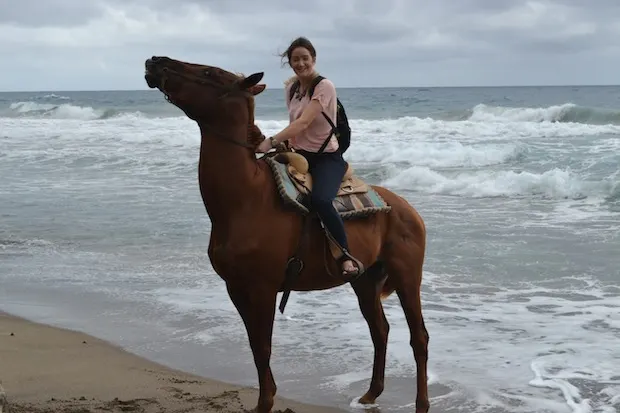 I wish I had my eyes open in this picture. It's the only one I have where I don't look absolutely terrified!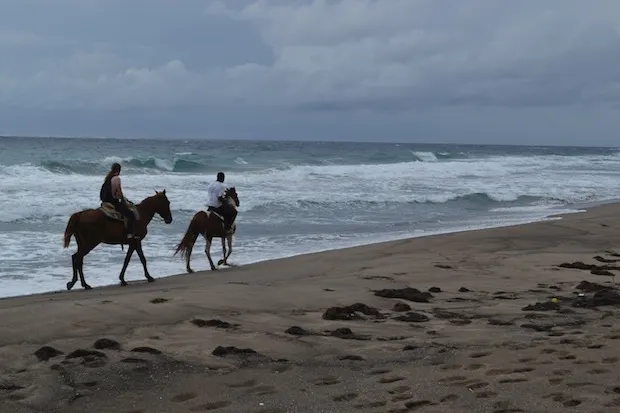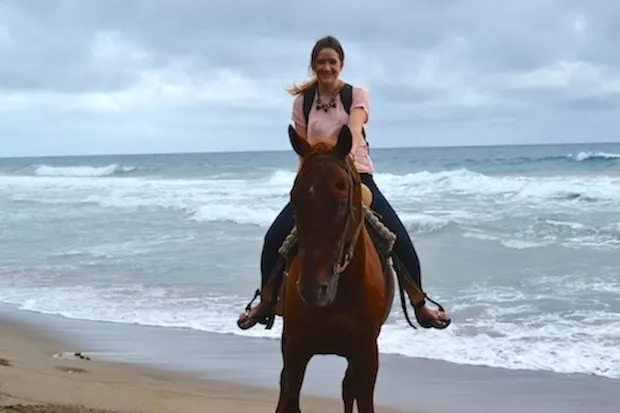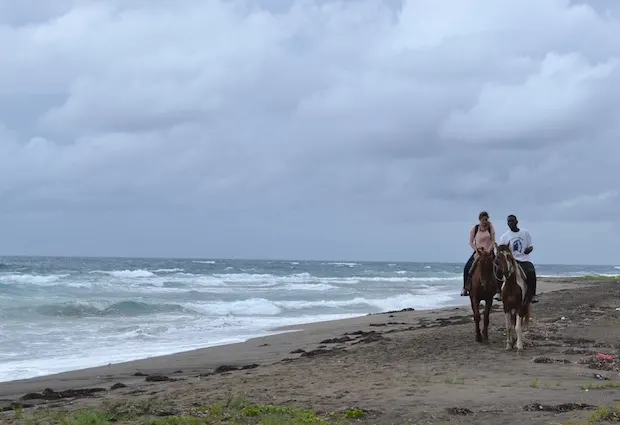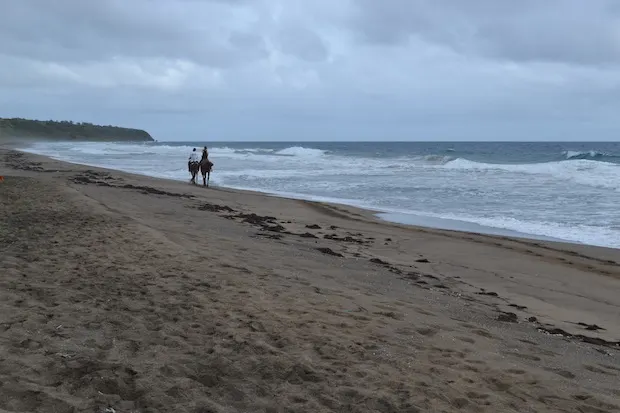 Brimstone Hill Fortress and Black Rocks
I had a couple more stops on my St Kitts adventure and first visited Brimstone Hill Fortres a UNESCO World Heritage Site build between 1690 and 1790. From the fortress there are incredible views over the island but it was a speedy visit due to the rainy weather.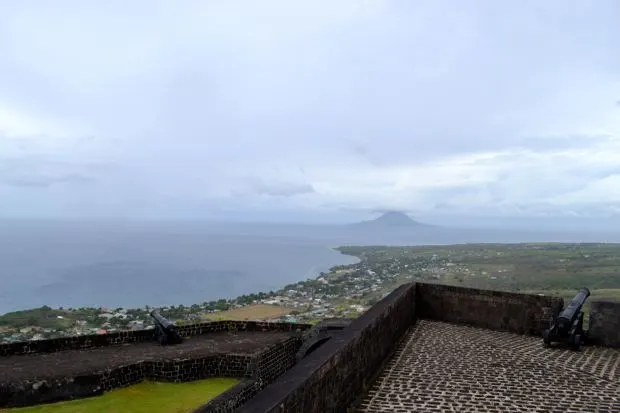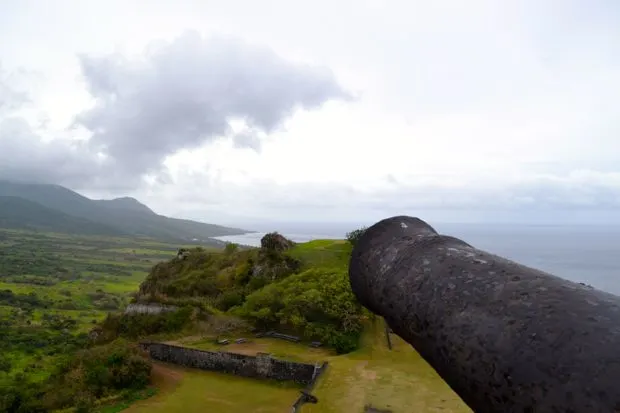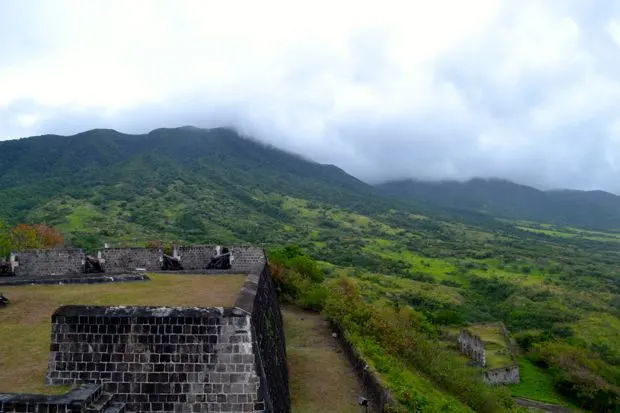 The next stop was Black Rocks which remind you of the volcanic history of St Kitts.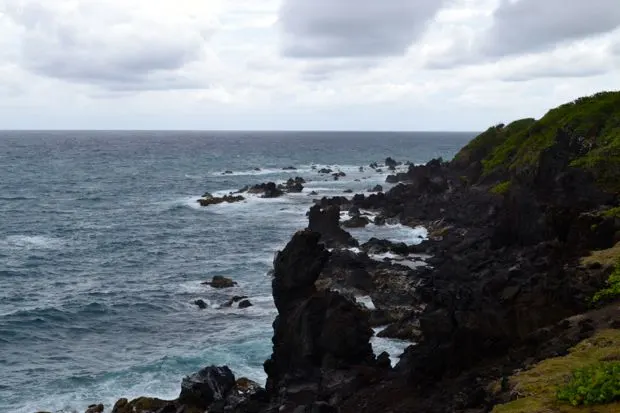 Ottley's Plantation Inn
My final stop was exactly what I needed in St Kitts and that was to relax in a tranquil paradise before a long flight home. St Kitts has more than its fair share of tranquil paradises but I found my favourite at Ottley's Plantation Inn.
I was met by Marty, one of the lucky owners of this incredible house and I instantly fell in love with the place.
There was a wedding when I visited and there was a nervous excitement as staff and guests buzzed around the gardens in preparation. Fingers were tightly crossed to keep the rain away but, come rain or shine, Ottley's is a beautiful place to get married.
Remember me saying that St Kitts made me see and appreciate nature in a new way? Well this man is to thank…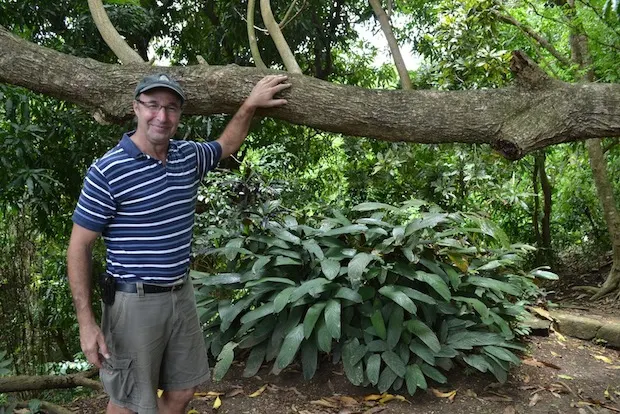 Marty has boundless enthusiasm for the beautiful gardens at Ottley's. He almost skipped around them he was so excited to show me the different plants and flowers and trees and all of his ideas to help guests enjoy them and appreciate them more.
When I first arrived Marty asked me if I was interested in the gardens. I gave a non-committal wave of my hand to suggest I can take them or leave them but within 10 minutes I was as hooked as he was.
Marty showed me plants that cleverly reflect the sunlight, butterflies that disguise themselves as dead leaves, the biggest and most impressive tree I've ever seen before in my life and he even got me fascinated in vines!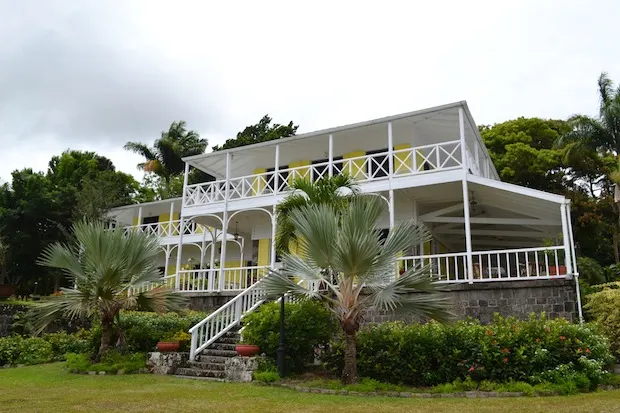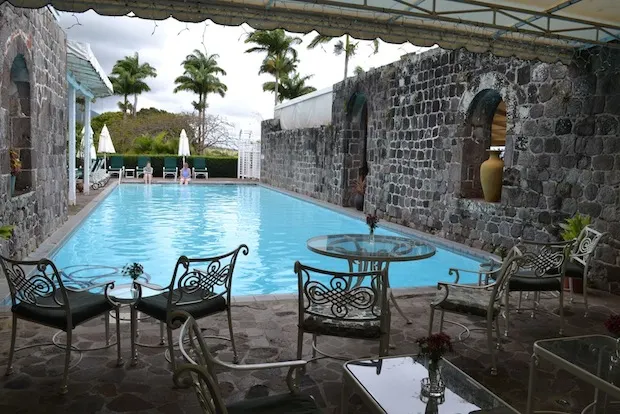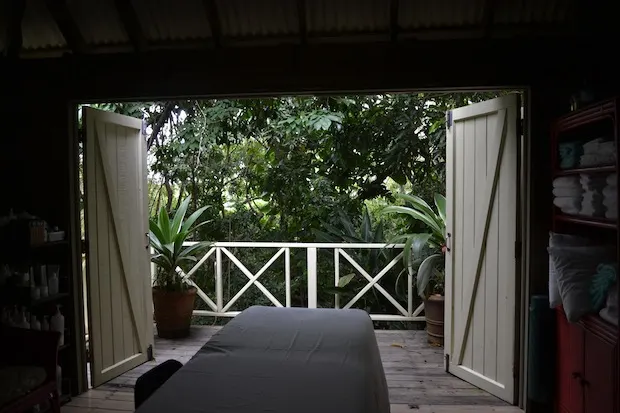 Mango Orchard Spa at Ottley's Plantation House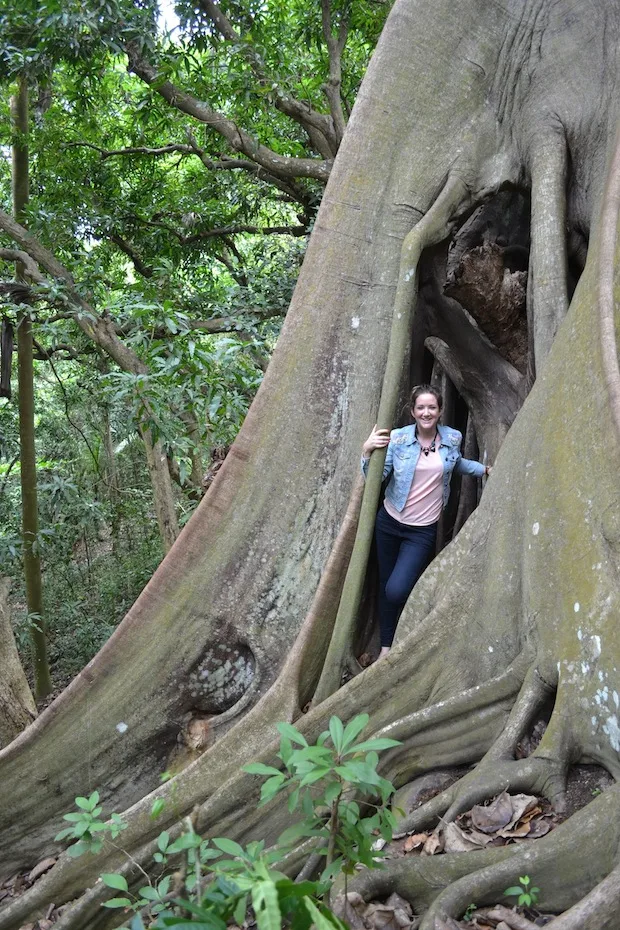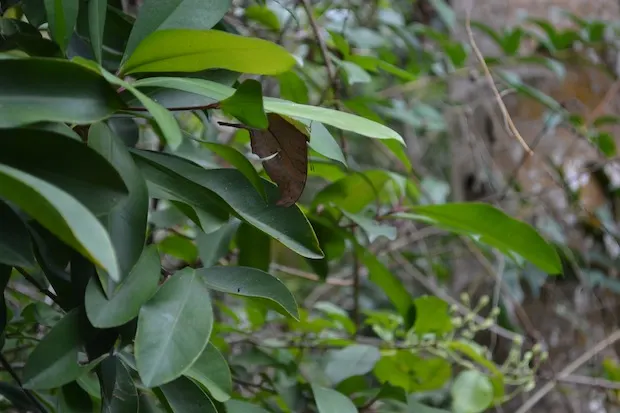 The butterfly that looks like a dead leaf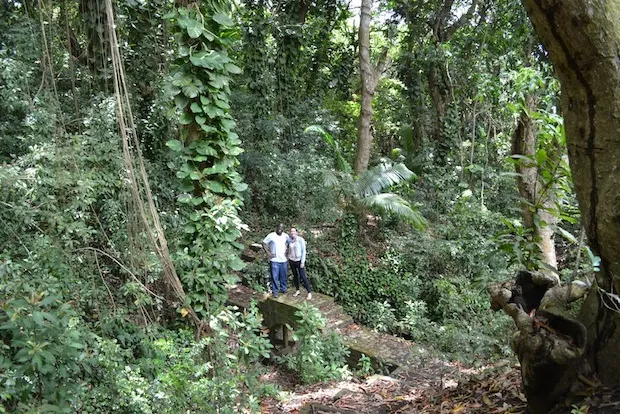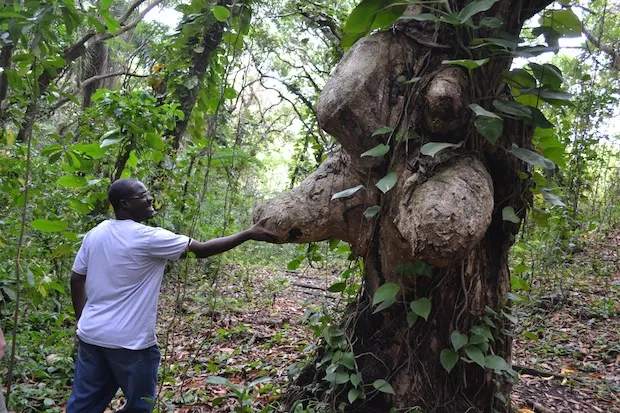 Can you see the man in the tree?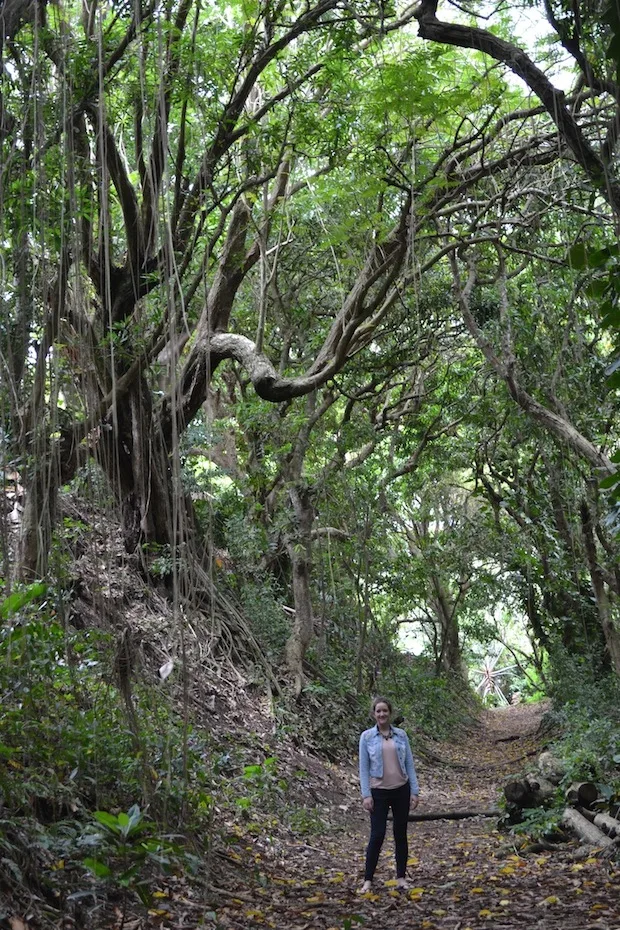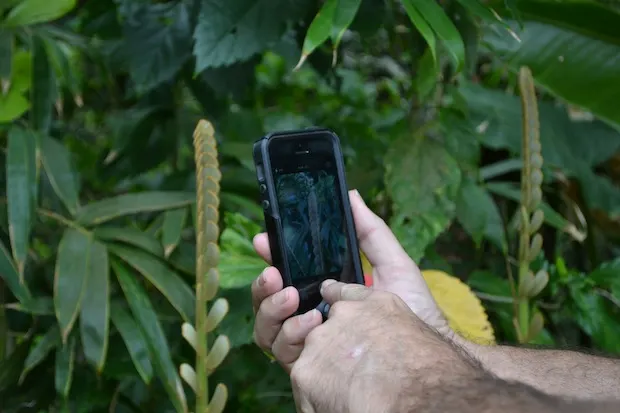 Marty takes a photo of something beautiful in the gardens every day. He's been doing his own version on #100HappyDays and you can see some of his gorgeous photos on their Facebook page.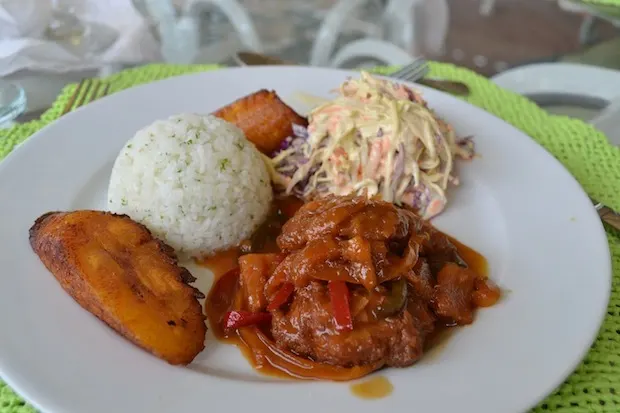 Before leaving Ottley's I had a delicious Caribbean lunch of chicken and fried plantain. This was the perfect end to an incredible trip.
I'd like to say a massive thanks to Time Out London and British Airways for making this trip possible! My Caribbean feature is in this week's Time Out so if you're in London make sure you pick up a copy!