How is 2017 treating you so far? I feel like we're far enough into January to ask that now – last week was far too soon and I was definitely still in a post-Christmas fog. Actually, I think I'm still in the post-Christmas fog.
I've mostly spent this week with my head buried in my laptop or on the phone to HMRC. 'Tax doesn't have to be taxing'. My arse.
I'll leave it at that but I'm sure other freelancers feel my pain!
But one thing that's lifted my spirits this week was booking a ski trip to Les Gets! We weren't going to bother with a skiing holiday this year. Joseph is still so tiny and George is too young to learn to ski. It also means we'll have to take it in turns with skiing while one person stays behind with the kids and travelling with two kids under two is going to be a logistical nightmare.
But when we thought about it we realised there is always a reason to not go on holiday. George will still be too young to ski next year, and then the following year he'll be in school so we'll have a whole different problem on our hands. We then want to build an extension and then we'll probably need a new car and yadda yadda yadda. You get the idea.
There's always something that could potentially stop us from going on holiday – whether it's money, time, other commitments, other priorities or simply not being organised and getting things booked.
For me, holidays will always be important so I think it's important to just get them booked and not overthinking all the reasons why you shouldn't go. Because there are always 101 reasons why you shouldn't go!
These family holidays we're taking aren't easy. Just going to the supermarket with a toddler and a newborn is tough enough!
But in 20 years' time, it will be these holidays that we remember. It will be holiday photos that cover our walls and fill the pages of our photo albums and social media feeds. We won't remember the weekends we stayed at home watching CeeBeebies because we were too nervous/scared/lazy/poor to do anything else.
So this week has been all about not overthinking things and just getting those damn flights booked before we can talk ourselves out of it again!
Anyway, that was my week. How was yours?
Here's what I've been reading this week…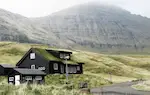 The ultimate Faroe Islands travel guide – The Tourist of Life
This is both a beautiful and detailed guide to the Faroe Islands – and is definitely something I'll be coming back to soon because I'm desperate to visit the Faroe Islands. I missed out on the chance to go a few years ago and I've been kicking myself ever since. It looks a lot like Iceland but without the mass tourism.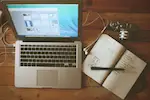 Capturing the essence of your travels through photography – Go See Write
I really like this article because it's different to the hundreds of similar articles I've read like this before. I like the idea of creating a shot list of photos I'd like to capture before I actually go out each day. It requires a lot of planning and research but I'm sure it would be worth it. There's some advice about taking pictures of local people which I don't 100% agree with. I'd never go out onto the streets of London and take photos of people so why do photographers think it's OK when you're 'photographing the natives'?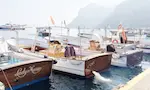 Unmasking Capri: Travel Guide – My Bougeotte
I hadn't really considered visiting Capri until I read this post and now I want to go so badly. Doesn't it look stunning!?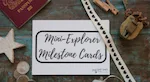 Mini Explorer Milestone Cards – Taylor Hearts Travel
These are milestone cards with a difference as they're travel themed rather than being your standard, 'I am one month old' kind of cards. If you know any travel lovers who are expecting babies, make sure you share these with them. Or, better still, get them as a surprise gift!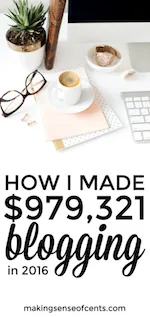 How I Made $979,321 In 2016 – Making Sense of Cents
I don't know about you but I'm always a bit nosy when it comes to seeing how other people make a living. I loved reading this annual income report on Making Sense of Cents. She's open and honest about how she earned almost $1,000,000 by blogging in 2016. Go Michelle!