Searching for your next weekend getaway? Well, look no further! The Cotswolds has your name all over it. Besides the dreamy landscapes, the best thing about the Cotswolds is that there are so many lovely hotels that won't break the bank.
This area of natural beauty spans an impressive 800 square mile area through five counties (Gloucestershire, Oxfordshire, Warwickshire, Wiltshire and Worcestershire) and there are more than 3,000 miles of footpaths and bridleways to explore.
If you're going to stay in a beautiful location you may as well stay in an equally gorgeous property, right?
Where to stay in the Cotswolds
#1 Rectory Hotel
This beaut has gorgeous gardens and is swimming in period features. It may have an old soul, but it's had a facelift, enjoying modern, fun touches like bear-shaped shrubbery. Stay in Leckhampton if you want a spacious room that overlooks the garden pond. The huge bathroom has a generous tub that's calling you for a soak. You can read a full review of Rectory hotel here.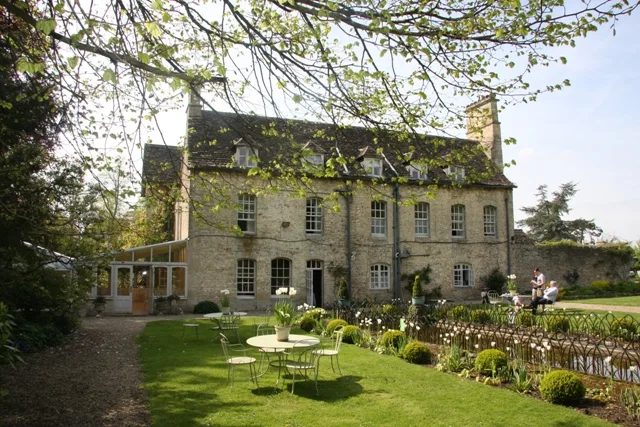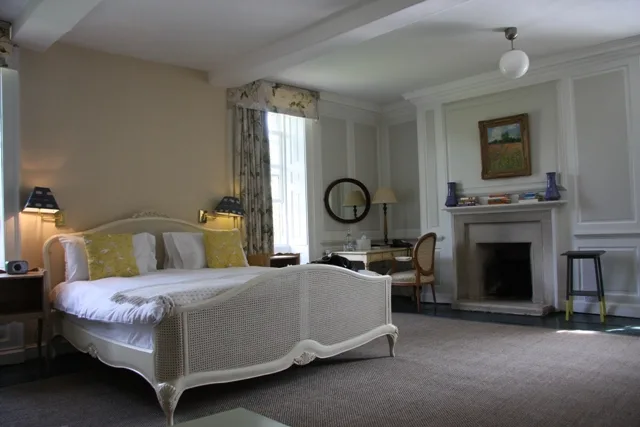 Where? The Rectory Hotel, Crudwell, Malmesbury, Wiltshire, SN16 9EP
How Much? Rooms from £105
#2 No. 38 The Park
This property is a revamped Georgian townhouse. You can book the whole place (can you imagine how fun that'd be?!), but if you're reading this post you'll probably want to just book one of the 13 rooms to keep the price on track, eh?
The rooms are chic, stylish and scattered with discreet splashes of colour through pretty cushions and blankets. The bathtubs are divine – you'll see what I mean!
Where? No. 38 The Park, 38 Evesham Road, Cheltenham, GL52 2AH
How Much? Rooms from £105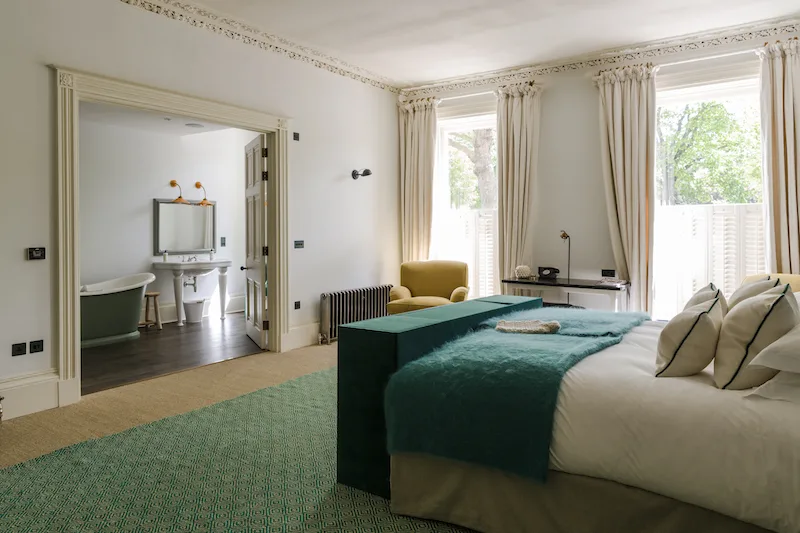 #3 The Fish Hotel
This gorgeous getaway is on the idyllic Farncombe Estate, where you can enjoy walks, quad biking and lots more. The Fish Hotel is a relaxed lodge that's been decorated to a high standard; think modern, stylish design that somehow pulls off that homely feel.
You can read a full review of The Fish Hotel and watch a video via that link.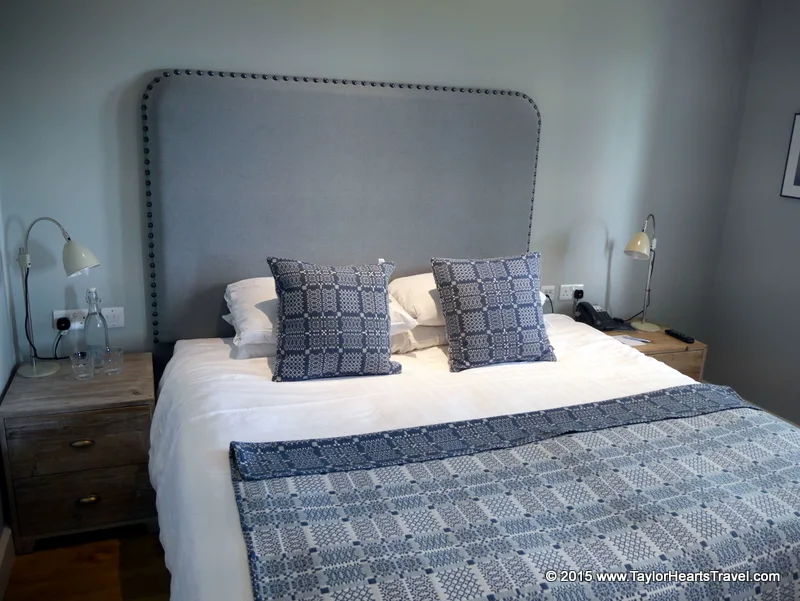 Where? The Fish Hotel, Farncombe Estate, Broadway WR12 7LJ
How Much? Rooms from £115
#4 The Close
Hidden away in Tetbury, this 16th century townhouse is a lovely boutique with 18 bedrooms to choose from. They have a modern country feel to them. No two are the same, with four poster beds in a few and walk-in rainfall showers in others. It's a great place for an affordable, but luxury stay in the Cotswolds.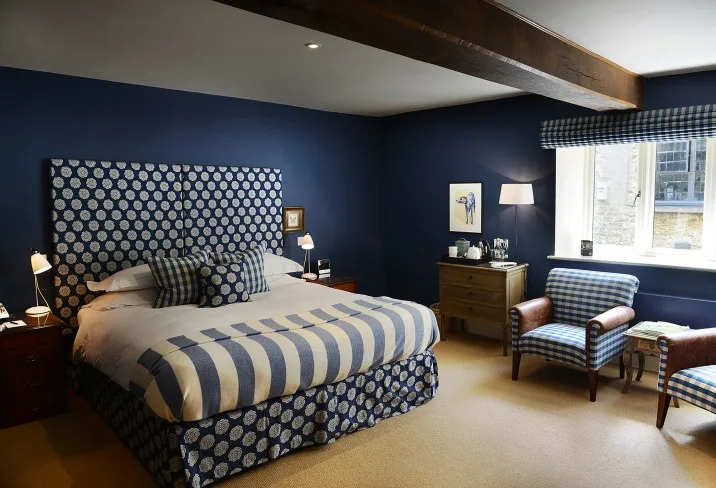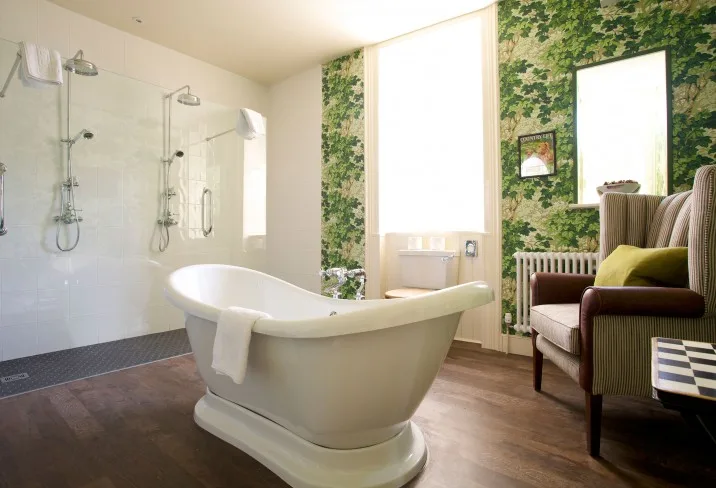 Source: The Close
Where? The Close Hotel, Long Street, Tetbury, GL8 8AQ
How Much? Rooms from £120
#5 Kings Head Hotel
Just six miles from Cotswold Water Park and an eight-minute walk from Cirencester Park, this former coaching inn is conveniently located, but also steeped in history. The hotel reopened in 2014 after having a bit of work done. The result is 45 elegantly decorated rooms full of mod cons, like Nespresso machines and oversized showers. The rooms are classy and perfect for a weekend getaway.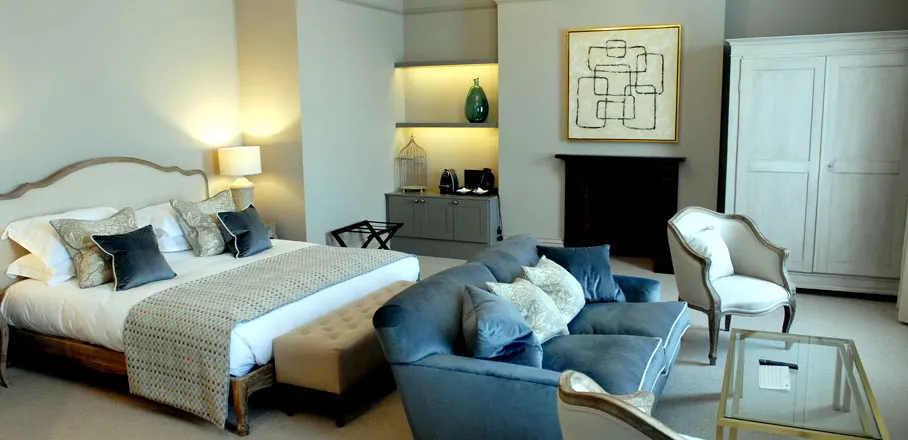 Source: Kings Head Hotel
Where? Kings Head Hotel, 24 Market Pl, Cirencester, GL7 2NR
How Much? Rooms from £150
How to Get to the Cotswolds
Typical journey times from Gloucester by car & train would be:
Bristol – 45 minutes to 1 hour
London – 2 hours to 2.5 hours
Cardiff – 1 hour to 1 hour 15 minutes
Birmingham – 55 minutes to 1 hour 10 minutes
Manchester – 2 hours 40 minutes to 3 hours
Isn't it time you booked that room? A weekend getaway would be an amazing present. Just saying…