It's one of the questions I'm asked about the most: What to pack for a cruise!?
You're going to be visiting multiple destinations, possibly experiencing different climates, doing lots of activities and probably having lovely dinners each evening.
It can be a little overwhelming when you're planning what to pack for a cruise but I'm here to simplify it with a simple cruise packing list.
I've just returned from my fourth cruise. It was an incredible journey aboard the Celebrity Apex ship, travelling from Athens – Santorini – Scilly – Mallorca – Valencia – Barcelona. It was a dream!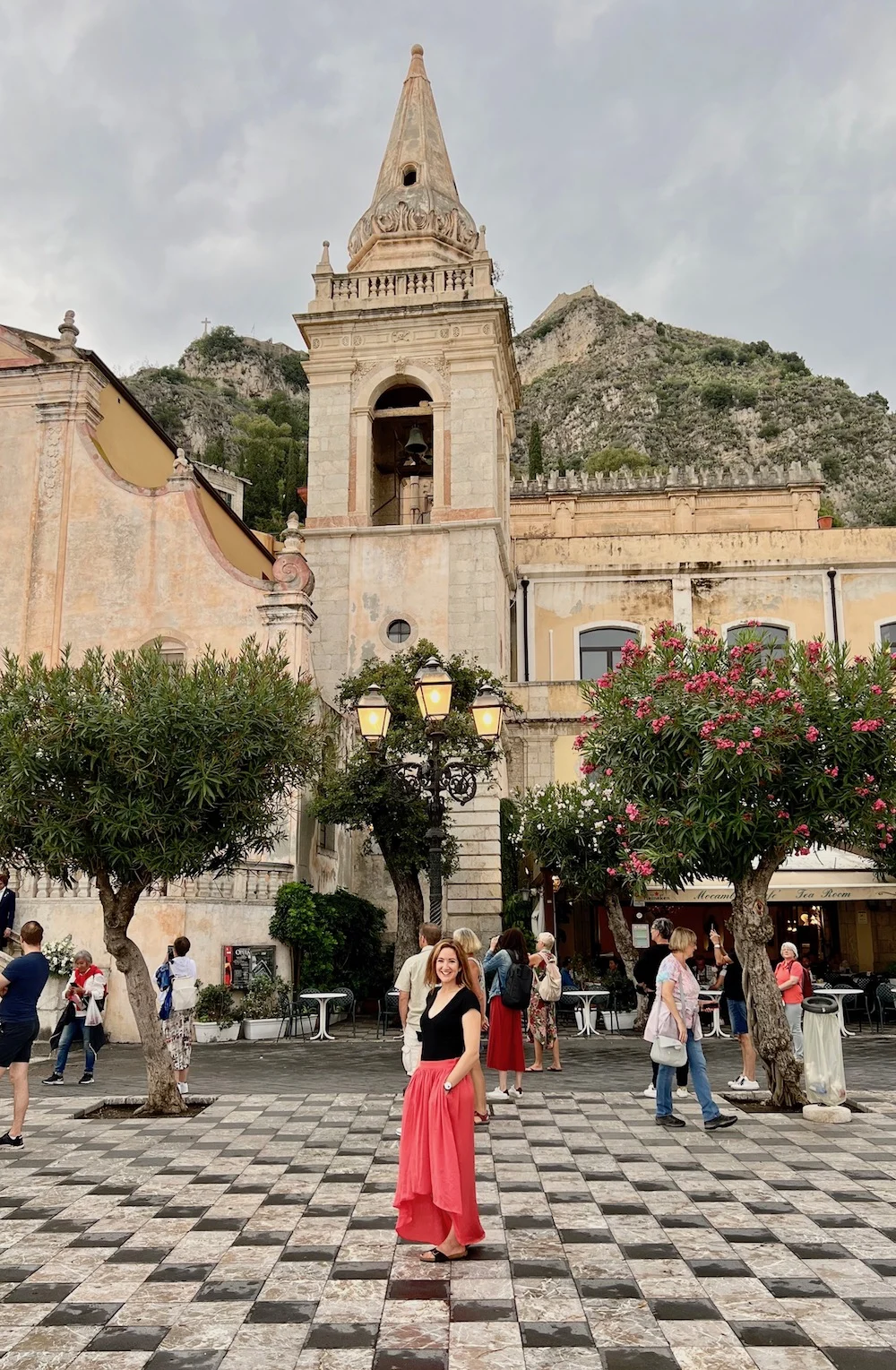 Start with a cruise packing list
First things first, always start with a packing list. Always. It will help you stay organised and focus and avoid overpacking. It will also make things much faster in the long run! So get out a notepad and start jotting down your list.
I categorise my lists into four sections:
Toiletries
Day outfits
Night outfits
Underwear + sleepwear
Technology
Handbag
Shoes
Extras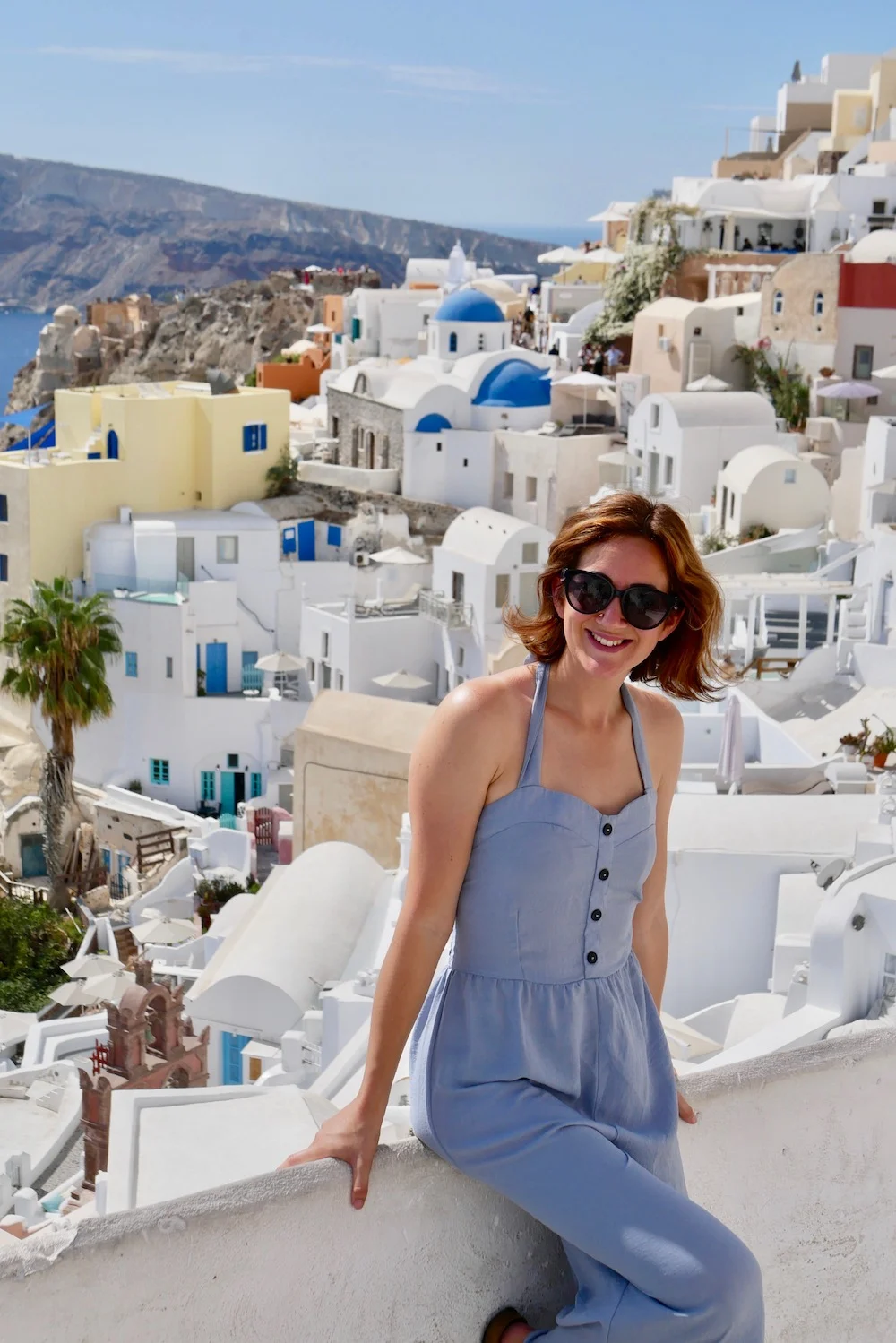 What's your luggage allowance for your flights?
If your cruise starts in one destination and ends in another then there's a chance you'll be flying in and out with different airlines. Check what your luggage allowance is for both flights to avoid any extra fees at the airport!
You don't need to pack light!
One of the huge benefits of cruising is that you don't need to worry about packing light. So dig out the big suitcase and enjoy having the space to unpack your favourite outfits. You'll probably have a large wardrobe, plenty of storage and draws and lots of space in the bathroom too. You'll be in the same bedroom for the duration of your cruise so you can unpack and make yourself at home!
The staff on board the ship will also help you with your luggage so you won't need to worry about struggling with a heavy suitcase.
I highly recommend taking a large, 4 wheel suitcase for ease and convenience.
I also like to use packing cubes to get as much in my case as possible and to keep everything neatly organised.
Read more: Are packing cubes worth it and do they really save space?
Check the weather and average temperatures for all of your destinations
Have a quick look at the weather reports for all of your destinations. I did this quickly for all of my stops and was pleased to see that each destination averaged 24 degrees celsius and there was little chance of rain. This made packing very easy as the weather was the same in every destination. We did have rain in Italy but as it was still warm it didn't really impact what I wore.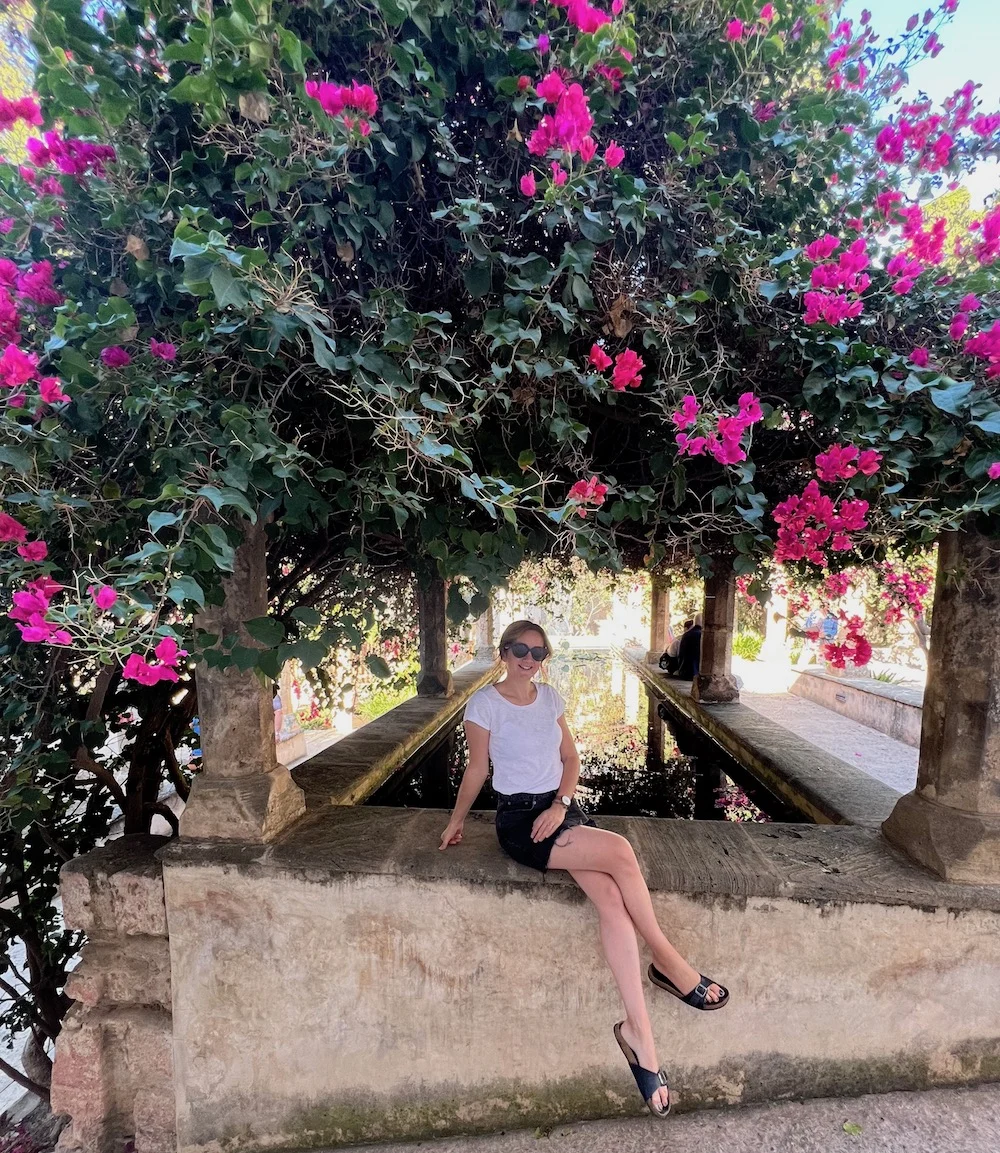 Take a daybag and possibly an evening handbag
You may not need an evening bag because you won't need to have any money or your phone on the ship. You will need to take your keycard, possibly a lipstick, maybe a camera and maybe your phone if you're meeting people.
OK, so let's get stuck in with what you need to pack for a cruise
Comfortable shoes: THE most important thing to pack for a cruise!
First things first. The absolute most important thing on your cruise packing list is comfortable shoes. You'll be getting off and doing a lot of walking at each destination.
I took a pair of white plimsolls and my trusty old sandals and they both did me well!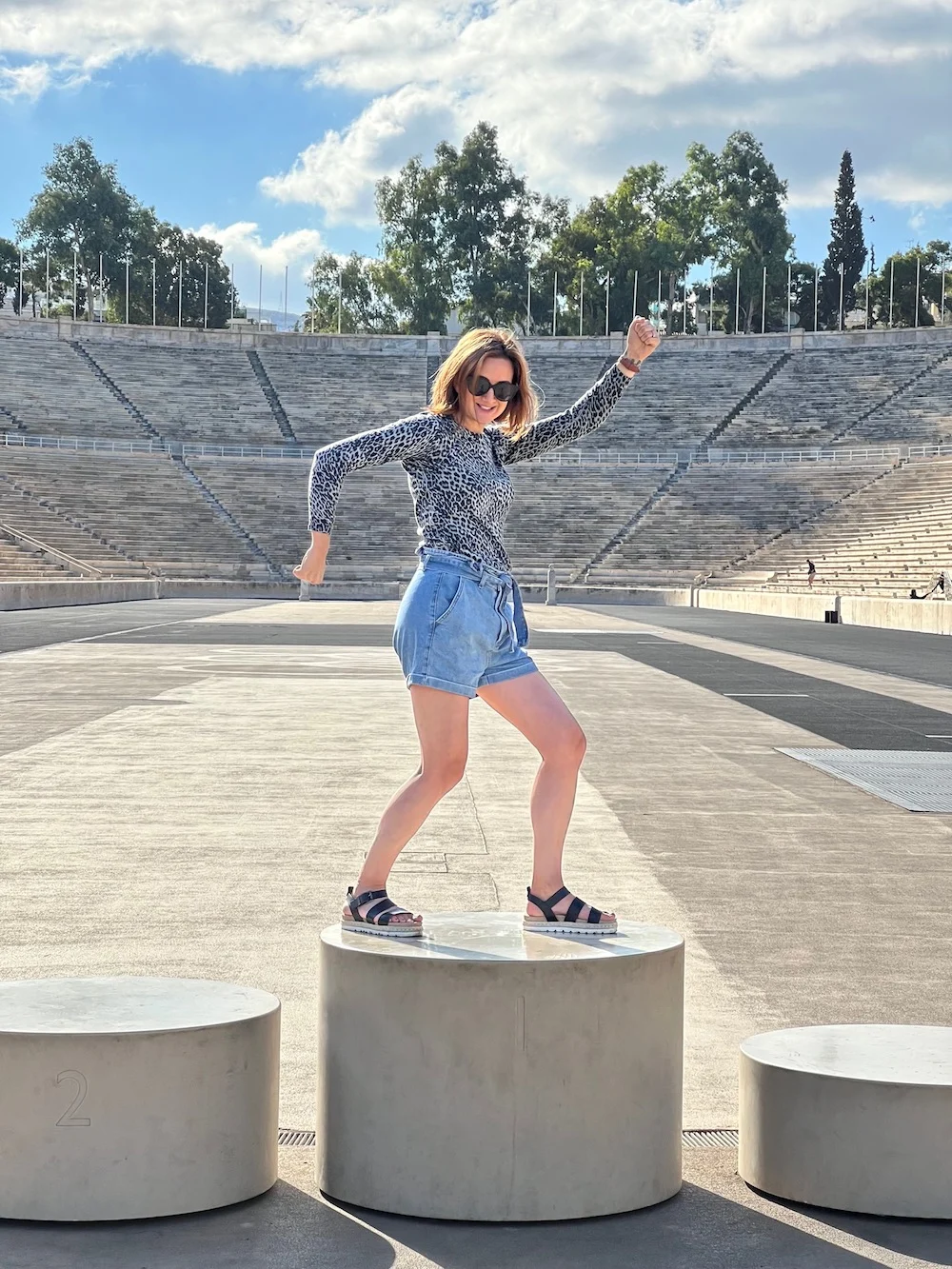 What to pack for a cruise: Clothing
Pack outfits together
I like to pack my clothes in outfits, rather than throwing random skirts and trousers into my case. This stops me packing a top that doesn't match any of my skirts or packing a dress with no matching shoes!
I pack one daytime outfit and an evening outfit for every day.
Dress up for dinner
One of the highlights of cruising is often being wined and dined and enjoying the evening entertainment. Most cruise ships have multiple restaurants and bars and many of them will be formal. After dinner, many guests will go on to watch the shows and bands and other evening activities. There will be a few 'dress up' evenings but if I'm totally honest I didn't realise which evenings were dress up and which weren't. You can get away with various levels of formality on the ship so don't worry about that too much.
Whenever I've been on a cruise I have dressed up for dinner almost every evening.
One of the really nice things about dressing for dinner on your cruise is that you'll never need to walk far – so you can pack your skyhigh shoes and that super tight skirt that looks amazing but you can barely walk in!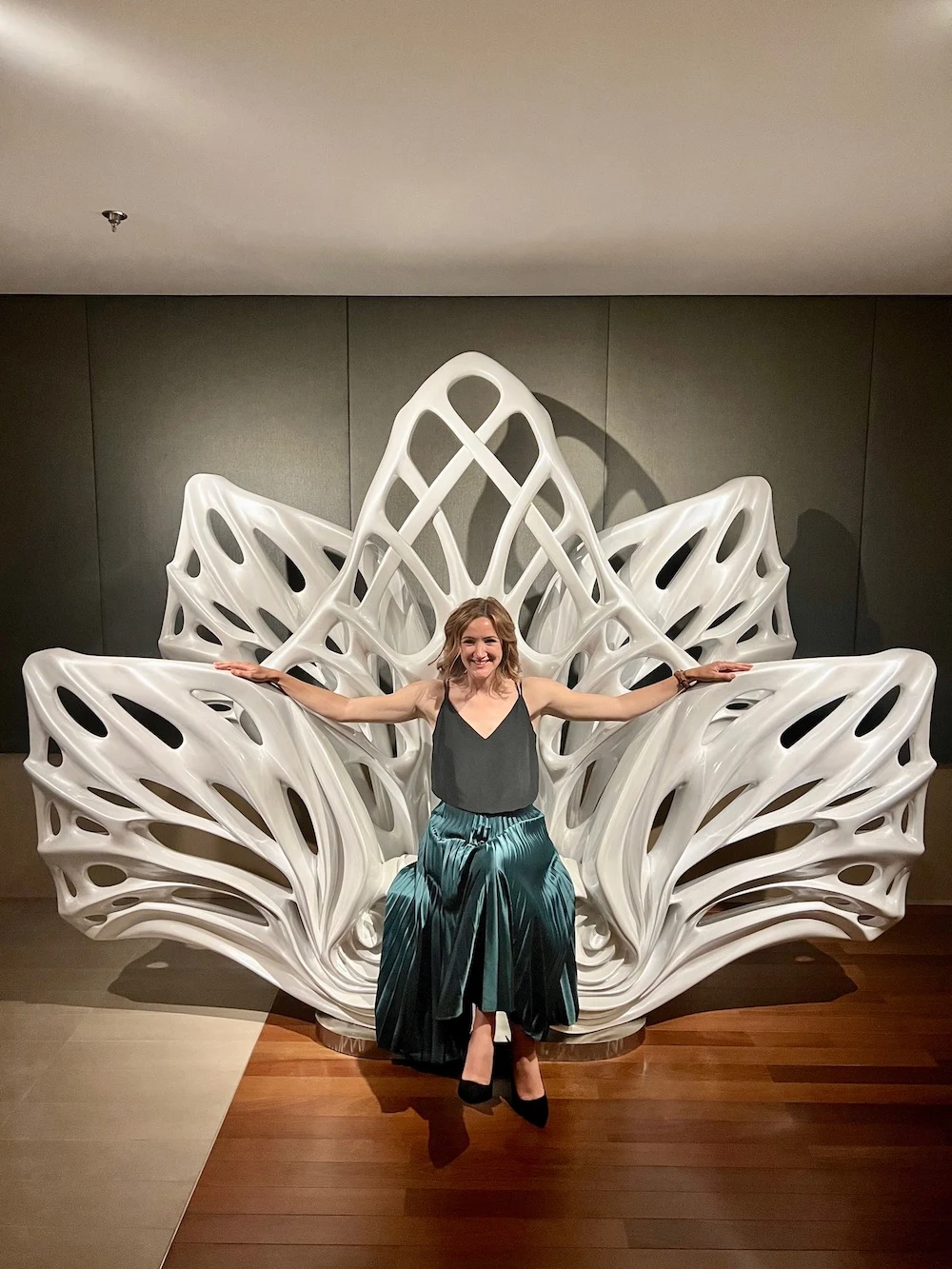 But dinner can be casual if you want it to be
Having said that, you don't HAVE to dress for dinner if you don't want to.
There will always be a casual buffet, an informal restaurant or the option of ordering room service. You may also have dinner on land before returning to the ship later in the evening.
During my last cruise, Jen and I had one evening where we ordered room service and watched movies in bed all evening. It was bliss after a busy day exploring!
Outfits for your days on land
Opt for something comfortable, but remember comfortable doesn't need to be boring. Beautiful dresses with comfy shoes are perfect for most destinations. You'll be visiting some beautiful destinations and probably be taking a lot of photos so pack your favourite clothes for these days.
Casual outfits for your days at sea
Depending on your travel itinerary, you'll probably have some days at sea. These days are generally very relaxing, often spent around the pool or on the sundecks so you can pack something casual.
Will you use the gym?
Each cruise I've been on has had great fitness equipment in the gym and wonderful classes such as yoga and pilates. If that's your thing then don't forget to pack your gym kit.
With all the food and drink involved in cruising I really enjoy the occasional workout onboard the ship!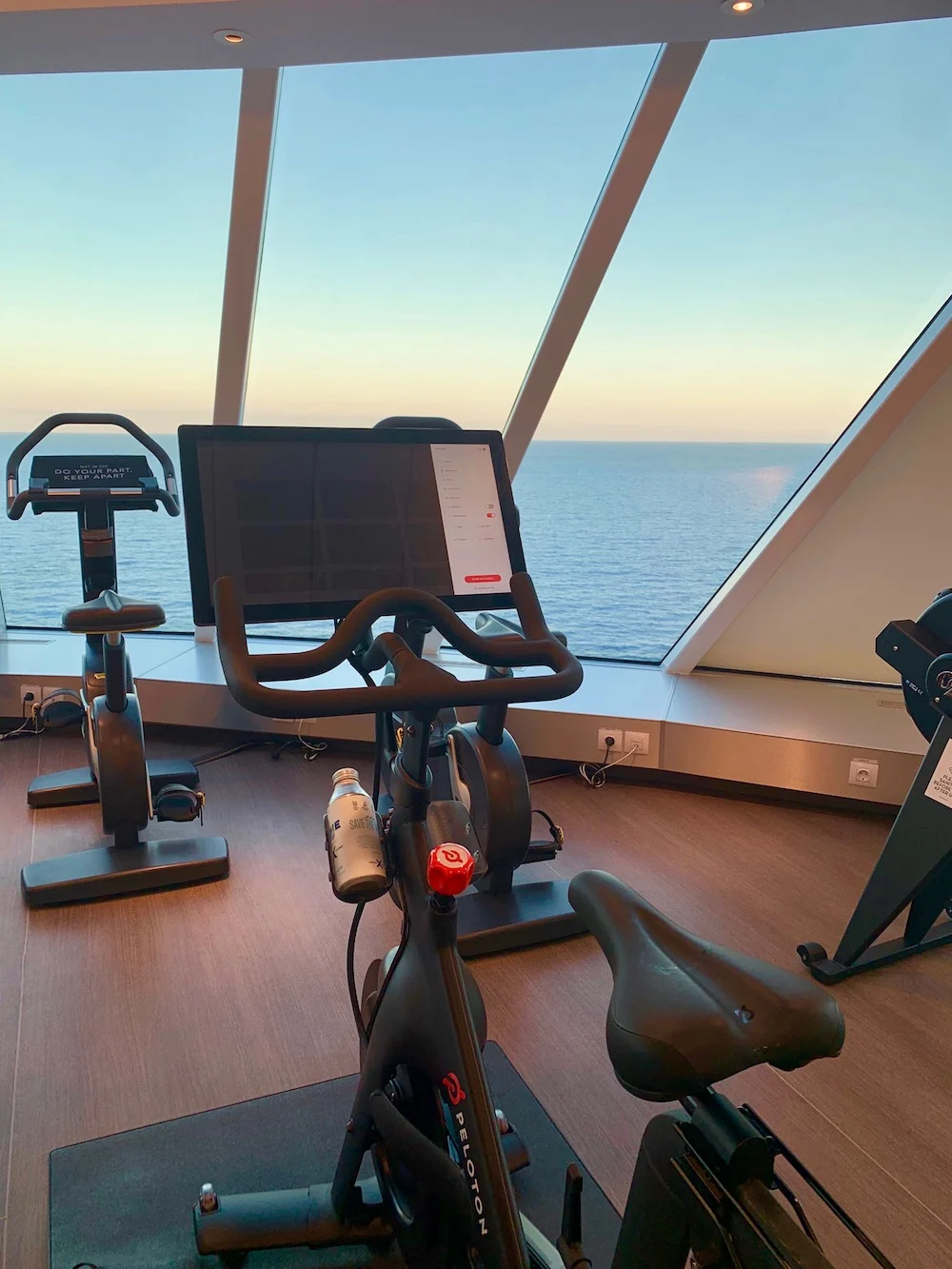 Activewear?
Do you plan to do any hiking during your trip? If you do then don't forget your hiking shoes, shorts or trousers and an activewear top.
What to pack for a cruise: Specific tips for on the ship
Ironing
Now here's a biggy you need to know. It's unlikely you'll be given an iron in your cabin and if you need something ironing you'll need to send it away to be pressed! This is very expensive!
The reason they can't give you an iron is because it would be so dangerous if someone caused a fire.
So you'll either need to iron everything and pack it perfectly at home or take a steamer with you. You could probably take a travel iron with you to be honest but I find a steamer much more convenient.
I have this cheap and cheerful steamer from Amazon and it does the job perfectly.
Plugs
Check what plug sockets will be available on the ship. All of the cruises I've been on have British plugs but you may need to take an adaptor. If you aren't sure, it might be worth getting an international plug adaptor which will allow you to plug in anywhere. It's a handy gadget to have if you're a regular traveller and they often come with USB points to charge phones, tablets and action cameras.
It's also worth checking what the plug voltage is on the ship. I took a plug power bank because I have a lot of electrical devices to charge but it didn't work – presumably because there wasn't enough power for it. I found that my Dyson hairdryer did work but one evening it kept cutting out – again I'm guessing it's because there wasn't enough power.
A watch
You'll probably be travelling through multiple timezones so it's worth taking a watch to avoid confusion.
If you're looking for a stylish watch and fitness tracker then I have the Withings Steel HR and I still LOVE it.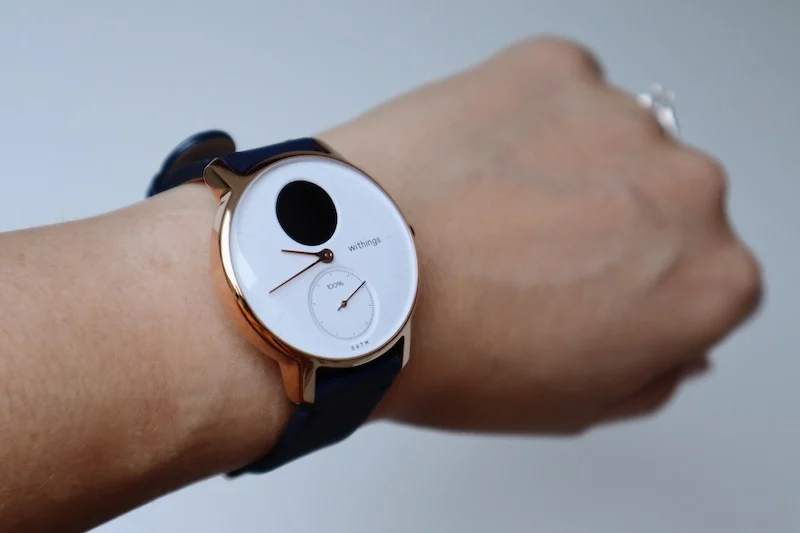 Seasickness tablets
As someone who does suffer from seasickness, I can honestly say that I don't feel it too much on a cruise ship. It is worth packing some tablets just in case you have any rough days at sea and also for the smaller tender boats which can leave you feeling queasy. If you can, try to get non-drowsy seasickness tablets.
Sleepwear
You'll have air conditioning in your room and you'll be able to control the temperature so you won't need to worry about being too hot or too cold in the night.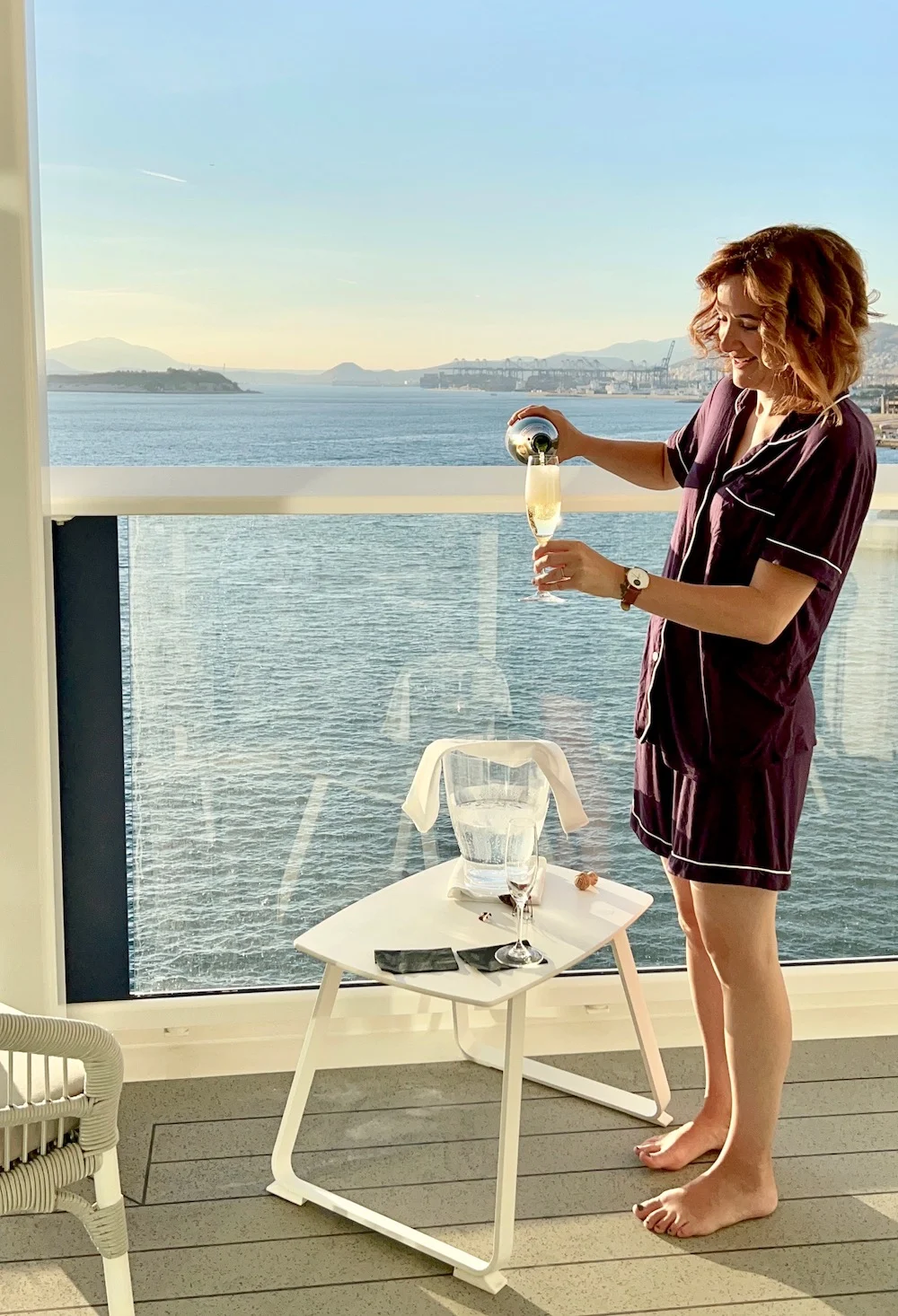 Of course, sleepwear can always double up as loungewear!
What to pack for a cruise to warm destinations
Light microfibre beach towel
You will be given towels on board the ship, and you'll probably be given beach towels for when you visit beach destinations, but I think it's worth packing a lightweight microfibre beach towel. They're slim and convenient and saves you lugging around a bulky beach towel – especially if you're in a destination where you might spend the morning seeing the sights and the afternoon on the beach!
Check and the Dock & Bay Beach Towels, they're my fave!
Rash Vest
If you plan to do a lot of swimming in the sea, snorkelling, kayaking or paddle boarding during your cruise then I recommend packing a rashy. It's a long or short sleeve top made from the same material as a swimsuit. They're usually UPF 50 so it'll give you some much-needed protection from the sun. Something like this would be ideal.
Sunhat, sunglasses and sunscreen
To protect you from the strong rays.
If you're looking for a good facial sunscreen, I've recently started using the Featherlight Sunscreen and primer from Beauty Pie and it's amazing.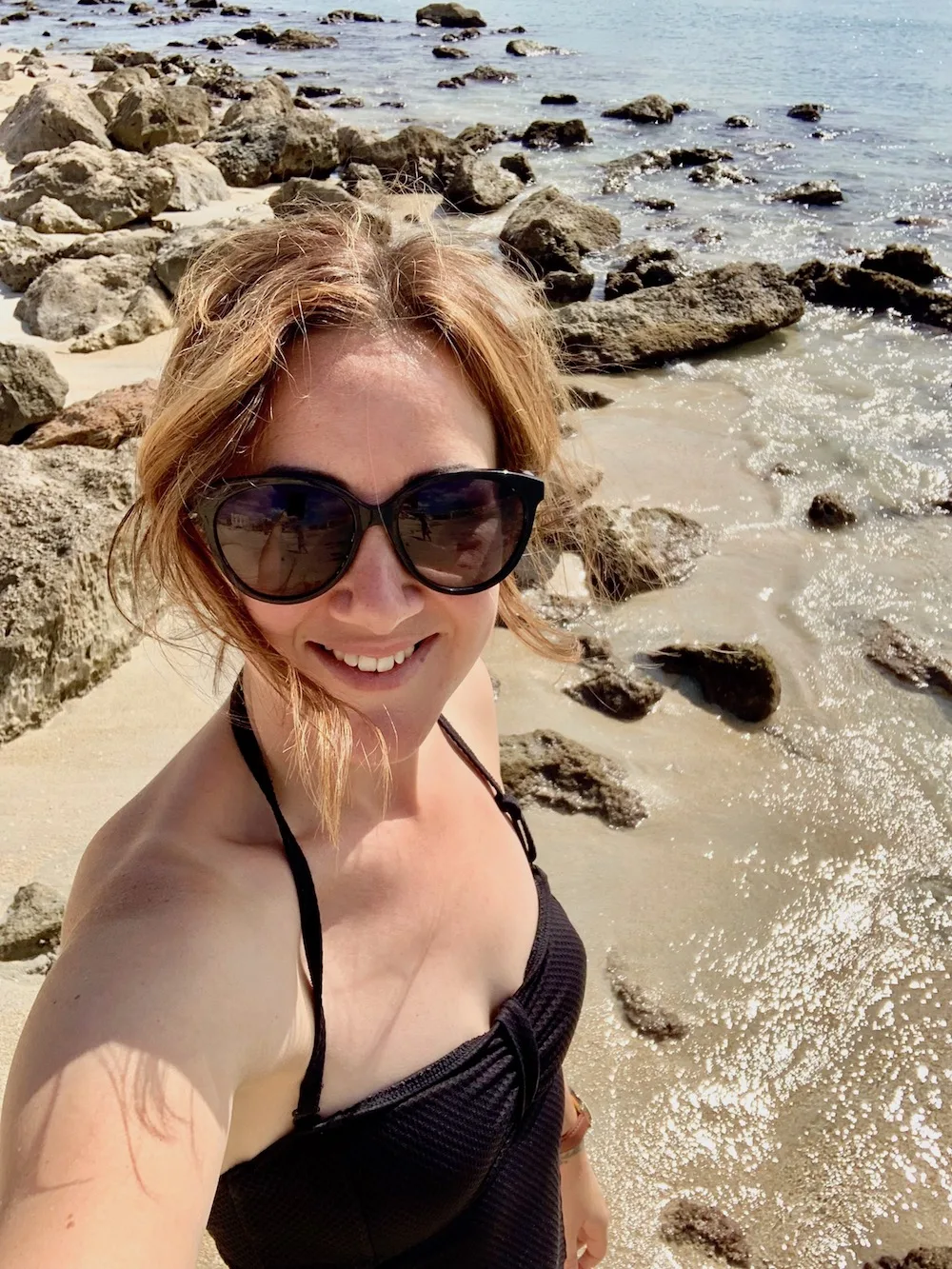 Swimwear + beach cover up
The swimming pools on ships are rarely huge so I wouldn't worry about packing practical swimwear for swimming lengths in.
Snorkel and mask
Particularly for Caribbean cruises where the water is so beautifully clear!
What to pack for a cruise – Technology
Tablet
I highly recommend taking a tablet on board your cruise. There's plenty of time to relax and a well stocked tablet makes it easy to read books and magazines, listen to podcasts and watch your favourite films or TV shows.
Travel Hack Tip: The WiFi is fine on board a ship but it can occasionally drop out so I recommend downloading as much as you can at home.
Camera
I'm sure most people will take the majority of their photos on the phone but if you want to step things up a bit then make sure you've got a camera too! If you plan to do watersports then you might want to take a GoPro.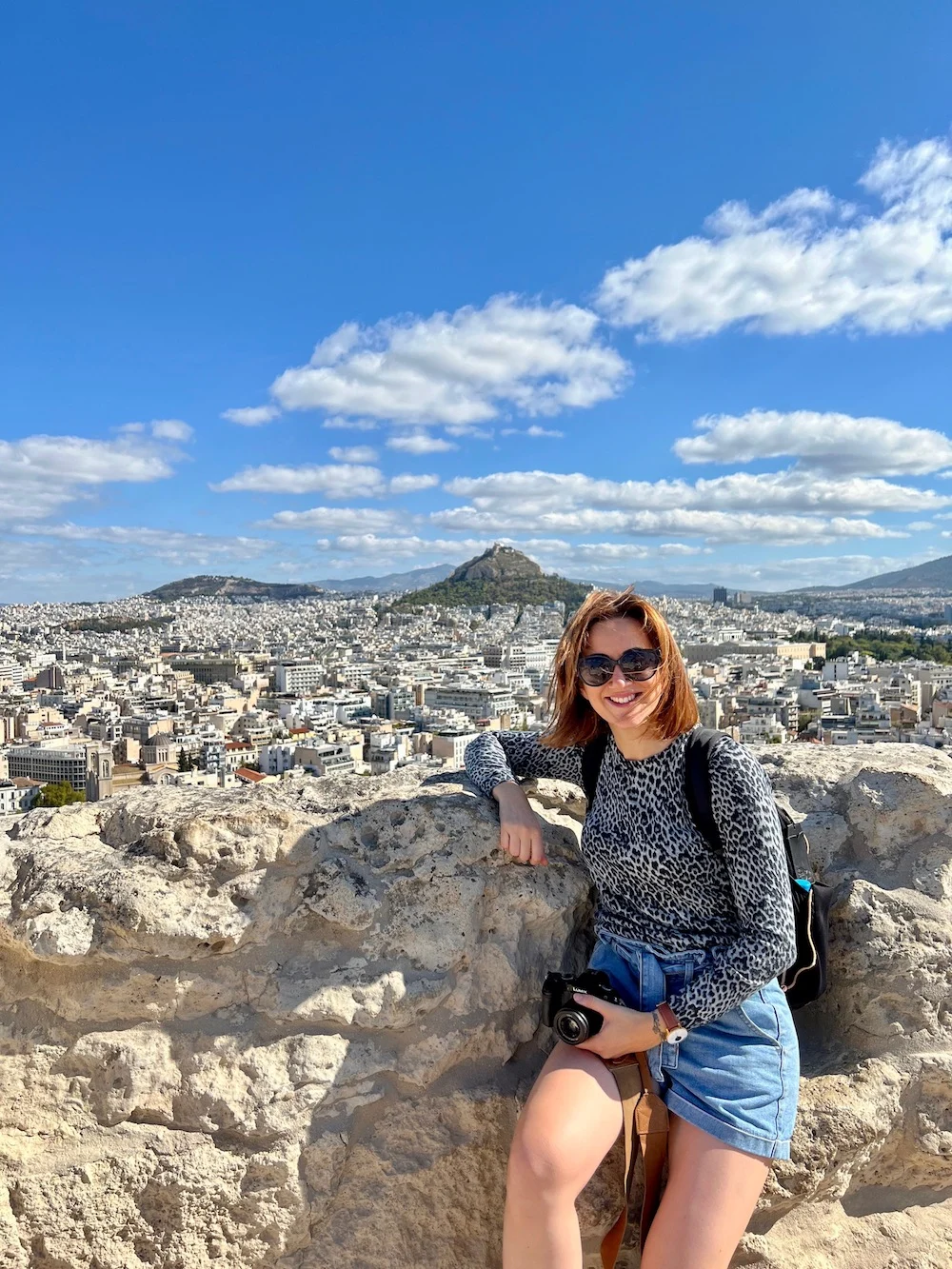 Headphones
If you plan to listen to music, podcasts, audiobooks or watch TV or films by the pool then pack your headphones. I have these JBL Wireless earbuds and I love them.
Portable charger
A portable charger is especially important if you have your travel documents such as boarding cards on your phone. I'm always panicking that my phone battery will die and I won't be able to access my documents! This is a really handy portable charger for iPhones.
Chargers
I feel like I pack a billion chargers everytime I go away. Chargers for my phone, iPad, laptop, cameras, toothbrush and portable charger! If you've got lots of USB chargers then it's worth getting a USB adaptor with multiple USB ports on it.
What toiletries to pack for a cruise
You'll probably be given the basics like shampoo, conditioner, soap and shower gel. I pack a lot of toiletries. Here's my list:
Shampoo
Conditioner
Shower gel
Razor
Toothpaste
Toothbrush
Floss
Face cleanser
Face toner
Cotton wool pads
Hair brush
Hair spray
Dry shampoo
Heat protector spray
Hair dryer (Dyson Airwrap)
Face moisturiser
Facial SPF
Sunscreen
Lip Balm
Deodorant
Hair bobbles
Tweezers
Sanitary products
Full makeup bag
Medication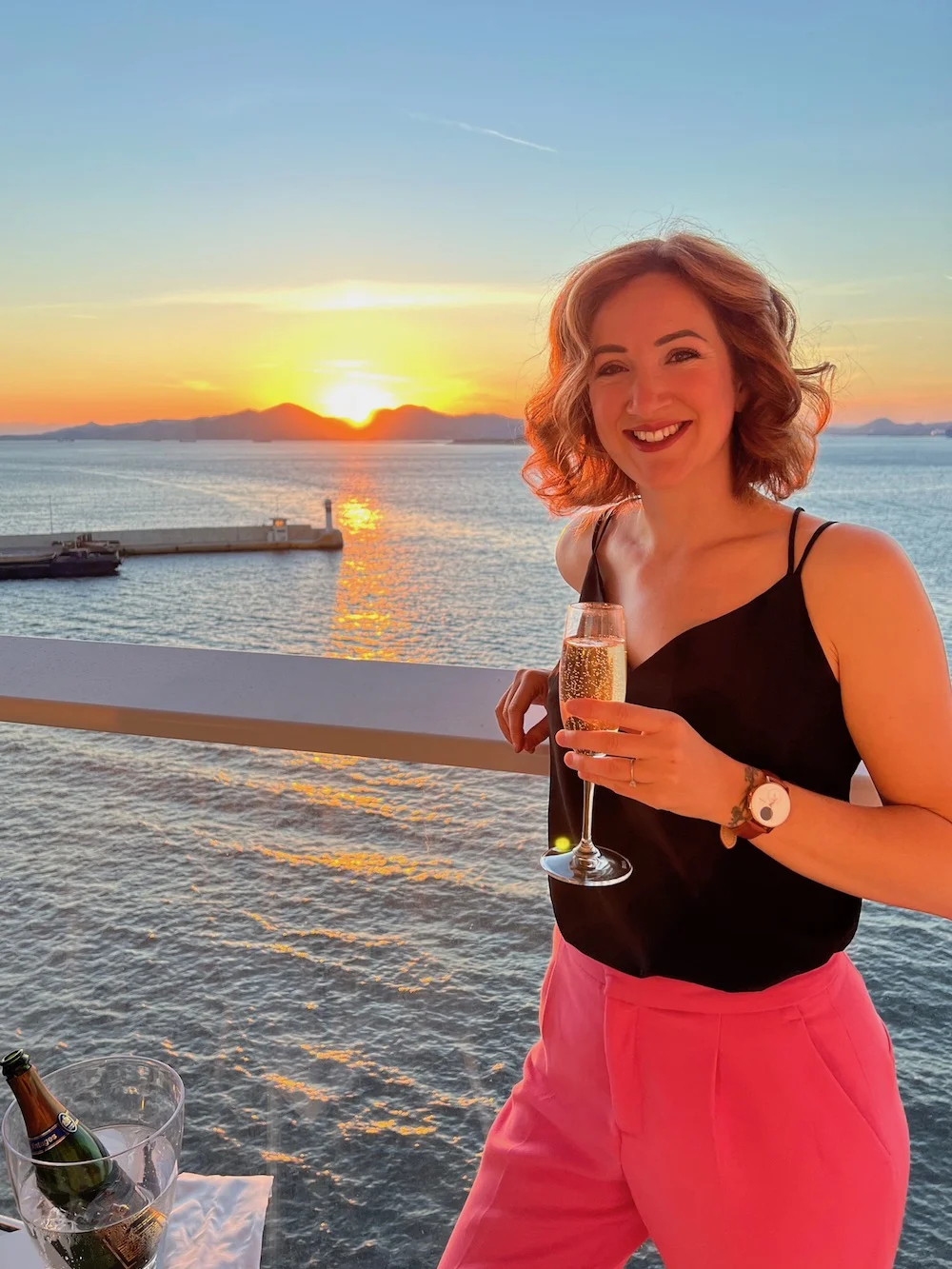 What shoes should you take on a cruise?
Sandals – For beach days, walking around the ship and possibly for your days on land
Comfortable shoes – Stylish trainers or cute sandals that you can walk in comfortably
Dress shoes – for the evenings
Trainers – If you plan to exercise onboard
Walking shoes – If you plan to do any hiking
What do you pack in your day bag?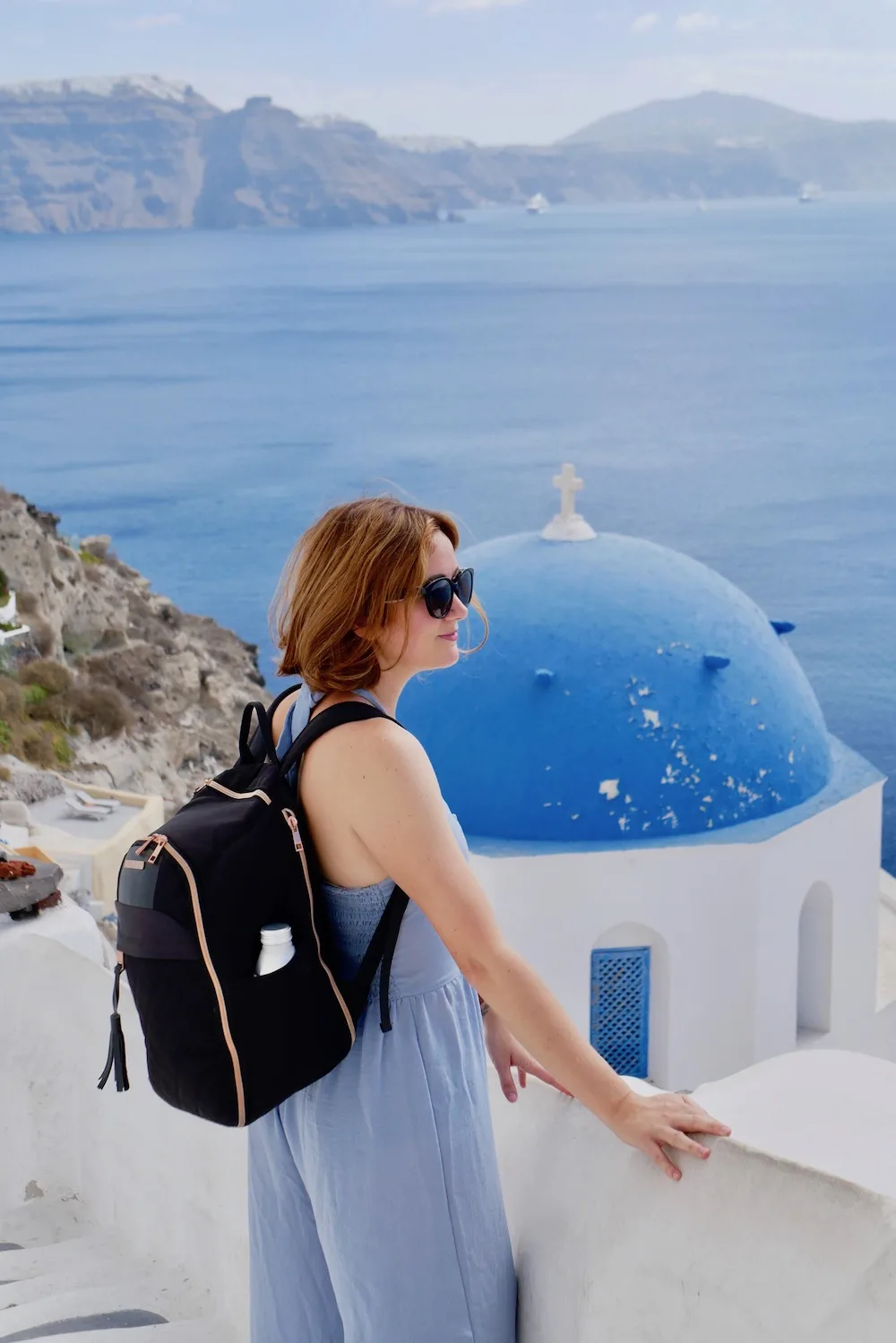 A warm or waterproof jacket/cardigan
A water bottle
Sunscreen
Sunglasses
Wallet
Phone
Portable charger and cable
Camera
Medication
A billion other pointless things that somehow sneak in there!