If you've read any packing tips then you will have undoubtedly come across people shouting about the benefits of packing cubes. "Packing cubes help organise your luggage, they make sure you don't forget things and they save so much space!"
But do they really?
Do packing cubes really save space?
Are packing cells actually great at keeping things organised?
Are packing cubes worth it?
If these are some questions you'd like answering today then you've come to the right place and I'm going to get straight to the point…
Are packing cubes worth it?
Yes, I totally think packing cubes are worth it!
Packing cubes save space if you're travelling with bulky items as the cubes keep them neatly packed together. They're great if you're travelling light or you can't quite fit everything into your suitcase.
Packing cubes also keep your belongings organised so your bag isn't one, big jumble of clean clothes and dirty clothes and toiletries and electronics and shoes and a billion other miscellaneous items that have got caught up in this mess!
So yes, packing cubes are worth it if you want to feel organised and save space in your luggage.
Simple!
I would say that packing cubes don't save a tonne of space if you're travelling with smaller items and don't have any bulky clothes. They save a bit of space, but not a huge amount. I went to a yoga retreat recently and packed lots of slim leggings and vests and my packing cubes didn't make any difference. If you have little bits and bobs like a hard drive, a charger and a camera then you'll actually save more space by squeezing these items between your clothes than by giving them their own packing cube.
The same applies for underwear – you'll save more space squeezing your pants and socks in between other items then you will by putting them into their own 'underwear packing cube'. And again it's the same for toiletries, you'll save more space squeezing your travel-sized bottle of shampoo between your clothes then putting it into a toiletries bag.
BUT, I personally like to keep liquids in a toiletries packing cube in case anything spills and it just makes it easier to pack and unpack. I also like to keep my underwear in a private packing cube in case I need to open my suitcase at the airport.
So while packing cubes don't always save lots of space for little items, they do always keep your belongings neatly organised so, for me, that's worth it.
Now let's chat a bit little more about the types of packing cubes you can buy and how I like to use them.
What are packing cubes or packing cells?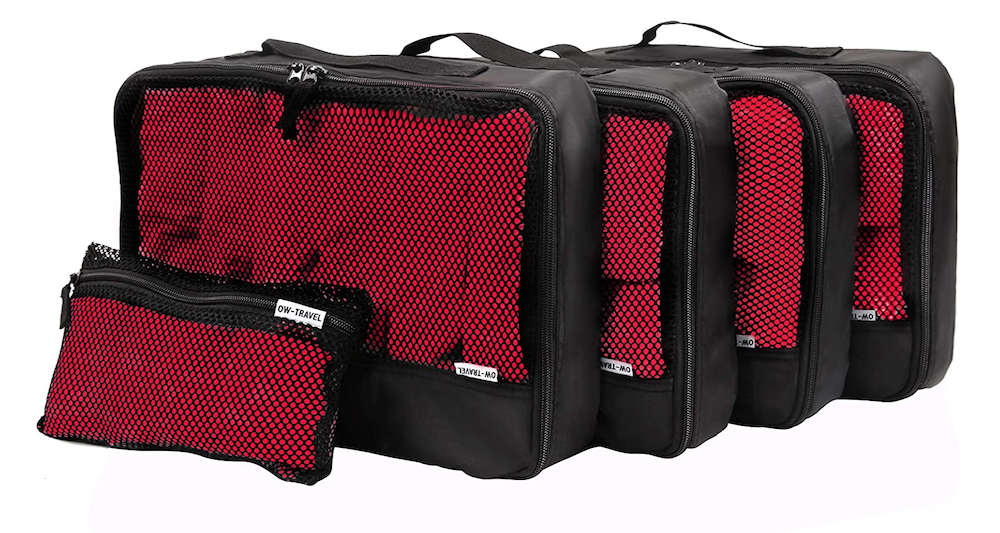 Packing cubes, sometimes referred to as packing cells, are essentially little bags that you'll put inside a bigger bag like a suitcase or backpack.
I'll usually have 6-7 packing cubes inside my suitcase and I 100% think packing cubes are worth it. I'll have a small one for underwear, a big one for jumpers, one for tops, one for bottoms and one for evening clothes.
Packing cubes help keep your clothes tightly packed together and that's how they help save space.
Having everything neatly organised like this means you'll be able to easily find everything.
Are packing cubes just for travelling?
They're usually used for travel but packing cubes can be utilised for everyday life too. If you take a backpack to work everyday you could use a packing cube for your gym kit, one with some waterproofs in case it rains on the way home, one with clothes in case you go for spontaneous drinks after work, one for your electronics and cables.
What are compression packing cubes?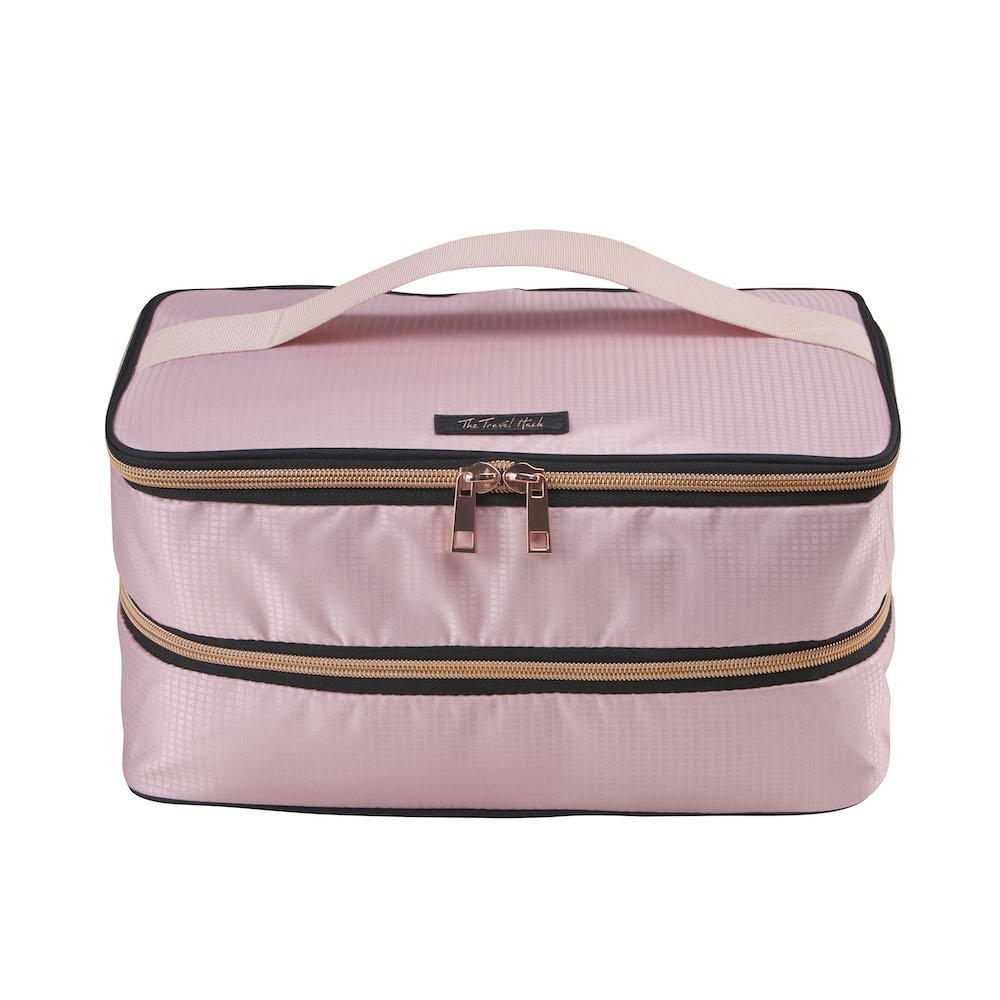 Compression packing cubes are like other packing cubes but they usually have an additional zip which can be closed when you've squeezed the air out of the cube. You pack it like normal, close the zip, squish it down and then close the second zip to hold it in place.
Compression bags are brilliant save spacers as you squeeze the air from each bag. If you've got a packing cube filled with thick wool jumpers for example, you can squish that cube so much to save loads of space!
I personally think compression cubes are better than regular packing cubes as they save way more space.
What about travel vacuum bags?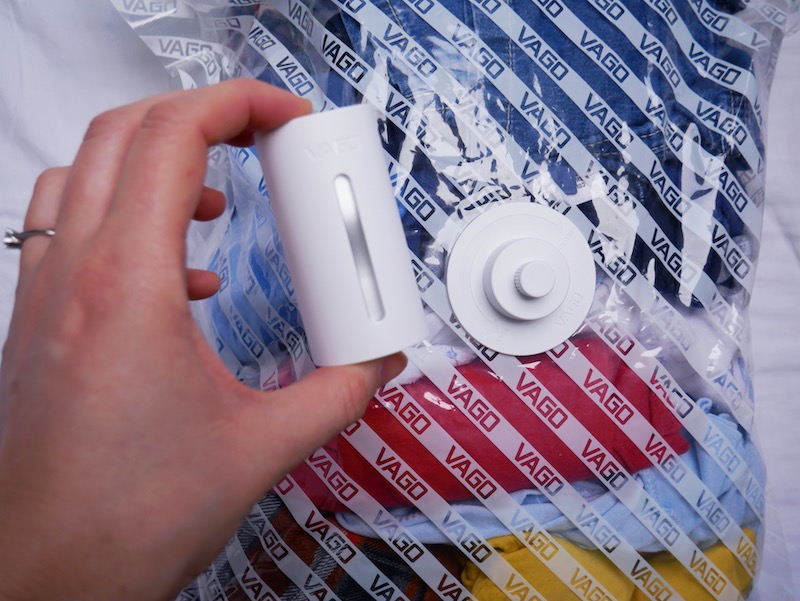 Oh now this is taking the simple packing cube to a whole new level!
A travel vacuum bag is an extra piece of kit for those who want to get serious with travelling light!
You may be familiar with vacuum bags you use at home for storage of soft items like winter clothes and bedding. You put your items into a big plastic bag, seal the bag and then, using a vacuum cleaner, you suck the air from the bag. Maybe you do it with food too to prolong the shelf life of fresh food?
Anyway, you can do this while you travel too.
I have something called a Vago Vacuum Bag which is a small, clear packing cube with a miniature device to suck the air from the bag.
This is a brilliant little device to save a lot of space!
The only downside is that your clothes will often become very crumpled when they're squished together so tightly. It also becomes very easy to end up with an overweight bag that is too heavy for the plane.
You can read my full Vago Vacuum Bag review here.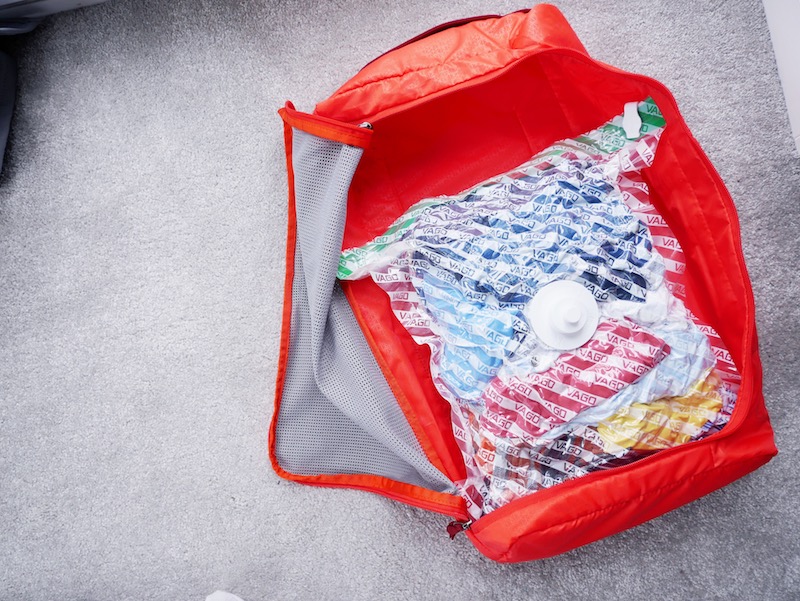 When would you use packing cubes?
I use packing cubes for these types of trips:
When I'm travelling with hand luggage only and don't want my clothes spilling out all over the plane (you don't want to be reaching into your bag for a book and have your underwear falling out!)
When I've only got a small bag and I've got limited space
When I'm travelling from place to place for a night or two and won't unpack my bag, so I want to keep my case neatly organised (such as backpacking, they're so good for backpacking trips!)
When I'm travelling with my family and we share a couple of big suitcases between us all
When I'm camping and I won't unpack my bag, I'll just grab what I need each day and zip it back up
Who should use packing cubes?
Packing cubes can be for everyone but these are the kind of people who will really love them:
People who love to be organised
People who overpack
Backpackers
People who are naturally very disorganised and need some help
Children
Families sharing suitcases
Anyone travelling light
What to look for in a packing cube?
The main thing to look for in a packing cube is something that is durable but made from the thinnest material possible. The last thing you want is a bulky packing cube that's taking up extra space in your luggage.
Waterproof, or at least water resistant, packing cubes are a great idea as your clothes will be protected if you have a spill or your bag gets wet.
Many people like matching sets of packing cubes or compression bags that will come with a selection of sizes. They'll usually have:
2-3 large bags for your bigger clothes
2-3 smaller bags for smaller items
1 bag for shoes
1 for toiletries and cosmetics
1 for electronics and cables
1 laundry bag for the way home
While it isn't necessary to have a matching set of luggage organisers, it does feel nice to have such a neatly organised and aesthetically pleasing suitcase!
If you're the kind of person who likes to pack your bags early and get everything organised then I'm sure you'll like a matching set of luggage organisers!
Should you use a packing cube with zips of drawstrings?
Most packing cubes will come with either zips or drawstrings. Some also come with clips and a roll top and they're more of a drybag style.
Personally, I prefer zips because it's easier to keep things flat and organised when you can open up your packing cube fully and lay everything in it neatly before zipping it back up.
Drawstring packing pods are good if you'll be stuffing your clothes inside and then squeezing it down into a smaller size.
I do have a few stuffable packing pods I bought for a backpacking trip and they did work well for backpacking. I now use the drawstring packing pods for underwear and electronics or any items that don't need to be kept crease-free.
Which are the best packing cubes?
Like everything in life, you get what you pay for and the best packing cubes are the ones that cost the most. But if these are something you'll only use once or twice a year then I understand if you don't want to pay too much for them. And if you're using compression bags to save space in your luggage to save costs on budget airlines then I'm sure you don't want to spend a fortune on compression cubes!
Best budget packing cube set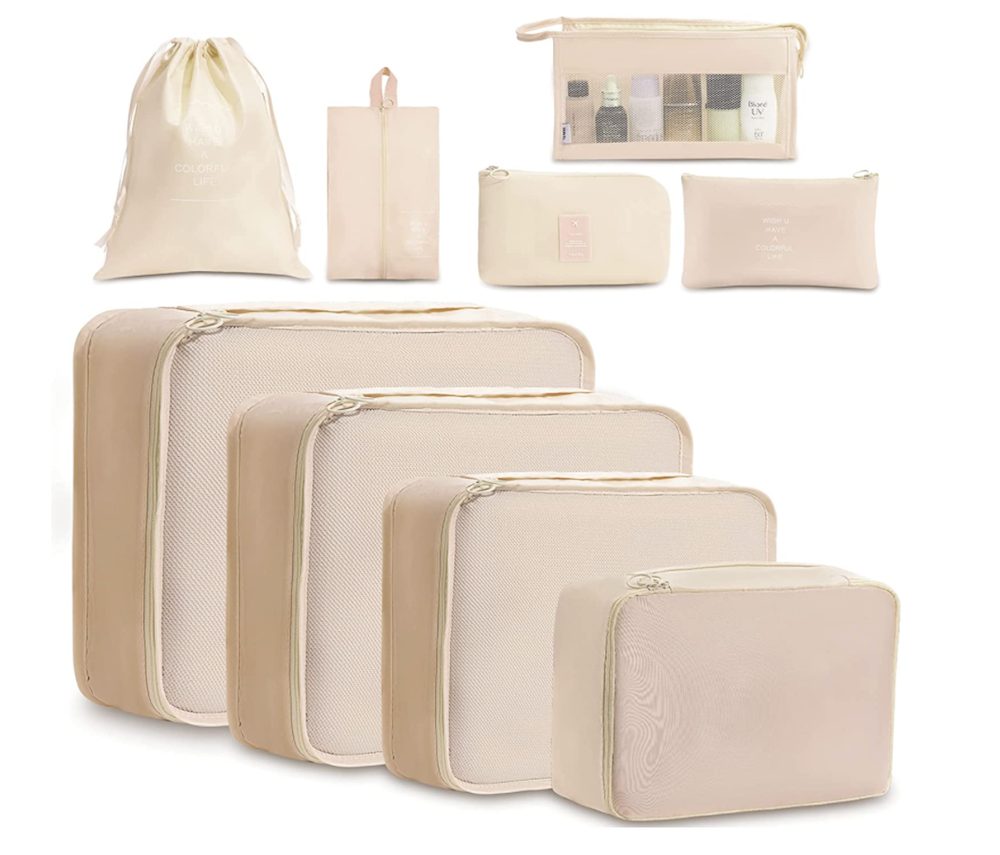 9-piece packing cube from Amazon
I have this 9-piece packing cube set from Amazon and, yea…it makes my heart happy to see how neatly organised my suitcase is!
I love this set. I love the variety of sizes and the fact that everything matches!
It has:
3 large packing cubes for clothes with mesh panels to see what's inside
1 smaller packing cube with no mesh panel so it's great for underwear that you might want to keep private
1 shoe bag
1 laundry bag
1 toiletries bag
1 small pouch for little items
1 toothbrush cup
One thing I really like about having this set and something that makes packing cubes worth it for me is that I leave lots of items in my packing cubes when I'm not travelling. I leave my travel toothbrush and my travel electronics and my holiday swimsuit already packing in their specific travel cube. It makes things quicker and easier when I'm packing for a holiday and means I don't forget important items.
Best luxury packing cubes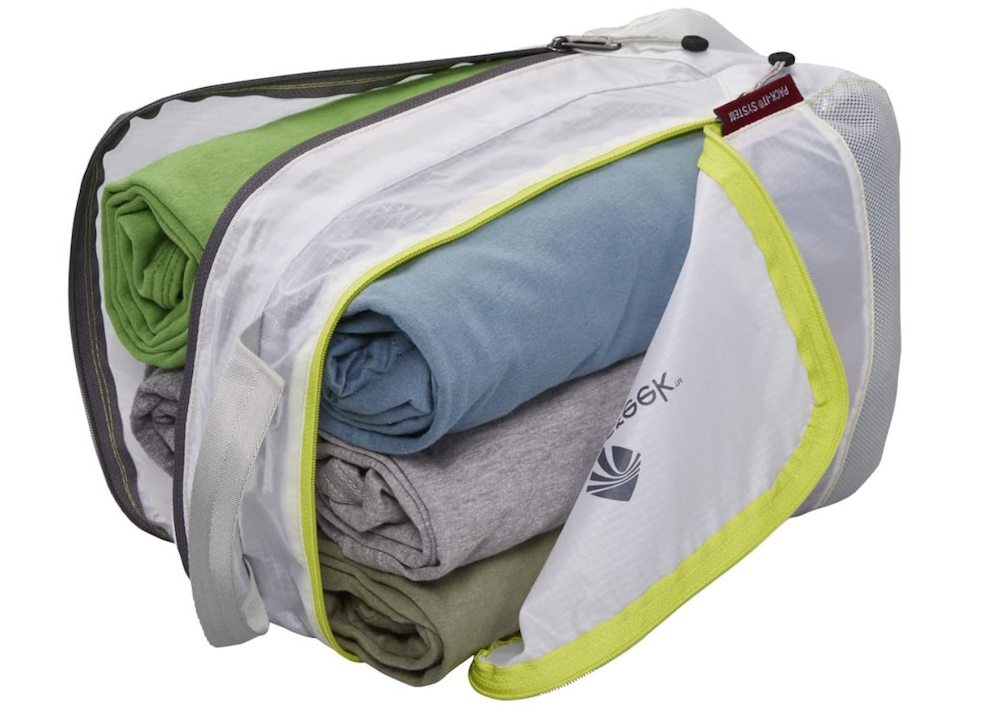 Without a doubt, the packing cubes that consistently get the best online reviews are the Eagle Creek Packing Cubes. They have a huge range of packing organisation systems. I really like this one with two halves which can be divided into a dirty half and a clean half. These packing cubes would be worth it for backpacking when you're moving around every night or two and things can get mixed up.
Best compression bags or compression cubes
Gonex is my go-to brand for compression packing cubes and you'll find a great range on Amazon.
Best compression cube for hand luggage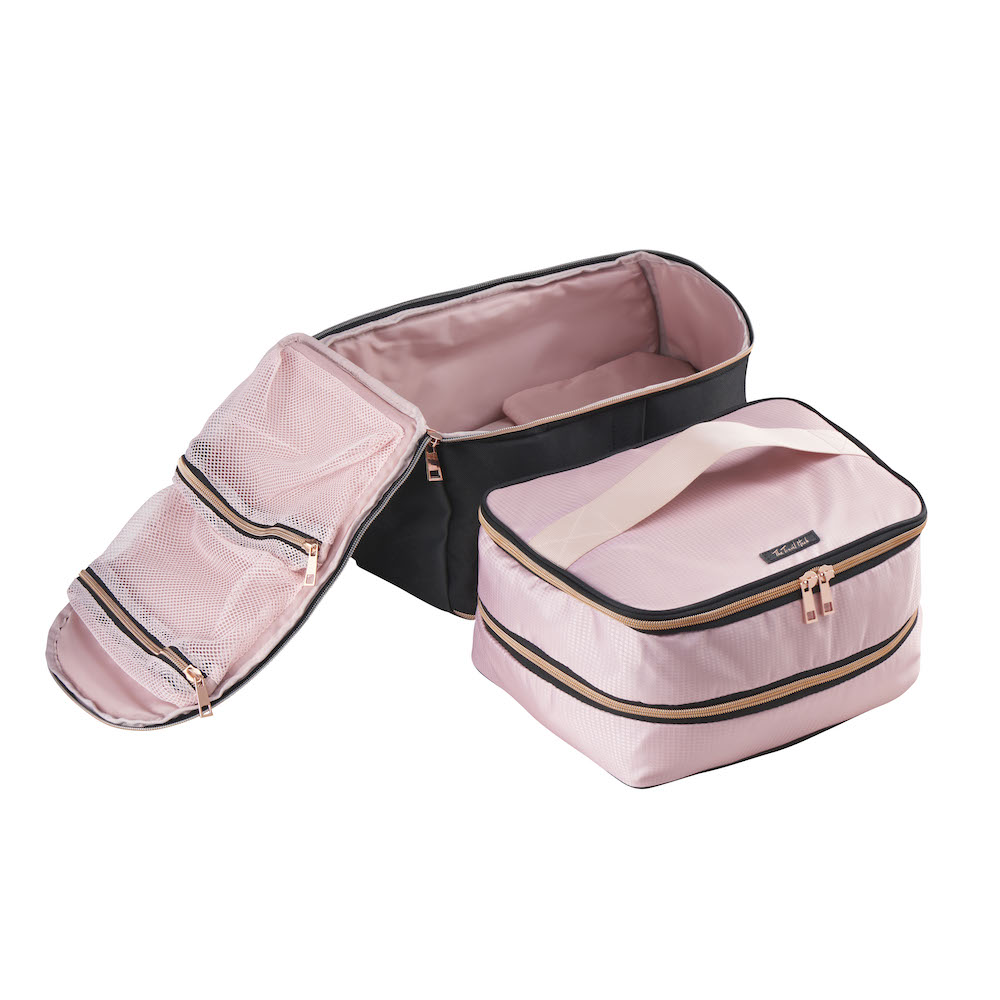 Of course, I can't go any further without mentioning the Travel Hack Compression Cube which has been designed to fit perfectly inside the Travel Hack Backpack (yep, that's my design!) I love using these two items together because they fit like a dream and save so much space.
I use the Travel Hack Backpack as my everyday bag while I'm travelling so being able to easily pull the compression cube out when I reach my destination just makes things so easy.
Best packing cubes for business travel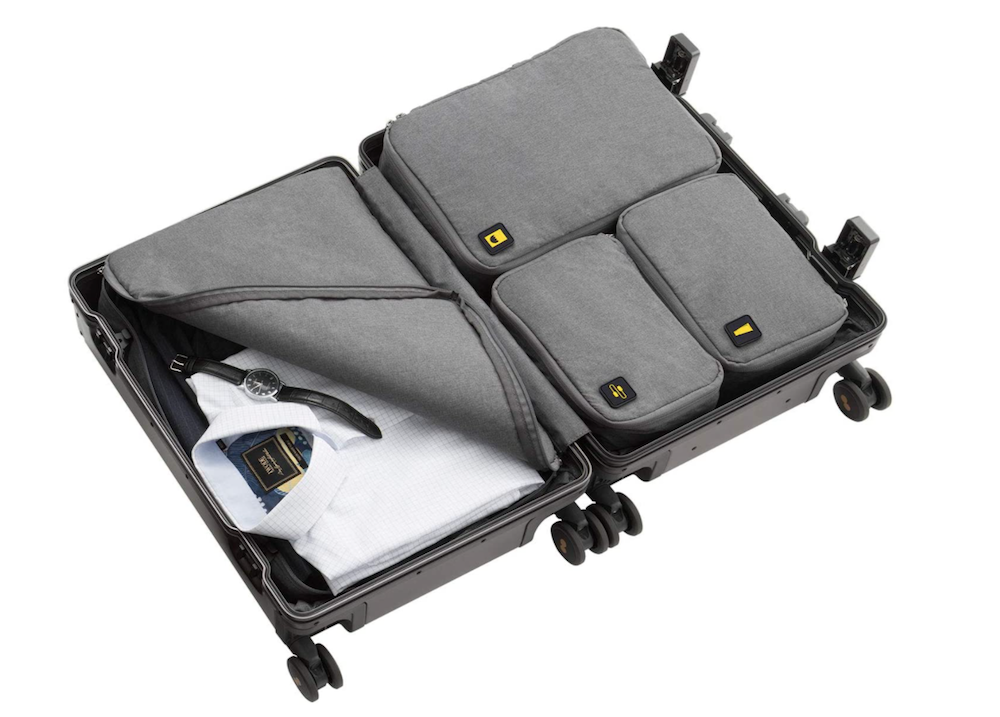 Another set of packing cubes I have are the Level 8 Packing Cubes and I have to admit that these cubes just make my heart happy.
They're quite spendy but they're great quality and so elegant.
This set comes with one large packing cube, two smaller ones and one toiletries bag with detachable interior separators. I also love that they have removable rubber patchers that velcro onto each cube with a simple icon to help you identify what's in each cube.
Best packing cubes for a family trip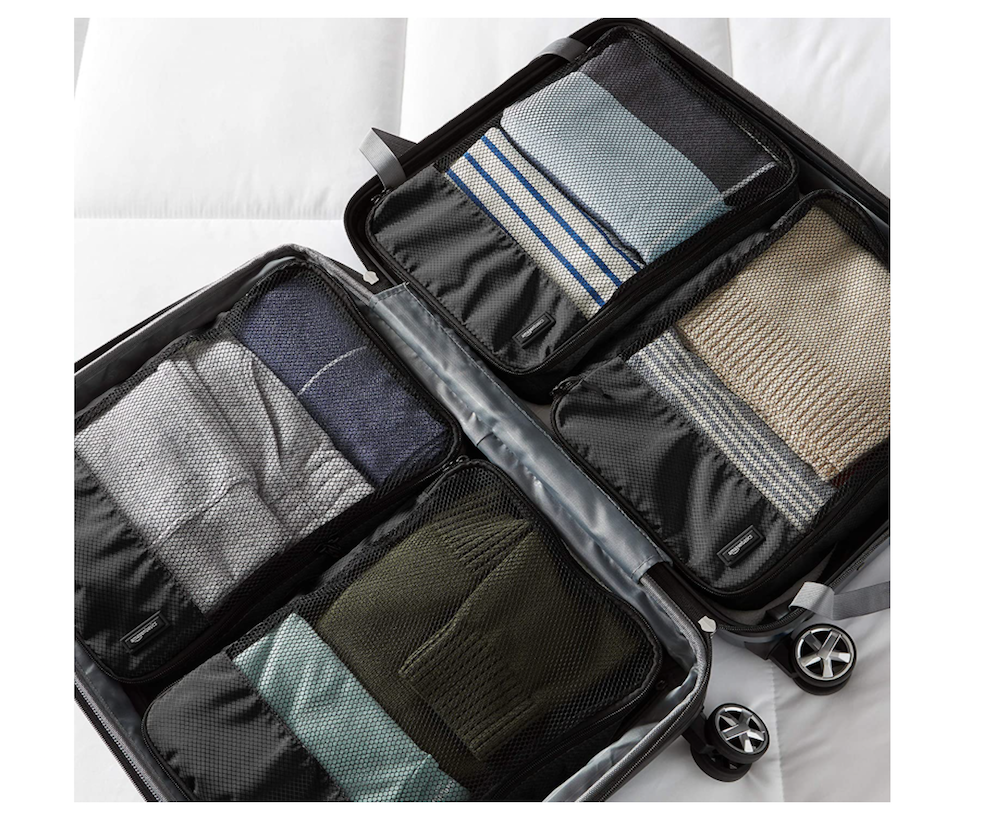 Packing cubes are definitely worth it when you're sharing a suitcase!
If you're looking for packing cubes to organise a large suitcase that you're sharing between the family then I'd recommend getting a colourful set of same-sized cubes.
When travelling as a family we'll usually check-in one or two large suitcases between us and packing cubes can be great to keep everyone's belongings separate and make it fair in terms of space!
Something like this set of 4 medium cubes from Amazon Basics would be great.
Are packing cubes worth it in backpacks?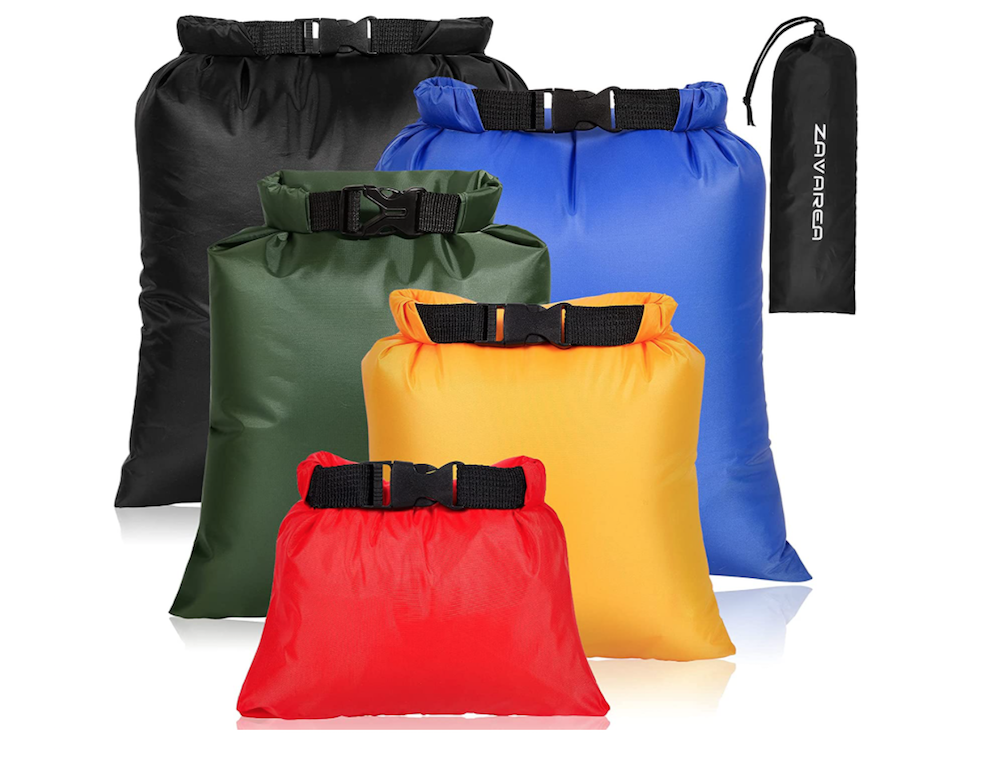 Yes, of course. In fact, I started using packing cubes during a two-year backpacking trip because I could never find anything in my top-loading backpack. Items would slip to the bottom of my backpack and I'd never find them again!
I still prefer to use the traditional, rectangular style packing cubes in a backpack but many people will prefer to use more of a stuff-sack or drybag style.
This multicoloured dry bag set would be a brilliant option to keep your backpack neatly organised.
Travel Hack Tip: If I were to go backpacking again then I would buy a multicoloured packing cube set. You might use a blue one for your trousers and a yellow one for your tops. This will make it easier to reach into your backpack and easily grab the packing cube you need.
Can you get packing cubes for kids?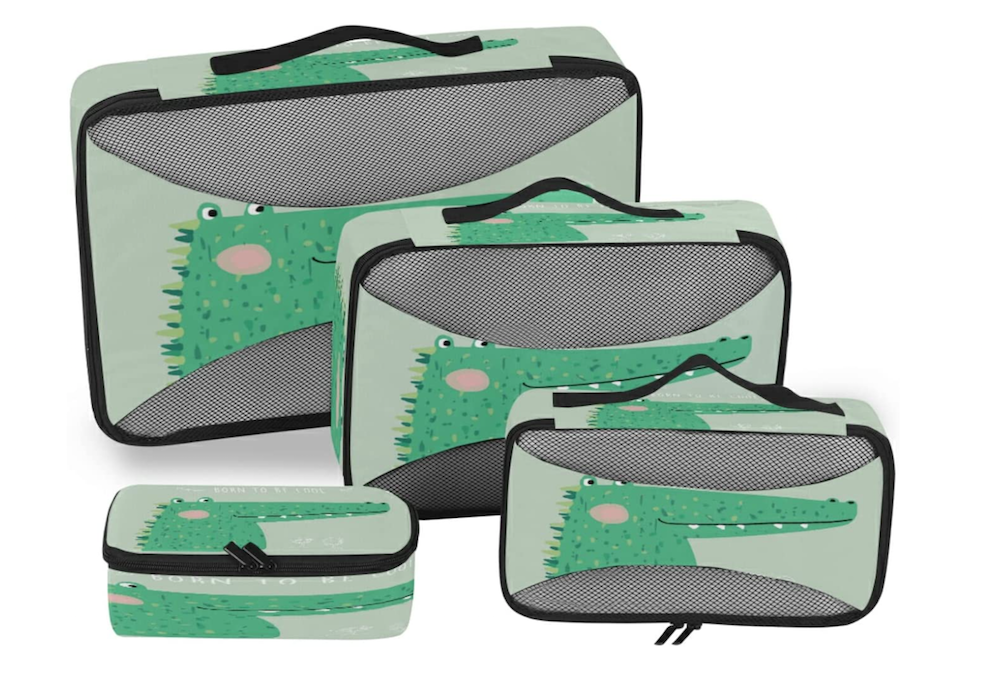 Are packing cubes worth it for kids!? Yes!
Packing cubes for kids are great to help keep their luggage organised and simplify packing for them. It also makes things a little more interesting for them and makes them excited to pack their own bags.
I'll give my kids one of their packing cubes and say, 'Go and pack this with 4 t-shirts and a jumper.' Then I'll give them another and say, 'Packing this one with 4 x pairs of pants and 4 pairs of socks.' It's gets them involved and responsible for their belongings in a fun way.
Of course, kids can use the same ones as adults and you'll find most come in lovely, bright colours that kids will love.
But you can also get fun designs for kids too!
Here's one with dinosaurs.
One with space men.
And one with flowers and two 'secret pouches'
I think my kids would love these colourful dry bags and these would be great for a casual camping trip but I think their clothes would become very crumpled.
Can you get sustainable packing cubes?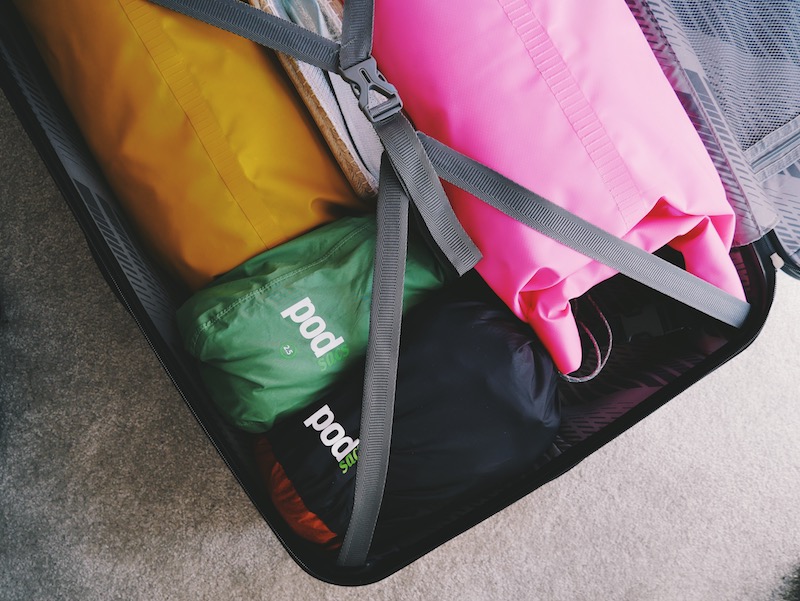 In my opinion, the most sustainable products you can get are the ones you already have! You often don't need to go out and buy something new, you can use things you already have. That's true sustainability.
If I've got plenty of weight allowance then I'll often use waterproof dry bags as they're something I already have.
Sustainable packing cubes can be created using so many things you'll already have around the house. A simple option is to use bags like shopping bags, canvas tote bags or even plastic carrier bags. Plastic bags can have an irritating rustling sound but it's an easy option and many of us still have old plastic carrier bags tucked away at home.
I keep anything that comes in a little bag, such as pillow cases and bed sheets which often come in a little cotton drawstring bag.
I also had some fancy PJs from Hush which came in a cotton bag and this is great to use as a sustainable packing cubes.
If you're nifty with a sewing machine then you'll easily be able to sew something yourself using old clothes or pillow cases.
Are there any downsides to using packing cubes?
I would say the main negative to using packing cubes is that if you don't pack them correctly you can end up with very creased clothing. It's easy to stuff everything into a packing cube, press it down tightly, zip it shut and leave it for a few days. When you open it again you've got a pile of crumpled clothes.
Travel Hack Tip: If you roll your clothes rather than folding they're less likely to become creased.
Can you use ziplock bags instead of packing cubes?
Are packing cubes worth it when you can just use ziplock bags!? You have a point here!
If you already have large ziplock bags at home, maybe in the kitchen for food storage, then these will work perfectly.
You can also buy large, plastic ziplock bags for travelling such as these ones.
Ziplock bags will do the job nicely but it's unlikely they'll be as durable and I think they'd end up breaking quite quickly. I personally try and avoid buying plastic products like these and prefer a more sustainable or high quality product that I know will last.
So are packing cubes worth it? I hope my post answers your question and you'll agree that packing cubes are definitely worth it!