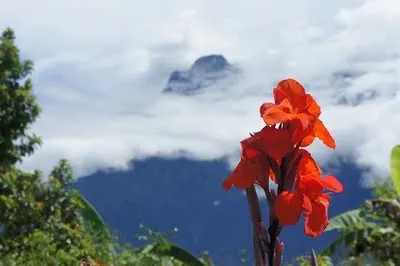 The impressive sight of Mt Kinabalu from the bottom
The walk was tough but manageable. I must admit that it's easy for me to say that now, now that I'm back on flat land and this is just a distant and entertaining memory. If I wrote this post at the time of the climb, I think you would have a completely different story!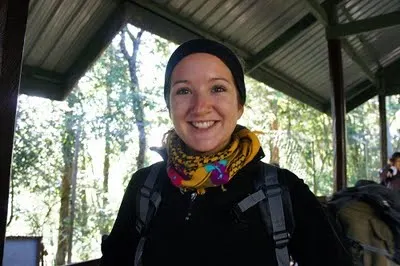 Looking eager and excited at the bottom.
I tried to focus on my breath, thinking of nothing but inhaling that clean, fresh air and quickly exhaling so I could gasp at some more. I ignored the burning in my thighs, the tightness in my lungs and the pounding from my heart. However hard I tired, I couldn't ignore the feeling like a huge bird was rapidly beating its wings inside my chest. It was flapping and flapping with every ounce of energy, desperate to escape to freedom.
I trudged on, one foot in front of the other, hands grabbing at wet rocks, branches, sticks or anything I could use to pull myself up the steep rocks and give my legs a momentary break.
It was a shame really that I was so focused being able to breathe because I barely had chance to take in my surroundings.
I remember that with each kilometre our environment seemed to change subtly. The first kilometre was like a regular forest; there was a huge waterfall that splashed us with fresh spring water as we dashed past – still full of energy and enthusiasm. The earth was dark and muddy and sucked our shoes into the ground. The trees were tall, green and leafy and the birds provided perfect background noises to our trek.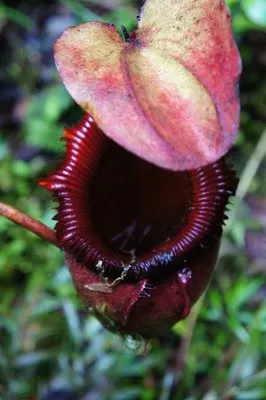 A carnivorous plant
By the second kilometre, the trees became sparse and by the third, the soft muddy earth had become thick, clumpy orange clay. There were far fewer trees and very little wildlife.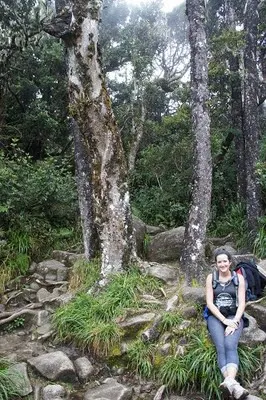 Taking a much needed rest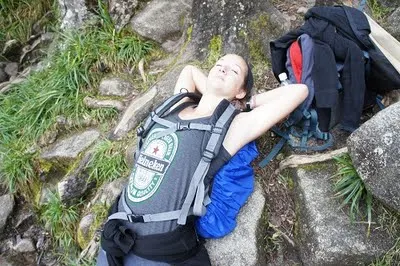 I think I actually fell asleep like that for a second!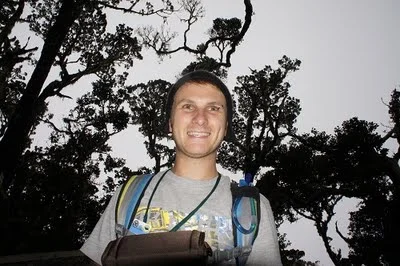 Sam, still looking pretty happy and healthy
The mist spread itself across the mountain, giving it an eerie, mysterious feel. Bonsai trees crouched low to the rocky ground and kept their bare, black branches close to their little trunks while the mist crept between them. The wind charged around us, beating our faces and biting the tips of our fingers and toes and there was absolutely no wildlife to be seen.
I stopped thinking of the mountain in terms of kilometres and starting thinking of it more like levels. As in levels on a computer game. I think the altitude was getting to me! Each kilometre we walked was another level completed.
Once we'd completed the evil land of level 5, we reached level 6, my favourite level. This level was tough but there was a lucky bonus at the end – Laban Rata Hut were we had a cosy dorm room, endless cups of tea and mountains of food was waiting for us.
If this level were in the story, it would probably be heaven. The sky was so blue I felt like I could stare at it all day. We were level with the softest, fluffiest white clouds I have ever seen. They were almost blindingly bright at the sun dazzled off them and provided a thick carpet of clouds that blanketed the sky around us.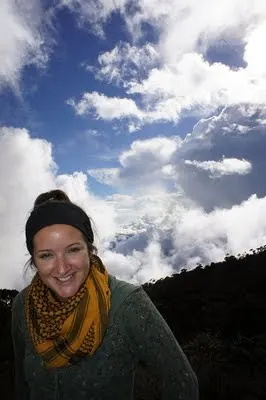 It was so bright I actually couldn't open my eyes!
If you managed to tear your eyes from that sky for just two minutes, you'd become even more entranced by the peak of the mountain that pierced the sky like a dagger. The sheer white and grey cliffs loomed high and luminous above our heads as the sun bounced off them like it would off the pure, snowy peaks in Europe.
Dinner was served at 5pm and I was asleep by 5.31pm. With the exception of being ill, I'm sure this is the earliest I have ever been to bed. The only problem was that I was awake again by 7pm with a banging headache and everyone in the room was wide awake and tossing and turning in their squeaky bunk beds. I'd read that it is difficult to sleep on the mountain due to the altitude and most people claimed they didn't sleep at all that night, but from all the snoring I was listening to, I don't believe it!