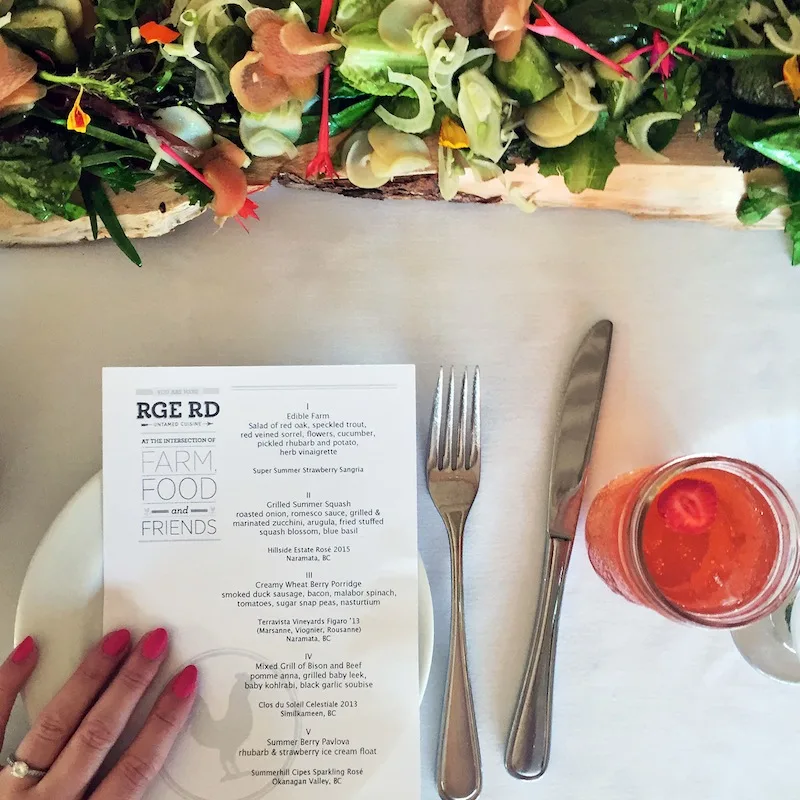 On a gloriously warm evening in Edmonton we were treated to a super special dinner at the Prairie Gardens with Range Road Dinners, a local food and local chef initiative that gave us the opportunity to sample some incredible fresh gourmet food. We were here for a delicious meal but it was also to learn more about their Farm to Fork initiative.
The provenance of food is fascinating but it's something most of us take for granted. Yet, if you take a look at where your food comes from I think you will be interested in just how much resource goes into to feeding us on daily basis.
Range Road, or RGE RD dinners is a local food initiative by local chef Blair Lebsack. Along with local farmer, Caitlin Fulton, they use food grown at the farm (and other local farms where necessary) to design menus exclusively for each of the Prairie Gardens dinners. The result is a regionally seasonal focused menu that quite literally tastes like it's just been picked.
Prairie Gardens and Adventure Farm is both a working farm and tourist attraction in Bon Accord, just outside Edmonton. Set in prairie land with the biggest skies and miles upon miles of pancake flat land. Alongside crops of the Community Supported Agriculture gardens, the Prairie Gardens Adventure Farm is home to family fun with regular festivals and activities such as a corn maze, petting farm and small rides.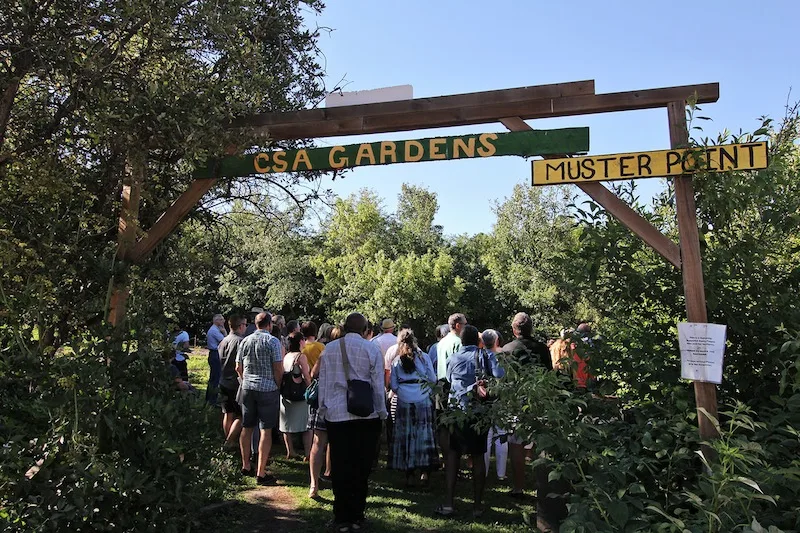 It was a warm sunny evening
We were blessed with a warm balmy evening for our Range Road Gourmet dinner experience. We may or may not have got lost getting there (we're blaming you SatNav Lady!) but it's actually a pretty straightforward drive North out of the city of Edmonton. Upon on arrival we made our way to a barn at the back of the main visitors area of the Prairie Gardens where we were greeted by the hosts and treated to cocktails and canapés.
Our chef for the evening, Blair Lebsack, made a short speech about the concept of the dinner experience along with what to expect for that evening before sending us off to another part of the farm to hear from farmer Caitlin Fulton. Stood in the CSA (Community Supported Agriculture) Gardens, we learned about the farm, its origins, the crops they grow and the ethos behind their collaboration with Range Road Dinners.
With a slight rumble in our bellies we all boarded a small land train to take us through the farm to our dinner tent for the evening. Sometimes these dinners are hosted in the open air but as the weather forecast was changeable our hosts opted for a marquee setting for that particular evening. Not that we're complaining! They dressed the marquee with hundreds of fairy lights and along with the beautifully arranged tables it felt perfectly pretty and rustic. Think fresh flowers in mason jars, vintage-style water glasses, crisp white linen and hessian drapes across the roof the marquee.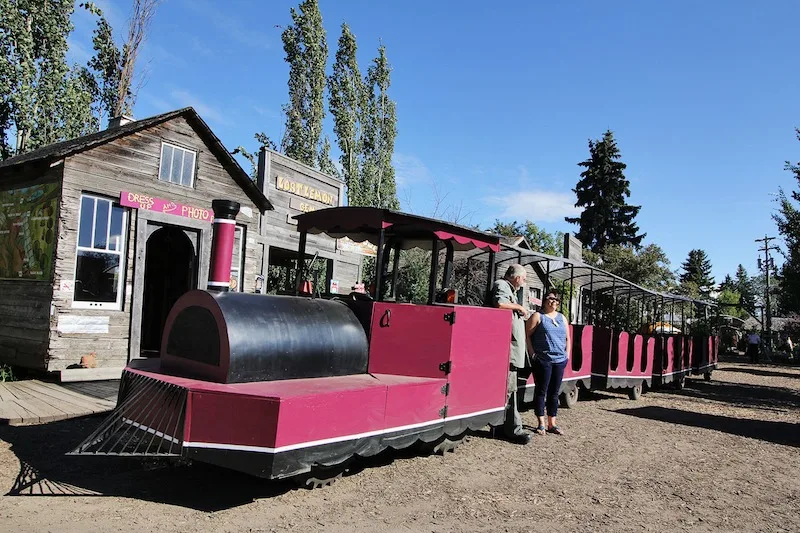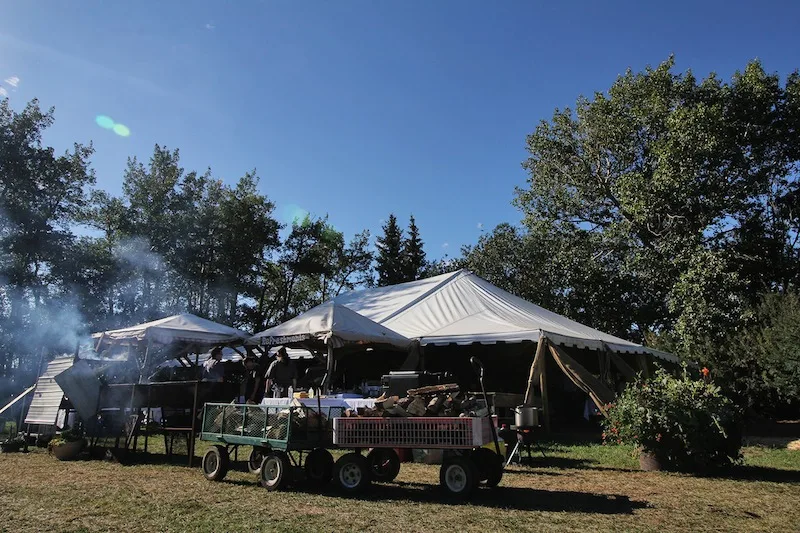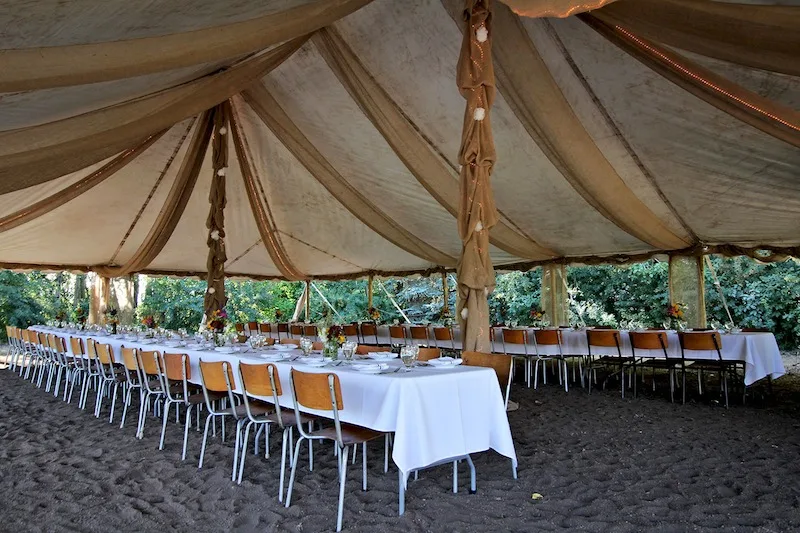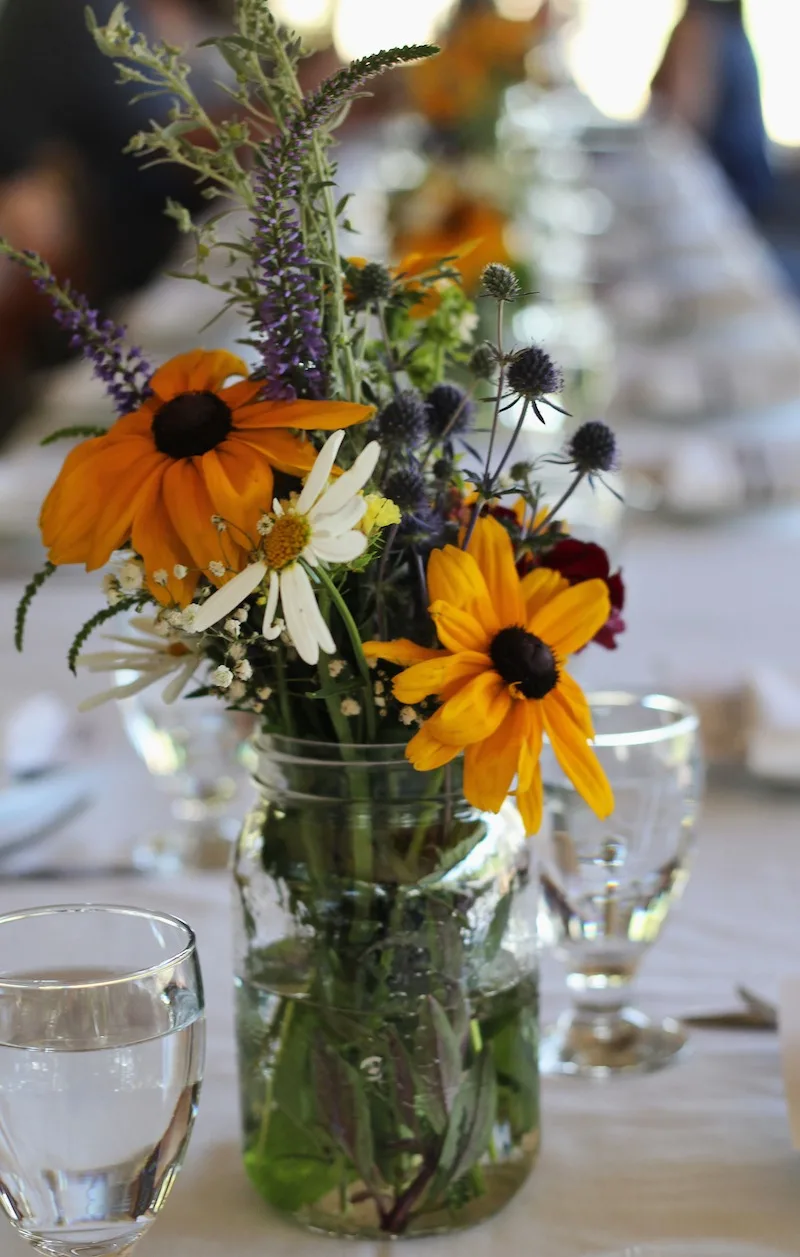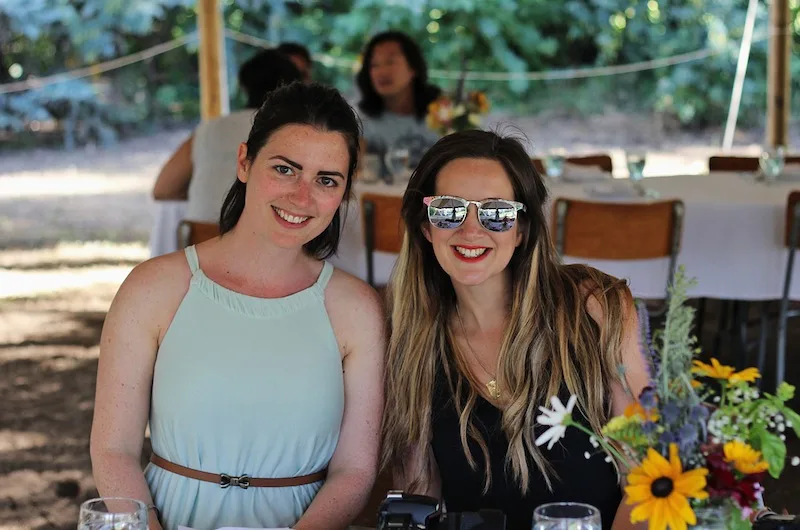 The chefs went straight to work preparing our 5 course meal for the evening on an outdoor kitchen set up next to the dining marquee. The waiting staff brought us our first drinks for the evening, a strawberry sangria, as the enticing scent of barbecue drifted over.
The first course was served on long planks of wood set along the canteen style tables we sat at. It was a bright, colourful medley of salad all freshly picked from the farm. We feasted on plates of red oak and speckled trout, red veined sorrel, edible flowers, cucumber, pickled rhubarb and potato. It was the freshest food I've ever tasted.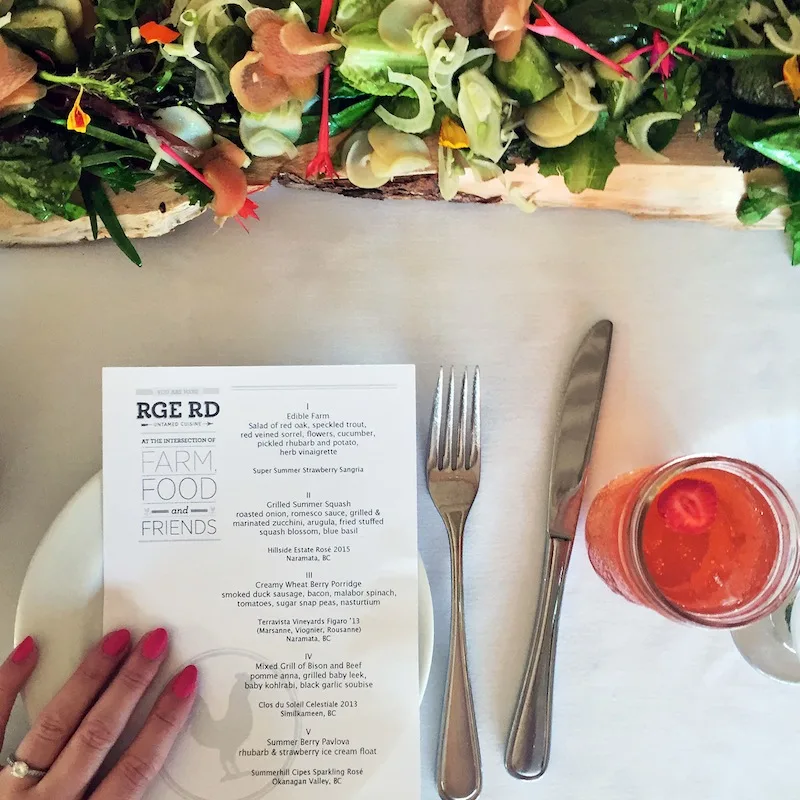 Next up we enjoyed a lightly tempura-battered stuffed squash blossom served on a bed of romesco sauce, roasted onion, grilled zucchini and squash and finished with blue basil. This was served with a beautifully light rose wine. By now we were feeling super summery. The tent was filled with enthused chatter, the sun was casting a golden light all around and us bloggers were revelling in all the awesome photo opportunities. Because if a meal isn't shared on Instagram, did it really happen?!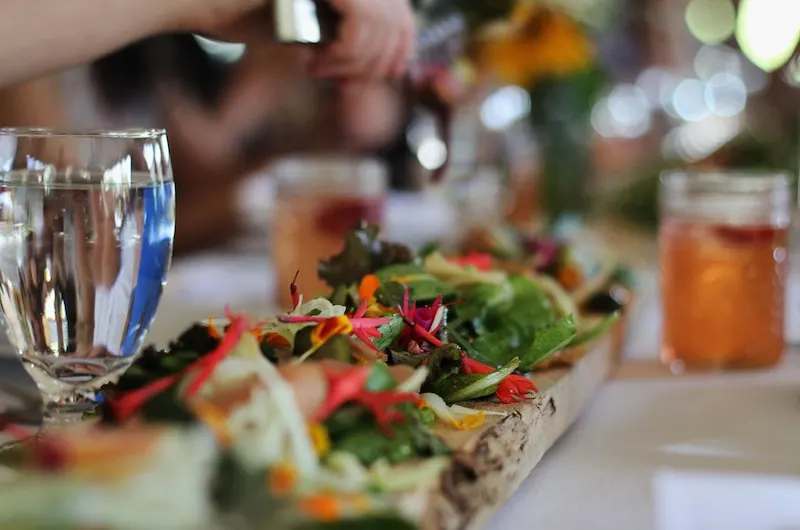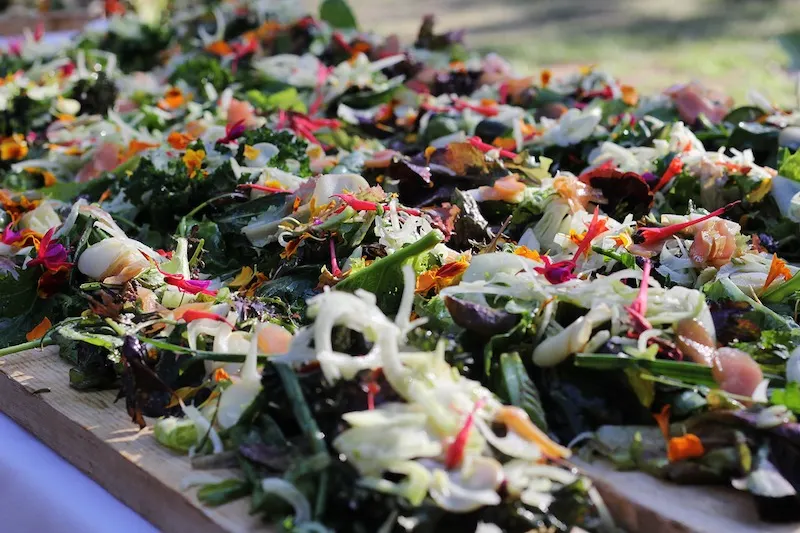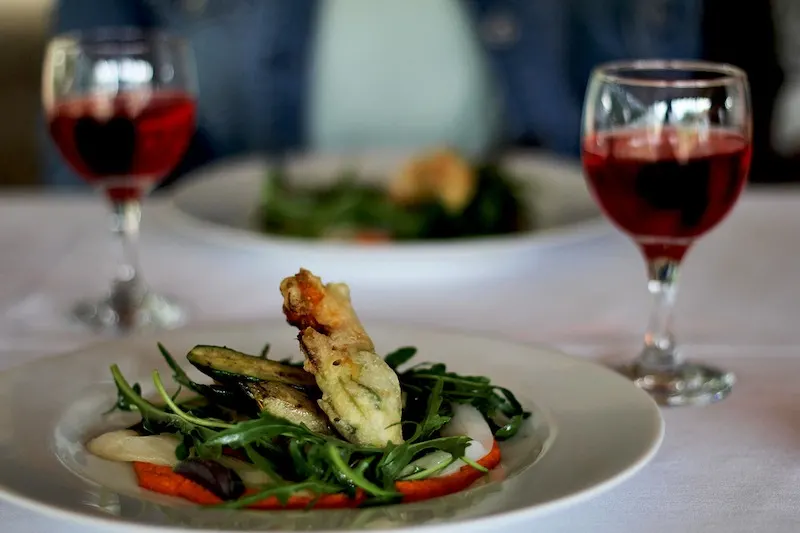 The third course was a fascinating dish, essentially it was sausage, bacon and vegetables served on a savoury porridge. It was an unusual but strangely satisfying texture combination, along with the powerful flavours of the smoked duck sausage it made for true gourmet experience. This was paired with another delicious local wine, all of the wine that evening was produced in British Colombia, the province we stayed in.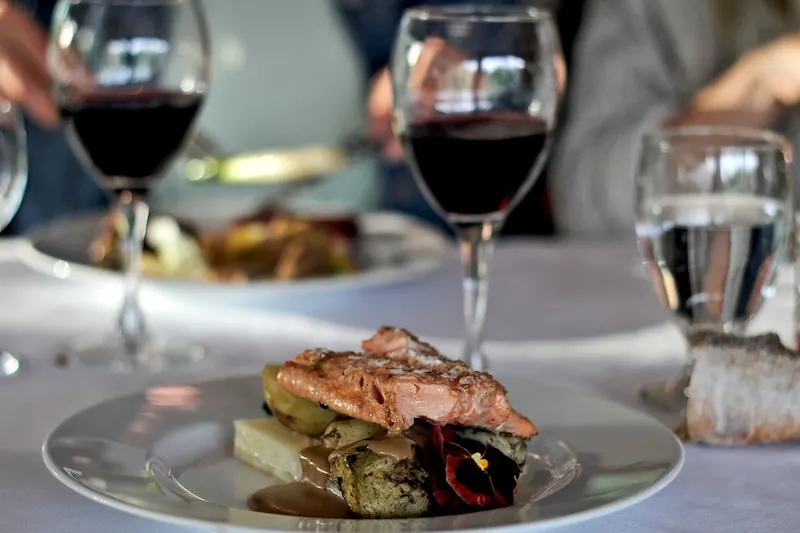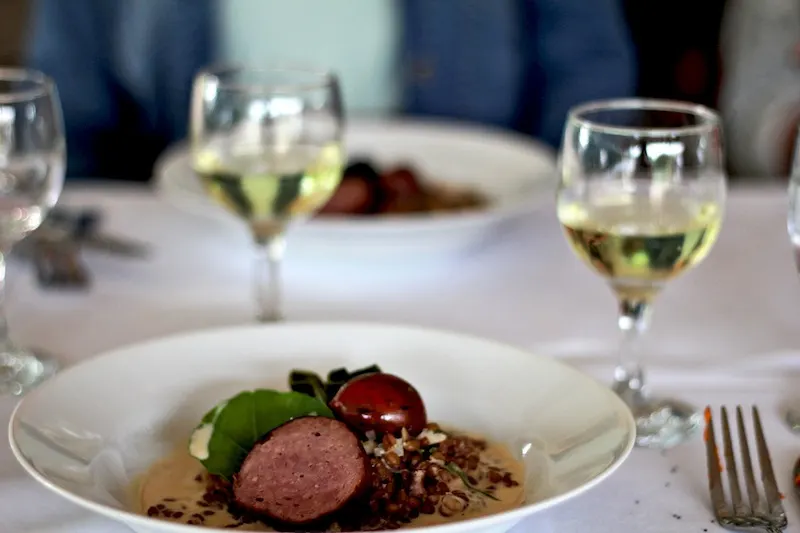 The final savoury course was a big hit – a mixed grill of bison and beef set atop creamed potato, baby kohlrabi along with a grilled baby leek and finished with black garlic soubise (that's sauce, between you and I). As a non-beef eater I was served wild river trout instead of meat. Everyone on our table agreed, this course was phenomenal. The meats were rich and tender, the fish was juicy and light. The portions were so generous that by this point we were struggling to finish our plates.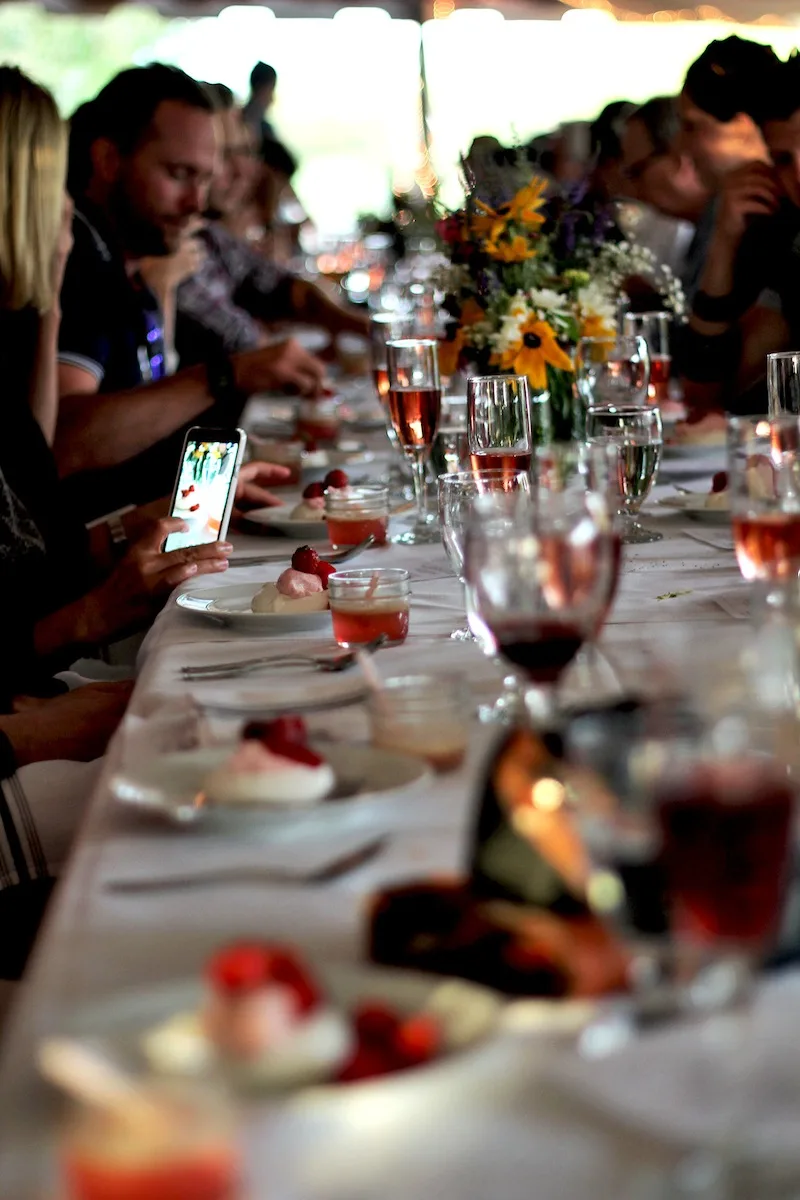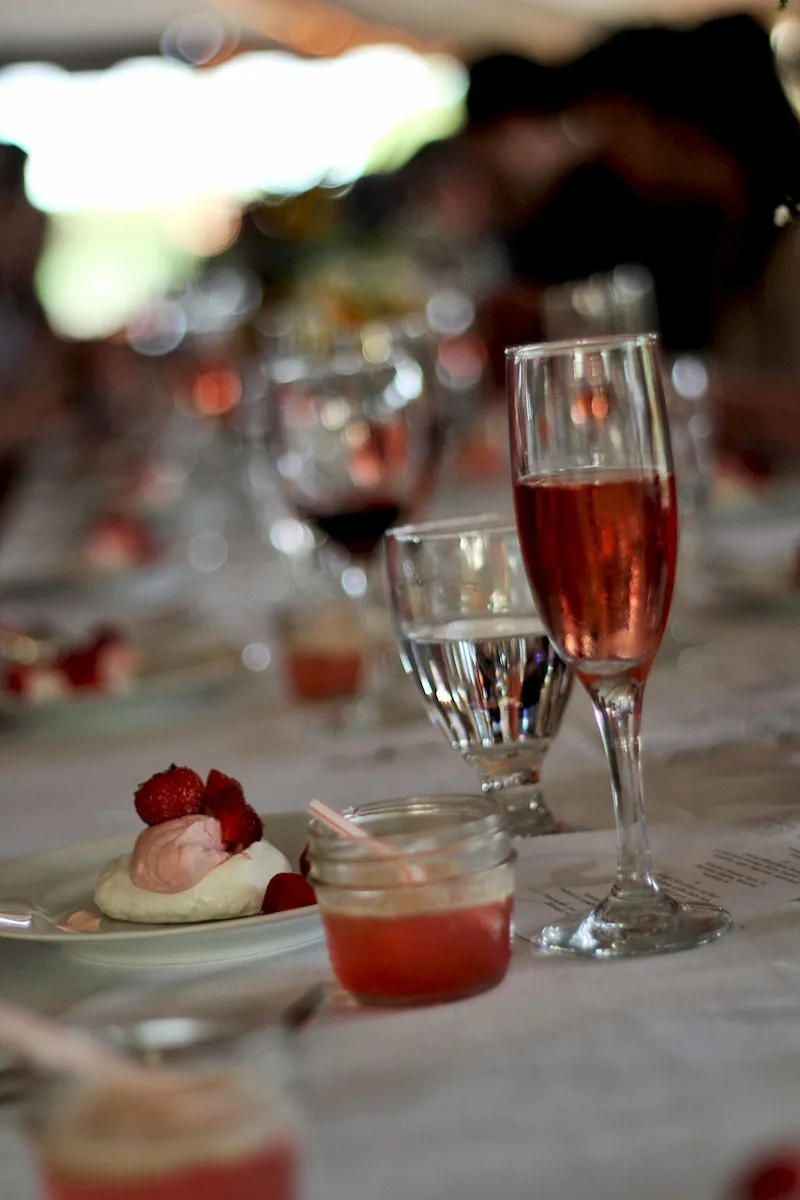 The final course, the dessert, almost finished us off! The night was starting to draw in, the sparkling rose wine came out along with vibrant bowls of berry pavlova. To top off this course we were serve a rhubarb and strawberry ice cream float. It was perfectly, decadently sweet and sour.
Then, as if on schedule, a short burst of drizzle appeared followed by a huge rainbow across the corn fields. We grabbed our cameras, hotfooted it out of the tent and marvelled at such a pretty sight.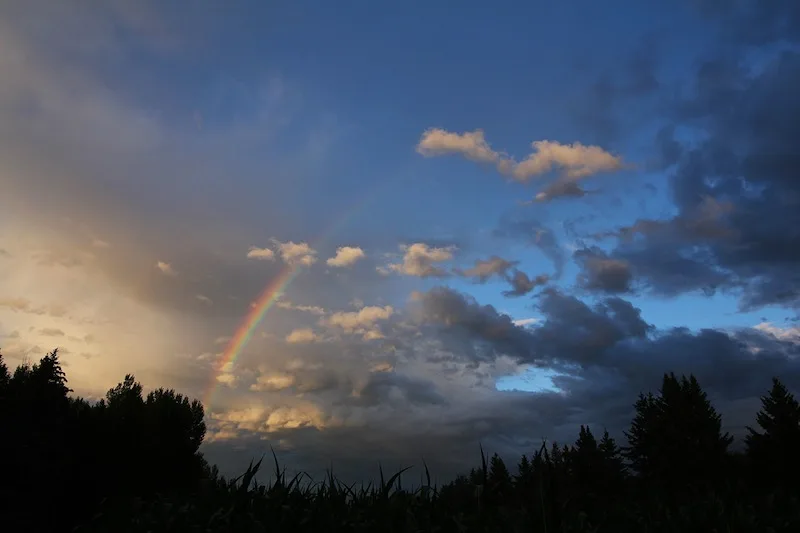 Why we loved it
The menu created by Range Road Dinner and Prairie Gardens was probably the freshest food I have ever tasted. They served us thoughtful, seasonal dishes that were on the right side of contemporary cuisine without being too fussy. It was special enough to warrant the price tag, but not too fussy to distract from the beautiful food and setting.
We experienced excellent service from the all the staff that evening. In our group we had two of us who weren't able to sample the whole menu – Monica was unable to drink alcohol as she was pregnant, and I don't eat beef or cheese. They couldn't have been more accommodating and without requesting it they adapted for us both. Monica was brought a non-alcoholic option for each course, which was fantastic given it was a large group meal and they remembered every time. For me, I was happy to miss one of the courses with cheese in but instead they adapted to make one without, plus they offered me fish instead of the beef option.
We felt incredibly welcome and relaxed during our dinner experience. The evening flowed easily. The atmosphere was excited yet contained. Overall, it was pretty magical.
Oh, and whoever planned that rainbow for the end of the meal was a genius!
Info
Prairie Gardens is located 25km north of Edmonton in Bon Accord.
Visit http://prairiegardens.org/festival-events/range-road-gourmet-dinner/ to book your own Range Road Dinner experience. Prices are from $157 (CAD).