Last week I booked a last minute, solo spa break to Lanzarote. I'd had a rubbish, stressful week and I had a two night window where I could getaway (childfree!!), so I instantly jumped onto Skyscanner to see if I could get any cheap flights anywhere.
I was really surprised to find that one of my cheapest options was Lanzarote.
It's a fairly long flight to Lanzarote (advertised at 4.5 hours from Manchester but it was actually 3 hours 40 both ways) and I found flights for as little as £28 return!!
Temperatures were averaging 20 degrees C and the lure of winter sun was beckoning!
Before I knew it, I'd booked a 5* package holiday to a gorgeous hotel in Playa Blanca with a lovely spa near a golden sandy beach. (OK, the spa turned out to be a little disappointing but it was still an amazing and relaxing trip!)
This was Wednesday lunch time.
I was leaving Thursday morning!
I rallied around all of my friends to see if anyone could join me but it's harder than you'd imagine to get a 30-something friend to drop everything (work, kids, families, pets) at the last minute and join you on a luxury spa break!
So at Manchester Airport I bought a stack of books, loaded my phone with music and podcasts and I set off on a solo adventure for some R&R.
It was just what I needed and it was pure bliss.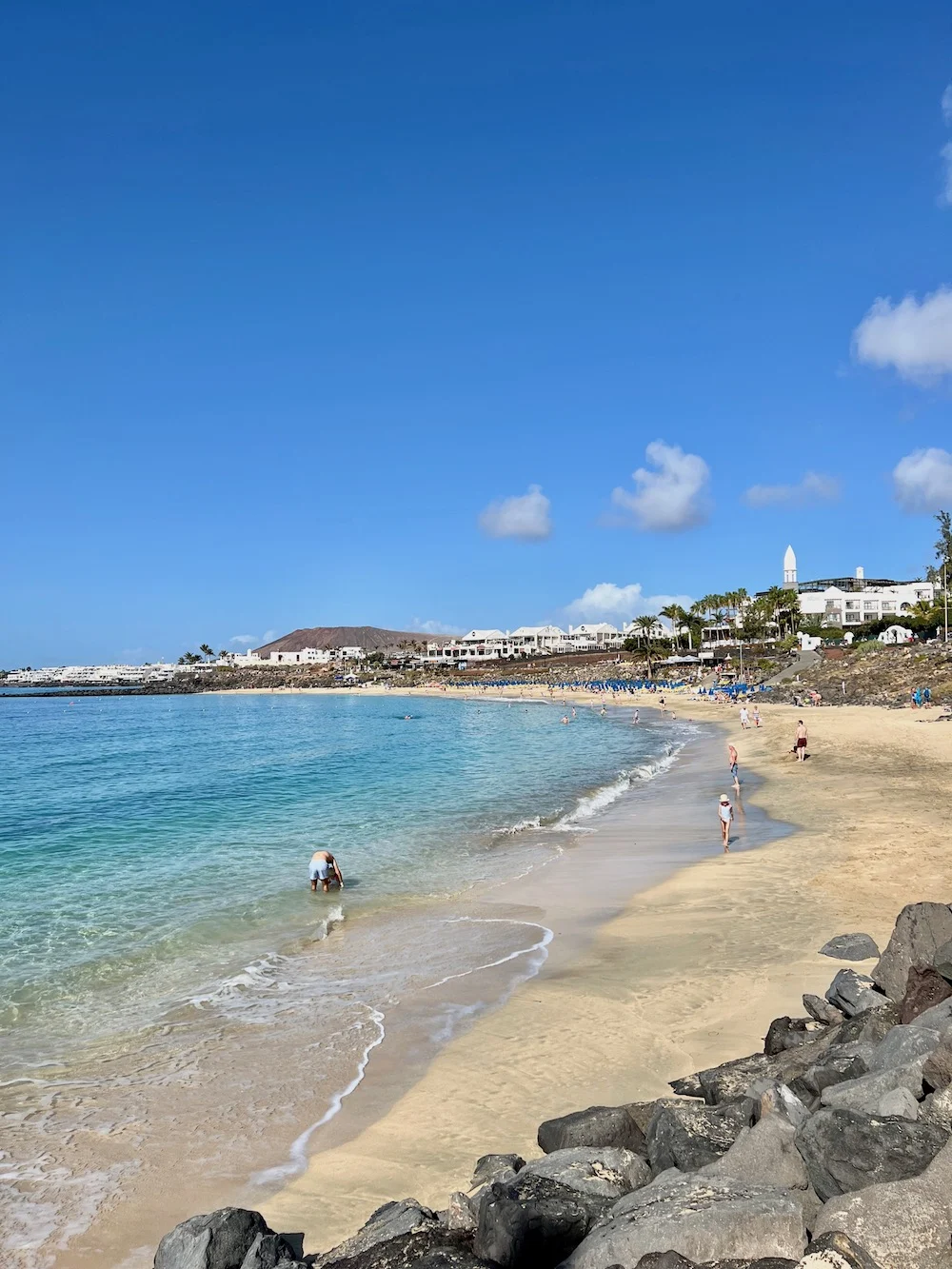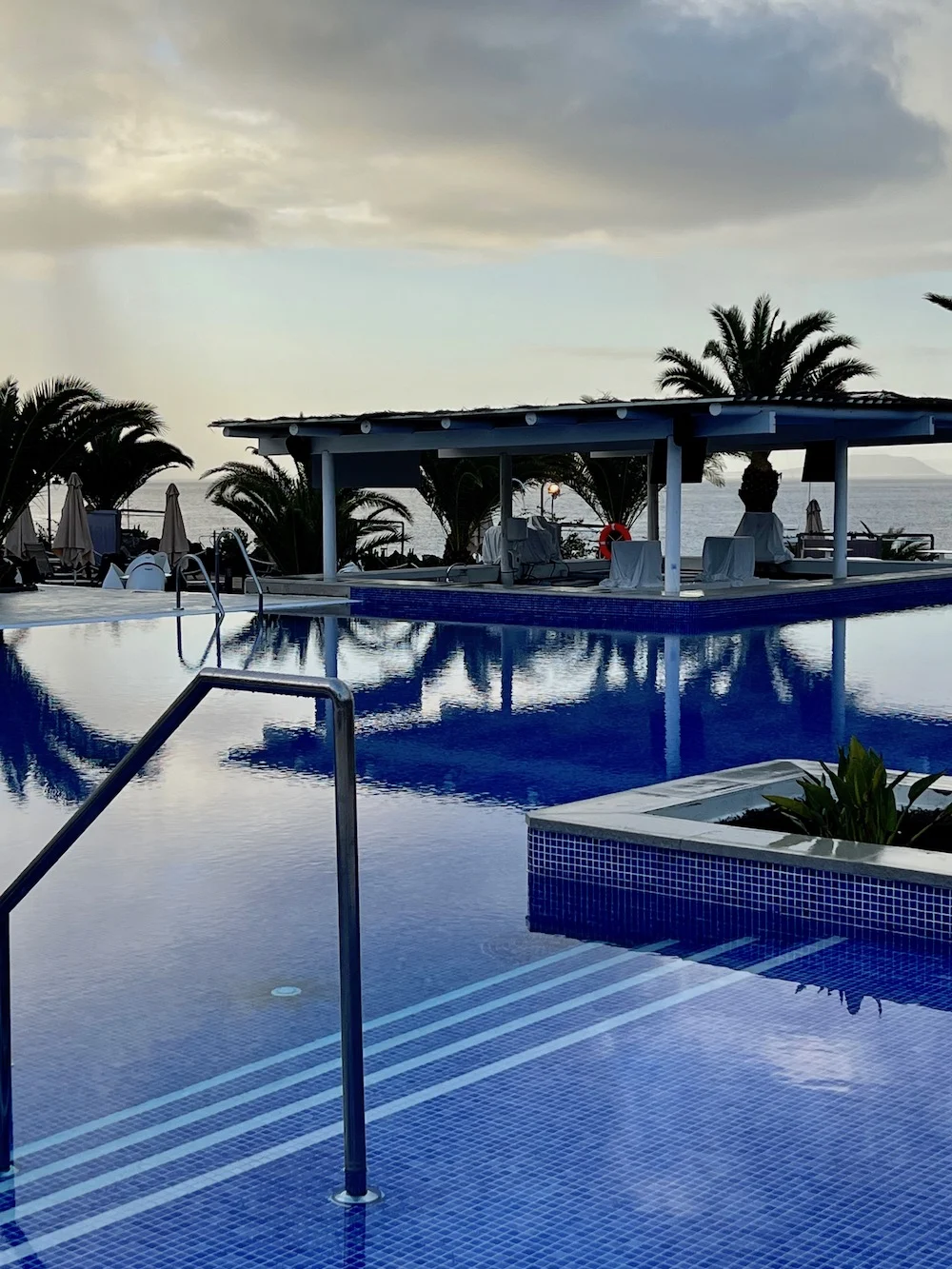 I had some work to do for an upcoming campaign so I spent my first morning filming. After that I was free to relax and I was secretly quite pleased to be alone. I read my book in the sunshine, slowly moving between the eight swimming pools at my hotel while drinking all-inclusive beer from a plastic cup.
I strolled along the promenade, stopping at cafes and bars for drinks, while listening to a podcast that was laugh-out-loud funny and probably made me look like a complete weirdo. I jogged, I swam, I ate, I lounged, I read and I sunbathed.
If you're considering a solo spa break, or just a solo break to relax somewhere hot and sunny, then I can't recommend it enough.
Here are the details from my spa break to Lanzarote.
Details from my trip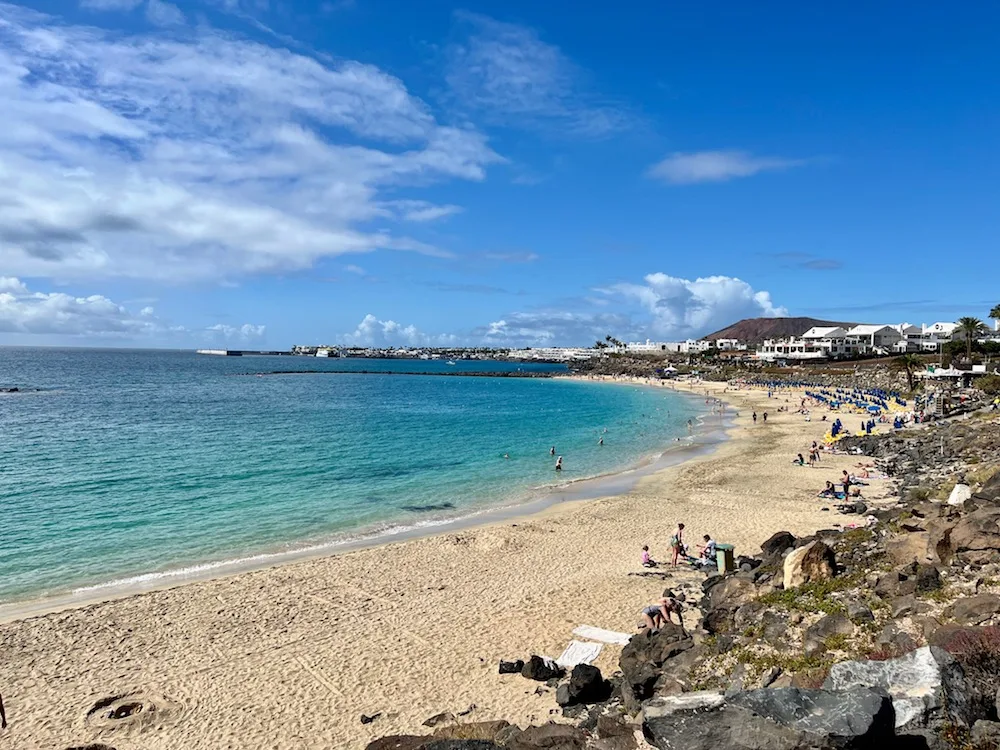 I booked with Jet2 Holidays. It cost £659 in total to stay at Dreams Lanzarote Playa Dorada, all-inclusive.
I opted for an all inclusive package deal with Jet2 because it's just easy. I know and love Jet2 as I've travelled with them so many times and I felt safe and comfortable having everything booked with them.
It was more than I wanted to spend and I really shouldn't have spent so much. I originally found a jet2 package deal for £410 which looked great but when I went to book it wasn't available. The next best thing was quite as nice so I did that thing where I went for a deal £50 more, then £50 more, then £50 more and suddenly I was spending a lot more!
Spa Hotel in Lanzarote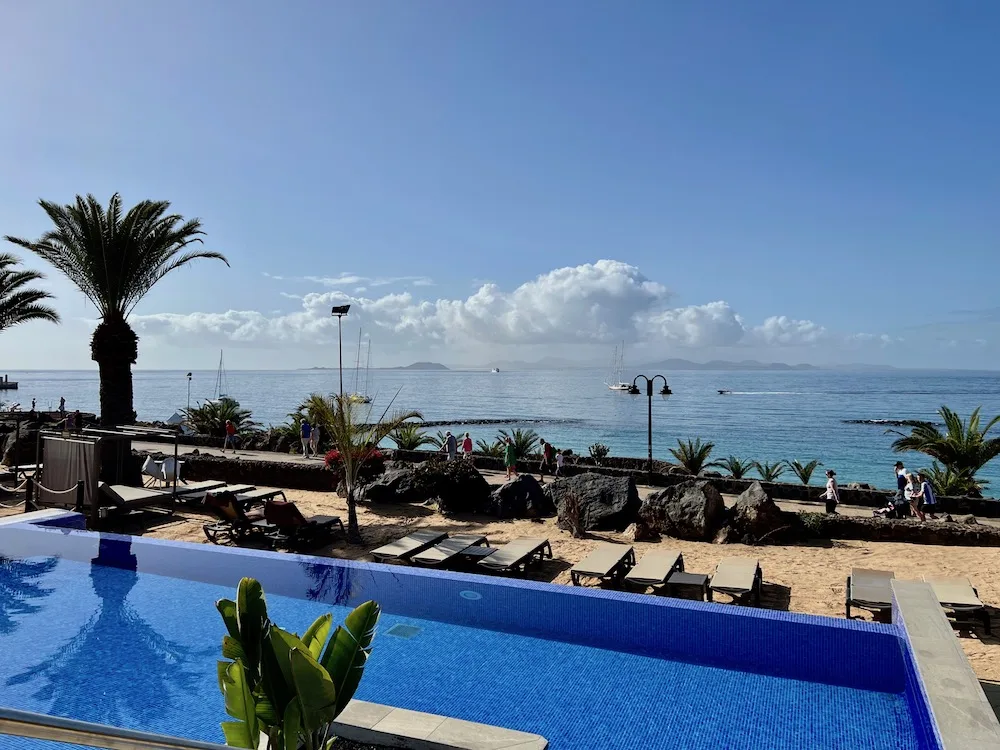 I stayed at Dreams Lanzarote Playa Dorada.
The hotel itself was really lovely and in the most perfect location. My room was nice and spacious, the food was good, the hotel had 8 swimming pools and when you walked out the gates you're right on the beach.
But it wasn't perfect.
I was annoyed to find all the 'exclusive' areas, which had been a huge selling point for me, were actually off-limits unless I paid to upgrade. All those nice photos you see of infinity pools and adult-only pools are an upgrade.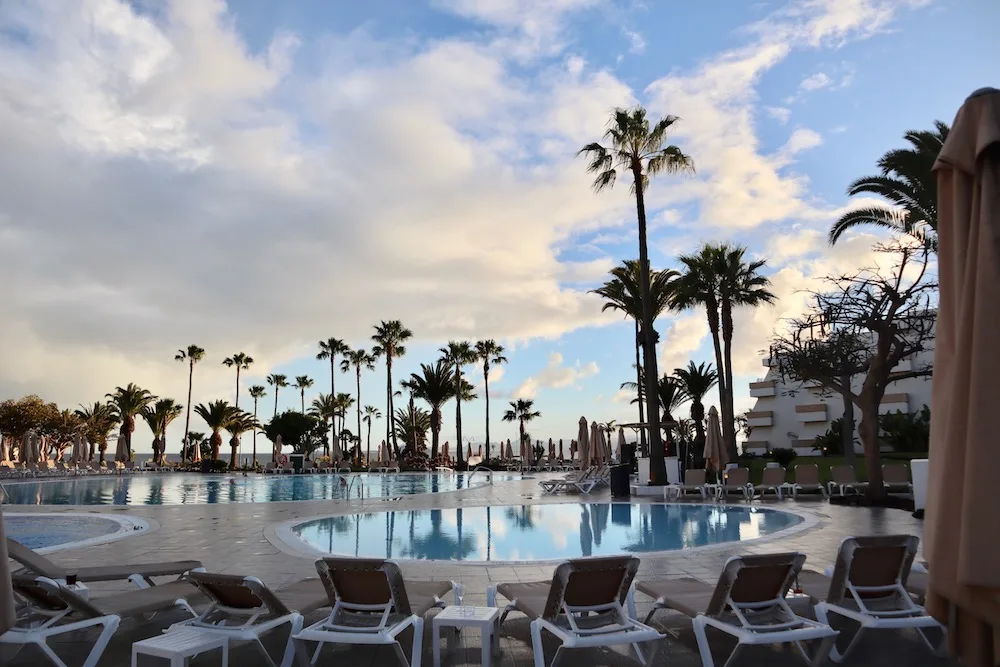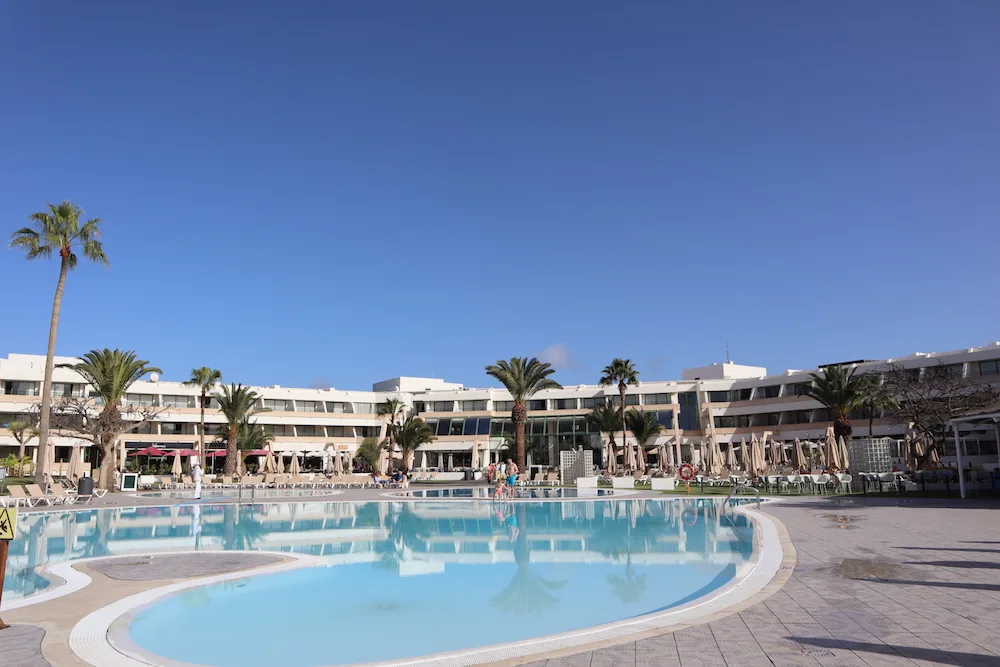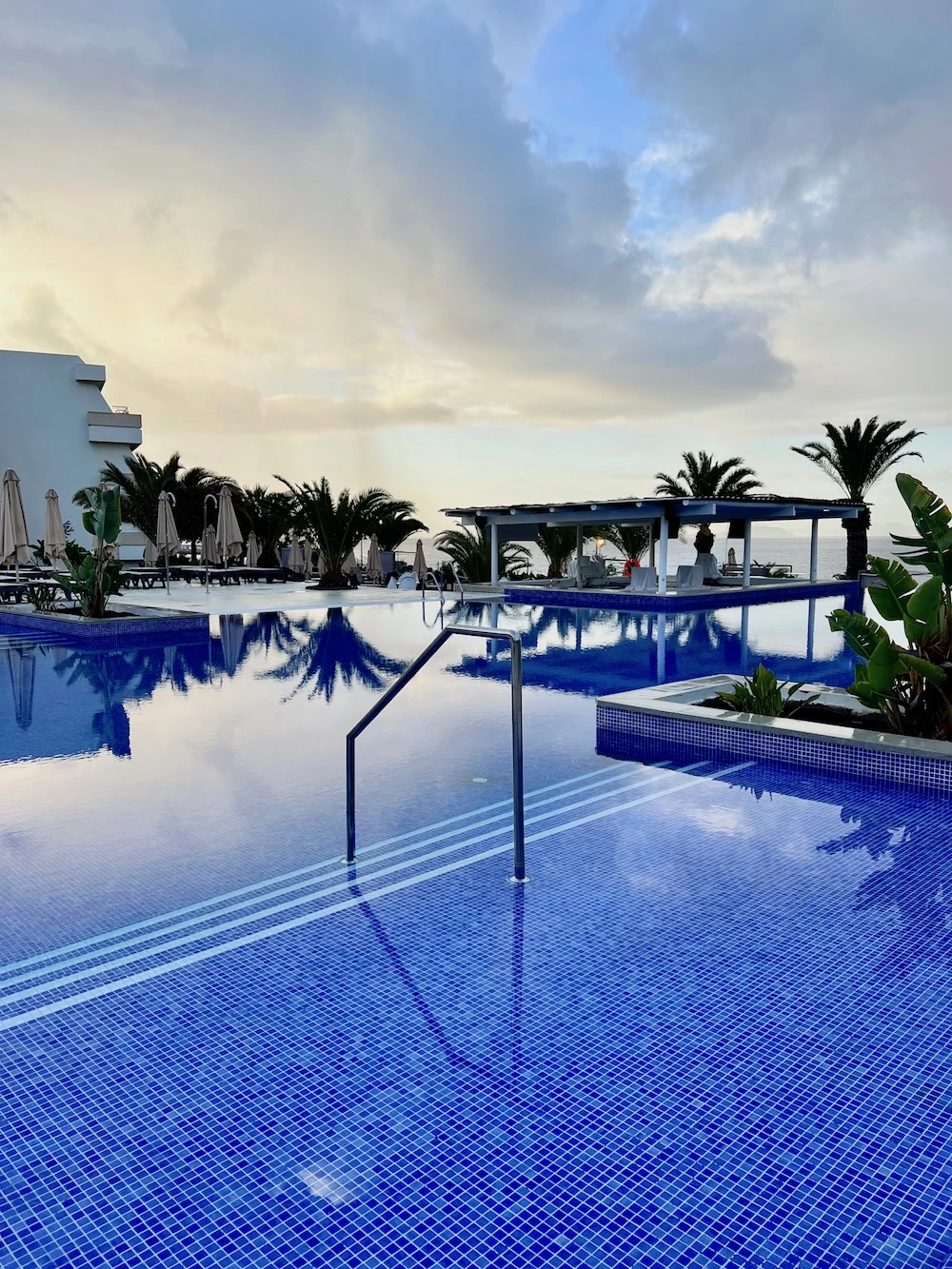 After a long journey to get to the hotel, and then waiting an hour in a queue at reception to check-in (without even being offered a drink), I was then told I had a room at the back of the hotel in the family area facing the children's park. The lady at the check-in desk made a face and wafted her hand vaguely in the direction of the back of the hotel to highlight I'd been shoved in the undesirable area and it wasn't very nice.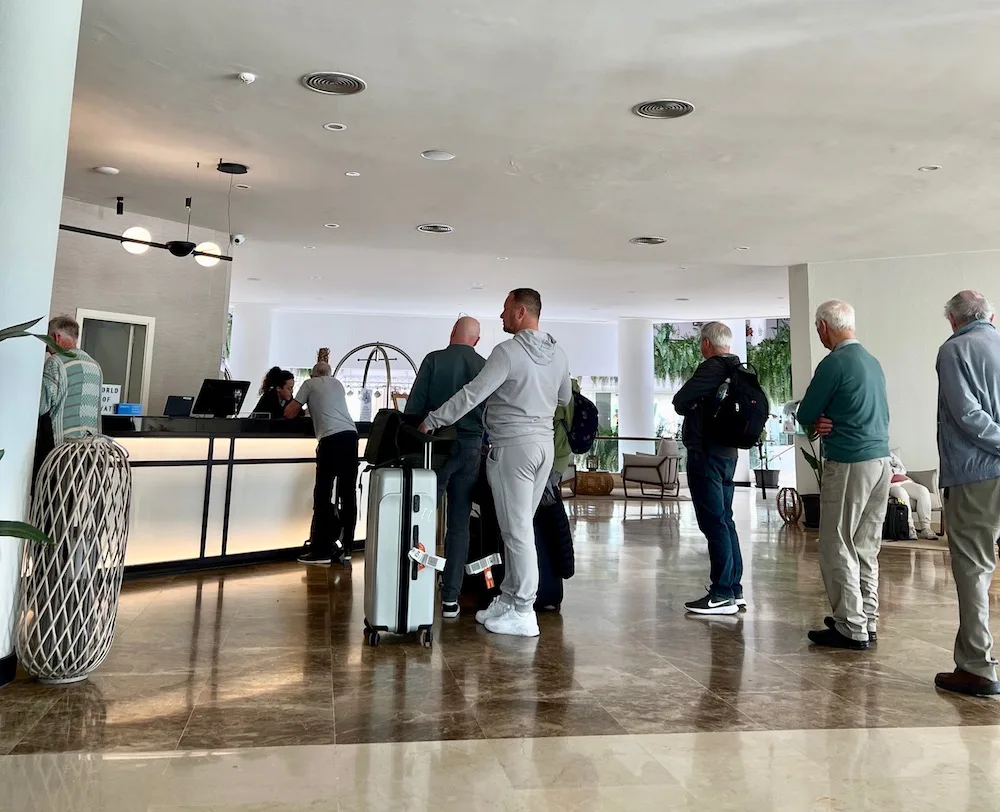 'But don't worry,' she said brightly! 'You can stay in the nice, adult area with a nice view…for 70 euros a night'.
I wasn't expecting a free upgrade but I was annoyed they'd put a single ADULT traveller in the family area when there were rooms available elsewhere. So I refused the upgrade on principle, especially when I'd already paid over £650 for a 2 night holiday!
Maybe I was cutting my nose off to spite my face. I wasn't expecting an upgraded room but I felt like I'd been purposely put in a bad room to encourage me to pay extra for an upgrade.
I was eventually offered a drink once I was half way through check-in, but it was just half a glass of lukewarm Prosecco. It definitely wasn't the 'welcome cocktail and cool flannel' the website promised and the whole check-in process wasn't a great start to my holiday.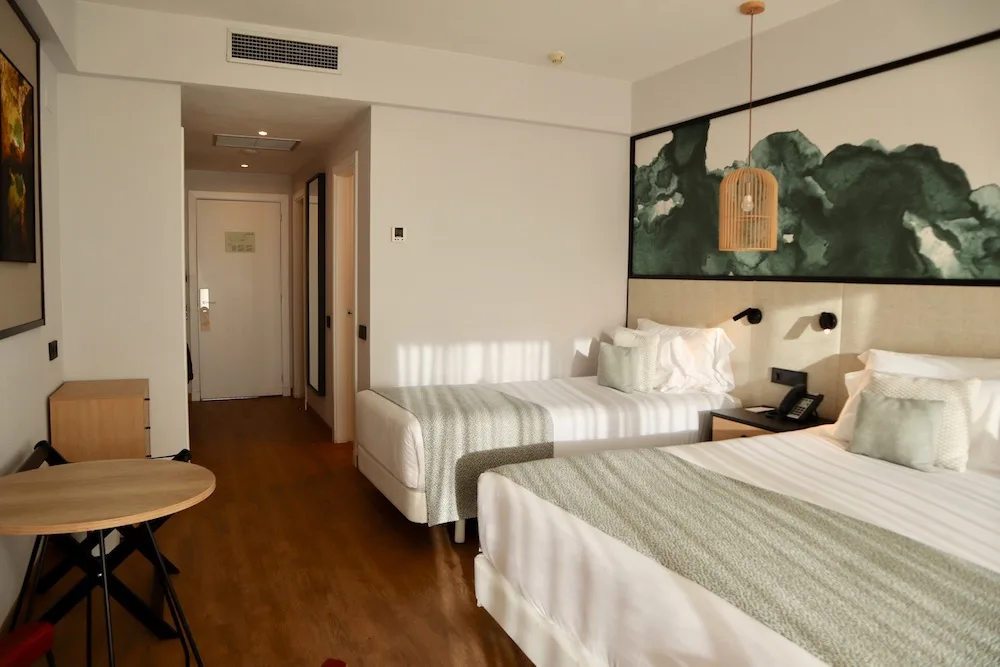 There are more photos from the hotel below.
Thankfully, the rest of the hotel was lovely. The food was good and everywhere felt spacious, clean and welcoming.
Playa Blanca, Lanzarote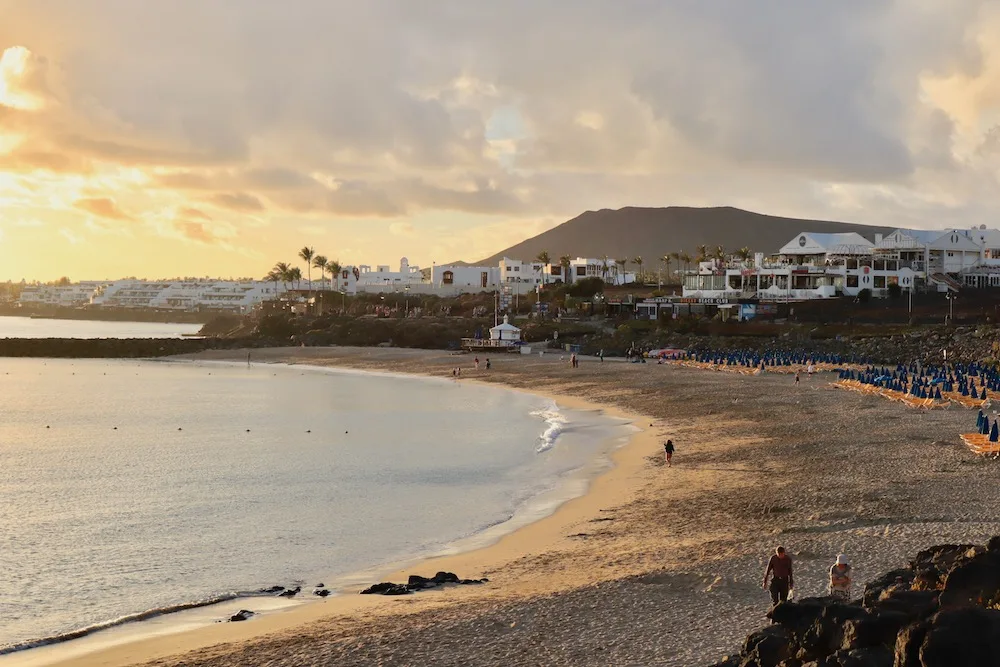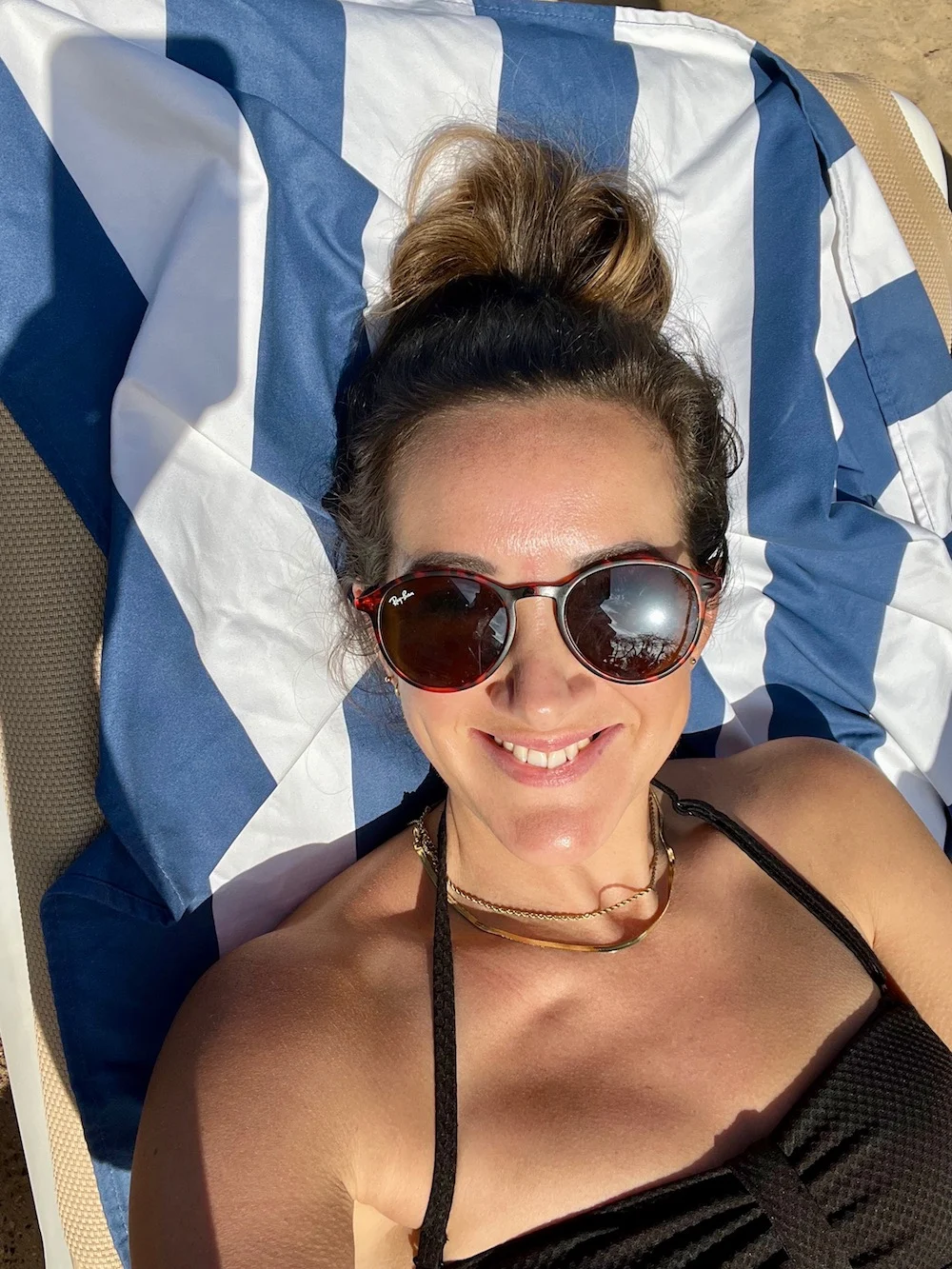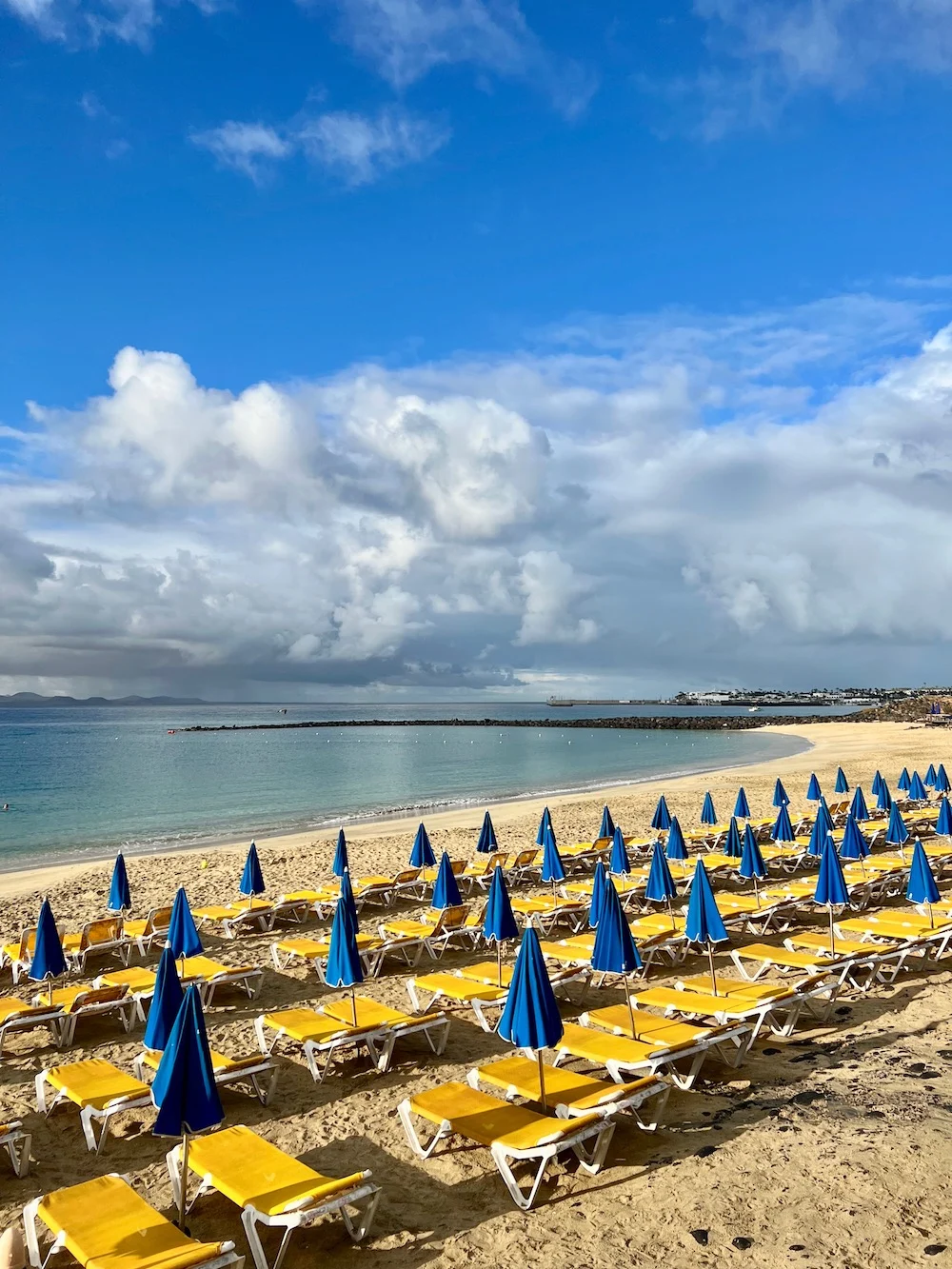 I LOVED Playa Blanca. It was really chilled so it was perfect for a solo spa break.
The area was mostly filled with young families and older couples. Despite it being February half term in the UK, it felt quiet and calm.
Playa Blanca is a new resort in Lanzarote and there is still building work going on. There was actually building work next to my hotel but I didn't notice it until just as I was leaving so it didn't impact my stay at all.
There's a long, wide promenade to stroll along in Playa Blanca all along the coast. At one end there's a pretty marina and the other end is busy with cafes, bars, restaurants and shops. It's lovely to stroll along here and I loved walking from one end to the other after dinner.
The beach is also really beautiful. It's sheltered in a protective, man made cove so it's calm and warm and perfect.
I will definitely be returning to Playa Blanca with my kids.
I don't think I would stay at Dreams Lanzarote again, I would look into staying at the hotel next door, Princesa Yaiza Suite Hotel Resort. The main reason for saying this is because I could hear the kids club in this hotel and it sounded like so much fun. The kid's club at Dreams Lanzarote was very quiet in comparison so Princesa Yaiza Suite Hotel Resort is obviously much more popular with families.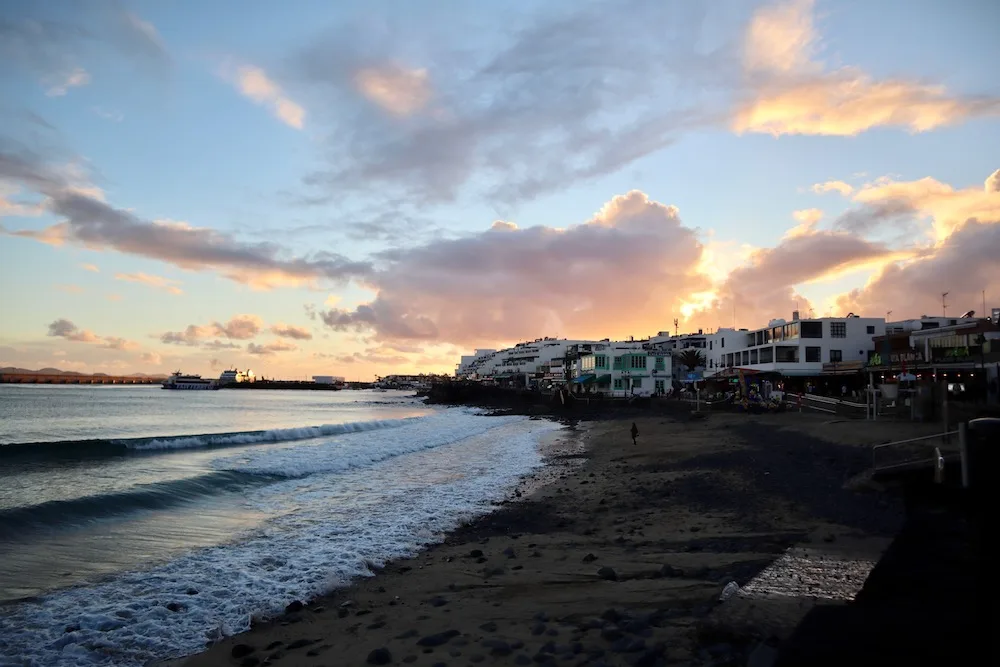 The spa
I'm not going to lie, the spa at Dreams Lanzarote was VERY disappointing. The staff were unwelcoming and you had to pay extra to use the spa swimming pool, jacuzzi, sauna and steam room. The wooden beds around the pool were uncomfortable and it felt like being in an underground, concrete bunker.
I paid to go in and lasted about 8 minutes.
The spa also doesn't open until 13:30, which seemed like a missed opportunity during the winter months when it's often cloudy in the morning in Lanzarote. A morning spa treatment would be lovely before the sun breaks through the clouds.
Spa treatments were very expensive, but they're a normal price for what you'd find in a luxury hotel so this was to be expected. I went into the spa to enquire about a massage and was told to go back later. So I went for a walk down to the beach and ended up having a foot massage on the beach for 20 euros and it was lovely!
OK, so admittedly, this was less of a spa break and more of a 'relax and look after yourself' kind of break.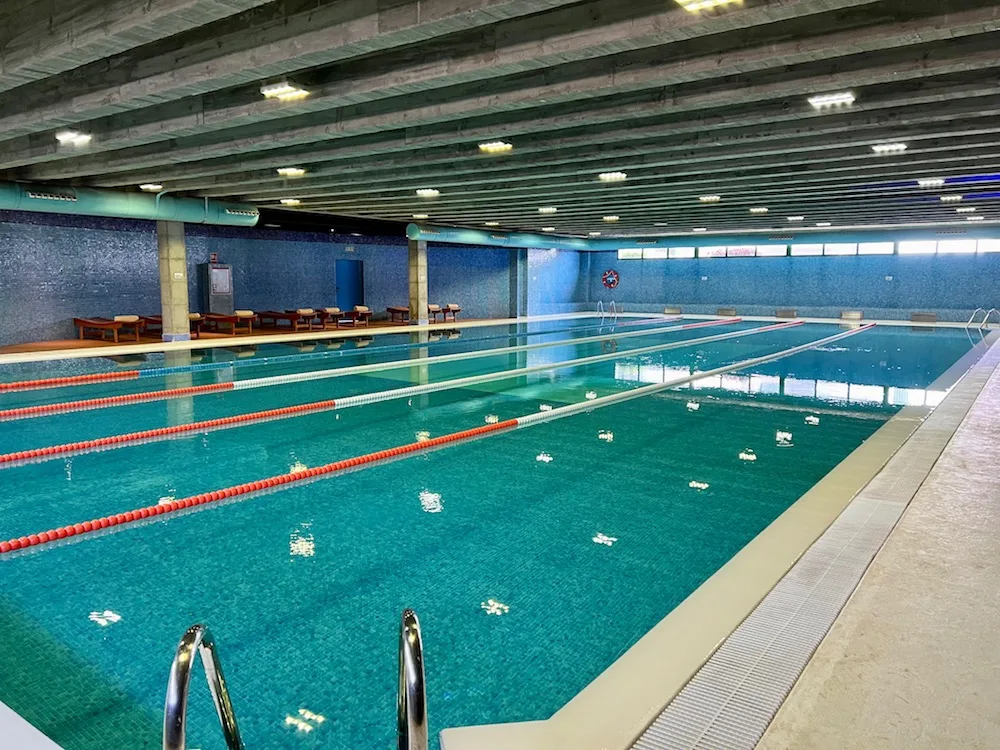 Things to do in Playa Blanca, Lanzarote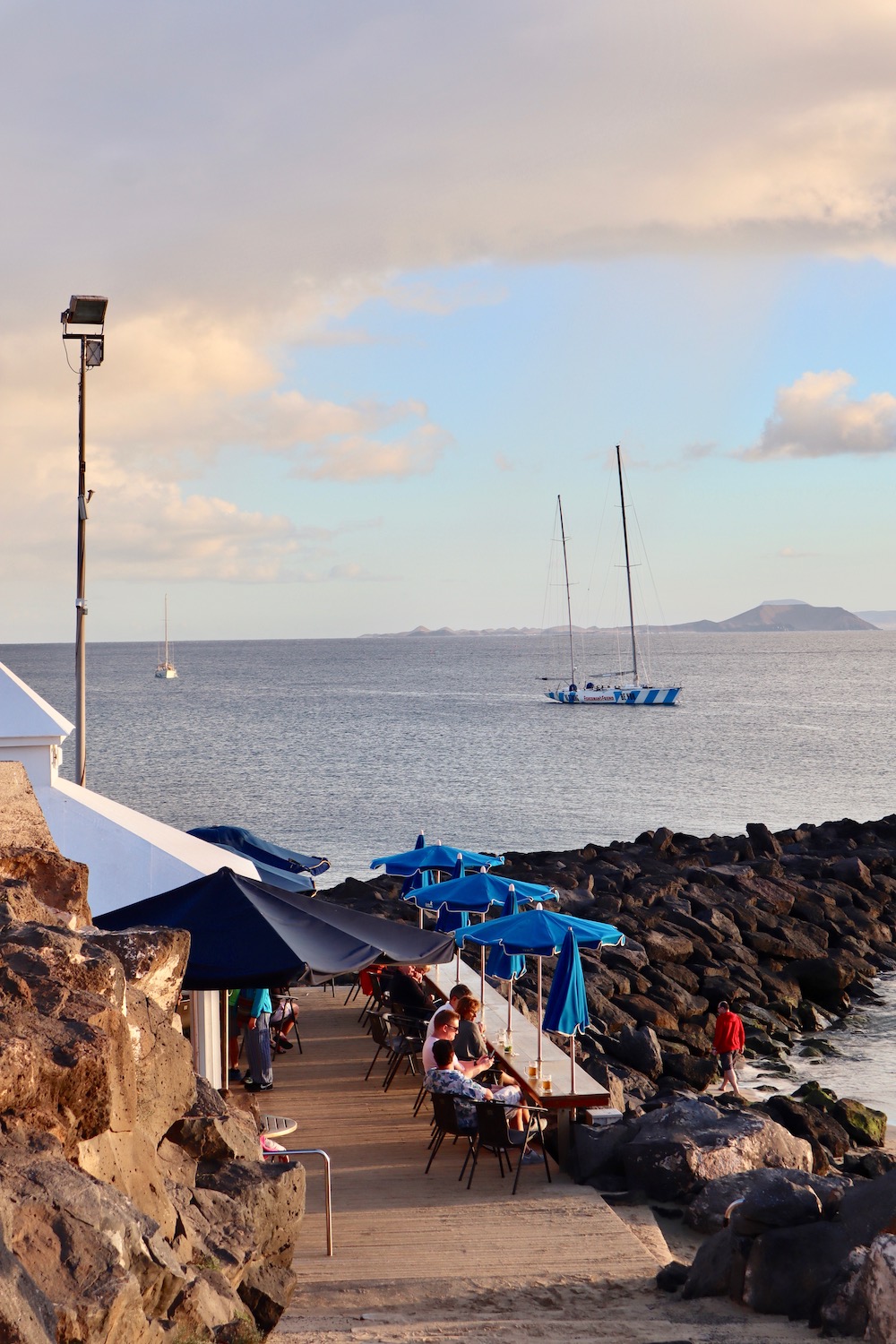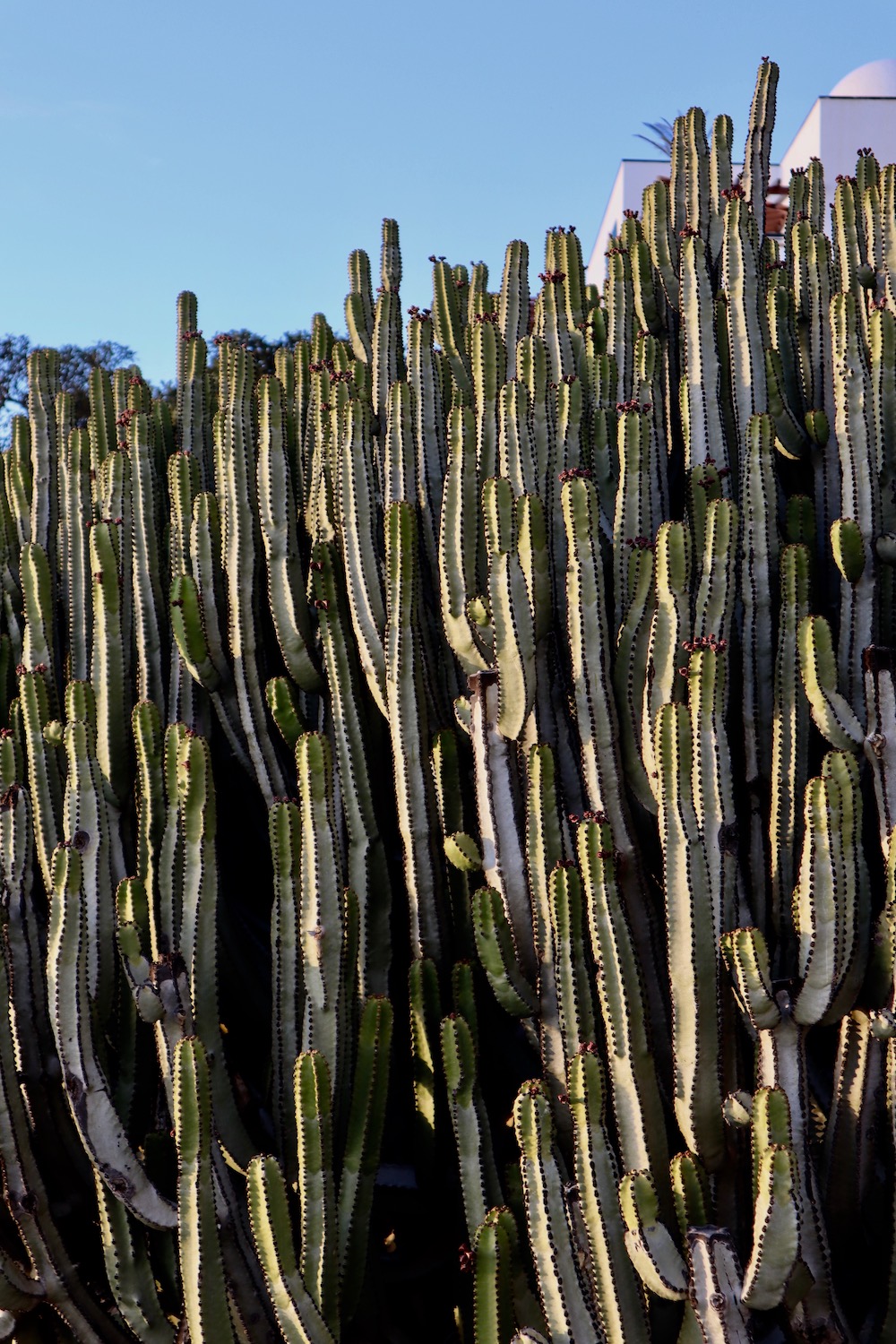 I wouldn't recommend a holiday to Lanzarote if you're a 'do-er'. Lanzarote is an island to relax, enjoy the sunshine, maybe do a few watersports and enjoy the local restaurants and bars. If you want to be doing daily activities then you're going to be sadly disappointed.
There are a few things you can do but a holiday to Lanzarote is mostly centred around your hotel and the beach (so pick a good hotel!)
You do need a car to reach most places and my friend Chloe has a load of suggestions over on Wanderlust Chloe.
If you want an adventure, this volcano buggy tour looks like a lot of fun.
For an easy way to see the main tourist attractions on Lanzarote then this full day Lanzarote tour would be a great option.
If you've got kids with you then a day at Aqualava Waterpark is a must.
And if you want to see some Lanzarote's best beaches and enjoy some kayaking too then check out this catamaran boat trip to the Papagayo beaches.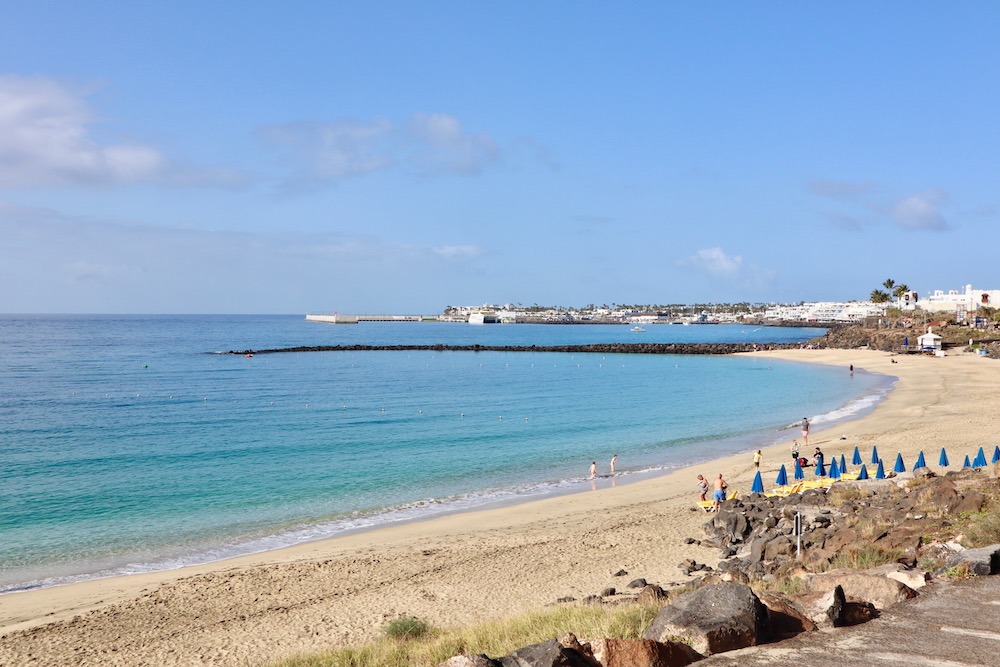 Thoughts on the solo spa break
Two nights was enough. I would have been bored and lonely for any longer.
Lanzarote definitely isn't too far for a 2-night break.
The weather in Lanzarote in February was lush. It reached about 23 degrees C and was sunny and bright.
But having a hotel with heated swimming pools is a must!
I didn't feel self-conscious or weird being alone.
But I would have preferred to have a friend with me.
I could have done it A LOT cheaper by not doing an all-inclusive package deal. I don't feel like I got my money's worth from the all-inclusive.
If I were to go again, I'd book cheap flights with Ryanair and a cheap place to stay on Booking.com. There are lots of villas and lots of places to eat out and it would be easy enough to book a private transfer or catch a cab when you arrive.
I would definitely go back to Playa Blanca.
I will 100% be doing this again!
If I was going with the kids, I'd stay at Princesa Yaiza Suite Hotel Resort because the kid's club sounded like a lot of fun.
If I were to go again…
If I were to go to Lanzarote again I'd definitely still stay in Playa Blanca.
I'd book cheap flights with Ryanair (honestly, SO cheap from Manchester)
And I'd book a little apartment like this.
And an airport transfer here.
More hotel photos