You don't need me to tell you there are so many famous buildings to see in Barcelona! But to make it a bit easier to plan your trip, I've got 10 of Barcelona's most famous buildings to see when you visit Barcelona!
There really is nowhere else in Europe that does architecture like Barcelona. Some of the most famous architects in history, like Antoni Gaudí, used Barcelona as a canvas to build quirky, majestic and groundbreaking (no pun intended!) buildings. And there are lots of impressive medieval, Gothic and contemporary examples around the city too.
Here are 10 of the most famous buildings you have to see in Barcelona
1. La Sagrada Familia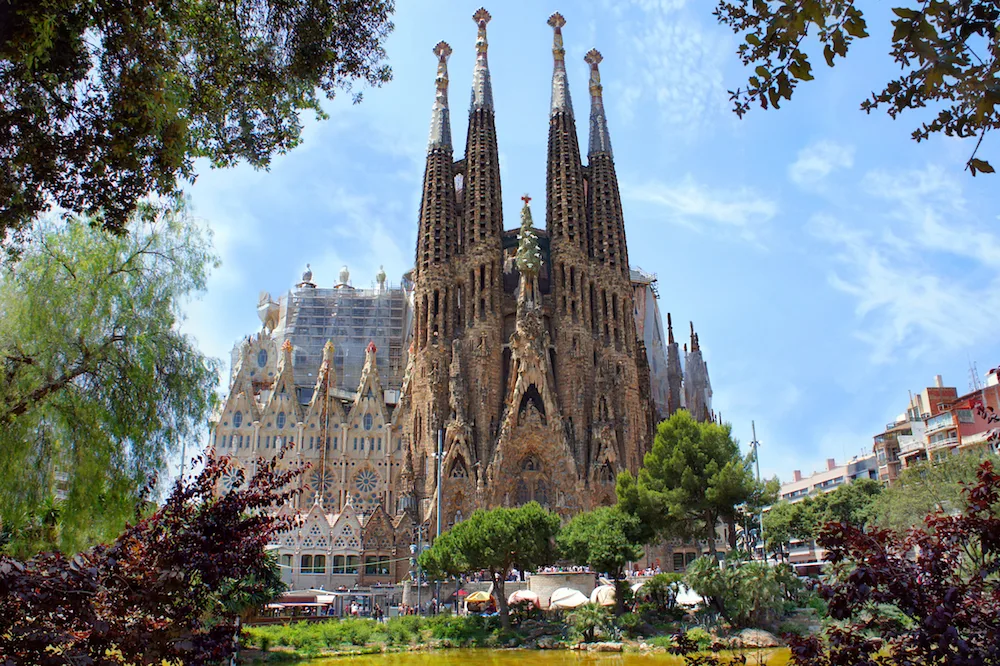 La Sagrada Familia (or Basilica of the Holy Family) is without a doubt one of the most famous buildings in Barcelona and one of the most famous churches in the world. Five million people visit this 'unfinished' church every year. And over 20 million people visit the area just to look at it!
This UNESCO World Heritage Site is the brainchild of Barcelona's most notable architect, Antoni Gaudí. He became director of the project when he was just 31 years old and broke ground in 1882. His plans were incredibly ambitious as he wanted the church to have three facades, five naves, and 18 towers. The tallest tower (not yet built) will be the highest in Barcelona.
But overambitious plans aren't why La Sagrada Familia remains unfinished. Gaudí died suddenly in 1926 when he was hit by a tram. And in 1936, the blueprints were destroyed during the Spanish Civil War. Catalonia wasn't exactly raking in the cash afterwards so funding was a major issue that stalled the project for decades.
One silver lining of La Sagrada Familia's endless construction is that it has an unusual and eclectic mix of Catalan modernist, neo-Gothic, and Art Nouveau architectural styles. It's also huge and absolutely stunning! Definitely buy your tickets in advance to avoid having to join the long, snaking queues around the Eixample district.
And when can you expect the famously unfinished cathedral to finally be finished?! It's slated for total completion in 2026, the 100th anniversary of Gaudí's death.
2. Casa Milà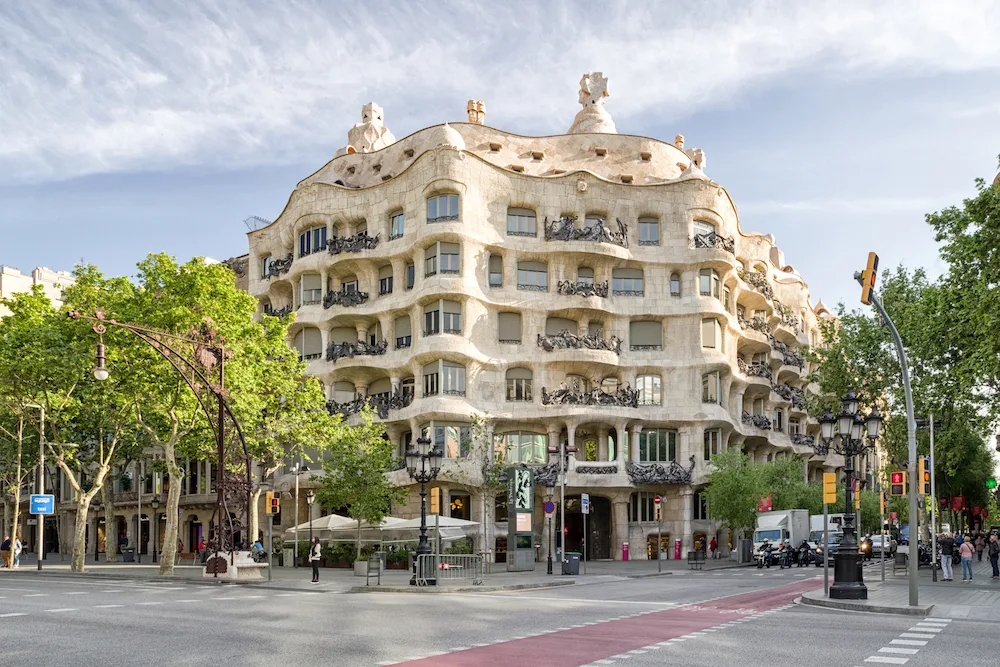 Yes, there's a good reason why everyone who visits Barcelona knows about Gaudí. If only he appeared on more pub quizzes! But the second most notable building in Barcelona has to be Casa Milà, also designed by the city's most famous son.
Casa Milà was the last private residence that Gaudí was commissioned to design and you'll find it on Passeig de Gràcia, an elegant and affluent street. Its widely-used nickname 'La Pedera' means 'stone quarry' because the locals thought the building's grey stone facade resembled a rough open quarry. It's safe to assume they weren't in love with the design of this building when it was built in 1912!
Luckily, locals and tourists have grown to love its Catalan Modernista architectural style. Casa Milà is now a cultural and educational centre but parts of the building are still residential apartments.
It's well worth visiting the building rather than just admiring it from the street because the rooftop terrace is spectacular. Not only for the gorgeous views of Barcelona but because of the unusual stone chimneys and curved fire escape staircases that will make you feel like you're in a Dalí painting. Don't visit it while tipsy or you might topple off!
3. Casa Batlló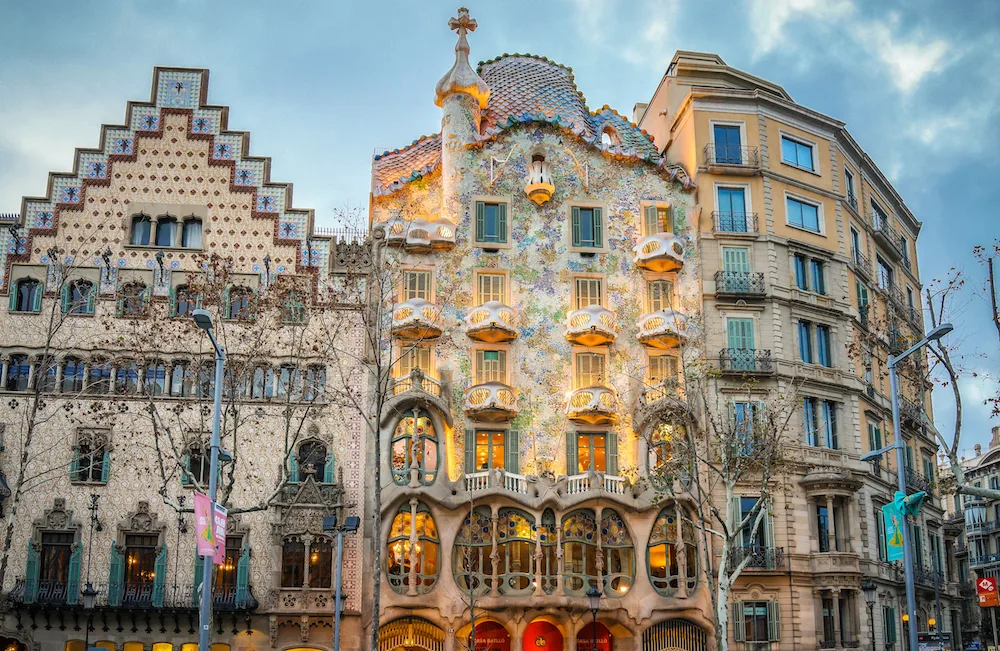 Just around the corner from Casa Milà in the Eixample district is Casa Batlló, an earlier residential home that Gaudí designed in 1904. Though he didn't build a new structure from scratch as there was already a building on this site, he still managed to add his signature flair to the remodel.
Casa Batlló has not just one, but two nicknames which are 'House of Bones' or 'House of the Dragon'. The pastel, marine-coloured mosaic tiles on the facade and roof resemble dragon scales. And the curved white balconies that adorn most of the windows have a skeletal appearance. It sounds very weird but I promise it looks so cool!
Gaudí was inspired by both nature and fantasy. He liked to incorporate natural shapes and bright, playful colours into his designs and he definitely accomplished both with Casa Batlló.
Some also think that the dragon symbolism on the facade is a nod to St George, the patron saint of Catalonia. And since he's also England's patron saint, Brits should know that he slayed one of the mythical fire-breathing creatures!
Casa Batlló is now a museum and you can visit the entire house, including the roof terrace. It looks just as impressive inside as it does outside with thousands of colourful tiles covering the entire building from the floors to the curved ceilings.
4. Palau Güell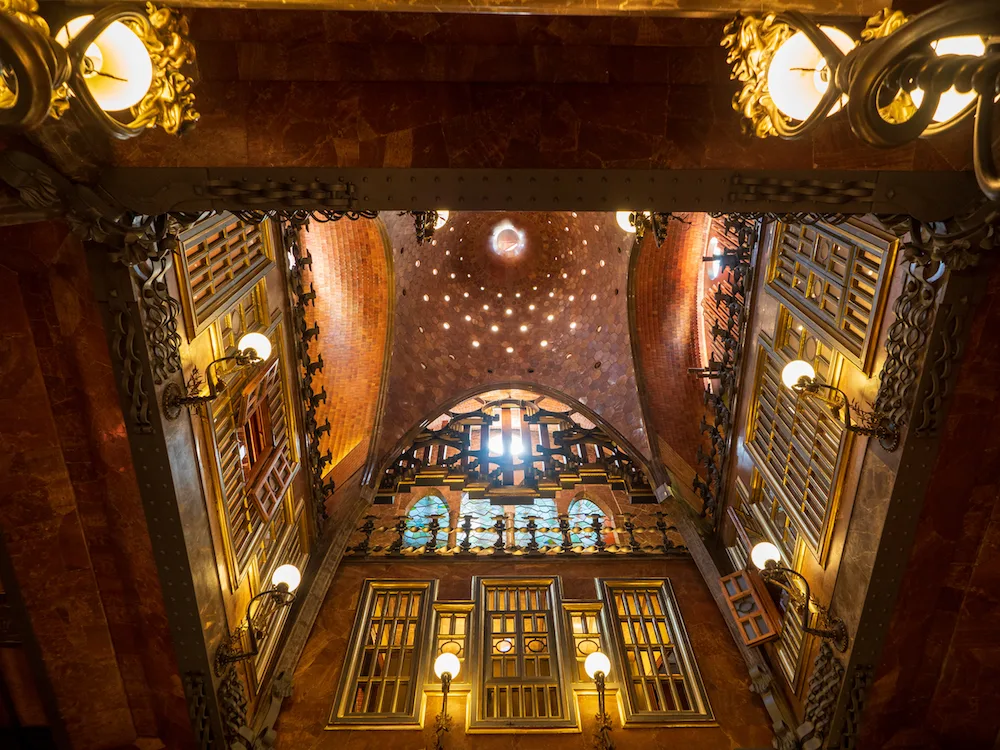 Gaudí built Palau Güell as a private residence for the entrepreneur Eusebi Güell in the 1880s. It was one of his earliest designs and you can find the building in the El Raval district just off La Rambla. It's less easily identifiable as a Gaudí, at first glance, because it looks like the architect actually used a ruler when creating the blueprints.
But once you get up close, you can see lots of ornate details that you'd expect to see on a piece of Gaudí architecture. The iron-wrought front gates are incredibly ornate and the attention to detail is impressive. The brightly-coloured chimneys on the roof are a clear precursor to the chimneys and skylights of Casa Milà. But the pièce de résistance of Palau Güell is the interior because Eusebi Güell wanted an atrium that would wow his important guests. So, Gaudí put holes in the ceiling and hung lanterns above to make it look like a starry sky.
Eusebi Güell lived in this building until 1914 when he moved to Park Güell, which Gaudí also designed. Park Güell isn't just one building but an entire complex with gardens and ceramic sculptures.
Seven of Gaudí's buildings make up the 'works of Antoni Gaudí' UNESCO World Heritage Site. So, if you want to go gaga for Gaudí during your trip to Barcelona, you should also visit Park Güell, Casa Vicens, and La Colonia Güell where you'll find Gaudí's crypt.
5. Cathedral of Barcelona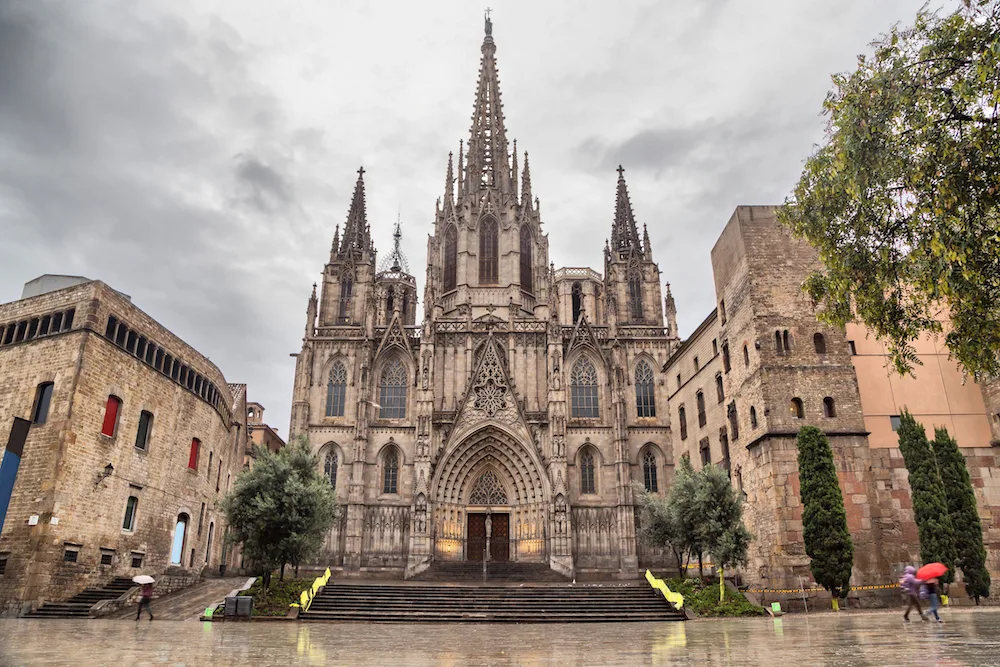 Even though it has more notoriety and millions more visitors, La Sagrada Familia isn't actually Barcelona's cathedral. To use its full name, the Cathedral of the Holy Cross and Saint Eulalia takes the top spot. It's still one of the most famous buildings in Barcelona and one you have to add to your itinerary.
Construction started in 1298 on the Gothic cathedral but it wouldn't be completed for another 150 years. Maybe cathedrals just take a really long time to build in Barcelona and there's actually nothing special about La Sagrada Familia?! But the time and effort were clearly worth it because the imposing building with its stained glass windows and panoramic tower views are amazing. And it looks even better lit up at night!
Pop into the cathedral's garden and you might be surprised to find 13 noisy white geese who live permanently in the cloisters. There is one for every year of Saint Eulalia's life.
You'll find the Cathedral of Barcelona in the Gothic Quarter (fitting, since it's a Gothic cathedral!) and you can buy tickets to include access to the rooftop.
6. Montjuïc National Palace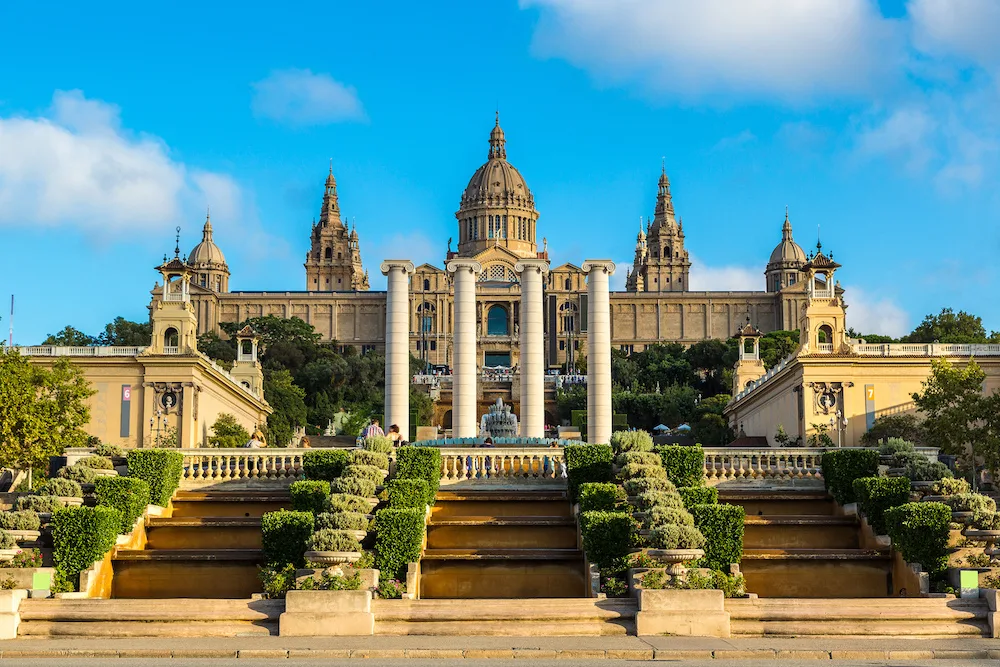 Catch a cable car up to Montjuïc and you won't be able to ignore the scale of Montjuïc National Palace. It was designed by architects Eugenio Cendoya, Enric Catà, and Pere Domènech i Roura for the World Fair in 1929. In 1934, it became the permanent home of the National Art Museum of Catalonia.
This grand, Spanish neo-baroque building looks impressive at any time of day, but it's better to visit it in the evening. In front of the building is a huge, circular water fountain called the Magic Fountain of Montjuïc. From eight or nine in the evening, hundreds gather to watch a show of light and dancing water choreographed to music.
It continues for well over an hour so it's probably some of the best free entertainment in Barcelona! Check the showtimes before you head up there because the display doesn't happen every day during some parts of the year.
7. Torre Glòries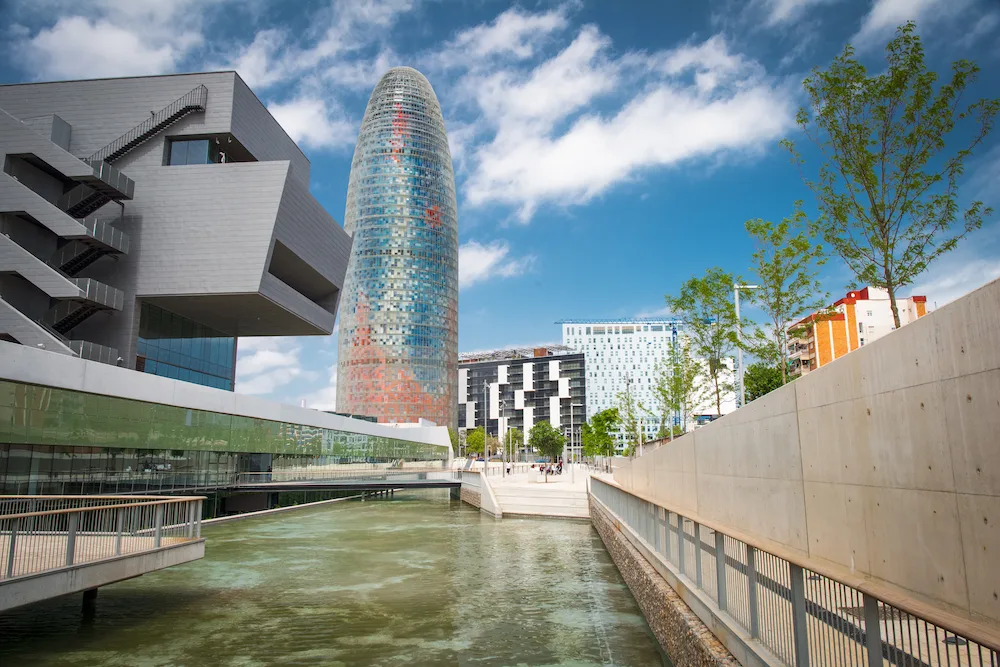 It's easy to forget that Barcelona is a modern city with a thriving technology district when there are so few skyscrapers dominating its skyline. But one that's been there since 2004 is Torre Glòries, previously known as Torre Agbar.
It was designed by the French architect Jean Nouvel and he was inspired by geysers when creating the shape of the building. It seems like an odd choice of inspiration considering geysers are a type of rare hot spring that only exist in places like Iceland, the US, and New Zealand. But that's apparently what inspired Nouvel, and many locals think it looks more like a bullet anyway!
If you look closely at Torre Glòries, you'll realise that it isn't all one colour. The bottom is a fiery red that gradually turns icy blue towards the top. This is intentional and you can see the vibrancy of the colours more clearly at night against a dark sky backdrop.
You can find the 144m tall, 24-story building in Plaça de Les Glòries Catalanes. It's at the heart of Barcelona's tech hub next to a busy but beautiful green space. Most of the building is made up of office space, but there is an observation deck where anybody can go up and witness views across the Mediterranean.
8. Torre de Collserola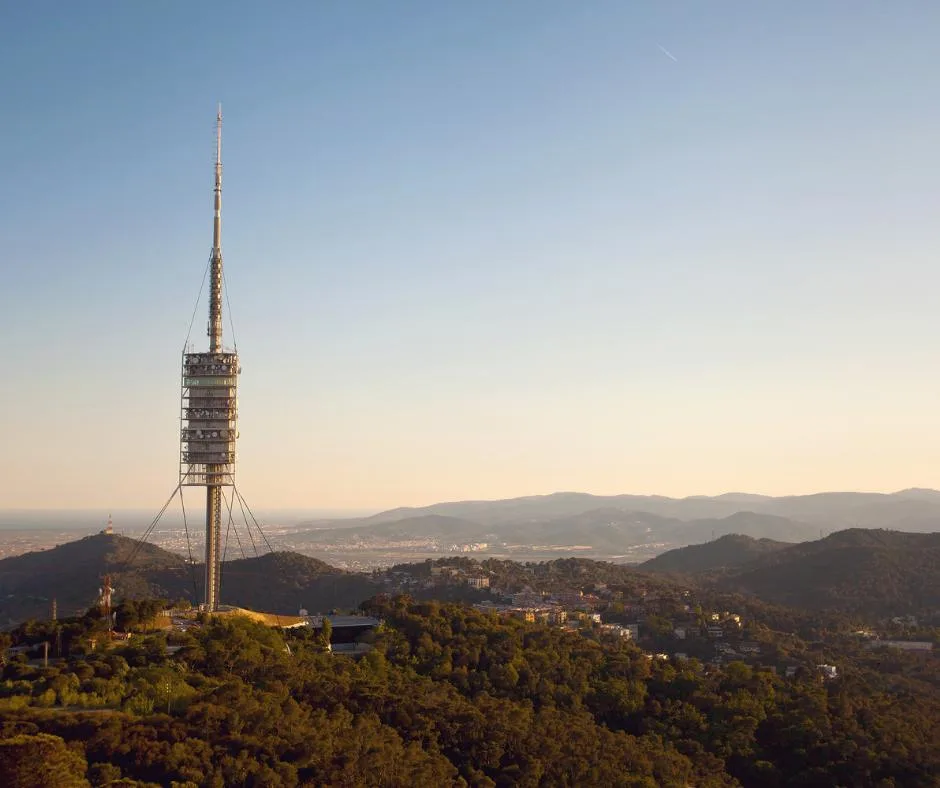 Torre Glòries isn't actually the tallest tower or building in Barcelona; it's Torre de Collserola. It's situated on top of Mount Tibidabo which is the tallest mountain in the Serra de Collserola mountain range. The tower might be 288m tall, but it's 560m above sea level.
Lots of people like to visit Mount Tibidabo when they visit Barcelona because of the amusement park at the top. There's also a cool church called Temple of the Sacred Heart of Jesus, so now you have a third reason to climb up. And by 'climb up' I mean catch the funicular, not actually walk to the top!
Torre de Collserola was designed by world-renowned British architect Sir Norman Foster for the 1992 summer Olympics as a TV and radio transmitter. Though it might not look it, Torre de Collserola is an impressive feat of engineering. It's 3,000 tons of stainless steel held upright by a complex series of reinforced cables. The tower also has a visitor space on the top floor offering unrivalled views across the entire Catalan region.
9. Casa de Les Punxes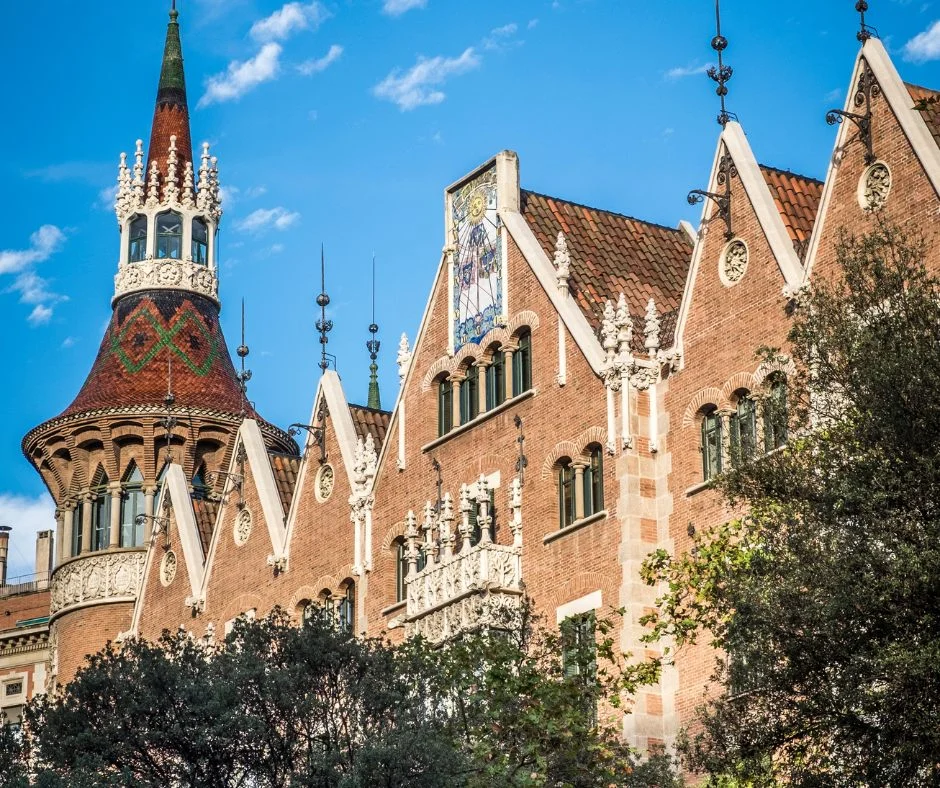 It's totally understandable if you think that Gaudí was the only notable architect in Barcelona in the early 20th century. But there were lots of other great designers, like Josep Puig i Cadafalch who built Casa de Les Punxes in 1905.
Casa de Les Punxes means 'House of Spikes' and it's named after the six medieval-style turrets on the roof. This private house was commissioned by the Terrades Sisters who were part of a wealthy Catalan family. They wanted to combine the three houses they owned into one large mansion.
Like Gaudí, the house was designed in the Modernista style with bright, mosaic tiles on the roof and ornate balconies and window boxes. It was made a national monument in 1976 and quickly became one of the most famous buildings in Barcelona.
Unfortunately, the building never reopened to the public after the pandemic and it looks like it never will! It's now a co-working space. But if you're a digital nomad or fancy taking a workation in Barcelona then it could be one of the most historic and beautiful co-working spaces you'll ever visit.
10. Camp Nou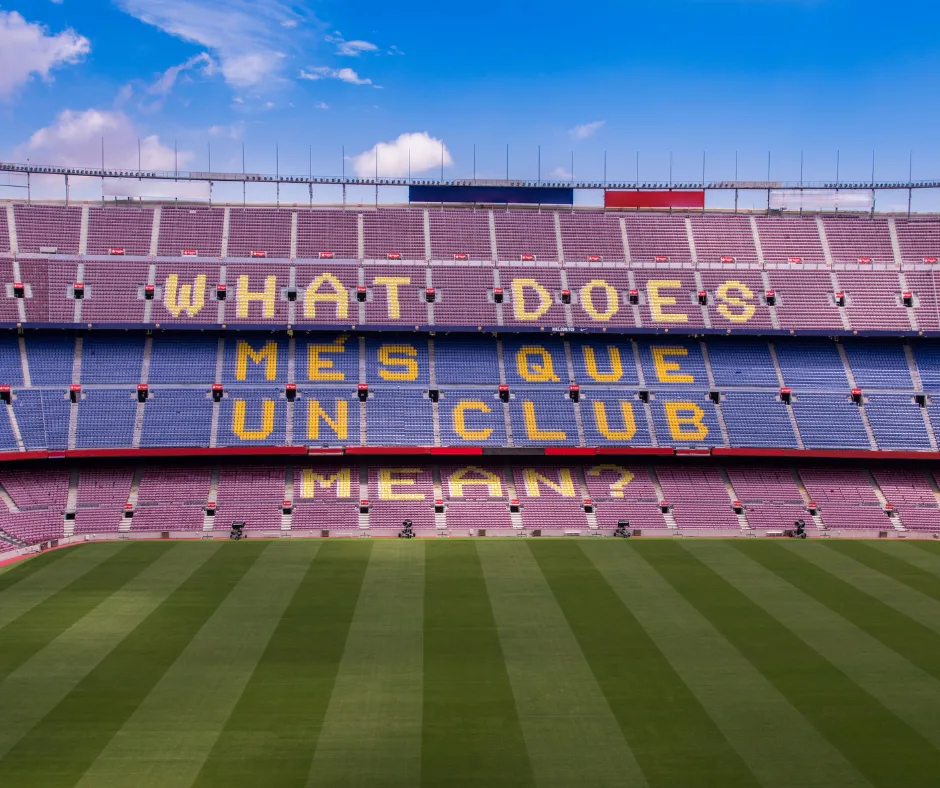 There's no way I couldn't include the biggest stadium in Europe, Camp Nou. This is the home ground for FC Barcelona FC and has the capacity for almost 100,000 people. It opened in 1957 and was one of the venues during the 1982 FIFA World Cup.
The architects involved in the stadium's design include Sir Norman Foster, who designed Torre de Collserola, and three local Catalan architects.
Visiting Camp Nou is easy. You can just book a ticket to watch a football game! But if you'd rather see the stadium without tens of thousands of screaming football fans, head there during the day where you can join a stadium tour and check out the on-site museum.