Today's post is somewhere between a travel journal and a simple list of things to do in Aruba. I wrote a journal while I was away and wanted to share it but I also know most people come here looking for a straight-forward list of ideas for their holiday!
So here you go, 20 of my favourite things to do in Aruba combined with my travel journal from my recent trip.
As you'll see, we squeezed A LOT into just four days in Aruba. This was a press trip, not a normal holiday, so we did a lot! It was great fun but I wouldn't recommend doing so much each day. There are enough activities and restaurants mentioned here to keep you busy for at least a week with plenty of time to relax and enjoy Aruba's beaches in between.
Aruba Travel Tips
Before we go any further, I have a few travel tips to share:
I recommend hiring a car for all or part of your journey in Aruba. It's an easy island to drive on and makes it much simpler to get around and see everything Aruba has to offer.
It's best to pre-book many of the restaurants. You can book online for lots of them.
Parking in some areas can be a little difficult so arrive early for meals and activities to ensure you've got time to park.
There's a delightfully warm breeze in Aruba which is lovely but it can be deceptive and you don't realise how hot it is. Don't forget to wear sunscreen and cover up.
There's a new flight to Aruba launching in March with British Airways. It will fly direct from Gatwick and take 11.5 hours and prices start from just under £600.
Day One in Aruba
Stay at Boardwalk Hotel Aruba!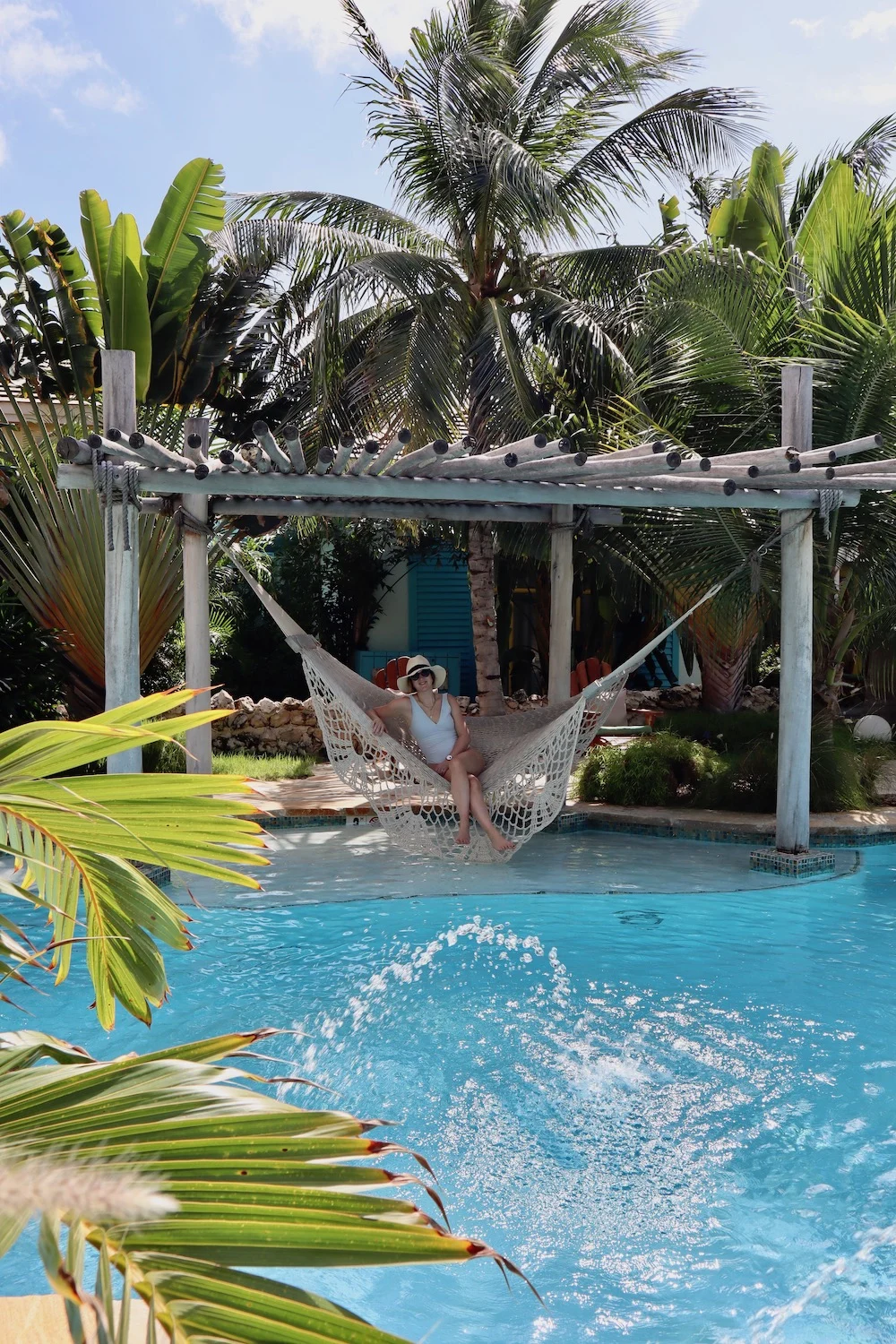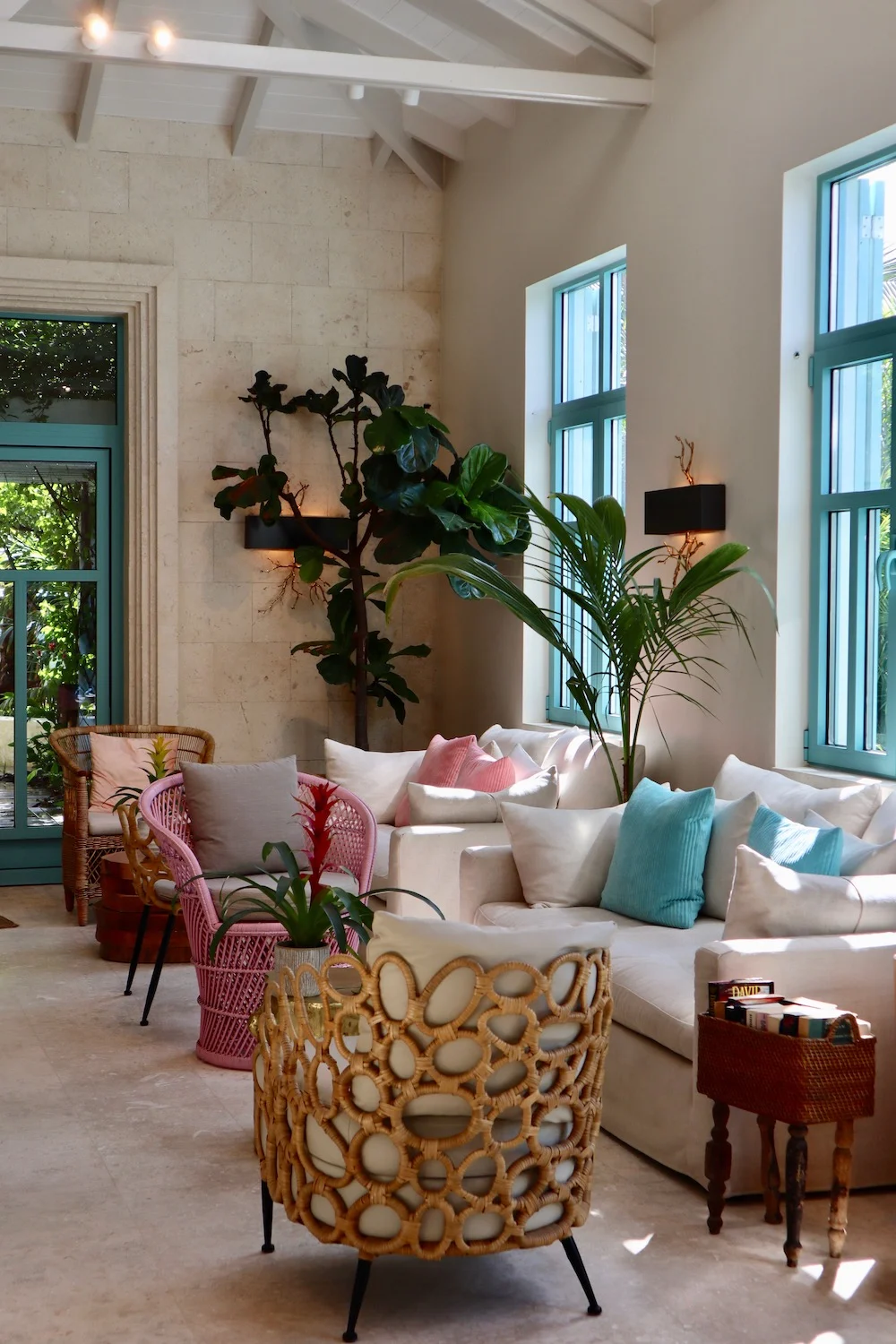 Waking up in a plush, king size bed and sleepily padding out onto our enormous veranda was the perfect way to start each day. Emily had usually already made coffee and I'd take it outside to watch the watch the birds chirping merrily while lizards zipped across the already hot tiles and a warm breeze was rustling through the palm trees.
I noticed a small, black kitten was curled up on our outdoor sofa as I inhaled the musty morning air. It was thick with unfamiliar tropical scents and a humidity we can only dream of in the UK. This is air that makes your skin sticky and my hair wild, but I love it.
Our huge veranda has a large hammock swing, a rocking chair, a BBQ and a sofa and it looks out over the tropical paradise of palm trees. The palms and the trees below are gorgeous but it's the birds I'm really enjoying. They're so close, so colourful…and so loud!
We had breakfast with Shari, the hotel manager, who joined us on our terrace for a relaxed breakfast which was delivered by the onsite restaurant, Eduardo's. We had platters of fresh fruit, acai bowls, scrambled eggs, cakes and toast as well as plenty of coffee.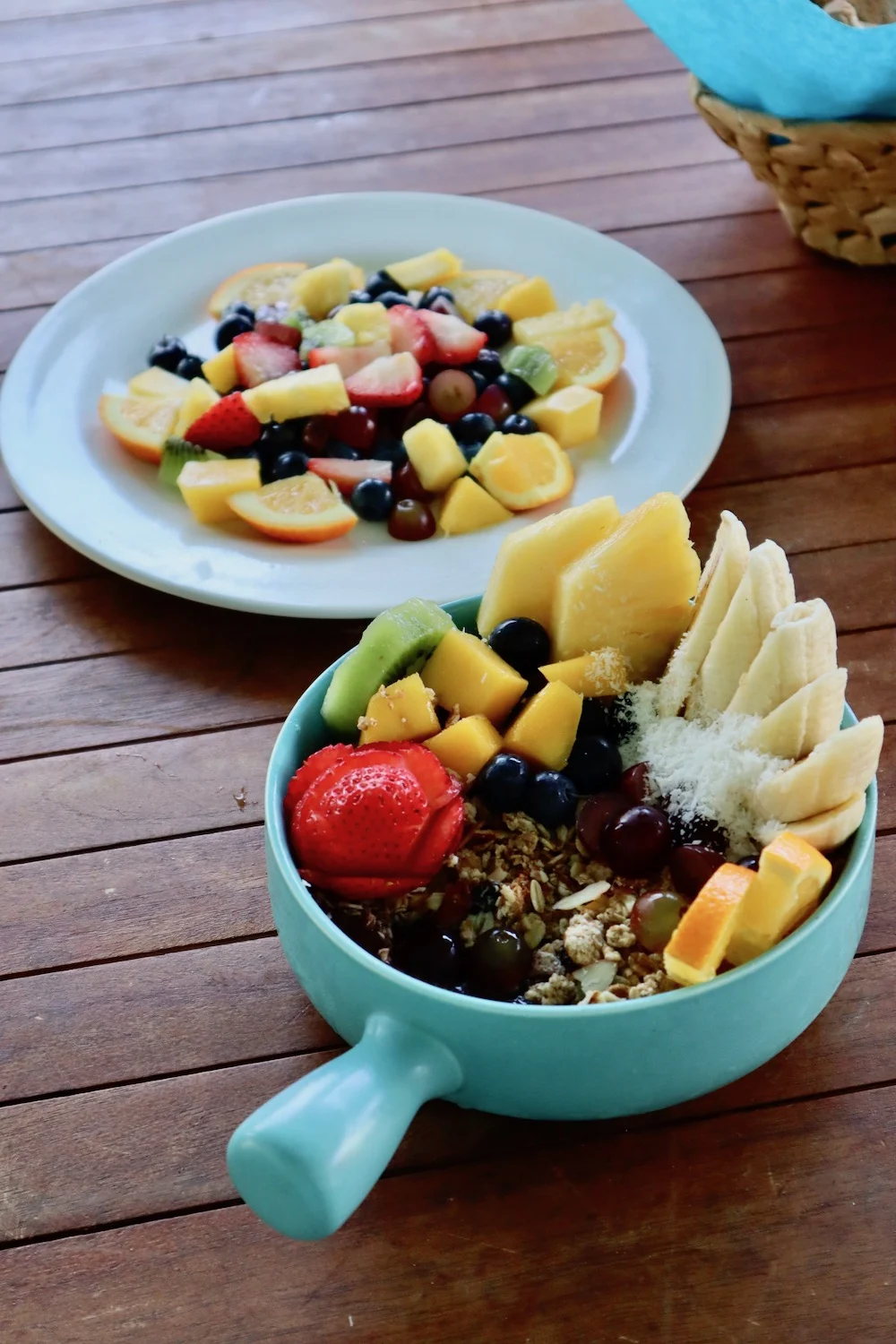 It was a relaxed start to the day, partly helped by the jet lag coming over from the UK which meant we were a few hours ahead, before we headed into Arikok National Park.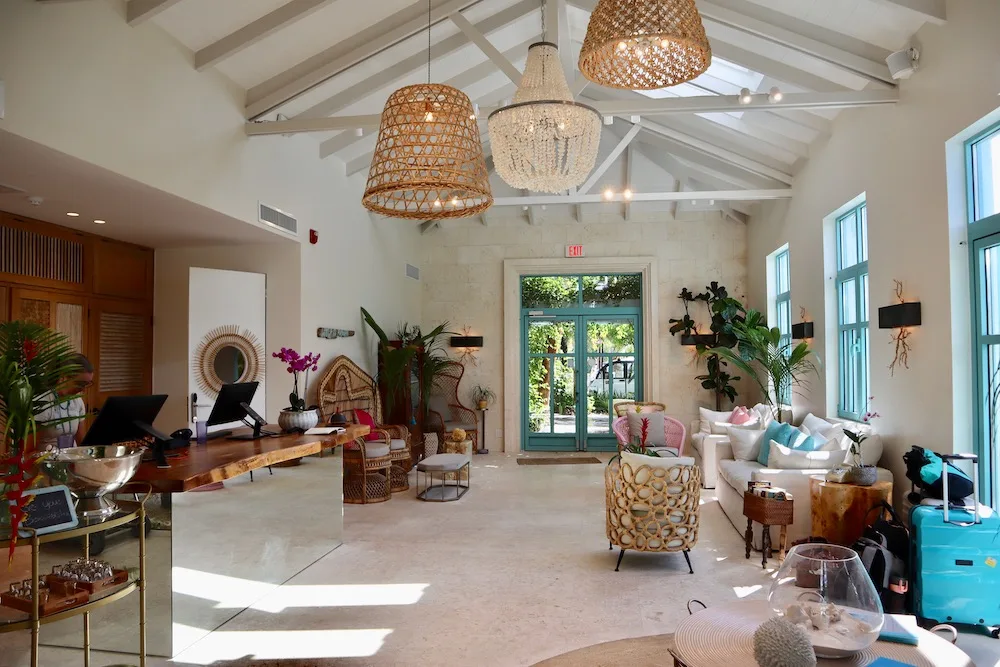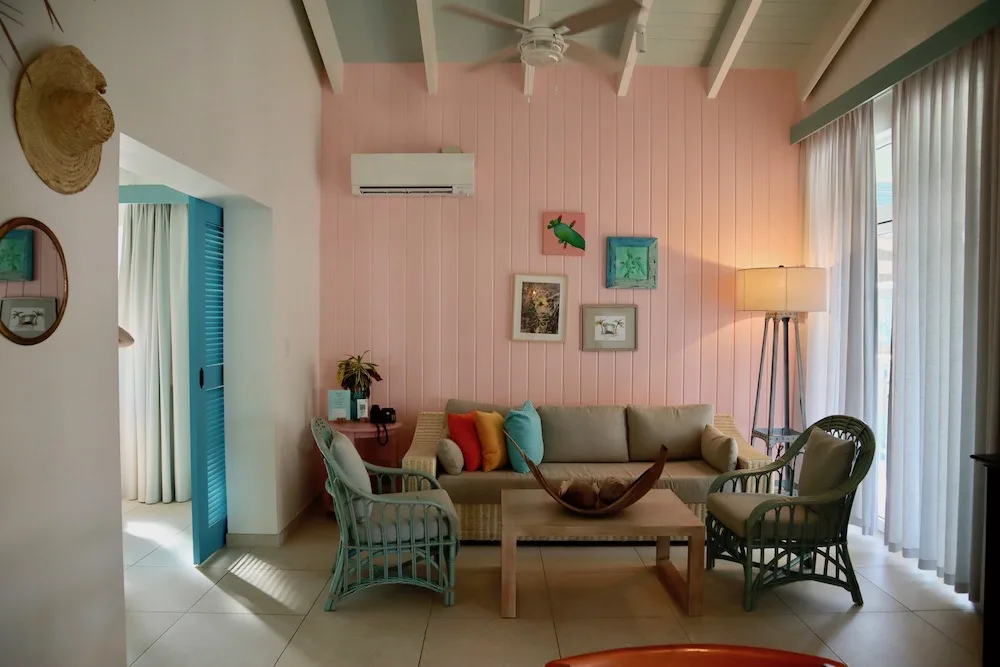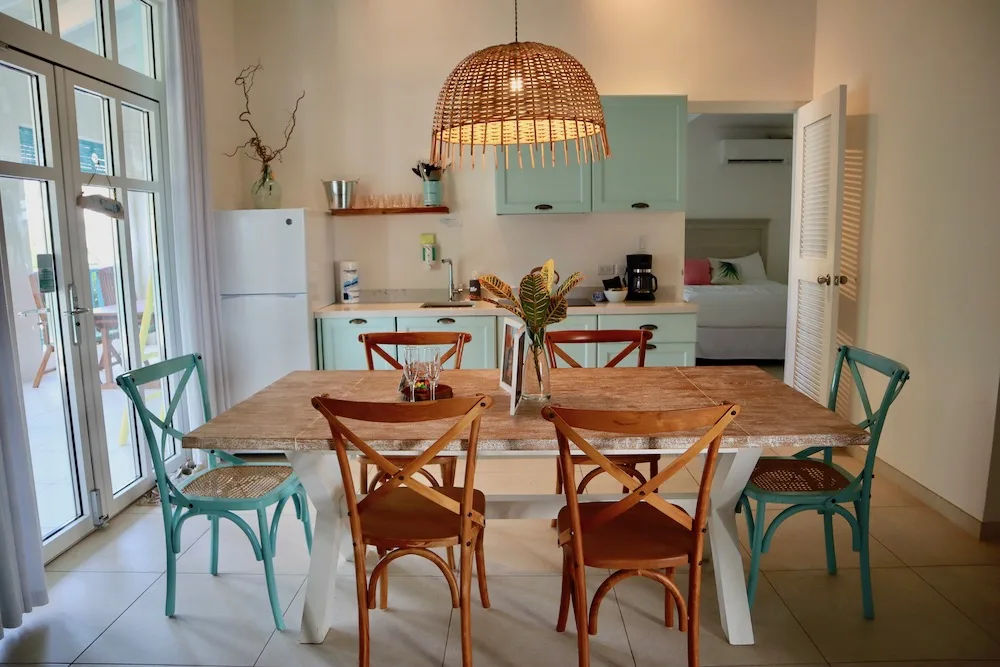 Arikok National Park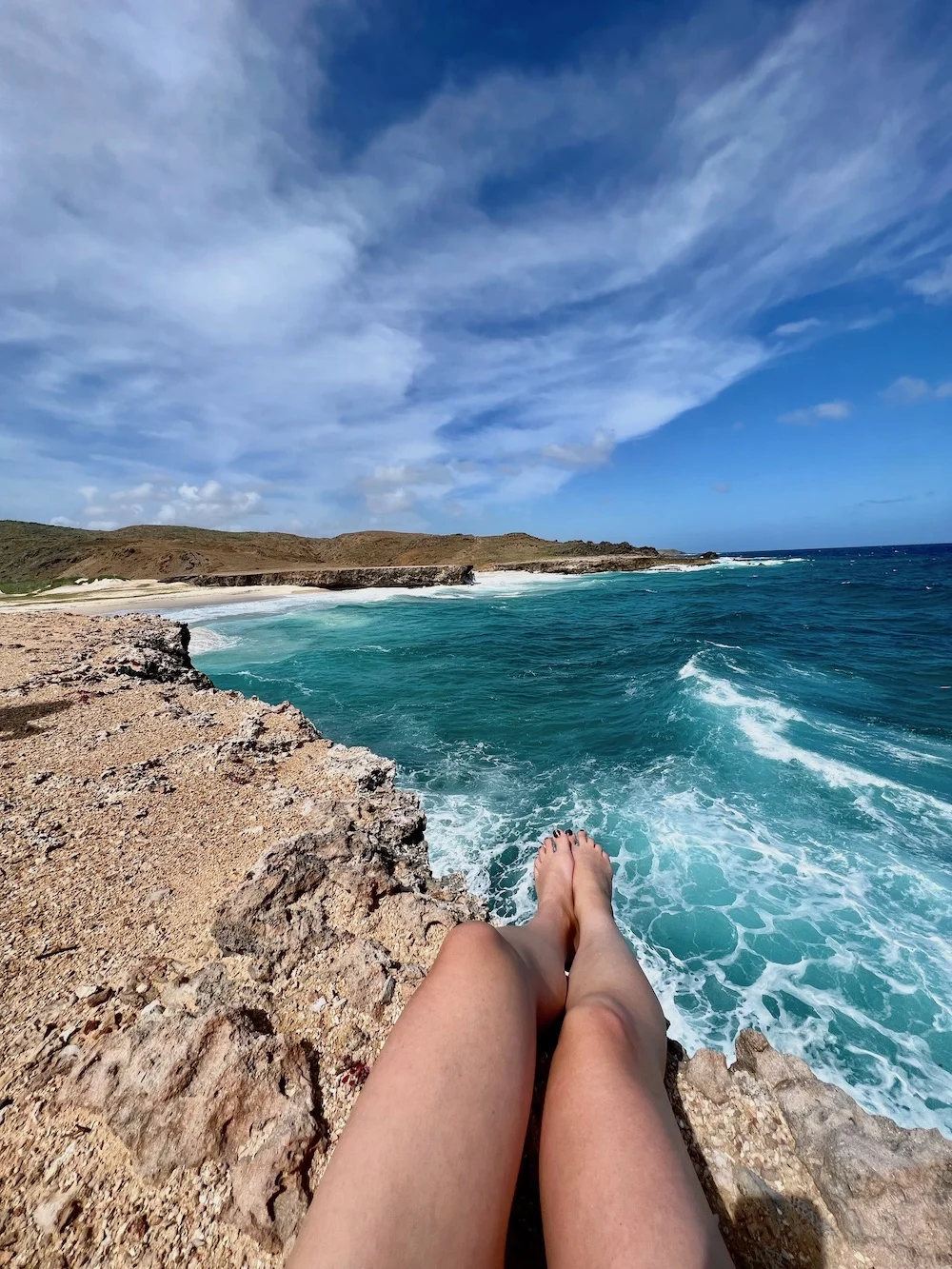 Arikok National Park comprises nearly 20% of Aruba! It's the best place in Aruba to visit all the unique natural and historical sites and see what makes this island different to the other Caribbean islands. You'll see the rugged terrain of the island's interior where enormous cacti form a spikey forest and the dramatic, rocky coastline is unlike anything you will have seen near the hotels.
You pay a small fee to enter Arikok National Park and then you're free to drive your car in and explore solo or hire a guide. We had an incredible guide who joined us and showed us some beautiful look-out spots before giving us a tour of Guadirikiri Caves.
Travel Hack Tip: If you're not comfortable exploring the National Park solo or you don't want to hire a car, I do have a suggestion for a fun tour further down.
The main things to do in Arikok National Park include:
The Natural Pool (Conchi) – More on this later!
Fontein Cave
Guadirikiri Caves
Boca Prins
Dos Playa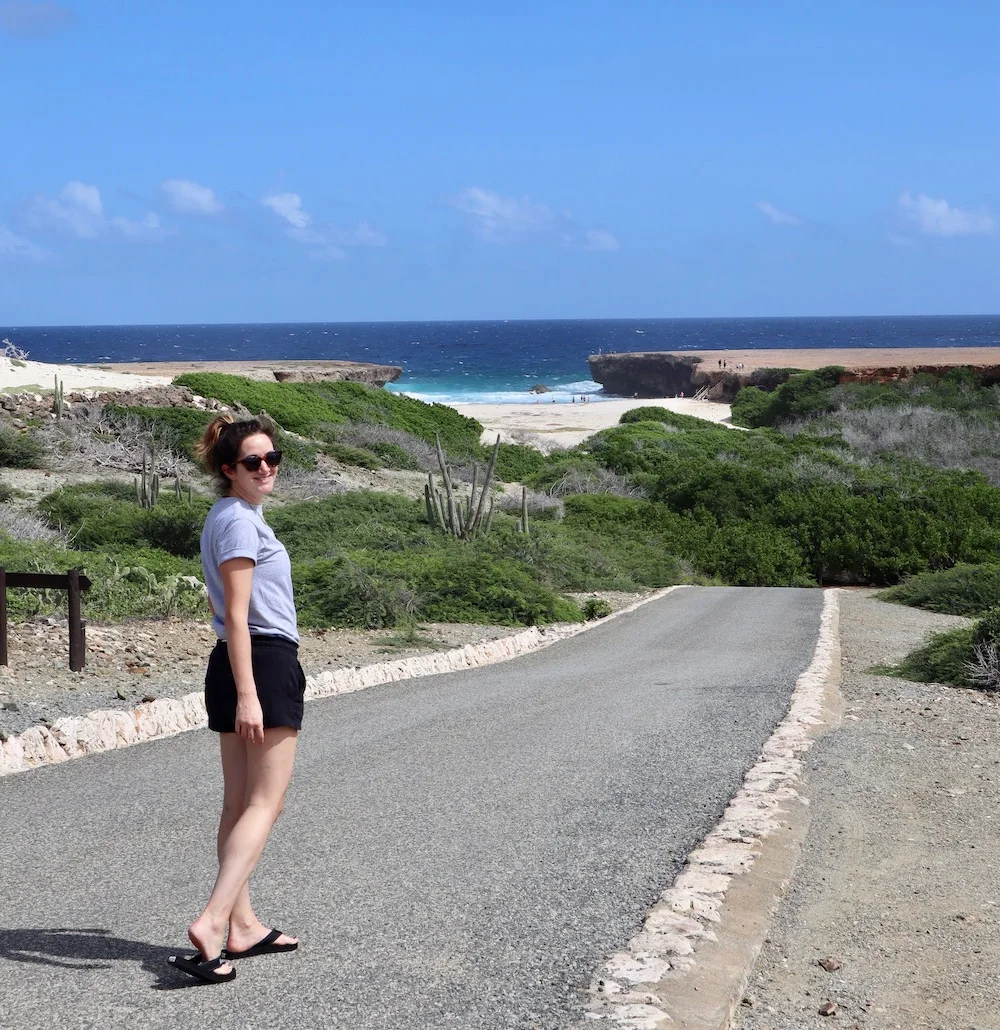 Guadirikiri Caves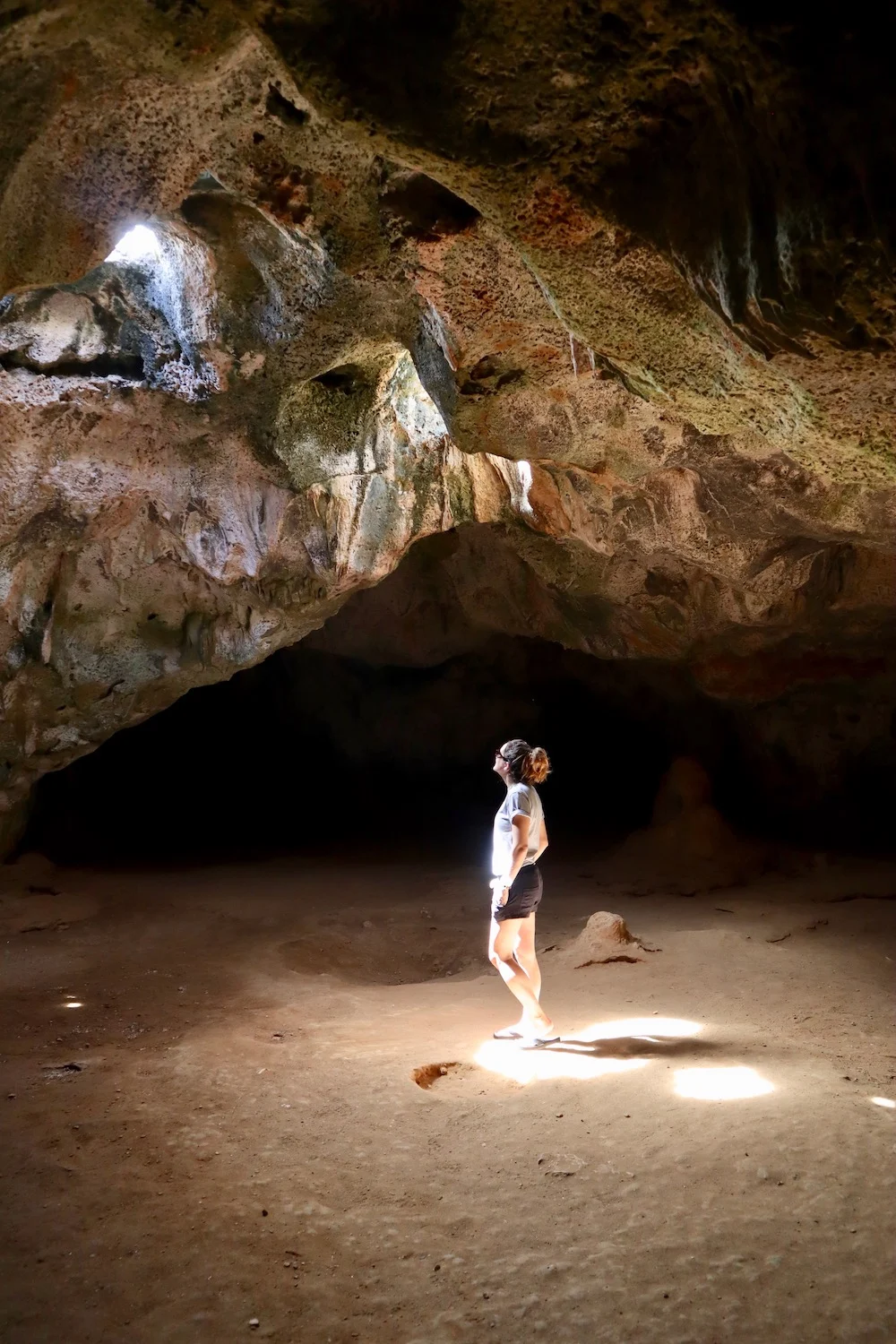 Guadirikiri Caves are 100% one of the most incredible and unique things to see in Aruba. Until 35 million years ago, Aruba was underwater and nowhere is it more evident then at Guadirikiri Caves.
The caves are filled with marine fossils and fossilised corals. There are holes in the roof of the caves which would have been blow holes when the caves were underwater.
Incredible stalagmites and stalactites create eerily beautiful natural sculptures that seem to reach out of the ground and claw their way down from the ceiling. They're an incredible reminder of how long these caves have been here.
Tiny fruit bats swoop between the stalagmites and stalactites, reminding us we are guests in the bat's home and this cave belongs to nature.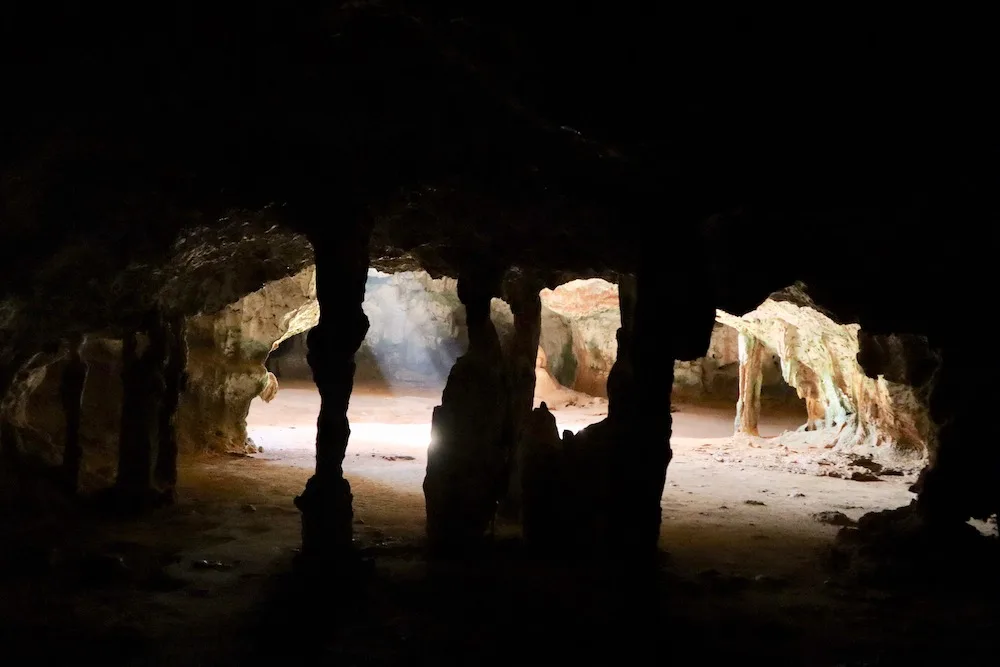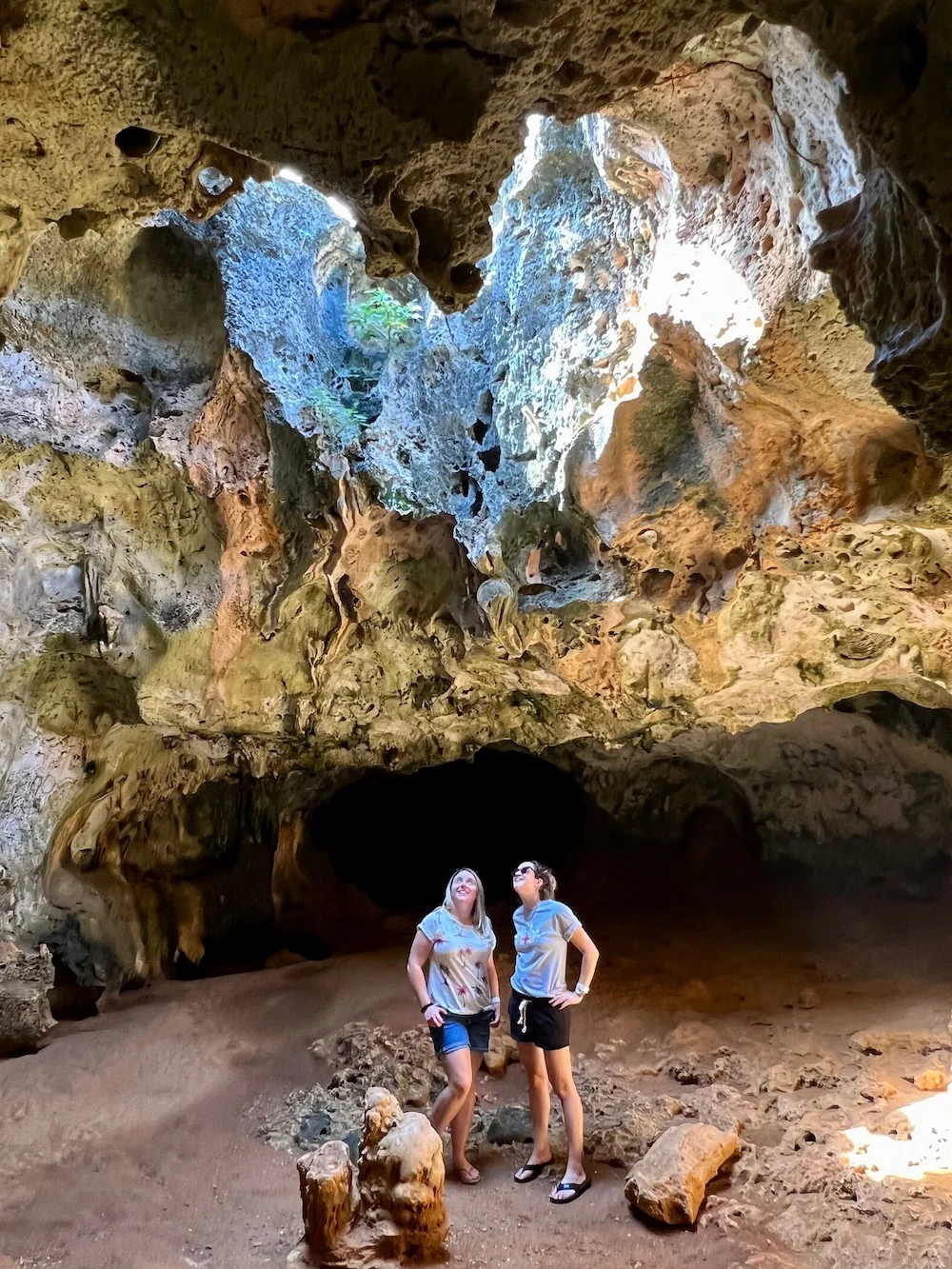 There are four chambers within the caves and one is home to ancient artworks but this cave is closed to protect both the bats and the art.
Two of the chambers in Guadirikiri Caves are particularly magical!
Sunbeams stream through the holes in the ceiling, creating a magical beam like an angel is reaching an arm right down from heaven. Well, it's either an angel or a UFO, depending on which way your beliefs lie!
As our footsteps unsettled the dirt beneath our feet, clouds of dust rose into the golden beam like something from a child's storybook.
Incredible natural attractions like this are often ruined by long queues, security barriers and crowds of visitors with selfie sticks, (I'm aware of the irony of saying this because I am one of those tourists!) but this cave was incredibly quiet. A handful of tourists trickled in and out, giving us the opportunity to truly appreciate this natural phenomena and properly soak it all in.
It was absolute magic.
Just as we left the caves I turned for one last glance at the bats dancing above my head and I saw a breeze had whipped up the dust. It was like the dust was rising up to the heavens to meet the sunbeam that dazzled in and illuminated the cave.
This was one of those incredible travel moments you remember for a lifetime.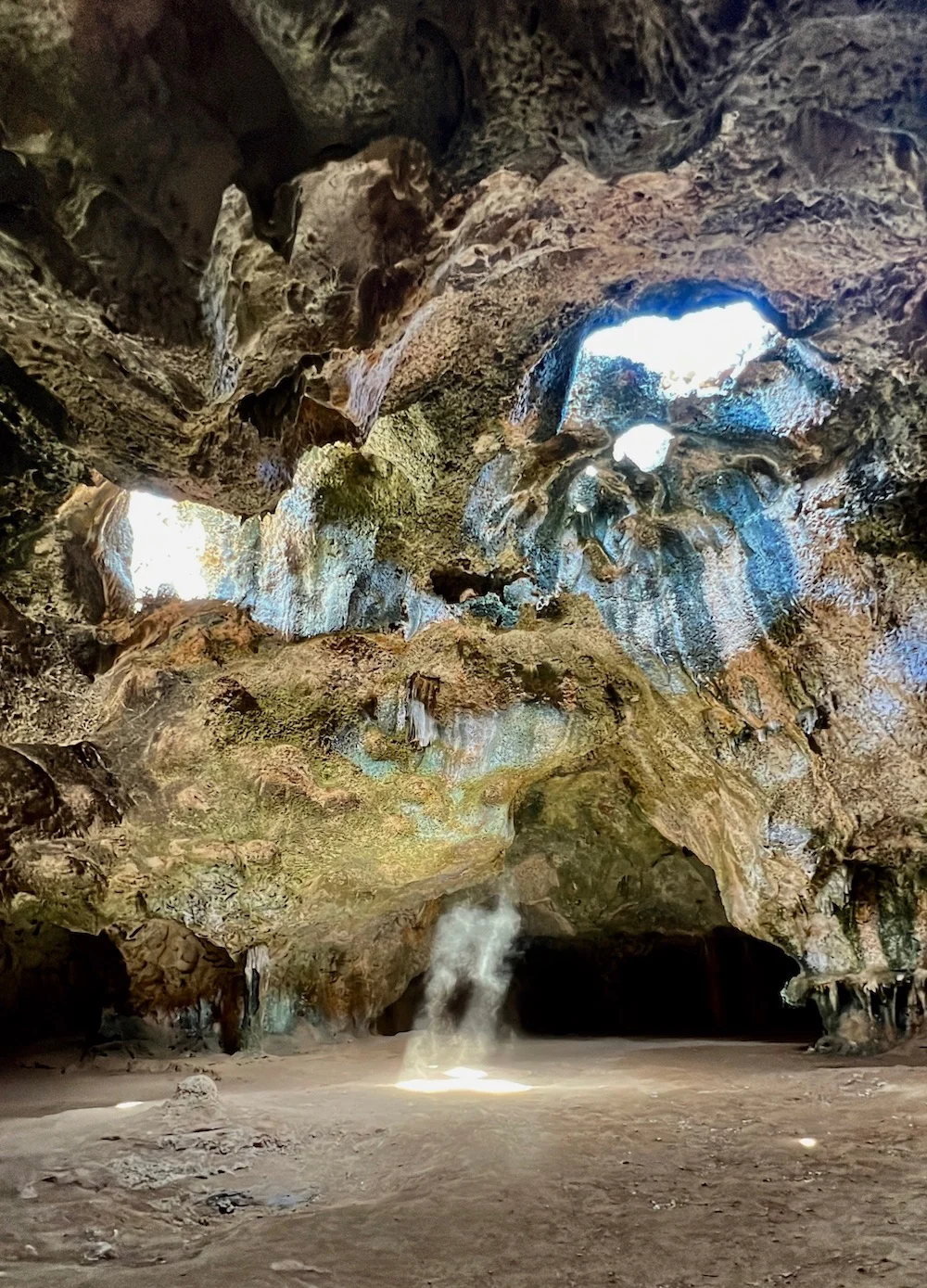 Baby Beach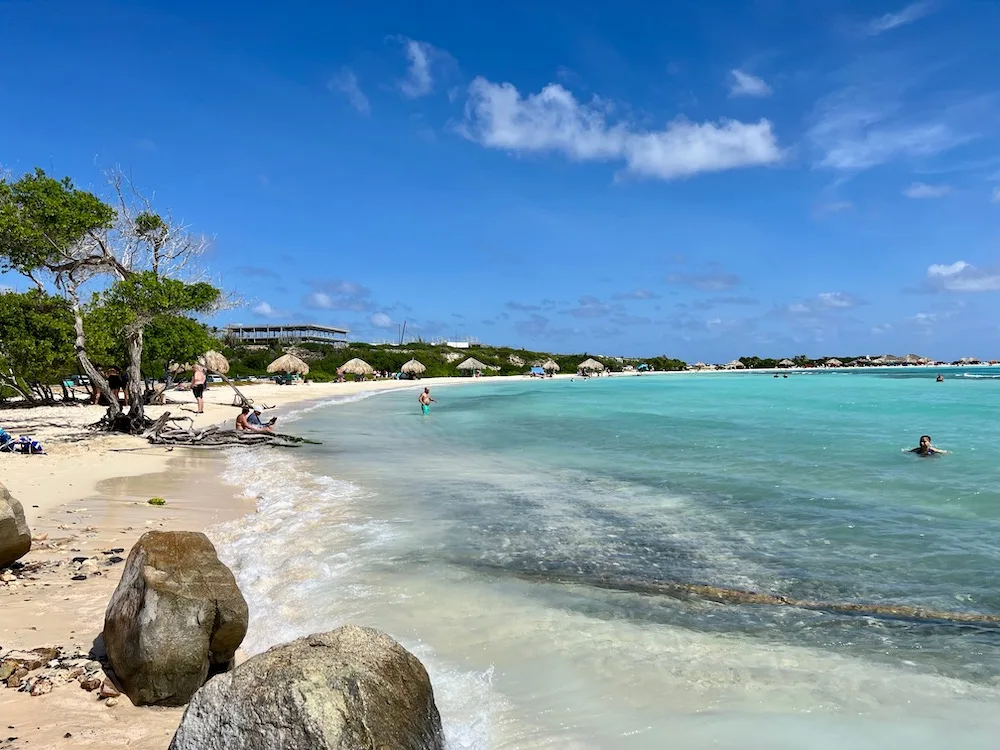 Without a doubt, this is the most perfect beach in Aruba, so if you're having a beach day this is the place to be! It is absolute perfection.
Baby Beach isn't far from San Nicholas and it's a huge protected bay where the water is super calm and the sand is dazzling white. There are a few trees on the beach for shade and you can hire cabanas and a handful of umbrellas.
I recommend arriving early if you'd like a shady spot, otherwise you should bring your own umbrella.
Baby Beach is regularly listed as one of the best beaches in the world so you have to get it on your list of things to do in Aruba!
Roger's Beach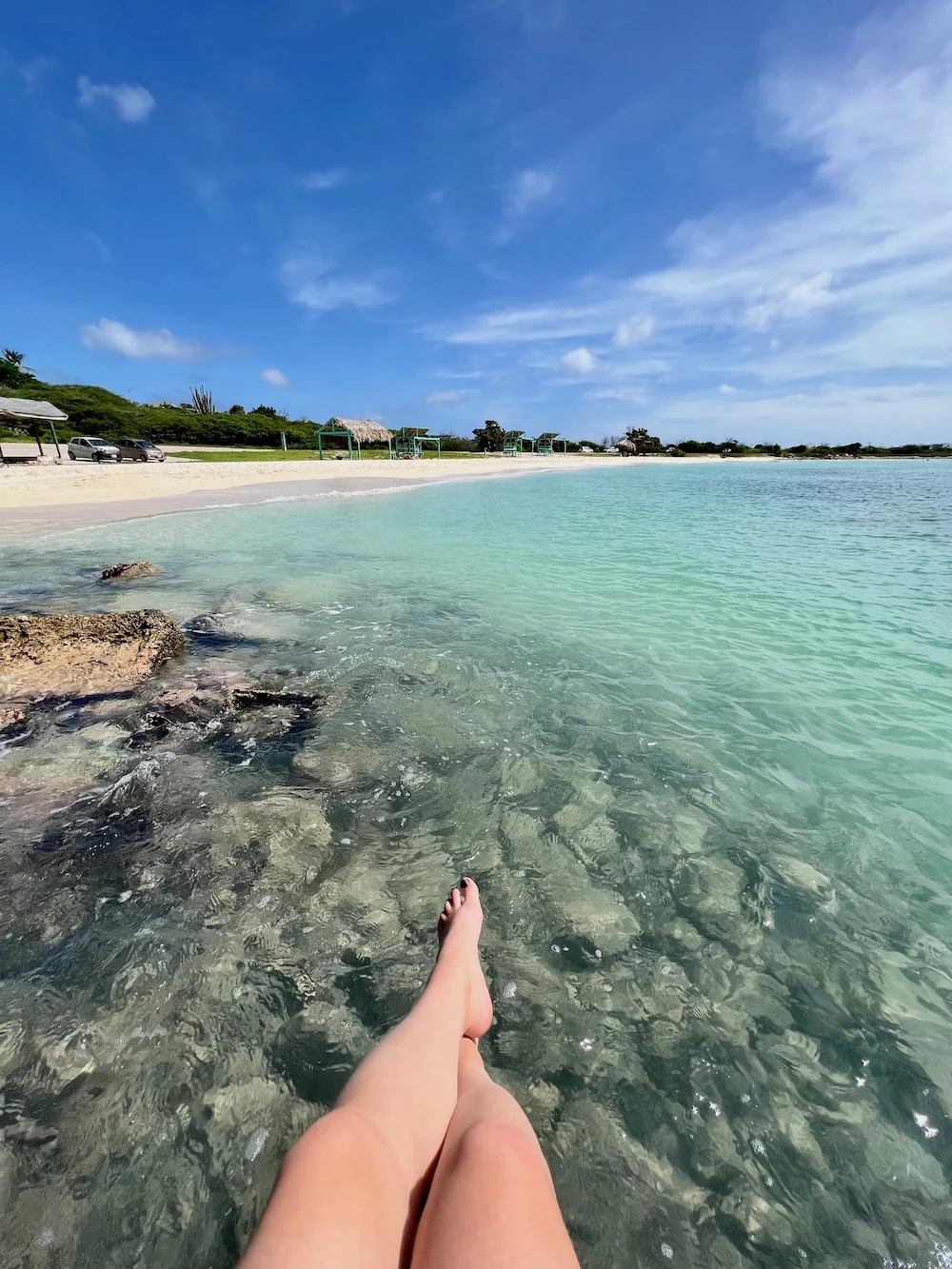 We had a quick stop at Roger's Beach, a beautiful and very quiet beach most frequently visited by locals. It's not far from Baby Beach but it's so quiet!
The reason most people here are locals is because on one side you have the picture perfect white sandy beach, and on the other side you have an oil refinery! I still wanted to include it on the list though because it is beautiful and only two people were there when we visited, so if you're looking for a really quiet but beautiful beach, this is it!
Kulture Cafe in San Nicolas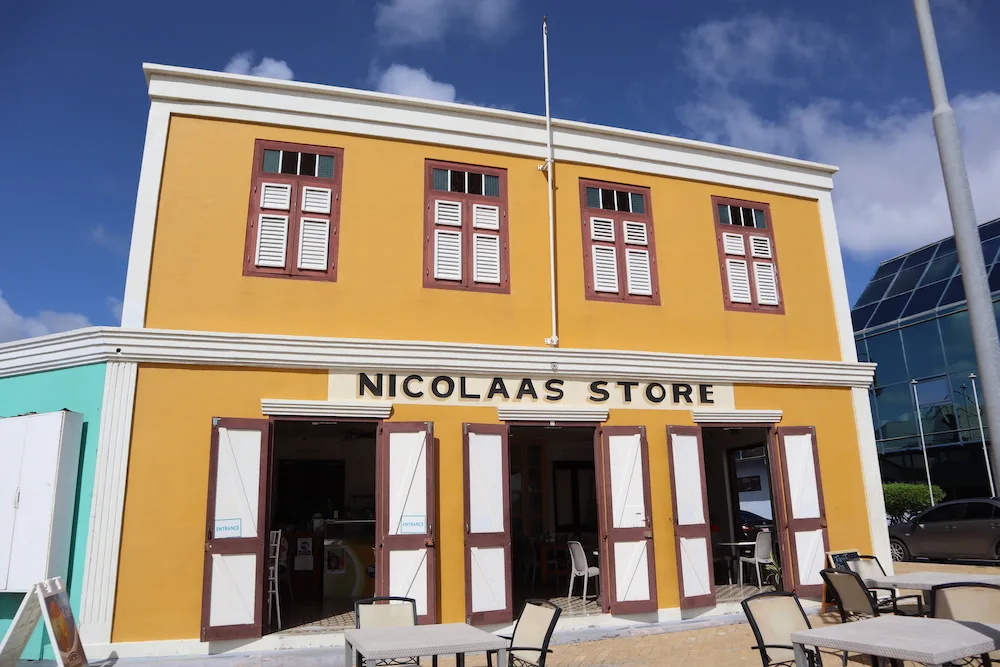 Kulture Cafe is a great example of a traditional cafe/restaurant in Aruba. It also has museum vibes because there are historical artefacts inside and they host culinary experiences and art exhibitions.
You can visit during the day for a relaxed cafe atmosphere. In the evening the cafe comes to life and festoon lighting illuminates the outdoor tables.
It was Taco Tuesday when we visited and my tacos were delicious!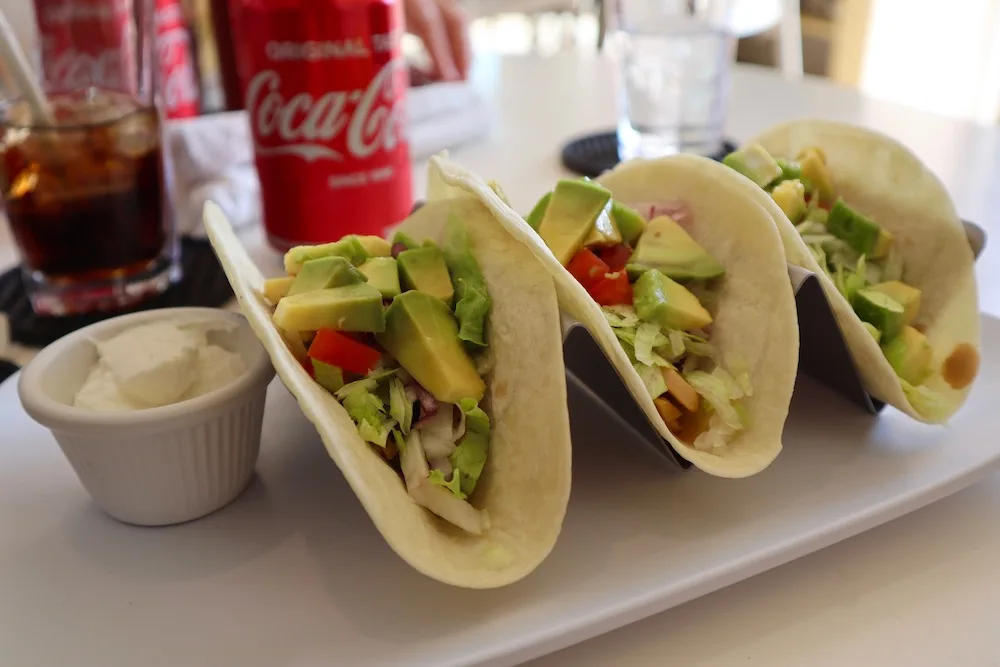 Street Art in San Nicolas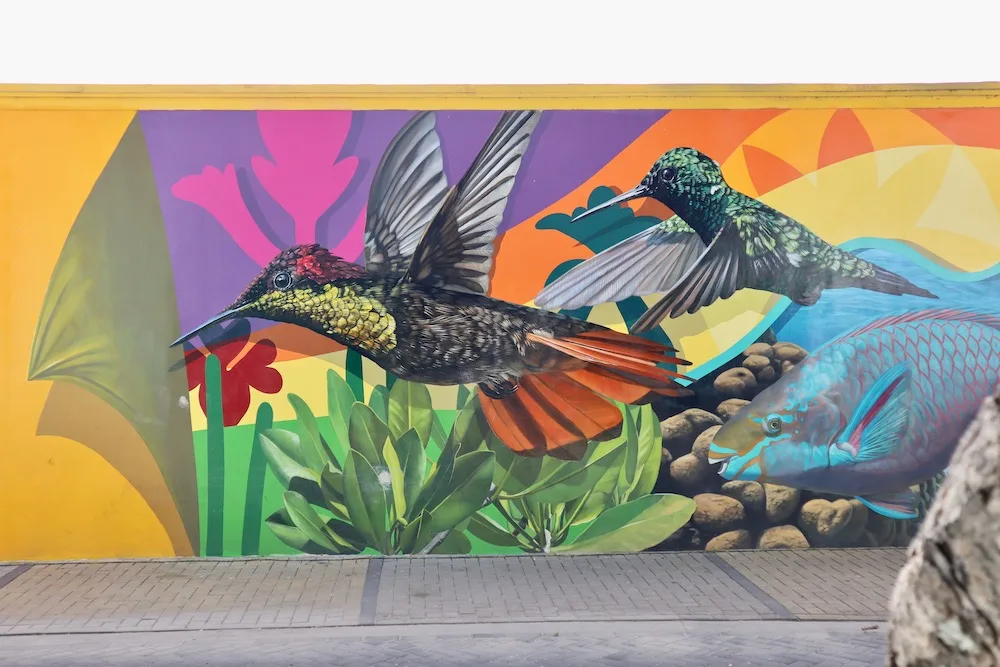 From Kulture Cafe we explored the street art around San Nicolas. There is so much to see and it gives the town such a vibrant and edgy interest.
You can wander around the streets yourself or you can take a street art tour with Aruba Mural Tours. Unfortunately, the guy wasn't available when we visited but I would have loved to find out more about each piece of art!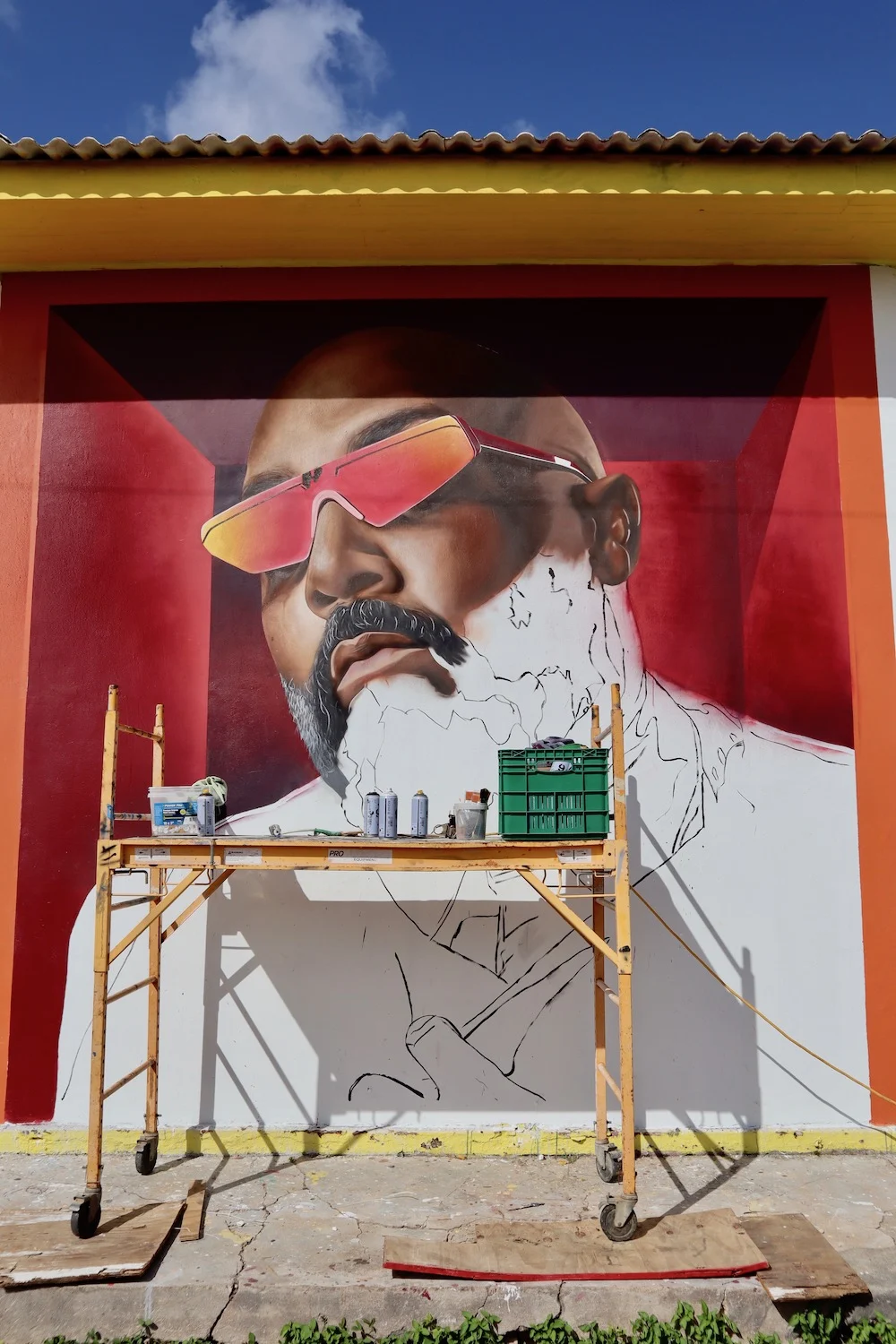 Quinta del Carmen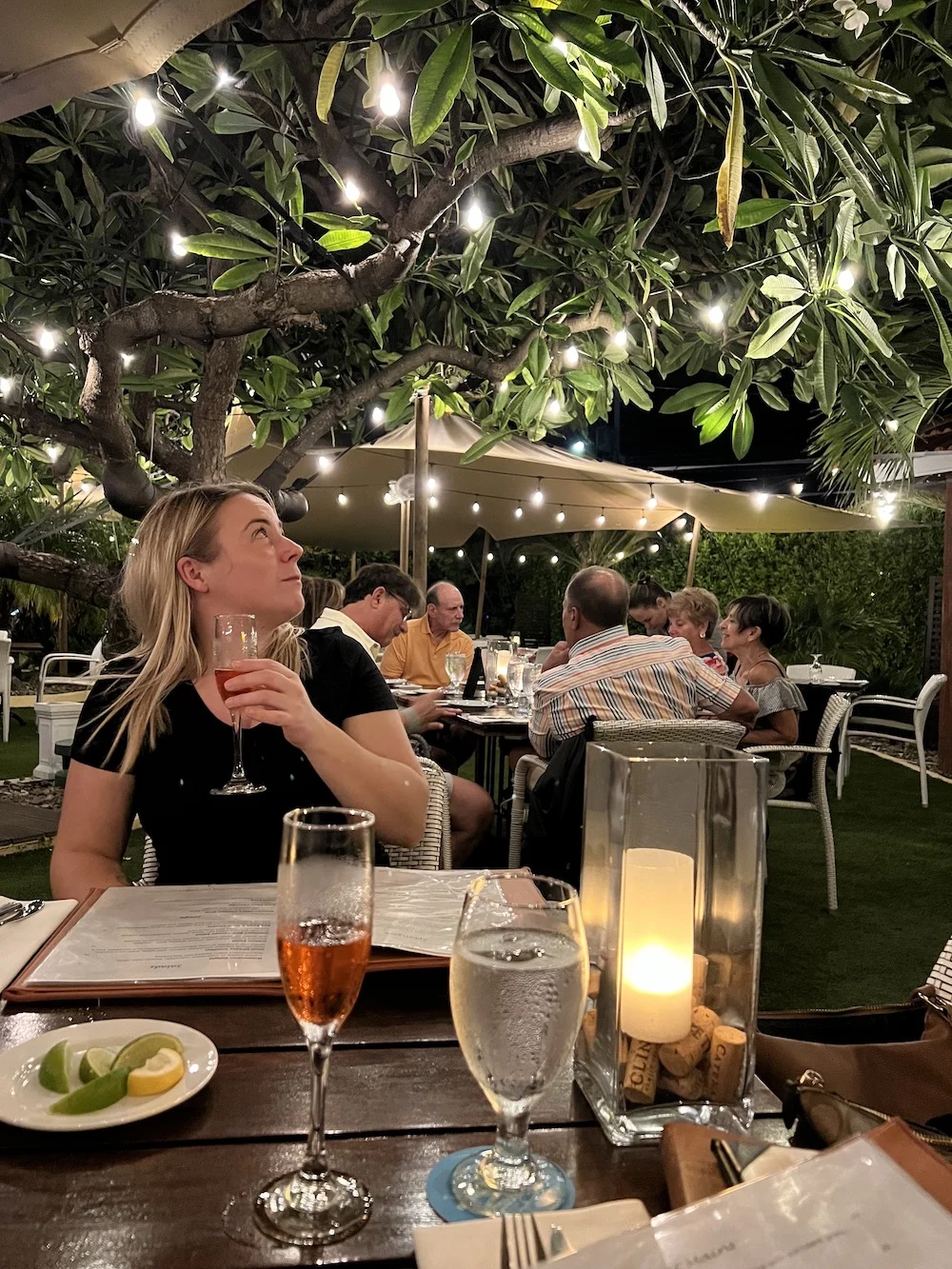 That evening we had a dreamy dinner and sat outdoors beneath the trees and twinkling lights. We went to Quinta del Carmen, an old farmhouse that was also the island's first hospital at one time.
The restaurant has different areas depending on whether you're there for a romantic meal, you're in a large group, there as a family and for locals who prefer a leisurely tapas meal. The food was delicious and I went to bed feeling very lucky to be visiting such a beautiful island.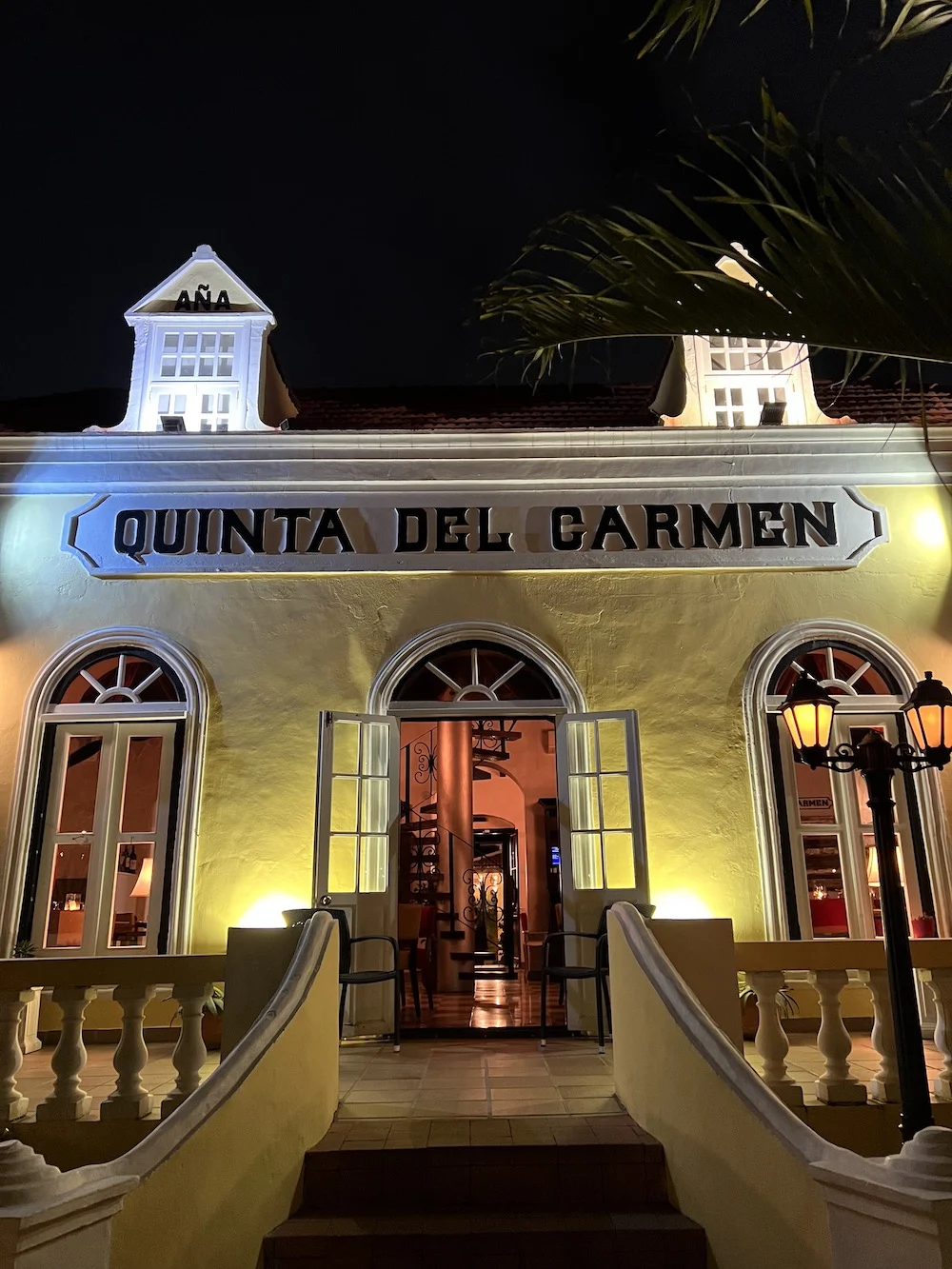 Day two: Things to do in Aruba
Morning meditation at the Butterfly Farm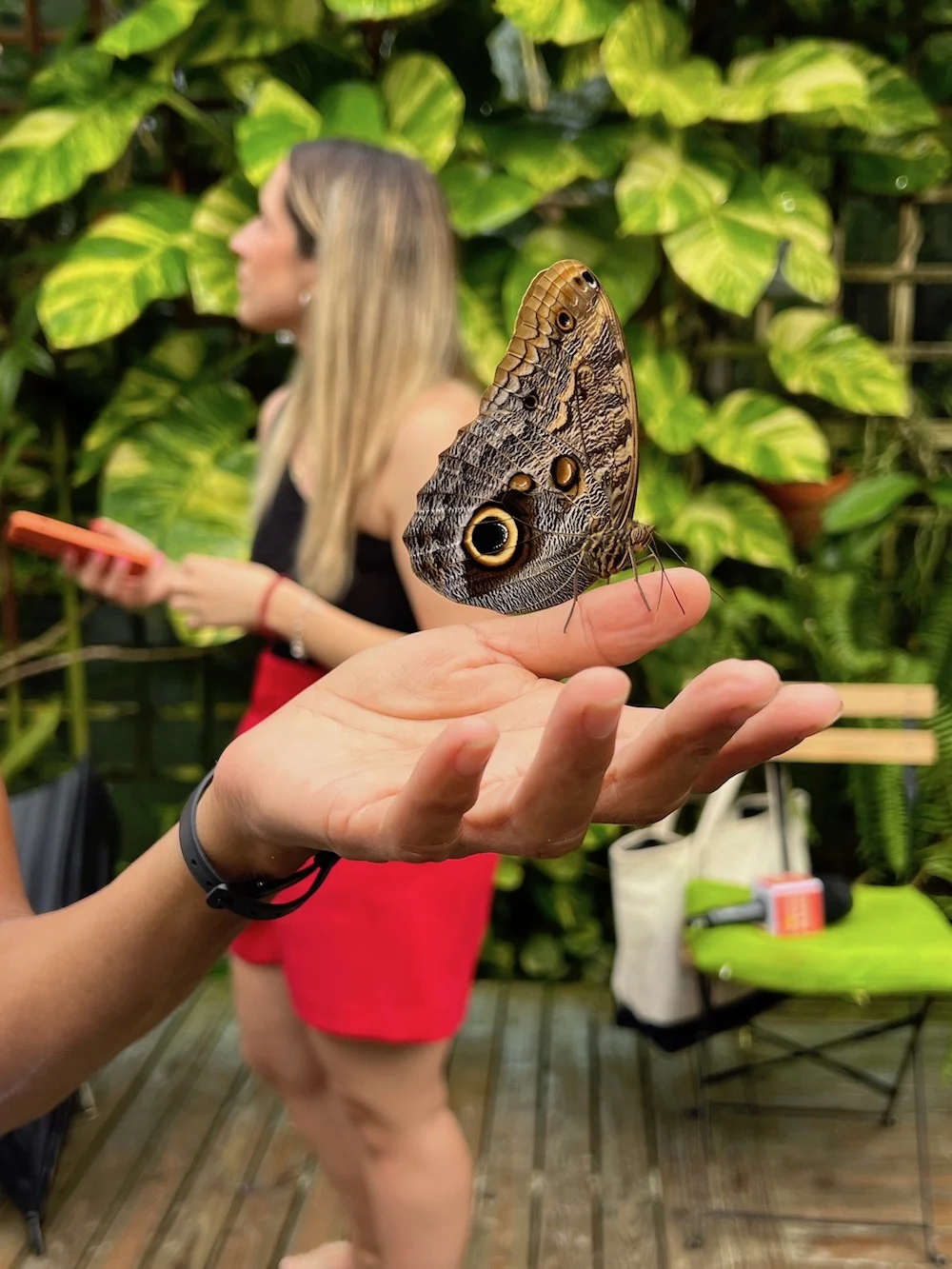 Our second day in Aruba started in the dreamiest way possible as we headed to the Butterfly Farm for a morning meditation session.
Sidenote: If you're visiting Aruba with children then I highly recommend a visit to the Butterfly Farm. It's amazing to see such enormous butterflies and the pupa hanging inside cabinets around the tropical gardens.
It was a rare, rainy morning and it quickly became apparent that the rain wasn't stopping any time soon. I was initially disappointed, thinking the session would be cancelled. Little did I know that the rain just added to the magic.
We walked through the tropical gardens where lush palms and colourful flowers formed a canopy above our heads. But the canopy wasn't enough for the tropical rain so our meditation guide, Shanti, brought us all umbrellas and invited us to form a circle.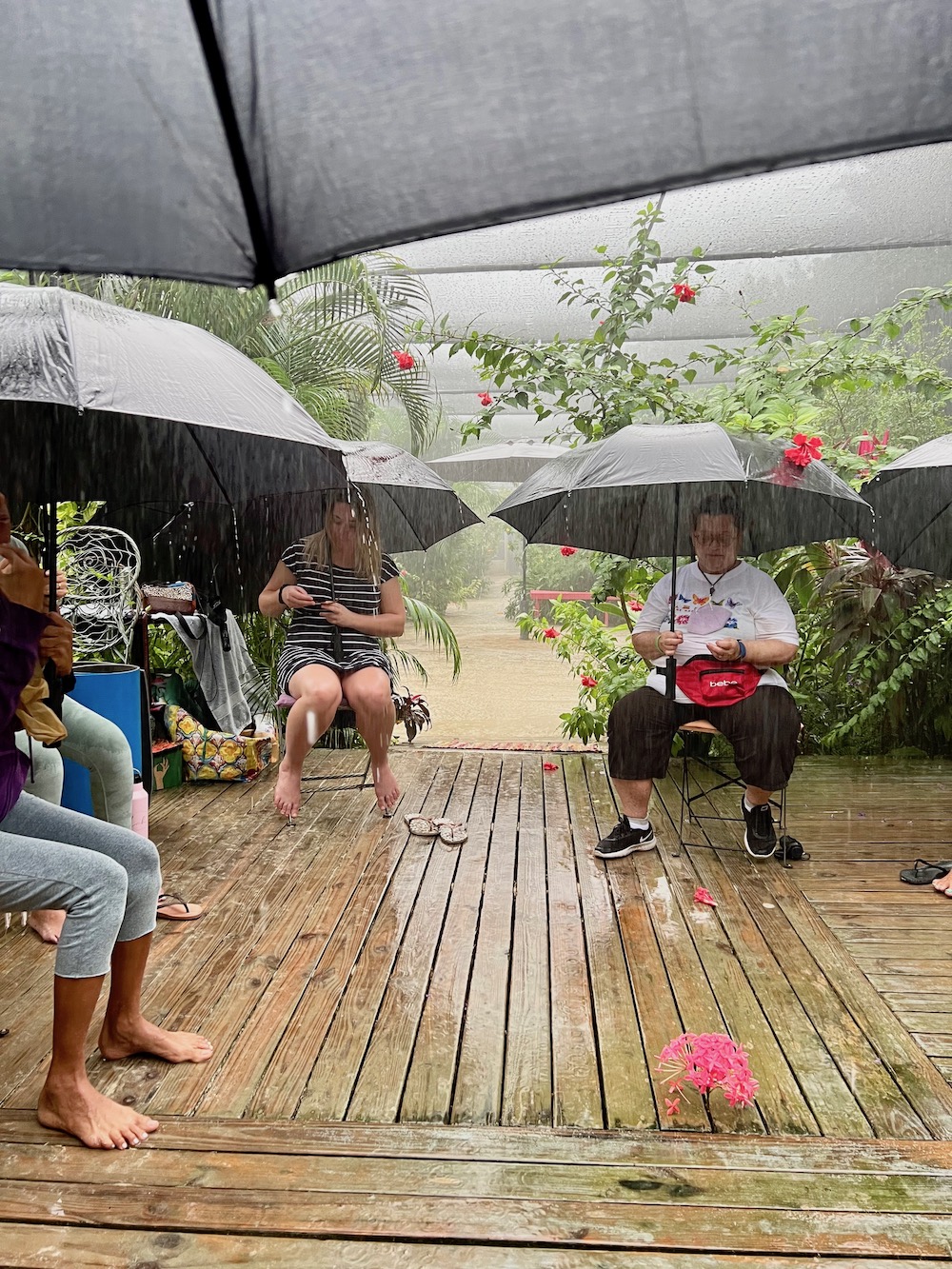 It was warm and humid so the rain was actually a refreshing splash whilst forming a constant and relaxing pitter patter on the roof of our umbrellas.
Our umbrellas became safe little bubbles as we closed our eyes and began the meditation session.
Shanti's soothing voice encouraged us to notice the sounds, smells and the feel of everything around us. The cold raindrops were splashing my toes as I kicked off my sandals to feel the wet wood and sharp droplets of rain on my feet.
It was a peaceful 15 minute session before we were each given a short poem to ponder before beginning a solo walking meditation among the butterflies.
The rain was hammering down and we were all soaked but warm.
Everyone else seemed to be floating in their relaxed little cocoon under an umbrella, but I just felt so excited. The meditation had given me so much energy.
I was fluttering around like the butterflies, excited to explore the plants and follow the enormous butterflies from leaf to leaf, excitedly waiting for them to open their wings and flutter away.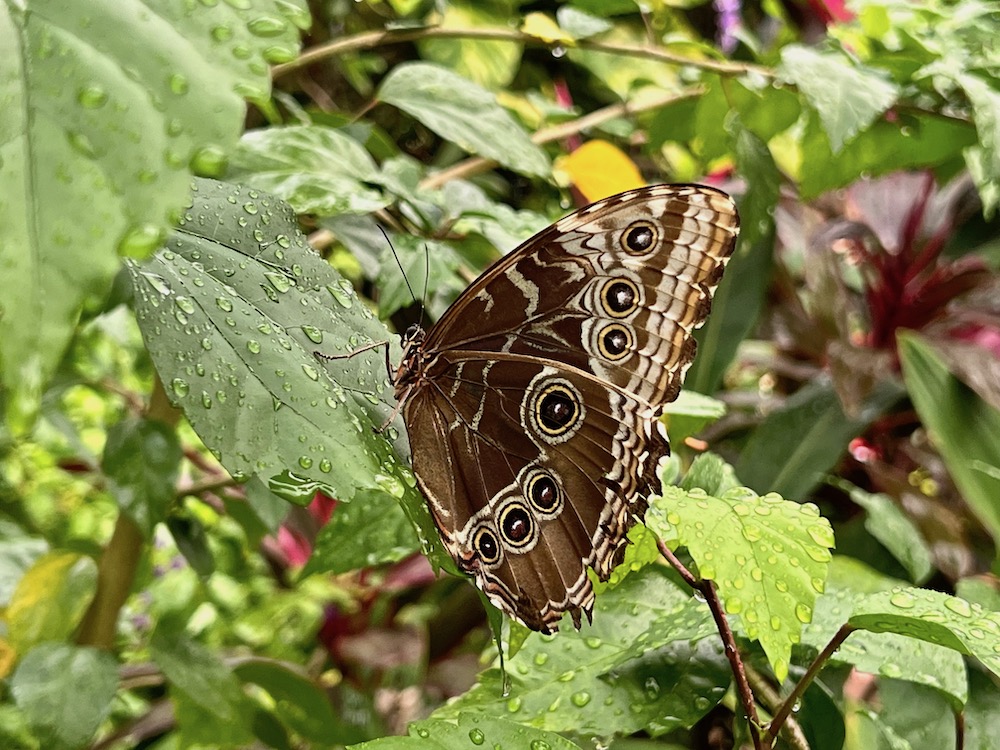 Travel Hack Tip: There is a nice cafe at the Butterfly Farm so you can hang around for some breakfast after your meditation session.
Buffet breakfast at La Vista Restaurant at the Marriott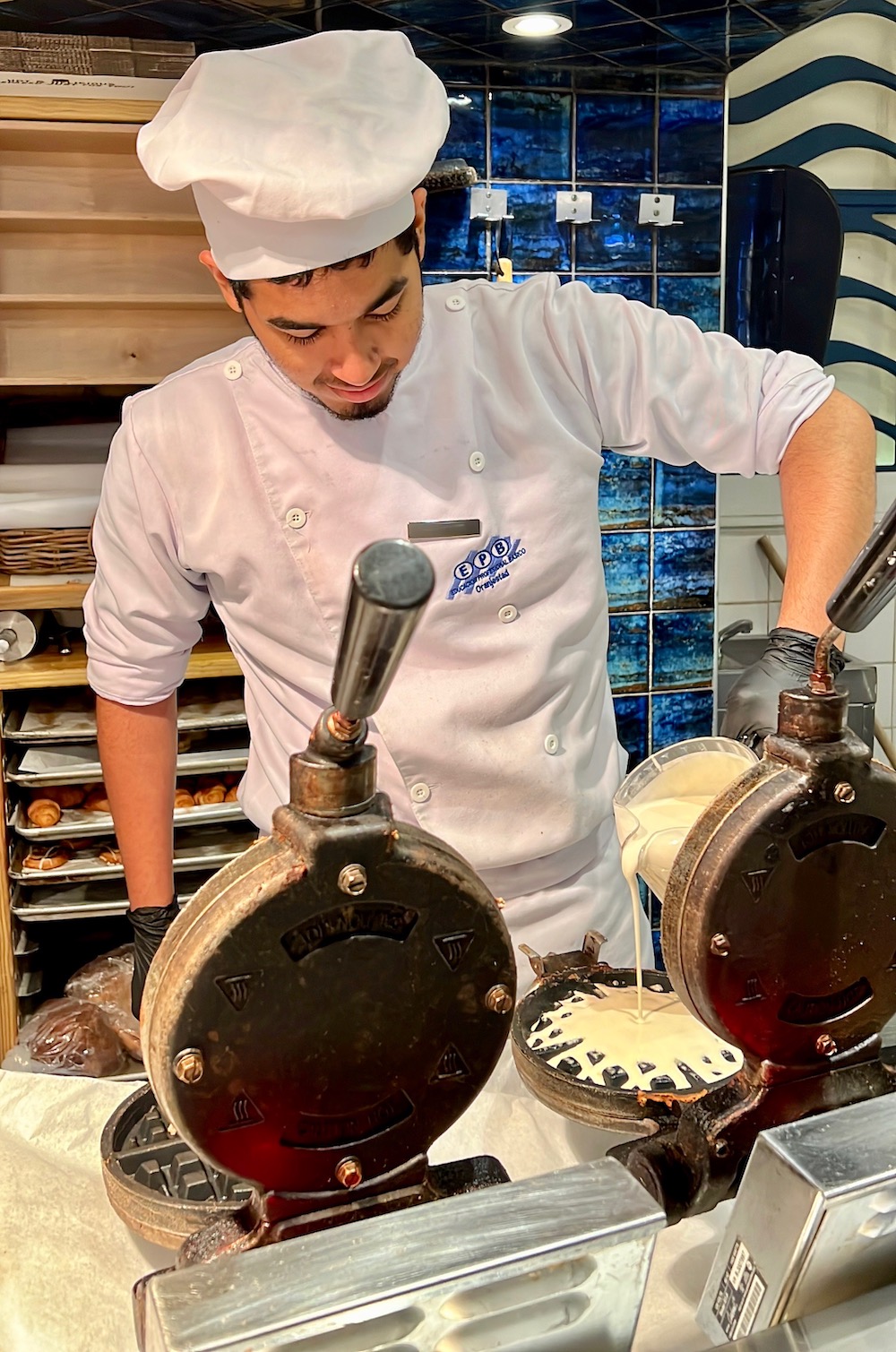 If you're self catering or fancy a change of scenery for breakfast then head to one of the high rise hotels and indulge in a buffet breakfast.
La Vista Restaurant at the Marriott Aruba isn't just for hotel guests and regular visitors can enter and pay for the buffet. It's $32.95 for the full buffet breakfast or it's less if you opt for the continental or American breakfast. It was a delicious mixture of local, American and European breakfast foods and the sun was shining by the time we finished our meal.
SUP Yoga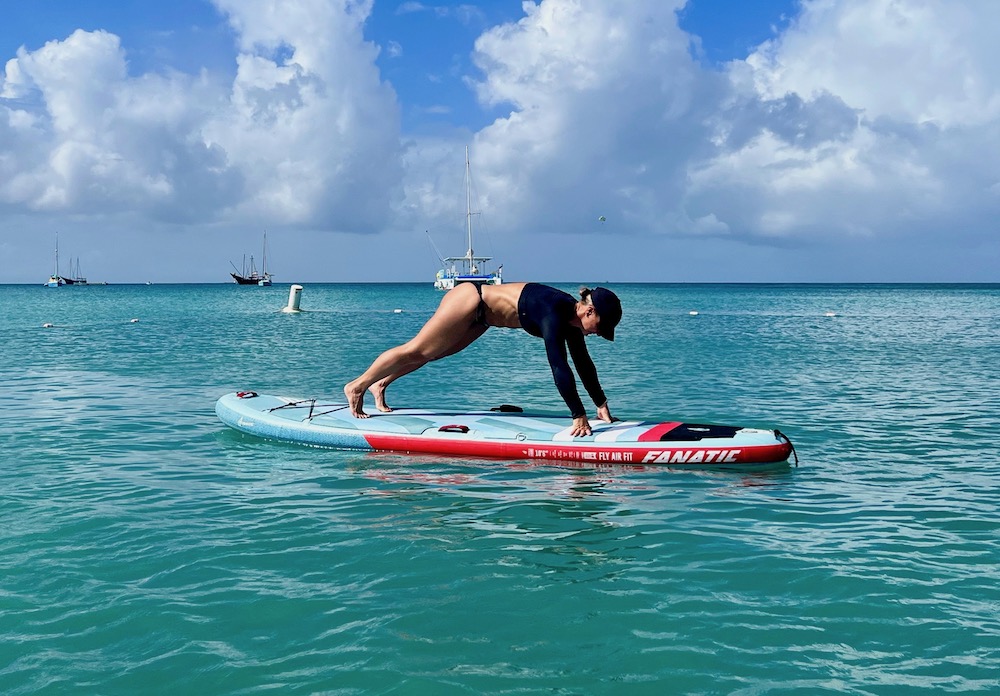 Our next stop was Vela Aruba, a water sports shop right outside the Marriott hotel. They have water sports equipment to hire (and a lovely shop filled with gorgeous beach clothing!) and we were here for a SUP Yoga session with Veronique.
I've done lots of paddleboarding and lots of yoga but I've never had the opportunity to combine the two so I was really excited to try this.
Veronique is a crossfit champion and began practising yoga following an injury. We began by taking our boards out to some buoys that were anchored about 100m from the shore. We hooked onto the buoys to make sure we didn't float away and started with a relaxing introduction.
Lying on our backs we felt the gentle waves rock the board as we took long, slow breaths of that warm sea air.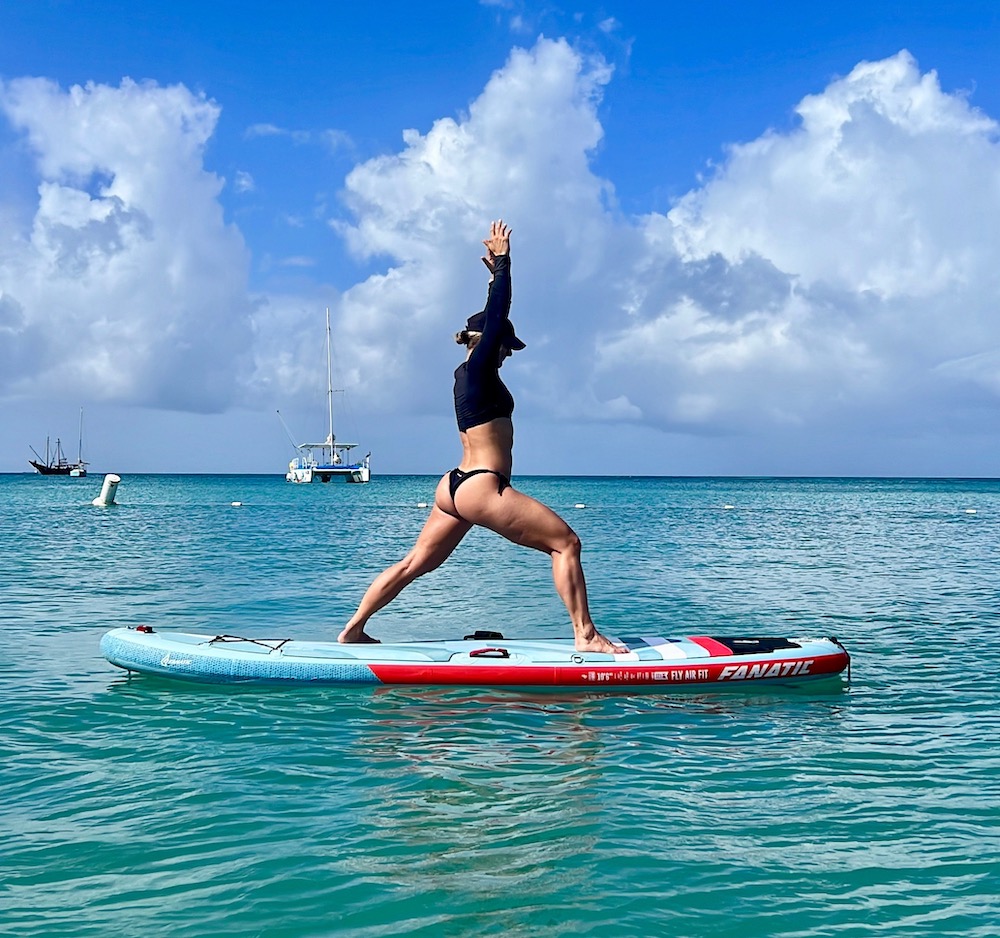 For the first part of the session we stayed on our backs or our hands and knees so it wasn't too difficult. We stretched our bodies and held positions for insanely long amounts of time. Thankfully, the distractions of the sea, the board, a brief rain show and a pair of pelicans diving into the water was enough to take my mind off my quivering muscles.
Things got really interesting as we came into the vinyasa flow and the standing poses.
Emily immediately fell from her board and I was struggling to lift an arm off my board, never mind stand strongly in the warrior pose! But the water was warm and inviting for the inevitable moment I fell.
After the SUP yoga session we had a little longer to play about on our boards before heading back to the gorgeous beach to relax.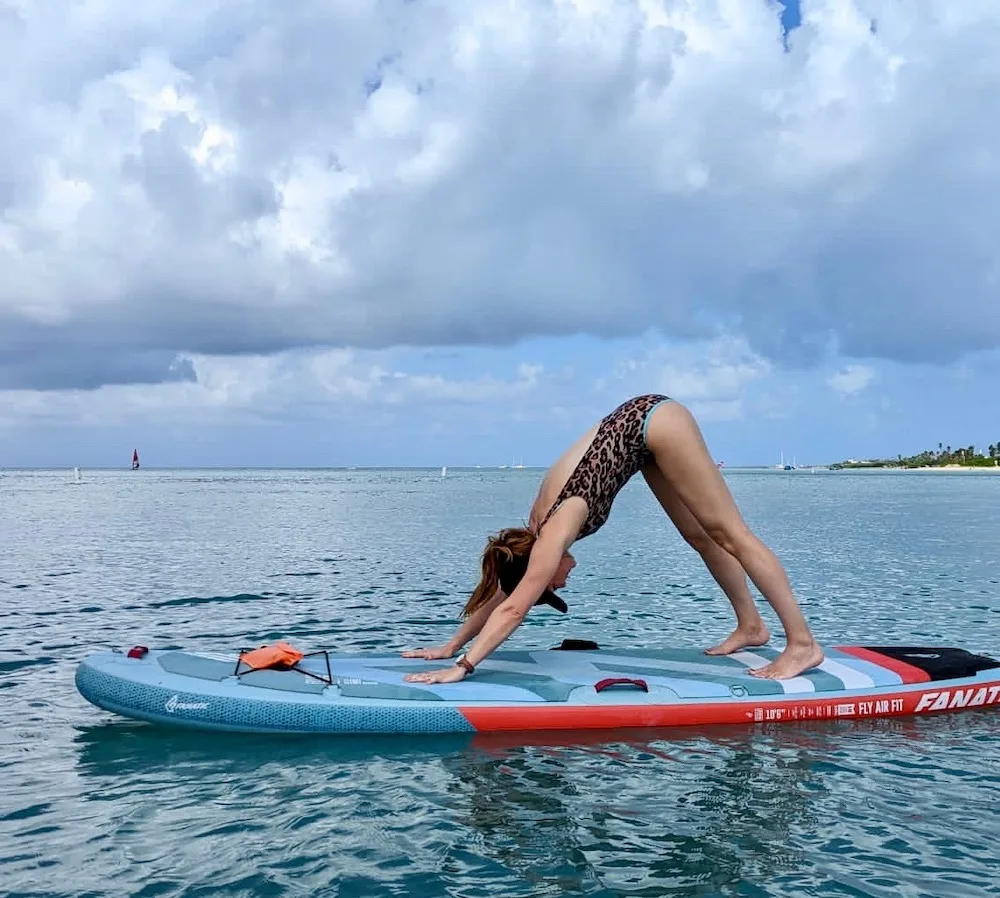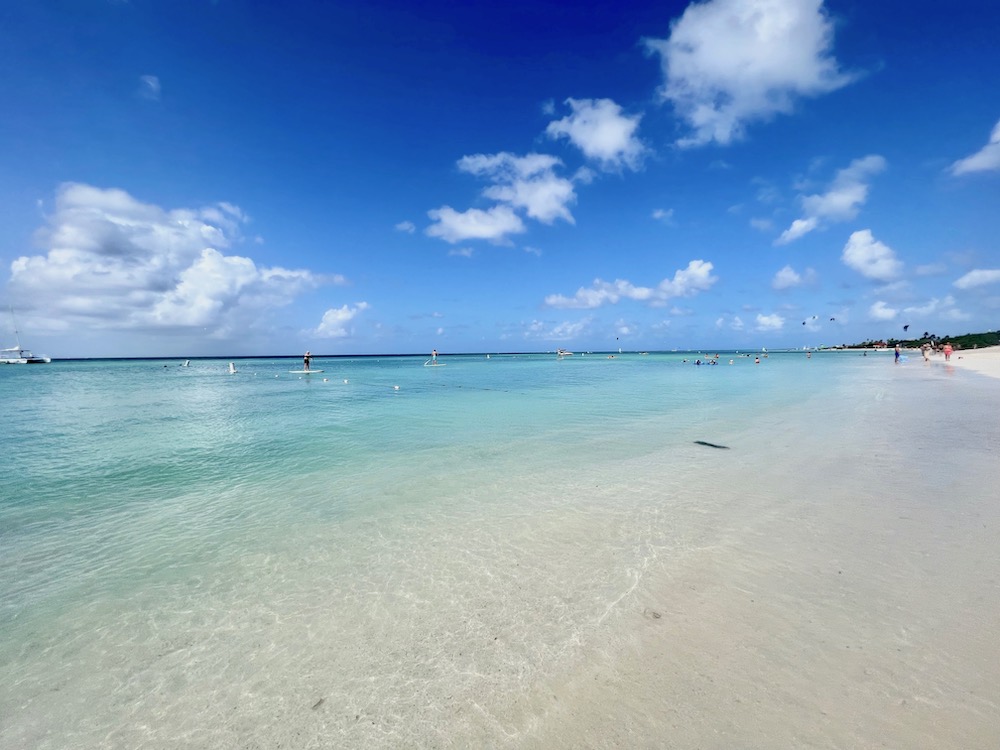 Dreamy beach picnic with Picnic Aruba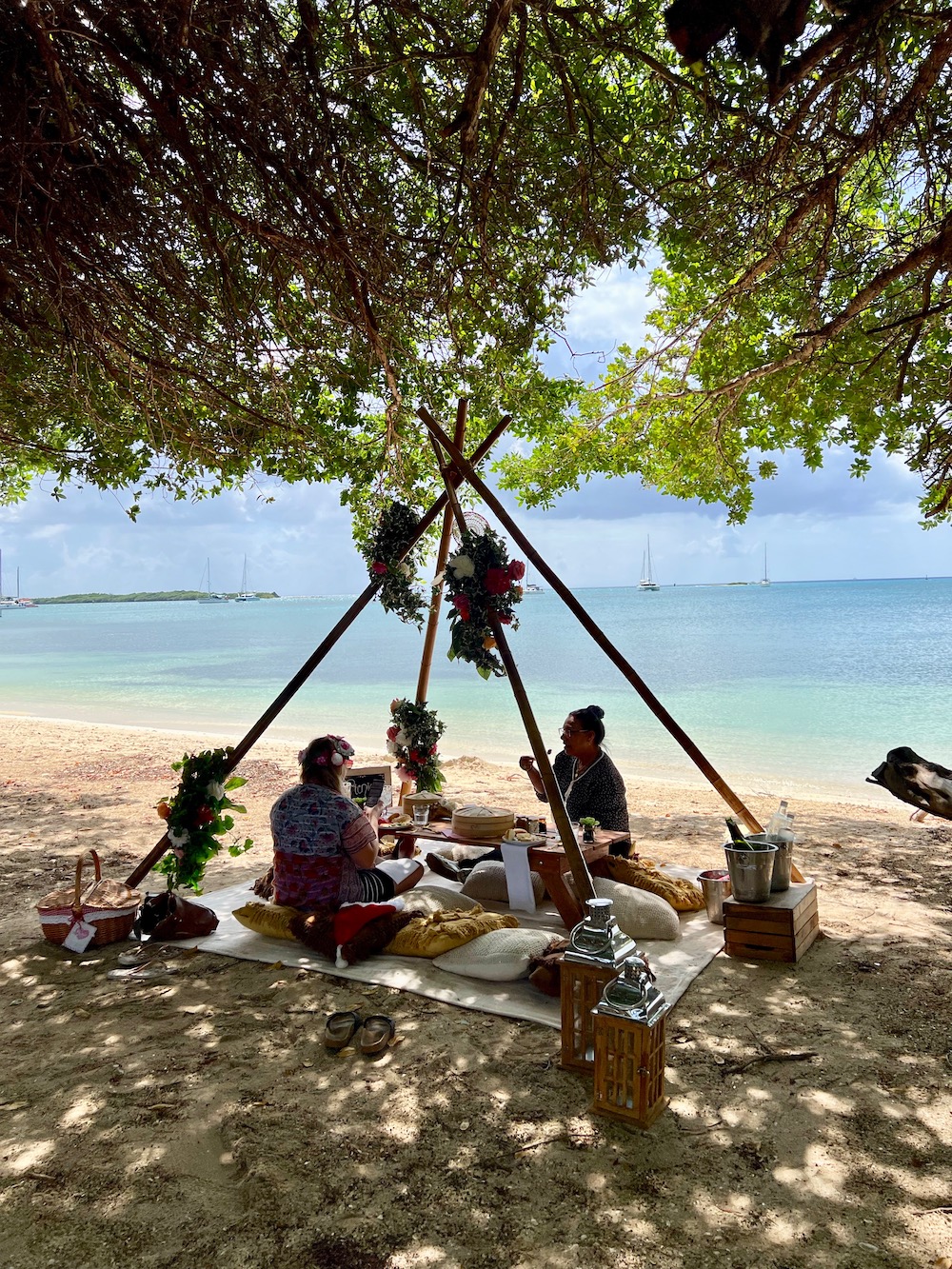 At lunchtime we headed over to Surfside Beach for an idyllic picnic lunch with Picnic Aruba.
Now when I say 'picnic' you're probably thinking a basic blanket and a small hamper and maybe a beach brolley, right?
Oh no!
This was next level picnic.
In the shade of the mangrove we arrived to find a tipi decorated with colourful flowers and a blanket scattered with cushions. A small table was laid and picnic blankets were laden with goodies.
Just a few metres away, the blue sea was lapping gently at the shore and it felt like a dream!
We popped the prosecco and tucked into our picnic feast of cheeses, breads, crackers, meats, fruits, olives, nuts, chutneys and mustards.
Travel Hack Tip: Picnic Aruba is definitely one of the best things to do in Aruba if you're away for a romantic trip or a girls trip. It was dreamy!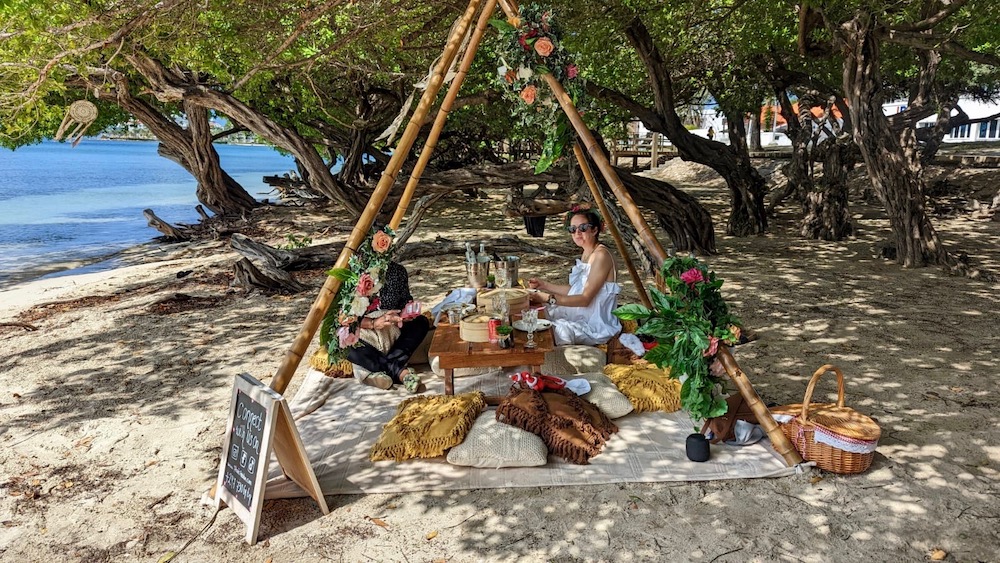 Kayaking and snorkelling with Aruba Outdoor Adventures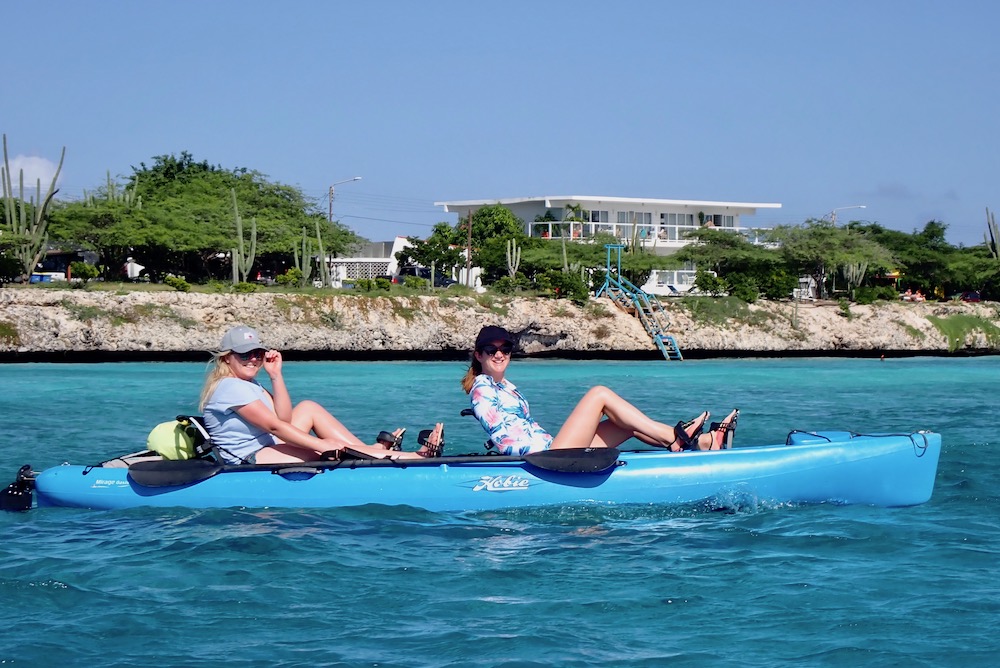 After our picnic we headed to Aruba Nautical Club for a kayaking and snorkelling adventure with RJ from Aruba Outdoor Adventure.
Emily and I had a double kayak with a modern twist because it had petals rather than paddles. What a game-changer!
As someone with strong legs but weak arms, this was amazing!
With a small lever to steer and a comfy chair to sit back and relax, Emily and I were soon zooming across the water. And wow, what a water it was.
The sea is so unbelievably bright and blue and if it wasn't so fun to be gliding across it in a kayak I would have jumped right in for a swim!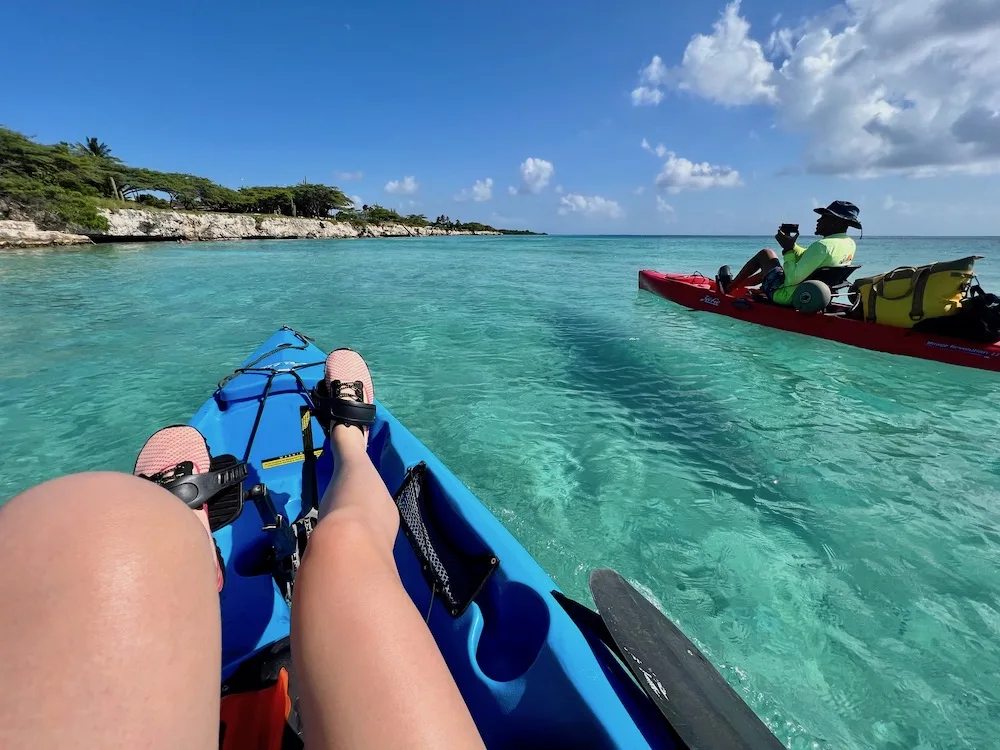 It wasn't long before our swimming opportunity arrived as we moored up at a small jetty and got out to begin snorkelling.
There was a small, sheltered area to practise and get our confidence before we headed into the big, blue sea to see what was under those crystal clear waves. Wow, Just wow.
I saw more during a 90-minute snorkelling trip than I've ever seen scuba diving in some of the 'best dive sites' in the world. I've scuba dived across Australia, Indonesia and Thailand and this was by far the best!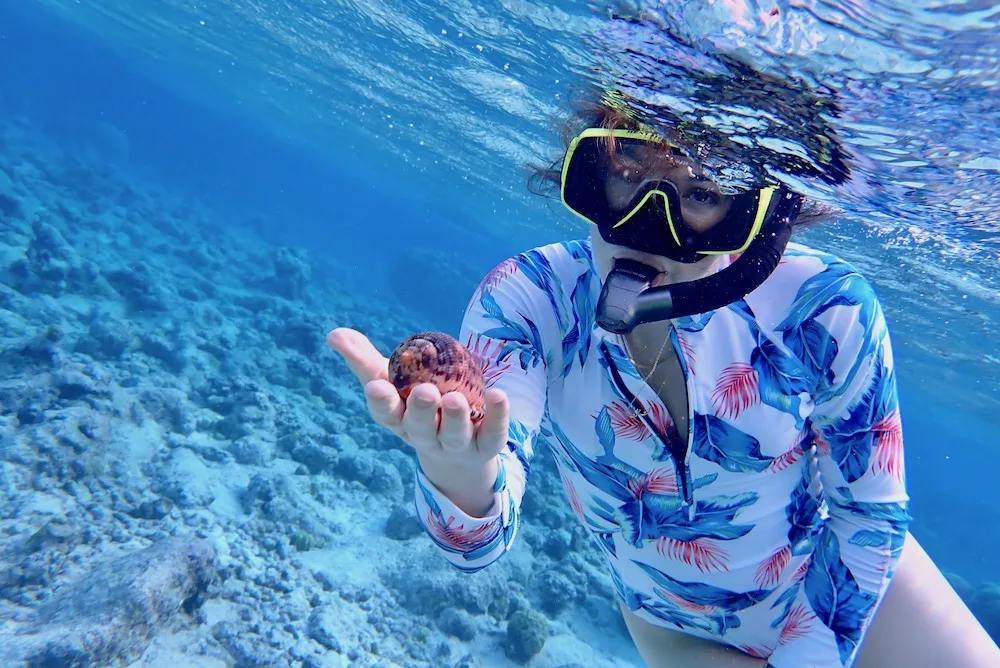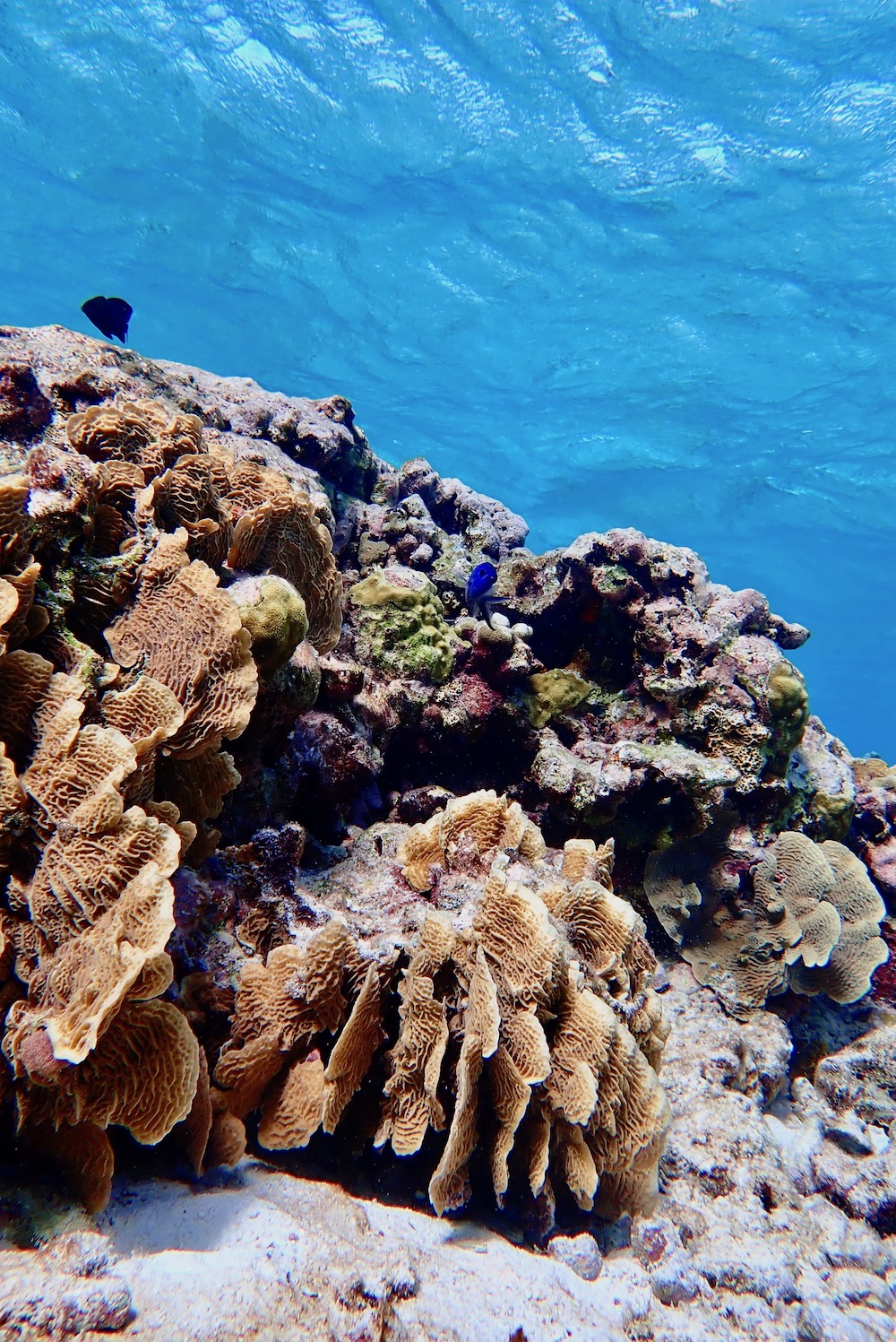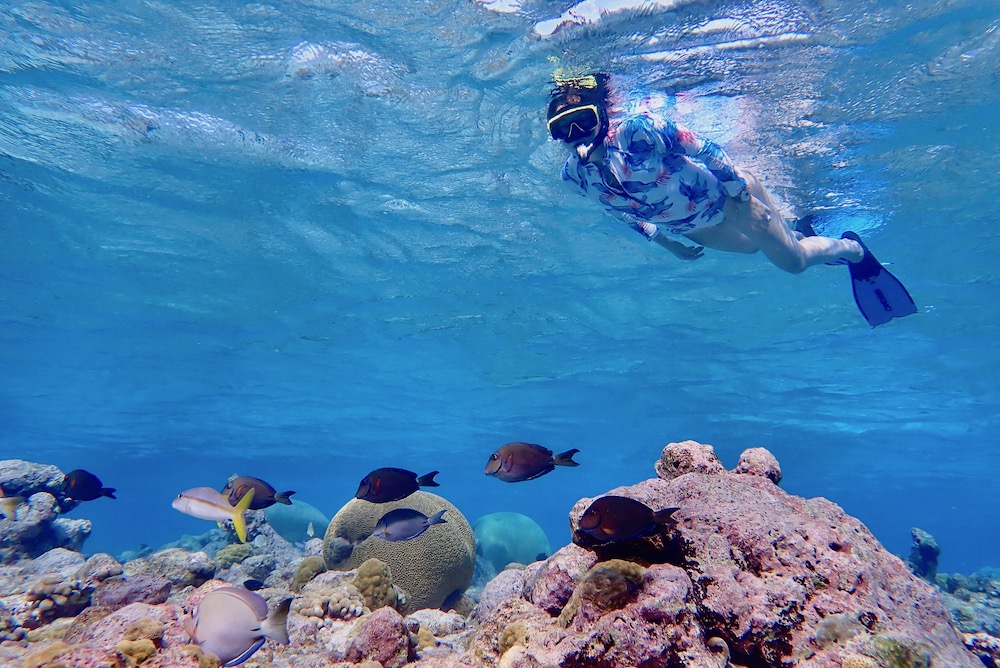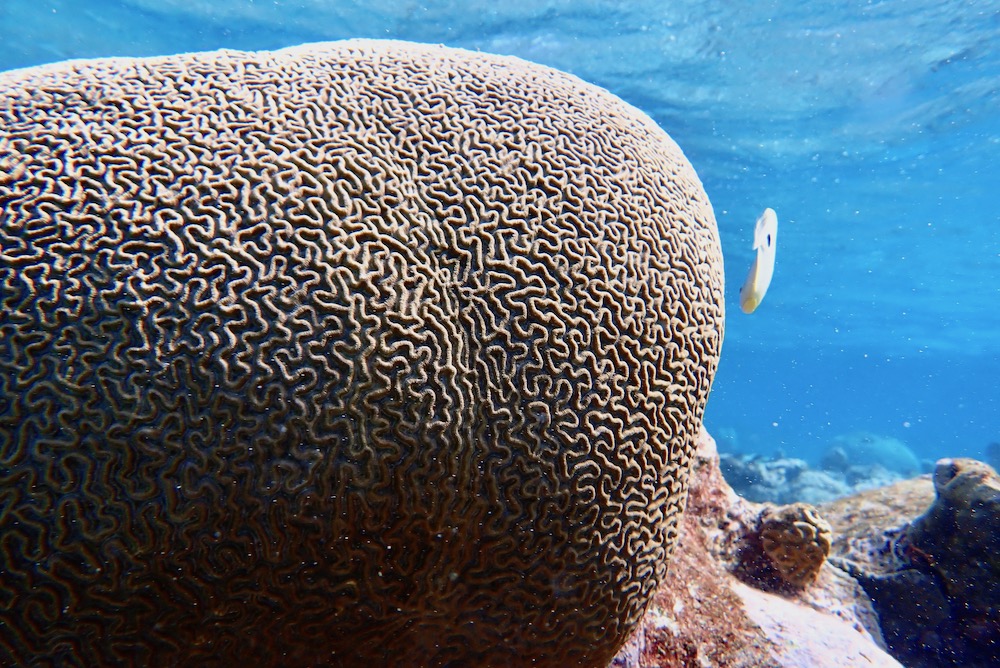 When we came back to the surface I couldn't believe we'd been snorkelling for an hour and a half. It went by so quickly because there was so much to see!
Our guide, RJ, was amazing at leading the way, keeping us safe and making us laugh. He was a lot of fun and made the experience really special.
We returned to our kayaks where RJ opened his 'bar' and handed out icy drinks and snacks from his cooler. We then pedalled back to the shore, racing our kayaks and laughing the whole way.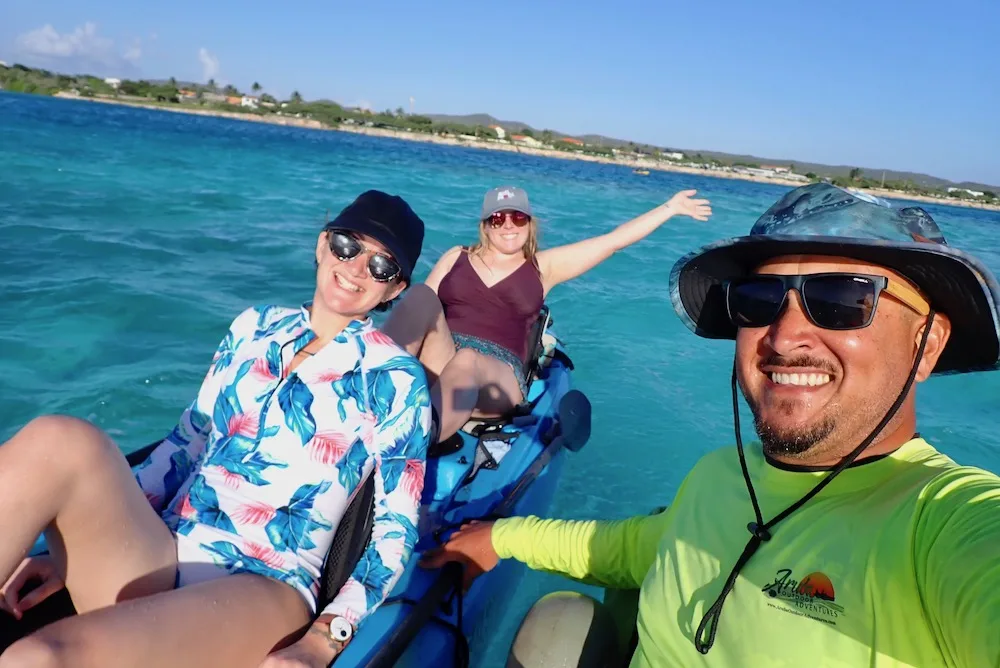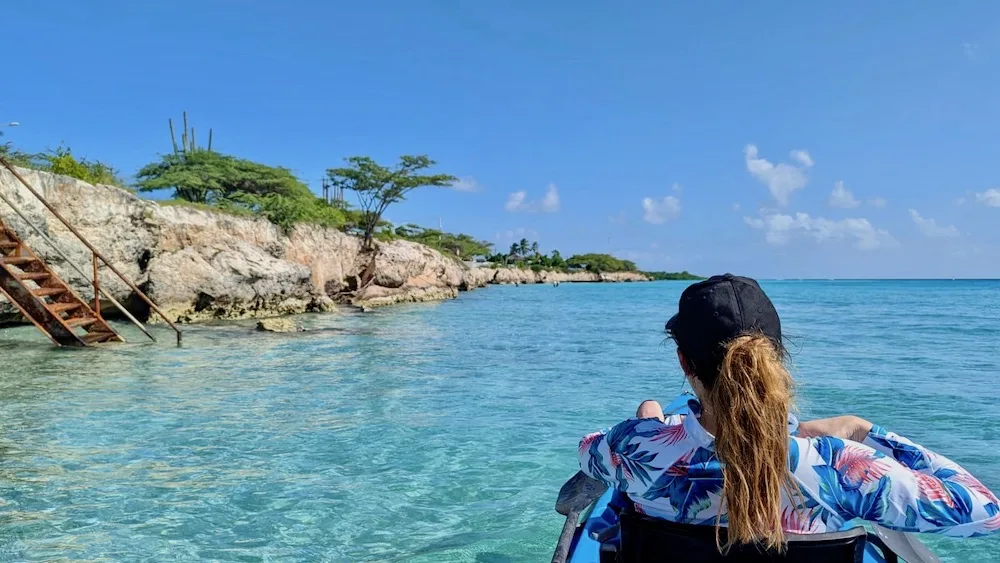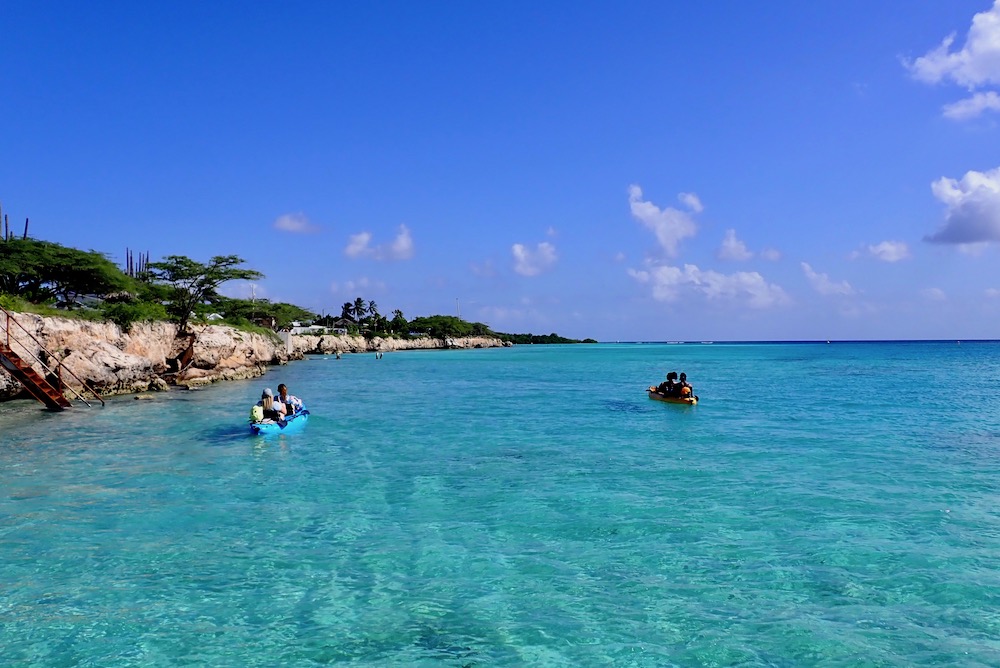 Have a romantic meal at Olivia Aruba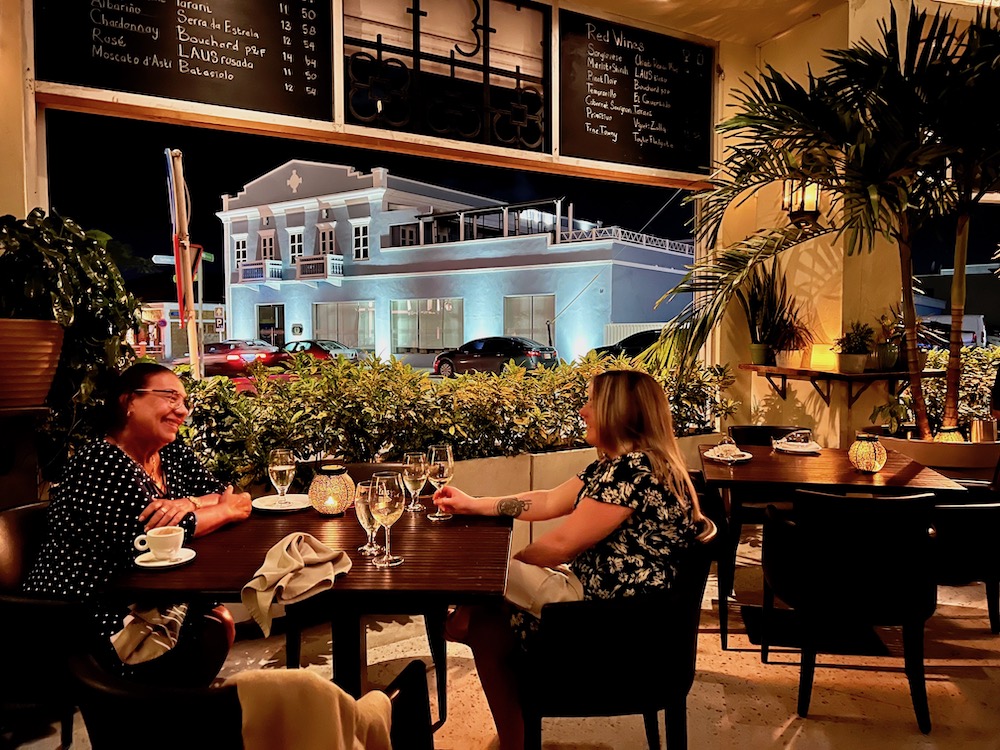 We ate dinner that evening at Olivia Aruba, a Mediterranean restaurant in Oranjestad. The candle-lit restaurant had an indoor-outdoor vibe with an open roof and plants and trees creating a lush, tropical feel.
I ate pumpkin ravioli and a delicious baked shrimp dish with lots of tasty bread and wine. It was gorgeous and the atmosphere was so relaxing and romantic.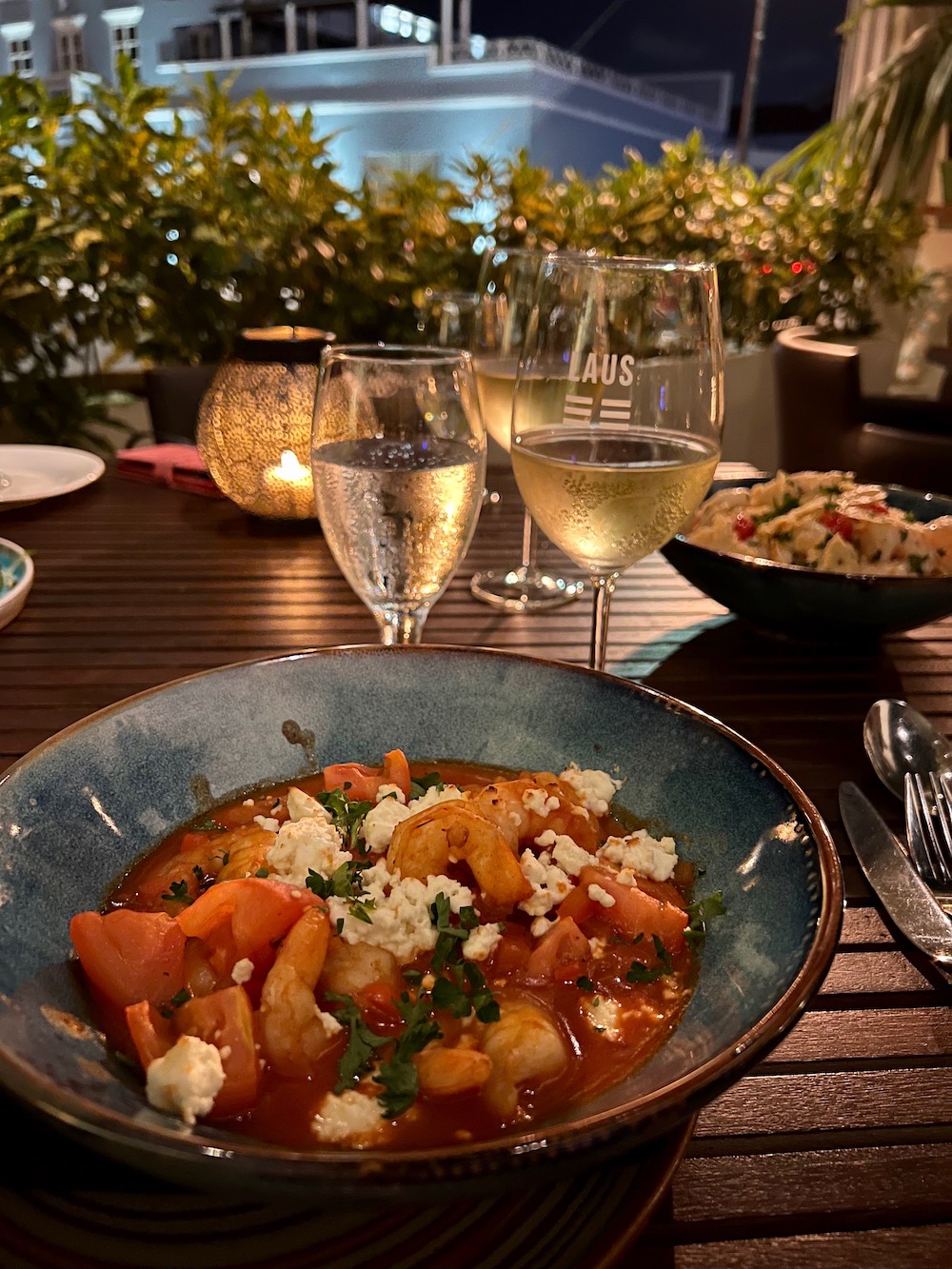 Day 3 in Aruba
Mountain biking with Aruba Active Vacation
We had an early start on our third day in Aruba so we really appreciated the fully equipped kitchen at Boardwalk Aruba. We had a quick breakfast out on the terrace before heading out for a mountain biking tour with Aruba Active Vacation.
Aruba is a fairly flat island, so I was imagining that the term 'mountain biking' would be a bit of a stretch and I was mentally prepared for more of a relaxing ride. Oh boy, this wasn't a relaxing ride! It was incredible, but it wasn't relaxing.
We rode from the beachside cabin, where our bikes and guide, Rudolph, were waiting for us and headed inland to a side of Aruba I'm getting many visitors to the island don't see.
Away from the beaches, Aruba is a very dry desert with enormous cacti, creating the desert equivalent of a forest.
Dusty, rocky tracks lead through the cacti forest and up and down small hills, beneath the canopy of cacti, across boulders and rivets, more rocks and more hills. And finally, we reached the shore where a dusty, sandy road led along the beach and back into town.
It was an incredible ride and it was great to see a different side to Aruba and visit that harsh, gorgeous cacti forest and the rocky, dusty paths that lead through the interior of the island.
Travel Hack Tip: The particular ride we did was definitely for more experienced riders than Emily and I so I'd bear this in mind when you're booking. If you're more of a novice then I'd recommend a different route or just let your guide know you'll need some help and will take it slow. You can also hire bikes and go off for a solo adventure. Just make sure you leave early before it gets too hot!
Lunch at Garden Fresh
If you're looking for a casual but healthy lunch in Aruba then check out Garden Fresh. It's a laid back cafe with a great, healthy menu.
I actually found a lot of the food in Aruba to be really healthy and fresh with loads of vegan and veggie options. I usually come home from a trip feeling a bit gross and like I've eaten way too much unhealthy food but I came home from Aruba feeling really healthy!
Natural Pool Off-Road Jeep Safari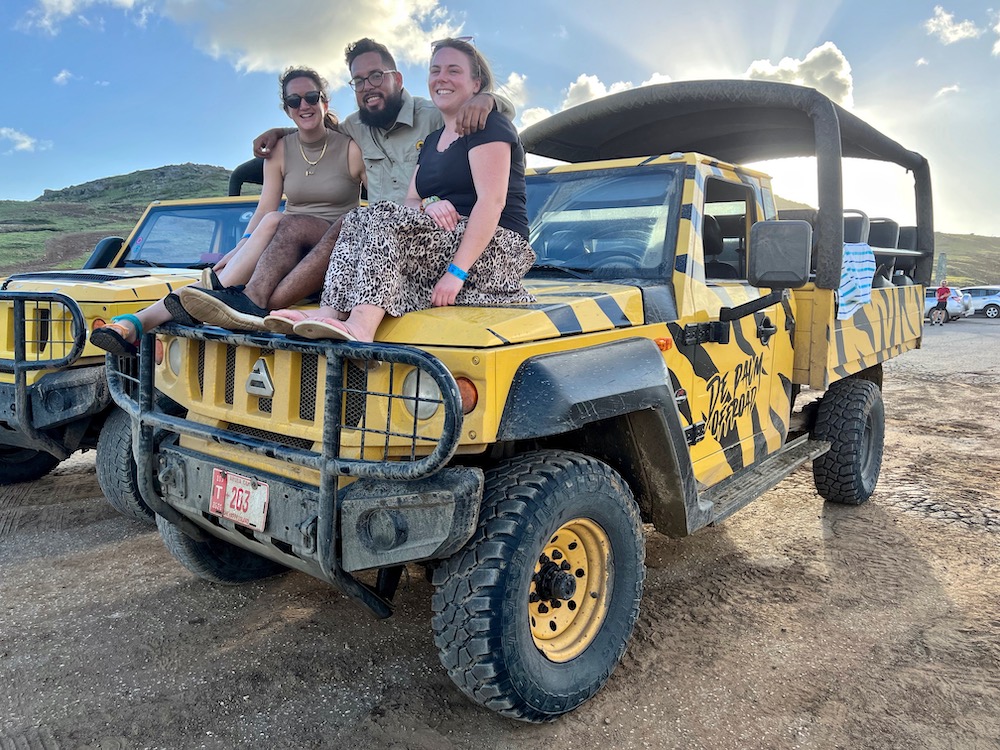 Next up we headed to the Ritz Carlton to wait for a pick up with De Palm Tours.
This company has lots of tours, but we were joining the Jeep off-road adventure that would take us into the National Park to see the Natural Pools, the California Lighthouse, Altavista, Chapel, the Natural Bridge and the Baby Natural Bridge.
The attractions were all incredible, especially the natural pools where the protective rocks around the shore have created a natural swimming pool. It's flushed out regularly with huge waves crashing over the rocks and creating an exciting swell and a rush of excitement for everyone in the pool. The brave visitors will jump from the rocks while everyone applauds them from the water below.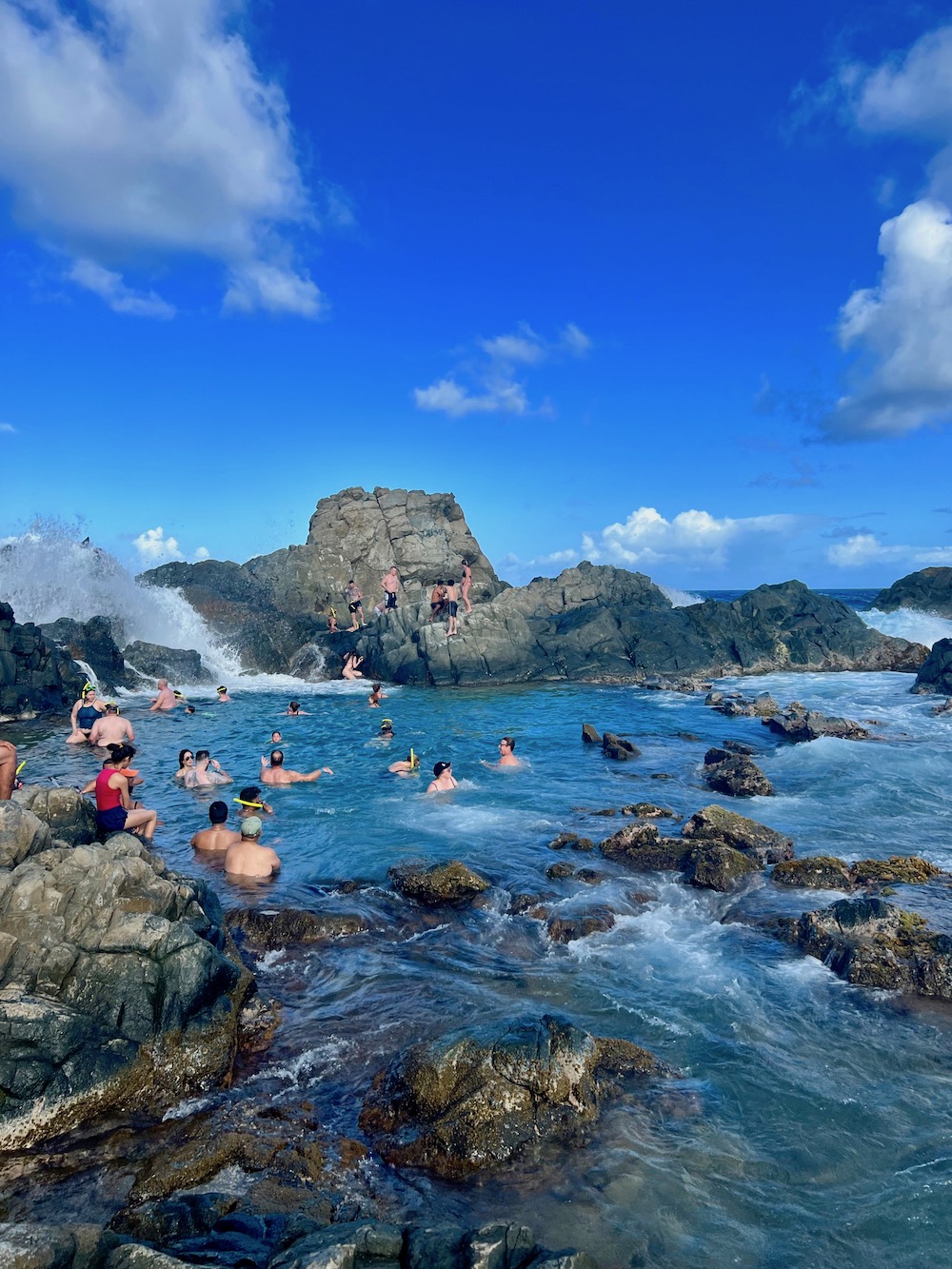 The atmosphere was electric with the excitement and the beauty and rush of adrenaline that comes from the power of the sea.
All of the attractions are amazing, but the real joy of the tour was speeding through the national park in the back of a jeep with an absolute lunatic behind the wheel.
We all knew we were perfectly safe but it was still terrifying as we clung to the bars and bounced from our seats as we bumped over rocks, sped around corners and raced to the second jeep on the tour.
It was a lot of fun with lots of whooping and cheering jokes and banter. We were dropped back off at the Ritz Carlton so it was just a short walk back to the Boardwalk Hotel where a few glasses of wine were very much needed after our adventurous day.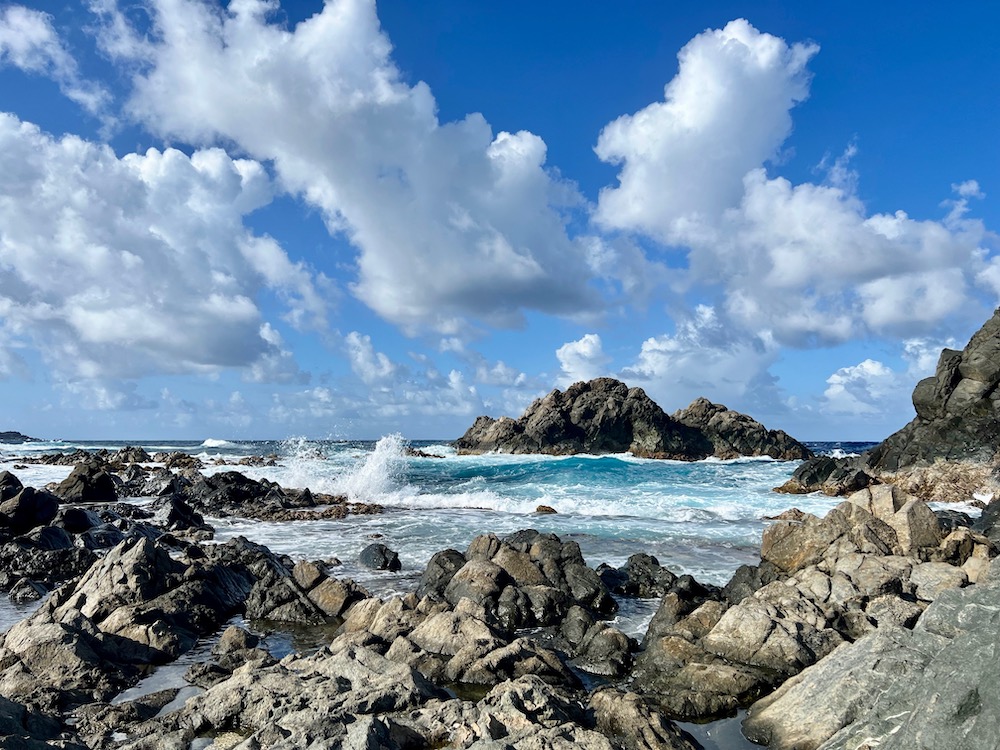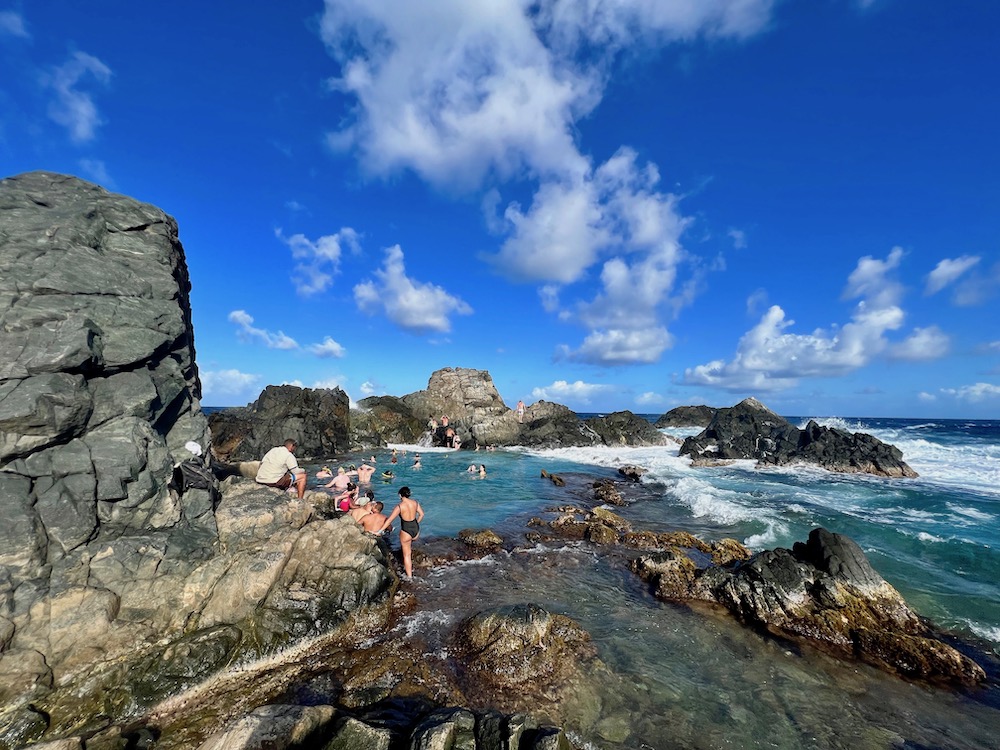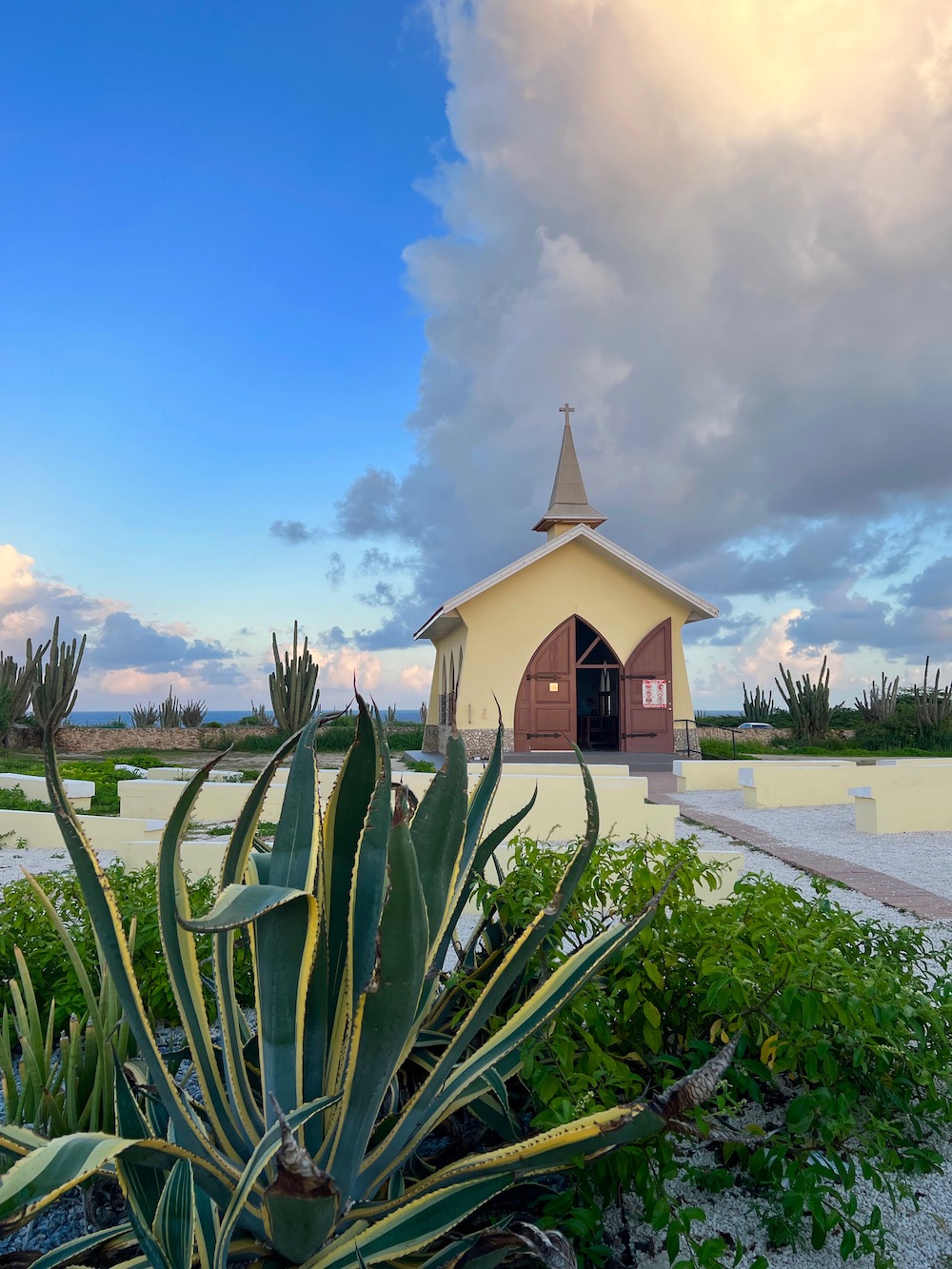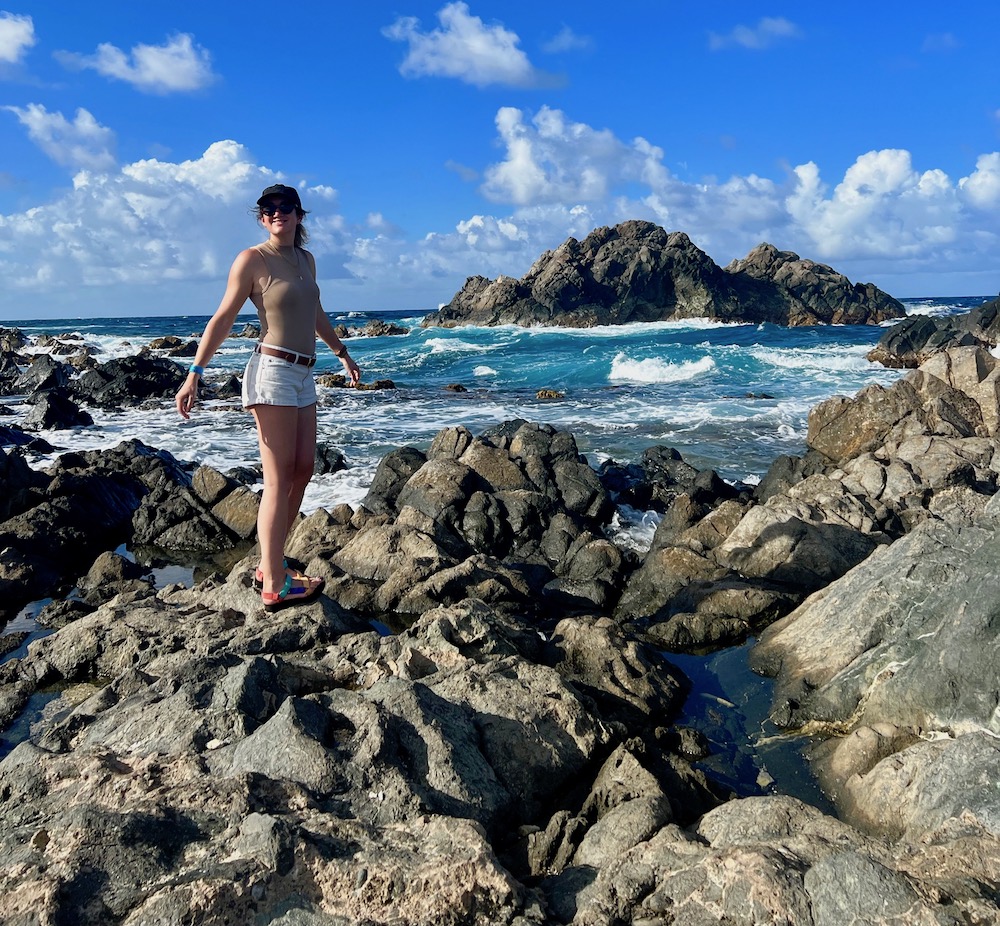 Dinner at Papiamento Restaurant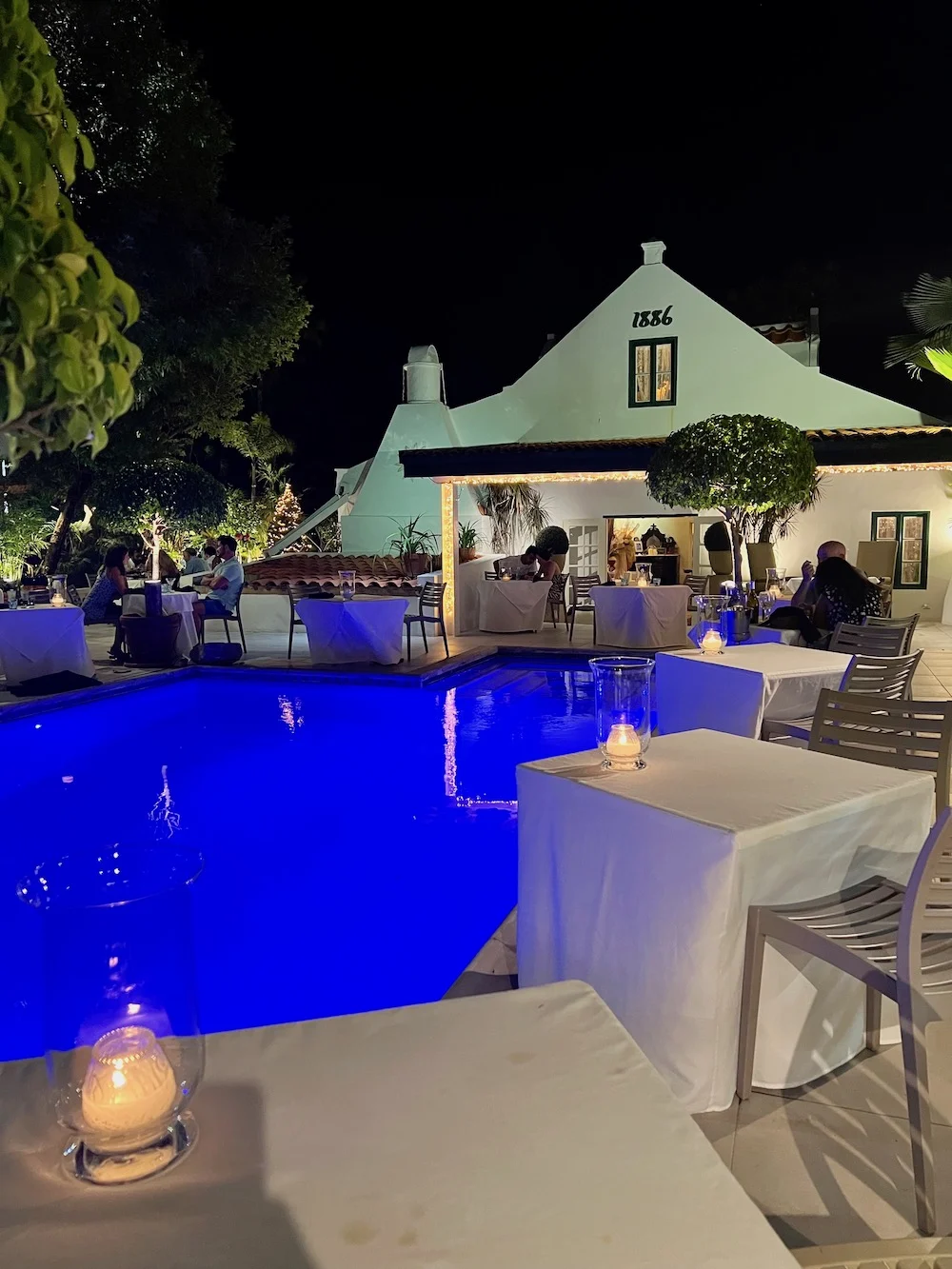 We had dinner that evening at Papiamento Restaurant, another outdoor restaurant set within the lush gardens of a beautiful old home that is more like a museum.
Apparently, the owner had a restaurant in town but when the rent went up she decided to bring the restaurant into her home. She set up tables in the leafy courtyard next to the sparkling swimming pool and it's now one of the best restaurants in Aruba.
We had a delicious meal, starting with a traditional Aruban dish called keshi yena that was somewhere between a mince pie and cottage pie with cheese on top. Yes, it sounds a bit like that episode of friends where Rachel makes a trifle cottage pie! It shouldn't have worked but it really did and it was spicy, warm, sweet and comforting. And who doesn't love a dish topped with cheese!
I then had a hot stone dish with lobster and shrimp which was incredible!
Day 4 in Aruba
Relaxing day at Tierra del Sol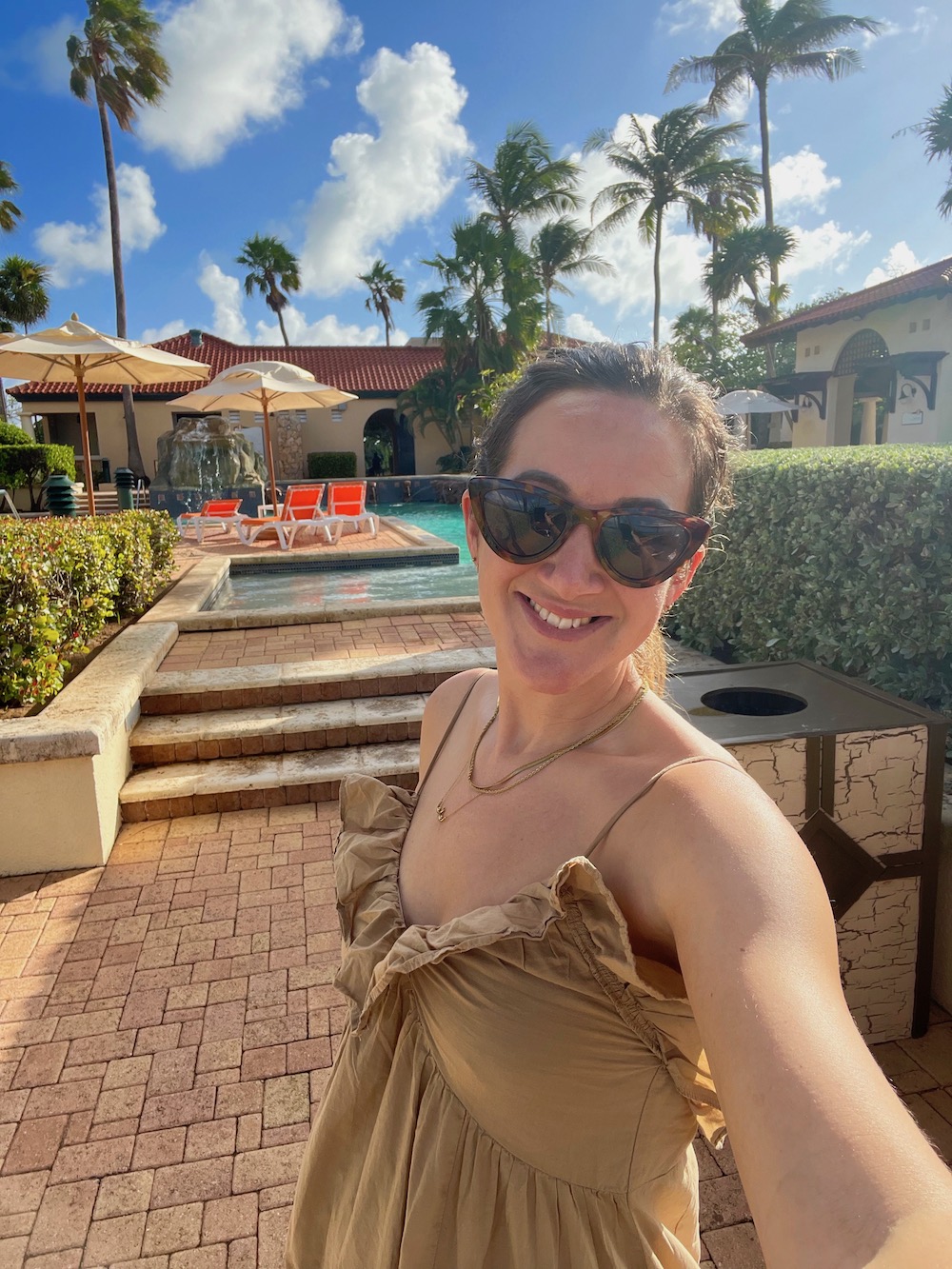 On our final day in Aruba we didn't fly home until the evening so we had a gorgeously relaxing afternoon at Tierra del Sol.
Tierra del Sol is a country club, spa and resort and is home to the only 18-hole golf course on the island.
You don't need to be a guest here to visit and you can book a spa package which includes spa treatment and use of the spa facilities and pool.
I had a gorgeous massage followed by a final soak in the sun and then an early dinner overlooking the golf course. It was lovely and a great way to spend our final afternoon in Aruba.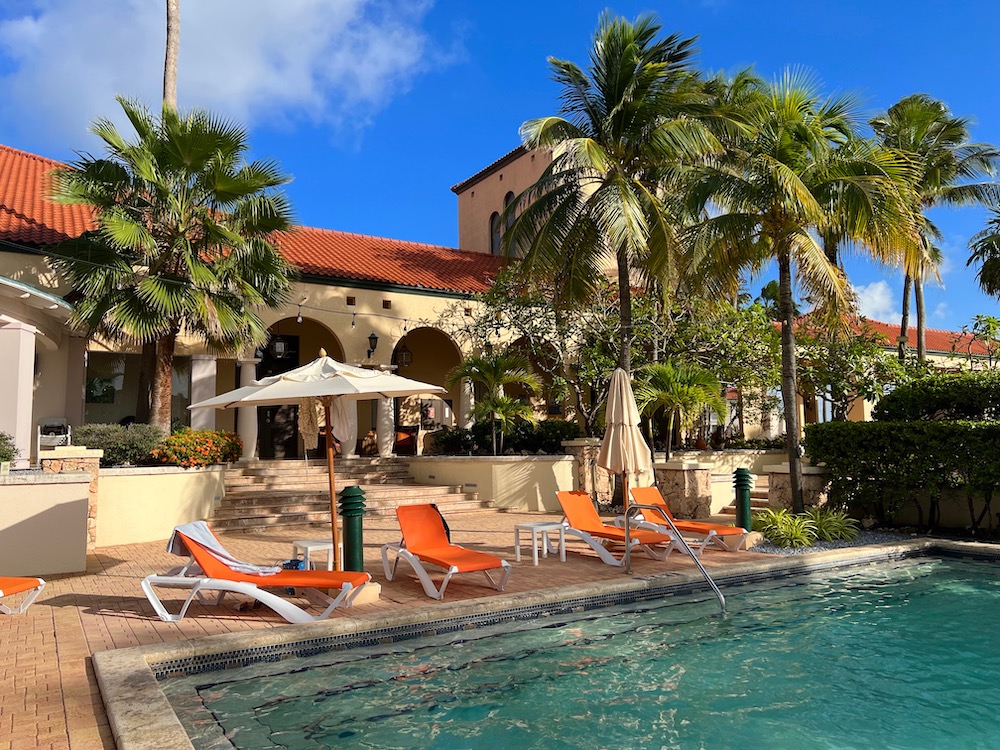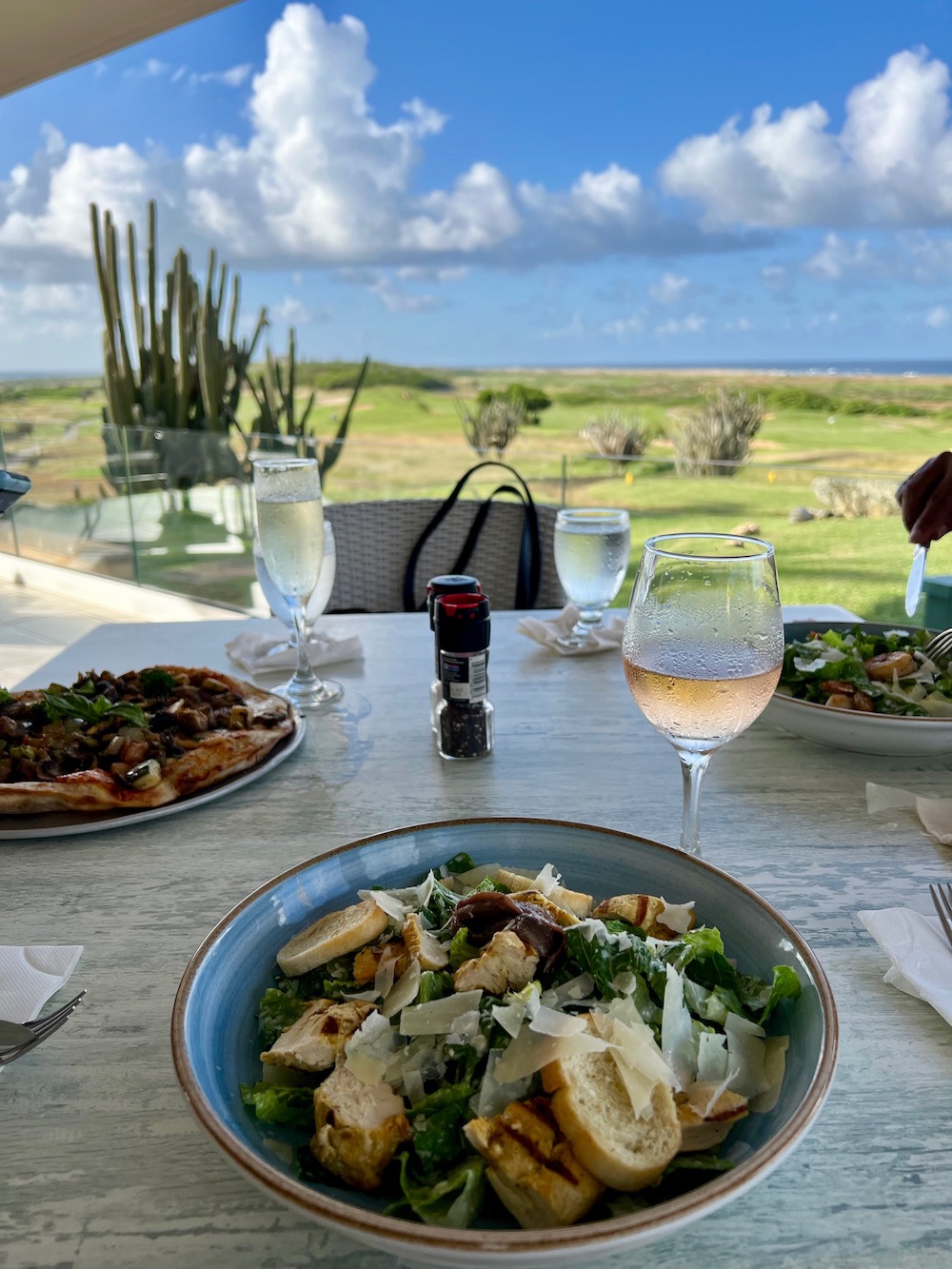 Aruba Submarine Tour
This isn't an activity we did but I had to add it to the list of things to do in Aruba because it looks incredible and is a great way to see the underwater world with kids or if you aren't a keen swimmer.
There are two submarine tours with De Palm Tours, one is a full submarine and goes a full 130ft below the surface! The other is a more affordable, family-friendly option and it sits 5ft below the surface.
Personally, I'd do the cheaper one because the sea is so clear that you'll see loads just below the surface!