I'm lucky enough to have lived in North Wales for the majority of my life. When asked where my favourite place in the world is, I always say North Wales! People often look at me in disbelief. Surely my favourite place would be somewhere more exotic like the Caribbean or South East Asia?
No, my heart lies in North Wales and, by the end of this post, yours will too!
Colourful fishing villages. Long stretches of craggy coastlines and soft white sand beaches. Historic steam trains offering panoramic views and the mountains and coastline. Not one, but six UNESCO World Heritage sites. The tallest mountains, the smallest houses, the fastest zip lines, and the longest place names. It's time for everyone to finally discover exactly what North Wales can offer!
You might be surprised, but this region is one of the most exciting and varied parts of the UK. Whether you're a beach bum or a mountain goat, a culture vulture or adrenaline junkie, you'll find it all and more in North Wales.
Don't believe me? Here are 25 of the absolute best things to do in North Wales. I have no doubt that you'll find lots of activities in this beautiful part of the UK that the whole family will enjoy.
25 things to do in North Wales
1. Climb Mount Snowdon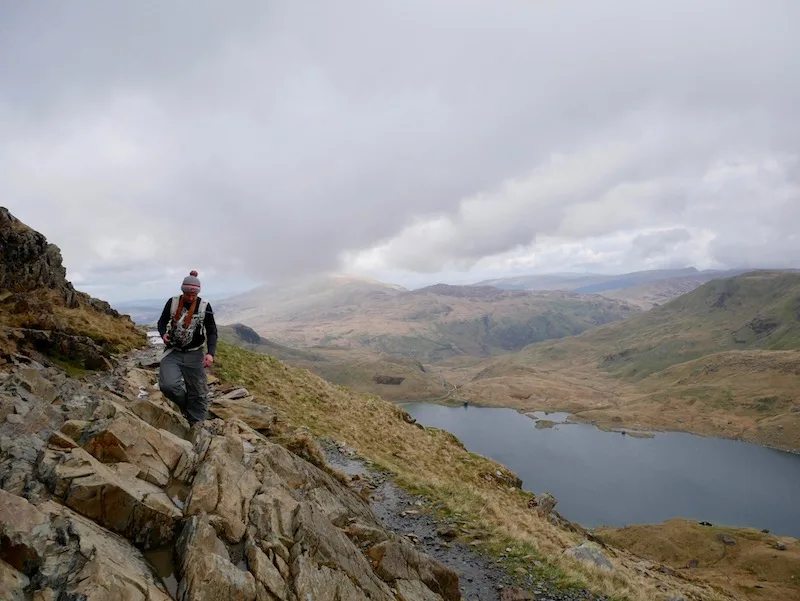 Let's start with one of the best and most popular activities in North Wales. The pièce de résistance of Snowdonia National Park is Mount Snowdon. With a 1,085m/3,560ft elevation, It's the tallest mountain in the country.
If you have reasonably good health and fitness levels, there's no reason why you shouldn't be able to climb and summit Snowdon. There are around six different paths you can choose that begin in different towns and the most popular is from Llanberis.
But if that's not your cup of tea, there is a train you can hop on from Llanberis Station that will take you straight to the top (weather permitting!). There's even a cafe at the summit too. You don't get that kind of service on Scafell Pike!
Read more: What to wear to climb Snowdon
2. Portmeirion Fishing Village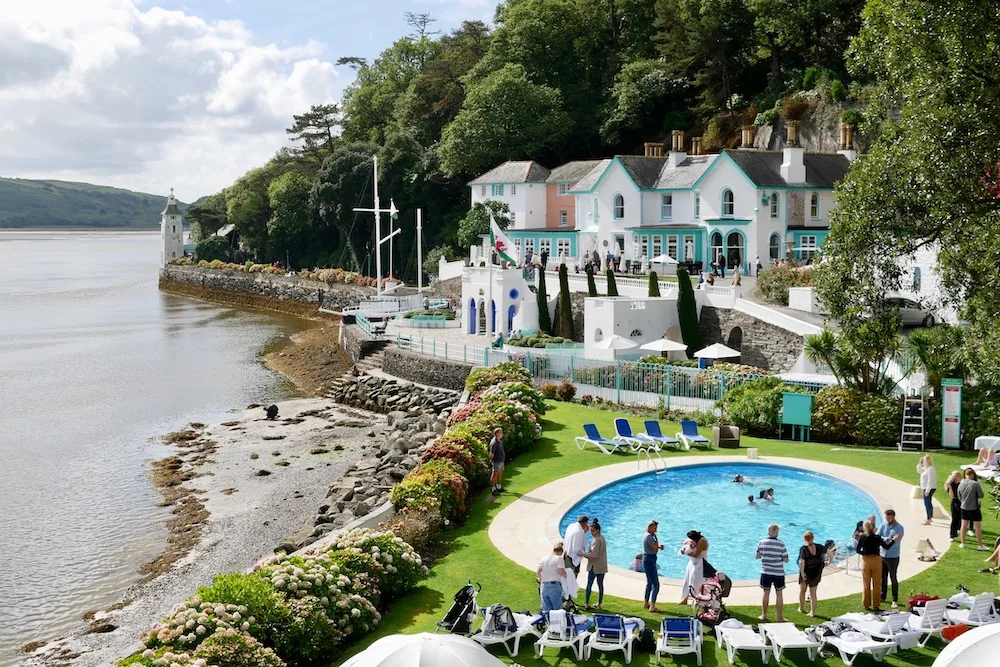 It's difficult to imagine that an Italian Riviera-style village would ever exist in North Wales, but it's true. Welsh architect Sir Clough Williams-Ellis built Portmeirion on his private property in the mid-20th century. He wanted to prove that a beautiful place could be built without spoiling the natural beauty of the landscape.
And he was right! The village's brightly coloured cottages, shops, galleries, and other buildings fit right into the woodland behind the town and the coastline in front.
Read more: Visiting Portmeirion, the Italian style village in North Wales
3. Conwy Castle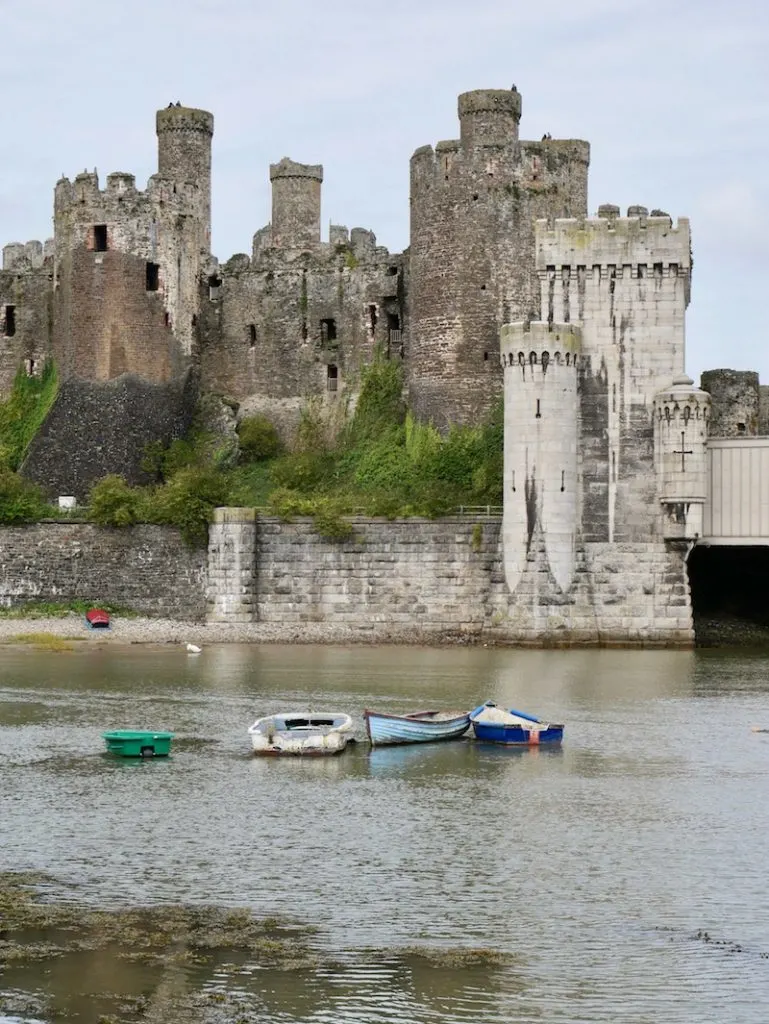 Conwy Castle is one of four castles in North Wales that make up the "Castles and Town Walls of King Edward in Gwynedd" UNESCO World Heritage Site. These are remarkably well-preserved medieval castles built during the 13th and early 14th centuries.
Conwy Castle is one of the most popular with visitors. Not just because of how well-maintained the castle is, but because its town walls, suspension bridge, and overall beauty also draw people to Conwy. You can also climb to the top of the castle's towers for gorgeous panoramic views along the River Conwy.
Read more: 20 of the best castles in Wales you have to visit
4. Pontcysyllte Aqueduct & Llangollen Canal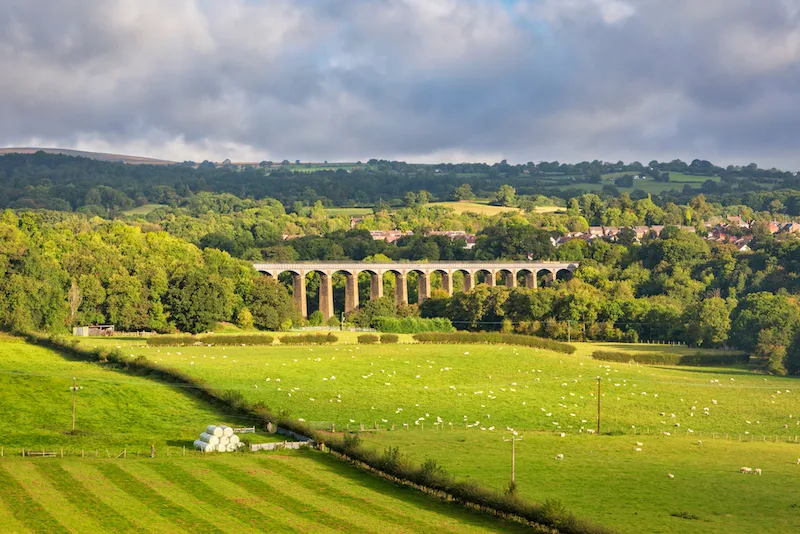 Already we're onto the next UNESCO World Heritage Site in North Wales! Dating back to 1805, the Pontcysyllte Aqueduct is an 18-arch bridge built to carry coal barges during the Industrial Revolution. Today, it mostly serves canal boats and walkers enjoying a fun day out.
Apparently, it's the world's highest navigable aqueduct (though how many aqueducts are there, really?). Whether you walk or sail along the aqueduct yourself or witness it from afar, you'll no doubt be impressed by the size and scale of this structure.
Read more: How to have a perfect weekend in Llangollen
5. Garth Pier in Bangor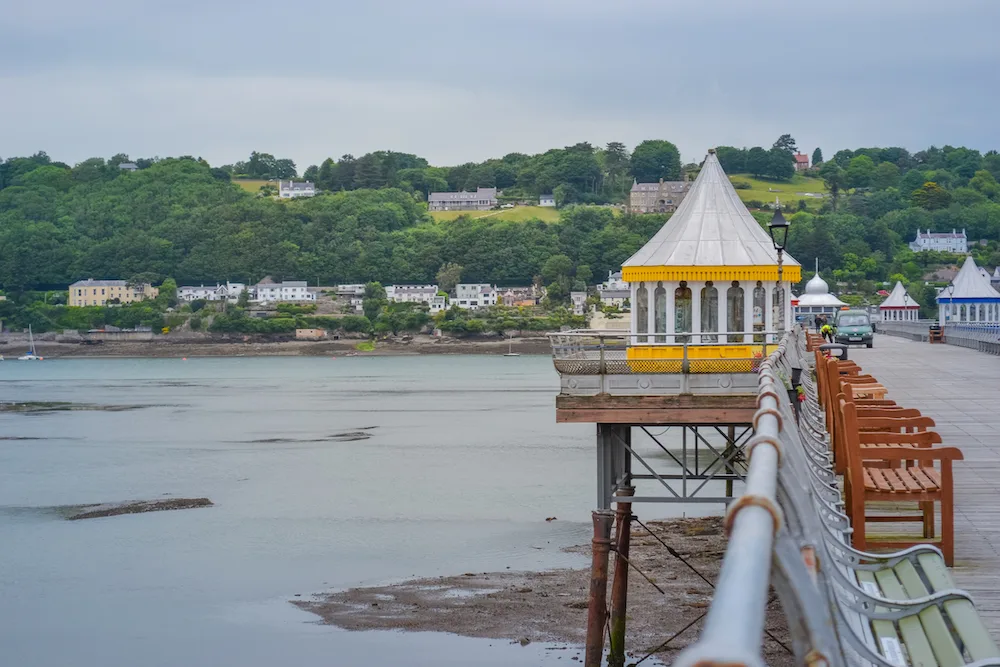 There are lots of things to love about Bangor. It's a university town, the oldest city in Wales, and it has lots of wonderful green spaces and wildlife reserves. Much more than your average coastal city! But one of the best things to do in Bangor is to walk along Garth Pier.
It's a 1,500ft Grade II-listed pier dating back to the turn of the 20th century. What makes it so unique and cute are the small rainbow-coloured huts that line either side of the pier. Each one is a teeny tiny cafe, restaurant, or shop. You won't be able to keep yourself from exploring every single one.
6. Caernarfon Castle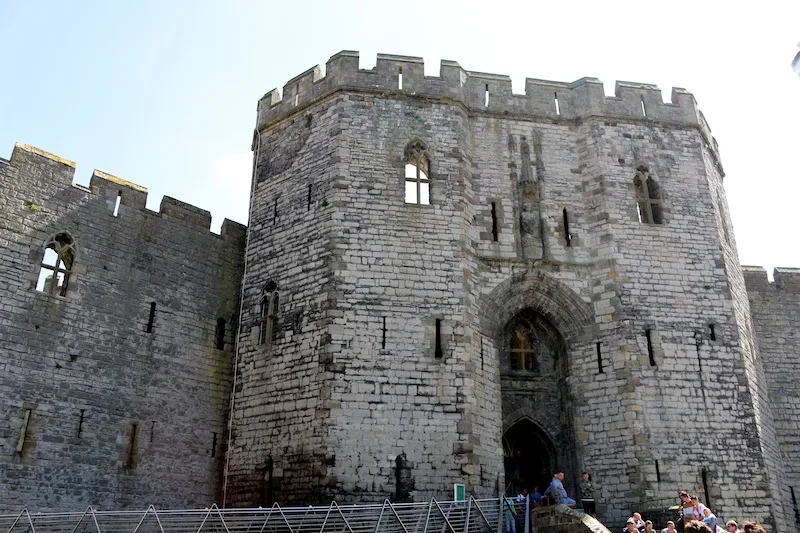 The next UNESCO castle of North Wales is Caernarfon Castle near Anglesey. It is also a miraculously conserved castle considering it is around 80 years old. Like Conwy Castle, it sits on a beautiful stretch of coastline next to a charming seaside town.
One of the reasons why visitors adore these castles so much is because they exceed your expectations and look far bigger in person than in their photographs. Along with the fascinating exhibitions, you'll learn a lot about Caernarfon's history and won't leave disappointed.
Read more: Staying in a Bath Towel on the town walls of Caernarfon Castle
7. Llyn Peninsula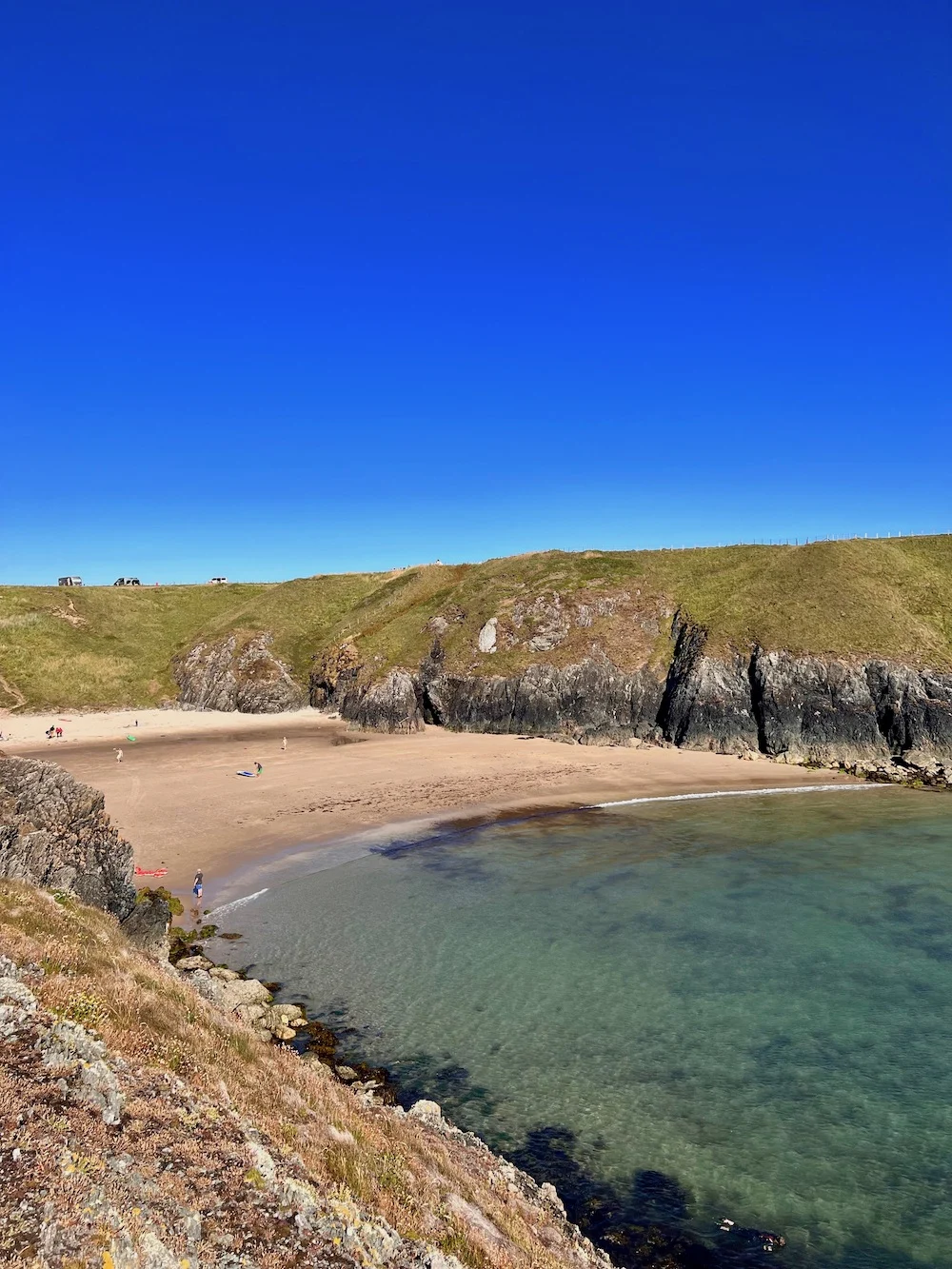 The Ll?n Peninsula is a huge area, so it's probably cheating to include the whole chunk as one of the best things to do in North Wales! But it's an official "Area of Natural Beauty" which just goes to show how much of North Wales is absolutely stunning.
You're rarely more than a 10-minute drive away from the coastline in any town on the peninsula. And there are tons of hiking trails, like the Ll?n Coastal Path. The 4-mile Porth Neigwl beach is particularly beautiful, as is Traeth Porthor beach.
Read more: Two of my favourite beaches on the Llyn Peninsula are Porth Iago and Llanbedrog Beach.
8. Holyhead in Anglesey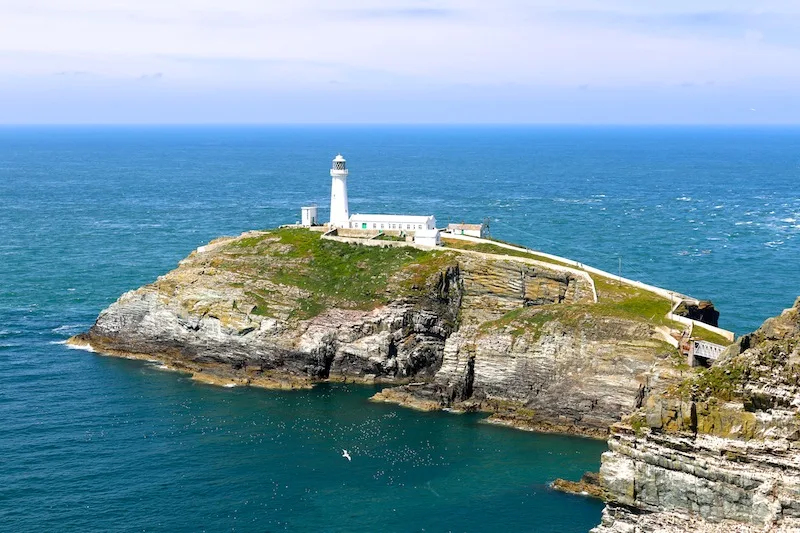 Anglesey is an island and the most north-westerly point in Wales. There is so much to do on this island but if you've never visited before then you should definitely check out Holyhead. It's the largest town in Anglesey with lots of nice museums, restaurants, and monuments.
One of the most picturesque parts of Holyhead is the South Stack Lighthouse. It's a pristine white building perched on top of a hill surrounded by nothing but sea and there are guided tours in the peak summer season.
Read more: Glamping in Anglesey with Wonderfully Wild
9. Adventures at Zip World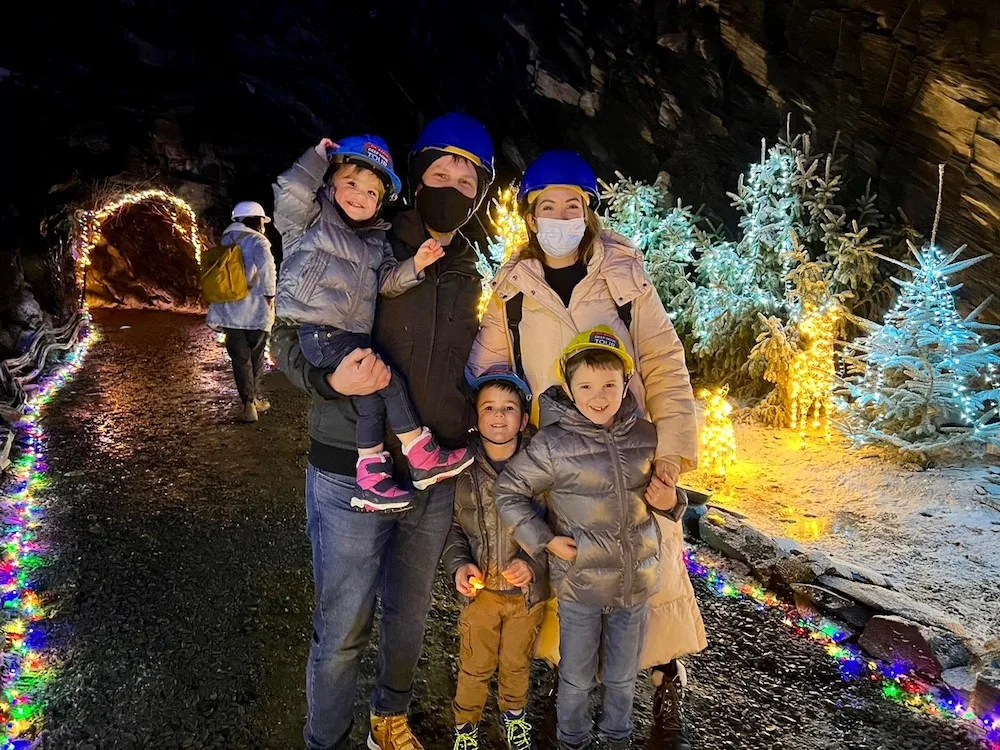 If leisurely hikes and charming seaside villages aren't exciting enough for you, North Wales can still deliver. Zip World offers zip-lining, underground trampolining, go-karting, and more in five locations like quarries, slate caverns, and forests.
The Zip World at Penrhyn Quarry in Snowdonia is the fastest zip line in the world. It's over 1.5km in length and will make you travel faster than 100mph!
Read more: An adventurous road trip through North Wales (including hiking up Snowdon and doing the big zipline at ZipWorld!)
10. Llandudno Pier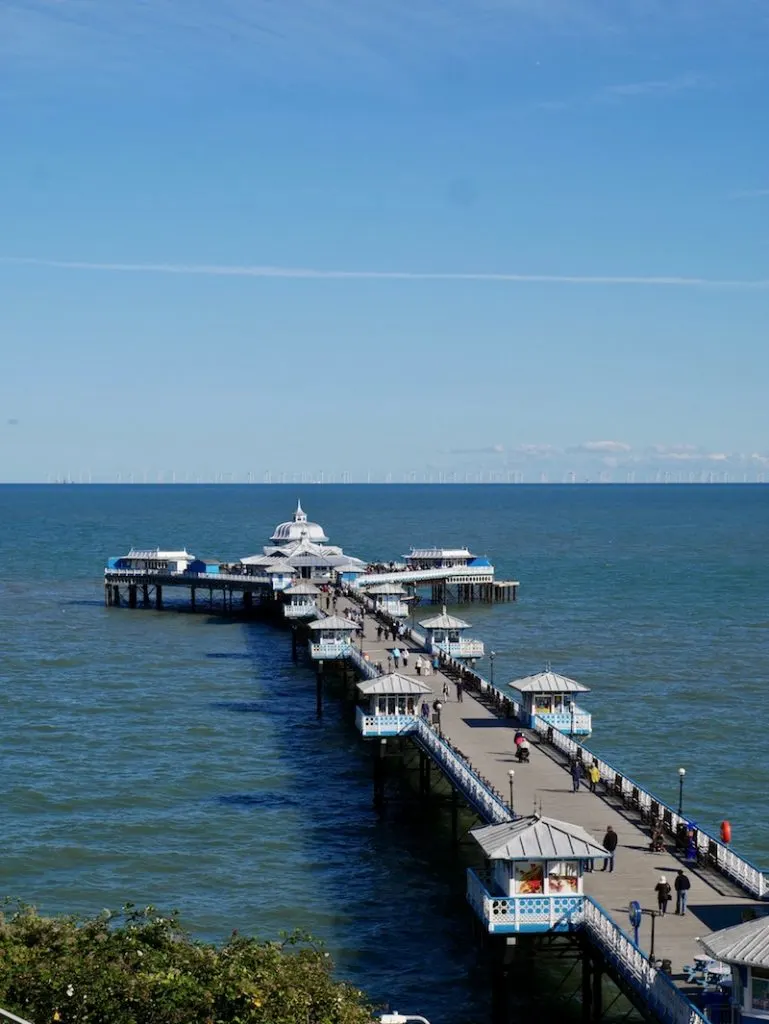 But who doesn't love charming seaside resort towns?! One of the best things to do in North Wales is to visit Llandudno with its pastel seafront buildings, two large beaches, and Victorian features. You can still catch a Punch and Judy show on Llandudno Promenade and ride the Victorian trams that date back to 1902.
But the best thing to see in Llandudno is the pier. It undoubtedly looks exactly as it did in the Victorian era complete with novelty stores and food stalls.
Read more: A day visiting Gwyrth Castle, Llandudno and Conwy
11. Beaumaris Castle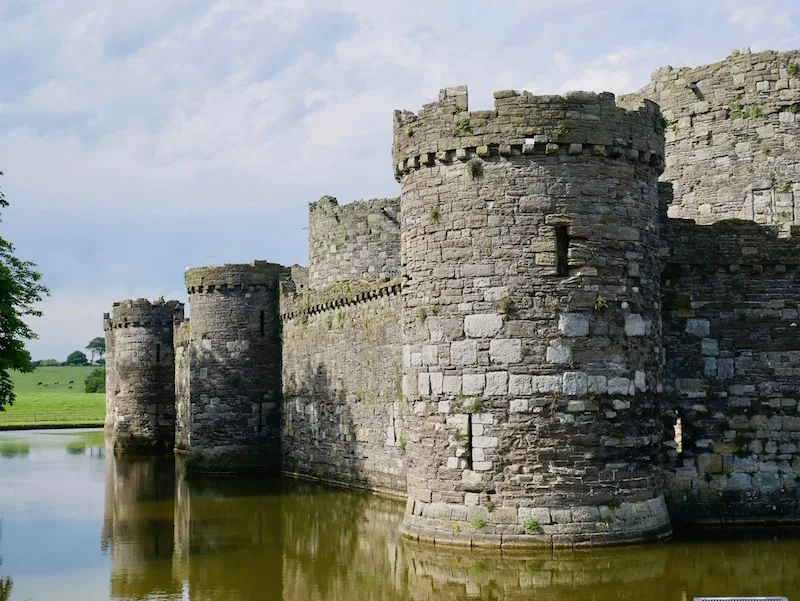 If Conwy and Caernarfon didn't satiate your desire for medieval castles, check out Beaumaris Castle. It's situated on the eastern coast of Anglesey overlooking the Menai Strait and is no less impressive than its UNESCO brothers.
During the peak summer season, Beaumaris Castle hosts lots of fun activities and events too.
Read more: A weekend glamping at Wonderfully Wild (which is in Beaumaris)
12. Erddig Hall in Wrexham
Owned by the National Trust, Erddig Hall is a huge manor house dating back to the 17th century around two miles outside of Wrexham. Not only is the house and its interiors beautiful, but the 12,000-acre garden alone is worth a visit.
Fun fact: The Yorke family owned the property for 240 years after the original owner went bankrupt building the property. And every single owner either had the name Simon or Philip! Christmas dinner must've been so confusing for their family.
Read more: 10 unmissable National Trust attractions in North Wales
13. Longest Place Name in Europe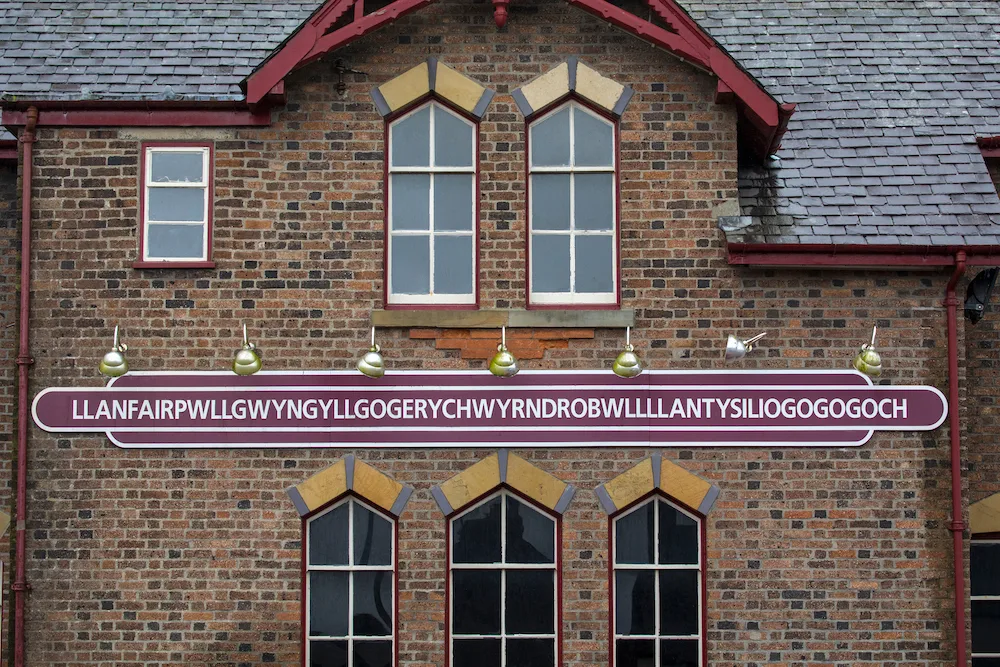 Can you visit Anglesey without stopping by the village that has the longest place name in Europe? Absolutely not! It's surely on every British person's bucket list to make a pilgrimage to this tongue-twister of a town and take a selfie with the train station sign.
The village of Llanfairpwllgwyngyllgogerychwyrndrobwllllantysiliogogogoch didn't always bear this comically long name. In 1860, they decided to combine the names of several towns as a PR stunt. And it worked! There are several shorter versions but they're nowhere near as fun.
So, what does it mean in English? Something like "St Mary's Church in the Hollow of the White Hazel near a Rapid Whirlpool and the Church of St Tysilio near the Red Cave."
14. Bodnant Garden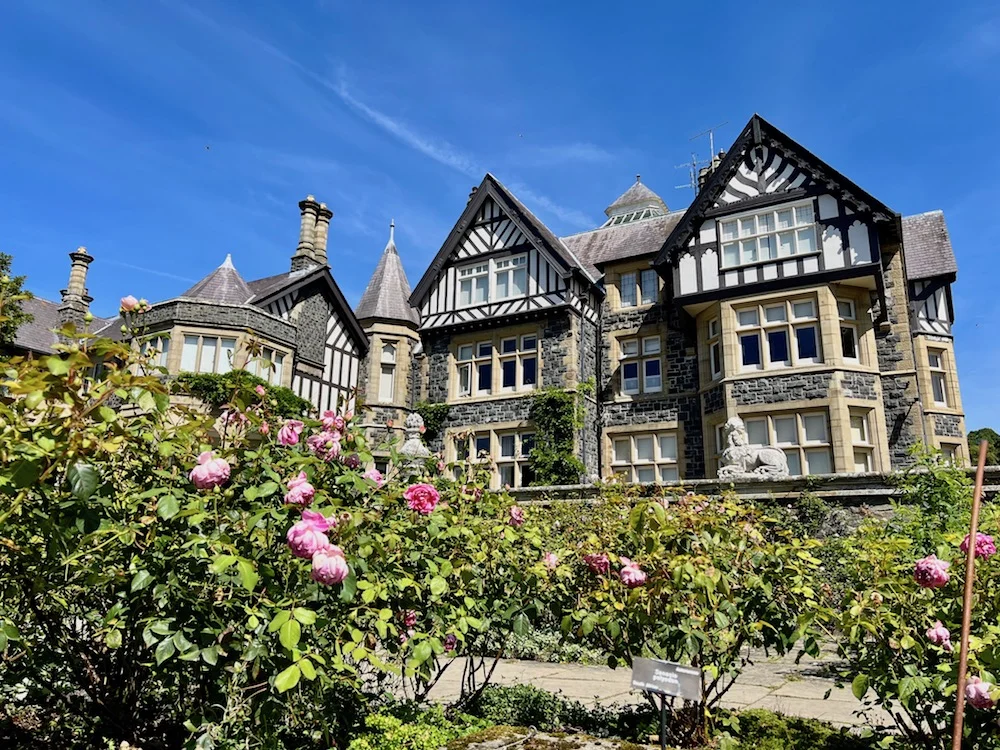 Just outside of Snowdonia National Park is Bodnant Garden, an 80-acre garden with plants collected from all over the world. There are lots of paths so you can easily access the well-manicured lawns and flowerbeds.
With so many plants and evergreen species, there's plenty to see in every season.
15. Harlech Castle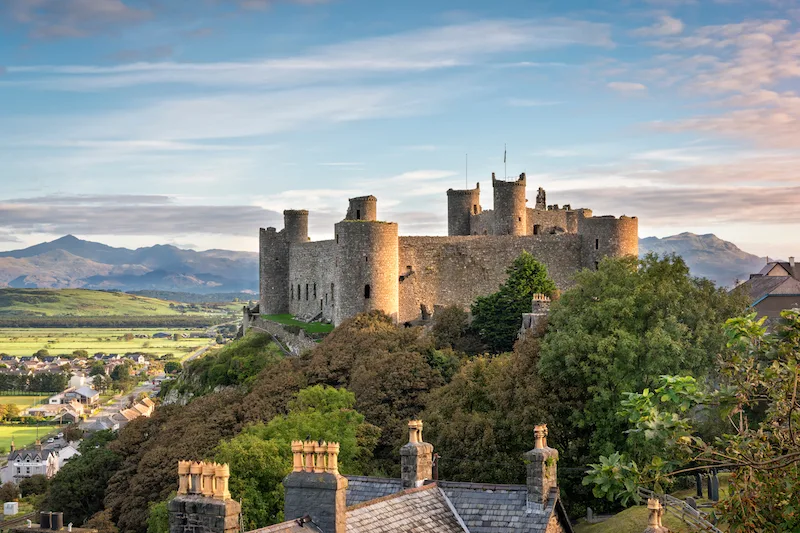 Harlech Castle is the final castle of the four medieval castles built by King Edward I that make up the UNESCO World Heritage Site. This is the most southerly of the castles and, like the others, is in impressive condition.
You can climb the city walls for views across Snowdonia to the east and the coastline to the west. Castle staff dress up in medieval costumes so it's a fun day out for the whole family!
Read more: Exploring Harlech and Harlech Castle
16. National Slate Museum
I'll admit, visiting a National Slate Museum sounds as fun as a Watching Paint Dry Museum. But slate quarries are super important to the history of North Wales and there are many interactive displays that make learning about slate much more interesting.
The museum is actually a former Victorian slate quarry in Llanberis. So not only does the site have lots of the old machinery and artefacts in the place they would have been used, it's at the foot of Mount Snowdon too.
17. Ffestiniog & Welsh Highland Railways
I don't know what it is about kids and trains, but for some reason, they adore a train ride! Especially when it's an old-timey steam train like the ones they have at Ffestiniog & Welsh Highland Railways.
There are lots of steam trains and railway lines used as tourist attractions as opposed to public transport in North Wales. But what makes this one stand out is its location. This journey will allow you to travel 14 miles with phenomenal countryside views.
18. Smallest House in Great Britain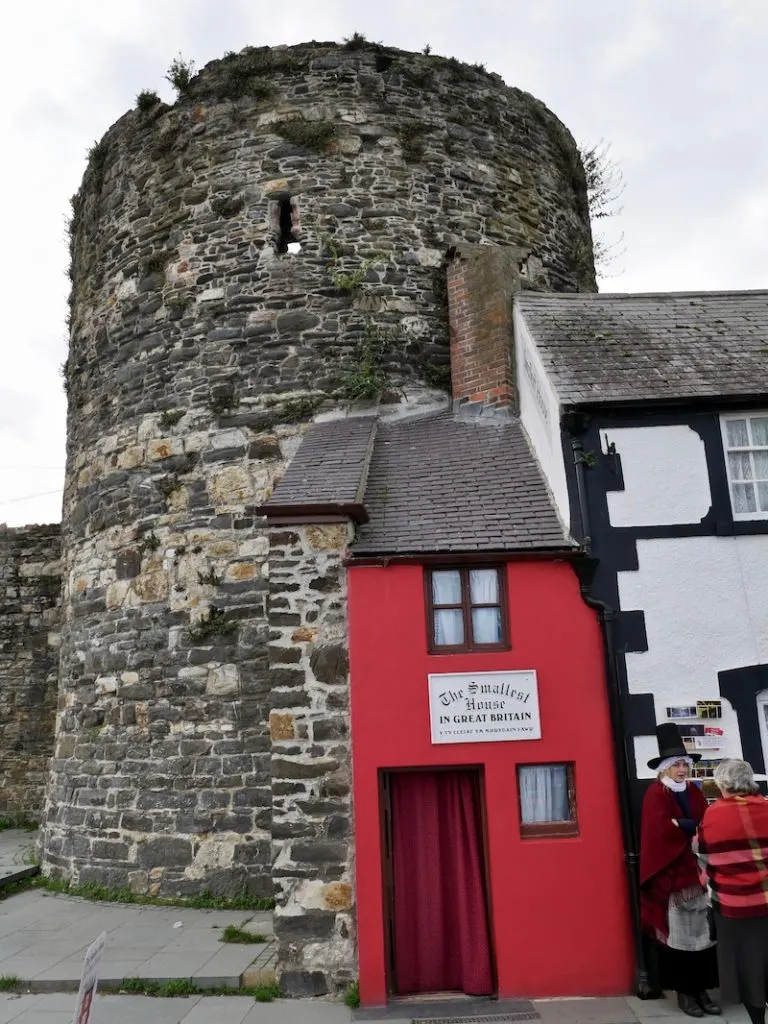 Would you be able to live in a house that measures 1.8m wide and has just two rooms? A fisherman in Conwy did! Today, this 16th-century cottage is open for visitors during the peak summer season.
Start preparing to hear comments like "I can't believe it's so small!" and "there's not even room to swing a cat!" now.
19. Great Orme Summit Cable Car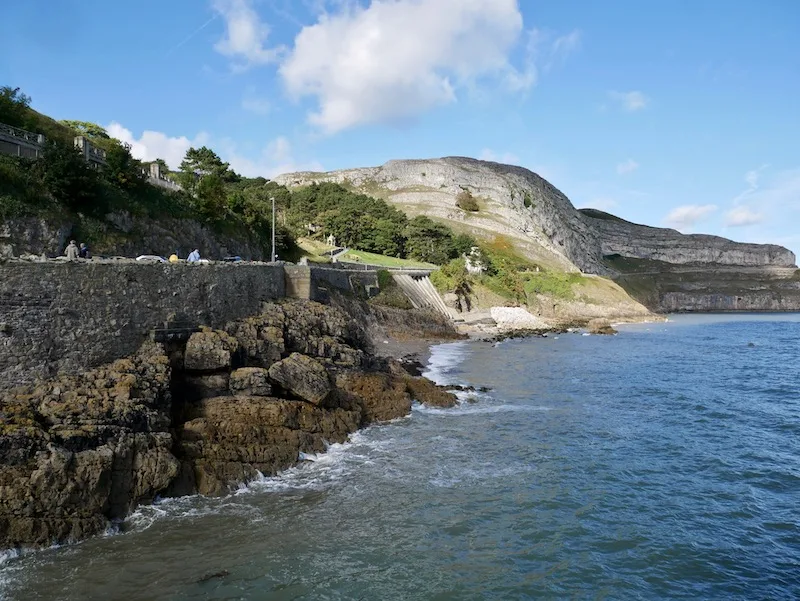 While you're in Llandudno and enjoying the Victorian pier, you can head slightly out of the town and hop on a cable car up to the top of Great Orme. It first opened in 1969 and offers lovely views of the coast and Llandudno.
20. Penrhyn Castle & Garden
It's not North Wales's fault that it is overflowing with incredible fortresses that they're all worth visiting. But Penrhyn Castle is very different from the medieval castles on this list because it only dates back to 1820.
It's a Neo-Norman structure with authentic and surprisingly ornate interiors. It's the gift that keeps on giving with beautiful gardens, a railway museum, and a decent artwork collection too.
21. Traeth Abermaw (Barmouth) Beach
One of the top things to do in North Wales is to visit a beach. Any beach! There are literally hundreds of stunning and pristine beaches in North Wales and most of them won't disappoint.
But since it would take weeks to list them all, let's start with one. Traeth Abermaw in Barmouth is one of the most highly-rated, well-loved beaches thanks to its soft sand, clean waters, and local town.
22. Plas Newydd House and Gardens
This historical mansion sits on the coast of Anglesey overlooking the Menai Strait not too far from the Pont Britannia bridge. It's a beautiful stately home dating back to the 18th century with a modest manicured garden and an extensive art collection.
Many of the properties on this list, including Plas Newydd House, are run by the National Trust. If you have a membership, you could enjoy many days out in North Wales without spending an extra penny!
23. Gelert's Grave in Beddgelert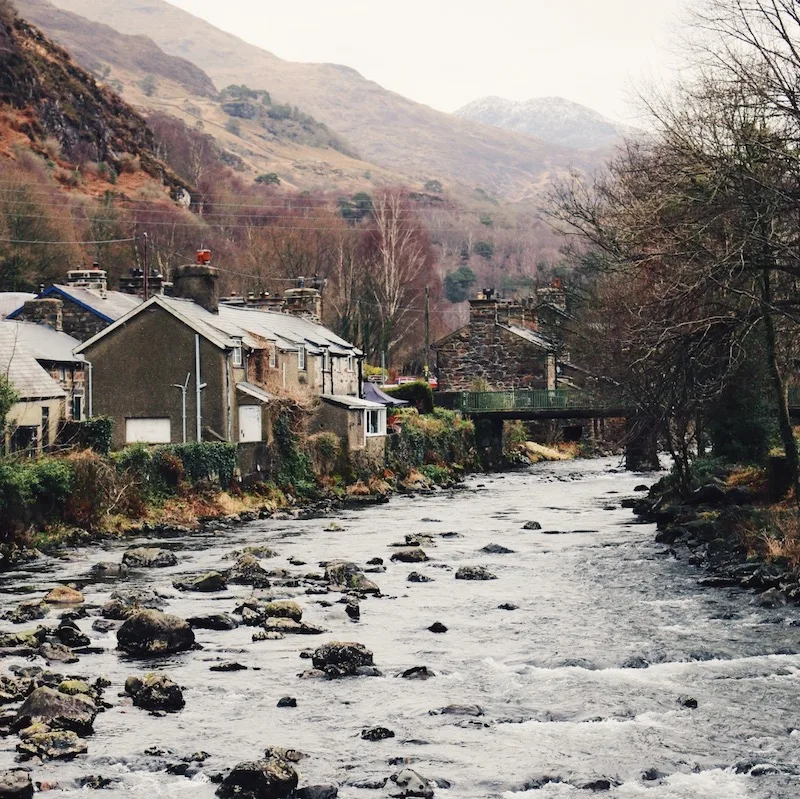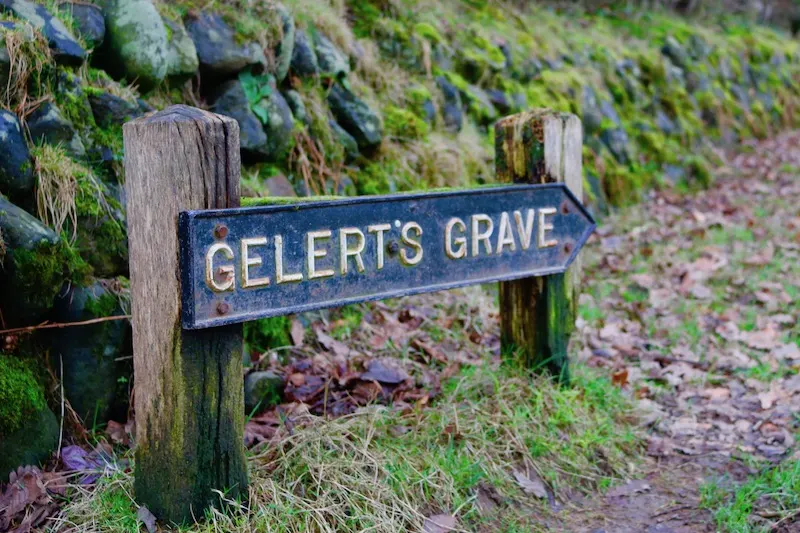 Do you want to enjoy a walk in Snowdonia National Park but don't fancy tackling Mount Snowdon? You have plenty of options, but one that comes with a bit of local folklore is near Beddgelert.
Long story short, Gelert was the 13th-century Prince Llywelyn's hunting hound. The prince mistakenly thought that his faithful dog had hurt his baby and tragically killed him, only to discover too late that his baby was fine. Today, there's a monument and tombstone dedicated to the dog just outside the town that bears Gelert's name.
There's a lovely riverside walk from the grave and the first part is a smooth path so it's totally accessible.
24. Welsh Mountain Zoo
Welsh Mountain Zoo in Colwyn Bay is a great day out in North Wales for the whole family. Not only is it in a beautiful coastal location, but it also houses rare animals you might not see in other UK zoos like red pandas, camels, and snow leopards.
25. Aber Falls Waterfall and Distillery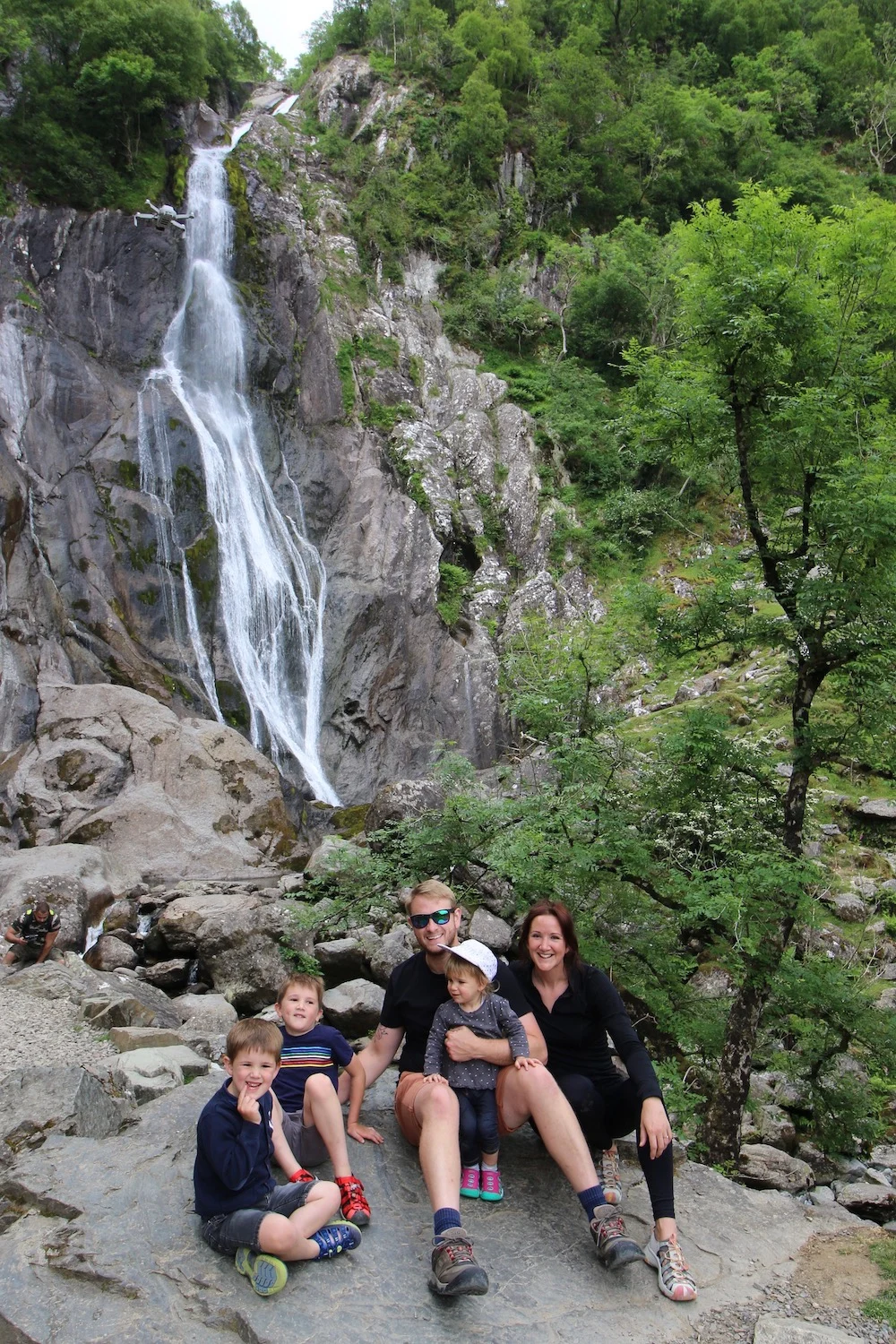 Something a little more unusual to do in North Wales is to check out the Aber Falls Distillery. Aber Falls is a beautiful waterfall and the distillery nearby is housed in a modern, Scandinavian-style building with large windows overlooking the coastline.
You can enjoy a tasting of their whisky, gin, and liqueurs onsite. And if you're driving, you can buy some to take home with you from their gift shop.
Read more: 10 things you need to know before visiting Aber Falls