I was going to name this article something along the lines of 'Oh em gee, I've found paradise', but no one ever really believes in a paradise island until they've seen it for themselves. I also didn't want to be one of those travellers who throw around the 'P' word like it's no big deal because, to me, the 'P' word is a massive deal and I'm pretty sure I've found it here in Dominica.
Dominica may not be a flashy or in your face paradise but it's my kind of paradise. It's relaxed, it's beautiful, it's adventurous and it makes me feel like I'm on another planet.
So let me tell you about my first 12 hours on the island of Dominica.
*********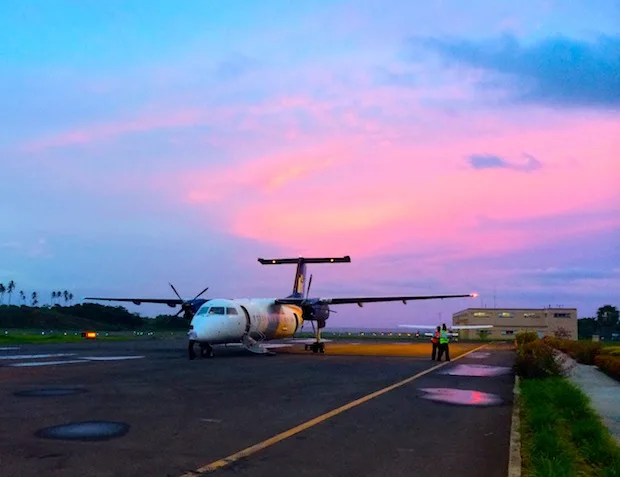 I arrived on the island of Dominica at around 7.30pm, the perfect time to see the sunset as we landed. It illuminated the sky with a magical pink glow that was made even more spectacular by the spiky mountains in the background.
I was picked up from the airport by my driver, Oris, who will be showing me around the island for the week.
It was soon picth black and we drove slowly along the winding roads. I was staying at Rosalie Bay Resort, about an hours drive from the airport. The roads wound through little villages where neighbours gathered outside brightly painted houses. I could see old men huddled around small tables covered with cards, young men smoking while eyeing up a group of girls and older women gossiping with chubby babies resting on their hips.
Dogs were lazily sprawled in the middle of the road, soaking up the last of the day's heat that had been absorbed by the concrete. Some of them barely even blinked when cars honked their horns for them to move while others slowly huffed to their feet and padded away.
The roads were quiet and we drove with the windows down to let the thick, fragrant air seep in.
One thing I love about arriving somewhere new is that you notice the air. You become so used to the air at home that you don't think about it, but in the Caribbean it's so different to the UK. Here it's so thick you feel the need to karate chop your way through it. It smells like flowers and forests and the sea, even when you're at the center of the island.
Tiny flies darted across the road, illuminated by the headlights so they looked like tiny lights fluttering around the trees.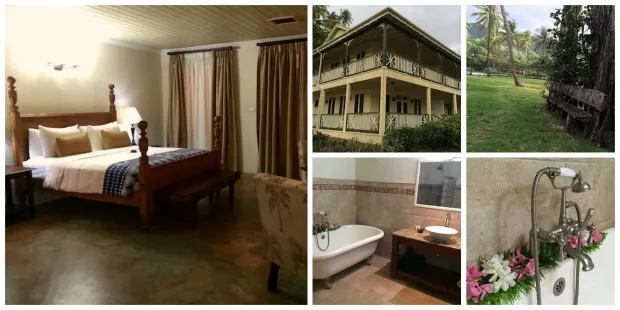 As I started to feel my head loll onto my shoulder (oh, hello jet lag) we arrived at Rosalie Bay. I was greeted with laid back smiles and immediately asked what I'd like to eat.
"What do you have?' I asked.
"You can have anything you want', the replied.
I could see I was going to like it here. I later realised that this is what it's like everywhere in Dominica. Menus and lists of activities are just a guide for bewildered tourists but you quick learn that you can basically eat, see and do whatever you like.
Rosalie Bay is THE place for turtle watching in Dominica. The owners of Rosalie Bay Resort pioneered the Rosalie Sea Turtle Initiative (RosIT) and members of the team patrol the beach during the egg-laying season. They're out there between dusk and dawn to protect the nesting turtles and safeguard the vulnerable eggs. They're also there to stop poachers and allow visitors to witness the nesting in a safe way.
I opted in to be woken up at any point during the night if a turtle came onto the beach. Unfortunately, a turtle had been there just an hour before I arrived and no more visited that night. I was sad to have missed out but I was happy to have a good sleep in that super soft king sized bed.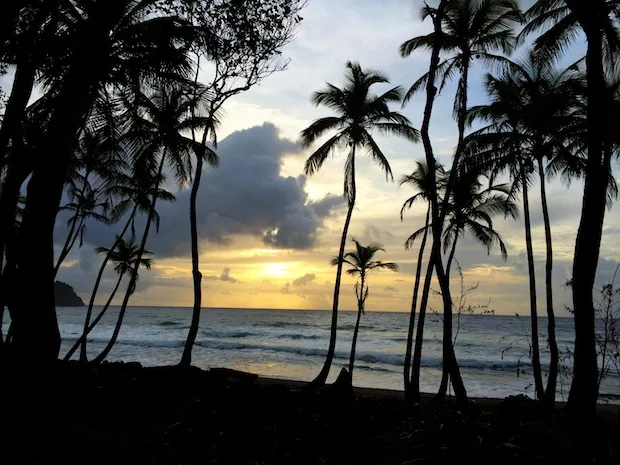 The next morning I realised how disorientated I'd become during the drive to Rosalie Bay. I was sure we were high up in the mountains but as the sun began to rise I realised we next to the sea. I couldn't have been happier as I wriggled into my running gear and made my way out to the beach. (Yes, running gear. Remember me telling you about that Ironman I'd ambitiously said I'd do. Yea, that's come back to bite me on the ass.)
Anyway, I actually enjoyed my morning run, which I should probably call a 'run 20 meters and then stop to take a picture.' The beach was just so beautiful that I couldn't stop myself.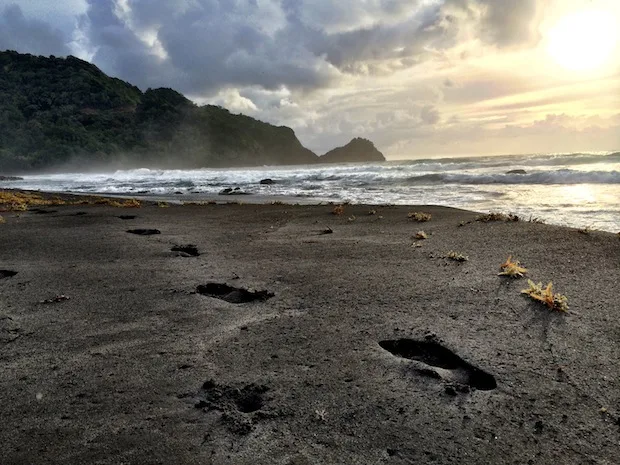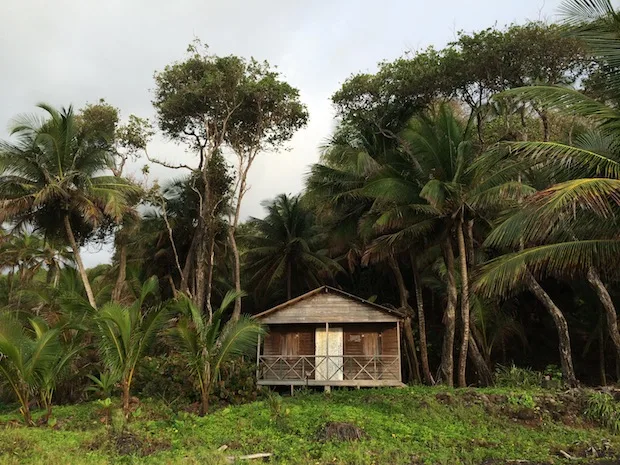 I think someone tried to escape…?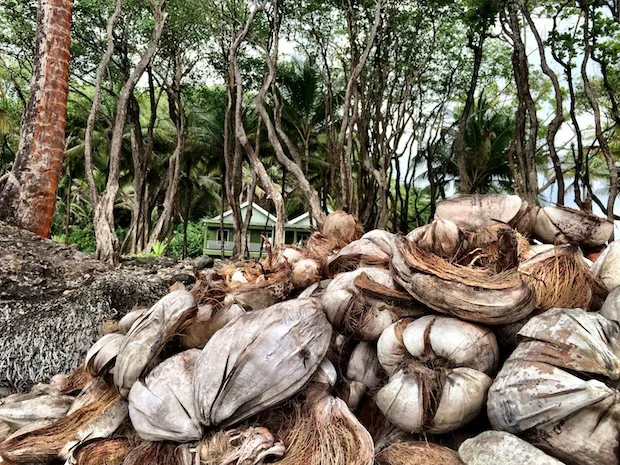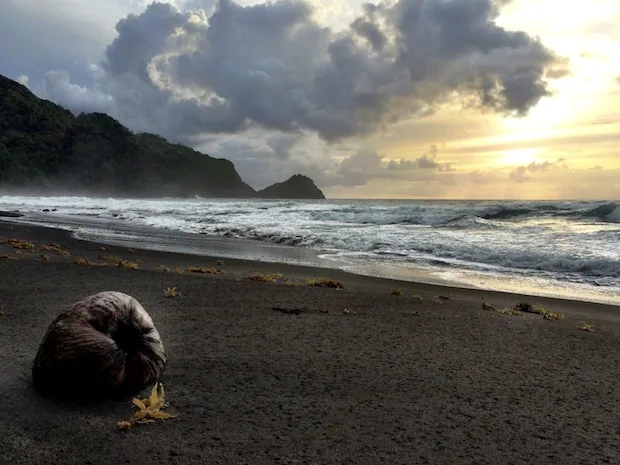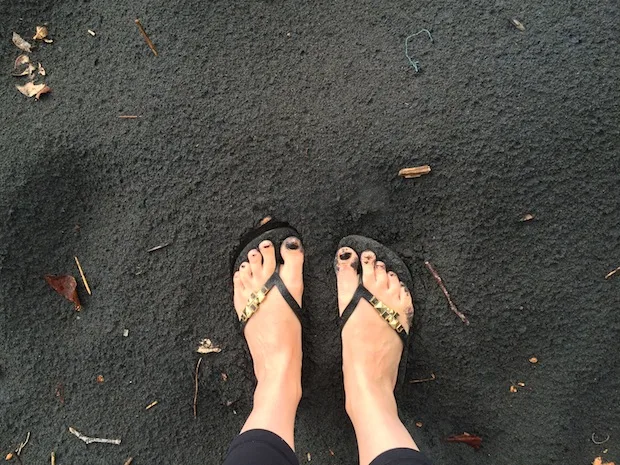 The black sand was glistening as though it was filled with diamonds and I loved the way an eerie mist rolled off the crashing waves. I made myself a mini assault course as I dodged coconuts, leapt across streams of fresh water that ran down from the mountains, ran on my tiptoes across rocks and raced the waves as they chased me up the shore. (You see, if you think of running like this, it makes it ever so slightly more bearable.)
Before long it was way too hot to be running (what a shame) so I made my way to breakfast.
I was joined by the hotel manager, Daryl, and we drank strong coffee and munched bowls of fresh fruit. I also had a Creole Breakfast which I was told was a local favourite. It was made up of seasoned saltfish, hardboiled eggs, cucumber and cabbage salad, plantain mash and 'bakes'. Bakes are a delicious kind of cakey bread.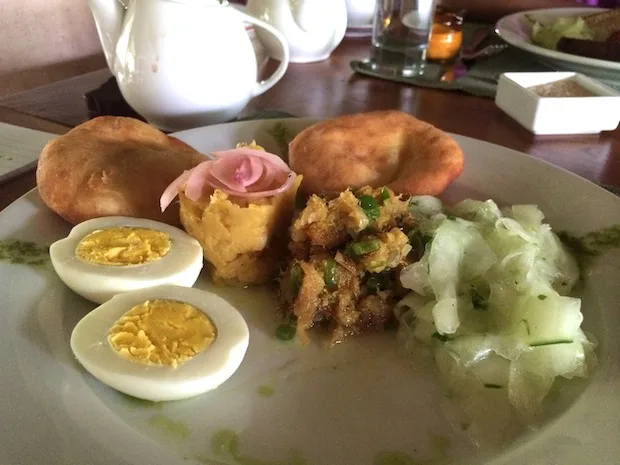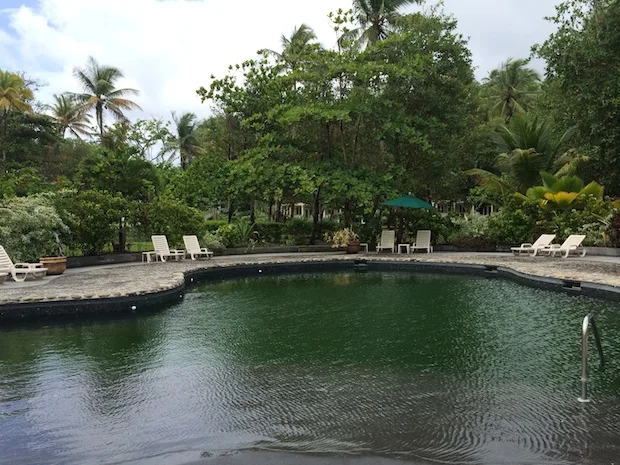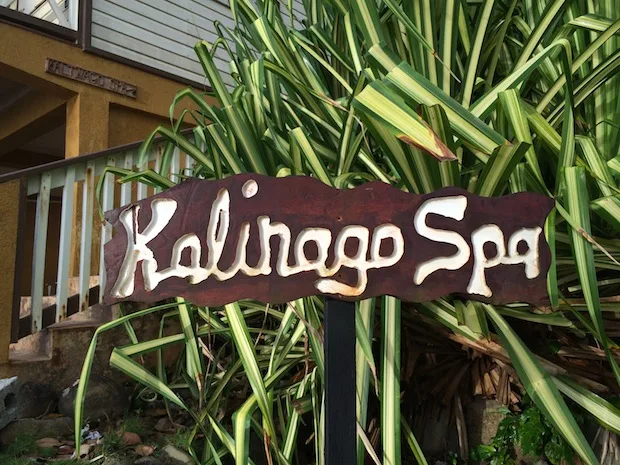 Daryl then gave me a tour of the lovely hotel, including a new spa that will be opening soon. It looked so gorgeous that I'm even considering a trip back her already just to experience an outdoor massage on a new tree house platform above the river.
My next stop was Jungle Bay Resort. Here's a little peak but I'll be blogging all about it tomorrow!