Whenever I tell people I'm a full-time travel blogger I'm inevitably met by a quizzical frown and the question, 'So…errrr…what do you actually do?'
I don't mind the questions because it is such a new profession and sometimes I feel like I don't quite understand it myself. Each travel blogger works in a completely different way too. We all travel differently and earn our money differently and each week is completely different from the last. This is why I love travel blogging and, let's be honest, we're all pretty nosy and like to see what other people get up to.
I thought it was about time I answered this question so here's what the last week looked like and I hope it answers the question, 'What does a travel blogger actually do?'
Monday
Edinburgh for No.1 Traveller Lounge opening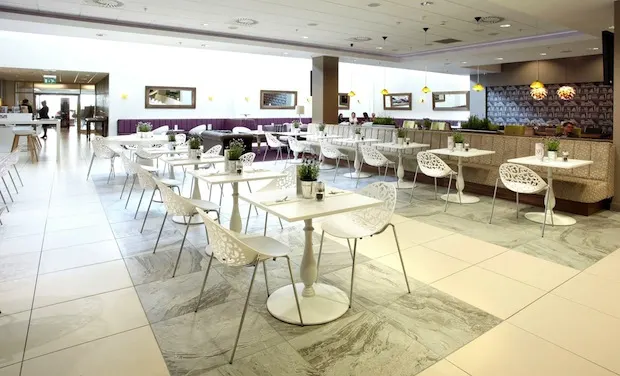 On Monday I was invited along to the opening of the new No.1 Traveller Lounge in Edinburgh. As you probably know already, I'm a big fan of airport lounges and I love that No.1 Traveller are making lounges more accessible without losing the element of luxury travel.
I was picked up at 6am in a private car (a very fancy private car) to go to the airport for my flight. I was testing out No.1 Traveller's Driveway to Runway service so I was also met outside the airport and whisked through security like a celeb. It took me less than an hour to get from my front door to the departure gate and I live about 40 miles from the airport! If only I could travel like this all the time.
Unfortunately my flight was delayed by 2 hours but the good thing about being a travel blogger is that I can work from anywhere. I got myself settled into Costa coffee shop and finished up some copywriting work while munching croissants.
Copywriting is one of the things I do as a freelancer and it's how I've funded a lot of my travels. I can slot a few hours of writing each day around travelling and other work and can do it from just about anywhere.
By the time I arrive in Edinburgh I'd missed the grand launch of the lounge so I hopped straight into a cab to meet the No.1 Traveller team and a group of journalists for lunch.
We ate at Tower Restaurant, one of the best restaurants in Edinburgh with an incredible view over the city. It was a beautiful day so we begin with champagne and canapés on the rooftop.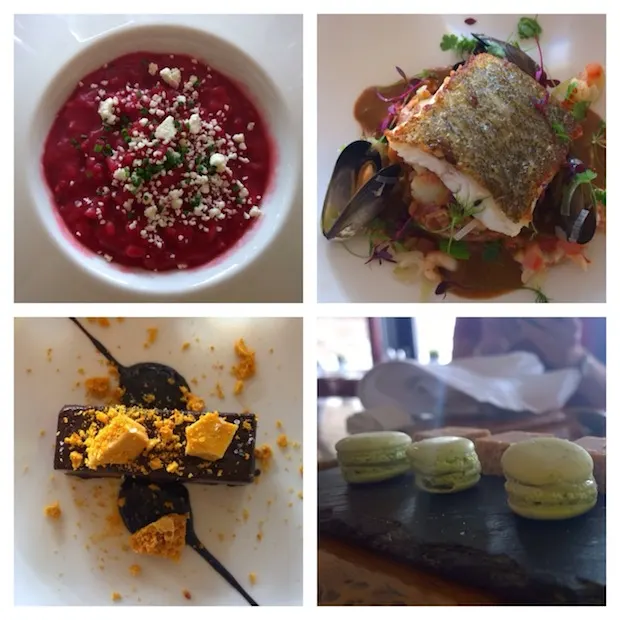 I loved chatting to the journalists and finding out more about No.1 Traveller – a brand that I've worked with before and really love. I know they're not keen on the phrase 'affordable luxury' but that's really what they offer and that's what The Travel Hack is all about.
We may not be paying hundreds of pounds for that upgrade but it doesn't mean we can't have some luxury before the flight.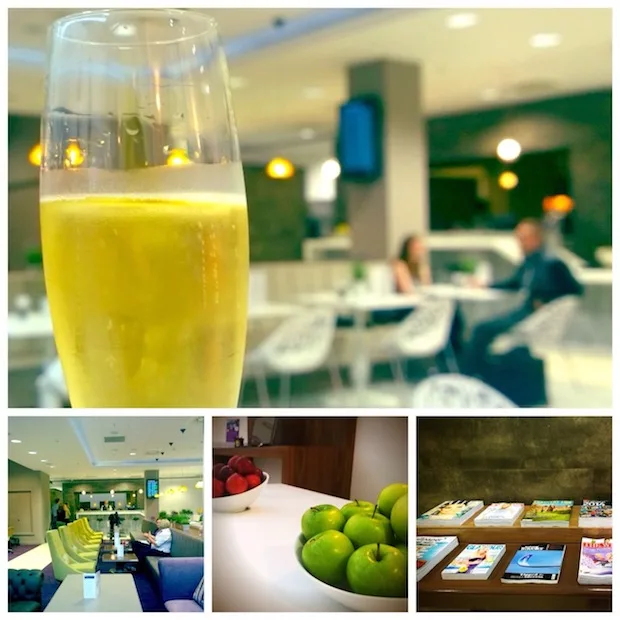 I had a couple of hours to relax in the gorgeous new lounge on my way home. I make full use of the bar, the buffet, the WiFi and the magazine selection as I chill out and get some work done. Having a nice, quiet space to work in makes all the difference. It stops travelling being a chore and makes it a pleasure – especially when your flight is delayed.
It's a short flight home at about half an hour – the shortest flight I've ever been on – and I'm met at the airport by another driver in a super lux car.
I arrive home in time to have dinner with my boyfriend and catch up on Fargo and Gogglebox – my two latest obsessions.
Tuesday
Working from home + Time Out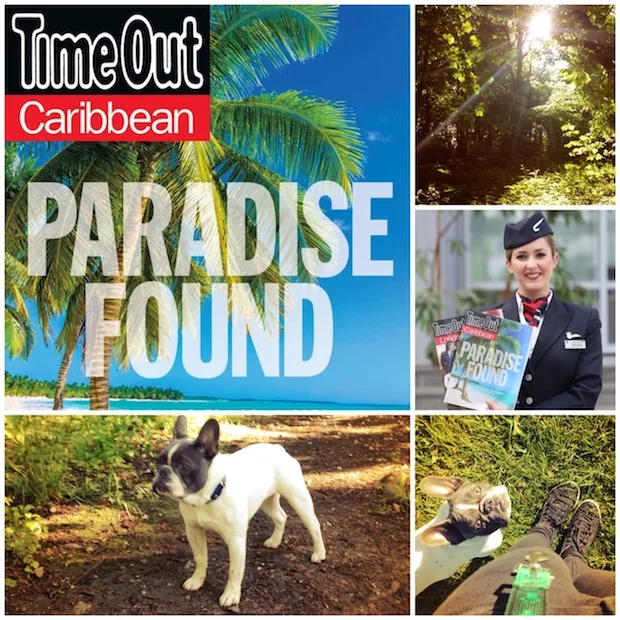 I have a day working from home on Tuesday – something I try to do at least twice a week. I have an office but it was a lovely day so I spent most of it working in the garden with my dog by my side.
I was working on more copywriting, blogging and responding to emails. In the afternoon I had a Skype call with one of my social media clients.
I offer a mixture of social media training, management and strategies and I'm working with a couple of small businesses at the minute. It's the first time I've worked with such small brands and I'm really loving it. It's nice to be so involved in the business and see social media directly influencing their sales.
I was pretty excited on Tuesday because some work I'd done with Time Out magazine was published. The week before I'd travelled to Barbados and St Kitts for a British Airways Caribbean special and myself and I'd written two small features for the magazine. Time Out is handed out to everyone on the London Underground so virtually all of my friends in London read it. I love blogging and writing for the internet but there's nothing quite like seeing your name in print.
That evening I went for dinner at my mum and dad's house and took the dogs for a long walk through the forest. This is my favourite way to unwind and no matter how much I travel, I love coming home to the countryside.
Wednesday
3D Scanning with British Airways
I started the day with a much-dreaded run. I'm training for the run section of an Ironman in Austria this summer. I'm working with the Austrian tourism board and before the event we'll be heading out to Austria for training and to see more of the country. It's a team event and I'm joining two journalists to form the team. I opted for the run section as I thought it would be the easiest to train for when travelling.
I'm still in the early stages of training where I have to drag myself out of bed and push through the pain. I take my dog with me who keeps me entertained and his tiny legs give me a great excuse to stop and rest.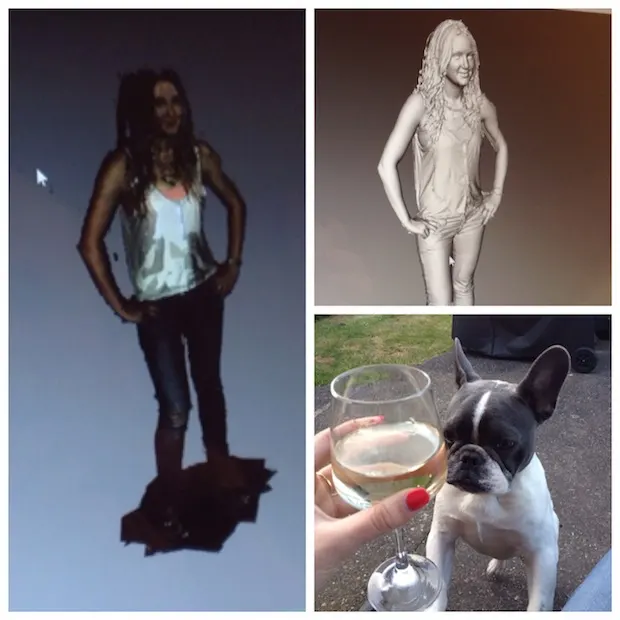 In the afternoon I caught the train down to London for a really exciting project with British Airways. They're making an 8-inch model of myself and a few other bloggers and sending our models off on holiday! The models will be made with a 3D scanner so I was scanned really slowly by a couple of techy guys. The models will then be printed over the next few weeks.
I had to wear exactly what I want my model to wear so I went for my standard uniform of ripped skinny jeans, a white t-shirt, flip flops and bright lippy.
3D scanning absolutely boggles my mind so I quizzed the tech guys while I was in there. After many questions and answers I can safely say that my mind is even more boggled so I'm just going to accept it as one of those incredible inventions I don't need to understand to appreciate.
I saw what my model will look like but I can't wait to see it in real life.
The reason for doing this is to send our models on spontaneous trips to highlight the great last-minute holiday options British Airways offer in their new Last Call campaign. If you're anything like me then you might not associate BA with last-minute breaks but they've actually got some really great offers.
I got home just in time to have a glass of wine in the garden with some friends (and the puppy, of course).
Thursday
Lunch with Celebrity Cruises + meetings + blogger buddies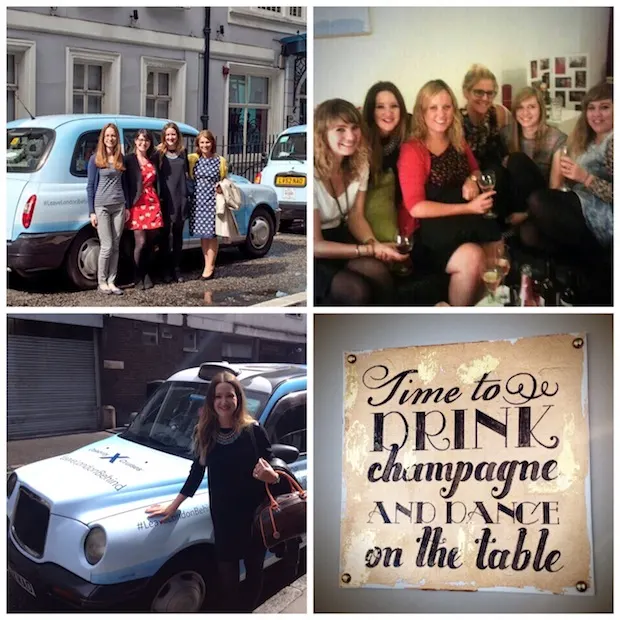 I skipped my morning run on Thursday (my bad) but got up early to get some work done.
I then caught the train back to London again to go for lunch with Celebrity Cruises and the Destination Bloggers. I've been working with Celebrity Cruises for a while now and I had a lot of fun cruising with them last year. We met the CEO of the company who told us a lot about their plans for the future and an exciting trip that I'll tell you more about soon.
If you're in London you might have seen some of the Celebrity Cruises cabs around and I was whisked around the city in one. If you see one of these cabs, make sure you snap a picture and tweet it with the hashtag #LeaveLondonBehind and you could win a Celebrity Cruises holiday
My next stop was Brassiere Chavot where I met a PR to find out more about the gorgeous hotels and destinations they represent and how they're working with bloggers. Everyone is still learning how bloggers and brands can work together so these meetings are always really interesting and it's great to brainstorm ideas.
I then head to Oxford Street for a spot of shopping and to upgrade my phone. I opt for the iPhone 5s and I couldn't be happier with it.
That evening I met up with lovely blogger friends for an evening of gossiping and wine. There was an incident with cannabis absinthe that I wish I could take back and just thinking about it makes me feel a bit sick.
My favourite thing about blogging is definitely the friends I've met because of it. If you're a blogger and you've never been to a meet-up before then I strongly recommend you do. It's great to have a group of friends who are so like-minded but also so different and they're part of the reason I've been blogging for so long.
Friday
Personal Training + fly to Bruges!
Needless to say, I didn't feel too fresh the next morning but I was up and out early for a training session with Anthony Fletcher from The Body Mech. This session was in preparation for my Ironman in Austria and The Body Mech's are known for training celebrities and the uber rich.
I've had lots of personal trainers before – mainly the type you get for free when you join the gym – but I've never had one like this before.
This was my first session so Anthony was keen to assess my ability before my training began. I had to do lots of funny exercises that seemed like nothing but apparently they were revealing all sorts of things about my body.
Anthony found that I'm more flexible on my left-hand side and have some kind of tight muscle in my right hip, which is affecting my shoulder and knee too. That explains the funny twinges I get and he gave me some exercises to strengthen and relax the tight muscle.
I have a running training plan that I'm determined to stick to and I'll be reassessed next month.
I caught the train home and spent the afternoon working and frantically trying to wash and dry clothes because that evening I was flying to Belgium for a weekend in Bruges!
I also started working on some blogging guides as I'm putting together a workshop for a group of bloggers who asked for some help with blogging. I'm so excited to do this because it's so much fun and the guys are really passionate about blogging. (If you'd like any more info about this, just send me an email: [email protected])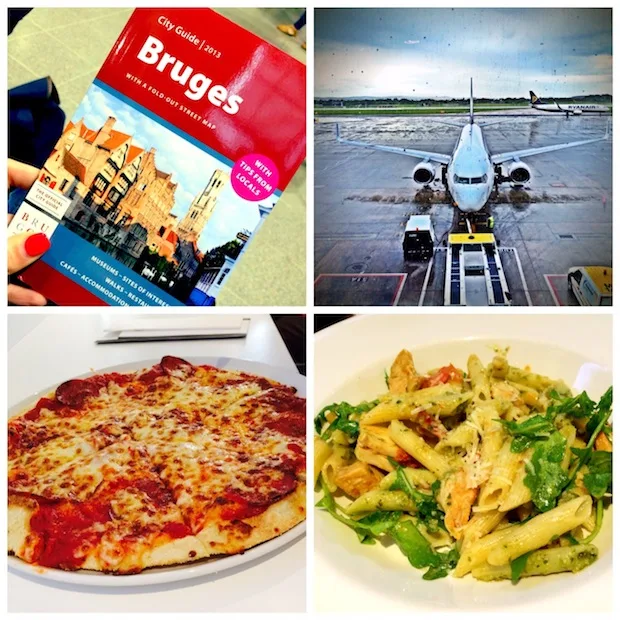 I worked with Visit Flanders for the trip and my boyfriend was coming along too which always makes it feel more like a holiday and less like a work/blog trip. We flew out at 8pm so that my boyfriend wouldn't need to take any time off work (days off work are in demand when you live with a travel blogger!) but we had plenty of time for dinner and drinks before the flight.
Saturday and Sunday
Weekend in Bruges
I'll be telling you more about my weekend in Bruges next week but, for now, here are some of my favourite photos.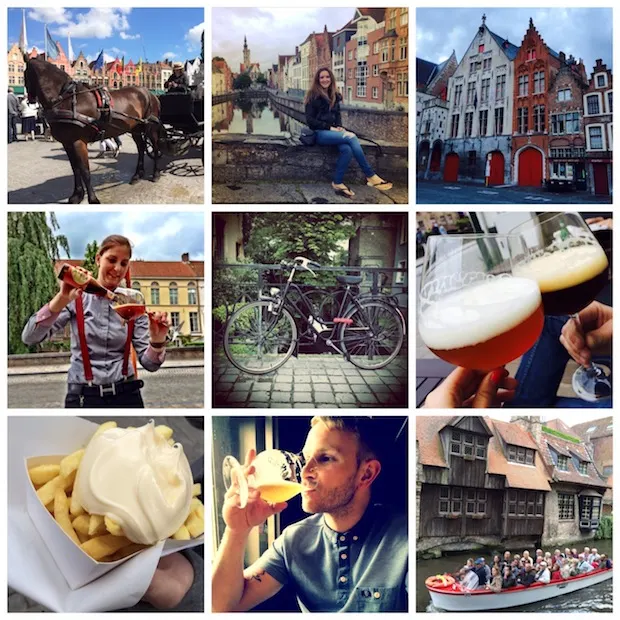 Each week is totally different for me and this week I'm on the road again and travelling around the Caribbean island of Dominica. You can see what I'm going to be up to all week in my Dominica itinerary or check out my Instagram feed for my latest updates.
If there are any other bloggers out there who write, 'A week in the life of a xxxx', please let me know as I'd love to see what other people get up to. (Basically, I'm just really nosy).
[one_half]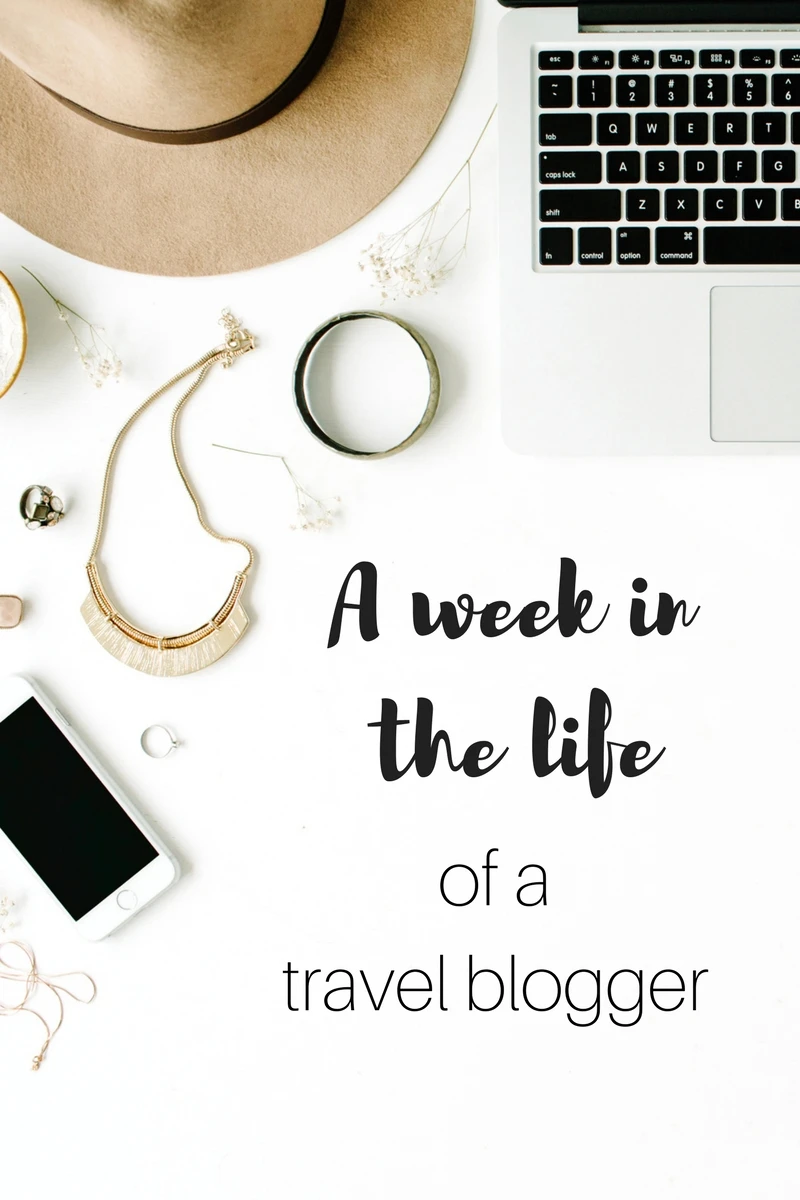 [/one_half]
Check out The Blogger Course for more tips and strategies to grow your blog!