Today's Insider's Guide is from Sophie, the travel blogger behind Luggage Tags and Ticket Stumps. Sophie lives in China and has put together an Insider's Guide to Xi'an.
If you'd like to visit Xi'an but could do with the help and guidance of a tour then check out ChinaXianTour for tailor made, package and group tours.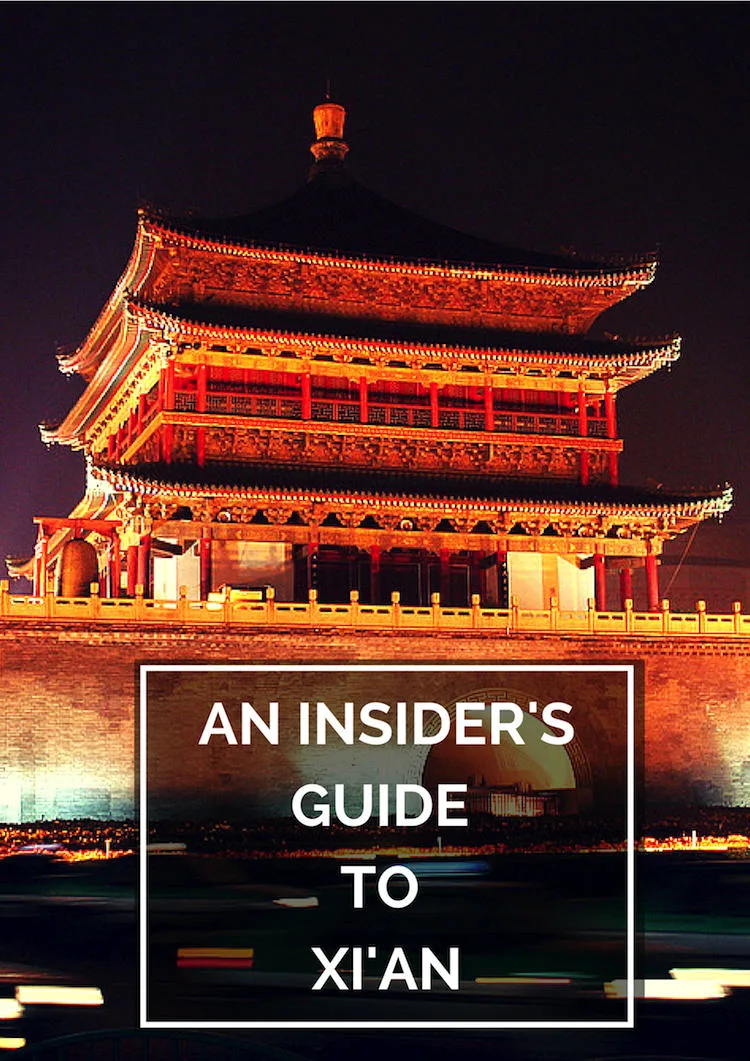 1. Can you tell us how you came to know Xi'an so well?
I moved there at the beginning of 2013 and lived in the city for just over a year and a half. I was working as an English teacher at a training school. I liked wandering around the city and hanging out with Chinese friends as I got to see lots of things beyond the normal touristy Xi'an. It's such a fantastic city and I miss it so much!
2. How would you describe Xi'an in 5 words?
1. Traditional.
2. Fun.
3. Welcoming.
4. No day is the same. (Okay that's eight words. Sorry!)
3. Give us one reason why you think everyone should visit Xi'an
Because right now Xi'an is what Beijing was 20 years ago before the skyscrapers started appearing. It's traditional China.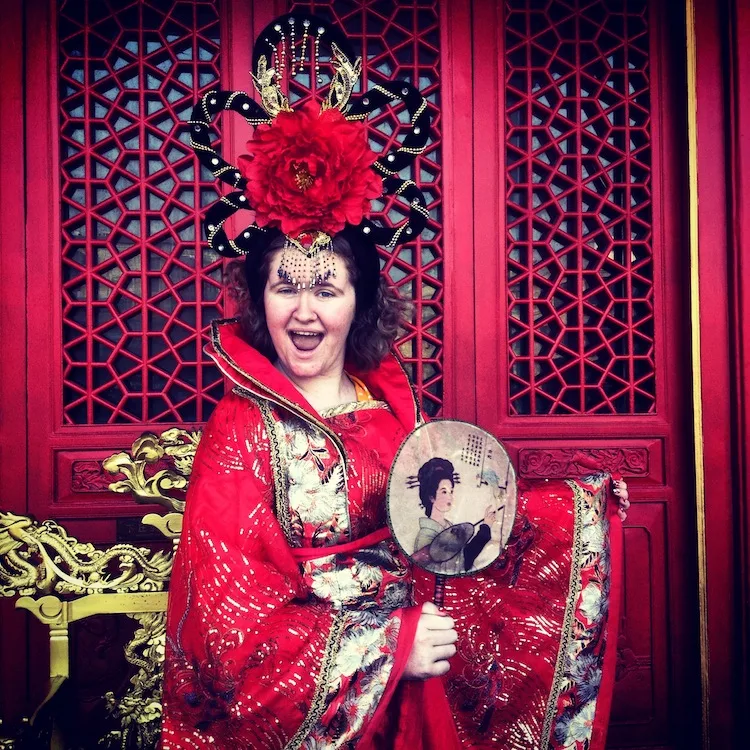 4. What would be the top tip you'd give to someone visiting Xi'an?
When you go and see the Teracotta Warriors, make sure you do it in the reverse order which leaves the biggest warehouse until the end. It's impressive.
5. Can you tell us some of your favourite places to eat in Xi'an?
If you head to the Muslim quarter you can grab some amazing street food. There's a restaurant at the end of the main Muslim street that does really good Hulatang which is a thick spicy soup.
Then by the Wild Goose Pagoda there's a great restaurant called First Noodle Under The Sun which does Shaanxi province specialities.
Another great one is Hai de Lao hotpot. It's a chain here in China but it's the best hotpot you can get in the country and most of them are open 24/7 which is a good perk if you're hungry at a ridiculous hour of the day.
6. What are the touristy things you absolutely HAVE to do while you're in Xi'an?
Definitely bike the City Wall – just beware though, it's bigger than you think.
The Wild Goose Pagoda has an amazing water fountain show which is actually the biggest in Asia.
You have to go to the Muslim Quarter for amazing food and good trinkets to take home with you.
And of course the Terracotta Warriors.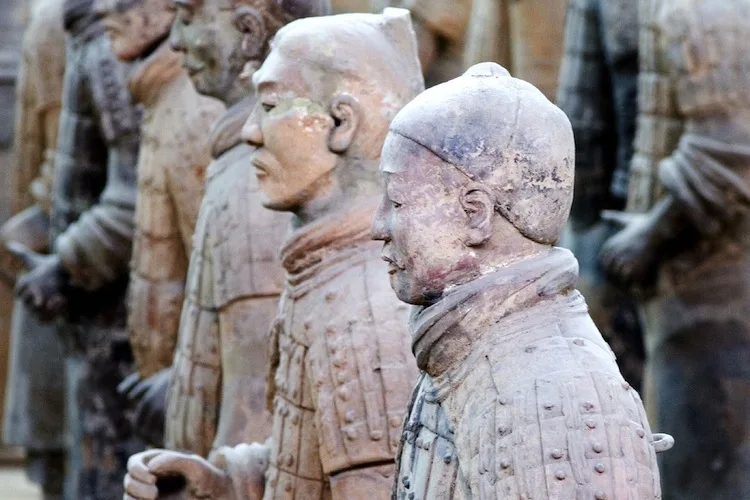 7. What's an unusual thing most tourists wouldn't know about?
Xi'an is one of the Four Great Ancient Capitals of China, having held the position under several of the most important dynasties in Chinese history. Xi'an is also the starting point of the old Silk Road.
8. What should be at the top of your packing list for Xi'an?
Comfortable shoes – that sounds really boring but you really need it for all the walking you're going to do. Packs of tissues – the public bathrooms never have any!
9. Can you share your favourite photo from Xi'an and tell us a little about it?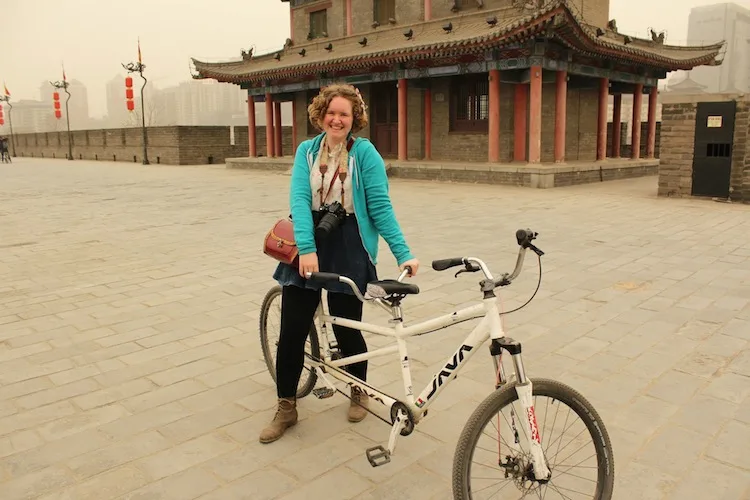 This is one of many favourite photos – it was so hard to choose! The company I worked for were very good at showing us around when we all arrived. The first activity we did was a bike ride around the city wall. I actually can't ride a bike (embarrassing) but my friend Ashley was brave enough to share a tandem with me and we did it! A new friend made and something accomplished!
10. Can you recommend a cool place to stay in Xi'an?
If you're on a budget then Hangtang Hostel is a must. It has a great atmosphere and the people there are wonderfully helpful and their bar is really good fun. If you've got a little more money to spend then definitely the Westin – they have an amazing bakery that stocks Teracotta Warriors made from chocolate! And it's pure luxury at a fairly cheap price.
---
Sophie is a current affairs journalist and presenter based in Beijing, China. Before that she spent a year and a half teaching in Xi'an. She enjoys music, photography and a good Long Island Iced Tea with friends.
Sophie blogs over at Luggage Tags and Ticket Stumps and you can find more from her over on Twitter and Facebook.