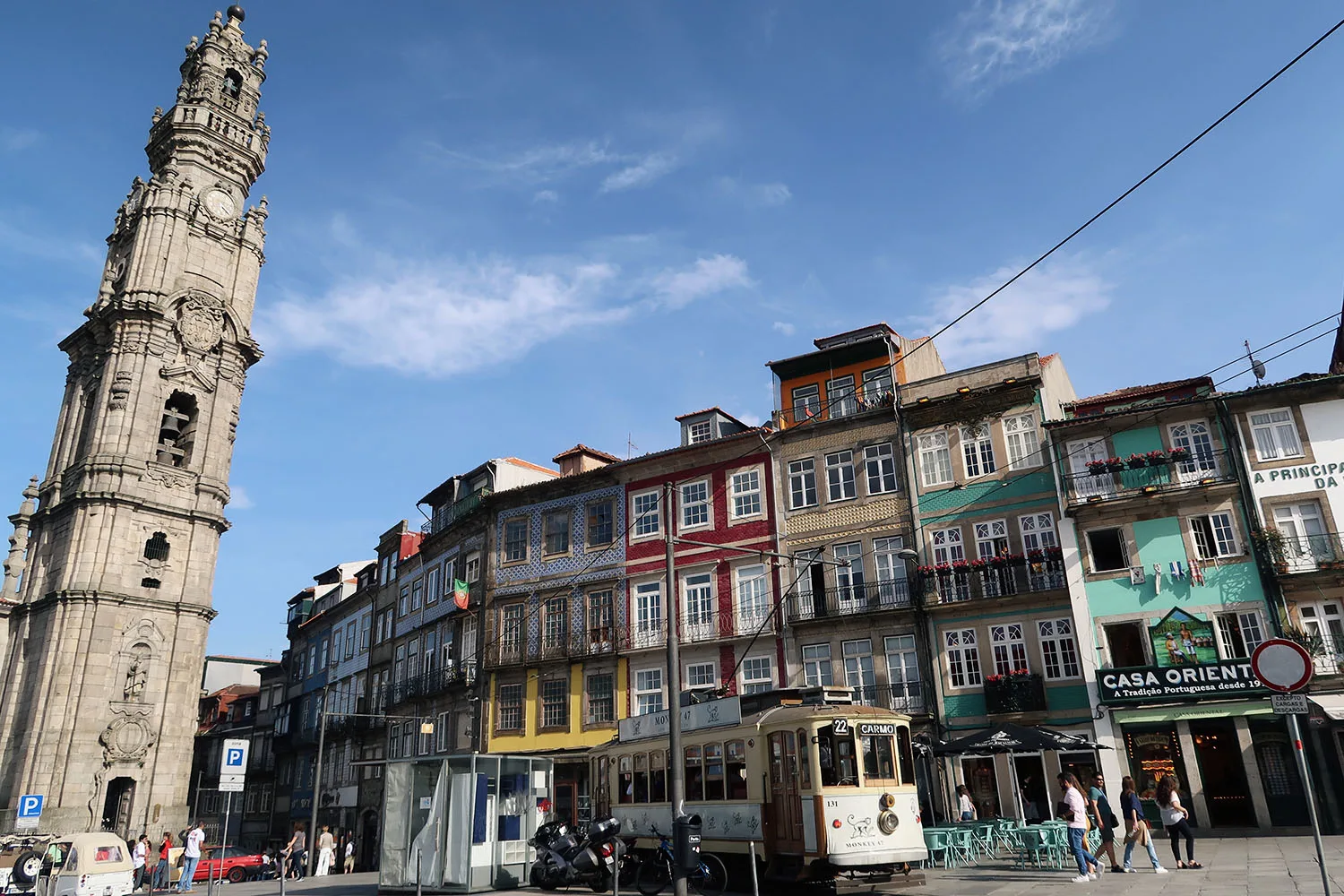 Porto was recently voted the best European destination for 2017 by travel experts from around the world. And having spent a weekend there last month it's easy to see why.
Porto is a delightful, small city filled with stunning architecture, a thriving foodie scene, beautiful bridges spanning the great Douro river and plenty of art and culture to keep you occupied for a few days.
Portugal's second city is easily accessible and well served by budget airlines from all over Europe. In terms of budget, it's easy on the wallet, and you can have a fun-filled weekend away without breaking the bank.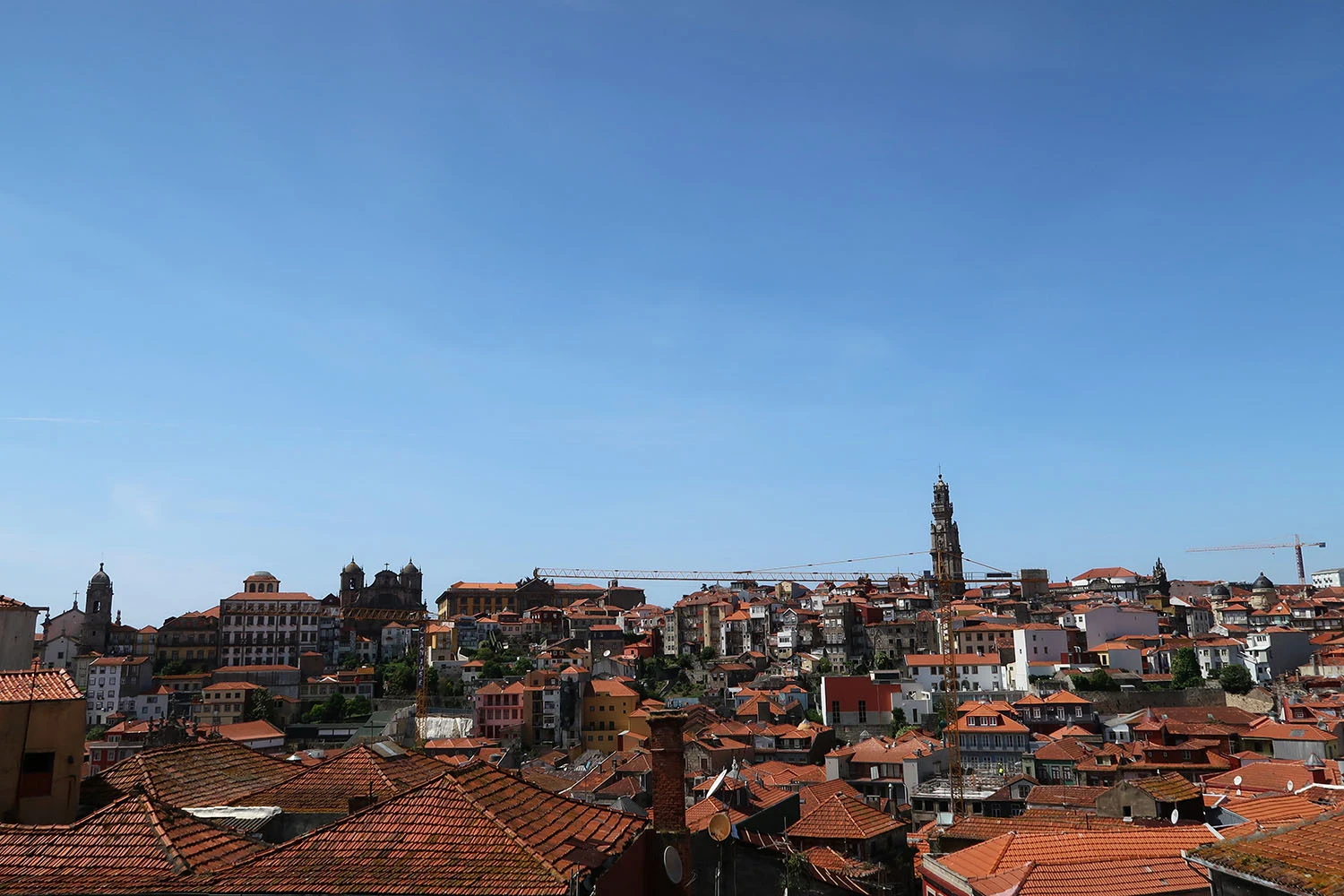 I went to Porto with no preconceptions about the city and was pleasantly surprised. Porto is an ancient city with colourful tile-clad buildings, and a long history and provenance of providing the world with its delicious fortified wine, Port, produced in the nearby Douro Valley.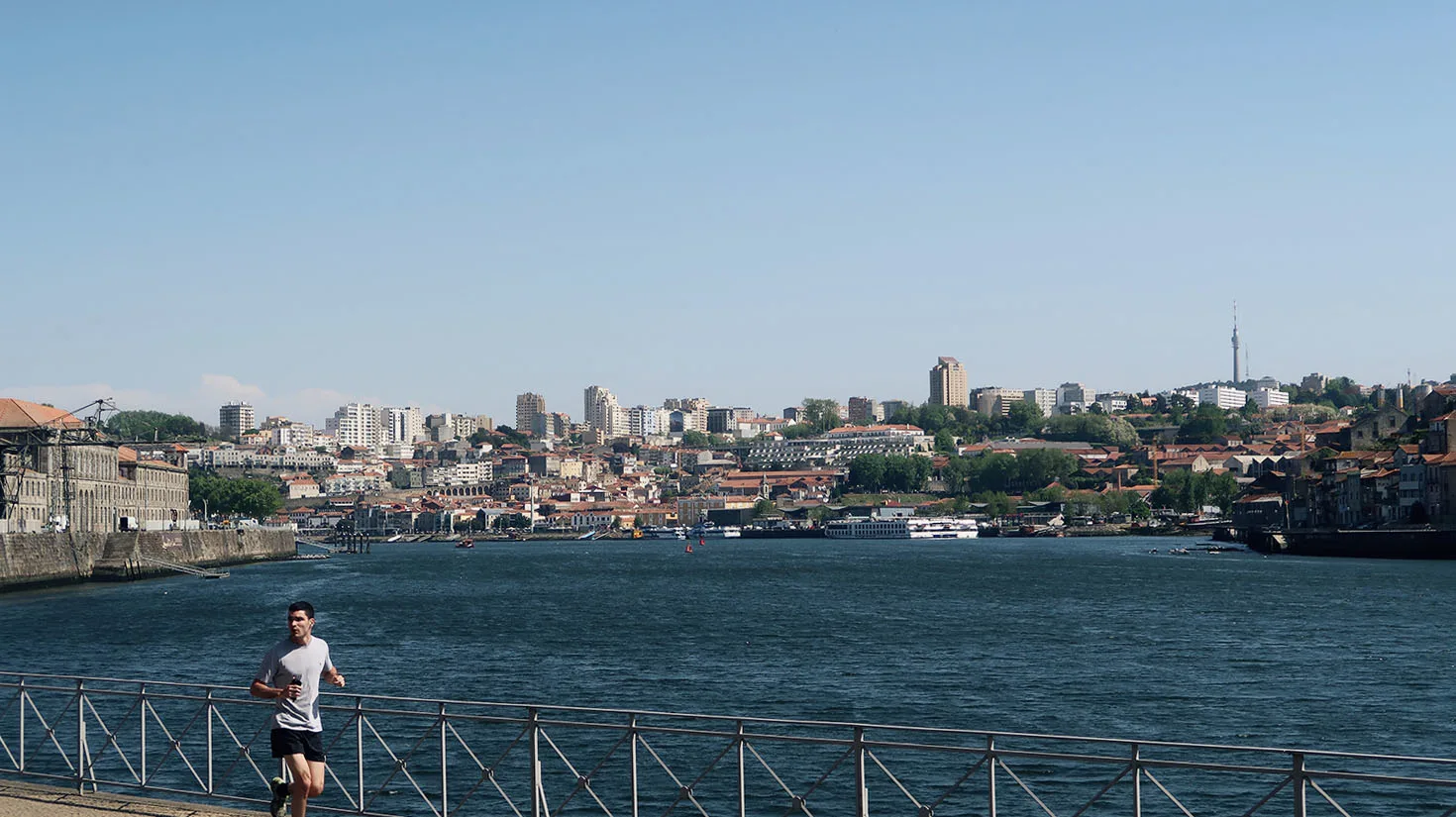 How To Spend A Weekend in Porto
Day Trip to the Douro Valley
The Douro Valley is just over an hour away by car so we had a relatively civilised morning call to assemble at the front of the hotel for our small group tour to the vineyards.
As Porto is a small city you come out into the countryside in no time. The roads out there appear to be new and weave quickly through the hills towards the infamous wine region.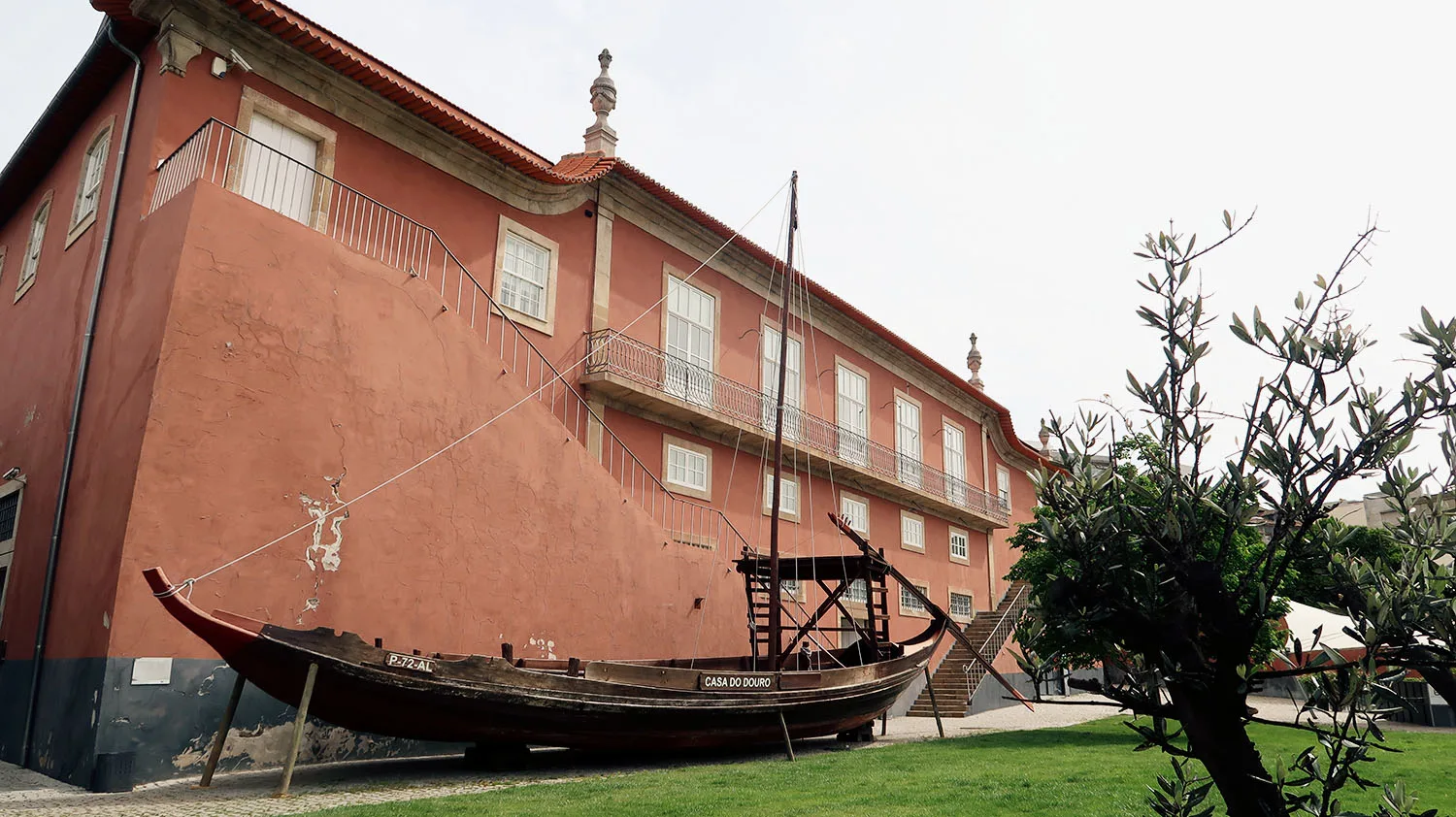 First stop was the Museu do Douro, the Douro Museum which celebrates the wine region. It's a fab new museum that shares the history and culture of this region in a fun and interactive way. It includes a wall of port bottles and a special sniffing area for test the aromas of different types of port.
I was a big fan of the sniff exhibit.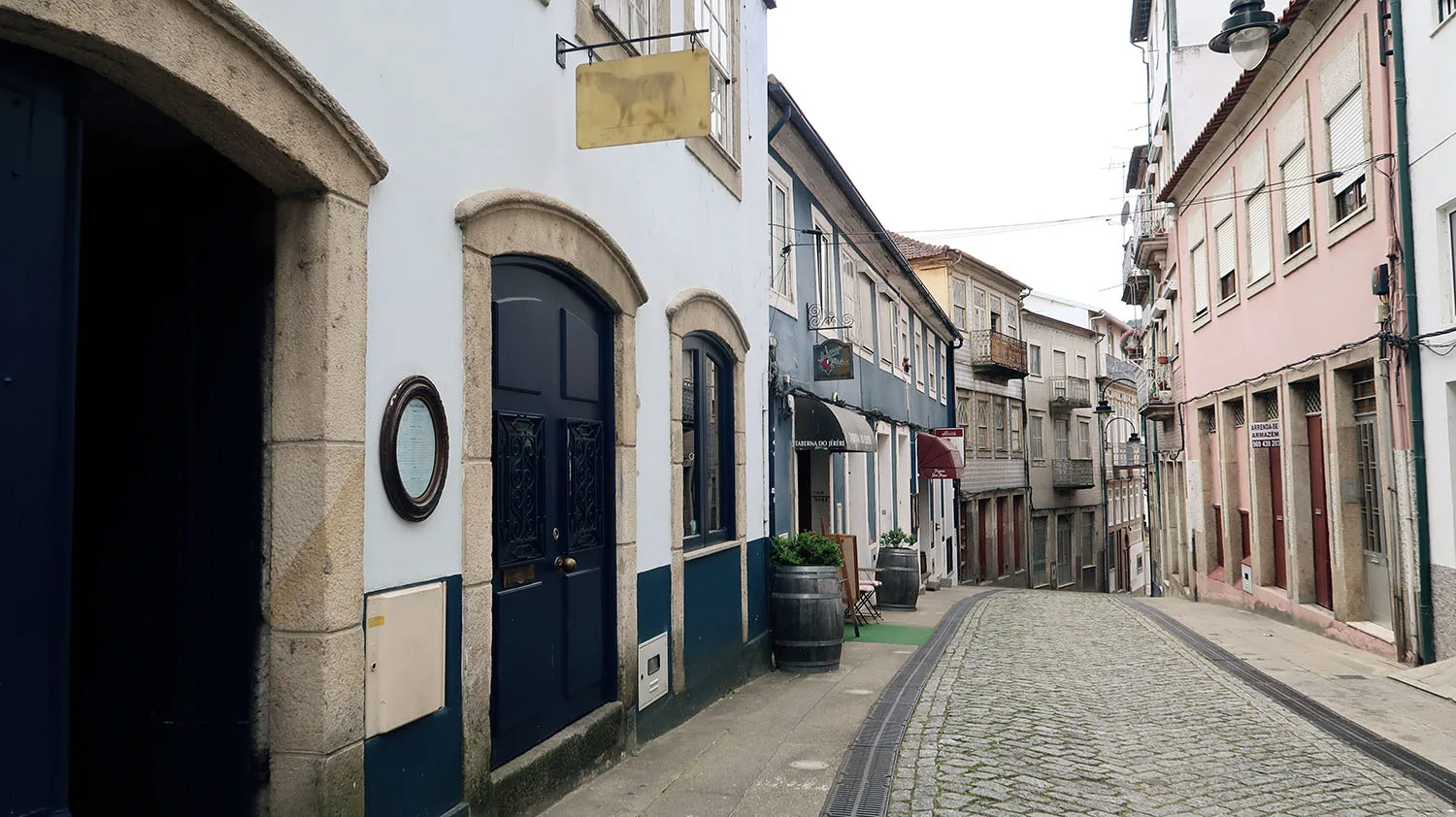 Afterwards, we stopped for lunch at one of the loveliest restaurants I've been to on my travels. Tasca de Quinta is located just around the corner from the museum and is a delightfully quaint spot for food.
Added to the charm of rustic tablecloths is a menu handwritten in a notebook. The place oozes casual chic.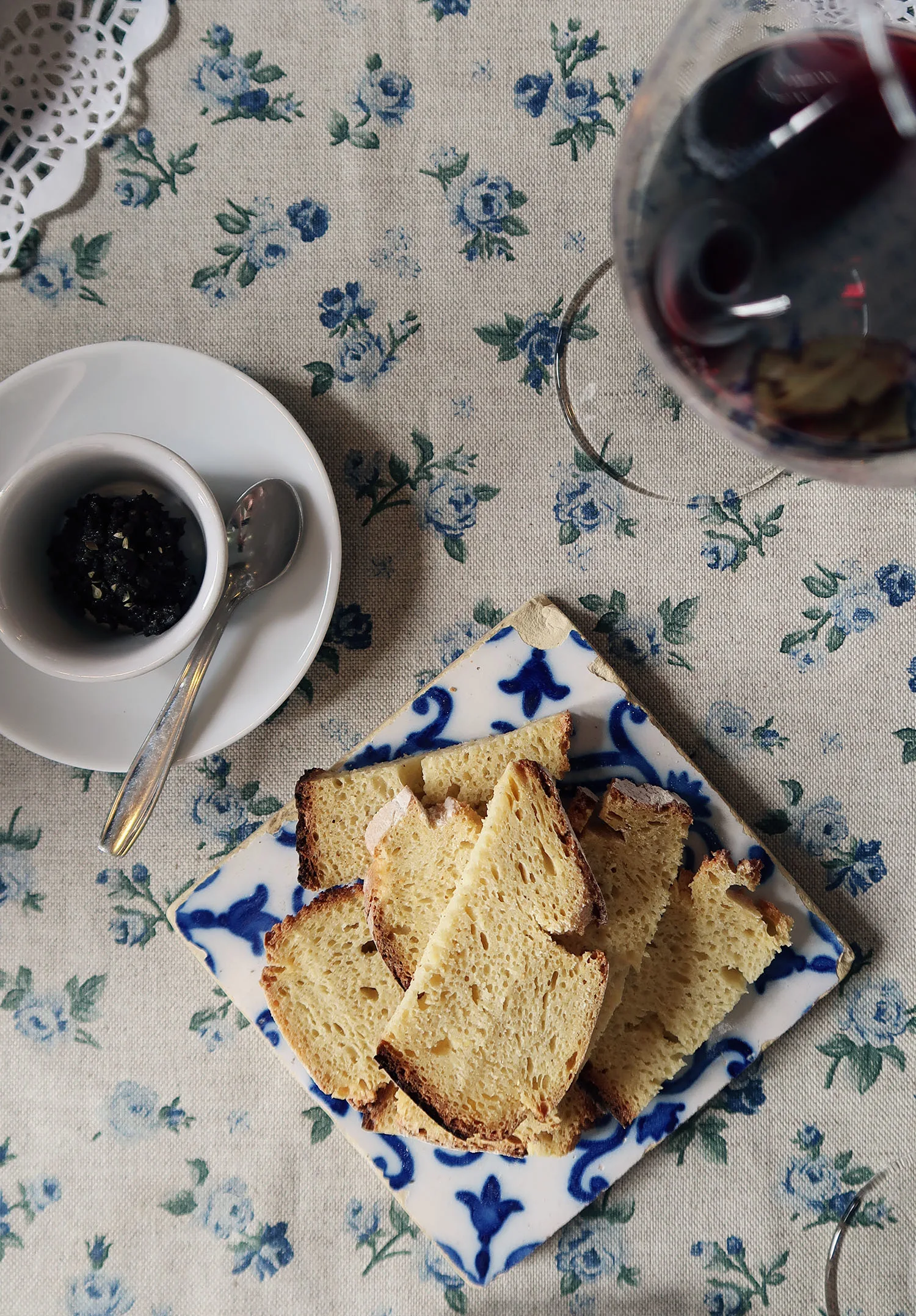 We were treated to a feast of Portuguese dishes, each one full of strong flavours and textures. Just look at the photos below and you'll see what I mean.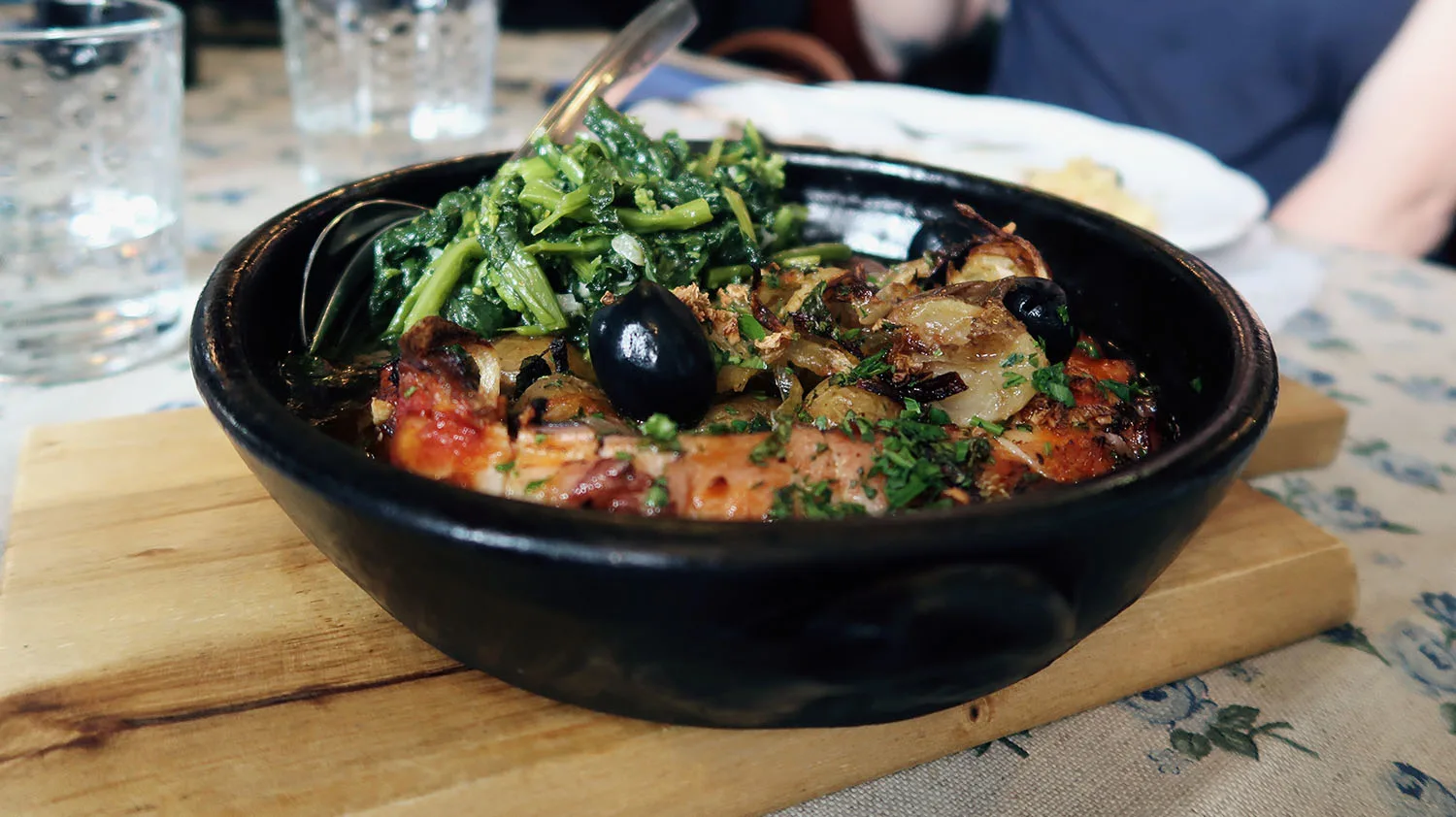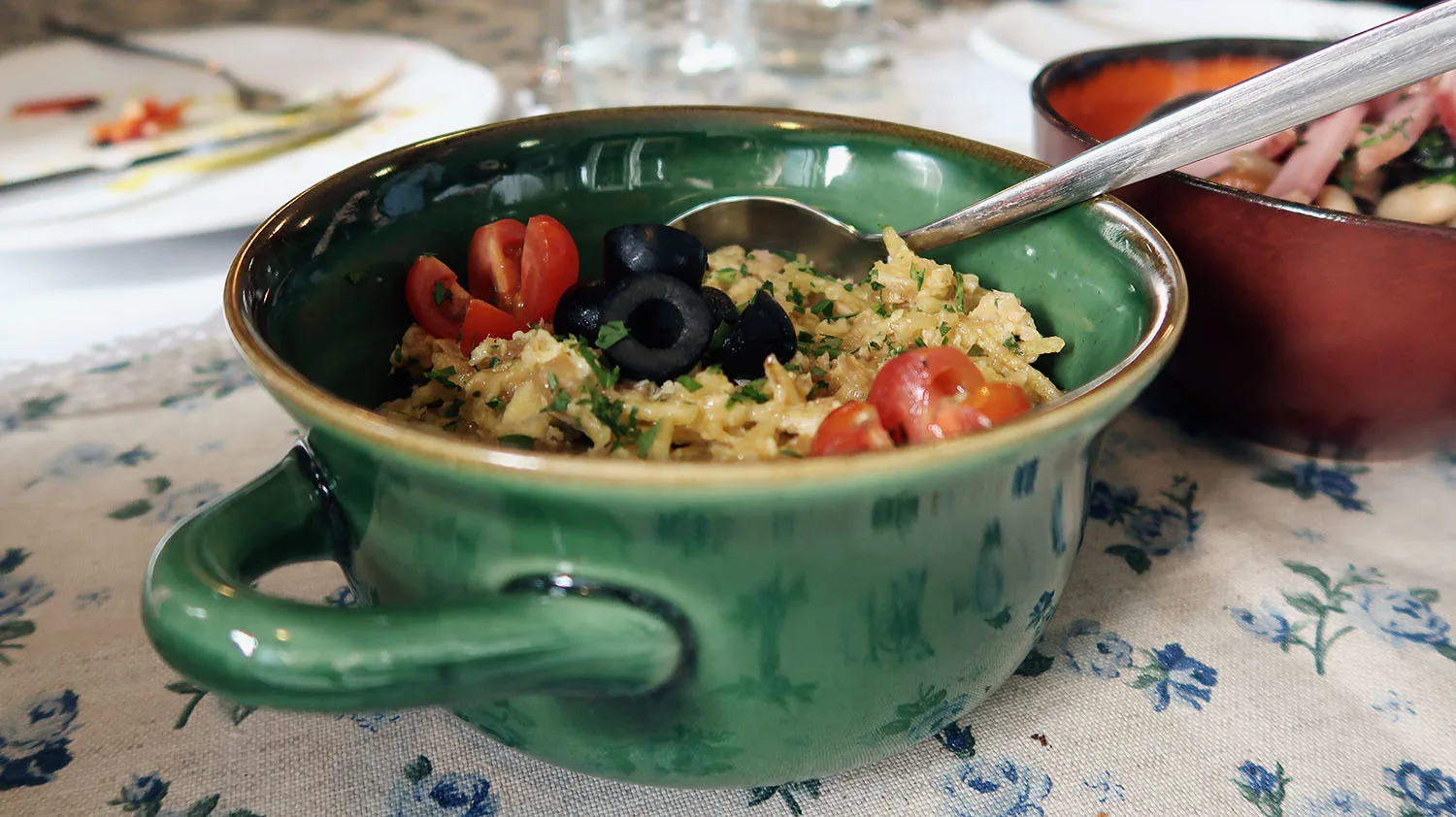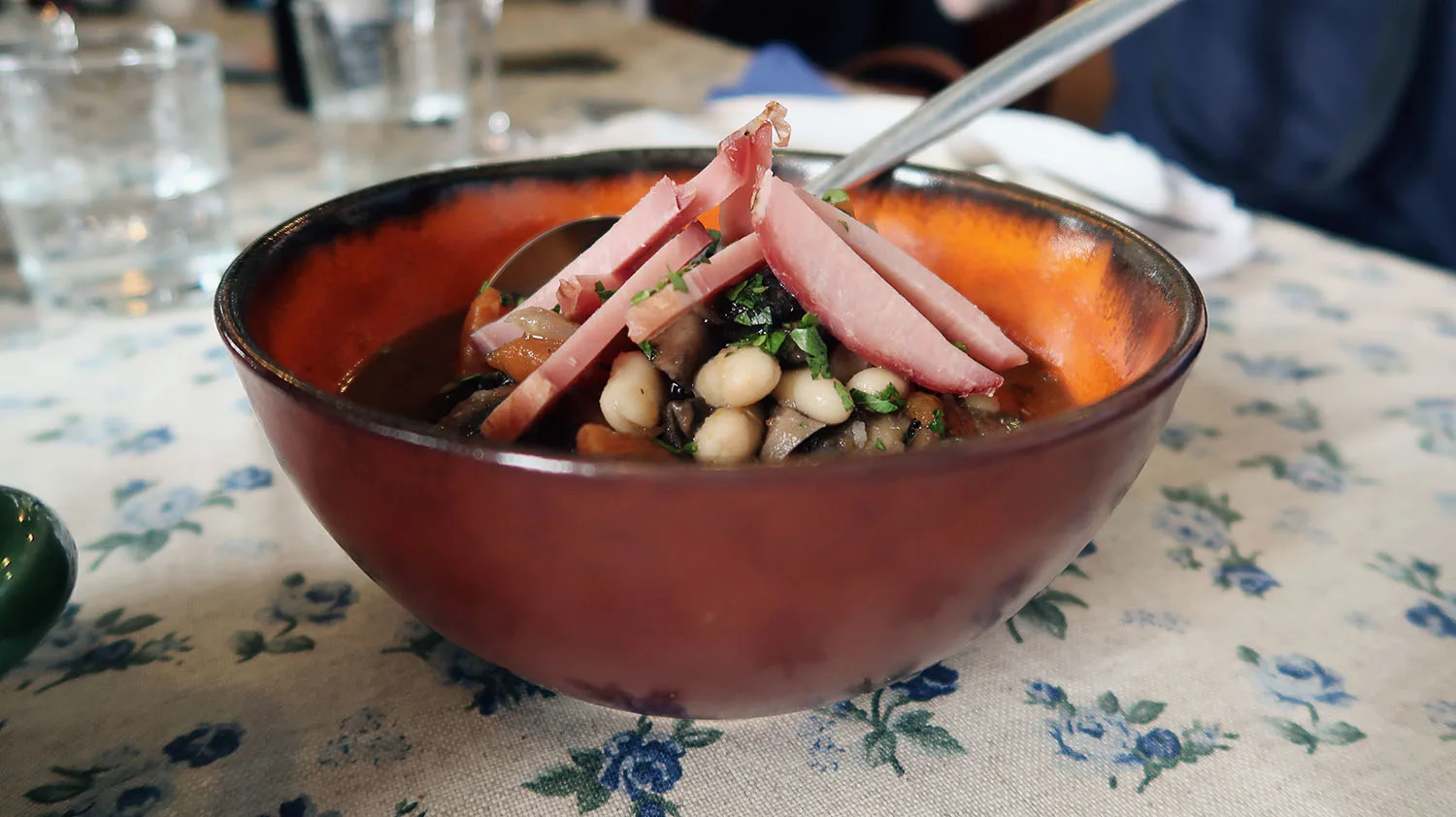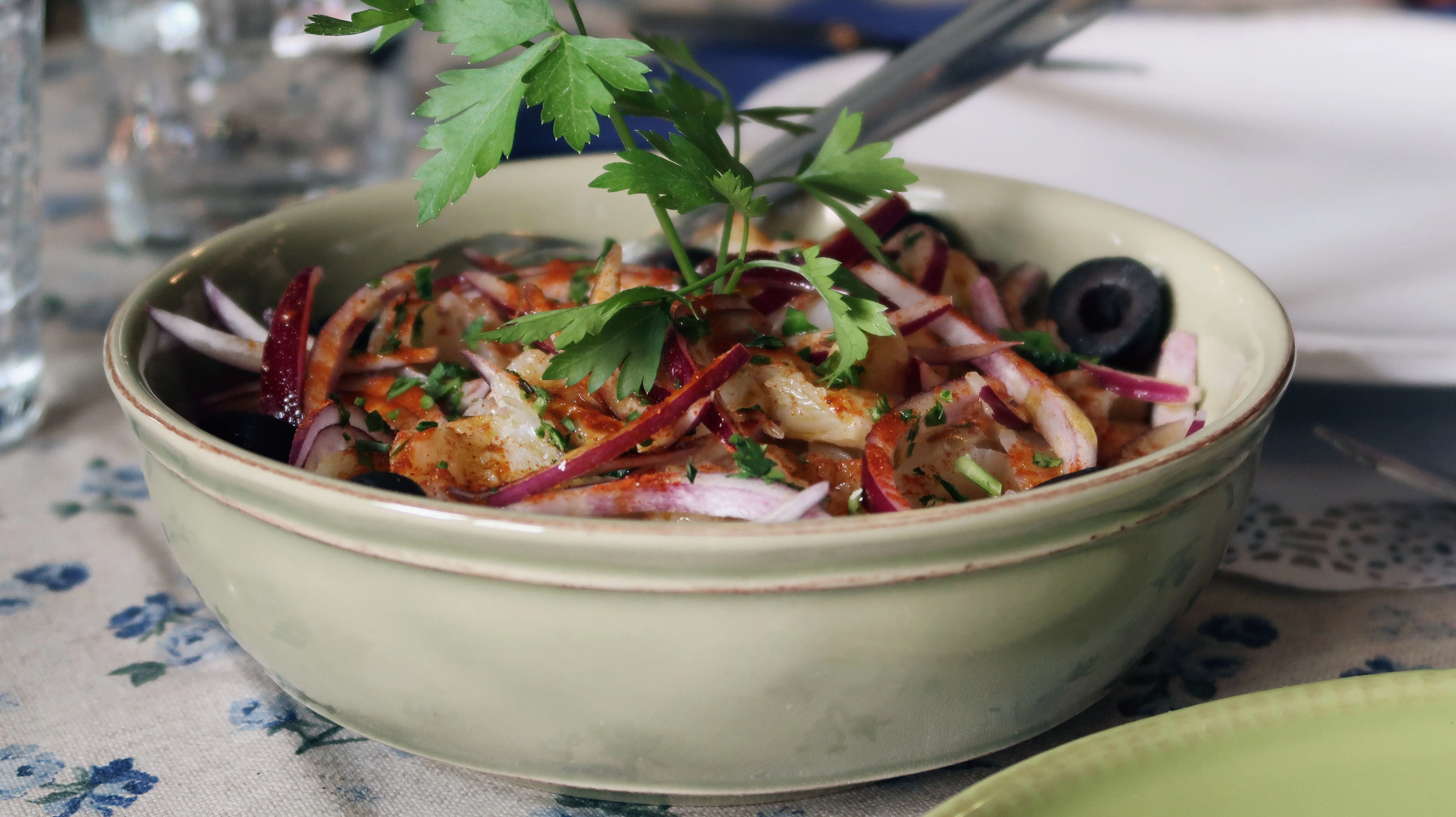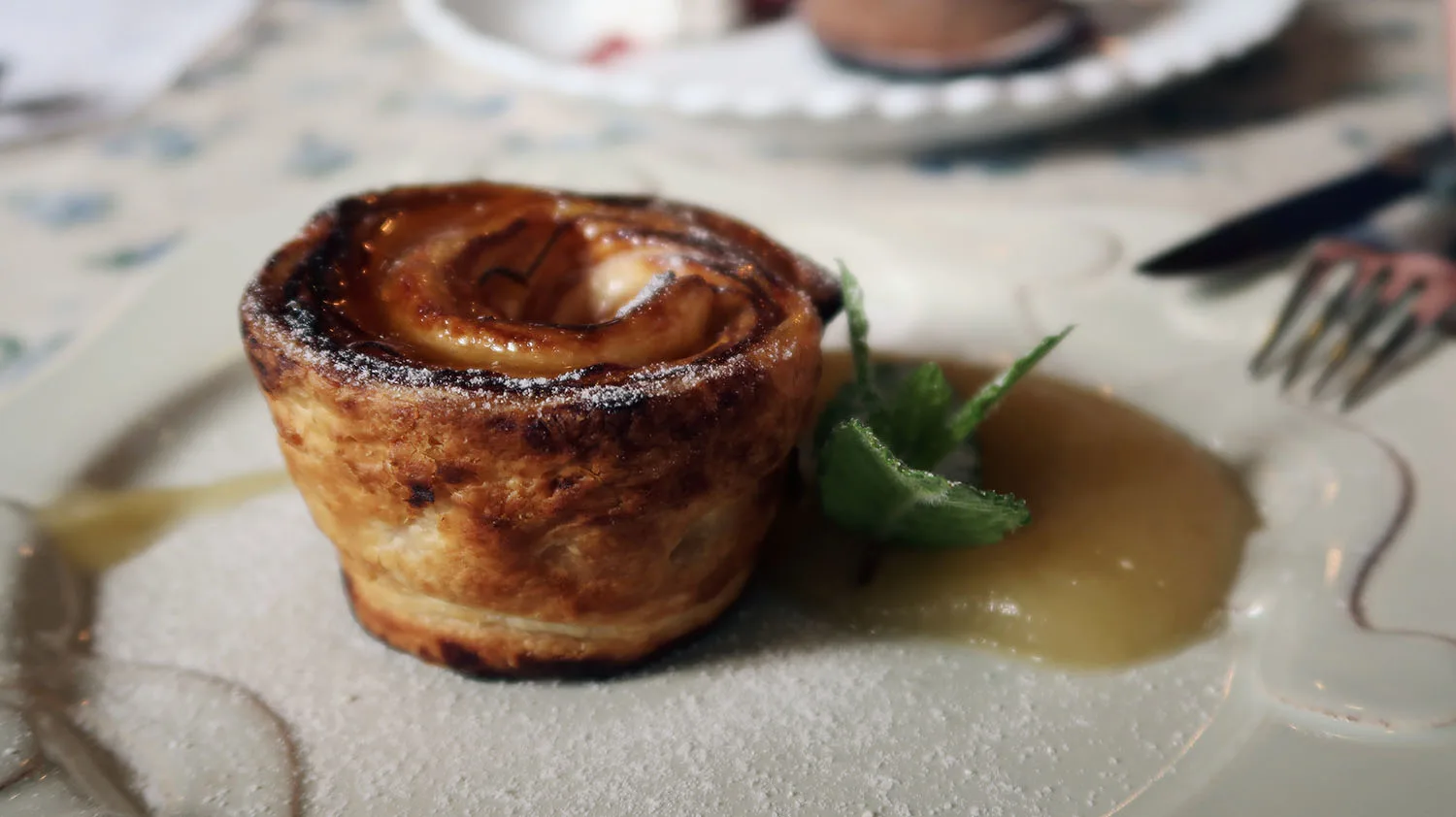 With bellies full of delicious food and wine we hopped back in the car to be whizzed off to our next destination, Pinhao. This small town on the river has one of the prettiest train stations I've ever seen.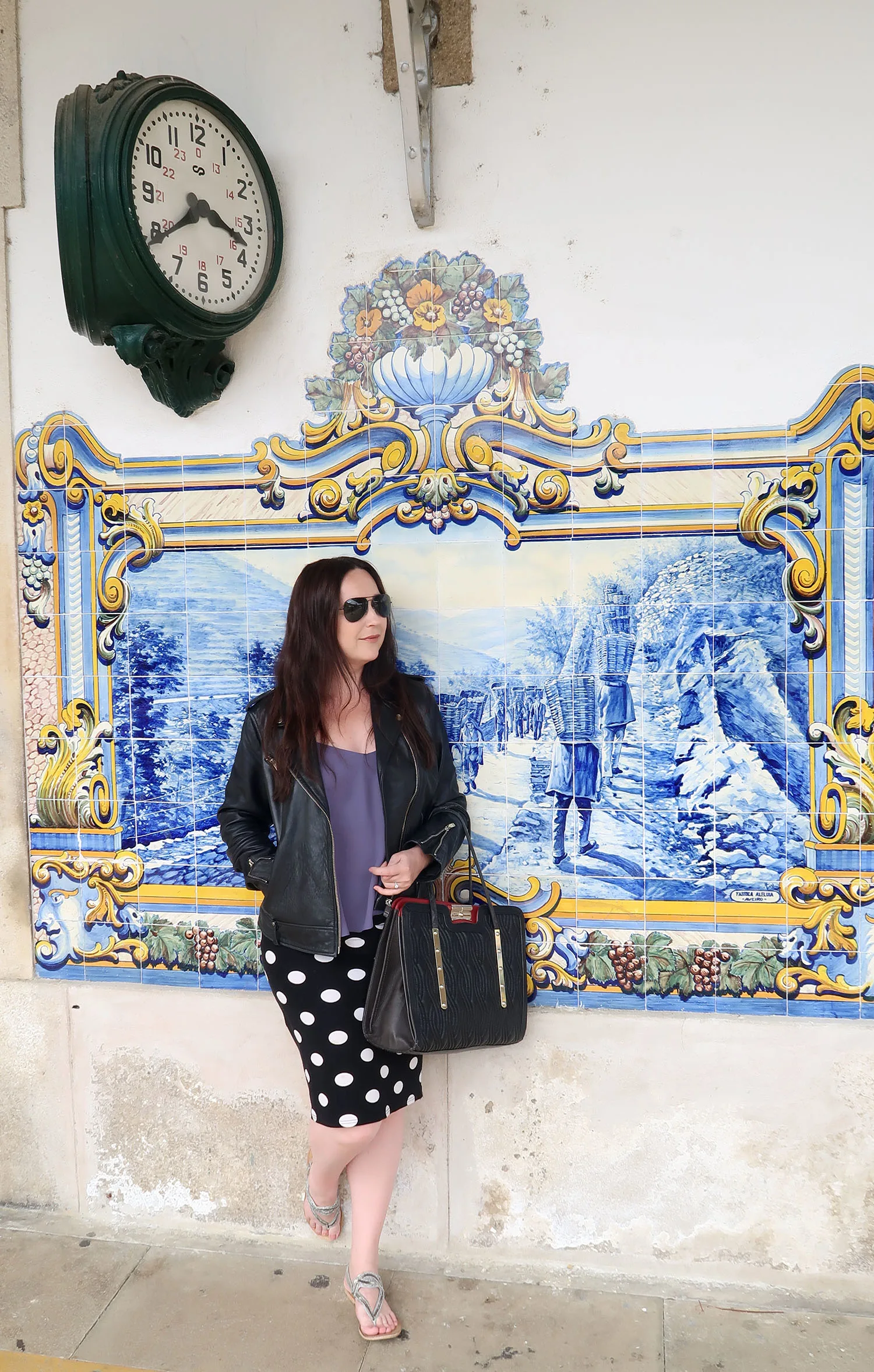 The Portuguese sure like their blue and white tiles! But it was not for the trains for which we were here. We were off on a boat trip along the Douro river.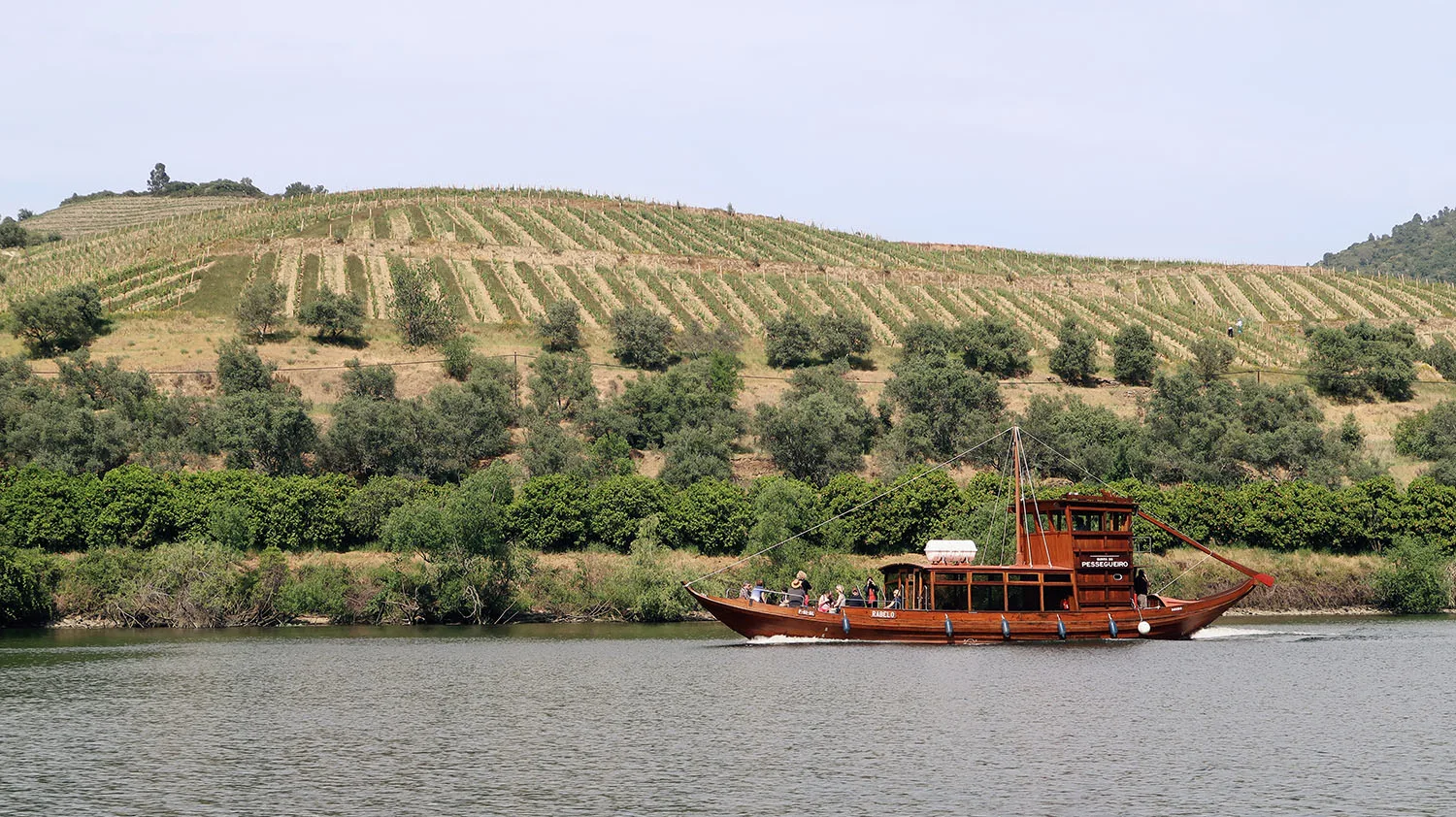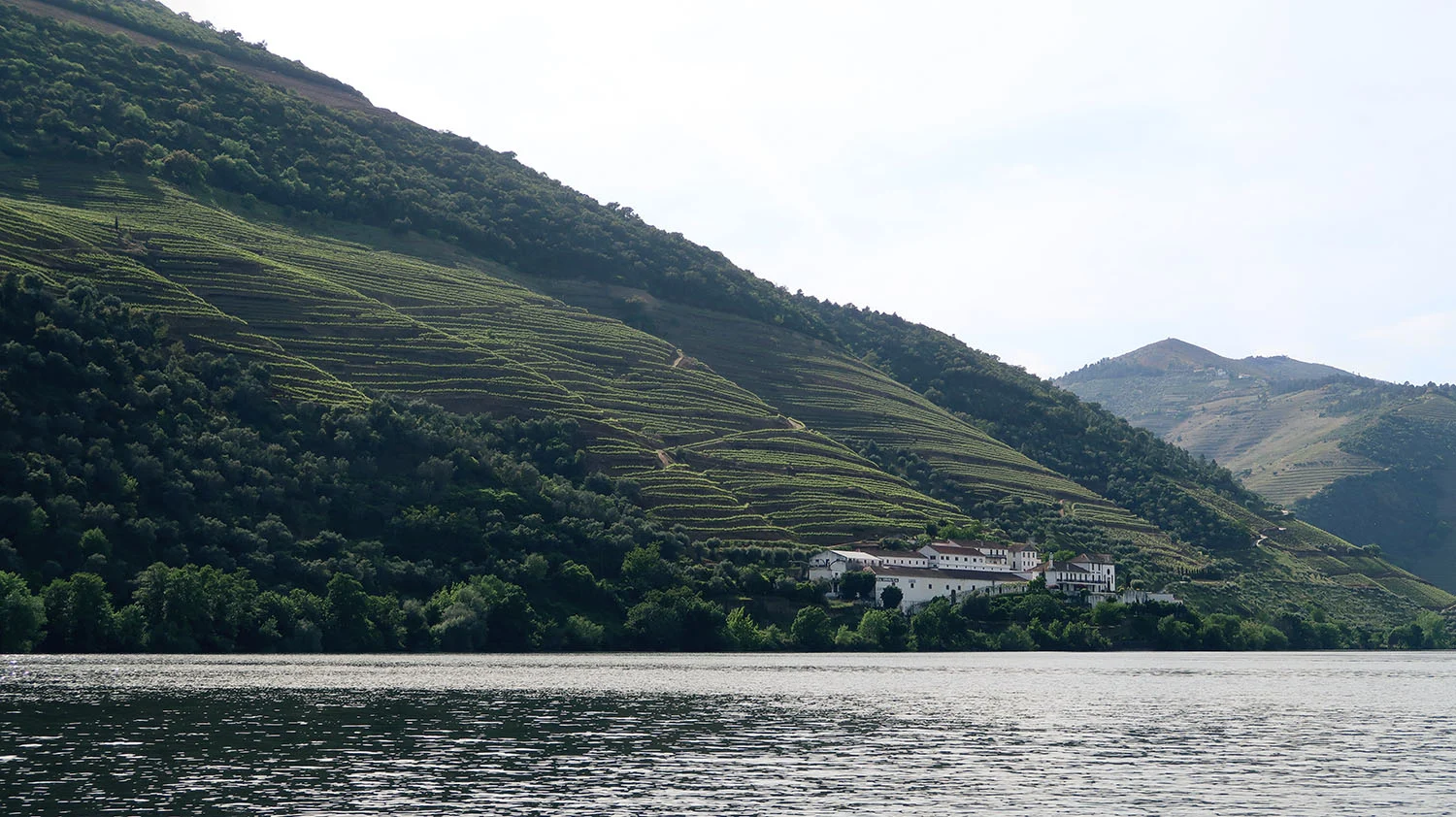 There has to be something rather indulgent about pottering down a river on a traditional Rabelo boat with boat company Magnifico Douro. The trip is all about sipping port, gazing out over vineyards, and soaking up the afternoon sun. 'twas rather glorious.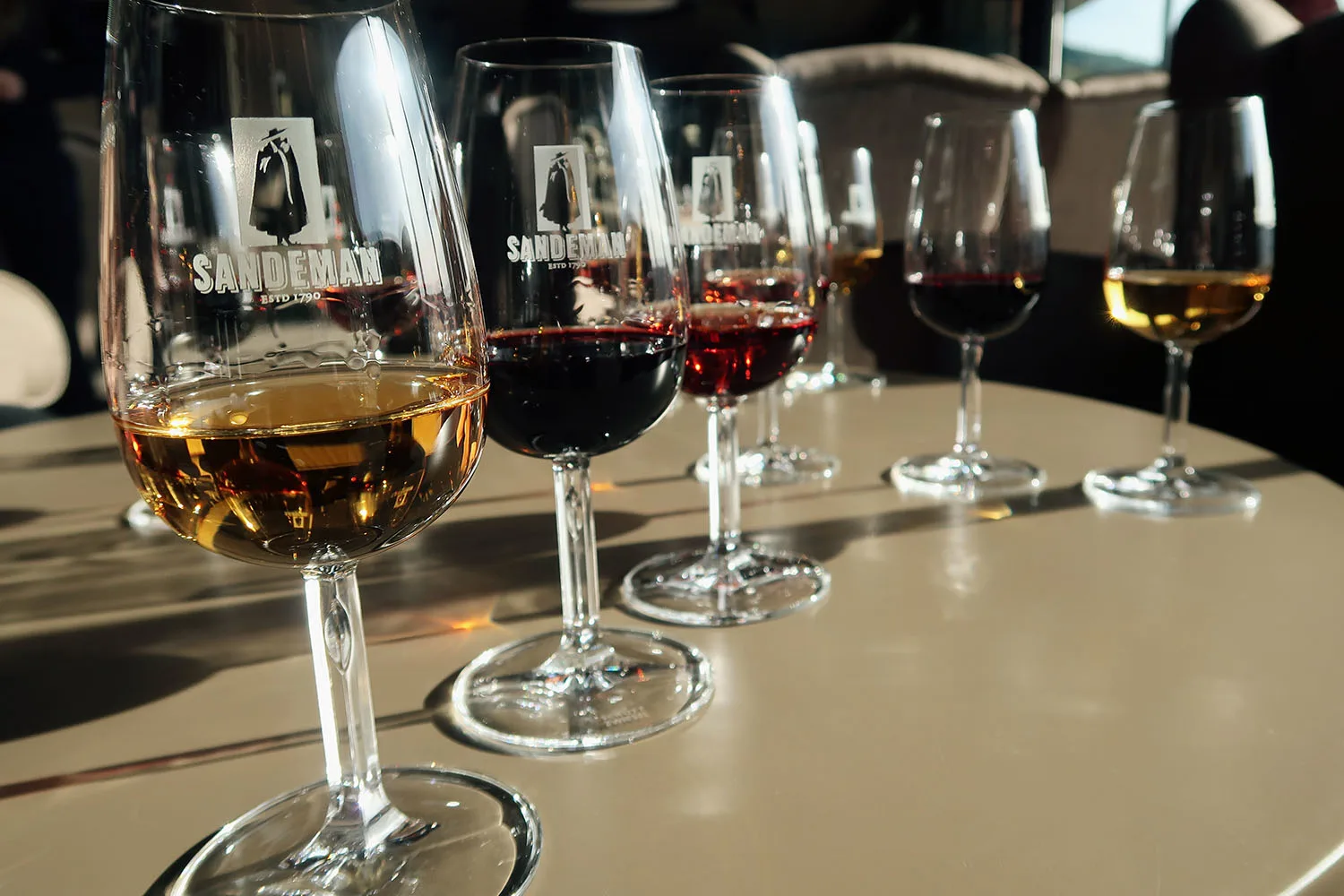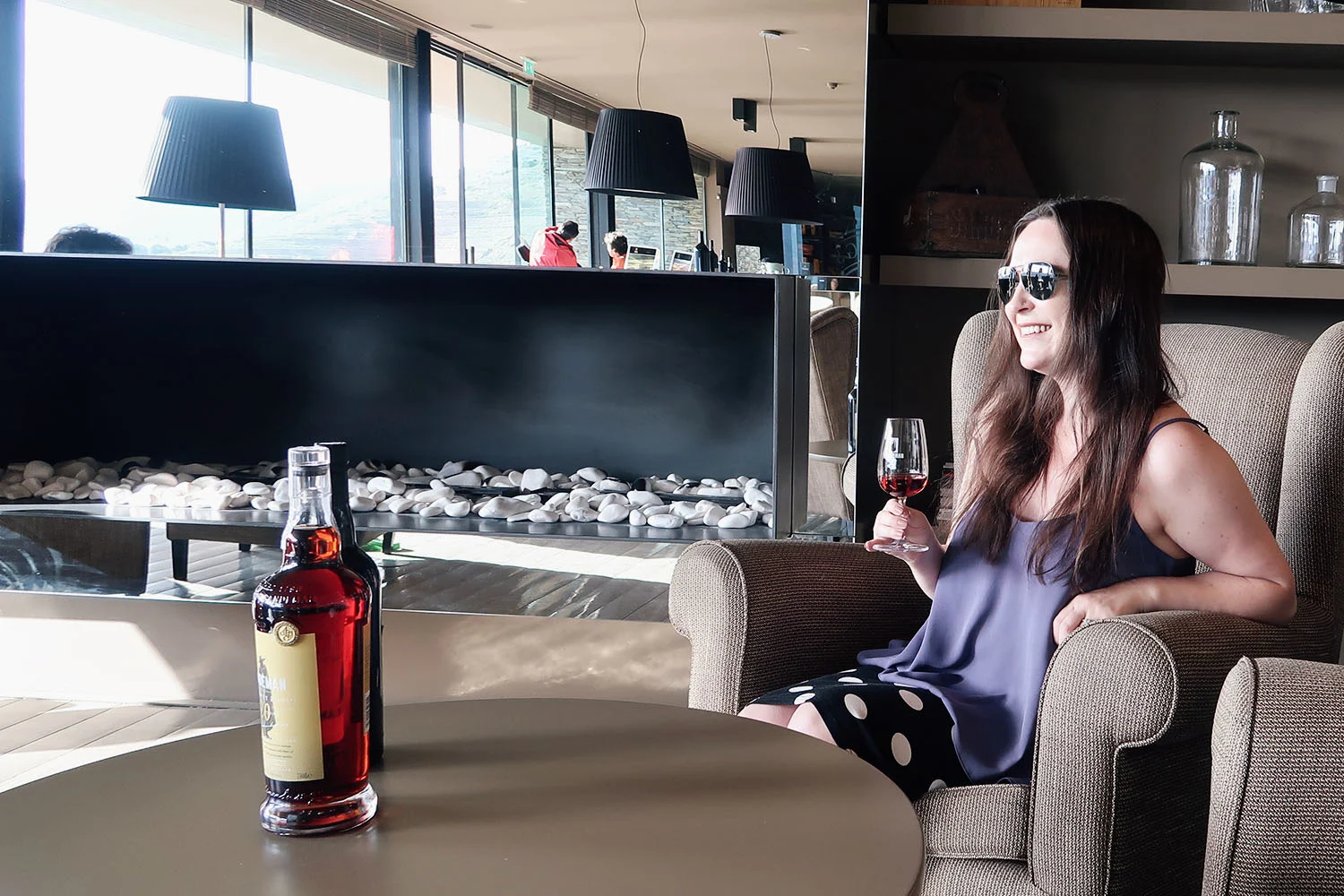 Our final stop for the day was another short drive away at The Sandeman vineyard called Quinta Do Seixo. The landscape here was incredible. We drove up a steep single track road to the winery and gazed out over the valley, river and vineyards.
It was the end of the day so we were treated to a beautiful sunset as we embarked on a short tour around the winery learning more about the process of making port before sampling three of their own offerings.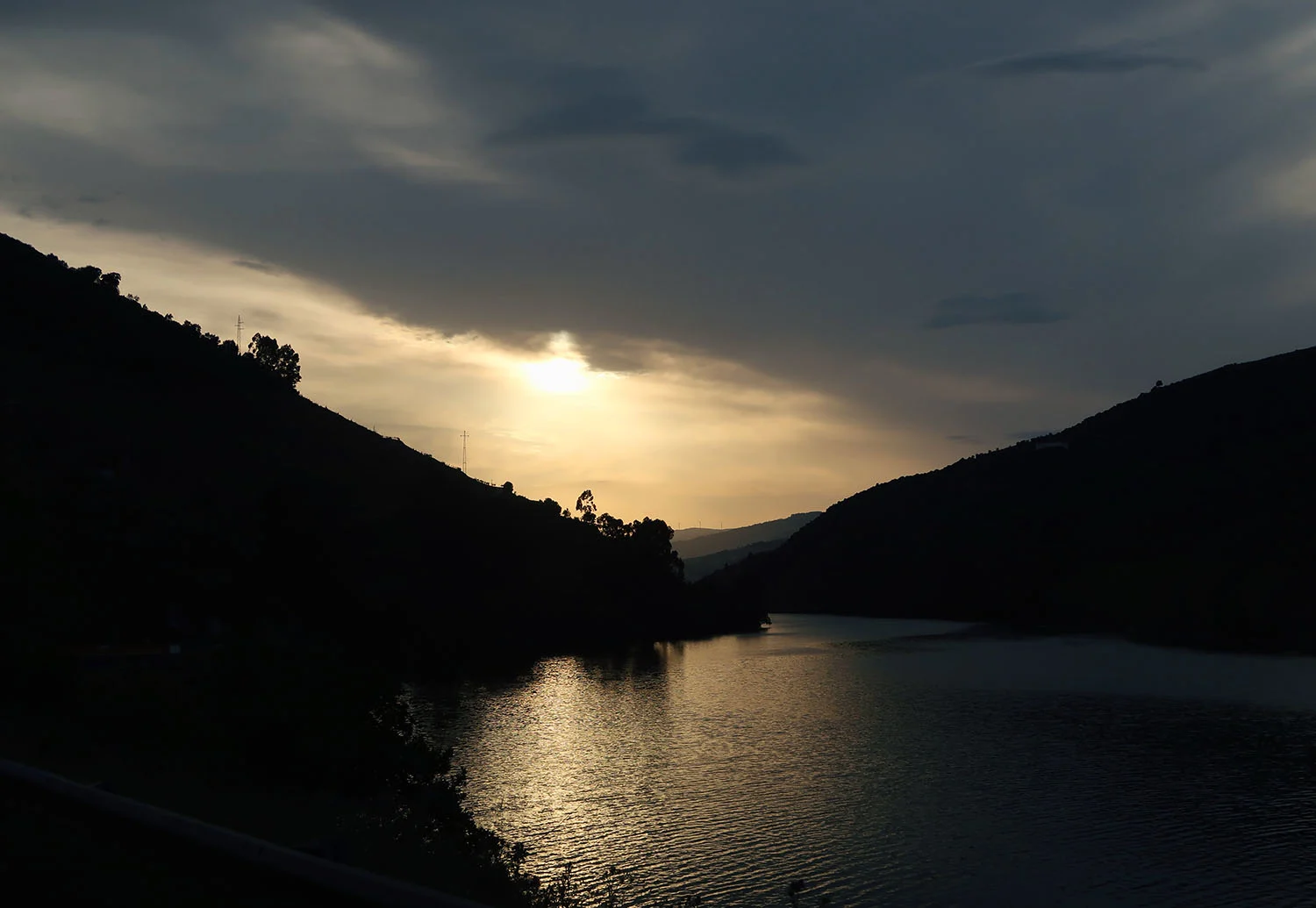 Several glasses of port down (the tawny was my favourite if you were wondering) I was ready for the drive back to Porto. Bellies and hearts were feeling super happy marvelling at the sunset over the vineyards on our roadtrip back to the city.
Foodie Walking Tour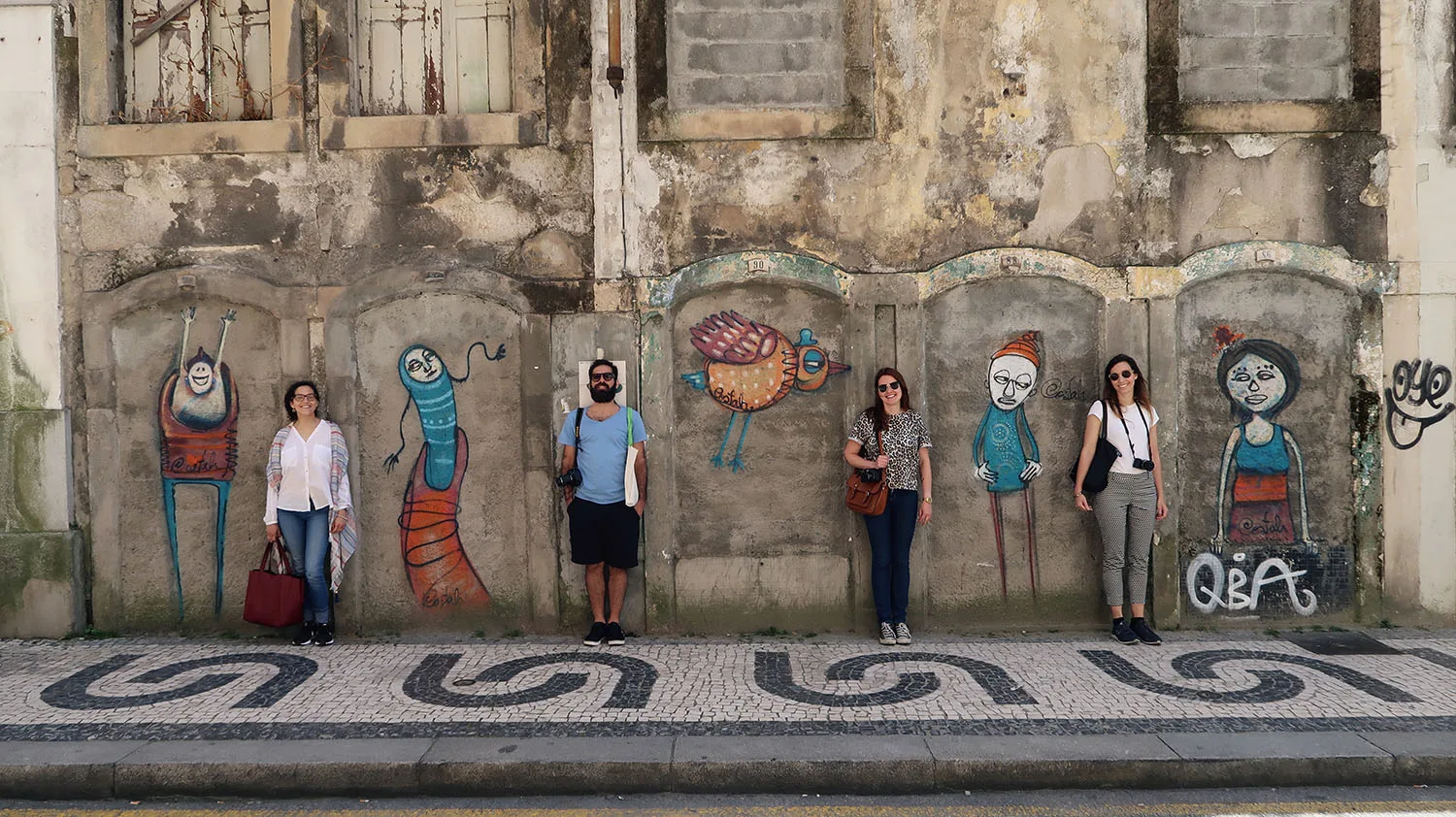 The folks at AtWill tours are pretty keen on the foodie tour, so I was looking forward to this one. It's around a 4-hour tour.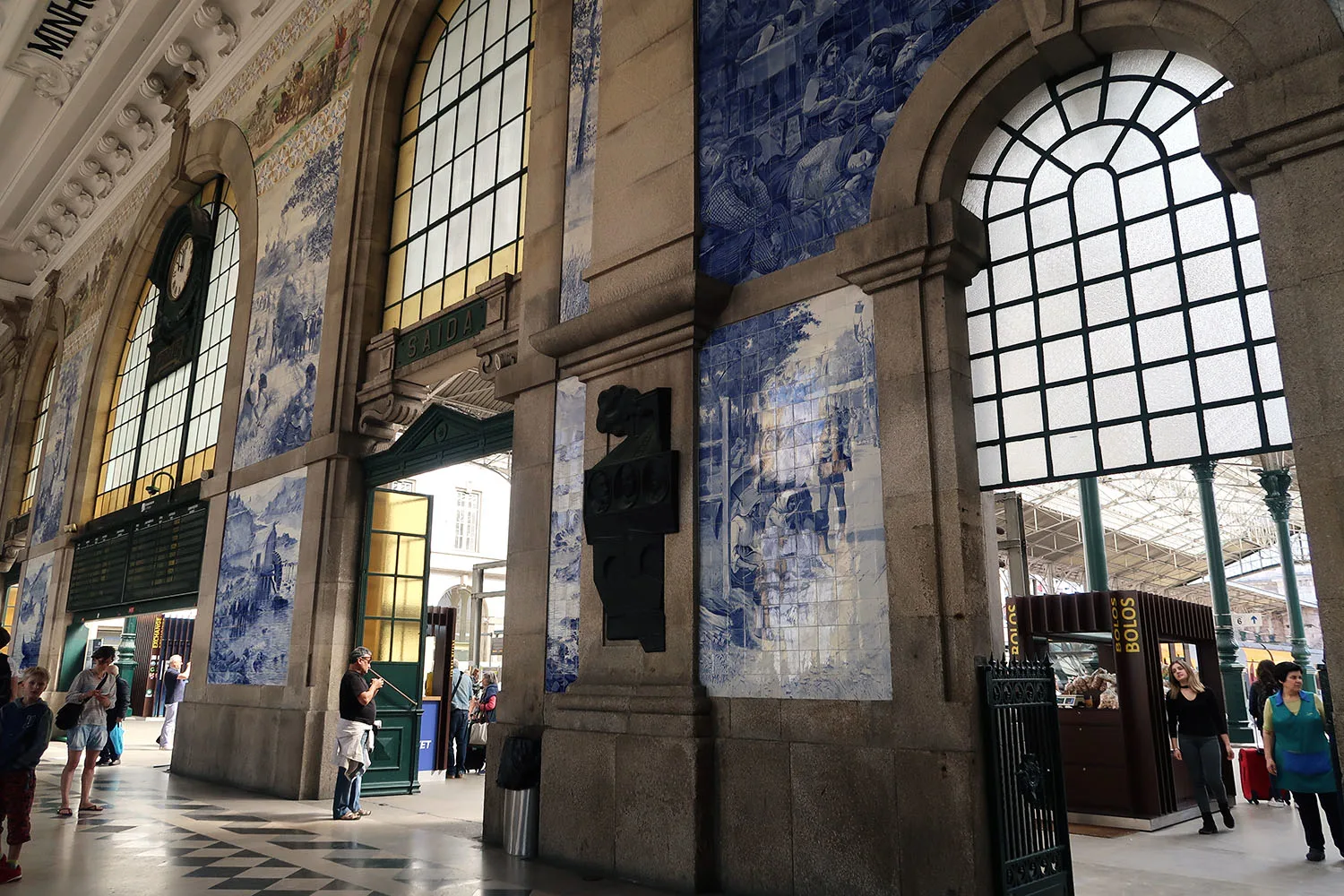 First stop was for Kale and Potato Soup (Caldo Verde) in an unassuming restaurant near the famous blue and white tiled train station (definitely stop in there for a look at one of the prettiest terminals in the world – see above!).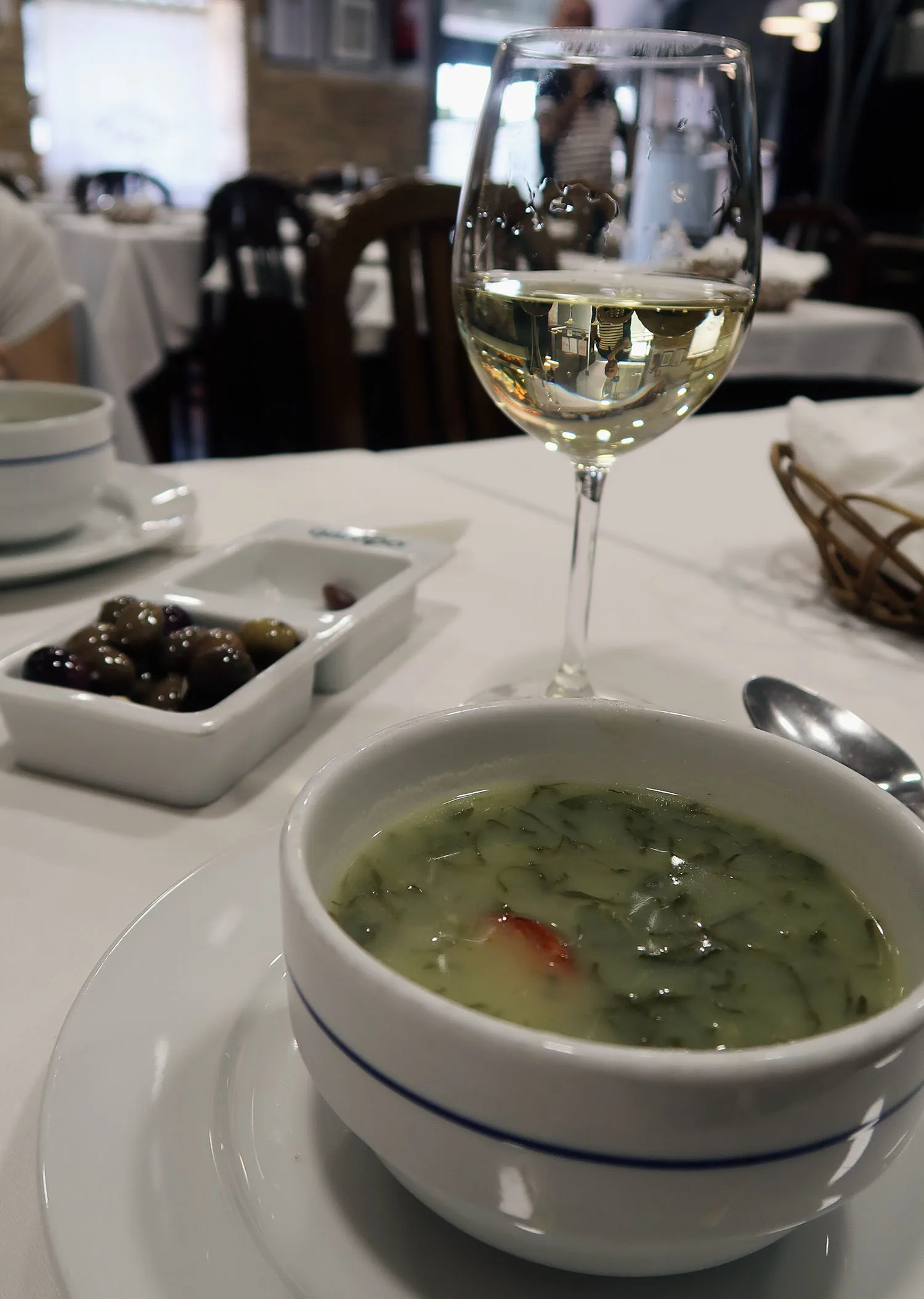 The owners of the restaurant were super enthusiastic and I'm sure they would have loved to have us stay there all afternoon.
We were served a generous glass of white wine to wash down the soup, not that we need much help, it was delicious.
Feeling satiated we trekked up the steep hill towards our next stop passing loads of stunning street art along the way. Apparently, this is where some of the local urban artists practice their work.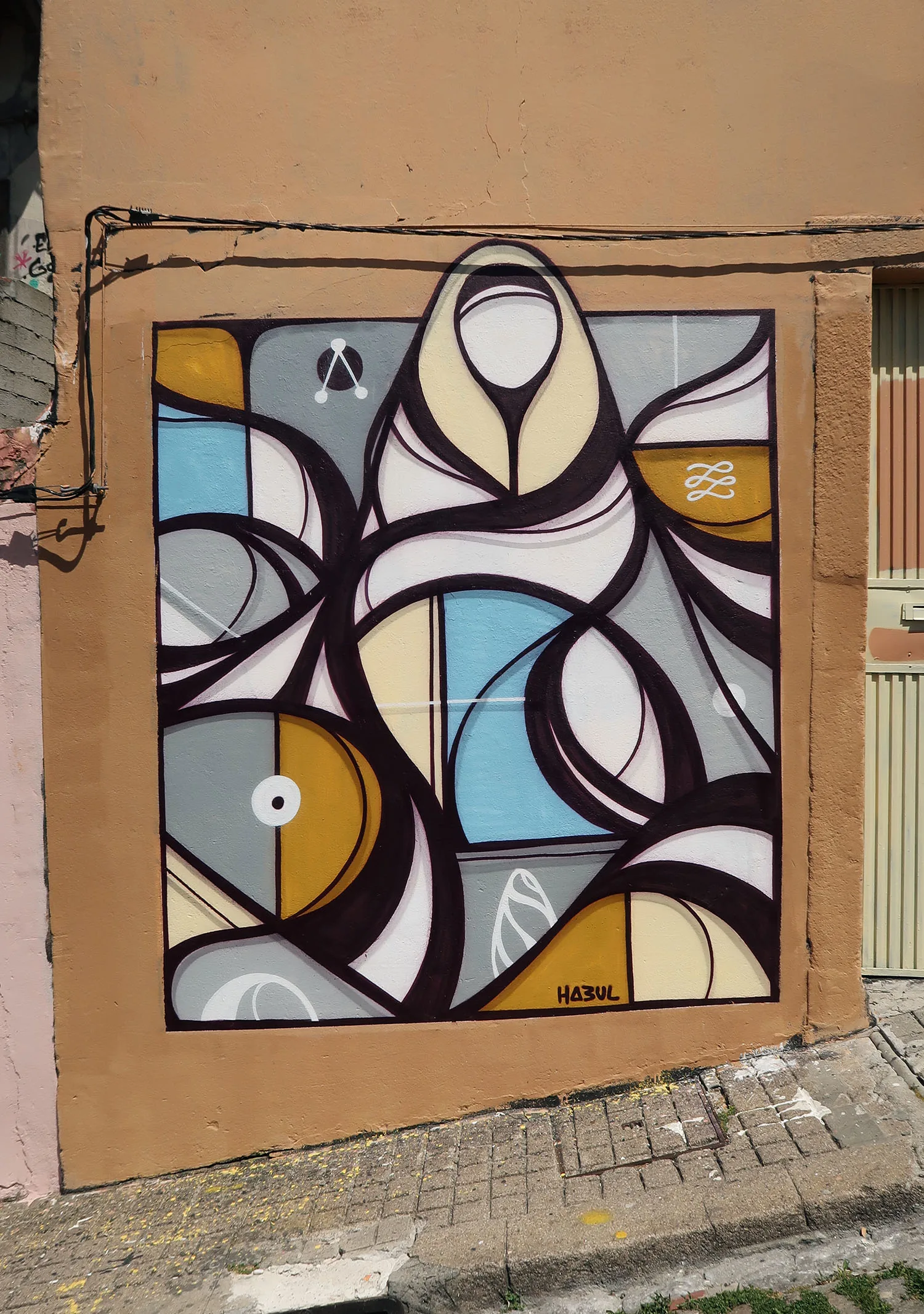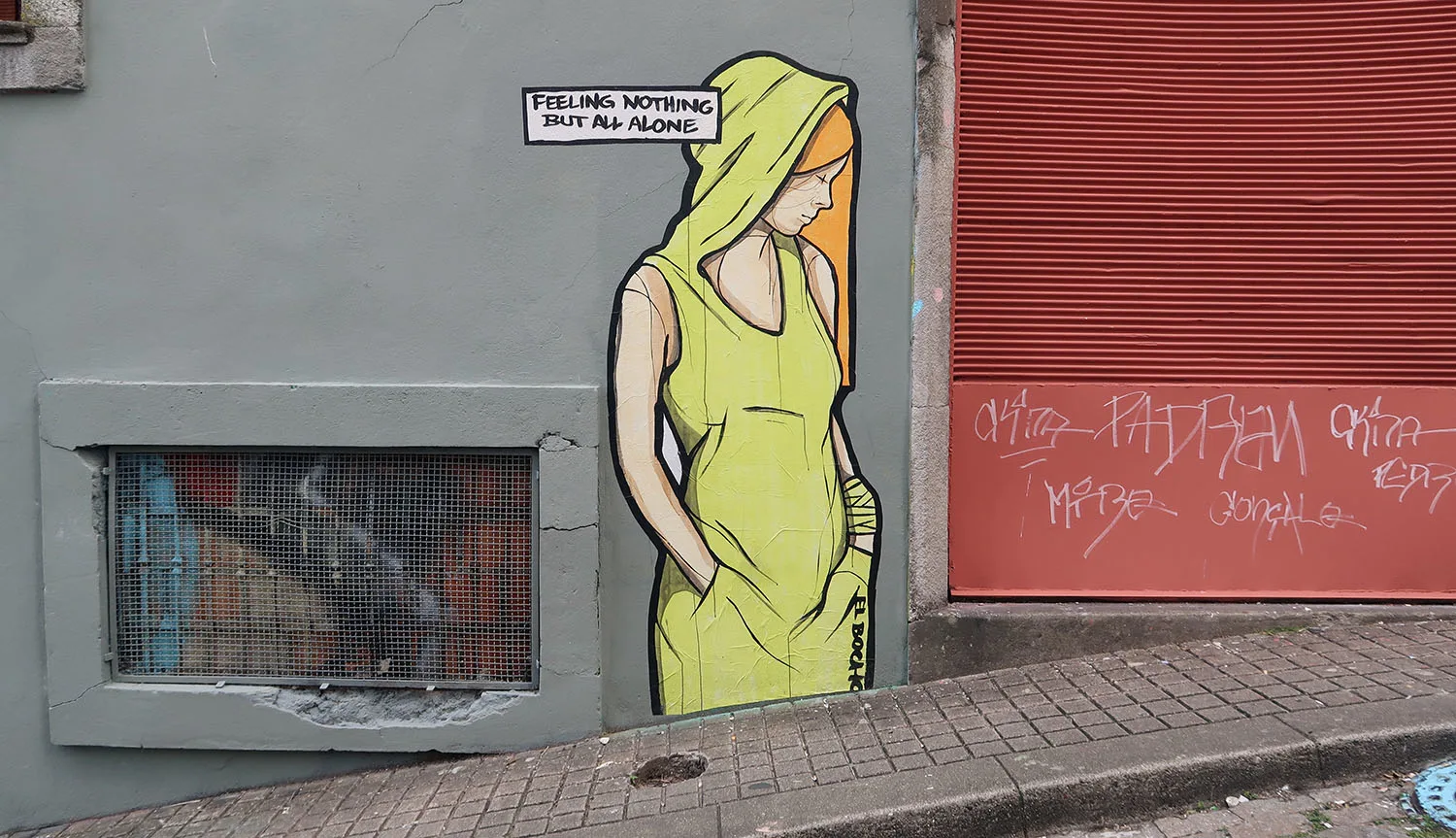 The next food sampling session was in a football poster-laden petiscos stop. We were served fish cake with rye bread, washed down with green wine.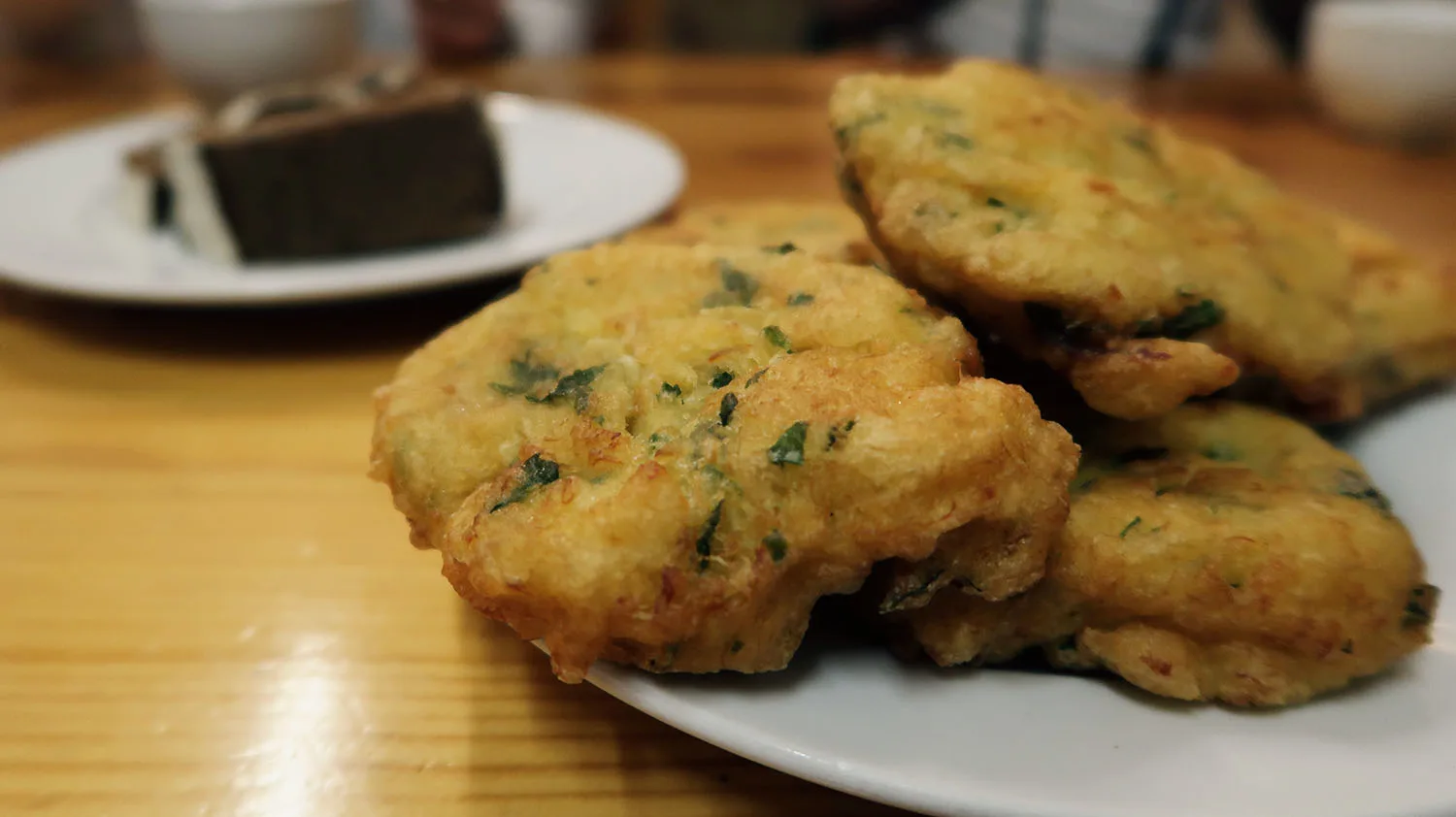 This stuff totally felt like picnic kind of food. The fish cake (Patanisca), made with salted cod, with mild yet filling. The rye bread offered a tangy contrast. And the green wine … well, that was a first for me and I am hooked. I need to get myself more of that for the summer months!
Just a short walk up the road, past some decaying yet beautiful buildings, we came to a large square surrounded by some restaurants. We headed to one small offering which was located in the basement of a building.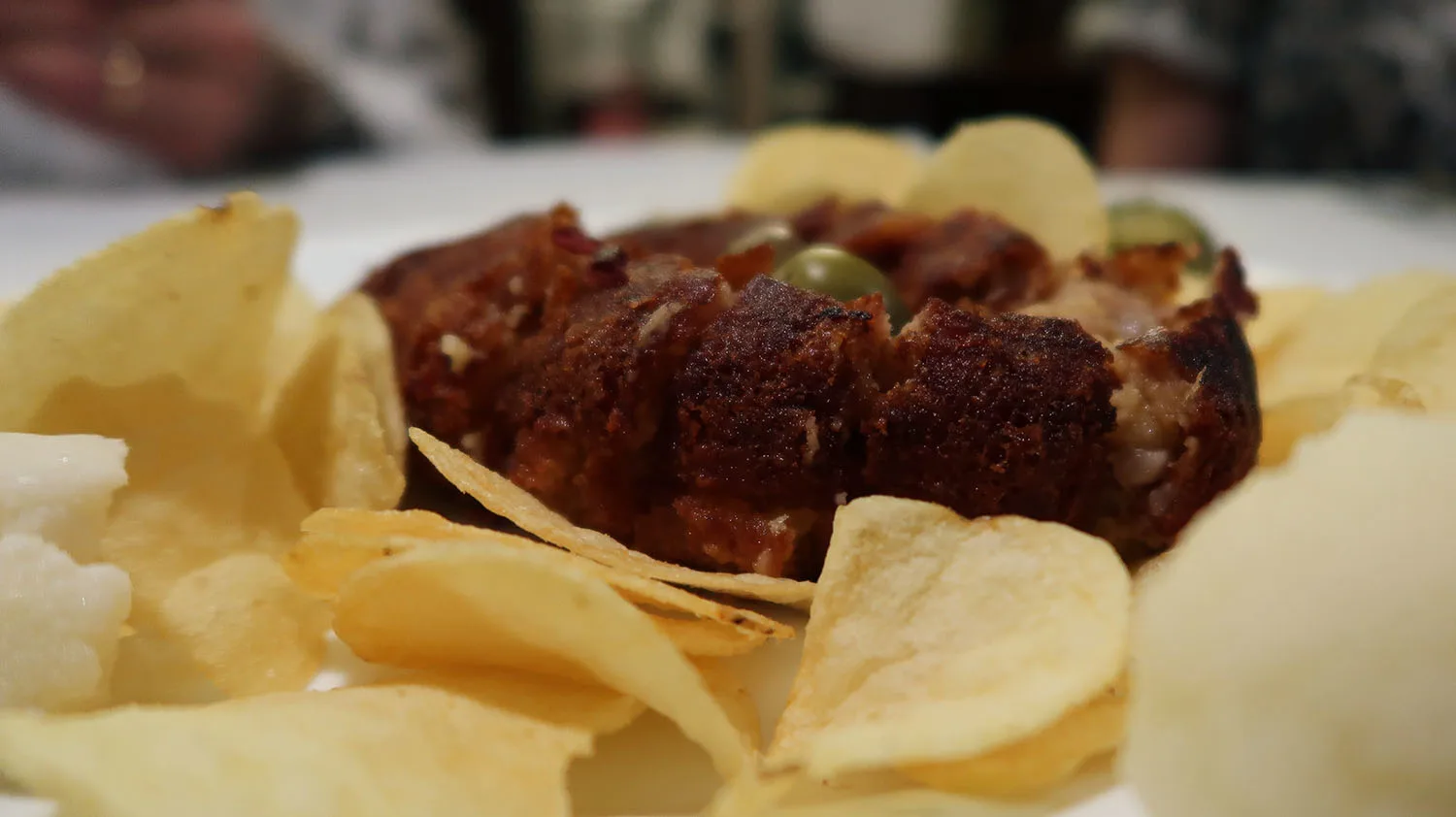 There we tried the infamous Jewish-style pork sausage (Alheira) that our hosts had been raving about. Unusually this sausage was served with crisps. Not that I was complaining, we were now washing it down with a jug of rose wine and I was welcoming of the extra salty goodness.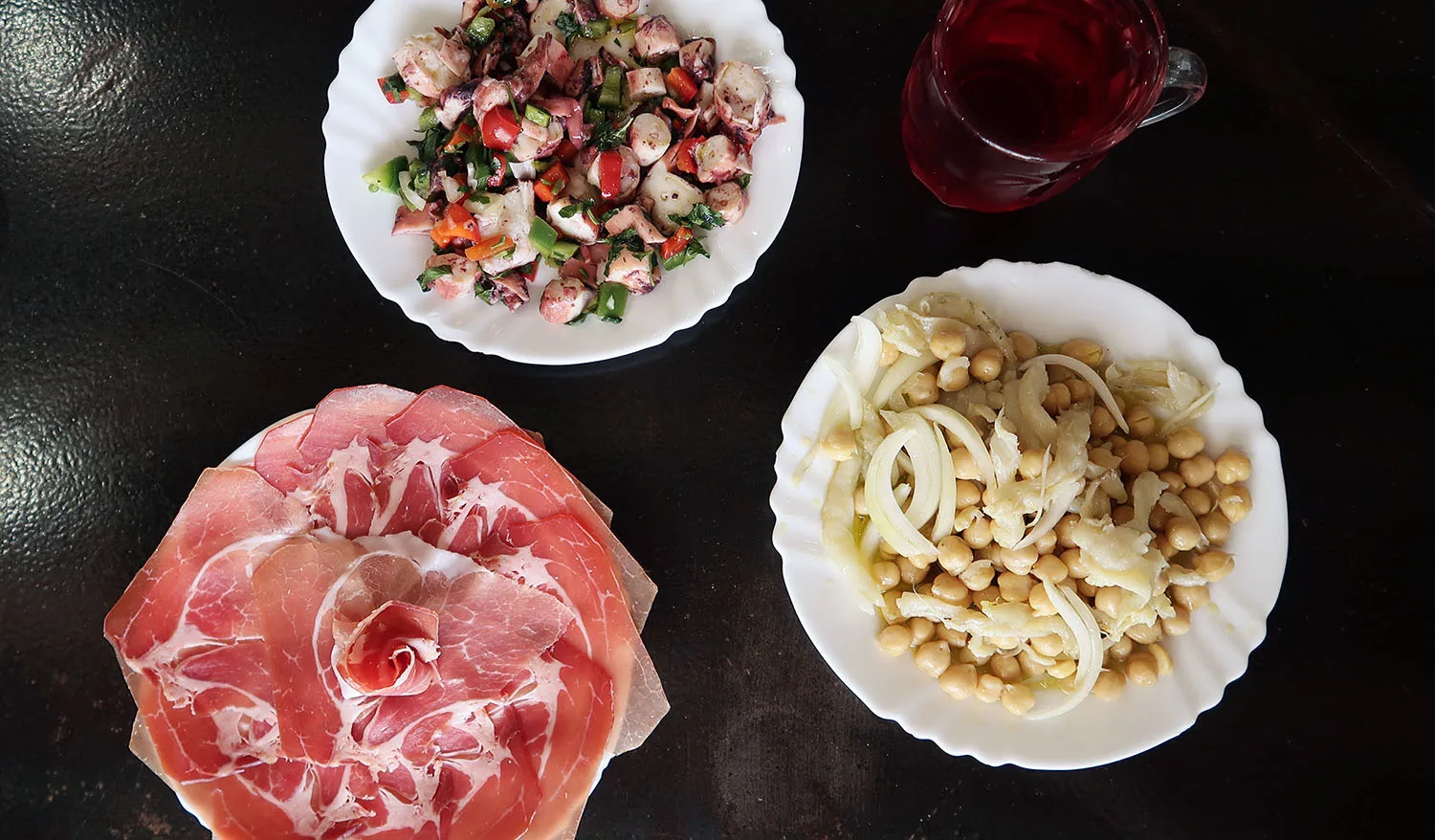 The next stop was probably my favourite of the bunch. A rather contemporary looking place with a bar decorated with hanging hams, this place served the most exquisite cured ham, along with a plate of codfish and chickpea salad, and octopus salad. Again, we enjoyed this with a refreshing glass of rose wine.
By this point, the wine was certainly going to my head so I ordered some water. Little did I know that there is a local cultural custom/tradition of ridiculing those who order water instead of booze. In this particular establishment, the server walks to a bell carefully nailed to the wall by the bar and she bashes it with her fist for every order of water that is made. I found this rather delightful and cheered! My companion was mortified! Either way, it was certainly an experience.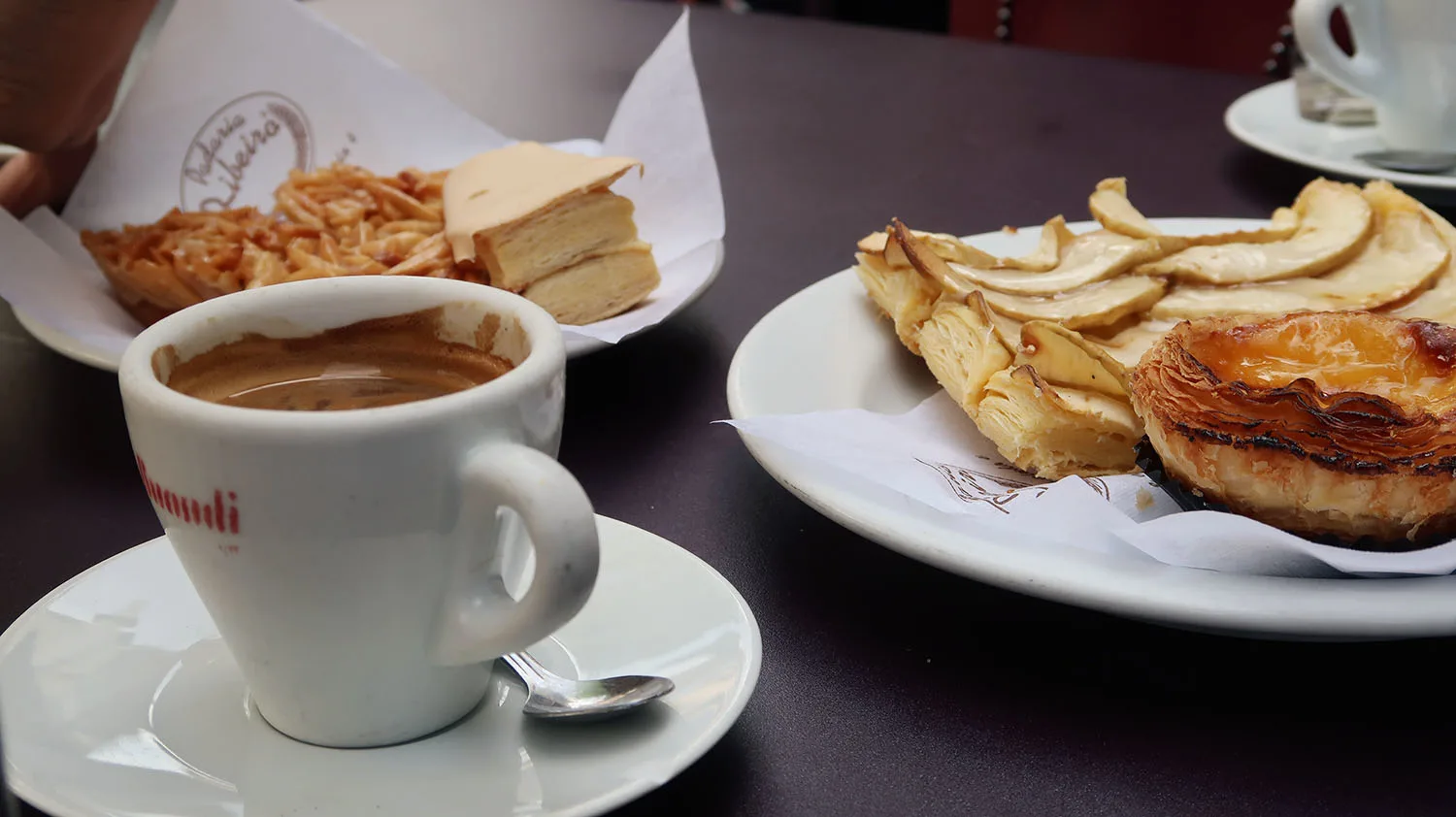 Our final foodie stop of the day was for a much-needed coffee and pastries break. It's not so easy to order anything other than espresso in Porto. I just managed to get some milk to go with mine (I'm generally a flat white kinda girl) but with a stash of sweet baked goods and a table on the street, I was as happy as can be.
Beach, Tram and Shopping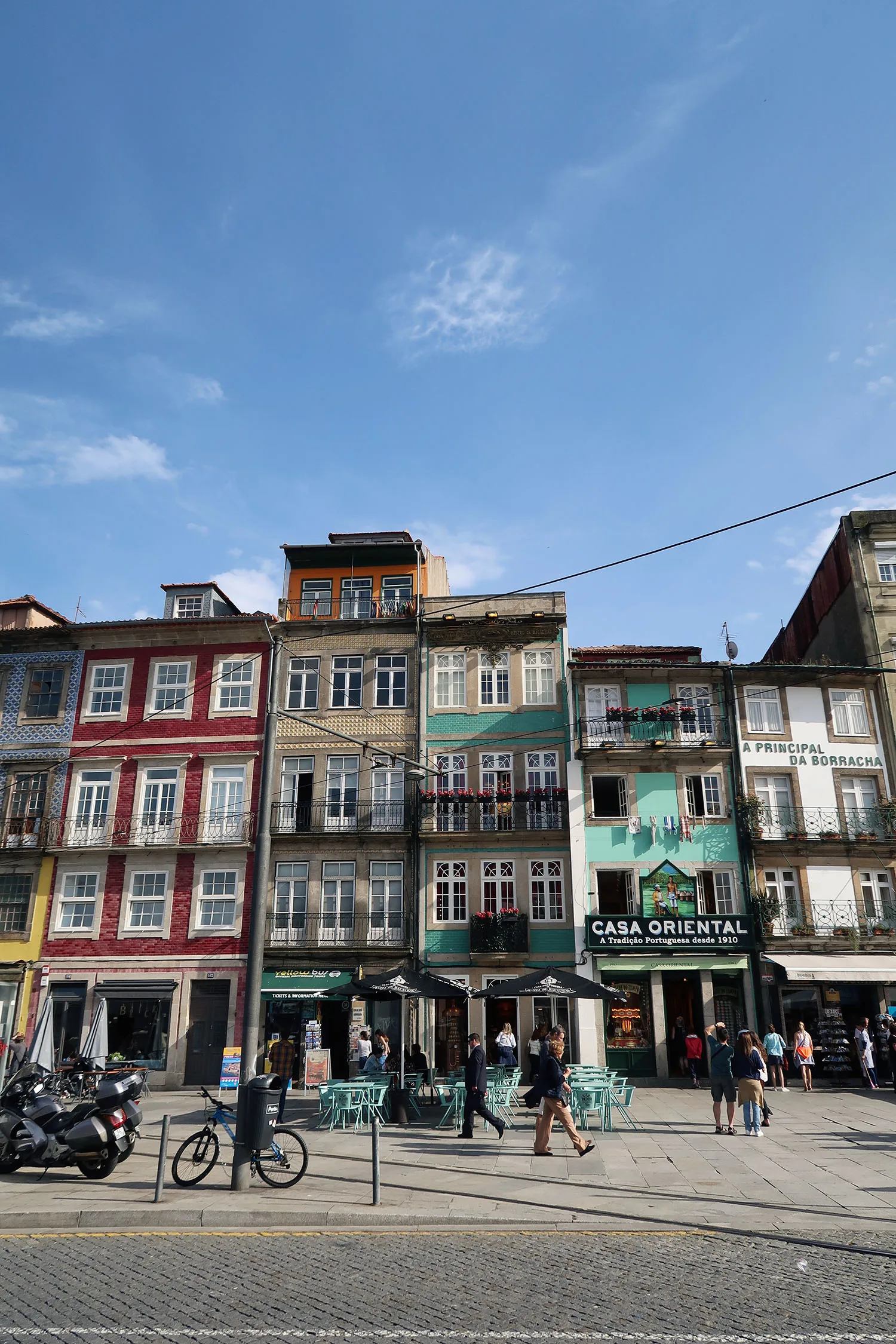 You could fill your weekend just with the activities I've mentioned above. But if you do have time and fancy something different I'd recommend getting down to the beach area of Porto for a spot of relaxation.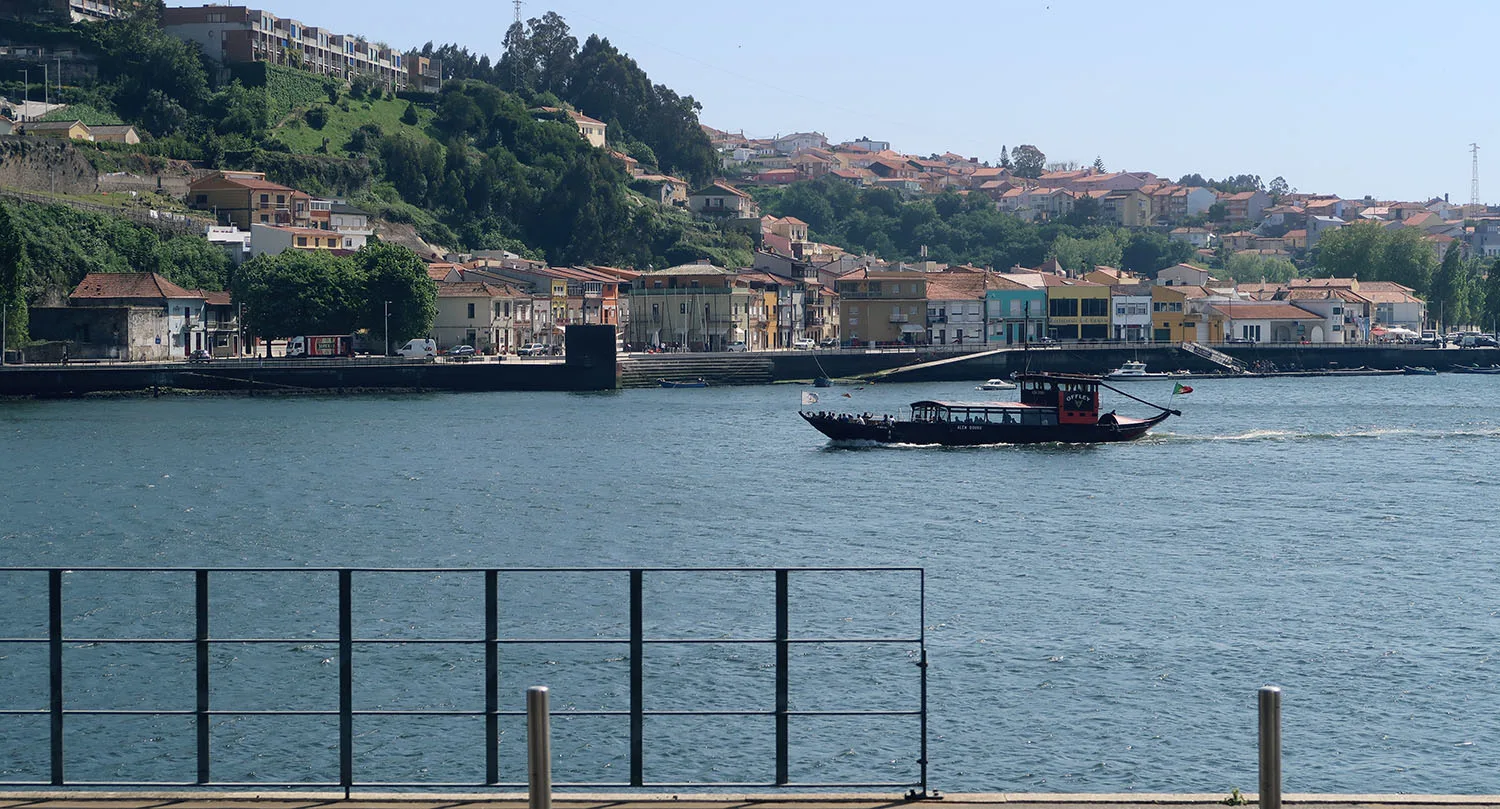 The tram is a gorgeous retro number that runs between the historic downtown area and the beachfront, as well as a couple of other routes. It's a fun way to get around and something rather nostalgic about pulling the cord to stop the tram when you get off.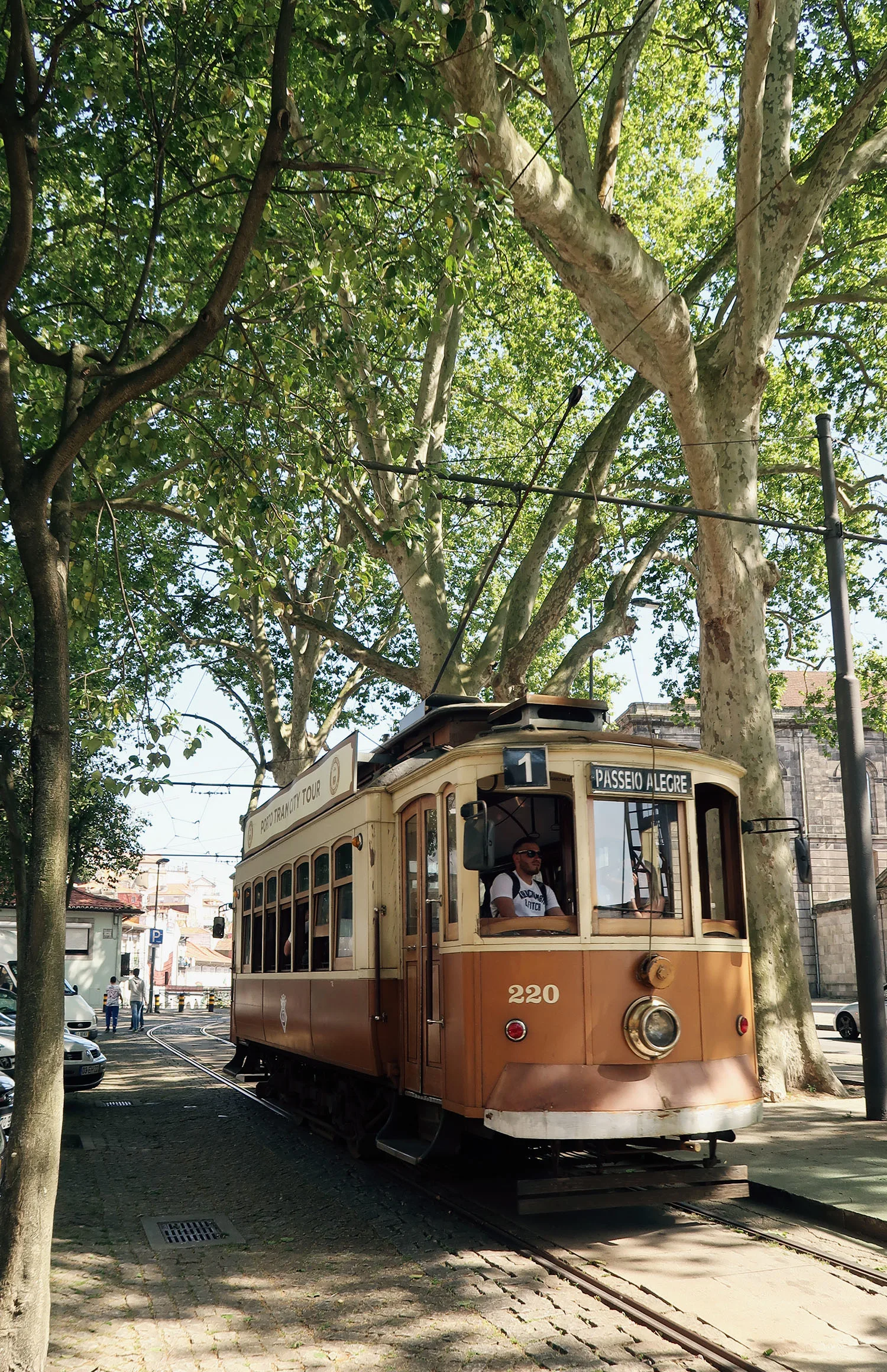 If you are in the mood for retail therapy you will have plenty of opportunities to spend. I loved Armazém, an antique/fashion/art gallery warehouse space with a bar out the front. It's repurposed port and wine warehouse and looks like a rather hip place to be.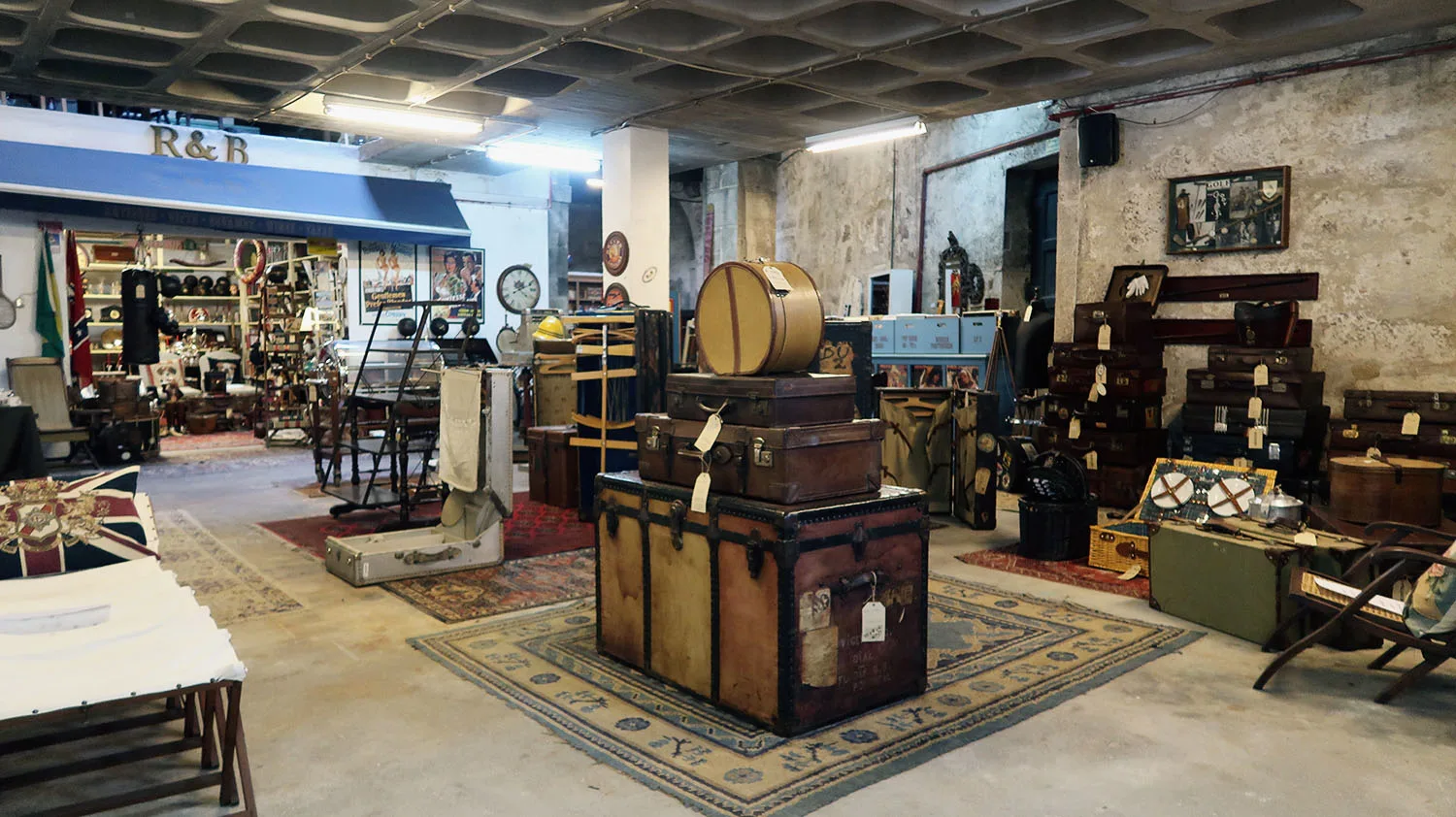 I'd also recommend donning your walking shoes and take a stroll around the downtown, old city. The architecture is gorgeous, the area is growing with cafes and shop, plus it's pretty buzzing to just chill out down by the riverfront.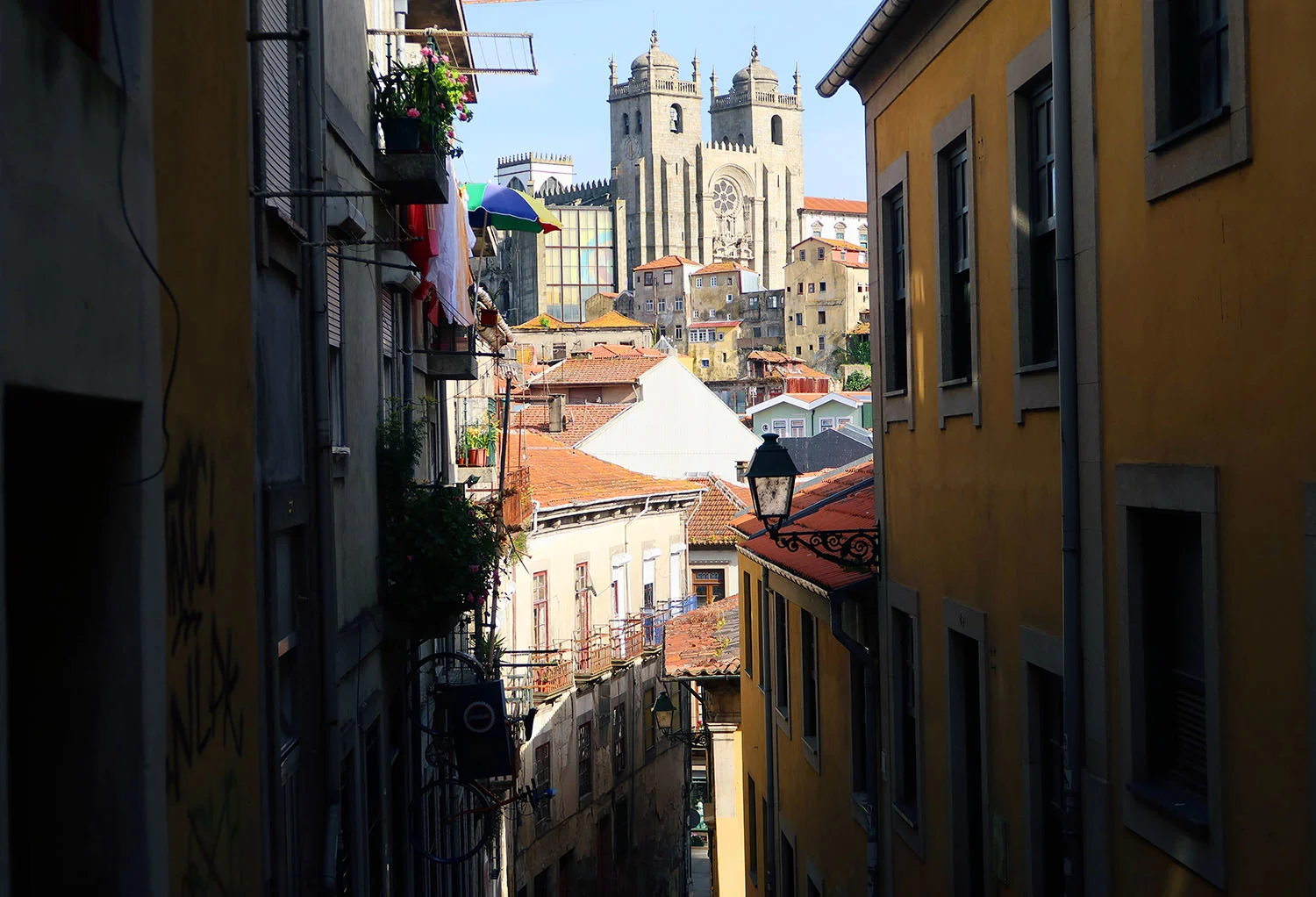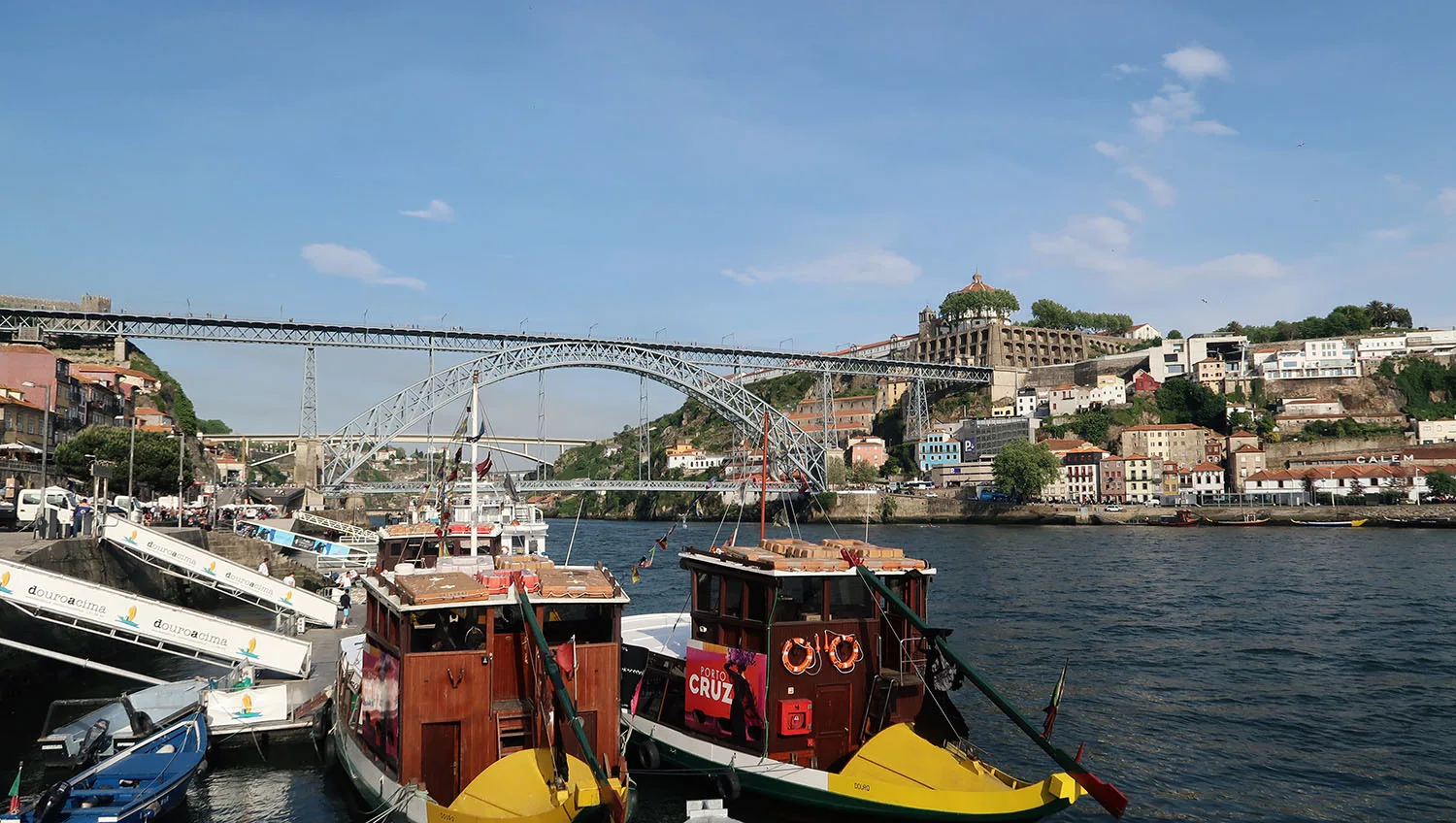 If you're interested in street art there are some really cool pieces throughout the city. Even though we were on a foodie tour I loved stumbling across some truly creative pieces.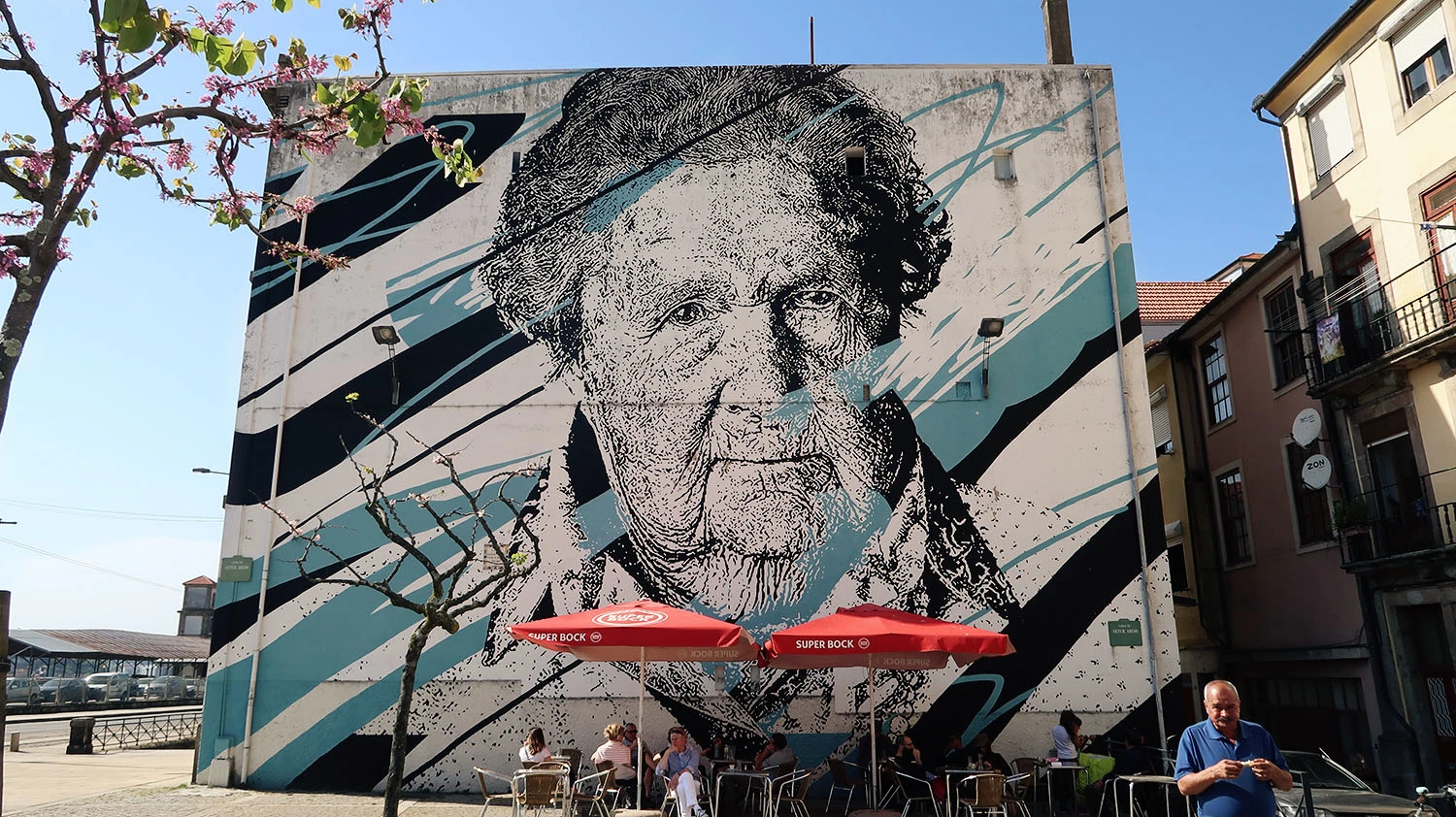 Finally, if you're a Harry Potter fan you might want to join the queue to this bookshop, the Livraria Lello has a sumptuous interior and is rumoured to have inspired J.K. Rowling's Hogwarts library.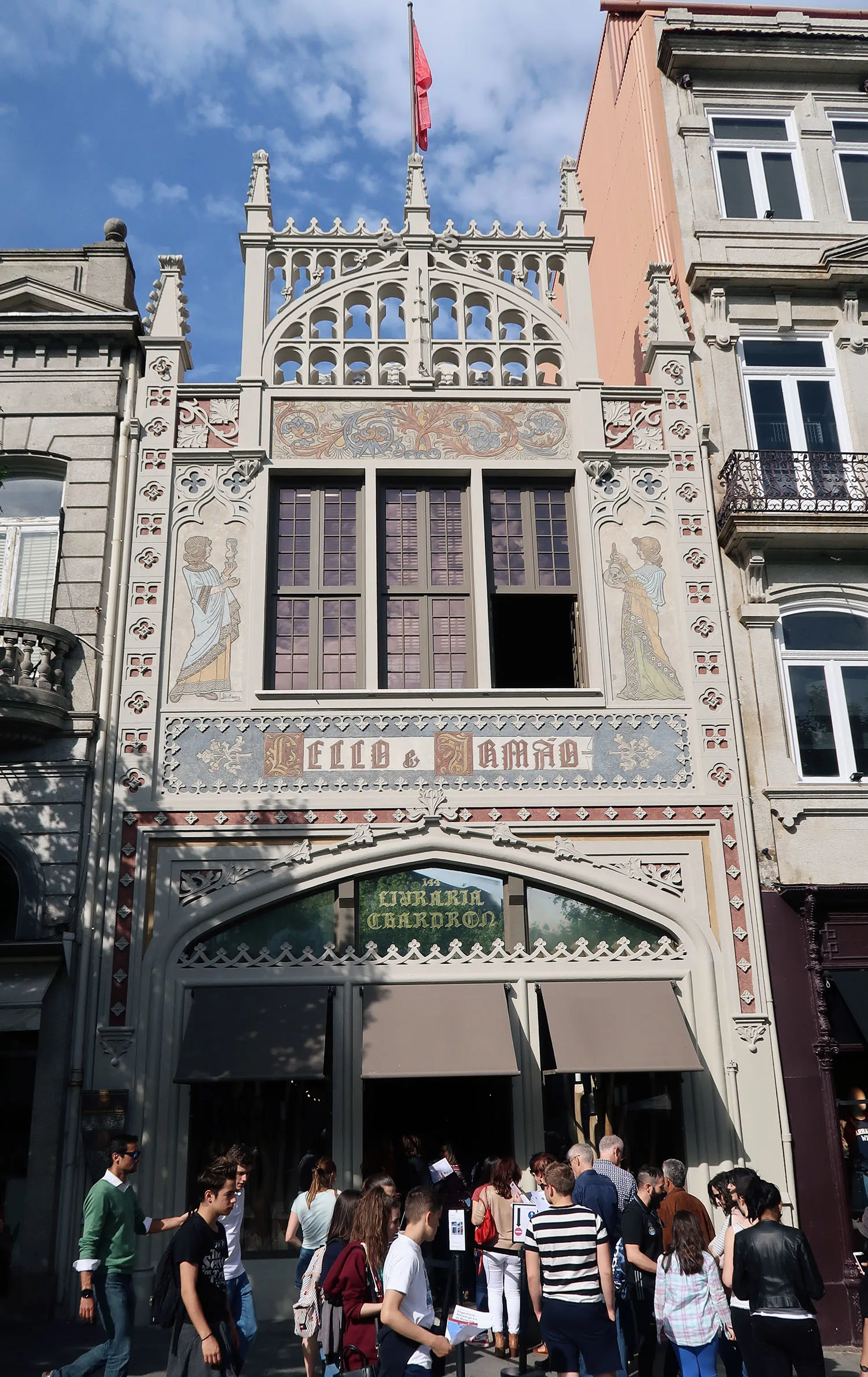 Porto Information
Flights to Porto – Flights from all major UK airports to Porto. I flew with Ryanair and Easyjet on my trip. Check out Kayak for flight comparisons.
Stay at – I stayed at Ipanema Park Hotel.
Best time to visit – the weather is good most of the year but I'd recommend shoulder seasons (spring and autumn) to avoid the crowds and still enjoy some warmer weather.
Tours – I went on the bespoke day tours with AtWill who offer a range of intimate tours in the area.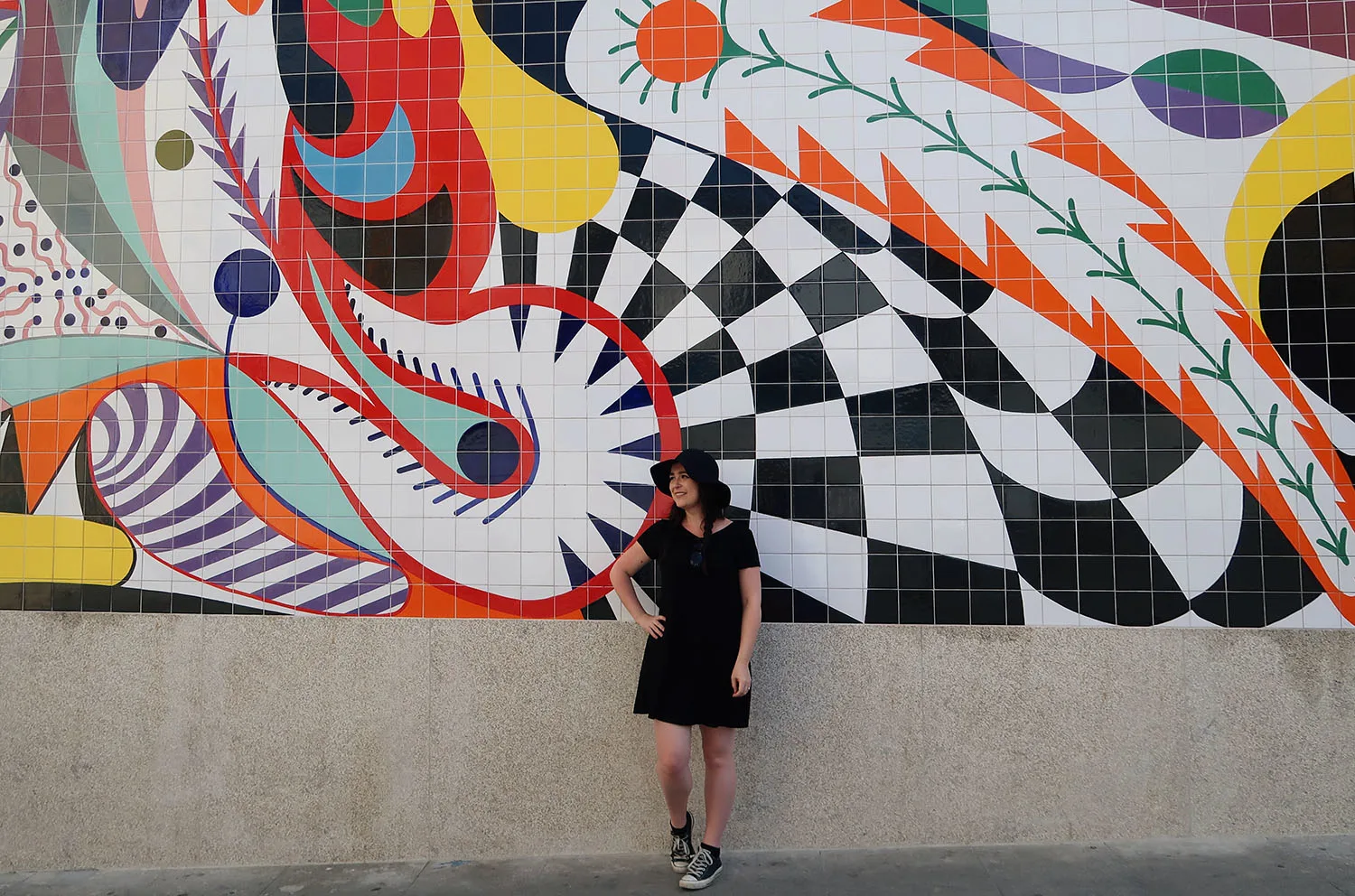 ---
Check out my taste of Porto video here:
And I vlogged the trip here.
Have you ever spent a weekend in Porto?
What was your favourite thing to do there?
Pin this post and save it for later:
[one_half]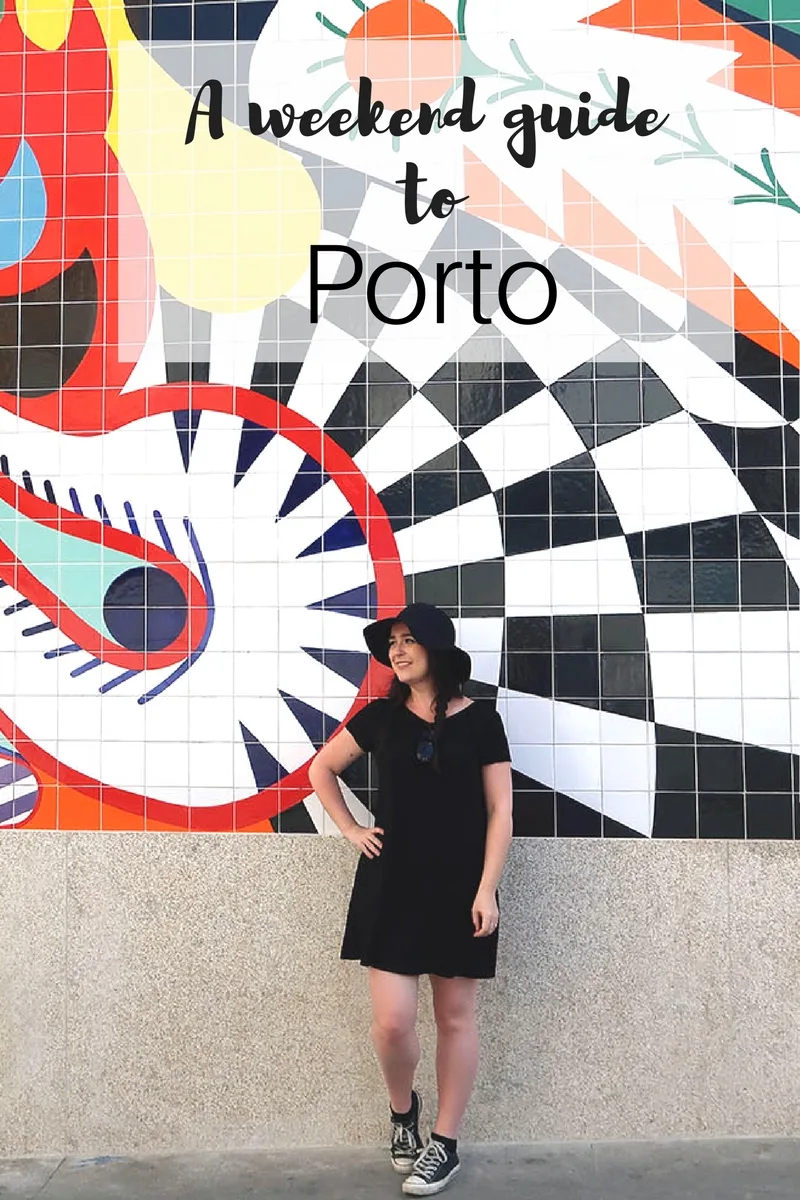 [/one_half]