Today's blog post is all about my day trip to Formentera from Ibiza with everything we did and easy instructions on how to get to Formentera from Ibiza.
'We should visit Formentera from Ibiza while we're here,' Jen said casually as we attempted to make a plan for our four days in Ibiza.
I'd just stepped off the plane after a 6am flight and Jen was quietly recovering from a hangover after a boozy hen-do in Ibiza. She'd been here for the weekend and I came out to meet her after the hen part finished. We were hoping for four blissful days to relax and explore, and that's exactly what we got!
Neither of us felt much like planning an Ibiza itinerary but a quick Google search proved that a day trip from Ibiza to Formentera would be a remarkably good idea, as well as being easy to do.
Here's how we got to Formentera from Ibiza and what we did when we got there!
Where is Formentera?
Formentera is the smallest of the four Balearic Islands and is a just 30-minute ferry journey from Ibiza.
I'll admit that part of my desire to visit Formentera was to visit all four of the Balearic Islands in one summer. In June I'd visited Menorca with my husband, in July we'd taken a family holiday to Majorca. Now it was early September and I was in Ibiza, so Formentera was the fourth and final island to visit.
Formentera is known for its white sandy beaches and brilliant blue seas. And I can confirm that I personal think Formentera has the nicest beaches of all the Balearic islands – if you're after that postcard perfect white sand and crystal clear sea tinged with a light, sparkling blue hue.
We also found Formentera to be relatively quiet once we got away from the main ferry port.
How do you get to Formentera from Ibiza?
The easiest way to get to Formentera from Ibiza is by ferry. It isn't too expensive and it only takes 30 minutes.
You can book online and there are plenty of daily sailings to choose from.
We booked via Direct Ferries using the ferry company Balearia.
Our return tickets cost 42 Euros per person.
I'm pretty sure you can buy tickets at the ferry too but it was quick and easy to book online and there is a notice saying that at busy periods they do sell out. So, if you can, prebook your tickets just in case.
It's worth noting I needed our passport information to book the tickets.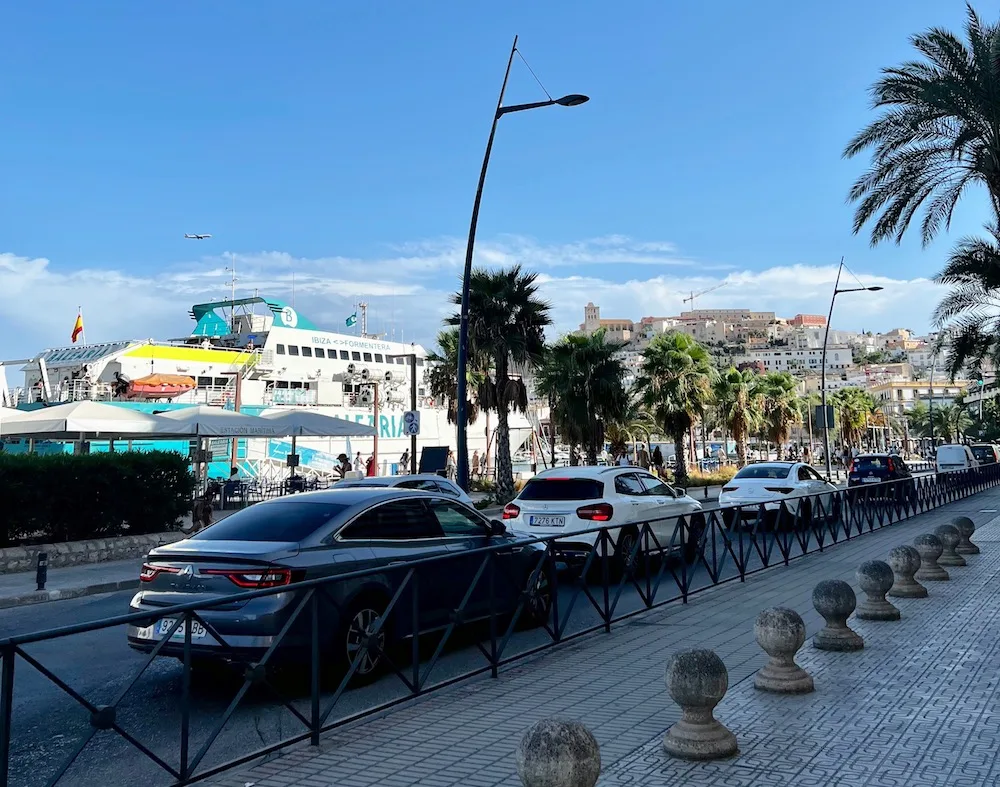 Can you get flights to Formentera?
No, you cannot get flights to Formentera as there is no airport on the island. You will need to fly to Ibiza and get the ferry from Ibiza.
This sounds like a bit of a hassle but it's actually not. You can catch a taxi from the airport to the ferry terminal which will only take about 20 minutes. And then you can hop on the next ferry that's departing. The ferry takes 30 minutes and is a lovely ride so it's not adding much extra onto your journey.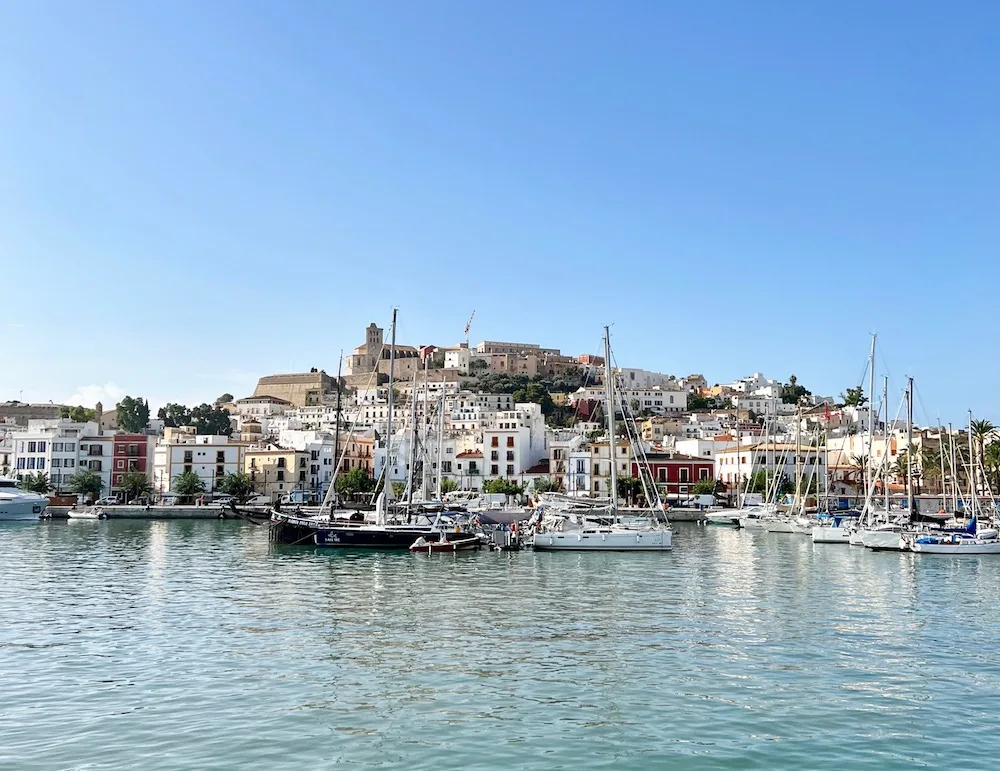 Where is the ferry terminal in Ibiza for ferries going to Formentera?
You catch the ferry from the terminal just outside Ibiza Town.
If you search for 'Estación Marítima Ibiza Formentera' in Google Maps you'll find it.
Where do you park your car in Ibiza when getting the ferry from Ibiza to Formentera?
There's a car park about 100m away from where you get the ferry.
If you search for 'Parking Es Pratet, Camí Joan Castelló, 6, 07800 Ibiza, Balearic Islands, Spain' in Google Maps you'll find it.
This car park was very convenient but it was a bit pricey. We paid 19.70 Euros to park from about 9am until about 5pm.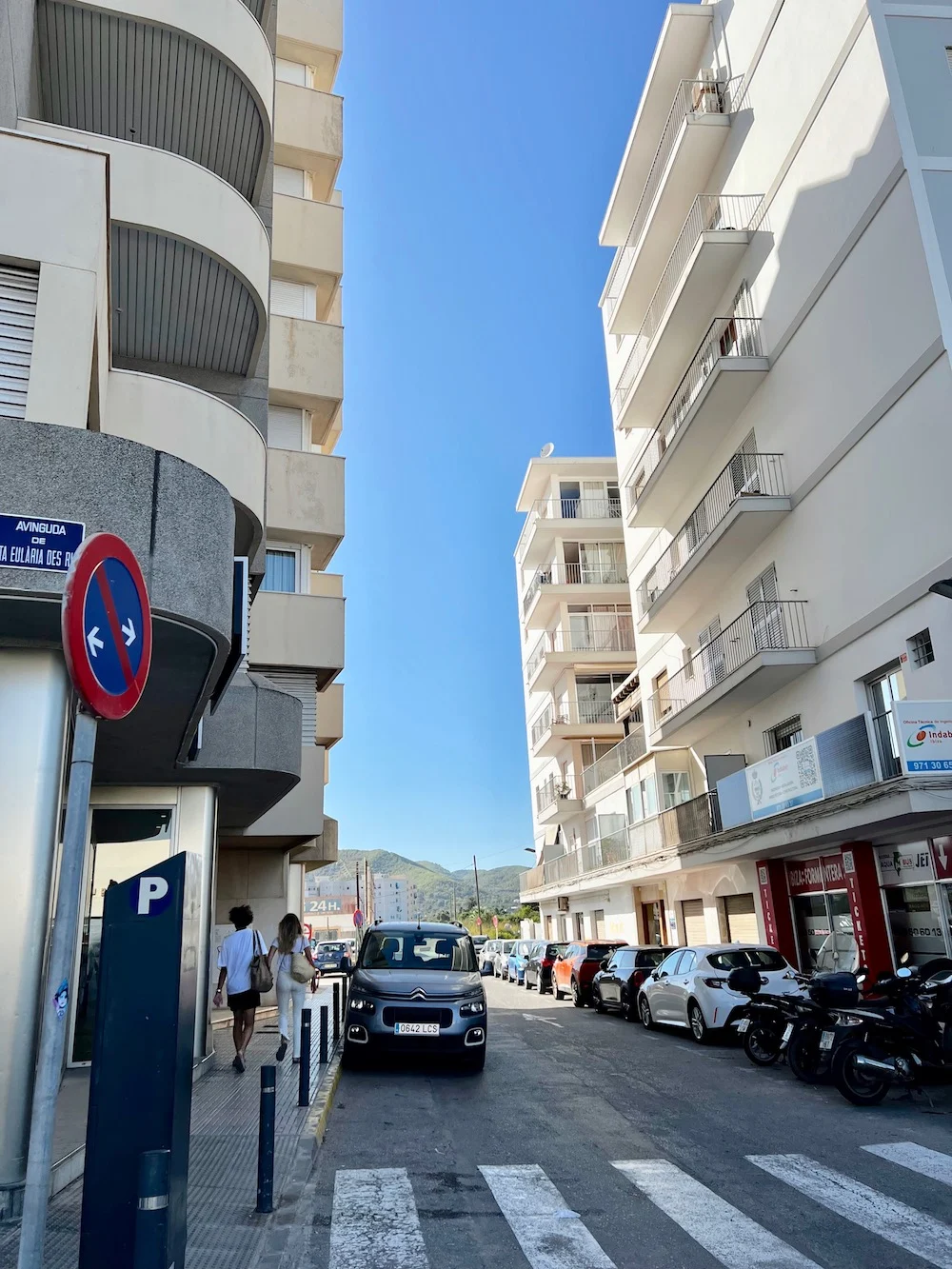 Can you take your car on the ferry to Formentera?
Yes you can! If you book a ferry through Trasmapi you can take your car on the ferry. It costs about 135 Euros.
Just check with your insurance to make sure you're covered in Formentera.
Do you get seasick on the ferry from Ibiza to Formentera?
I can get seasick just looking at the sea so this was an important question for me!
Thankfully, our crossing was fine and I didn't feel seasick at all. You can also sit on seats outside and I usually find that being outside, feeling the fresh air and focusing on the distance always helps.
If you get seasick, I recommend travelling with Balearia as their boats are bigger and you're less likely to feel seasick.
It's always worth packing some seasickness tablets if you do suffer. It's worth noting that there aren't any pharmacies close to the ferry terminal. I had a last minute panic and asked if I could buy some locally and the guy laughed at me and told me to get on the boat quickly!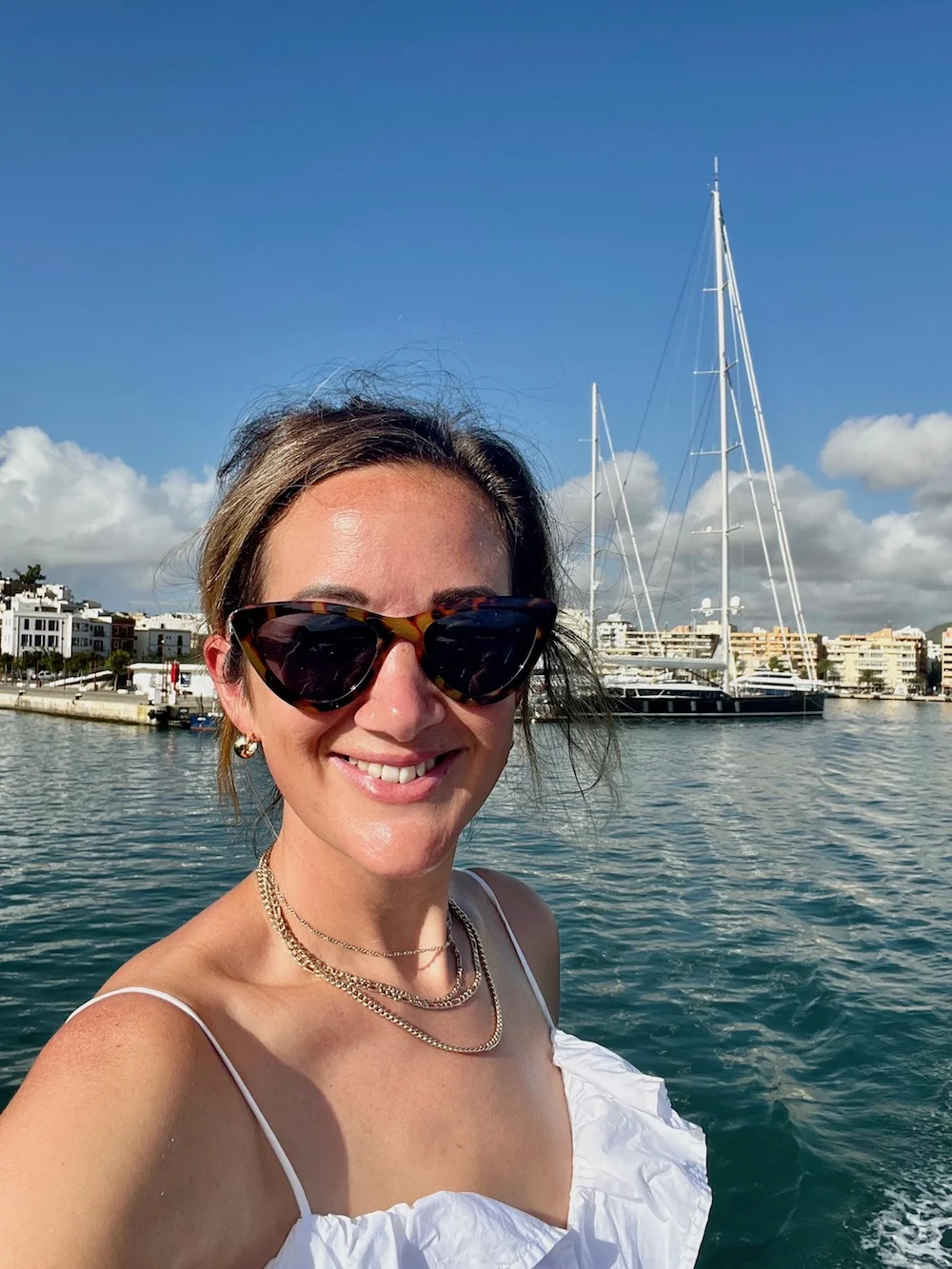 How do you get around Formentera
The most popular way to get around Formentera for people daytripping from Ibiza definitely seemed to be on a scooter. You can easily hire a scooter from hire shops near the ferry terminal in Formentera.The roads aren't too busy and there seemed to be more scooters than cars on the roads.
You can also hire bicycles from near the ferry terminal.
We planned to hire bikes but somehow ended up hiring a little Suzuki Jimney for the day!
We were getting our bikes for 20 euros a day and then decided to upgrade to e-bikes which would be 30 euros a day each. And then we realised it was only an extra 40 euros to get a car! So we got the car and we're so pleased we did.
So yes, I highly recommend hiring either a scooter or a little car.
We hired ours from the first shop we stumbled upon when we got off the ferry.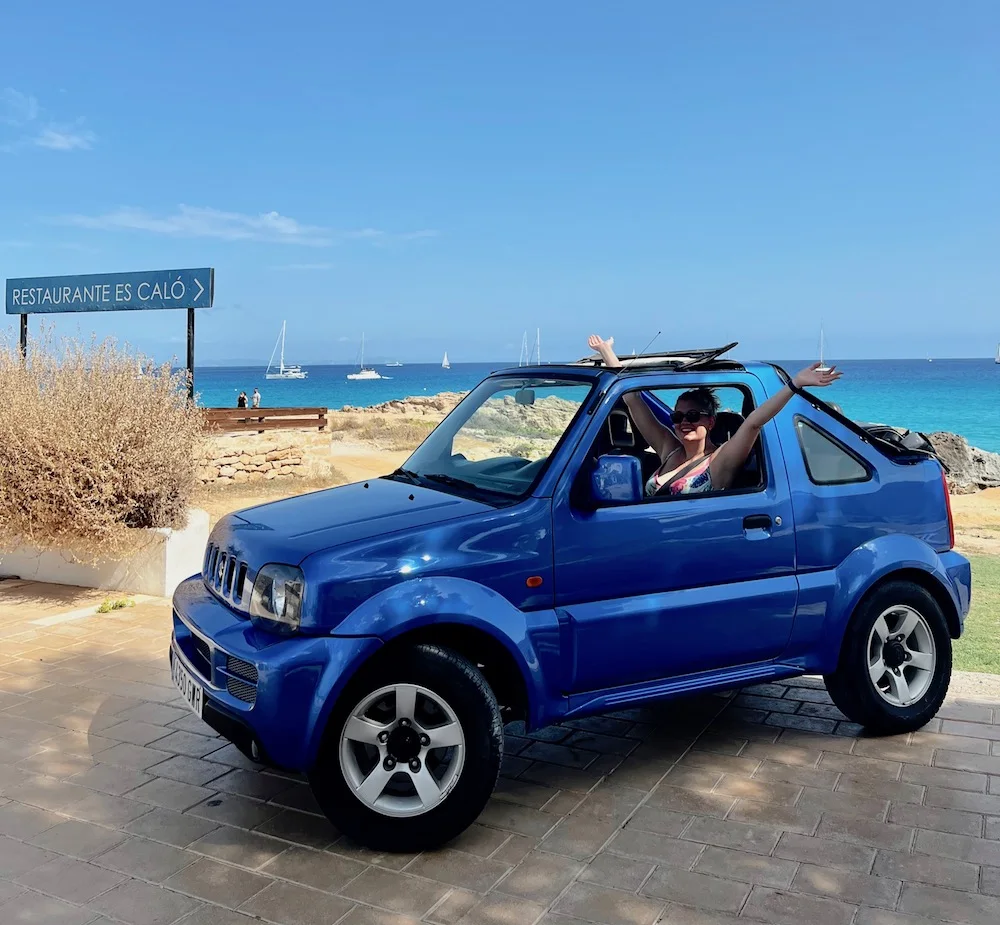 Things to do in Formentera
The main thing to do in Formentera is to visit the beaches the island is famous for.
If you're day tripping to Formentera from Ibiza then I highly recommend hiring a car or a scooter so you can quickly get around and get to the other side of the island.
Travel Hack Tip: The most popular beach to visit is Platja de Ses Illetes. It's a huge beach and it's close to the ferry terminal so anyone daytripping to Formentera and not hiring a car or scooter is going to head straight here.
It was beautiful but it was SO busy. Too busy.
So, if you can, hire a car and get away from Platja de Ses Illetes.
Here's what we did in Formentera and I think this makes a great day on the island…
#1. Go to Punta des Pou des Verro
Our first stop was this gorgeous beach.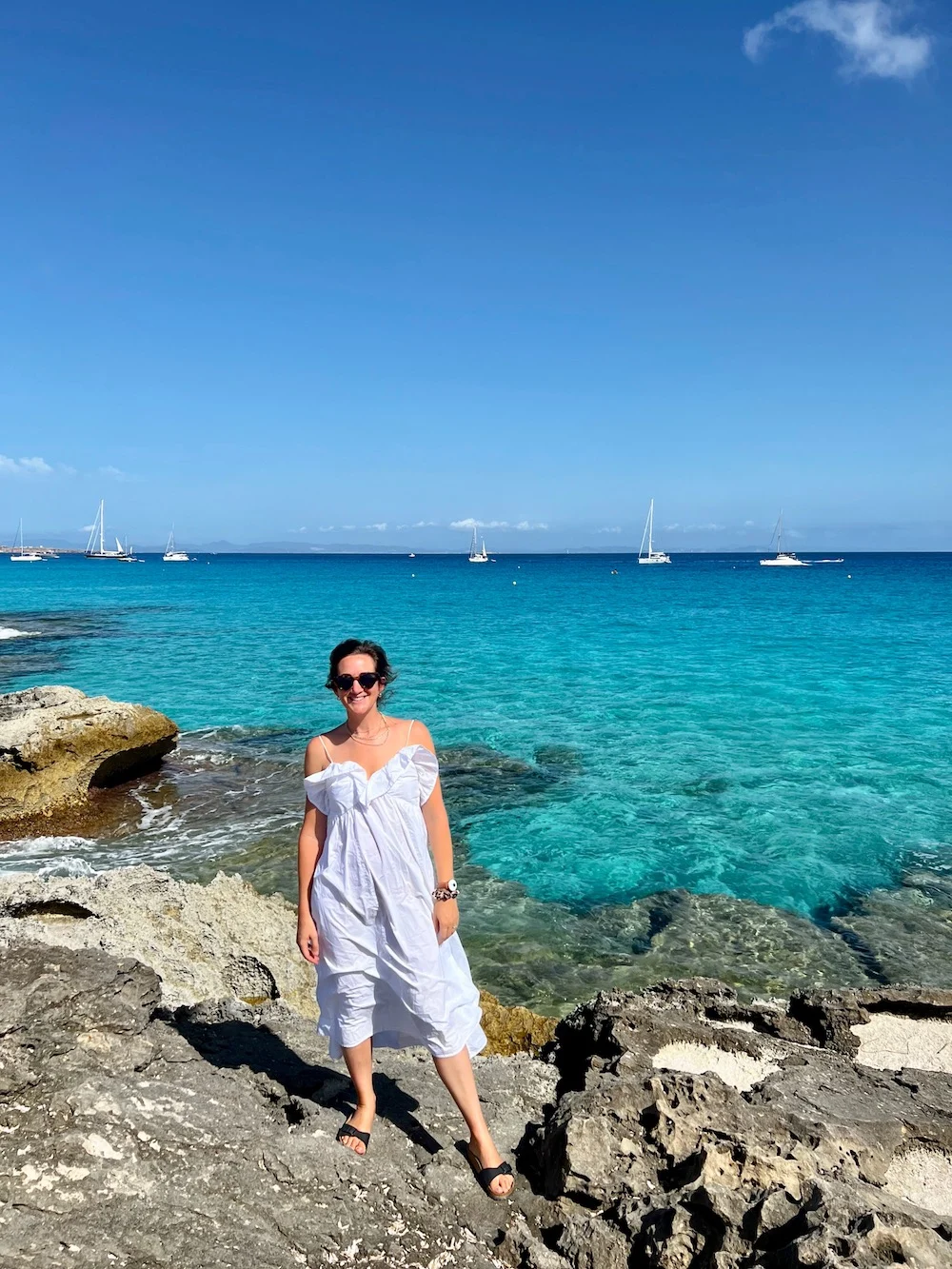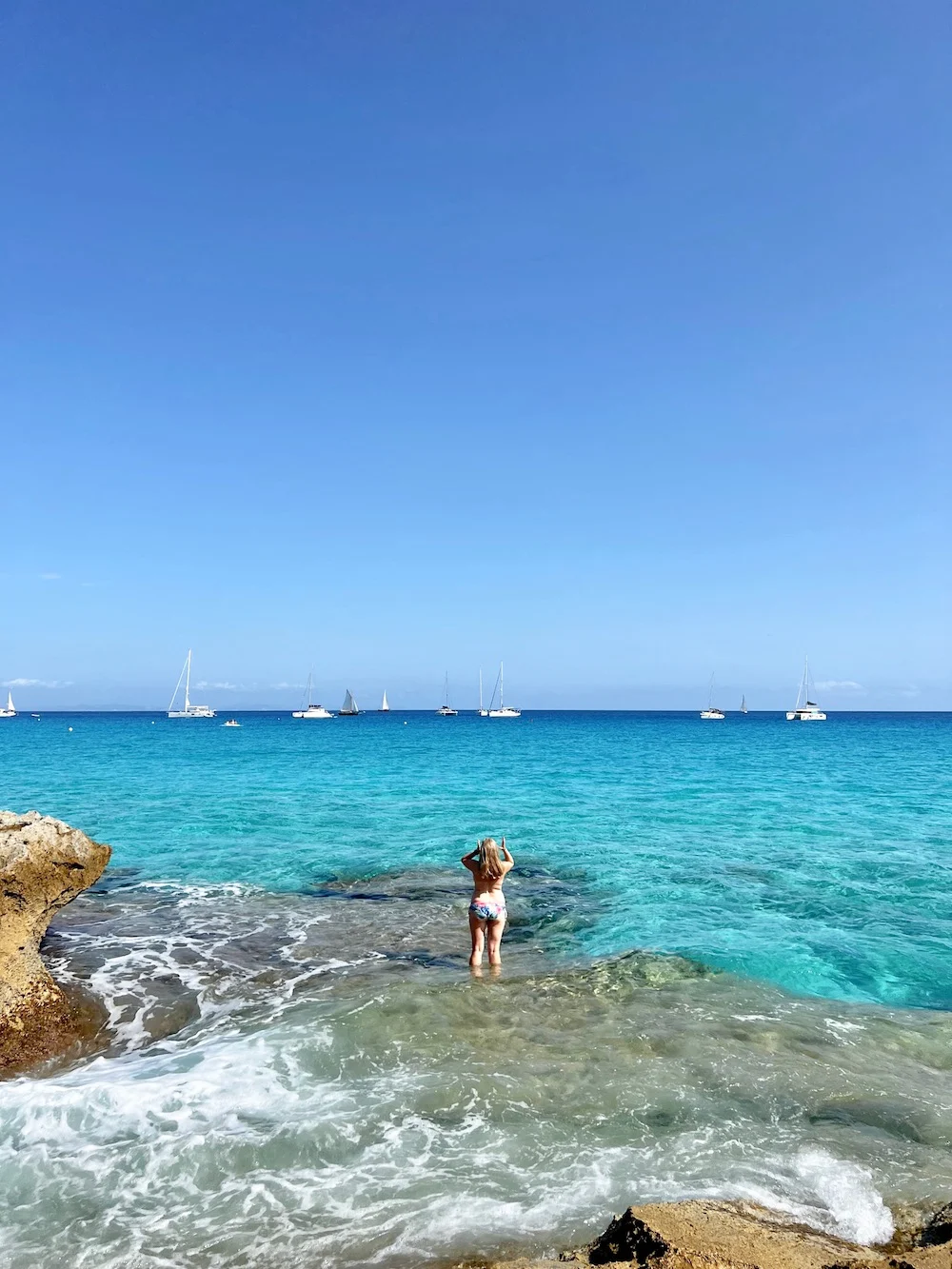 #2. La Mola Lighthouse and nearby cafe for lunch
Our next stop was Far de la Mola, a pretty lighthouse on the eastern edge of the Formentera.There's a nice view out to sea and there's also a great cafe here where we had lunch.
The cafe is called Codice Luna Formentera and we loved it. It has a laid back, beachy vibe with a simple yet delicious menu. The staff were also lovely.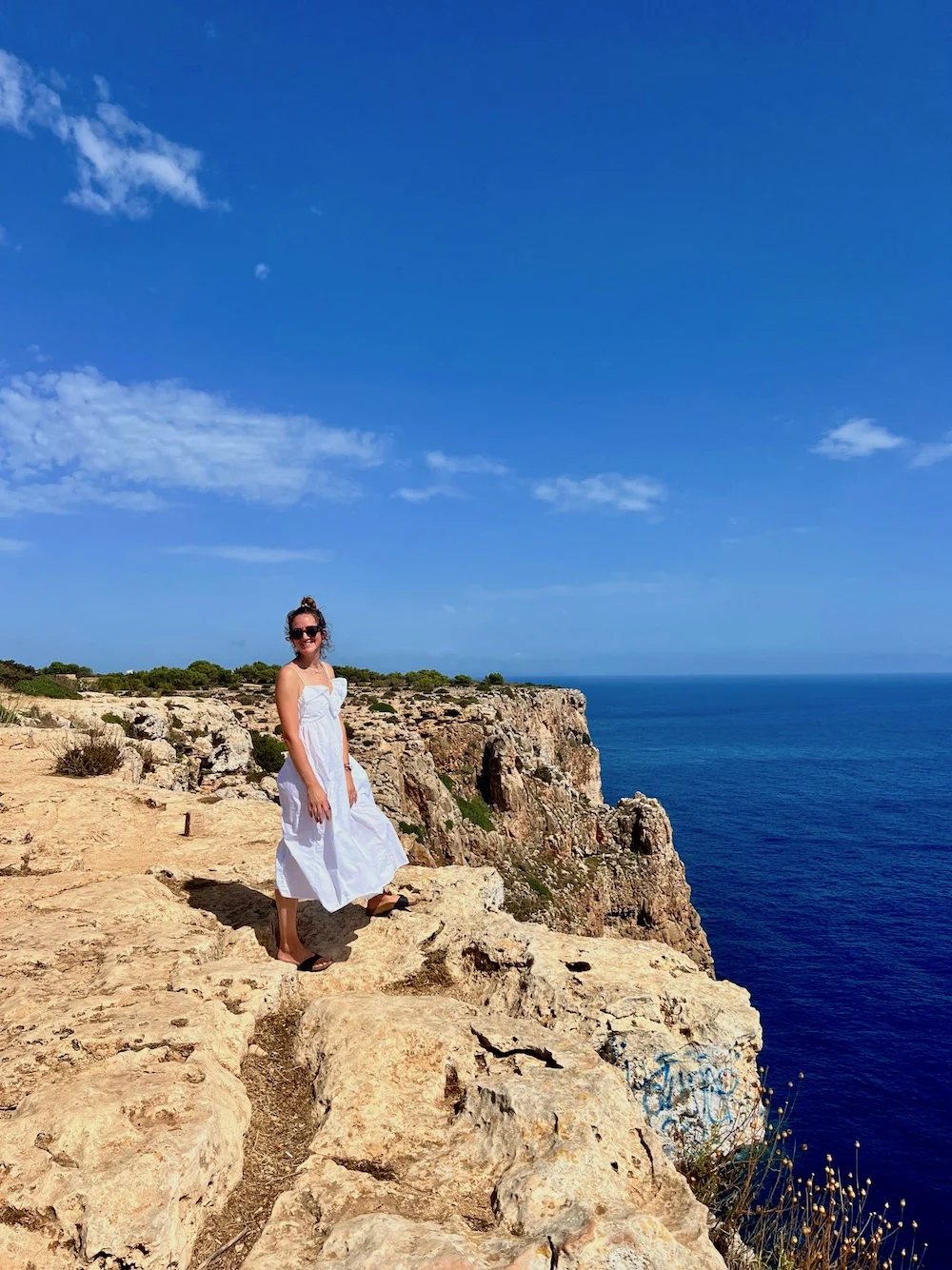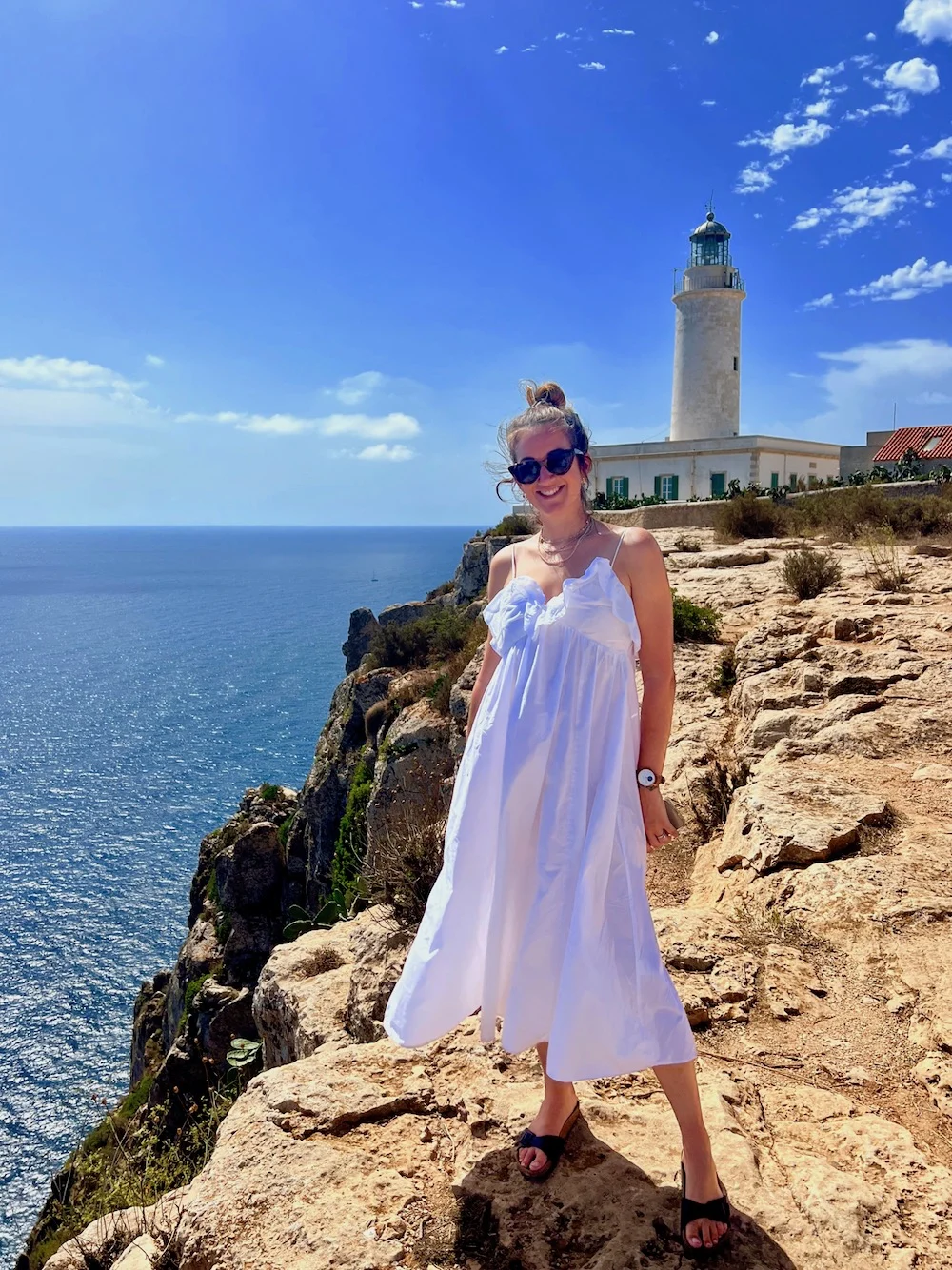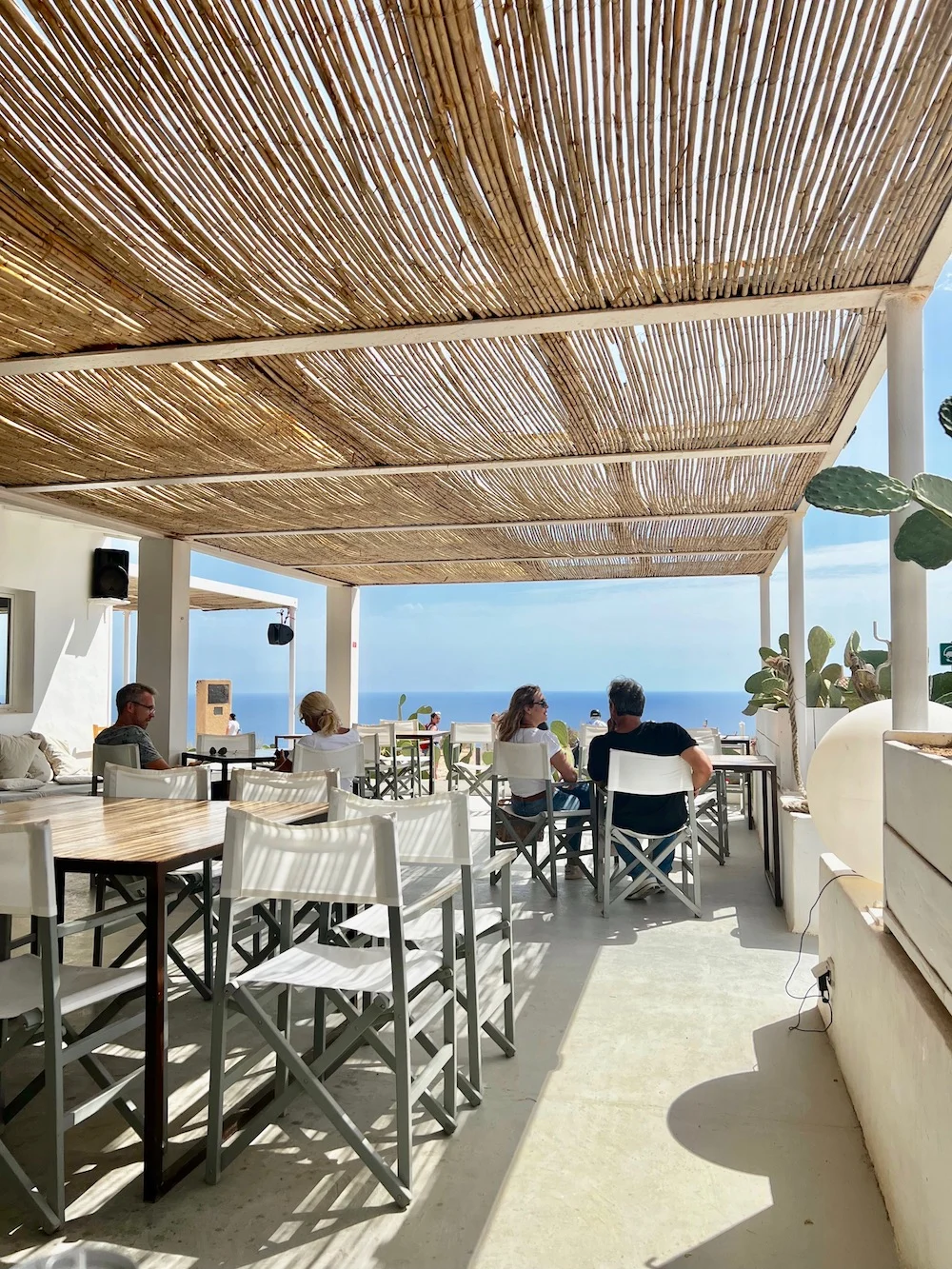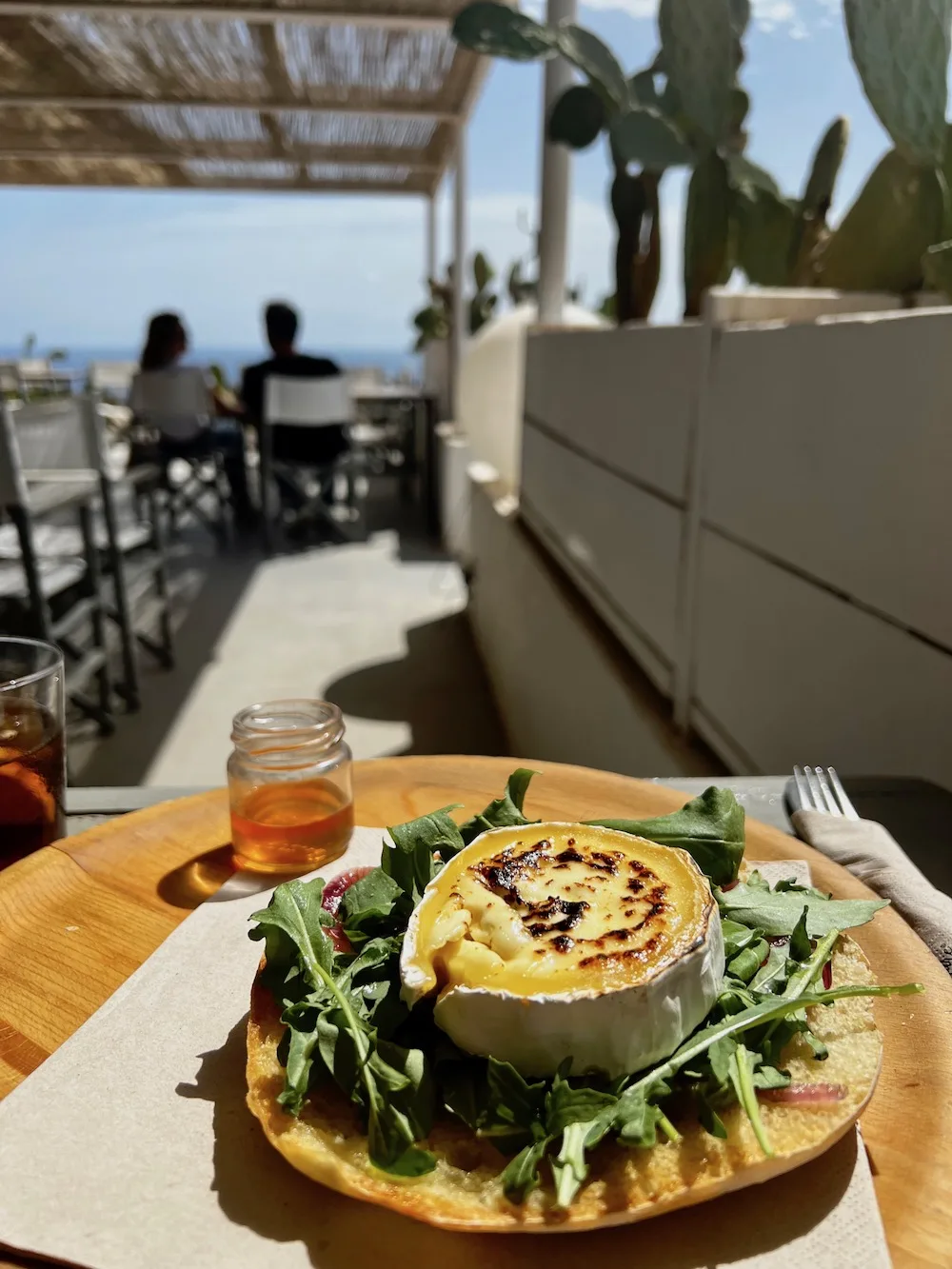 #3. Platja des Copinyar
After lunch we headed to Platja des Copinyar which was my favourite beach in Formentera.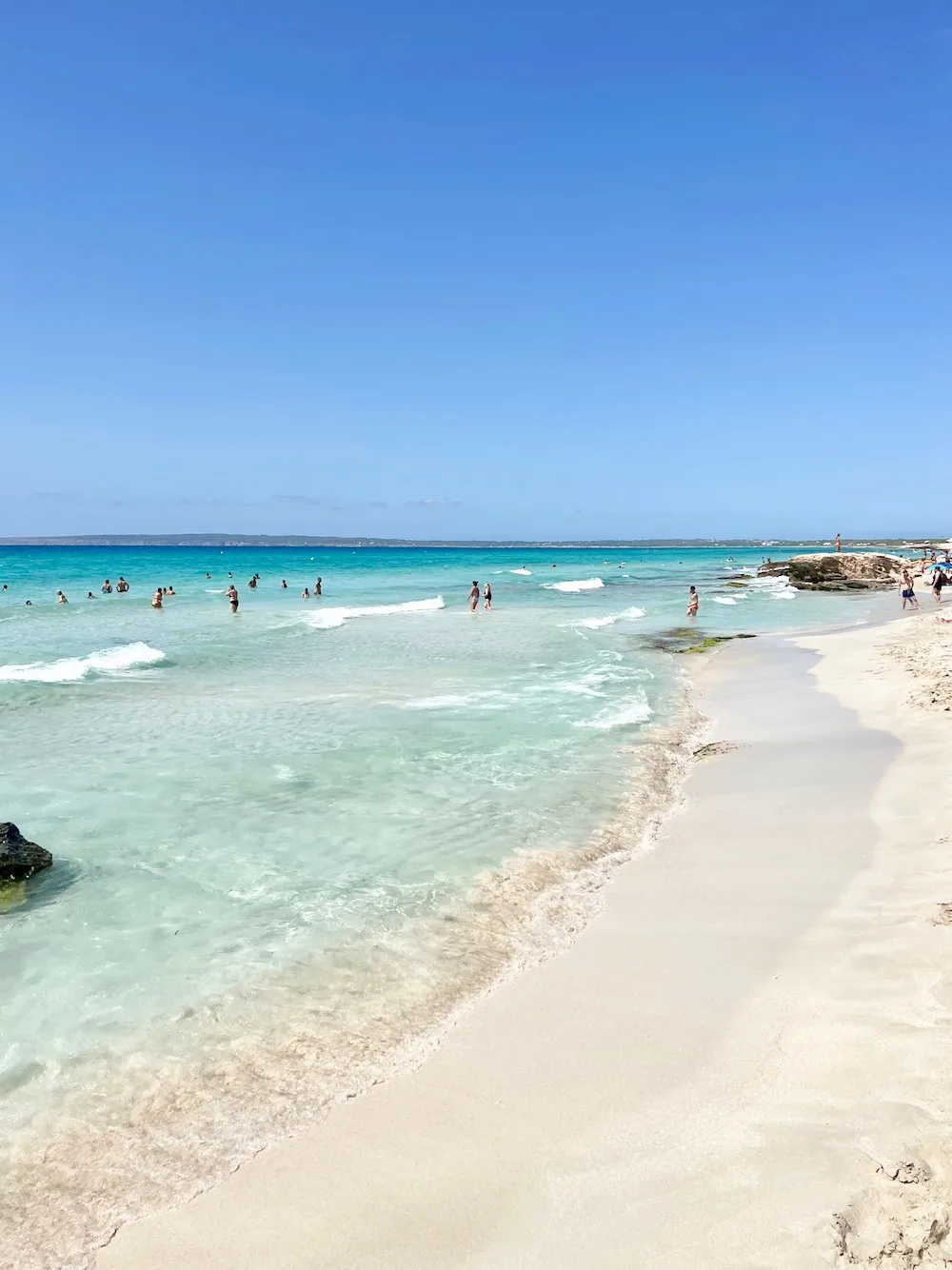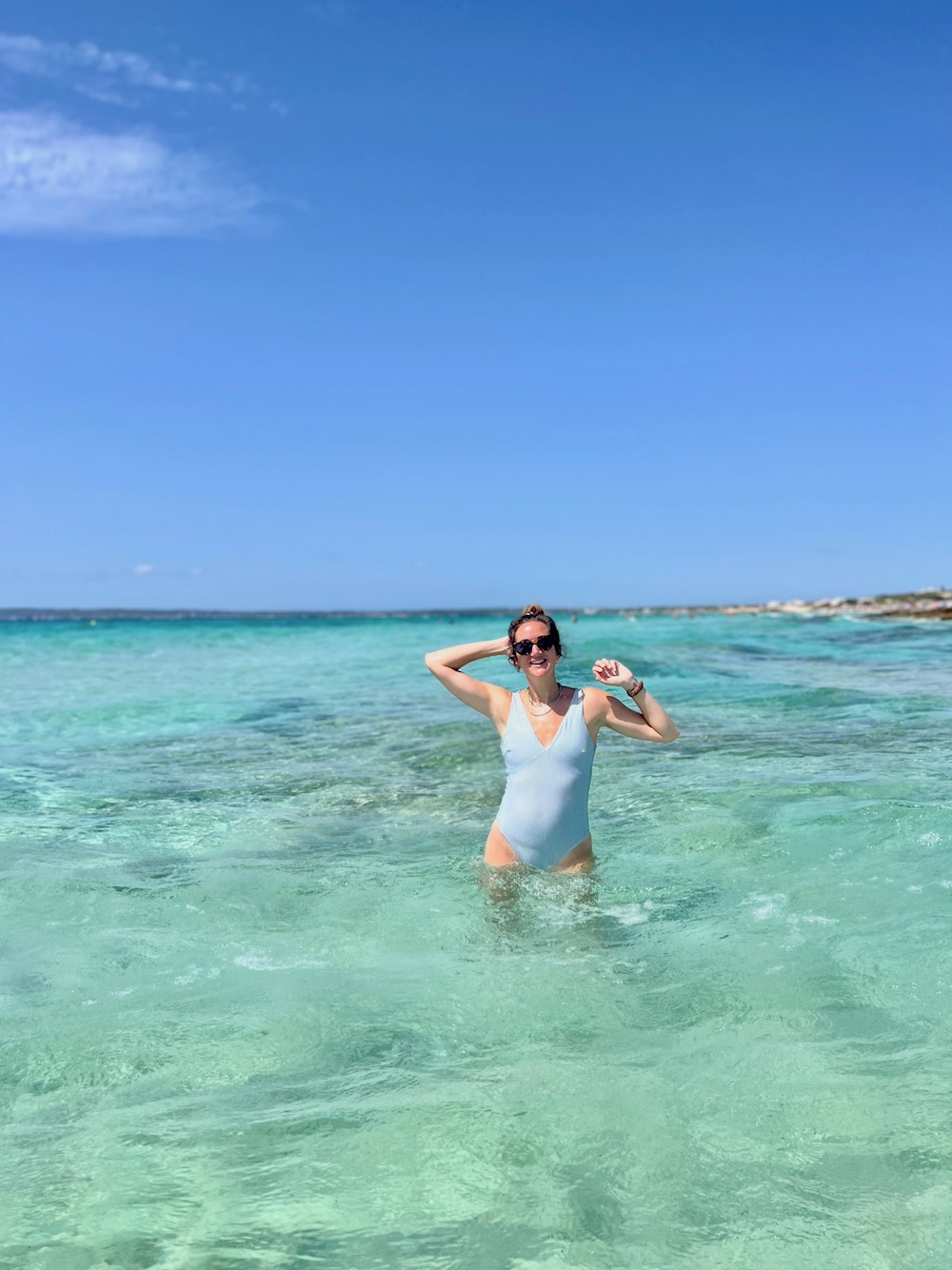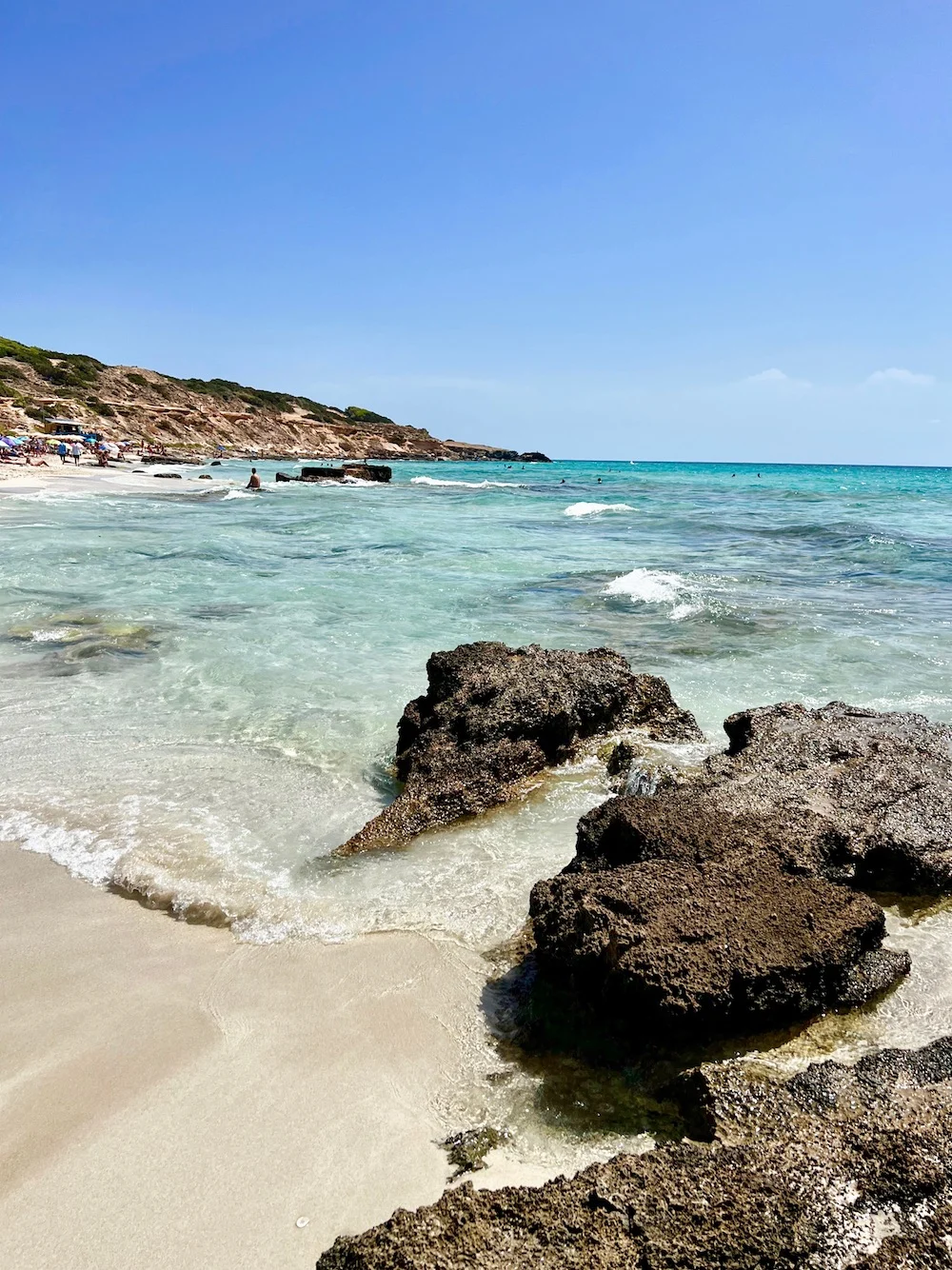 #4. Then a quick pit stop at Platja Saona
There was a long and bumpy dirt road to reach this beach but it was beautiful. Well worth the pitstop for a quick dip.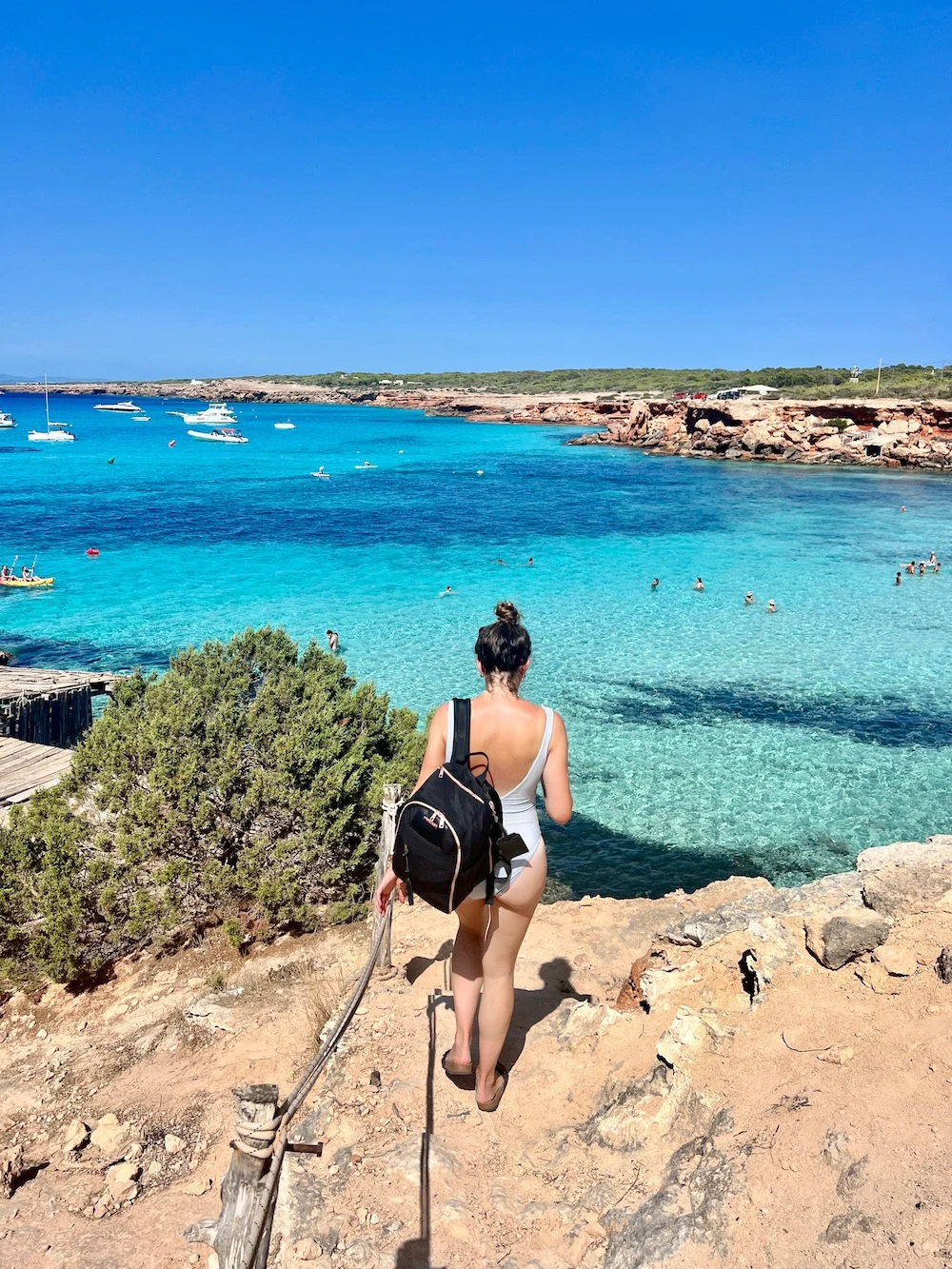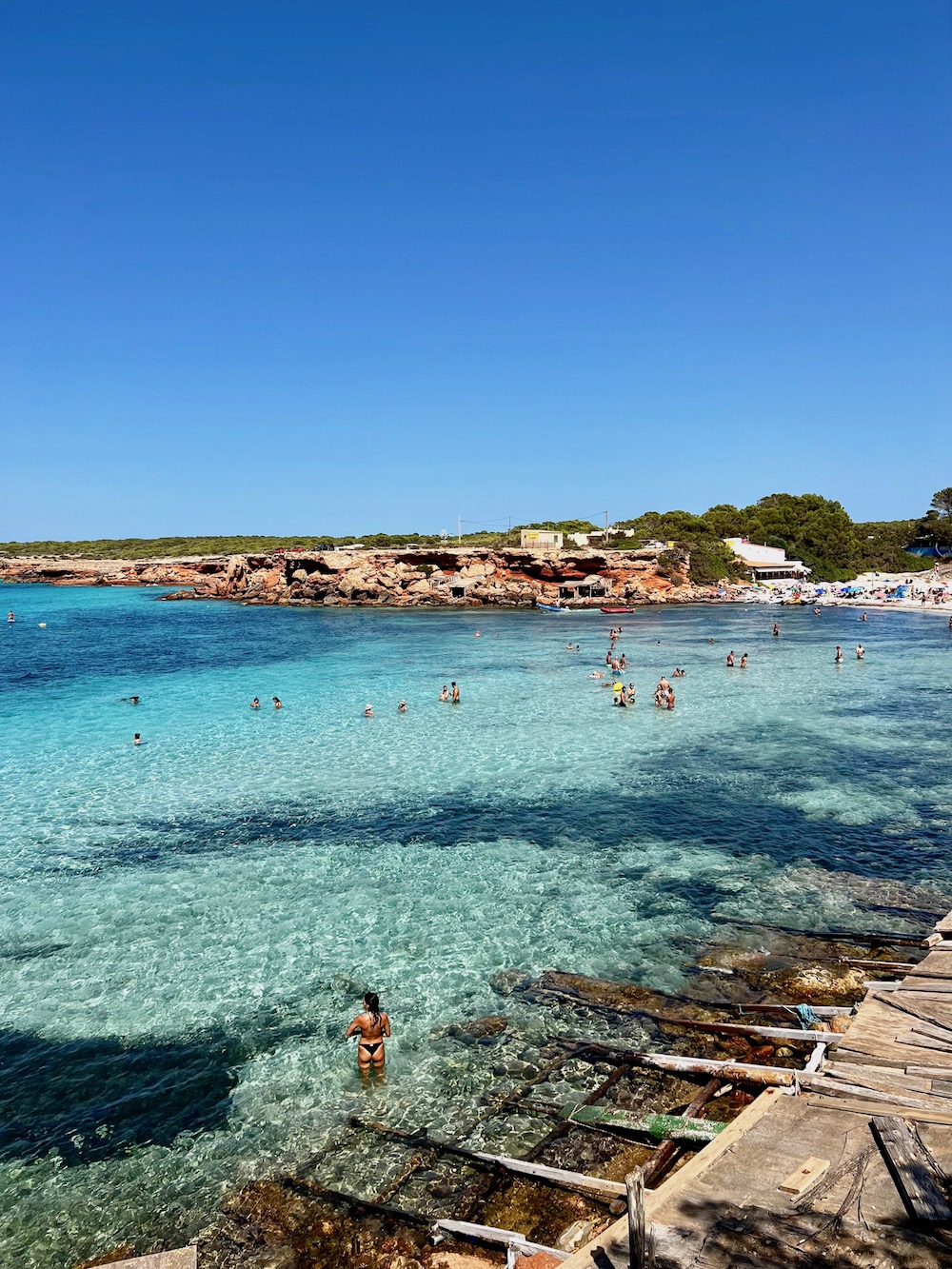 #5. Platja de Ses Illetes
A part of me wants to add this to the list because it is the most famous beach on the island thanks to that incredible and unique strip of sand with the crystal clear sea on either side. It is beautiful and if you're visiting on a quiet day then I'm sure it's incredible.
Unfortunately for us it was just too busy. There was nowhere to park and the beach was chocker. We'd been spoiled with the perfectly quiet beaches around the rest of Formentera and this busy beach was a bit of a shock!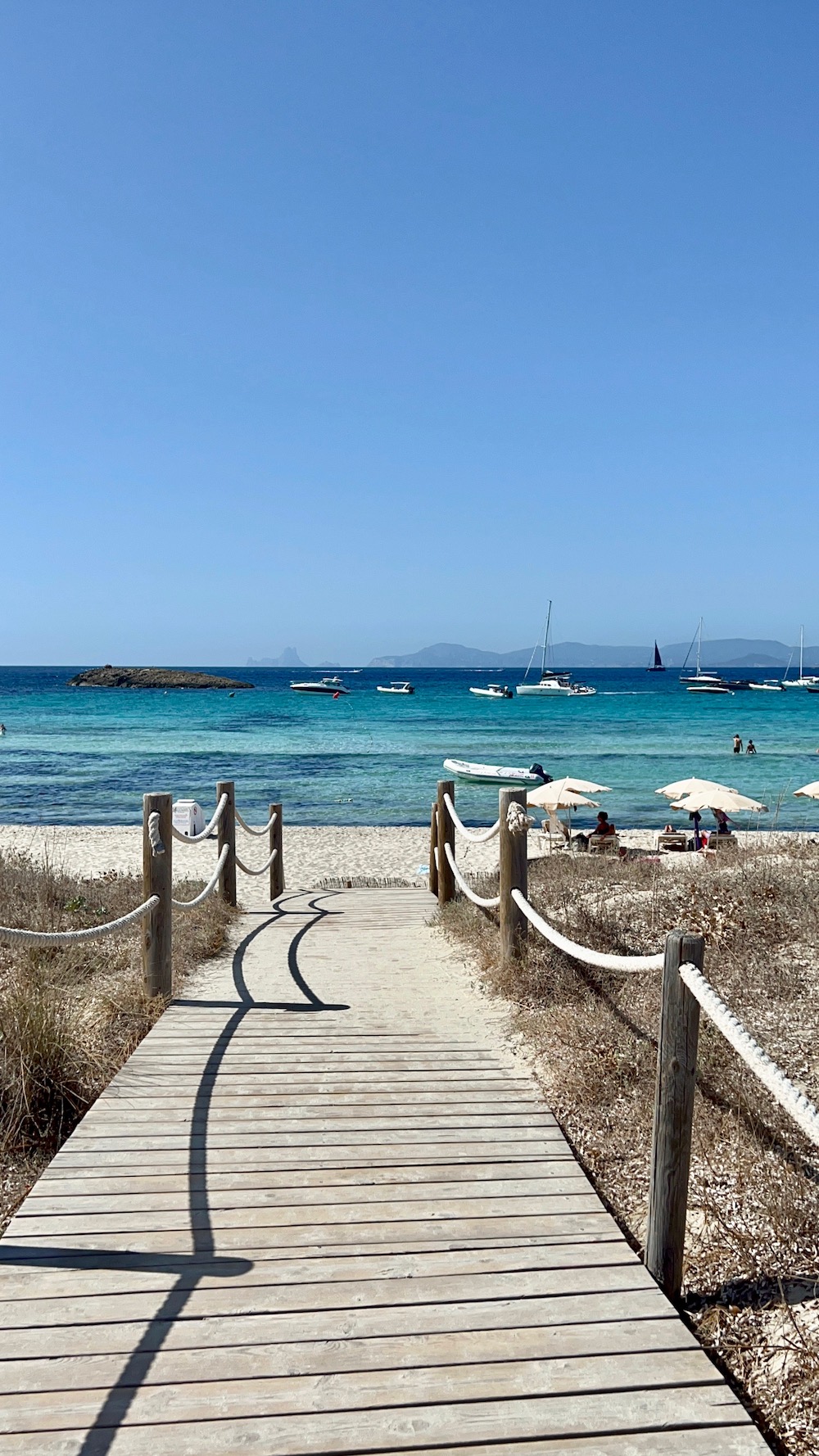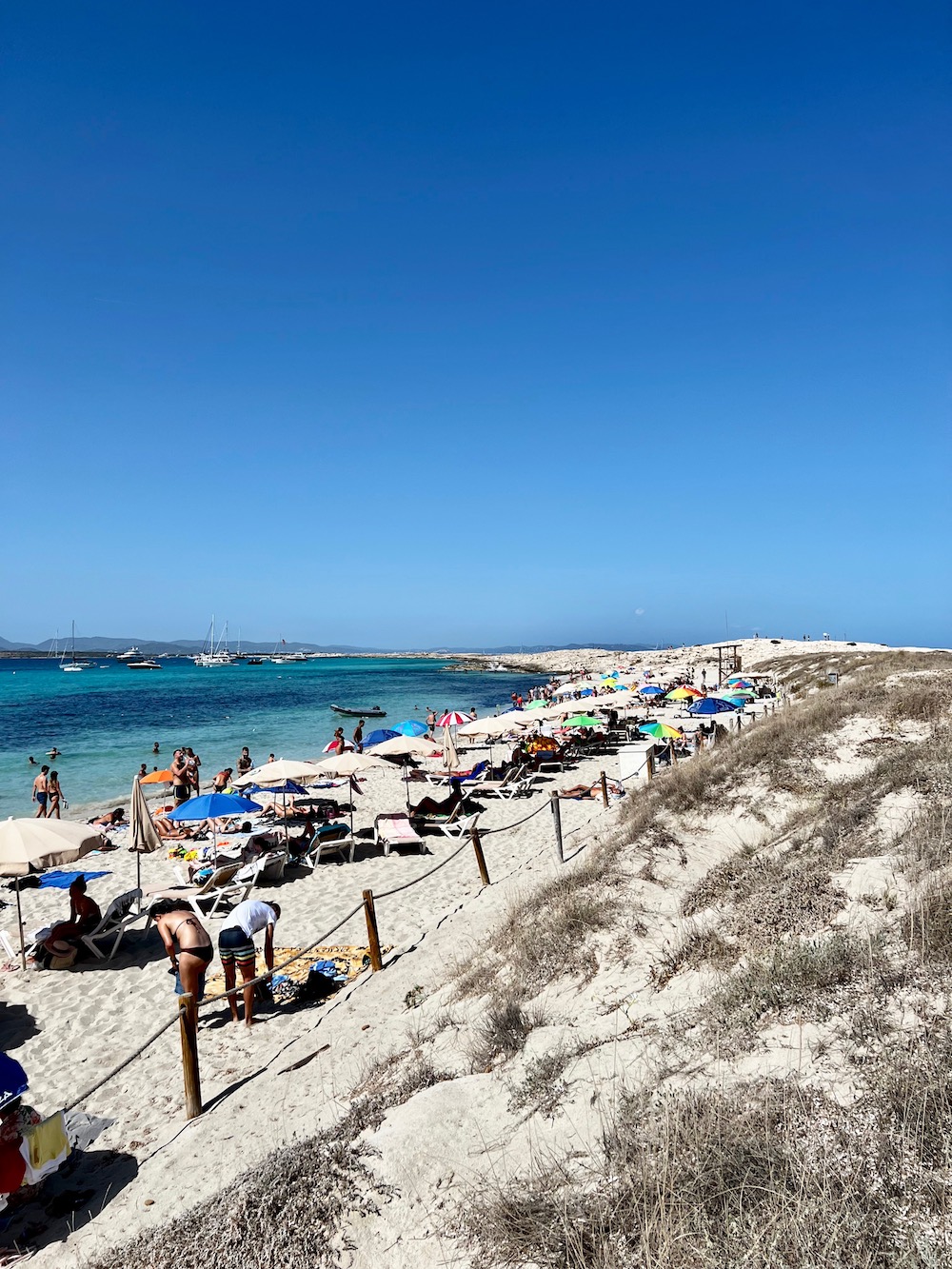 How long would you spend on Formentera?
If you're looking for a relaxing holiday then you could happily spend 5-7 days on Formentera. Personally, I think 2-3 days would be perfect.
It's also really lovely for a day trip if you already have your accommodation arranged in Ibiza. But if you're only visiting Formentera for one day then I would recommend getting an early ferry out there and a late ferry back.
I made the mistake of booking specific ferry times and we came back just before 5pm and we didn't have quite enough time.