If you want to know what to do in Ibiza, that doesn't involve visiting super clubs or hanging out in San Antonio, then I've got the perfect list of things to do for you.
I visited recently on a chilled girls' holiday to Ibiza and we had such a great time. We had fancy lunches and gorgeously chilled dinners in hippy beach bars. We sunbathed, we sailed, we swam, we shopped and we explored. It was fabulous.
This 4-day Ibiza itinerary would be perfect for couples, friends and families with slightly older children. I'd say that kids over 8 or 9 would love this itinerary, you just might want to switch out the fancy lunch and drinks on day 3 for something a little more child-friendly/relaxed. If you've got less than 4 days in Ibiza then go through the itinerary and pick out your favourite things. There's plenty of chill time in this itinerary so you could easily condense it!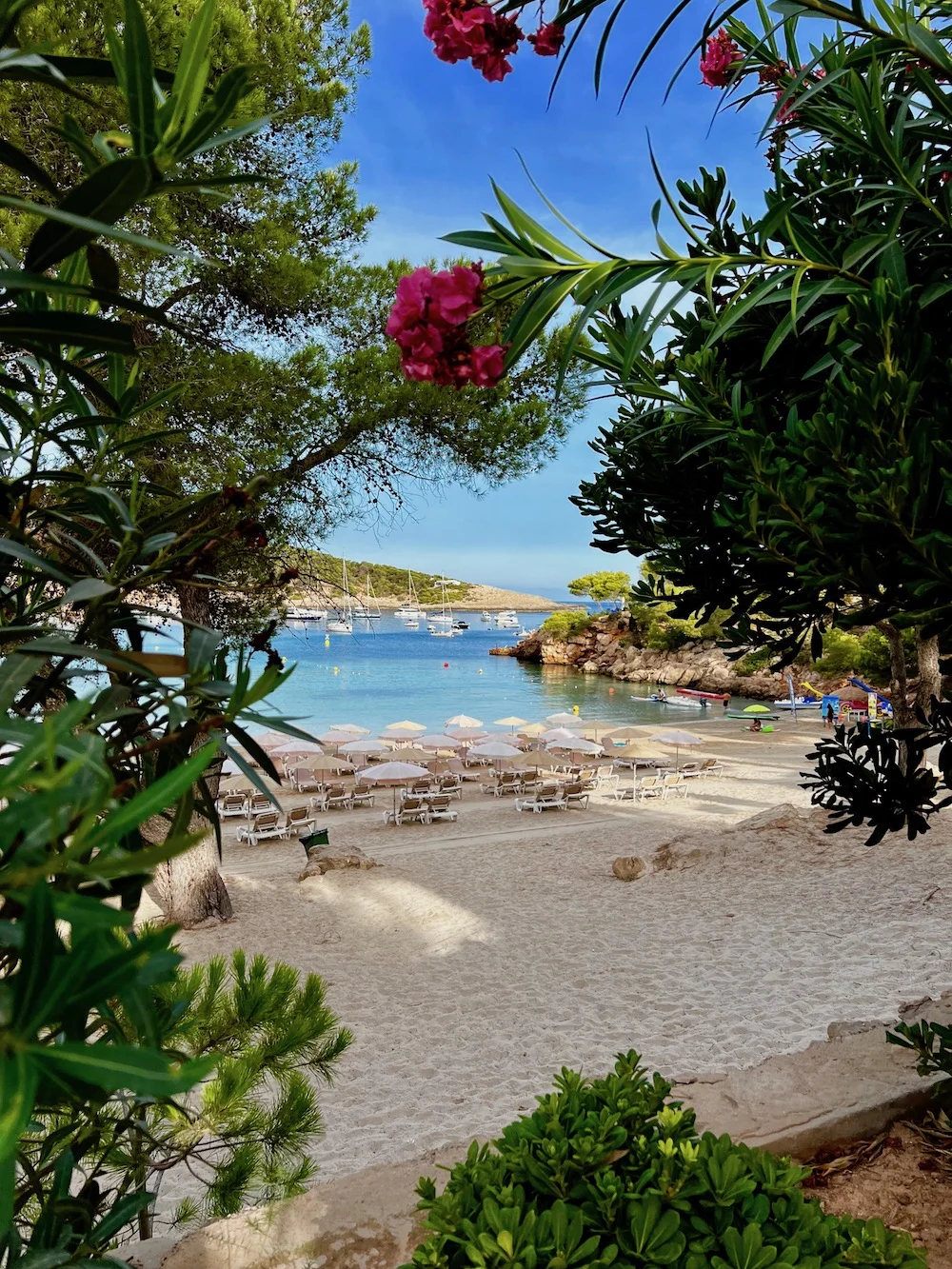 I'll be totally honest here, I wasn't really all that interested in visiting Ibiza. I knew it was a beautiful island but I also thought it was dominated by super clubs, trashy bars and Brits abroad.
Don't get me wrong, I love a trashy bar as much as the next person but it's not what I look for in my holiday destinations. Plus, I'm way too old and my hangovers last four days!
But a friend of mine was heading to Ibiza for a hen-do and she wanted to stay on for four days in Ibiza following the hen part. And, being the good friend that I am, I agreed to fly out and meet her there for a relaxing four day break in Ibiza.
Thankfully, my preconceived ideas about Ibiza were wrong. So wrong.
Yes, there is an area with huge superclubs where the majority of holidaymakers are there for the clubs, bars and party atmosphere. But this is mostly confined to the San Antonio area of Ibiza and it's very easy to avoid if that's not your thing.
The rest of the island has a laid back, luxury boho kind of vibe. It's a bit hippyish…but we're talking luxury hippy.
The atmosphere in Ibiza very much reminded me of backpacking around Asia in my 20's. But it's like all of those backpackers have grown up and got real jobs and have a bit of money and this is where they now come for their holidays to recreate that carefree time of their lives.
As you can probably tell, I LOVED it so I wanted to share what we got up to during our four day trip to Ibiza along with some of my favourite things to do in Ibiza.
This is our four day Ibiza itinerary. I hope you like it and find it inspiring and helpful for anyone planning a short break to Ibiza.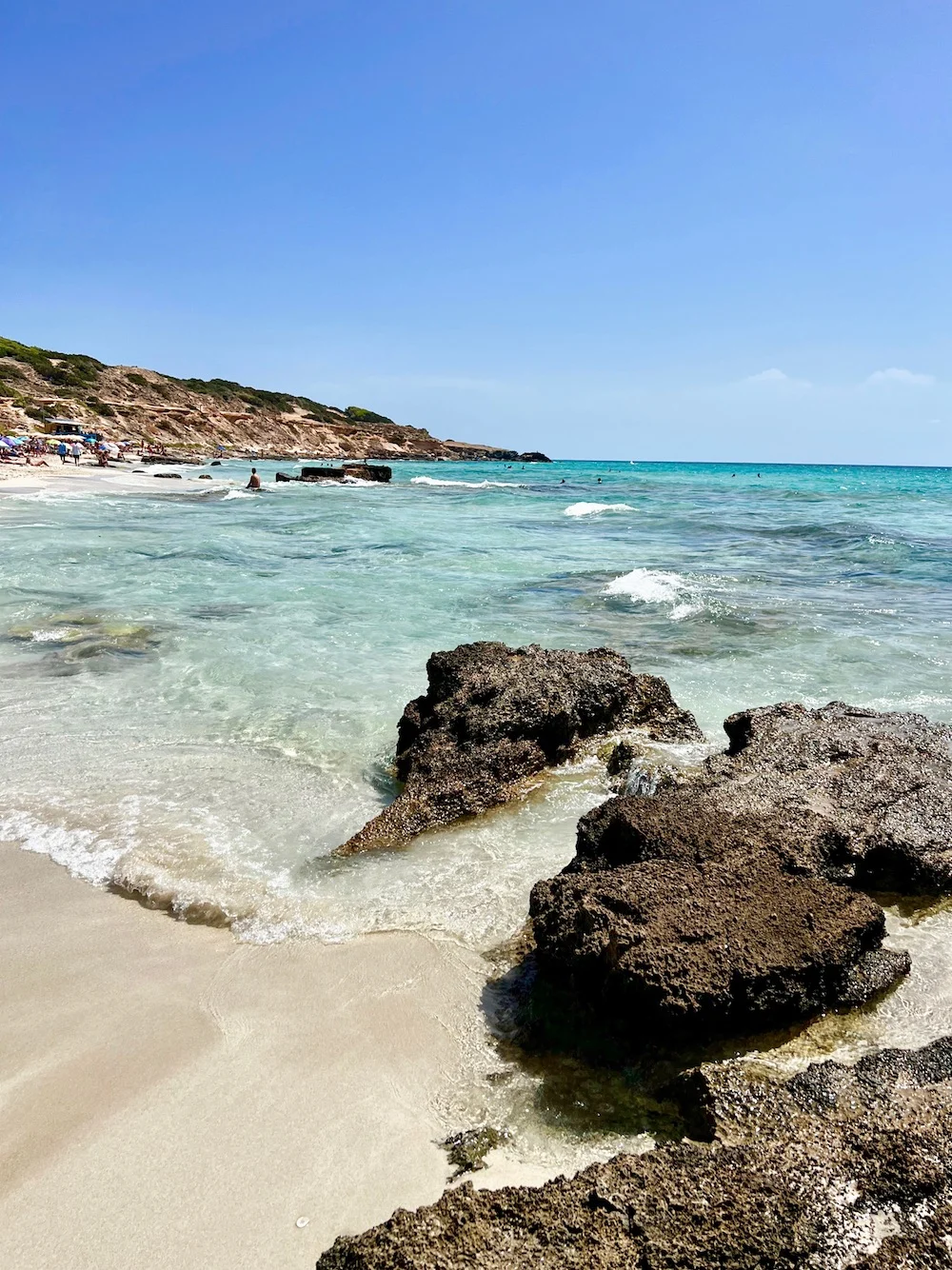 Where to stay in Ibiza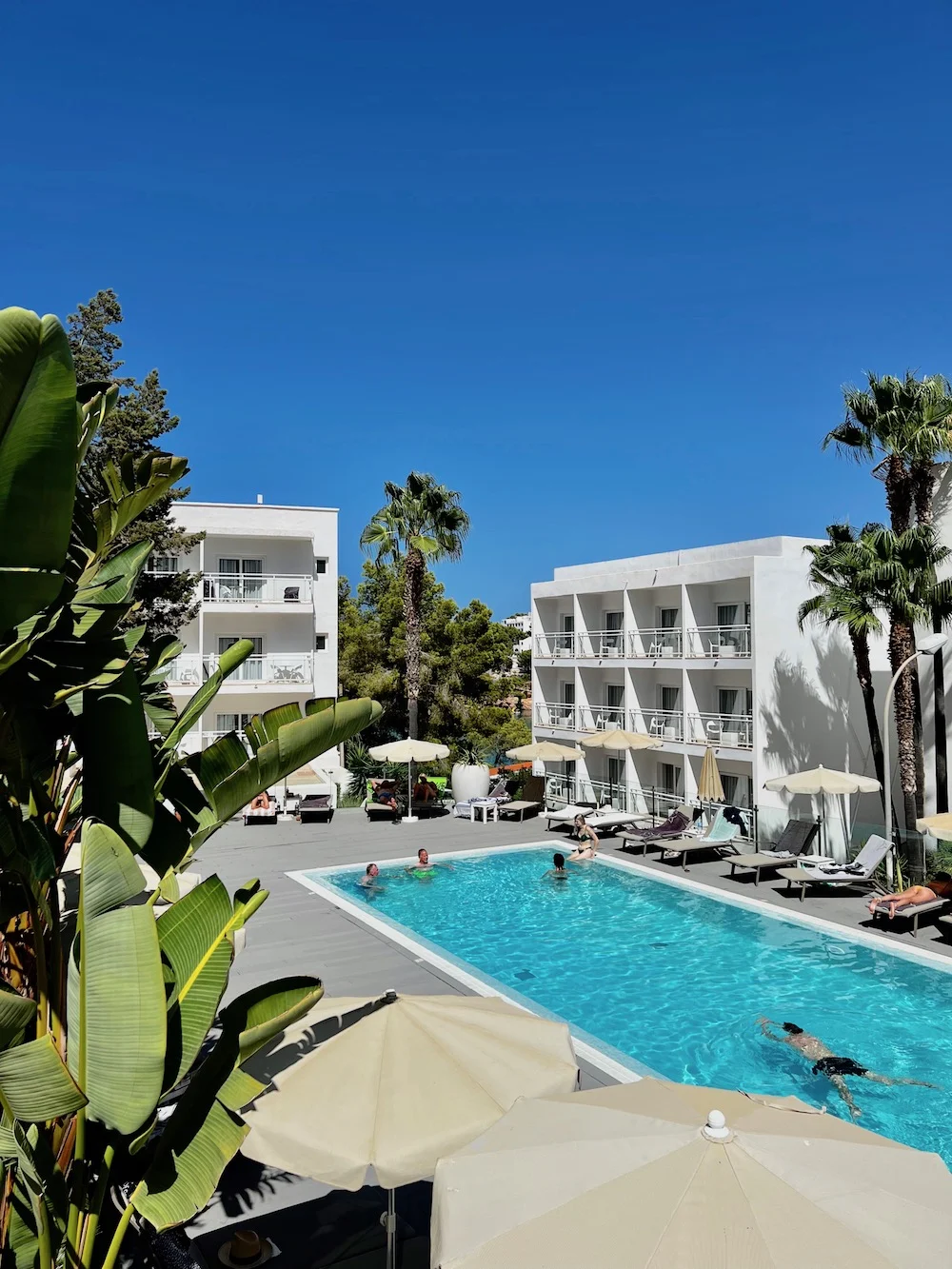 We stayed at Grupotel Ibiza Beach Resort – Adults Only in Portinatx.
I cannot recommend this hotel enough if:
You want somewhere nice but you won't be spending much time at the hotel, so it doesn't need to be THAT nice!
You're on a bit of a budget
You want adult only
You want to be a stone's throw from a gorgeous beach
You'd like to be in a beautiful little resort with an old fishing village vibe (Portinatx is lovely!)
You appreciate good service
You like a good breakfast!
You want somewhere that's clean, modern and simple
You like a hotel where you can always get a sunlounger by the pool (there are 3 pools and plenty of loungers!)
I'm not going to pretend it was the Ritz but it was really lovely for what we were looking for. We didn't spend much time at the hotel but we appreciated the breakfast buffet, the friendly staff, the clean and modern room, the great location with easy access to the beach and the multiple pools!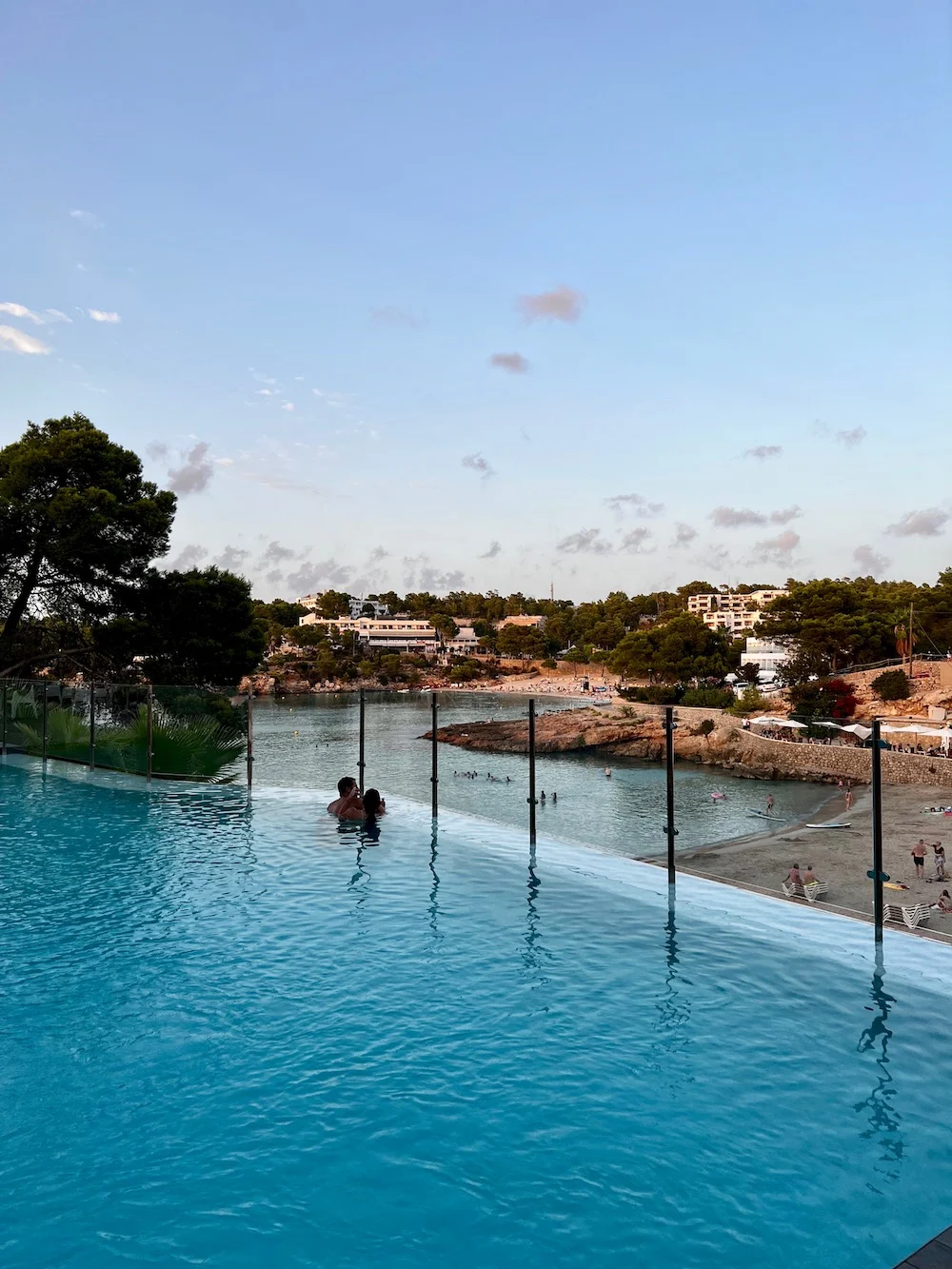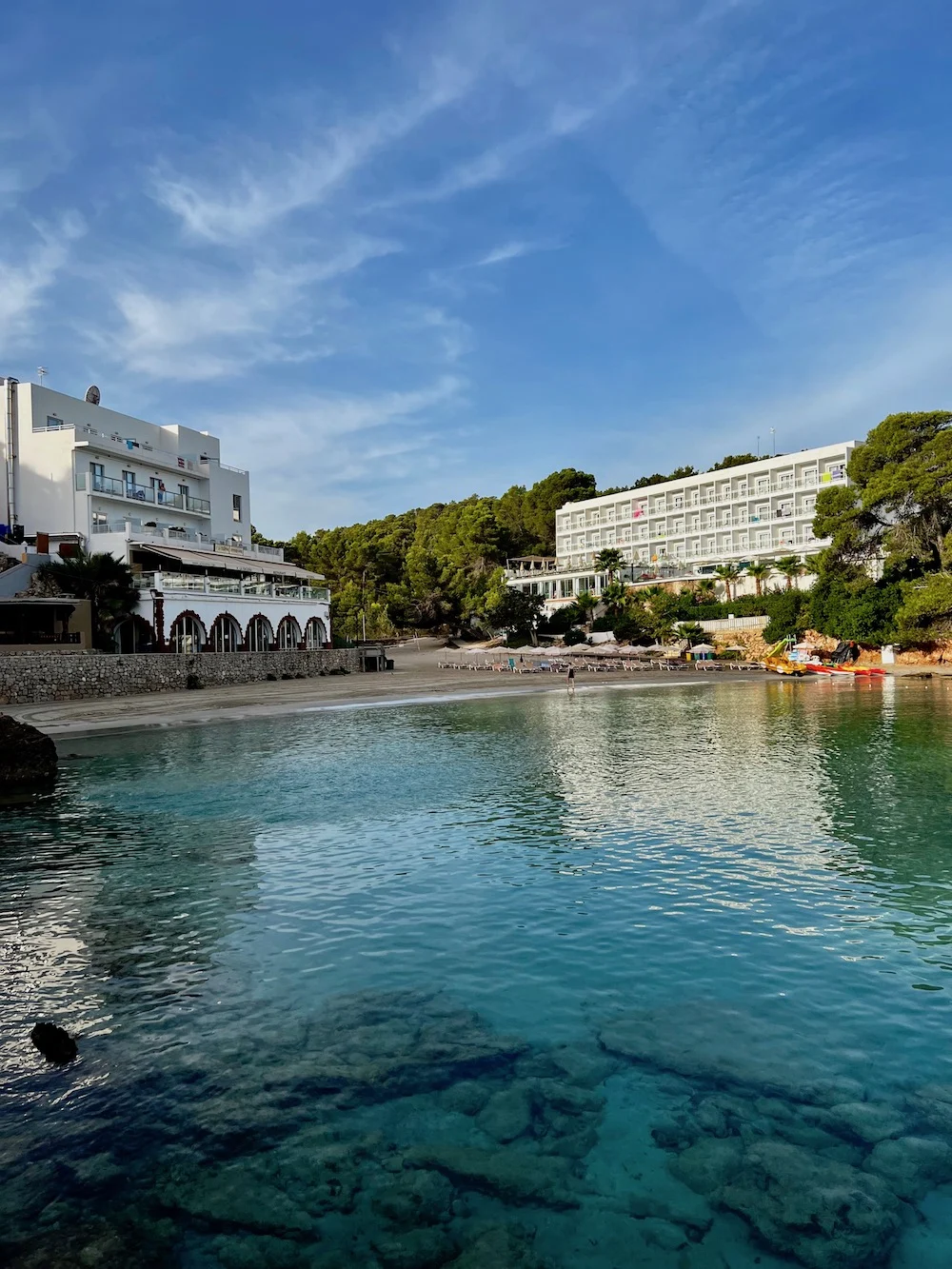 This hotel is adult only but Portinatx is lovely for families and this four-day Ibiza itinerary would also be really lovely to do with kids. So if you are visiting with children then check out Sandos el Greco which is the hotel next door. It looks a little nicer (although I didn't go inside) and welcomes children too.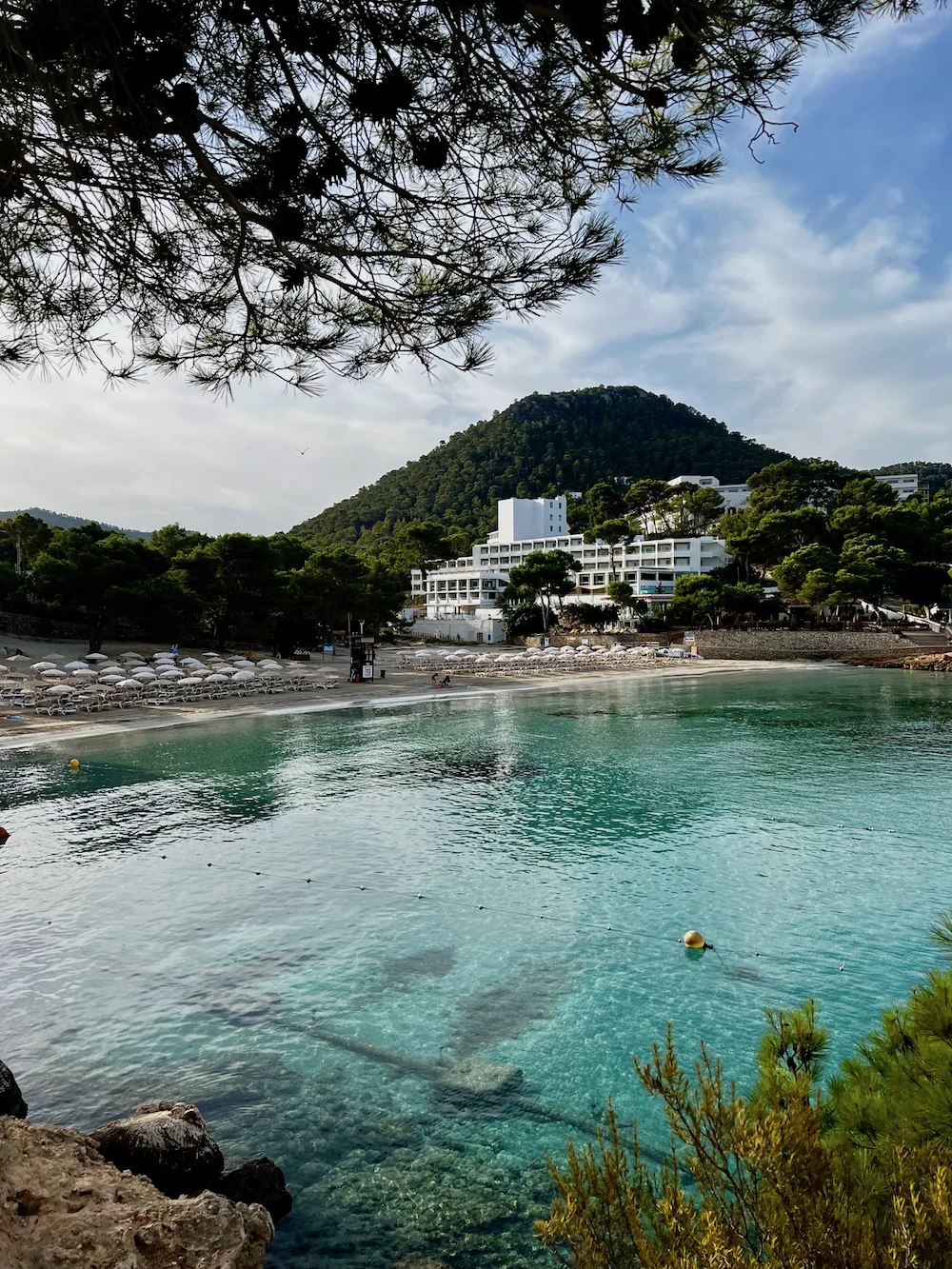 Ibiza things to do: Day 1
I arrived in Ibiza on a very early flight! I purposely chose an early flight because I was flying alone and I know the late-night budget flights (Ryanair!) can get a little rowdy with people heading to the island to party.
The early flight is painful but I do love arriving in time for breakfast and having a full day to explore! Our first day was pretty easy and chilled as we relaxed into our holiday, caught up after not seeing each other for almost a year and soaked up the sun.
#1. Hire a car
I highly recommend hiring a car while you're in Ibiza. There's so much to see and, as it's a small island, you can easily whizz around and nip from one side of the island to the other. It's a fairly easy destination to drive in, but I would recommend getting the full insurance package as parking and car parks can be tight and you'll want to protect yourself against any dings to the car!
#2. Leave the airport and head to Santa Eulària des Riu
Our first stop was Santa Eulària des Riu, a beautiful little coastal town on the east coast of Ibiza.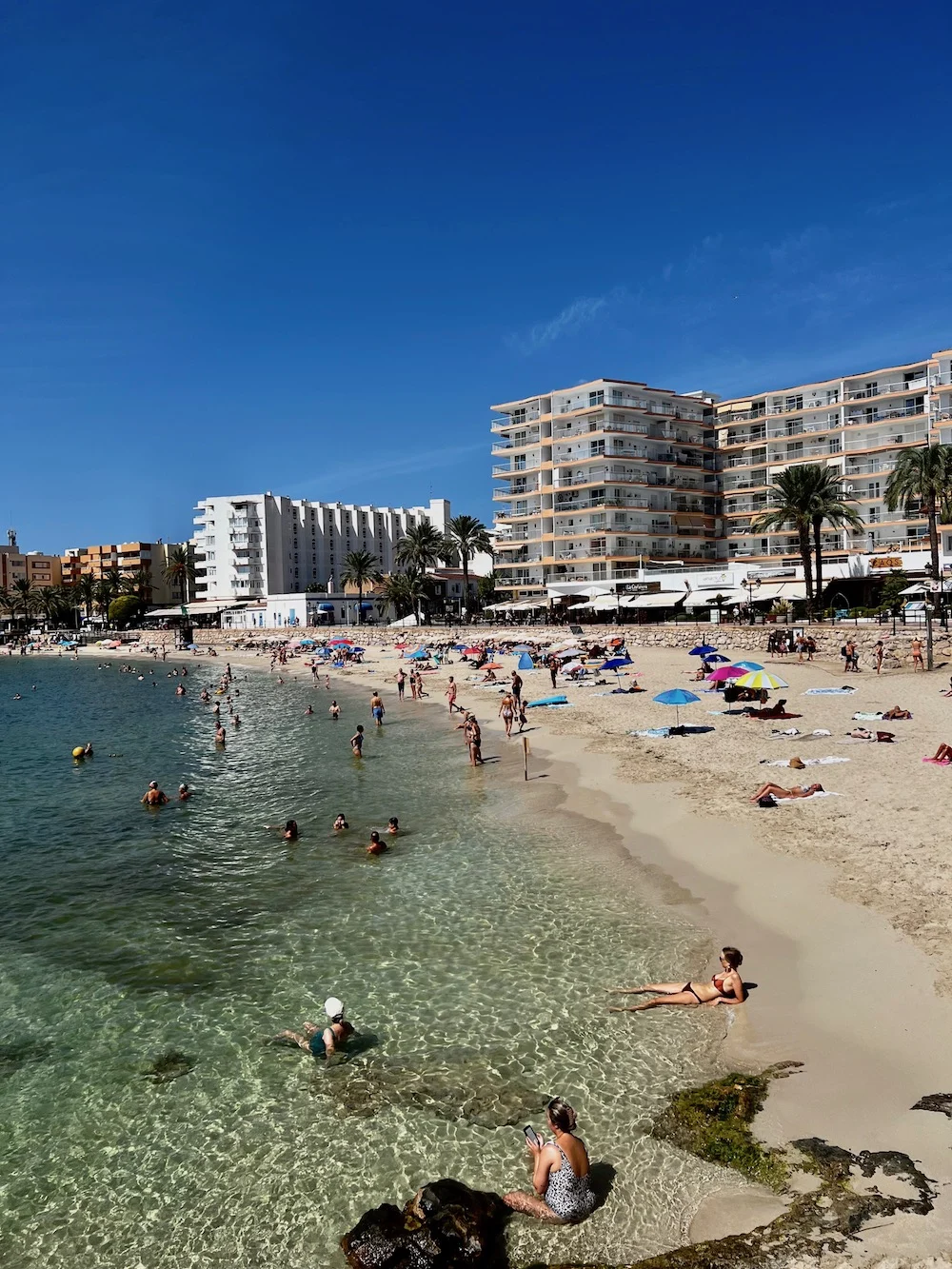 We walked along the seafront and went to Natural Point Bistro Cafe for breakfast. In here you'll find delicious, colourful and healthy meals so it was a great place to start when I was starting to flag after that early flight!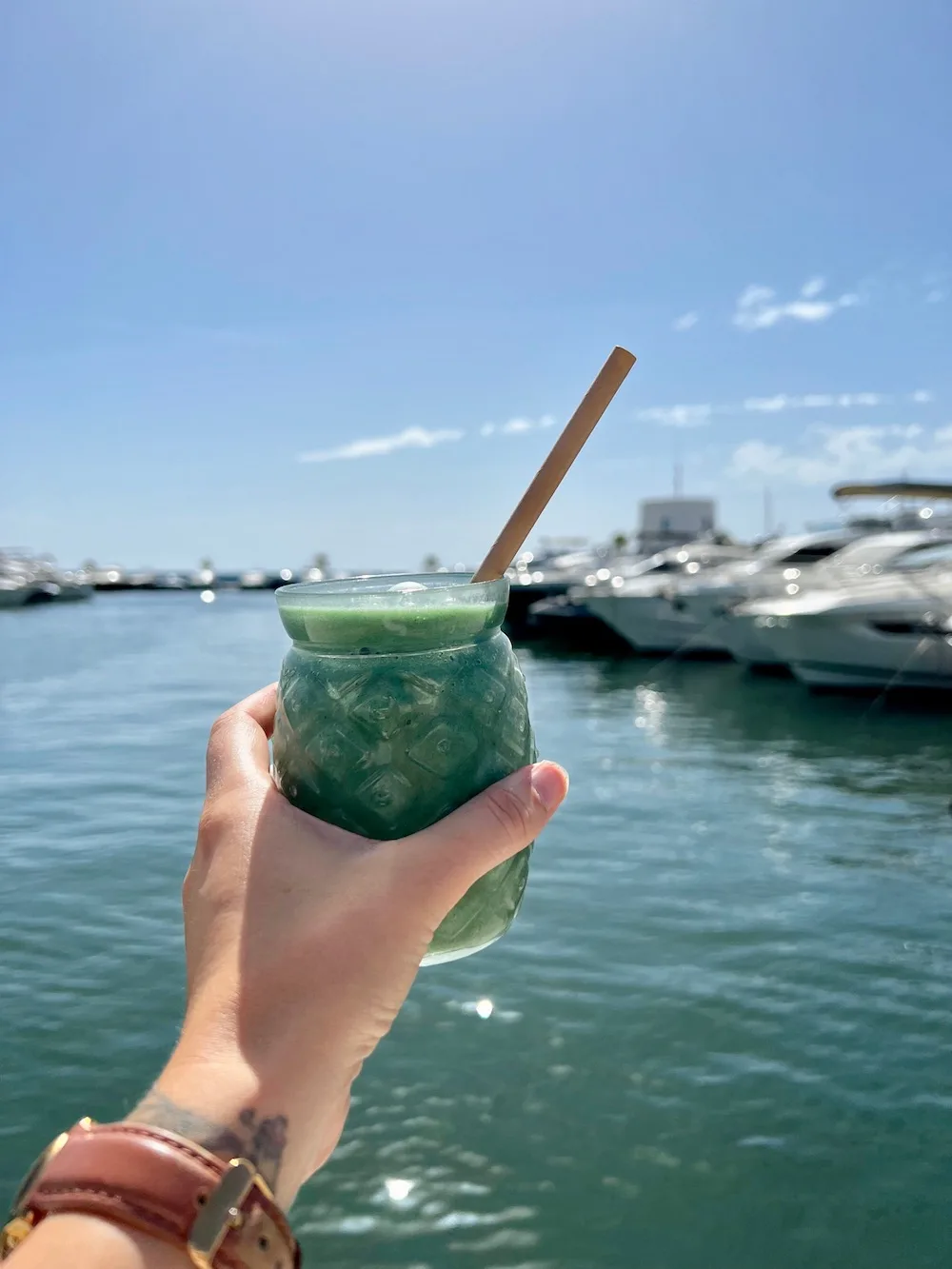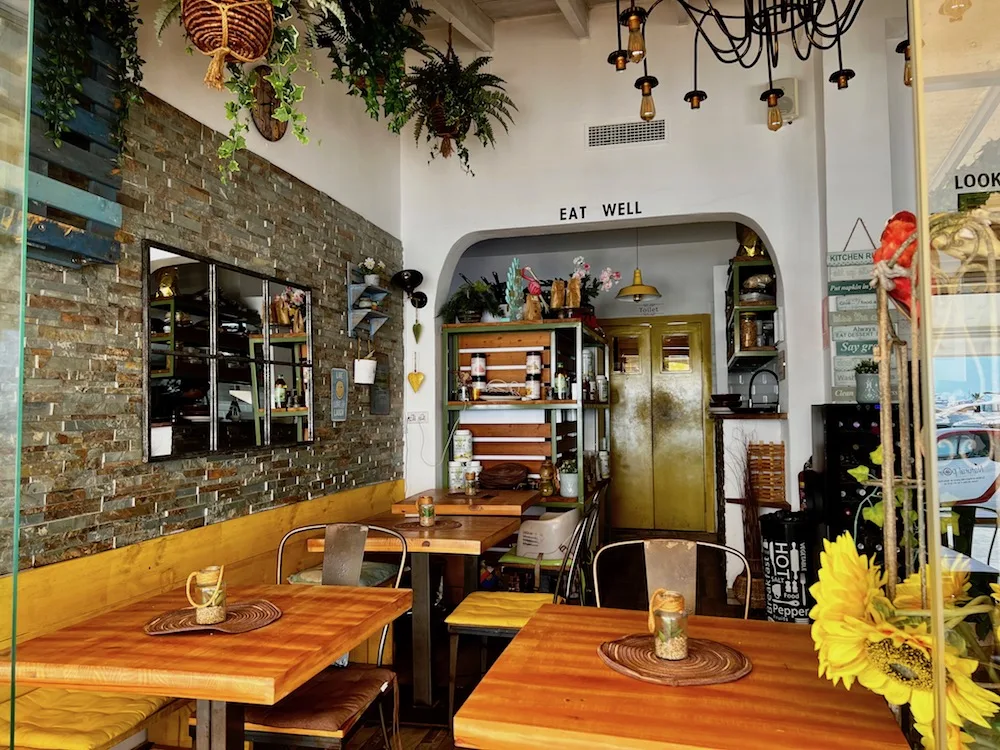 #3. Check into the hotel and explore Portinatx
As I mentioned above, our hotel Grupotel Ibiza Beach Resort – Adults Only in Portinatx was perfect for what we were looking for.
After our visit to Santa Eulària des Riu we headed to the hotel to check-in and get settled.
We had a dip in the pool, a dip in the sea, a walk along the coast and a few drinks and food in the bars and restaurants opposite the hotel.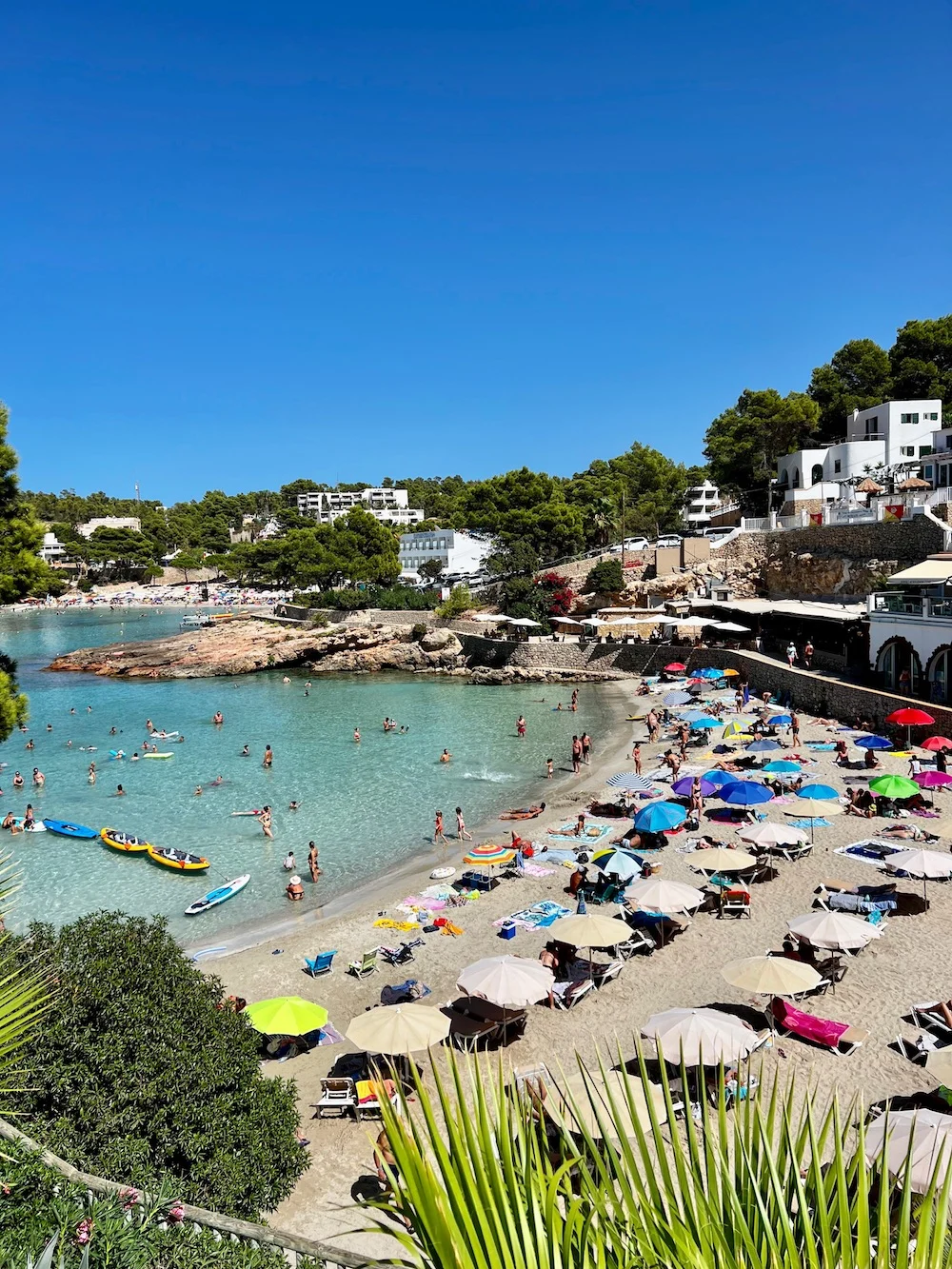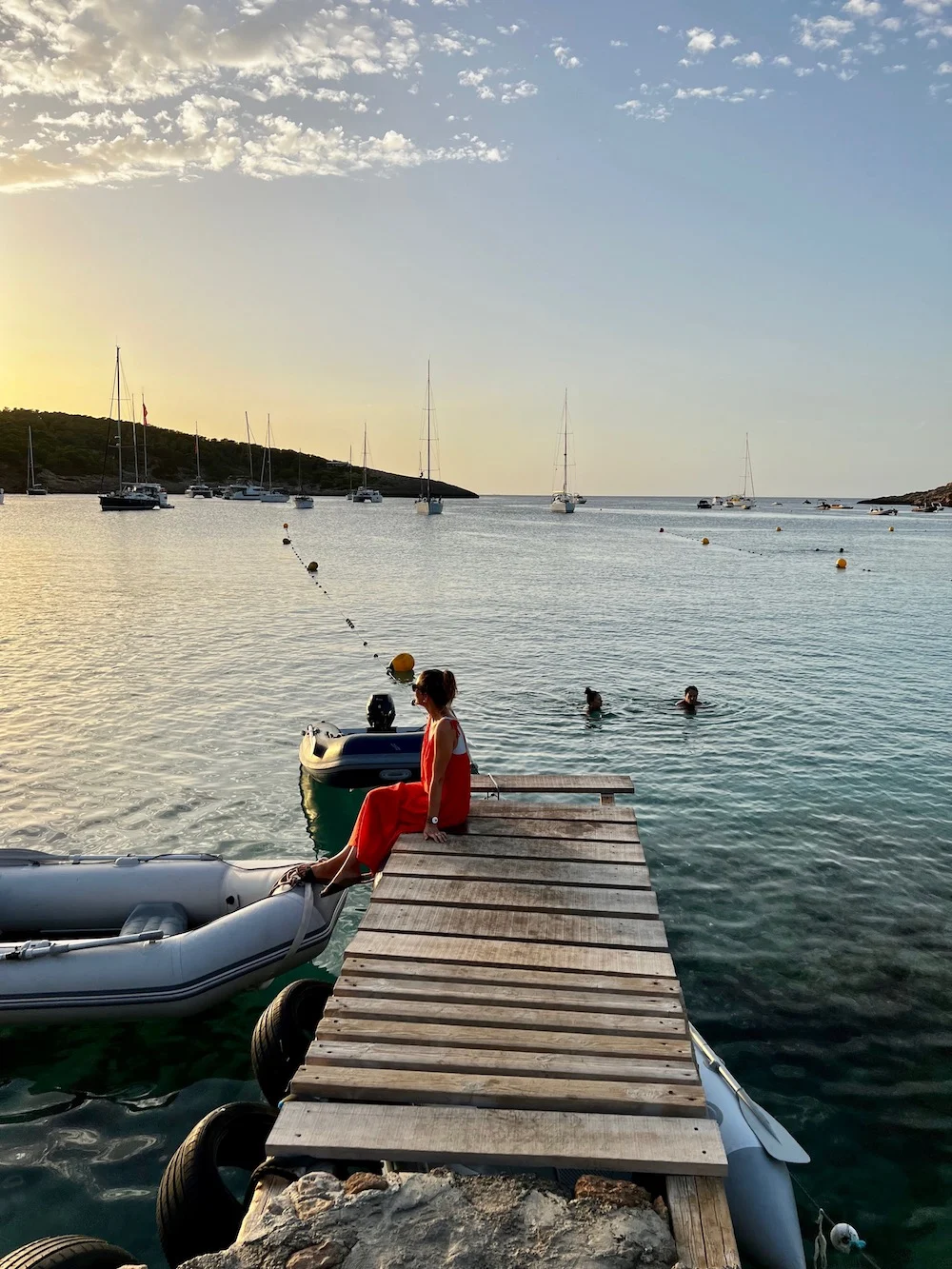 We actually ate at Zulu which has a lovely location but I wouldn't recommend it for food. The service was terrible and the food wasn't great, but we heard great things about Can Amuri, the Italian next door, and also Jardin Del Mar which is the blue restaurant a little further along the coast.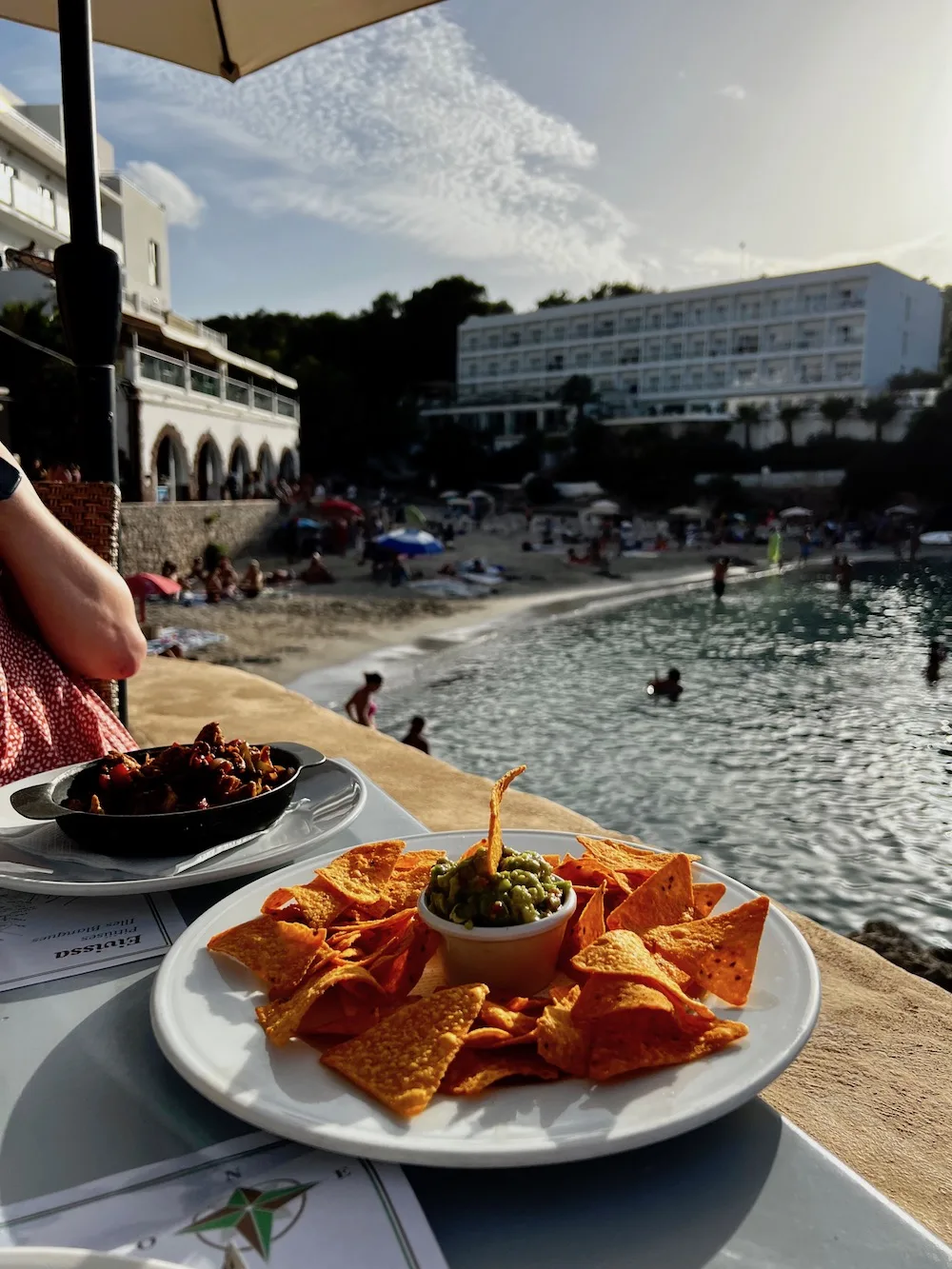 Ibiza things to do: Day 2
#4. Go to Formentera
For your second day in Ibiza I actually recommend leaving Ibiza and going to the nearby island of Formentera. It is gorgeous!!
So gorgeous I've written an entire blog post about visiting Formentera from Ibiza so check that out for more details.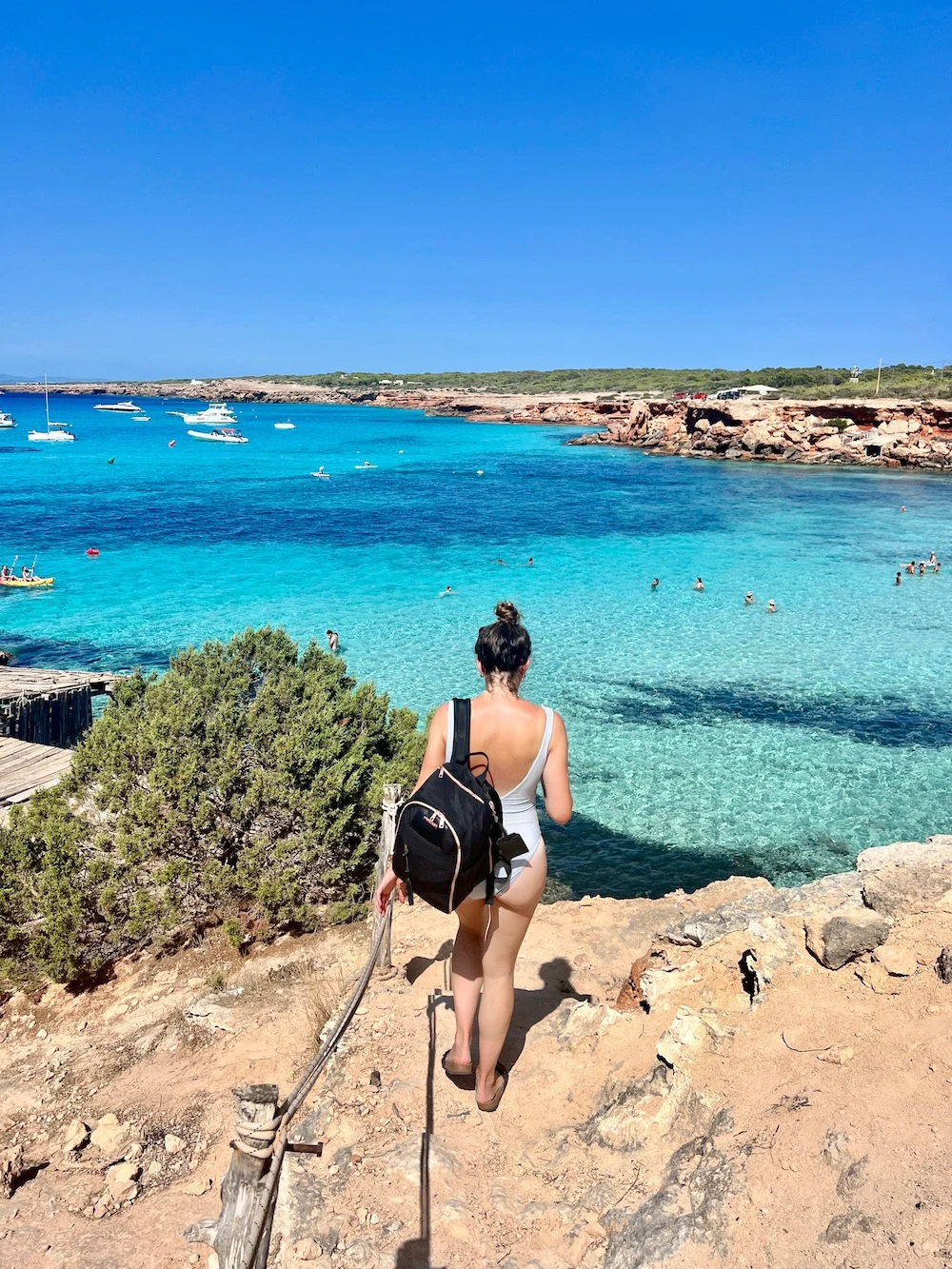 I cannot recommend this magical spot enough! It's so beautiful. We headed straight from the ferry from Formentera to Cala Escondida and arrived at about 6.30pm which was perfect timing.
There's a small cove with a golden beach facing the sunset. To the side is a rustic restaurant serving great cocktails and Mexican food. There's a lively, laidback energy and everyone is just there for a good time.
Everyone cheers the sunsets and musicians start playing and everyone dances. It's just pure magic and brought happy tears to my eyes because it was just such a special atmosphere (OK, I'd have a few mojitos!)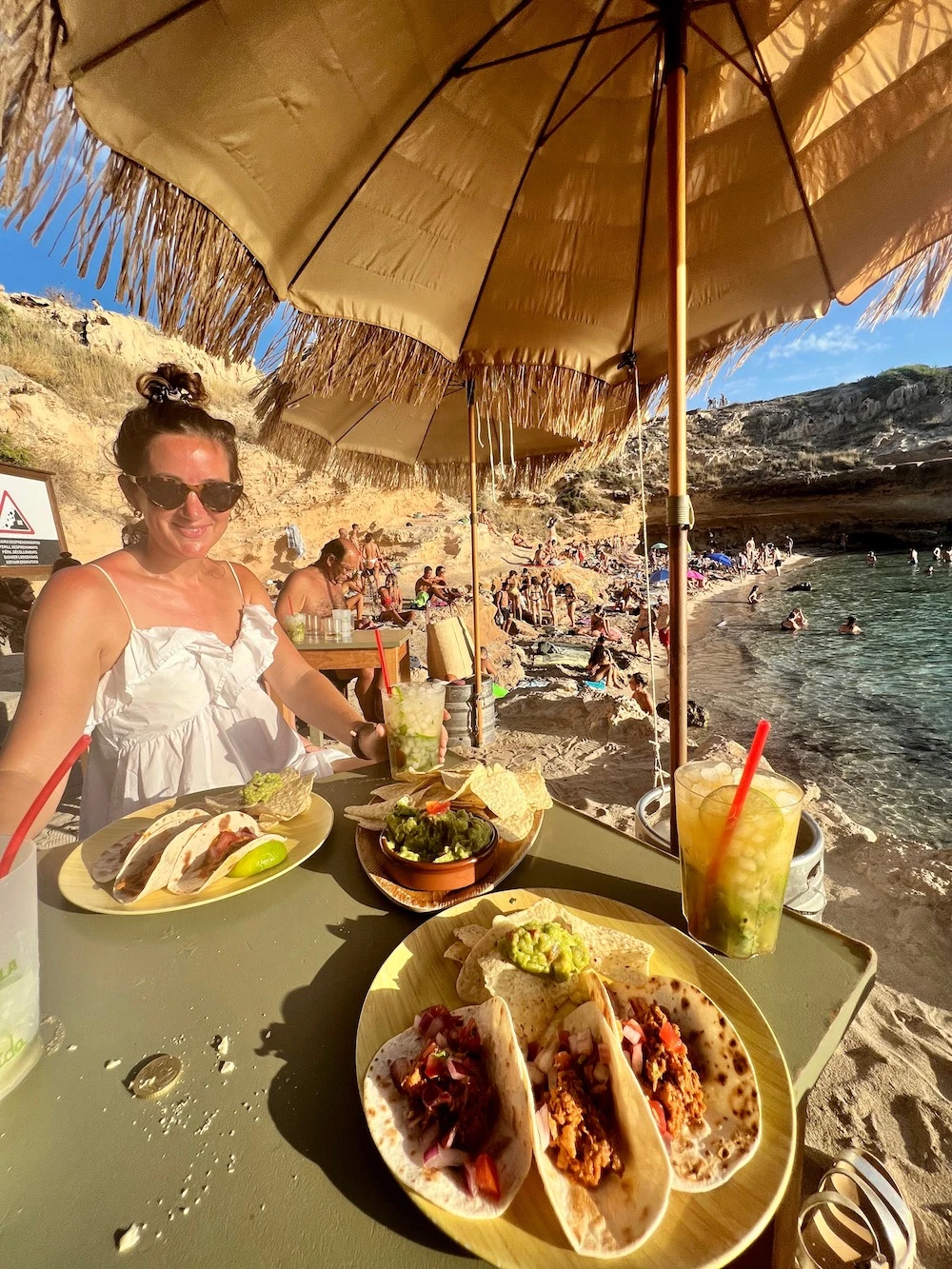 Ibiza things to do: Day 3
#6. Visit Platja de Cala Xarraca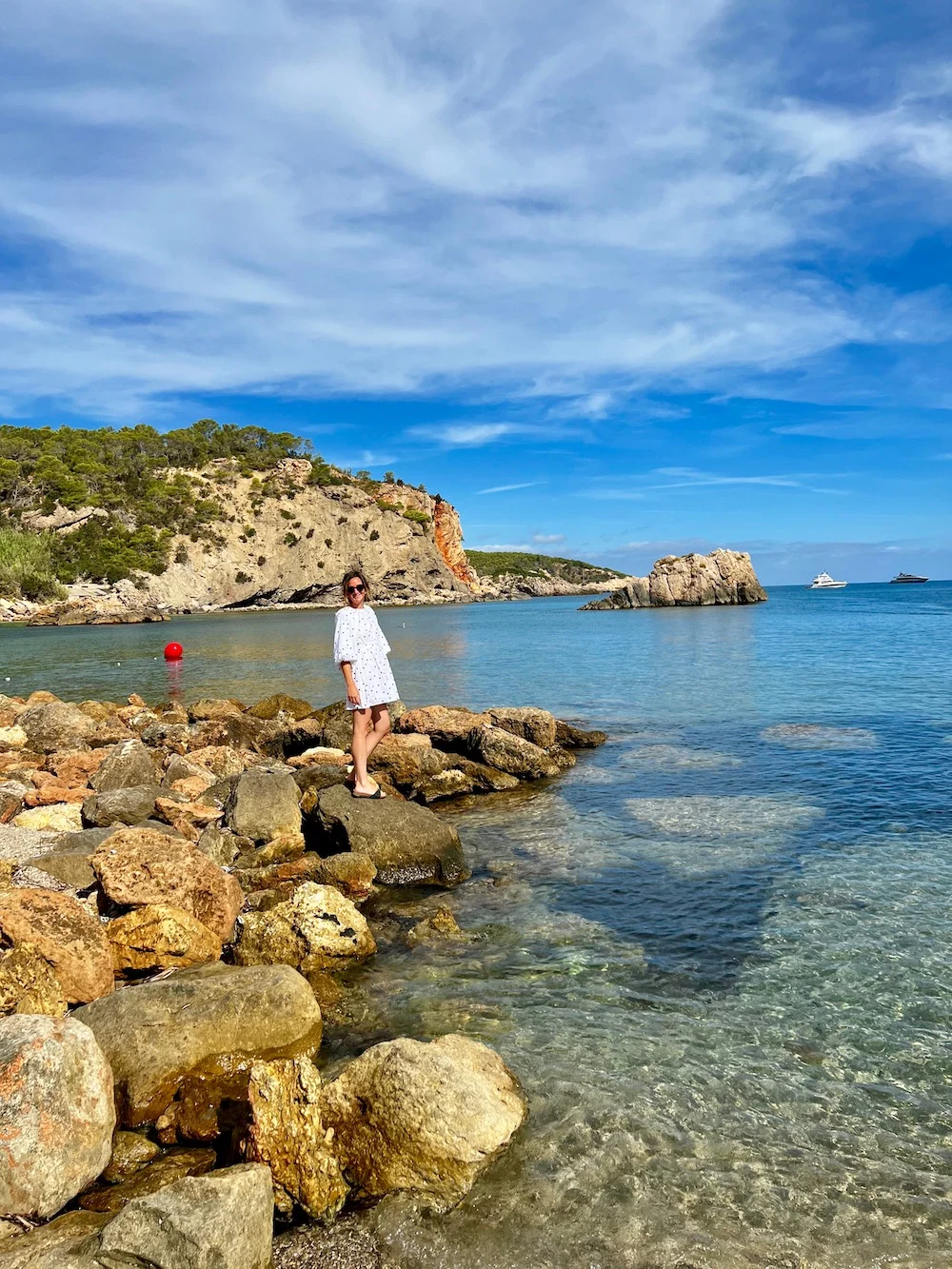 This gorgeous bay was so pretty and so quiet, so if you're looking for a super chilled spot to swim, snorkel and sunbathe then this is it.
The water is crystal clear so apparently the snorkelling here is phenomenal!
If you don't have one already, I highly recommend one of the newer style, full face snorkelling masks. They're brilliant!
There is a restaurant on the beach called Restaurant Cala Xarraca. We'd just had breakfast at the hotel so we didn't eat here but it looked like a lovely location. The TripAdvisor reviews are terrible but it would be a nice place for a drink or a morning coffee because it's such a beautiful spot.
#7. Explore Cala d'en Serra Beach and the abandoned hotel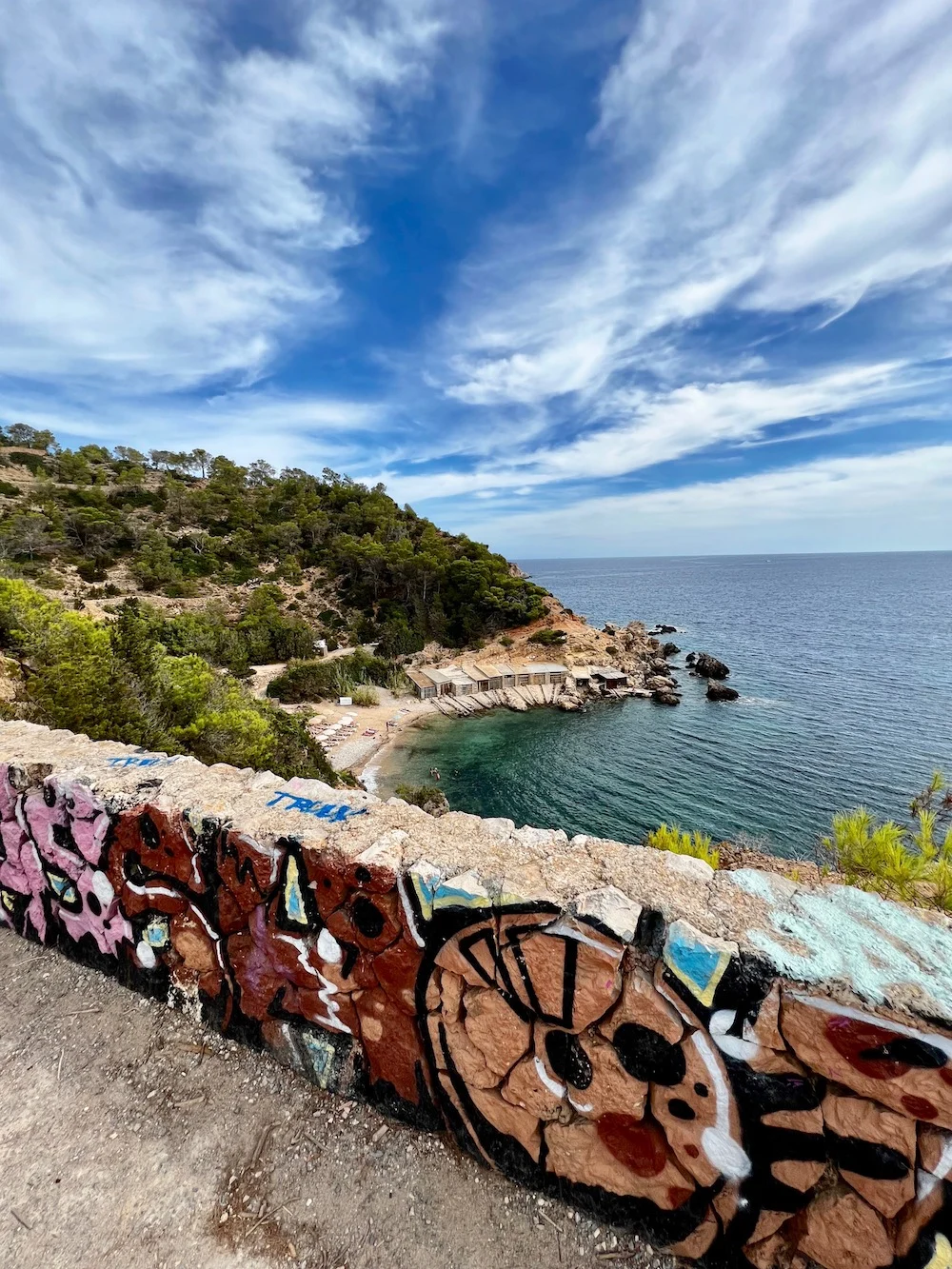 Now this one is a little different…
Not far away is the beautiful Cala d'en Serra Beach, which is lovely and there's a nice beach bar down there. But the main attraction here is the ruins of an abandoned hotel.
To be honest, the main reason we visited was because it wasn't far from Portinatx so we thought we might as well take a look, but I found it to be fascinating.
The ruins here were originally intended to be a luxury hotel. Construction began in 1969 but ground to a halt in 1970. It is thought work stopped due to the facist government at the time not allowing the famous architect, Josep Lluís Sert, to put his name to the hotel. Development ended completely when Sert passed away in 1983 and the hotel was abandoned.
It now has a very creepy vibe with graffiti covering the walls and art works scattered about.
I'm not sure this place is entirely safe so I do recommend visiting with caution and be aware that it's a very bumpy track leading down to the beach. Most people park at the top and walk down due to the uneven road surface.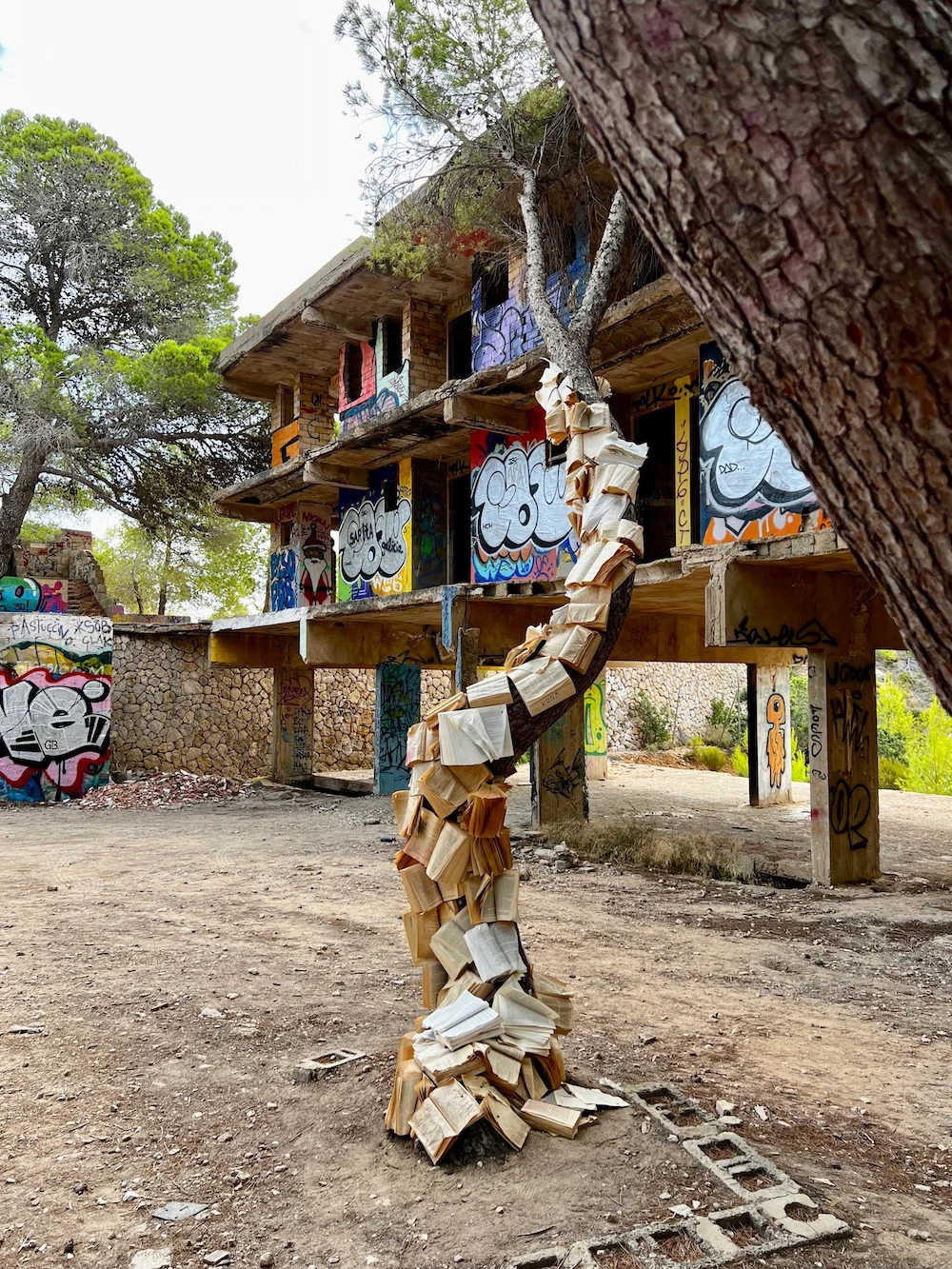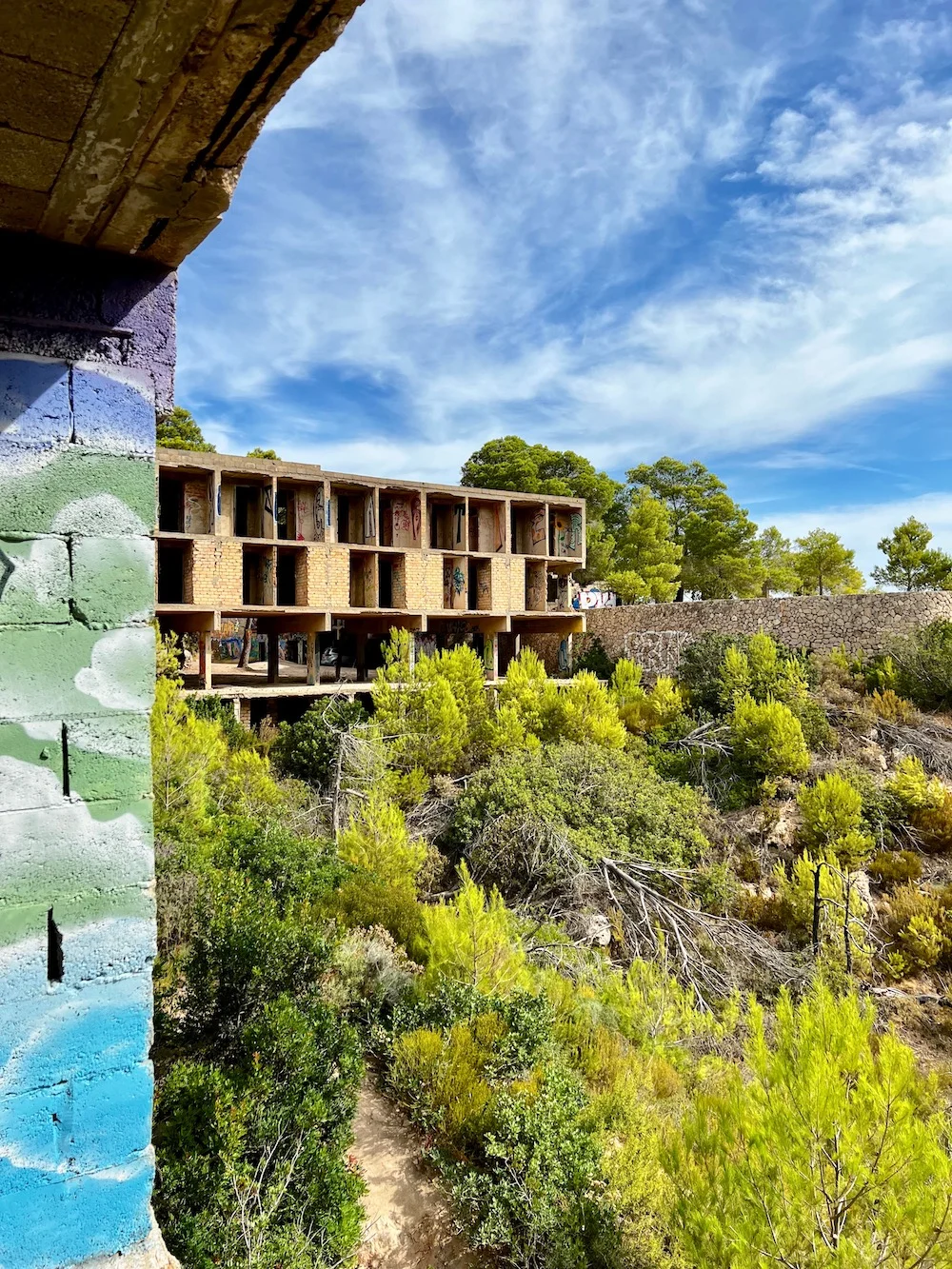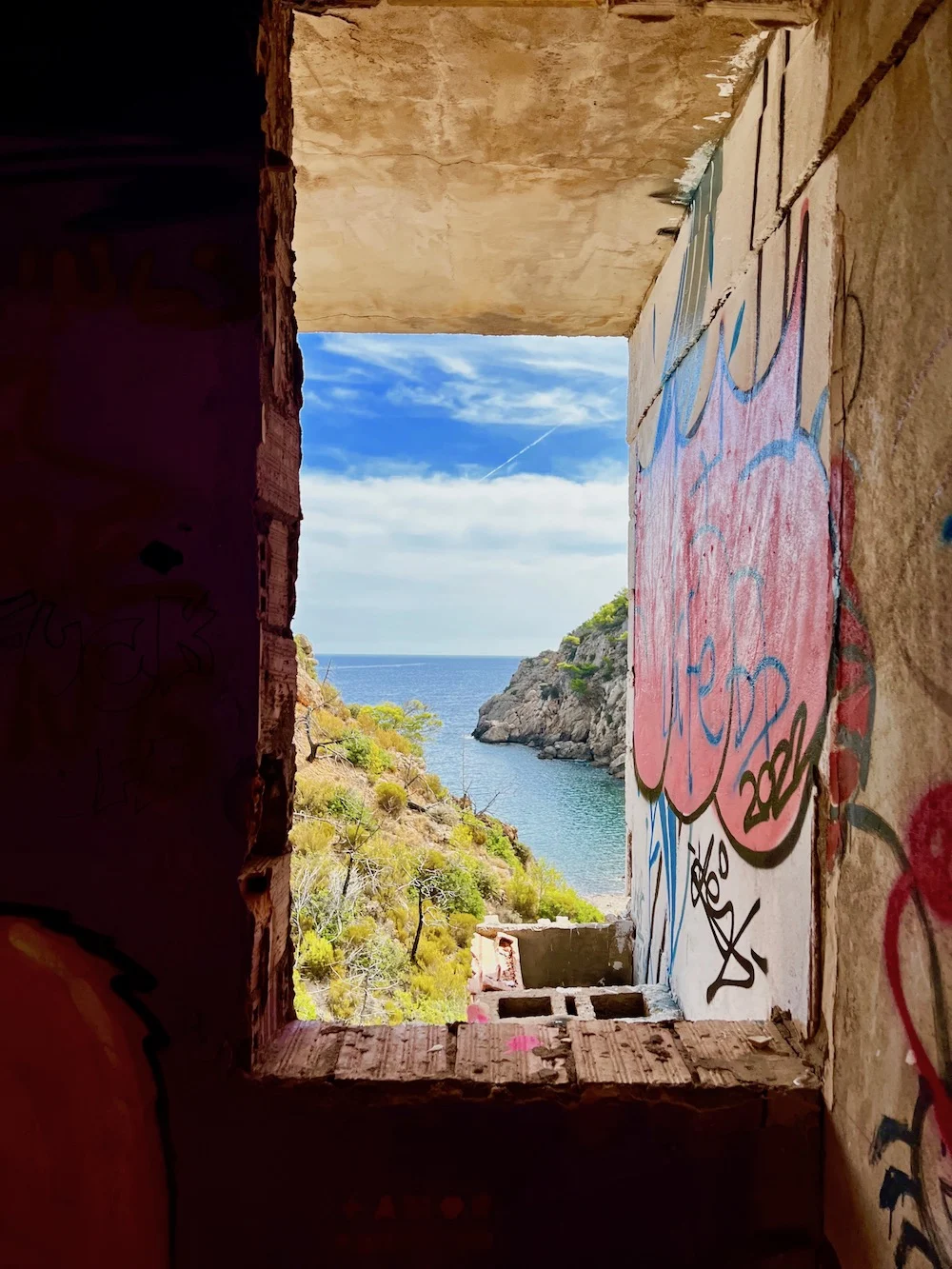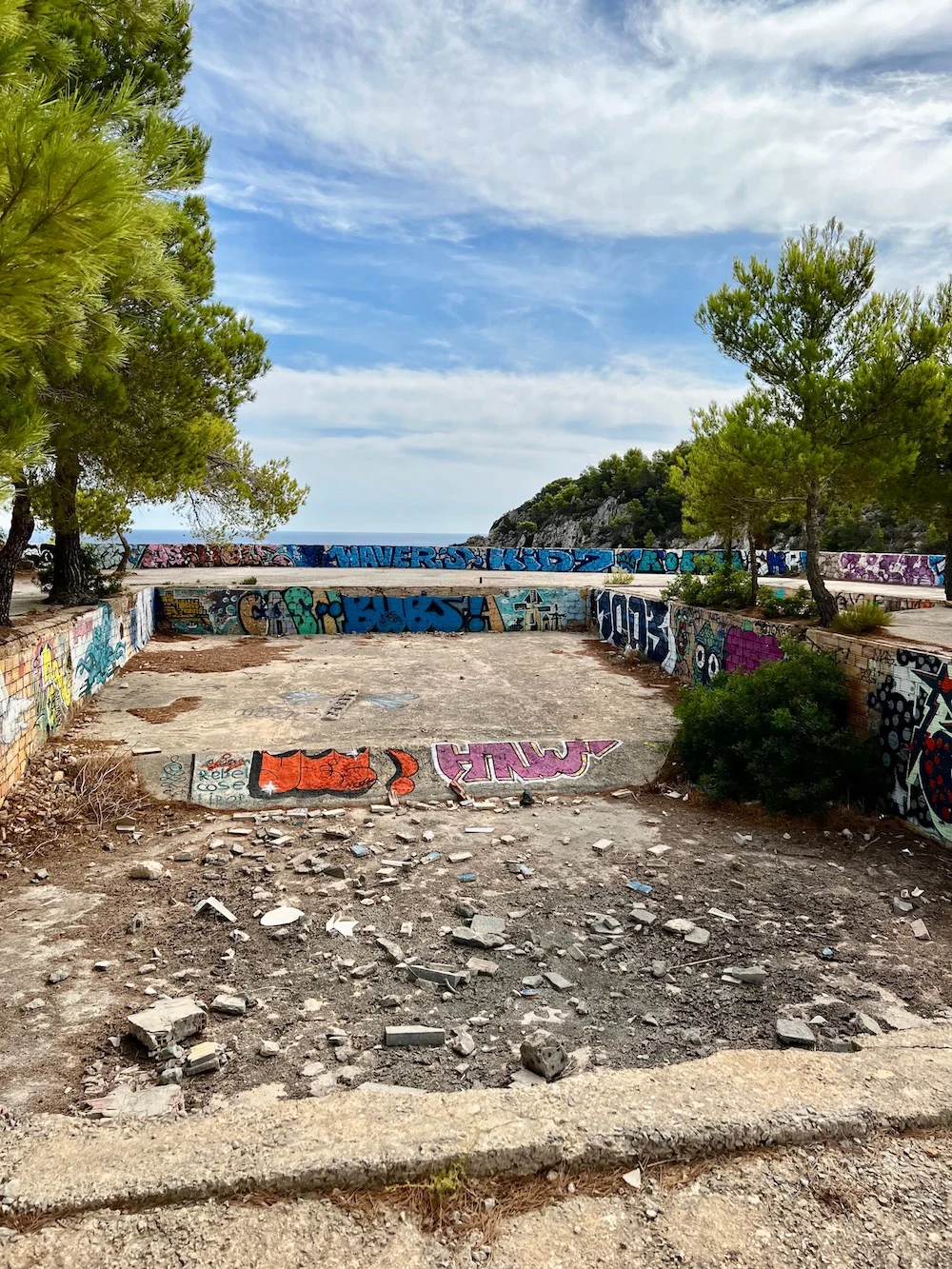 We spent some time exploring the abandoned hotel and then walked down to the beach where we had a drink in the bar.
Travel Hack Tip: Note that the bar is cash only. We had a drink before noticing and we'd left our cash in the car so had to walk all the way back to the top and back down again with cash and then back up again!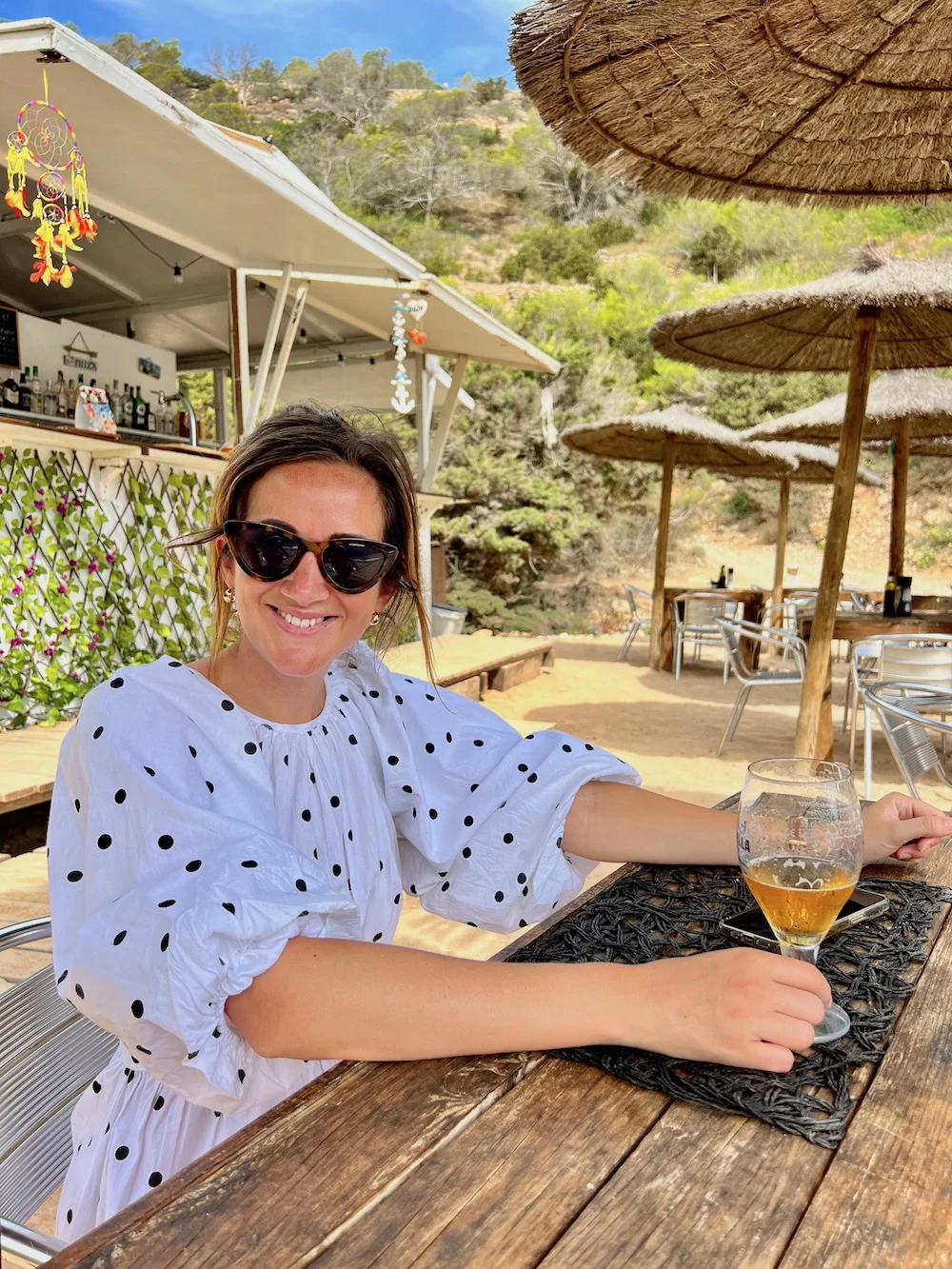 #8. Lunch at Amante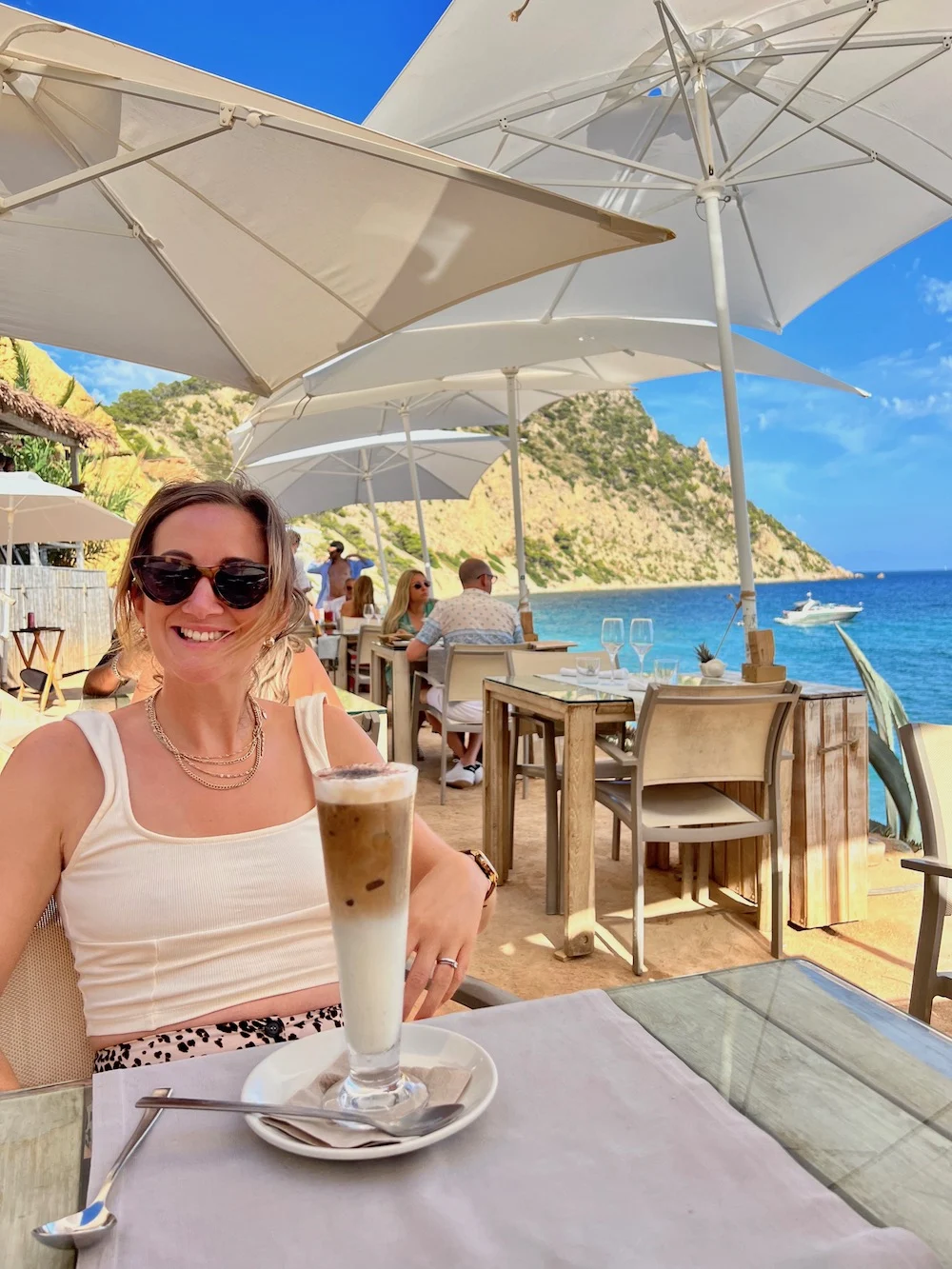 If you're looking for fancy lunches in Ibiza then you won't be disappointed as this little island has more than its fair share of luxurious beach clubs and restaurants.
One of those is Amante where we went for a luxe lunch overlooking the stunning cove. It's an idyllic place for a long, lazy lunch sipping wine and enjoying good food!
Travel Hack Tip: Book well in advance!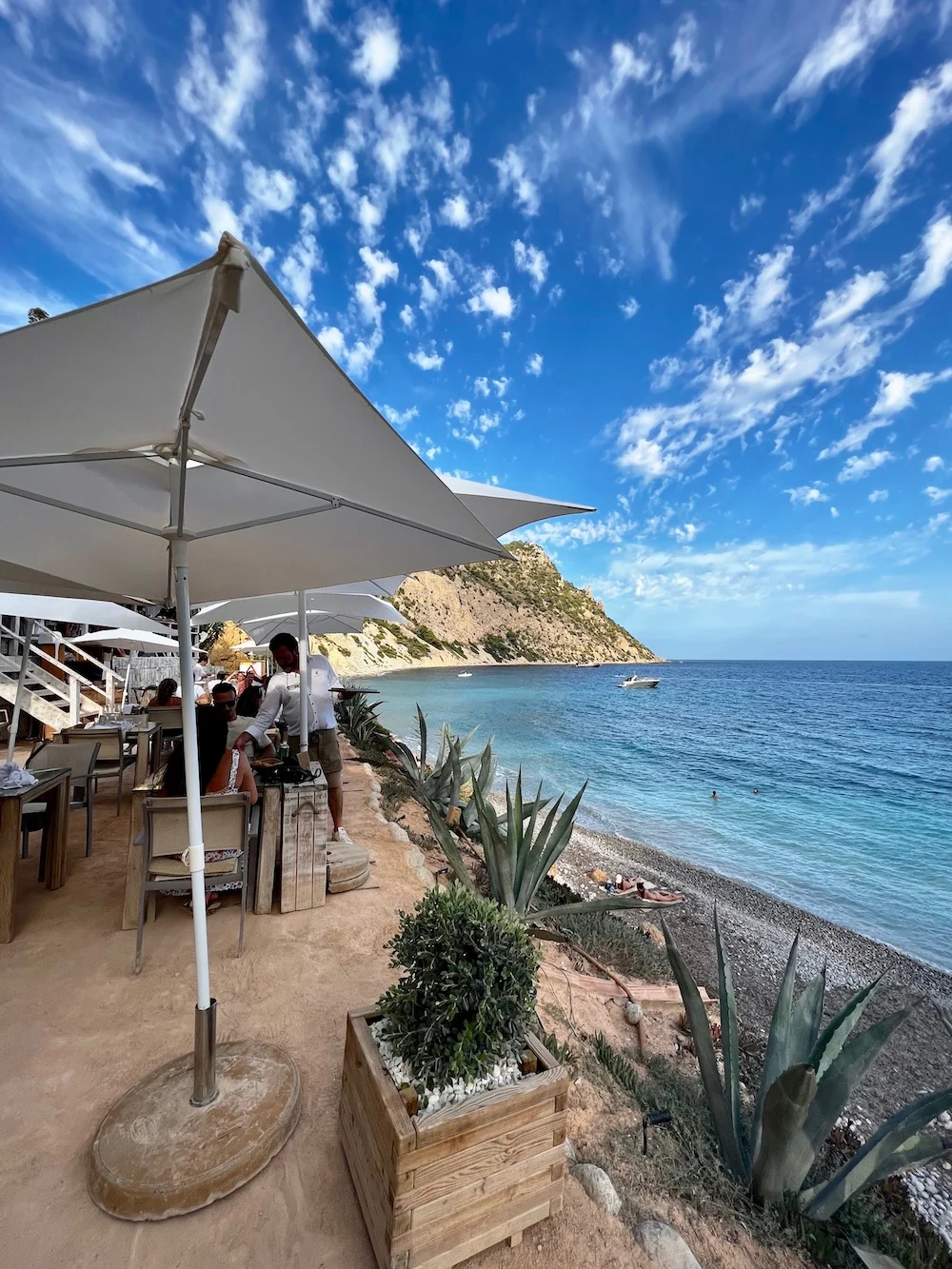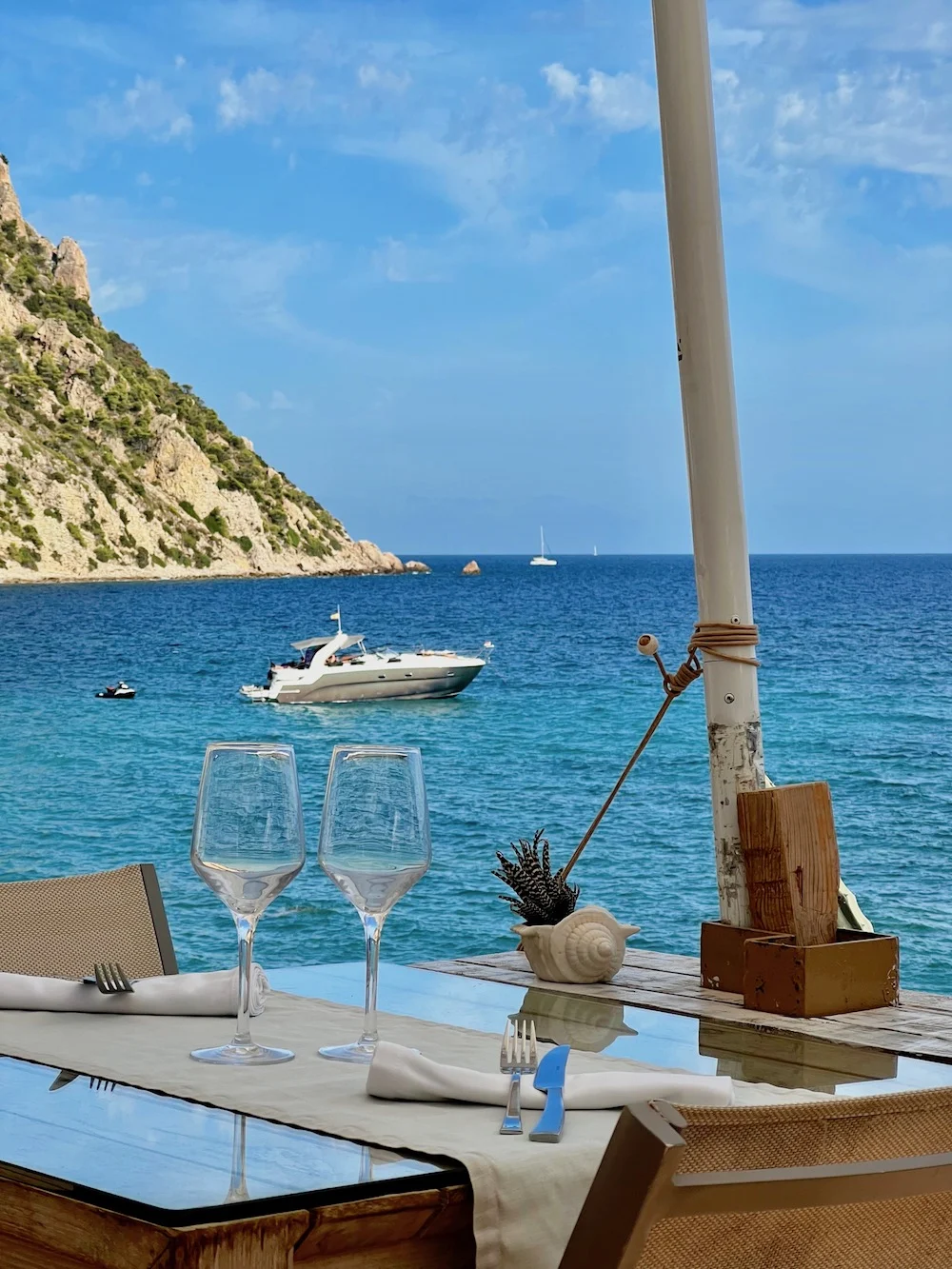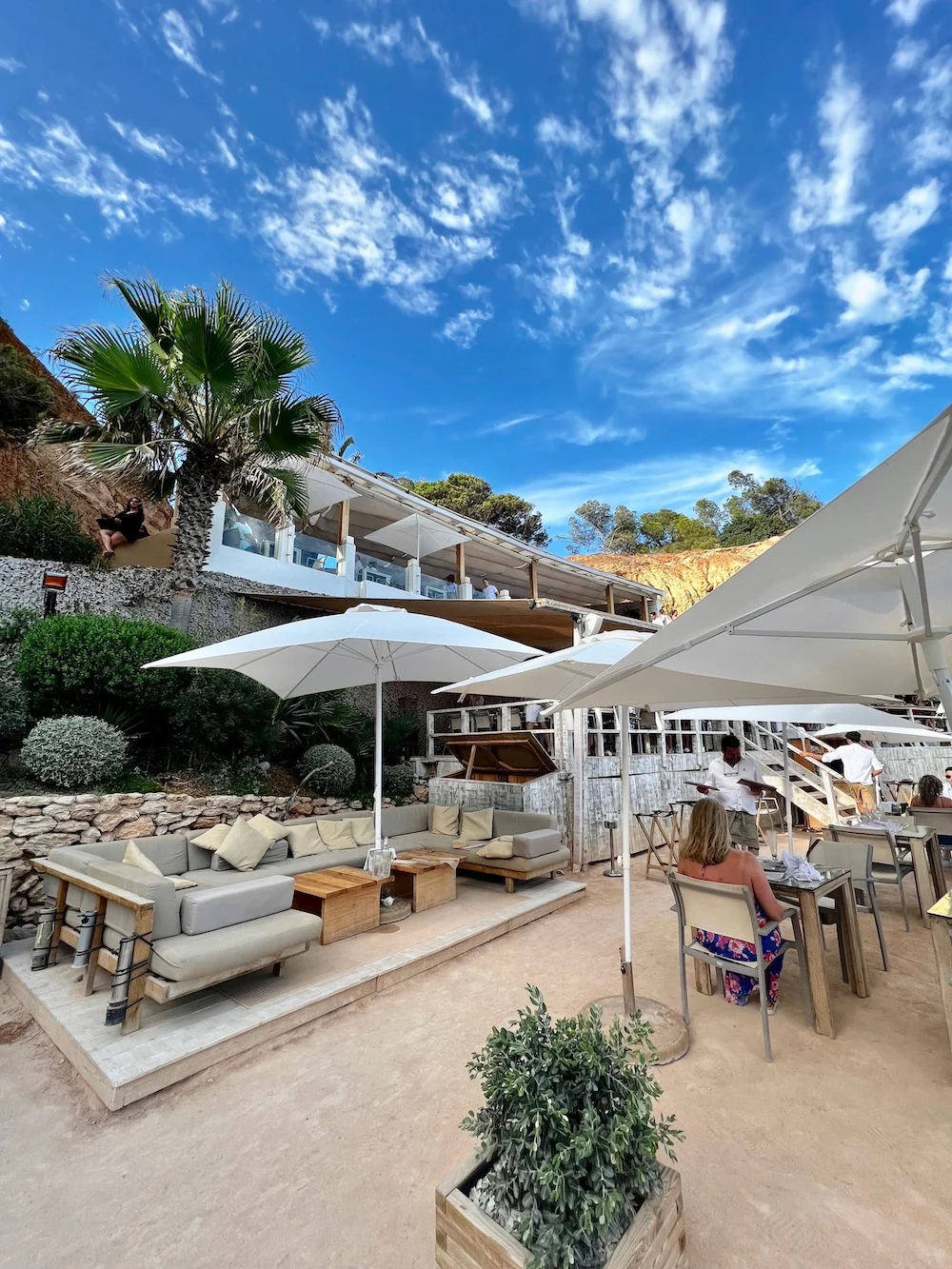 #9. Sunset in Cafe Mambo, San Antonio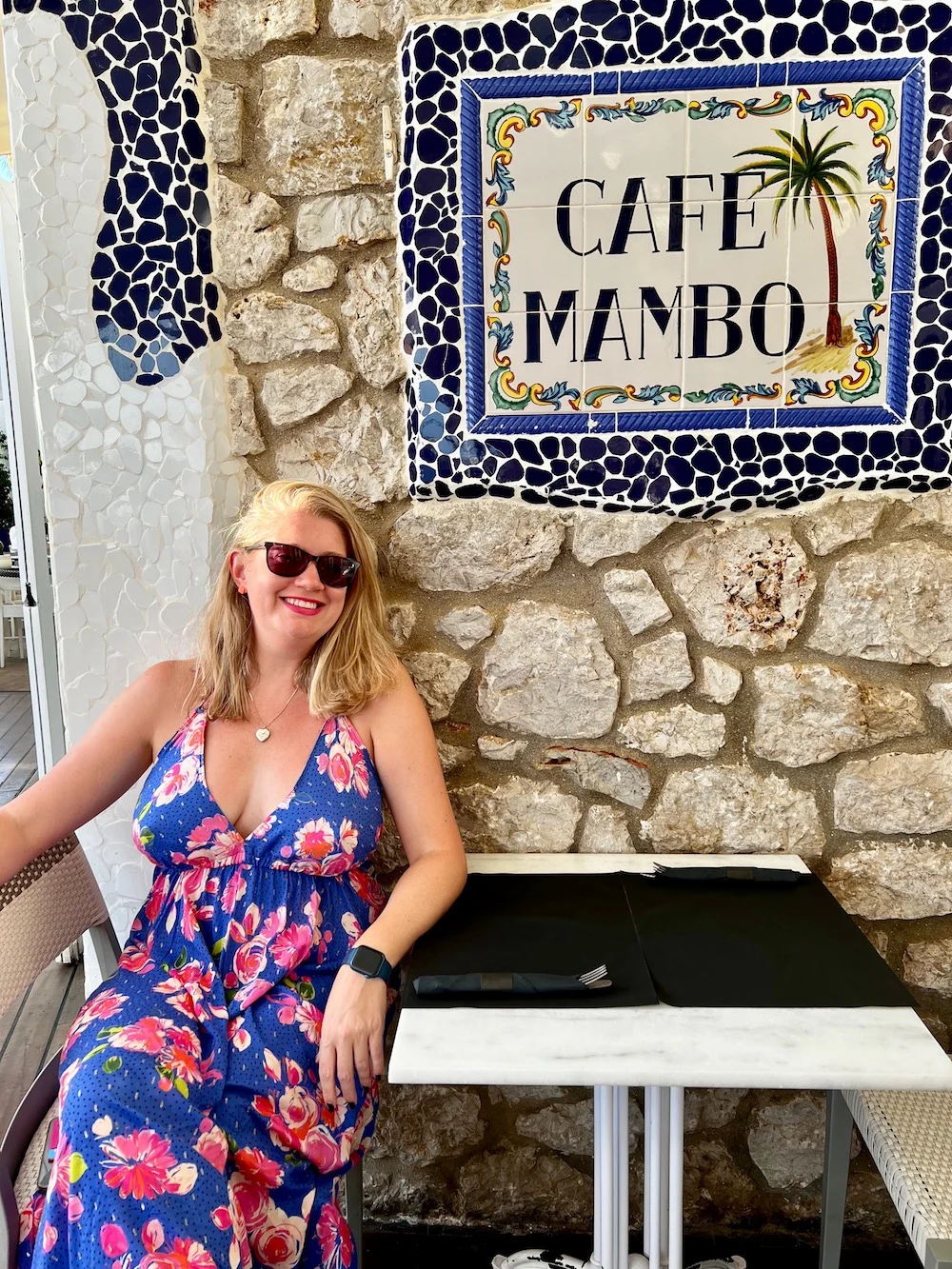 OK, I know I started this blog post saying that San Antonio was a little trashy and not my vibe but I had to add this to the list because sunset in San Antonio is iconic. Can you visit Ibiza without going for a drink here…even if it's just one drink!?
I'd always wanted to go to Cafe Mambo and watch the sunset, so that's what we did.
I feel like I can tick the box and say that I've done it…and I'll probably never do it again. It's that kind of place.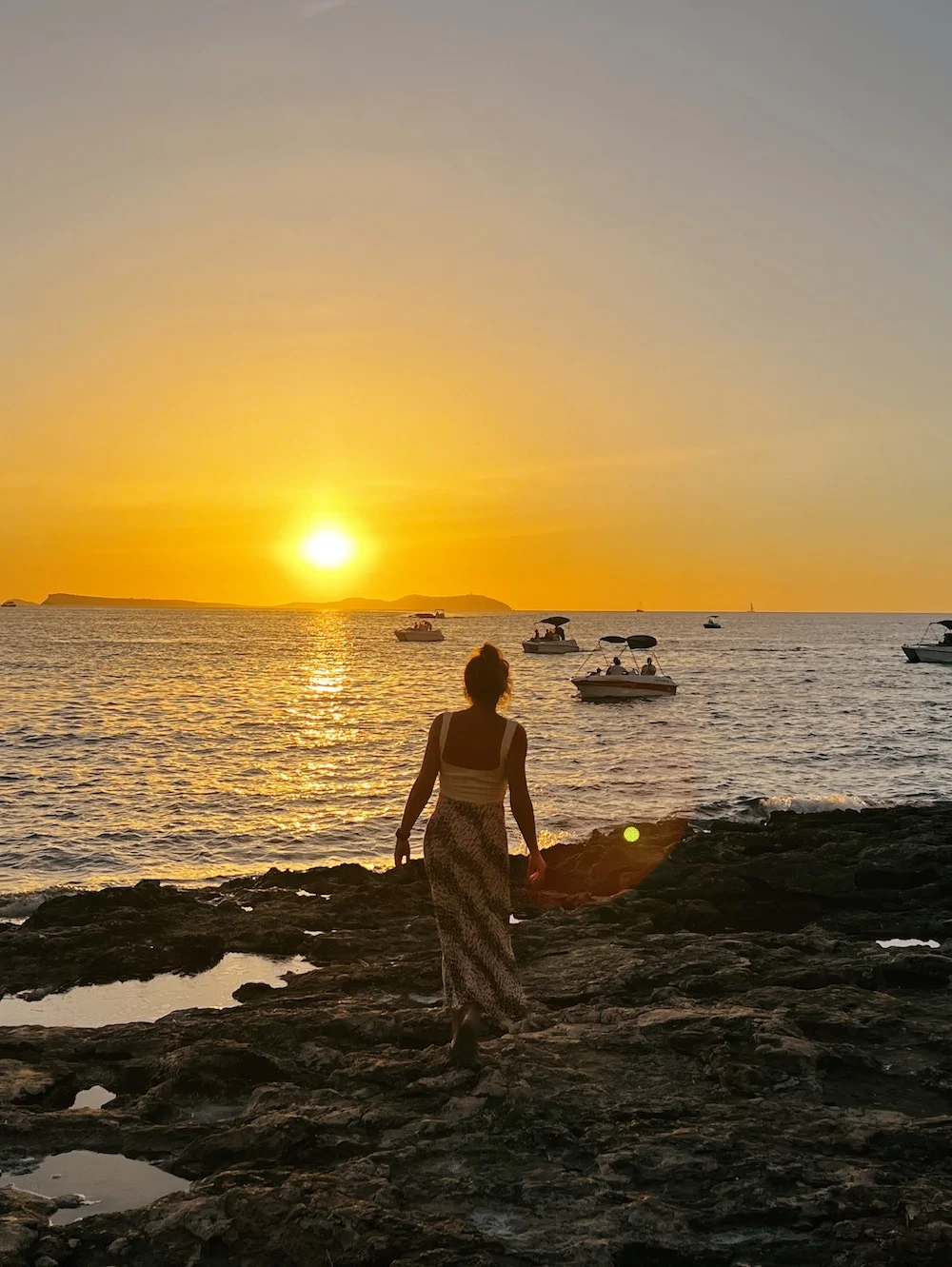 Ibiza things to do: Day 4
#10. Relax in Portinatx
We enjoyed a lazy morning in Portinatx on our final day in Ibiza. We didn't need to check out of the hotel until midday so we made the most of it by enjoying the pool and beach.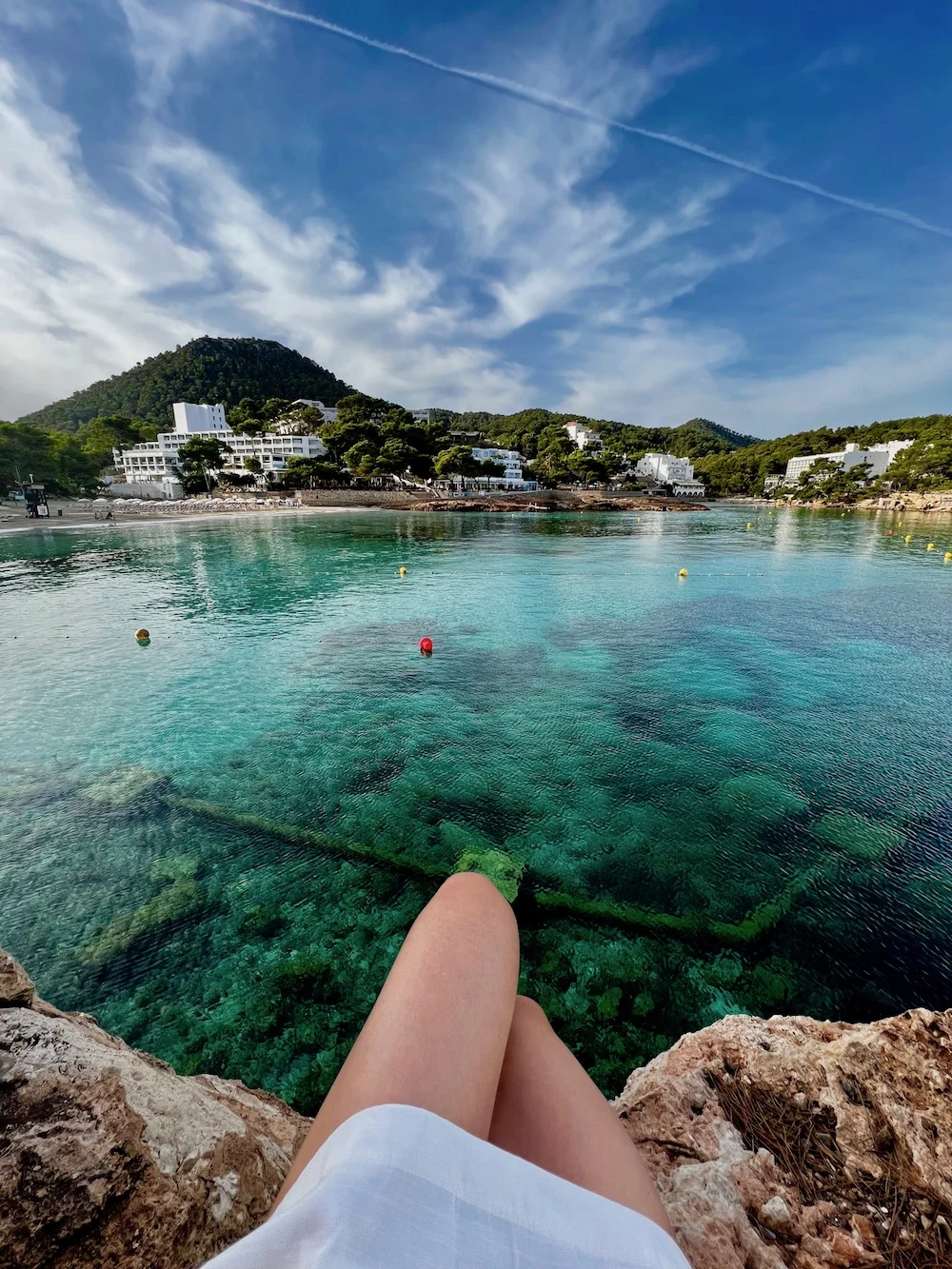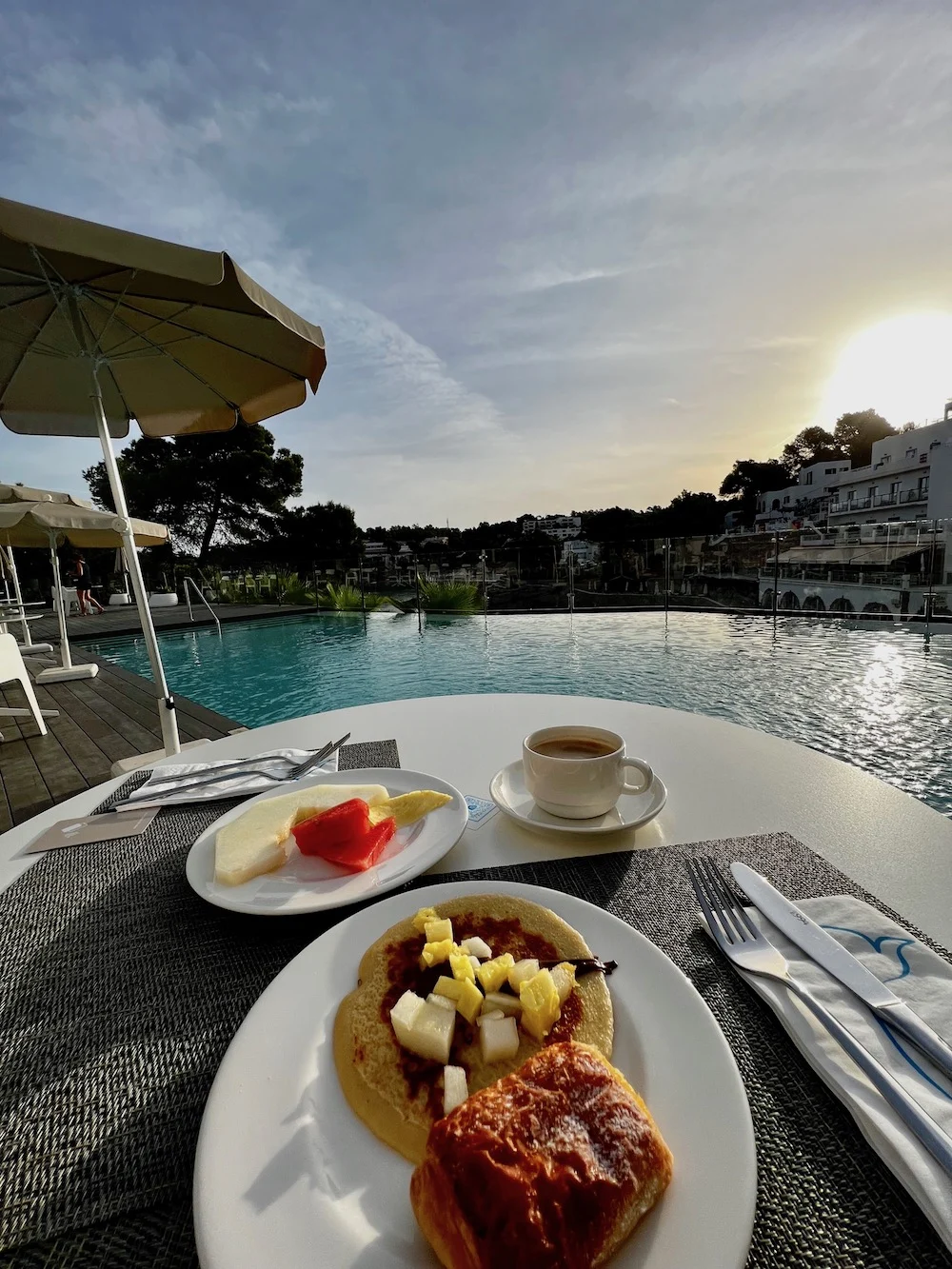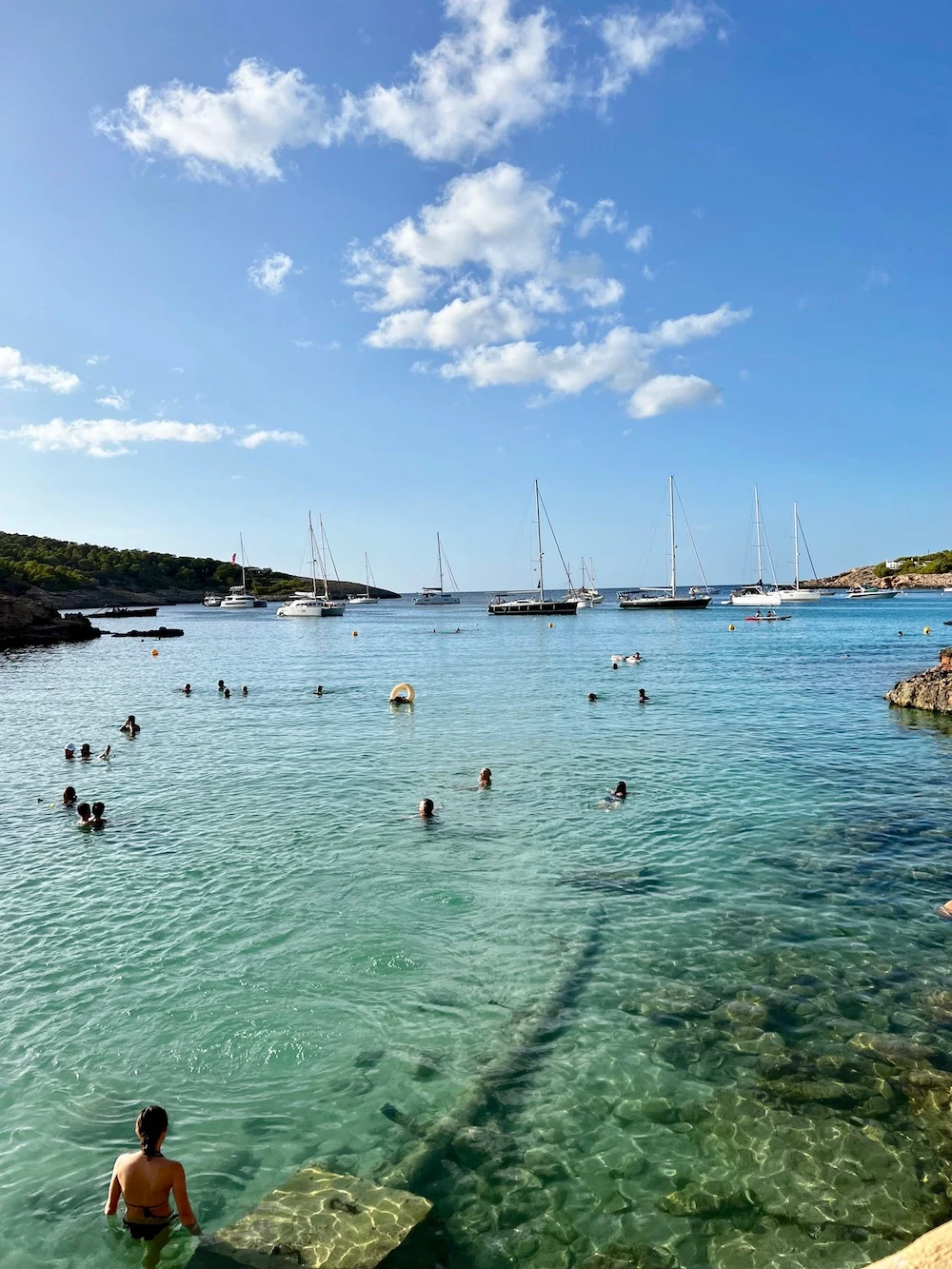 #11. Drinks at Six Senses Ibiza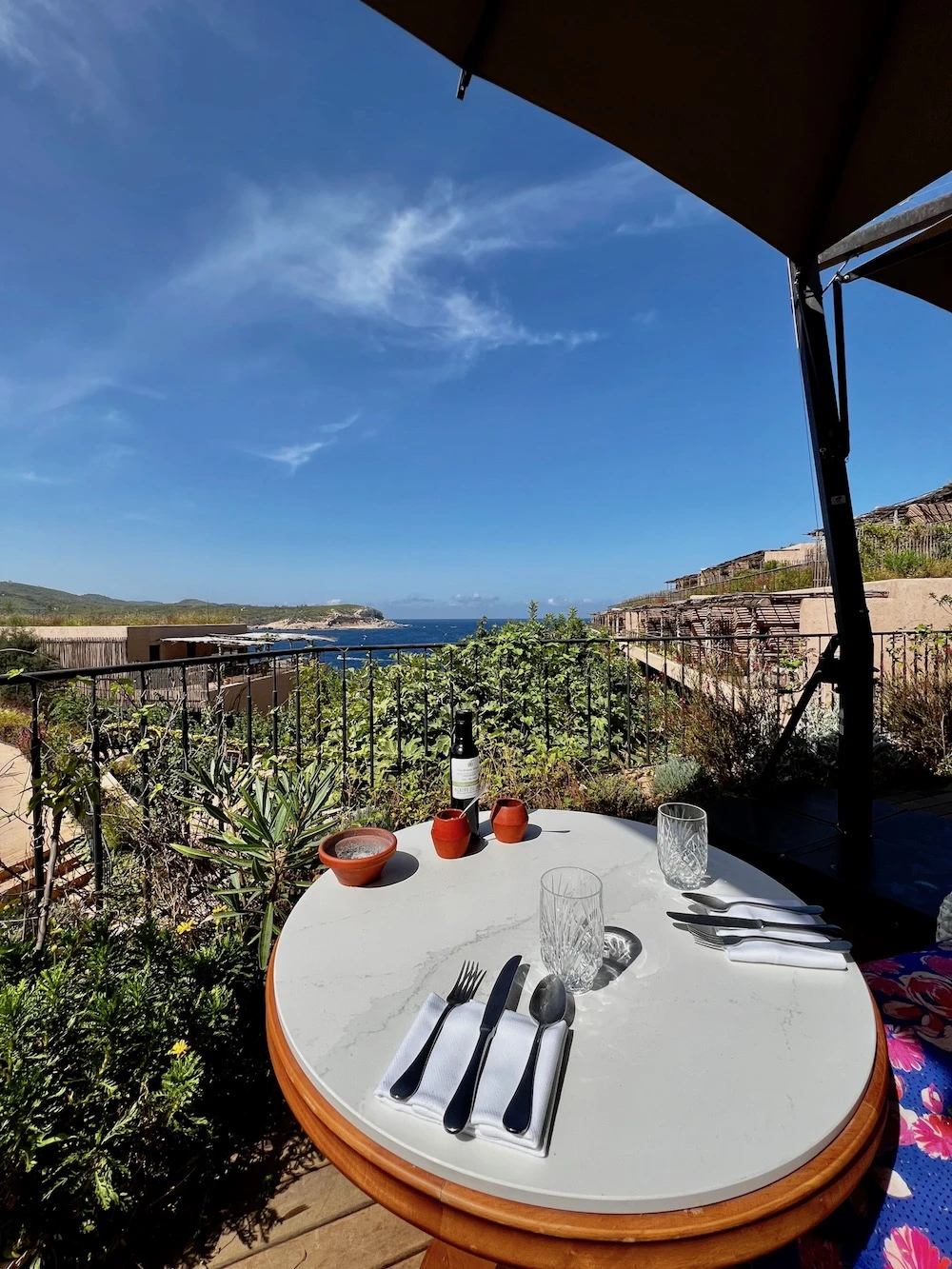 We noticed on Google Maps that the luxurious hotel Six Senses Ibiza is just a few minutes from our hotel so we headed there for a drink after we'd checked out.
And wow, what a hotel!
Non residents are welcome to have a drink but I think we may have been pushing our luck when we had a wander around the gardens and pool! I had a glass of wine while Jen had a breakfast smoothie overlooking the hotel gardens and out to sea.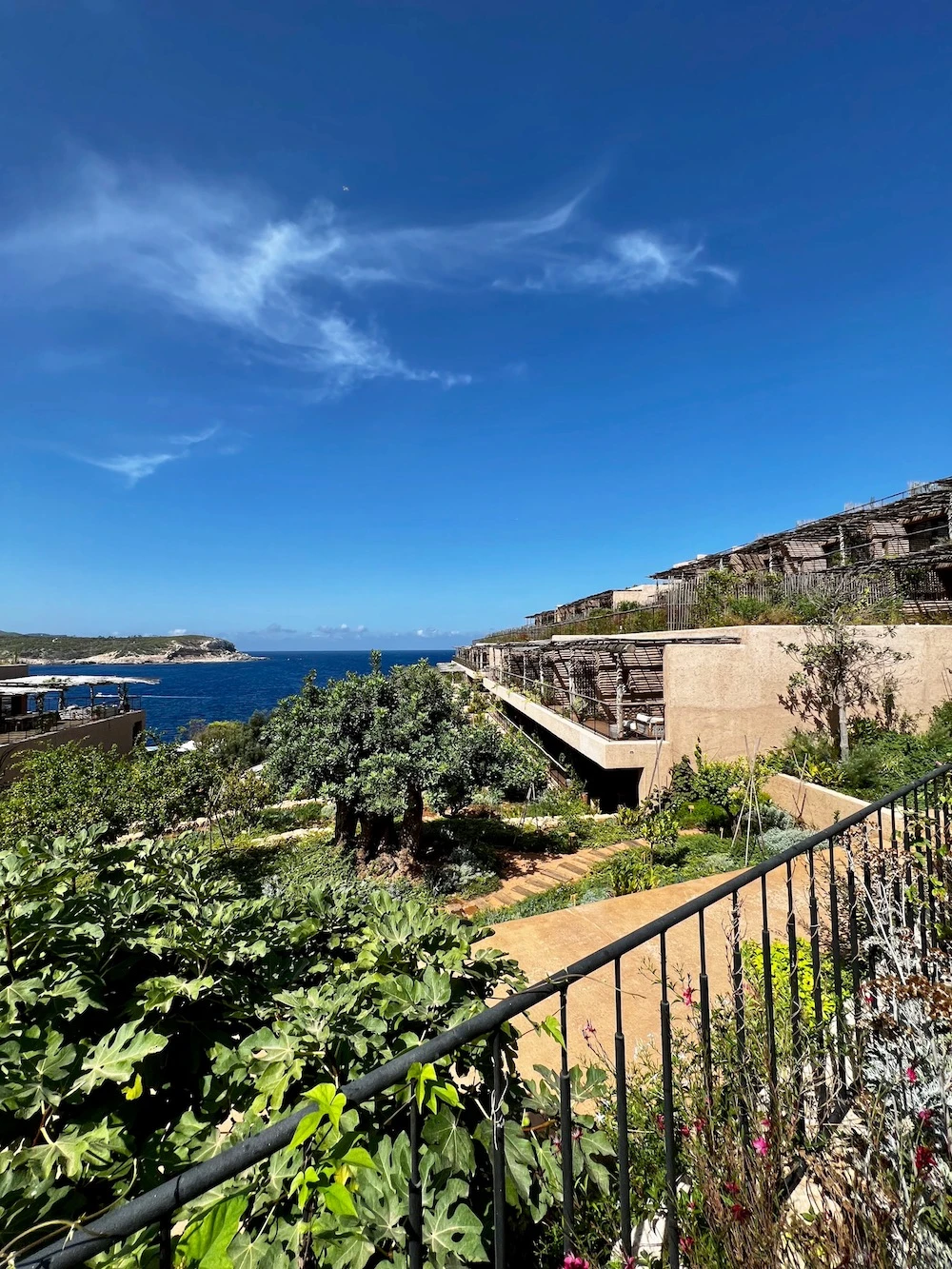 #12. Visit Ibiza Old Town
Our final stop in Ibiza and one of the most iconic things to do in Ibiza is visit the Old Town. It's beautiful and a lovely place for a sunny stroll and a wander around the shops.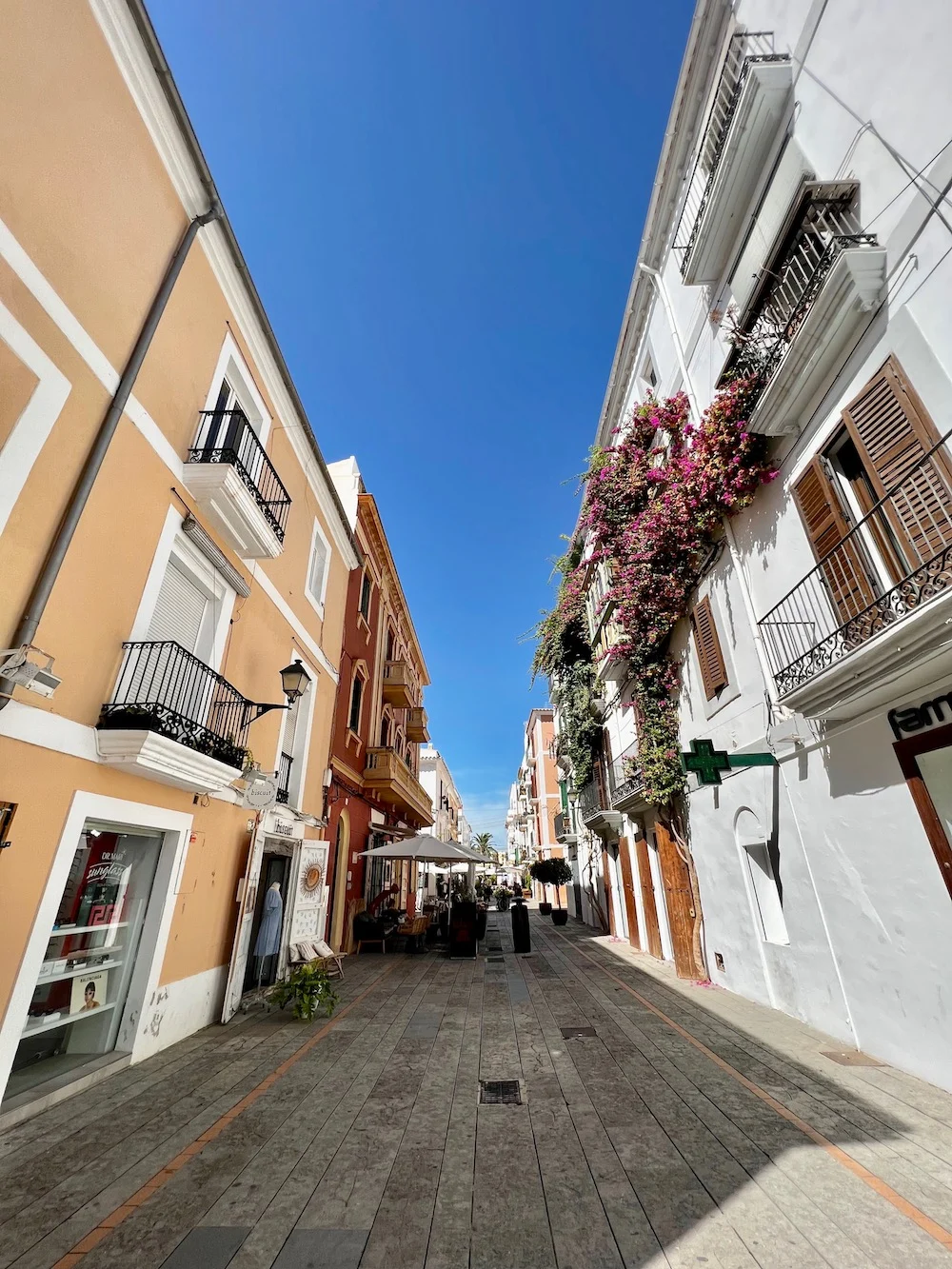 #13. Dine at Restaurant Jardin La Brasa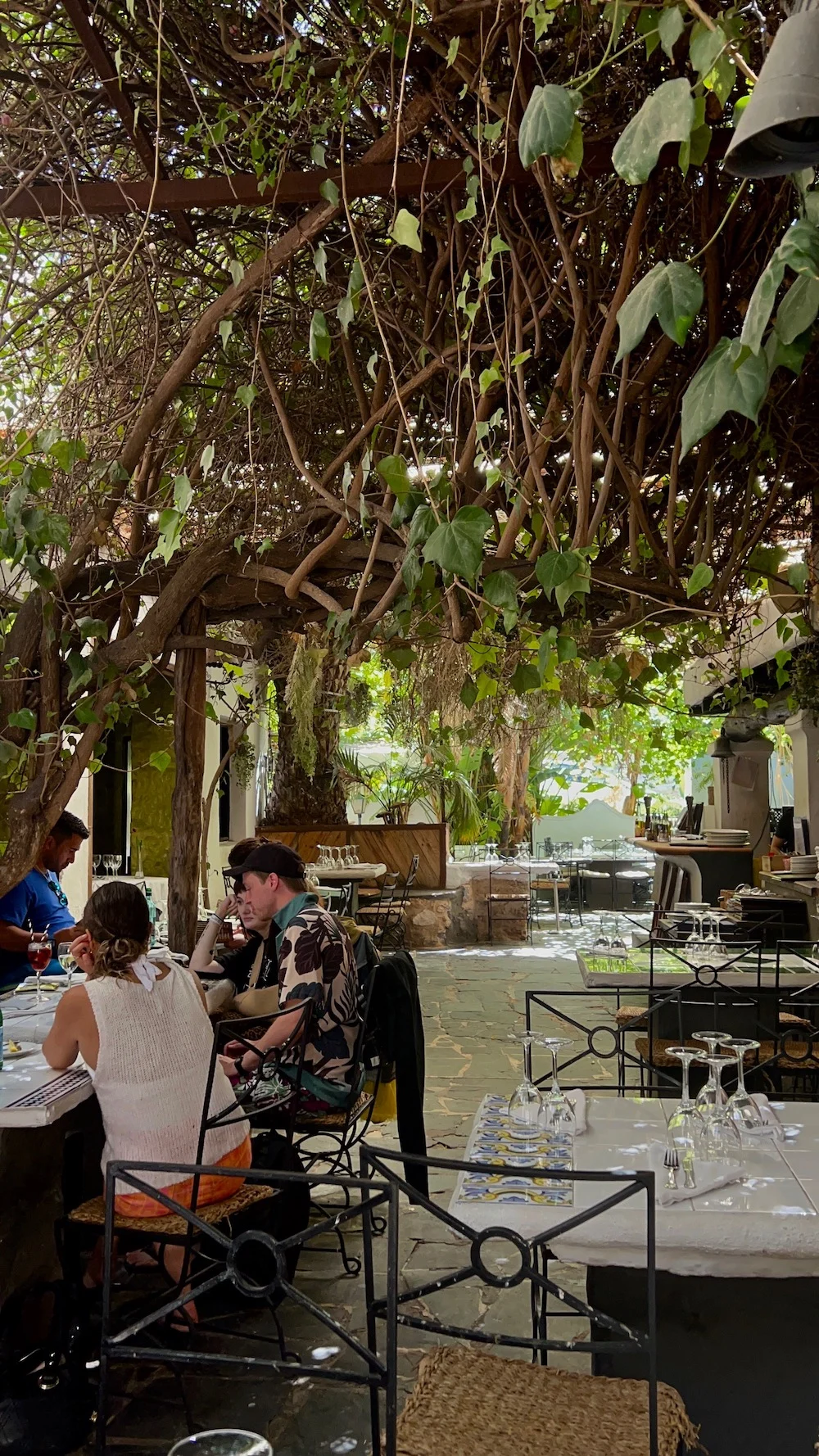 We had our final meal at Restaurant Jardin La Brasa in Ibiza Old Town. It's a stunning restaurant with an indoor/outdoor feel thanks to the canopy of trees in the courtyard.
We shared a paella and it was delicious.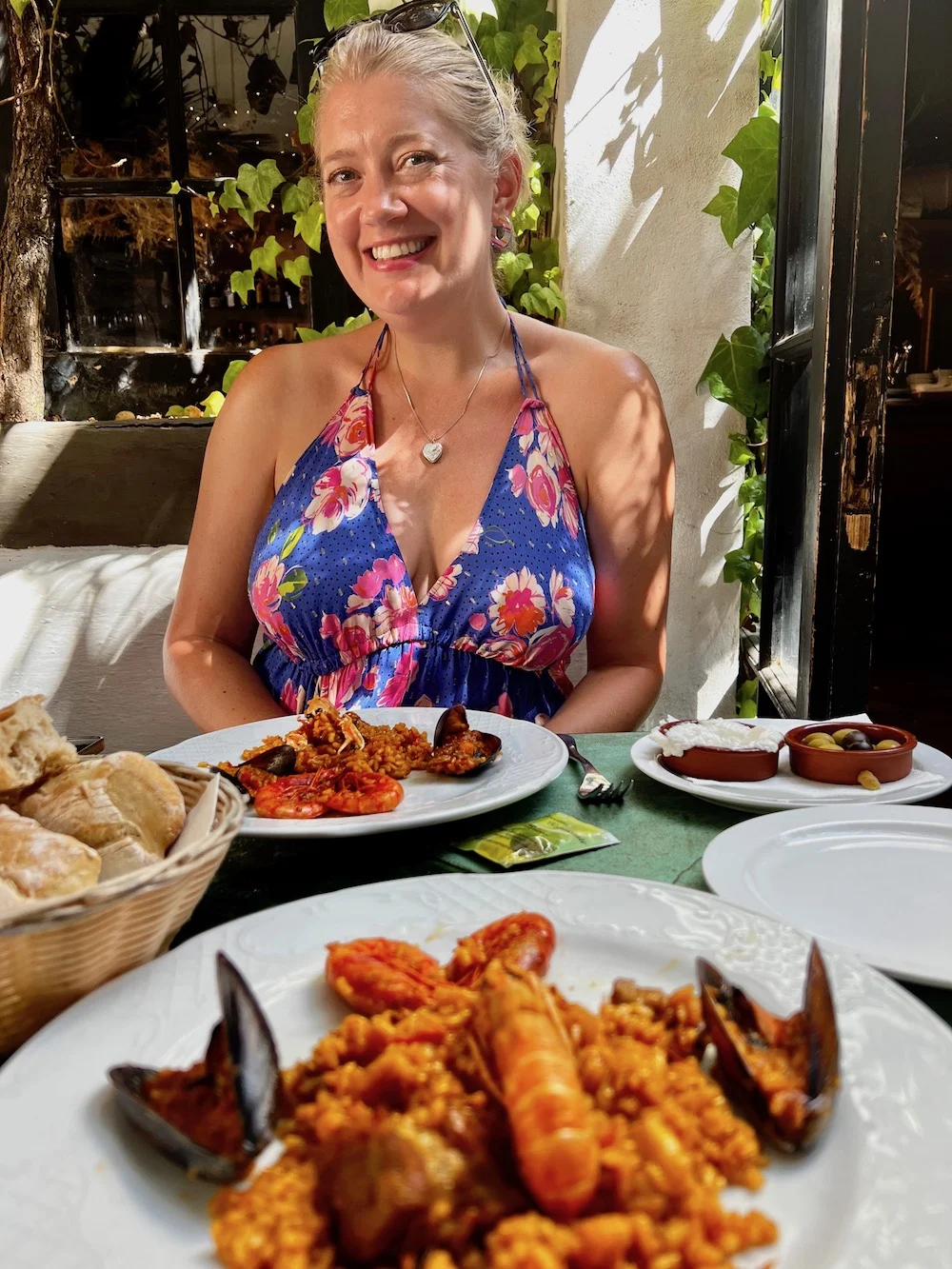 There you have it, a dreamy 4-day itinerary for Ibiza and some great Ibiza things to do!
I've got so many blog posts about Spain so check those out. If you're looking for a cheap and cheerful Spanish family holiday then I highly recommend Salou. Here's my guide to Salou and things to do there!