On Monday I revealed one of my many travel confessions; I'm the most antisocial snowboarder that ever lived. I hate seeing other people on the slopes and will happily hog an entire run if it means I won't knock anyone flying or go flying myself.
If you ever see me snowboarding, stay away because I will knock you over!
I discovered that Boi Valley in Catalonia was a perfect place for antisocial skiers so I wanted to tell you a little more about skiing in this area.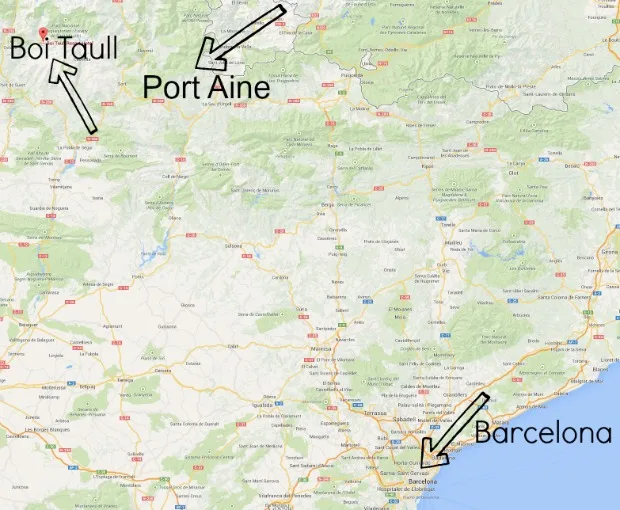 While I was in Catalonia I stayed at two resorts, Boi Taull and Port Ainé. Hopefully my homemade map gives you an idea of where the resorts are in relation to Barcelona.
It's unusual for us Brits to go skiing in Spain. We associate Spain with a summer destination and with long, lazy days spent on the beach but Spain has some fantastic ski resorts. Boi Taüll and Port Ainé both have a high altitude in the Pyrenees so you will find long, snowy seasons with plenty of fresh snow. Very few English speakers visit the area so you'll find that English is rarely spoken. Don't let this put you off though, see it as a great opportunity to brush up on your rusty Spanish and escape from the Brits abroad mentality.
About Boi Taüll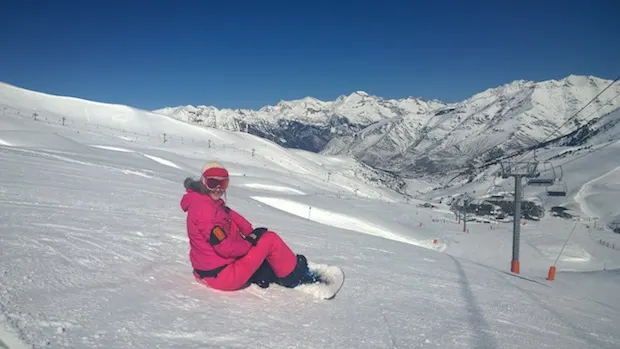 Boi Taüll is in the centre of the Pyrenees and the area has the smallest population density in all of Catalonia (that'll explain those quiet slopes!) The Boi Taüll resort is a short drive from the slopes but regular buses connect the hotels and the lifts.
There are six places to stay in the resort with accommodation ranging from basic bunkhouses to family friendly apartments to more luxurious apartments.
Boi Taüll is best for…
….quiet skiing. The slopes were practically deserted during the week so this is a great place to avoid the crowds and for learners to find their feet.
AND…
… a very long ski season. Because the resort is so high, you can pretty much ski all the way from December until May.
How I got there
To get to Boi Valley I flew into Barcelona from Gatwick with Vueling and then took a four-hour bus transfer. Four hours may seem like a long time but with incredibly beautiful you will wish the drive could be even longer.
I was mesmerized by the view as we travelled through rural farmland and eventually reached the dazzling snow of the Pyrenees.
Where I stayed
I stayed at Aparthotel Augusta, one of the most luxurious resorts in Boi Valley. I had a lovely apartment that sleeps either two or four if you pull out the sofa bed. The highlight is this incredible view and the amazing spa.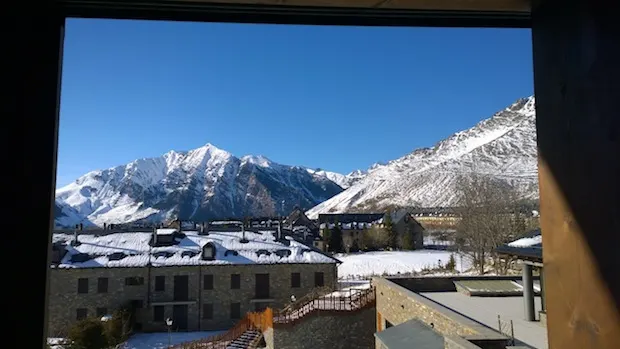 Other things to do in Boi Valley
The pretty little village of Boi Valley is a UNESCO World Heritage Site and I would highly recommend a visit to the Church of St Clement of Tahull. Not only is it beautiful from the outside but you'll also find artwork inside that dates back to Roman times. The majority of it has worn away and the main section has been transferred to a museum in Barcelona but they have an amazing projection that shows what the church would have looked like when it was originally painted.
Imagine you're sat on a chilly bench inside a dimly lit church. That musky, cold smell fills the huge room and a breeze passes over your shoulder and makes you shudder. The room is filled with the sound of chalk scraping against the stone wall in front of you and it echos around the church. Slowly you see the faint outline of a picture being drawn above the alter and you stare at it in amazement until the whole wall is a beautiful and colourful image. In just a few minutes you've been taken back to the 1200's to a time when Romans ruled and this brightly painted church signified their wealth and importance.
Now watch this little snippet and you might get a sense of how amazing it is..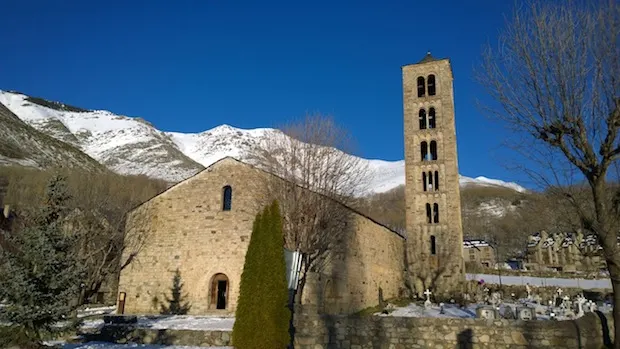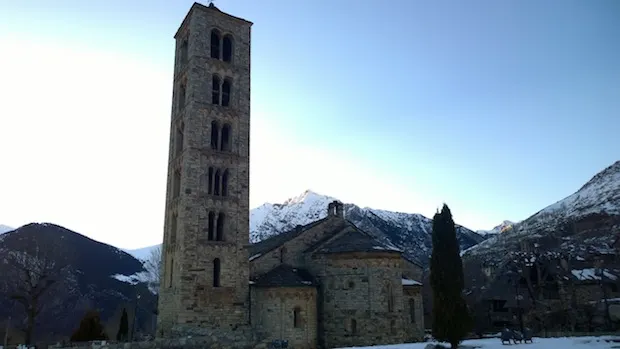 [divider type=""]
Port Ainé
Port Ainé is often considered to have the best snow in the Pyrenees. The majority of the slopes are north facing and this delightful microclimate means there is plenty of snow. While I was there it was also really warm and most people were happy skiing in just a jumper and without their snow jackets. There are 30km of slopes suitable for all levels.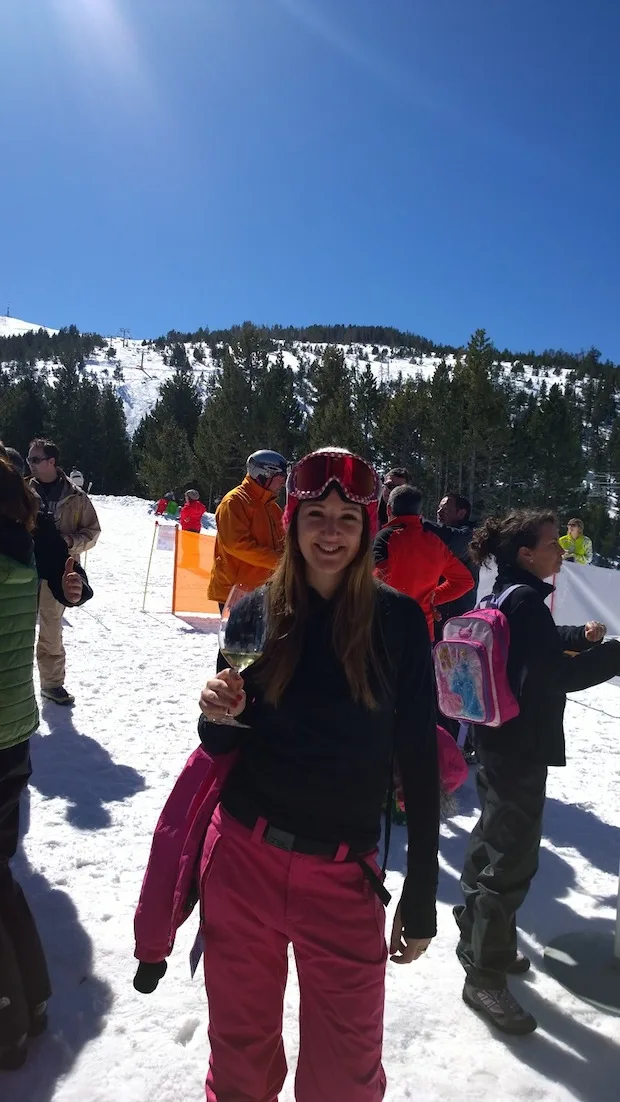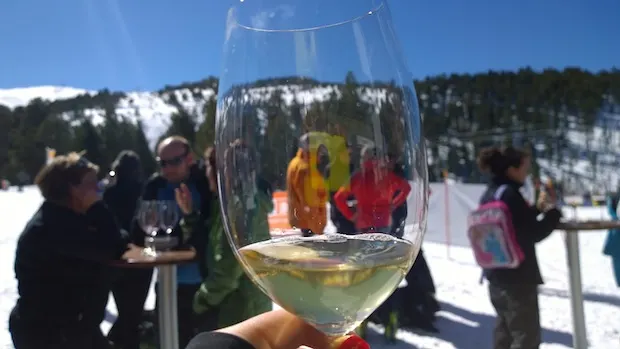 Wine tasting on the slopes
Port Ainé is best for…
…families. There are so many activities for children and plenty of space for families to spread out.
How I got there
Port Ainé is also about 3.5 hours from Barcelona airport and bus transfers are available. The surrounding countryside was equally as stunning as it was on the way to Boi Valley.
Where I stayed
Whilst at Port Ainé I stayed at Hotel Port Ainé 2000. This hotel has the most amazing location because it's literally on the slope. You'll find the lifts directly outside the doors and all rooms have jaw-dropping views.
The hotel is basic but clean and comfortable with large communal areas so it would be perfect for a group or family travel.
Young children are particularly well catered for at Port Ainé with a kids club and plenty of activities like snow tubes, a climbing wall and toboggans.
Other things to do in Port Ainé
Whilst in Port Ainé I visited a brilliant cheese factory called Tros de Sort. We had the chance to learn about the local production of cheese and hear how it's made from beginning to end. And, of course, there was the all-important cheese tasting at the end.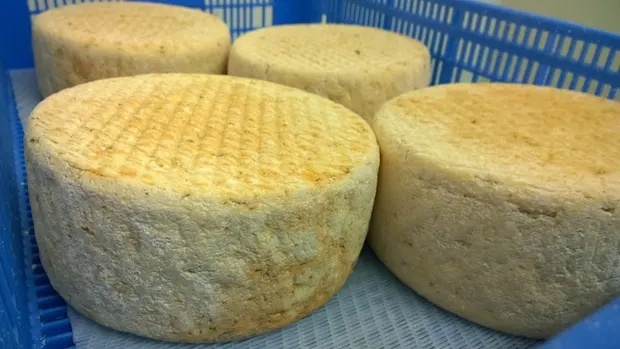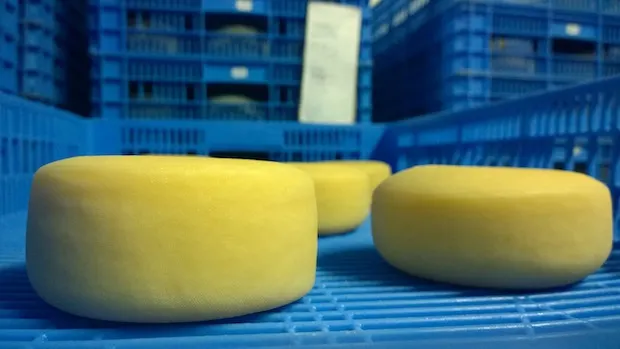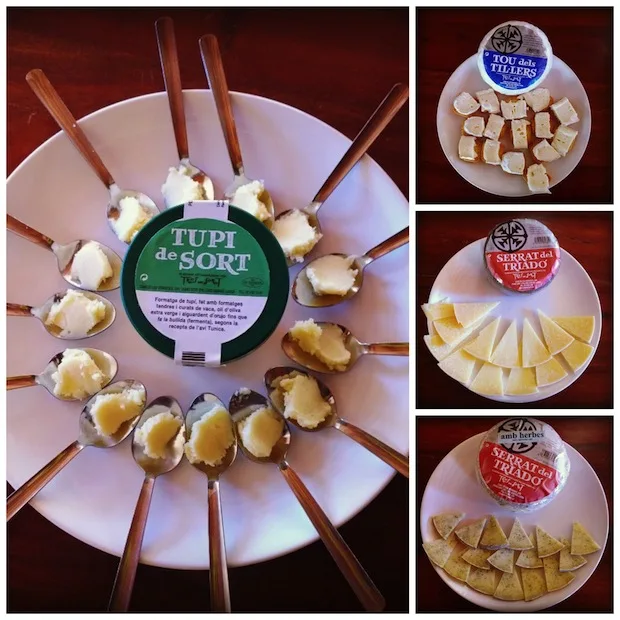 The three cheeses on the right were beyond delicious and I could have happily scoffed an entire round of cheese to myself. The cheese on the left was beyond disgusting.
It was interesting to hear that this was the most popular cheese they sold and see that the Spanish taste is very different to us Brits. Fromage de Tupi (left) is their most popular and most of us in the group found it kind of gross. It's a different type of cheese because it's made using off-cuts of old cheeses. All the off-cuts are placed in a ceramic jar along with some oil and liquor and they're left to ferment until they form a thick, moist paste. It was coarse and smelled like feet and I managed little more than a lick.
So there you have it, two great places to ski in Spain. Boi Taüll is perfect if you're looking for solitude on the slopes and quiet runs. Port Ainé is great for families. And cheese. And wine.