Over the past two weeks I've been sharing tips on travel blogging and explaining why I think everyone should have a travel blog. I've now received a few emails asking how you actually set up a blog so I've decided to go back to basics and share the first few technical steps on how to start a blog.
I want to point out that I'm no expert when it comes to techy things like setting up a blog so if I can do it, anyone can! I wanted to write this from a non-techy point of view to show that it doesn't need to be too complicated and you can simplify the whole process.
If you aren't naturally techy then setting up a blog can be a tricky process. You can pay to have someone create your blog for you but I'd recommend doing it yourself. Not only will you save money but you'll have a great sense of achievement when you realise you can do it. (Honestly, you will be able to!) And you'll also know how to fix any problems in the future without having to pay your designer to do it for you every time.
Take it step by step as you set up your blog and don't try to do it all at once.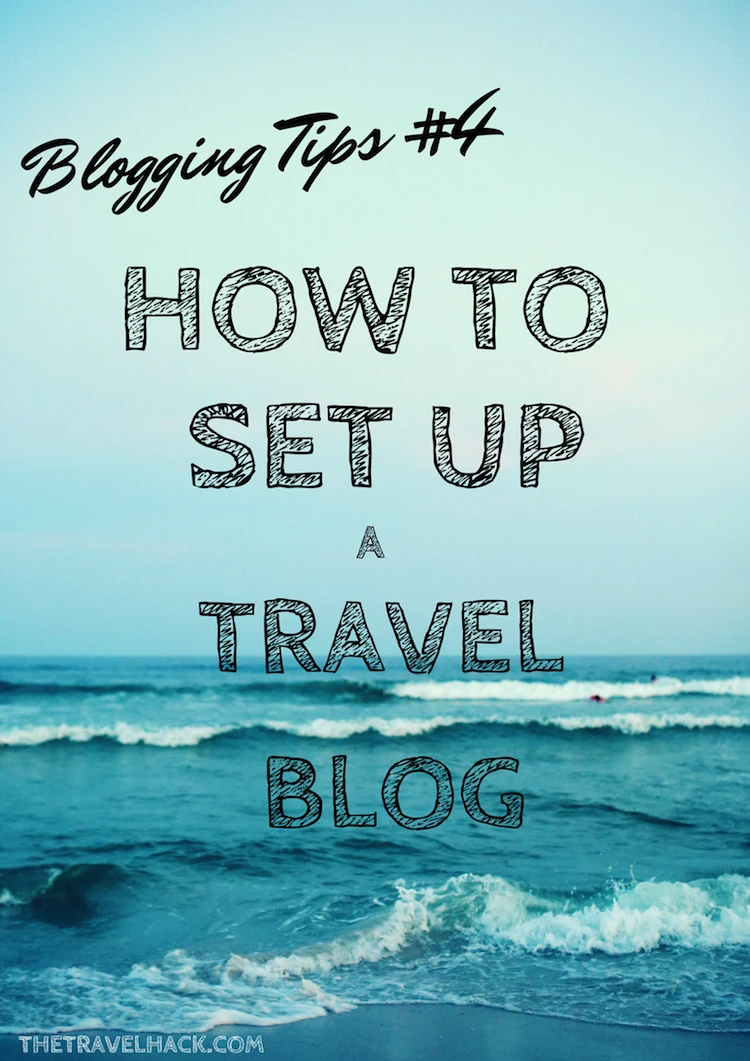 1. Choose a name
Your blog name is really important but I also think it's important to not dwell on it for too long. Some people never start a blog because they can't pick a name. You need something memorable but interesting and unique without being obscure.
Personally, I think it's better to go for a simple name rather than something clever. Simple names are memorable and great if you have a global audience. If you try and make it too clever then there's a chance it will be lost in translation.
Here are some great tips on How to choose a domain name.
Once you've chosen a name make sure it's available on social media channels too. I wanted to call my blog TravelHack.com but this was already taken on Twitter so I put 'The' in front of it so that my website and social media channels were aligned. You'll also need to keep the name short enough to use it as your Twitter handle.
You can use 123-reg.co.uk to purchase your chosen domain name. I bought my domain name through my host (more on hosting below). It was slightly more expensive but it meant I didn't need to faff with transferring the domain. Transferring a domain is actually really easy but for the sake of £1.50 it's easier to buy it through your host.
2. What platform?
Most people begin blogging on sites like Blogger, tumblr or hosted WordPress. I started on Blogger and it was really simple. These websites are easy and free to use and they're a great introduction for your first few months/year of blogging.
These platforms may be simple to use but they're also restrictive. It's difficult to ad adverts and custom designs and when bloggers want more flexibility and control over their website they move over to self-hosted WordPress.
If you aren't sure what I'm talking about take a look at this: WordPress.org Vs WordPress.com
Basically, when you use WordPress.org you have full control over your website but you do need to pay hosting fees. When you use WordPress.com, your website isn't entirely your own and there are limitations to what you can do. I use WordPress.com and you can see that I have my own theme and have the option to add advertising if I want.
Moving over from hosted to self-hosted is a bit of a faff so you may decide to go hosted from the very beginning to make things easier.
I'd recommend using self-hosted WordPress.com from the beginning, especially if you know you want a professional looking site. If you think your blog will be a hobby for your friends and family to read then WordPress.com will be enough.
3. Which host?
There are lots of different hosts out there to choose from. Bluehost is a great one as it's affordable and reliable. I started with Hostgator and was pleased with them for years. There's a list of popular web host for beginners here.
4. Choosing a theme
A blog theme is basically the design of your site. You can pay a designer hundreds and hundreds of pounds to design you a unique theme or you could pay about $25 for a pre-designed theme.
There are thousands of themes to choose from but look out for ones that are easy to navigate and customize.
Take a look at ThemeForest for loads of options.
Another little trick I like to do is use a website call Whatwpthemeisthat.com. Not the catchiest domain name but you can put any website into the search box and if it's on WordPress it can tell you what theme they use.
If you come across a website that you love the design of, check out what theme it is. I wouldn't recommend copying websites in the same niche as you or competitor sites but I don't see any harm if they're unlikely to discover your website. I like to use fashion blogs for inspiration as they usually have great designs.
5. Logo and banner design
If you'd like a professional looking logo and you're unable to do it yourself then you'll want to get one designed.
My favourite place to find designers is Etsy, a site that sells handmade products. You can find hundreds of designers on here and can either get a unique logo or buy a pre-made one for as little as $10. You could also ask a designer to meet you in the middle and personalize a pre-made logo.
6. Plugins
Plugins are all the little extras you need for your blog. You begin with a base package but you need to add plugins to help it function properly.
Some plugins I recommend using are:
All in One SEO Pack – This plugin helps you get your SEO right
BackWpup – Backup your site in case you're hacked
Captcha – Stops spam comments
CommentLuv – Give people a link back to their blog when they leave a comment
Digg Digg – Social sharing buttons
About Me 3000 – The first thing people want to know when they land on a blog is who is writing it. Provide a little 'About me' box on the homepage so they can find this quickly and easily.
7. Make it easy to follow
If you want readers to keep coming back to your blog then add follow buttons in an easy to find place (don't hide them at the bottom!)
You'll need buttons for all your social channels and an email subscription box on your homepage.
You don't need to write a weekly or monthly email, you can use something like Feedburner which automatically emails people when you publish a new post.
8. Set up Google Analytics
There are lots of ways to track the readers and performance of your blog but Google Analytics is the best. You'll need to put a tracking code in your website and link your site to your Google account. You'll then be able to see how many views you receive, what your audience are reading, where they're coming from, how long they stay for and which pages make them leave.
Analysing your traffic will make you a better blogger because you'll be able to understand what your audience enjoy reading.
9. Editorial calendar
One of the key things for growing your blog is to blog regularly. The more quality content you post the more traffic you'll get so post as often as you can. It's best to keep an editorial calendar to plan your posts in advance. This helps you get organized and start thinking about what you'll be writing.
10. Follow other blogs
When you're a blogger you're part of a community so make sure you network with other bloggers. There are lots of blogger groups on Facebook and networking events you can go to. Chat to other bloggers as much as you can, share their posts and use them for inspiration.
Take a look at my Top Travel Bloggers to Follow in 2014.
Check out my other posts on blogging and if you have any questions, leave them in the comments below.