Today I'm sharing my Canvas holiday review, an honest review from our family holiday in France staying in a Canvas Holiday mobile home.
Canvas Holidays offer camping holidays in Italy, Spain, France, Croatia, Holland, Germany, Switzerland and Portugal. Their campsites over camping pitches, erected tents, mobile homes, bungalows, cottages and lodges.
If you're looking for an affordable family holidays in the sun then Canvas Holidays is a great option. If you're happy to stay in a mobile home then it's much better value than a hotel as you'll have more space and the swimming pools and facilities are incredible.
But there is an emphasis on 'budget' because the mobile homes are very basic and they're not particularly comfortable. Think of it as a step-up from camping rather than a step down from a hotel.
If you want endless activities for the kids without breaking the bank so this could be the budget family holiday you're after. If you want something luxurious and comfortable then you're best to avoid it!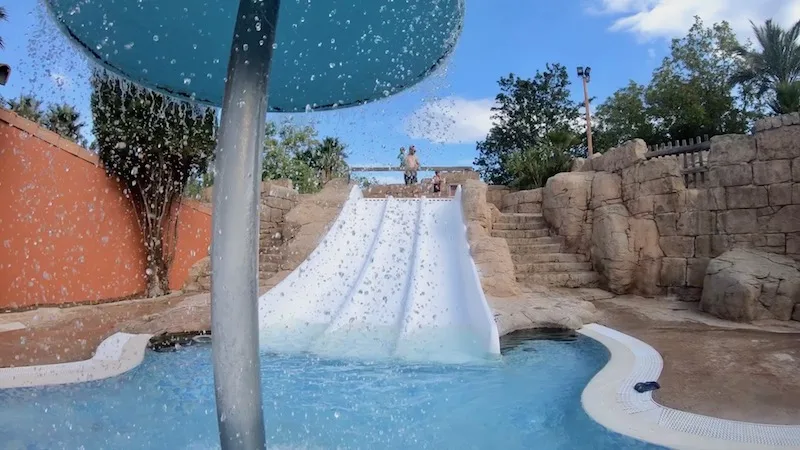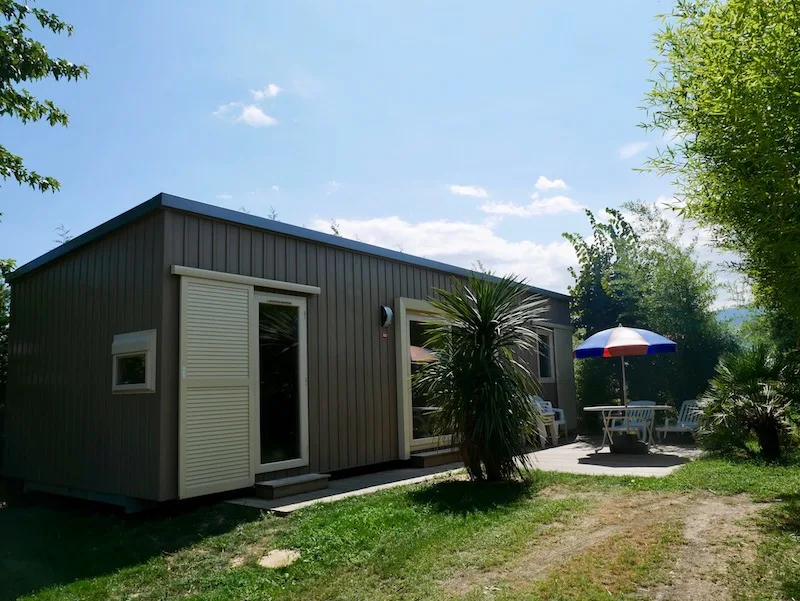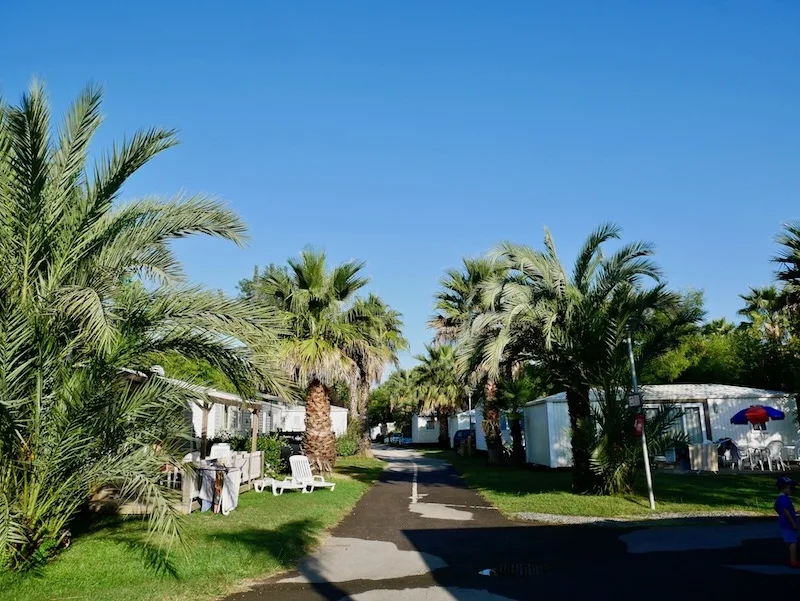 I've just returned from a one-week family holiday to the south of France with Canvas Holidays.
We stayed at a campsite called Camping La Sirene, in Argelès sur Mer, in one of their Select Plus Mobile homes. We chose this campsite thanks to all the activities available and the incredible pool complex – and it really was the swimming pools that made our holiday.
Remember when you were a kid and you went on holiday and spent every waking moment in the swimming pool? Yes, that was us! Sam and I are still big kids and our two boys, George (3) and Joseph (nearly 2) love being in the pool. I'm happy to say that the pool complex with all the slides and surrounding gardens didn't disappoint. There were so many pools and slides I'm not even sure how many there were!
This is our honest Canvas Holidays review. If you have any questions then please feel free to leave them in the comments below and I'll get straight back to you!
Here's my Canvas Holidays review video.
My trip with Canvas Holidays was complimentary in return for an honest review.
Getting to Camping La Sirene
Arriving at Camping La Sirene couldn't have been easier. We had a really early flight from Manchester to Girona. We flew out with Jet2 and returned with Thomas Cook. Both flights were great – particularly the Thomas Cook flight as we had the James Martin inflight meals and they were delicious. I also like it that Thomas Cook automatically seat families together. We didn't originally have seats together with Jet2 and this was a bit stressful!
When we arrived at Girona we picked up a hire car which we'd pre-booked. If you can, I definitely recommend having a car during a Canvas Holiday. As it's self catering, a car makes it much easier to get to the shops and generally get out and about. If you can't get a car, don't worry about it as you could organise a taxi transfer and use the onsite supermarket.
Travel Hack Tip: If you've booked a hire car, I recommend getting the driver to rush off the plane and through security so they can be the first in the queue to pick up the car. It takes AGES to go through all the paperwork to get a hire car so if 10 people on your flight are all using the same hire company, you could be waiting a long time.
Observant readers will realise Girona is in Spain and our holiday was in France but this was the nearest airport and the drive from Girona Airport to Camping La Sirene took about an hour. There were a couple of toll roads (payable with contactless debit card) and it was a really simple drive.
We arrived at Camping La Sirene at about 1.30pm and we were told we could check in at 2pm so we had time to go to the onsite supermarket and bakery to buy some lunch before checking in.
Our mobile home with Camping La Sirene
Our mobile home was pretty basic. It had almost everything we needed and it was an added bonus there were three bedrooms, making it much better than squeezing into a hotel room together. We've previously had terrible holidays where we all squeezed into one hotel room (and no one got any sleep!) so we were all pleased to have some space.
The mobile home was basic but we found we didn't spend much time in it because it was so lovely outside. We cooked our dinners on the BBQ and sat outside all evening and we were out and about or by the pool all day.
There was one main bathroom and one en-suite for the master bedroom. All bedrooms had plenty of storage for clothes and there was space under the beds for suitcases and bulky items.
The kitchen was fine, although I found it missing some useful cooking equipment. There were no sharp knives or a cheese grater for example. There also weren't any tea towels, dish cloths or washing up liquid so we had to buy these from the supermarket.
The living area was also a bit basic with a couch that wasn't really comfortable enough to lounge on and a small dining table, but it had to be pushed into the corner to fit in the space.
The uncomfortable interior meant that we really just didn't spend any time indoors and it just wasn't very nice.
But the outside area was lovely and made up for the basic interior living space. It definitely helped that we had glorious sunshine all week and it was very warm in the evenings too. There was air-con inside and, while the mobile home was quite basic, it was much better than a hotel room.
I know some families are all fine sharing a hotel room but we've never managed so well. We all end up waking each other up so no one gets any sleep and we're all tired and grumpy by the end of the holiday.
Canvas Holidays Reviews – Camping La Sirene campsite
Our campsite, Camping La Sirene, was brilliant. As I said in my intro, it was the swimming pools that really made it so amazing. The was one giant pool complex with about 6 pools and then across the road there's another smaller complex. The big one was great because there is a pool suitable for everyone.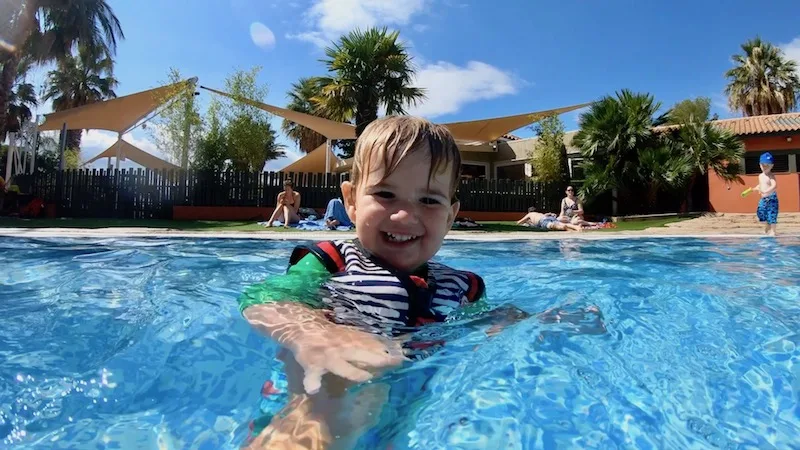 Our boys are still young so we often find pool complexes like this are a bit too busy and hectic for them – but it didn't feel like that at all at Camping La Sirene. Yes, it was very busy but it wasn't hectic and the variety of pools meant you could choose one that's right for you – whether you're splashing about with a tiny baby, getting a toddler confident in the water, teaching a little one to swim or you've got big kids who just want to go wild. There's even one that's just for adults and under 3's so there's somewhere for mum and dad to go and relax too. We also appreciated that there's a nice bar next to the bigger pool and there's a huge sandpit within the bar so our boys were happy!
There are great play facilities for the kids within the campsites and there are kids clubs too. We didn't actually use the kid's clubs as there wasn't much available for Joseph who is under two. We kept meaning to go to the toddler disco but kept missing it.
On the campsite there is a bakery, a small supermarket and a couple of bar/restaurants.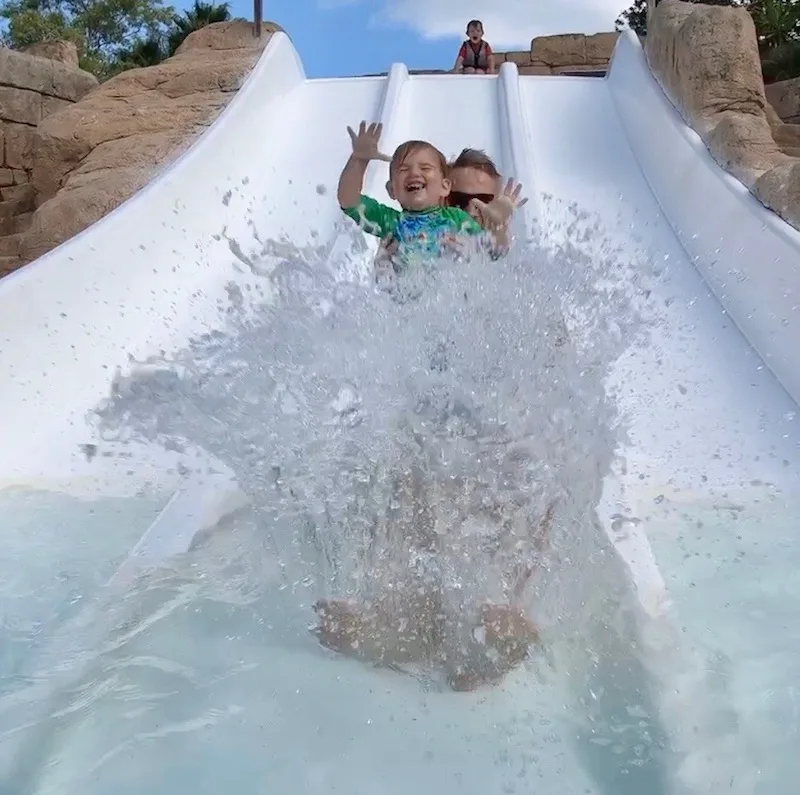 Around Camping La Sirene
We spent most of our time around the campsite but we did have a couple of little days out.
Collioure
Our favourite was to Collioure, a beautiful little town that is the epitome of French charm with hilly, cobbled streets, quaint and colourful houses and bright boats bobbing in the water. The town is dominated by a medieval castle and its protective walls which give Collioure extra charm and a touch of excitement for two little boys!
This is the perfect place to escape the family fun at the campsite and experience a bit of sophistication. But not for too long because the kids will undoubtedly be whining to go back to the resort within an hour! Go for a fancy tourist lunch by the sea, enjoy a stroll through the castle, meander through the streets and browse the shops and then finish with an ice cream on the beach.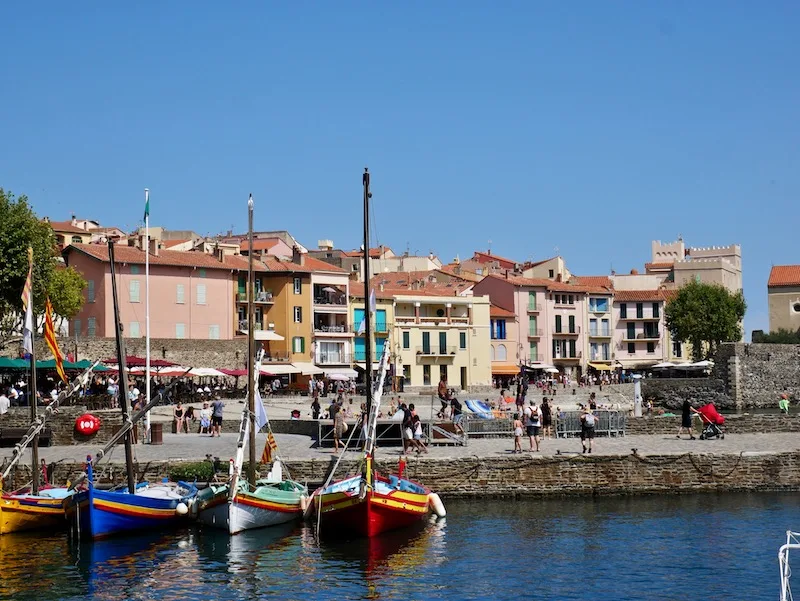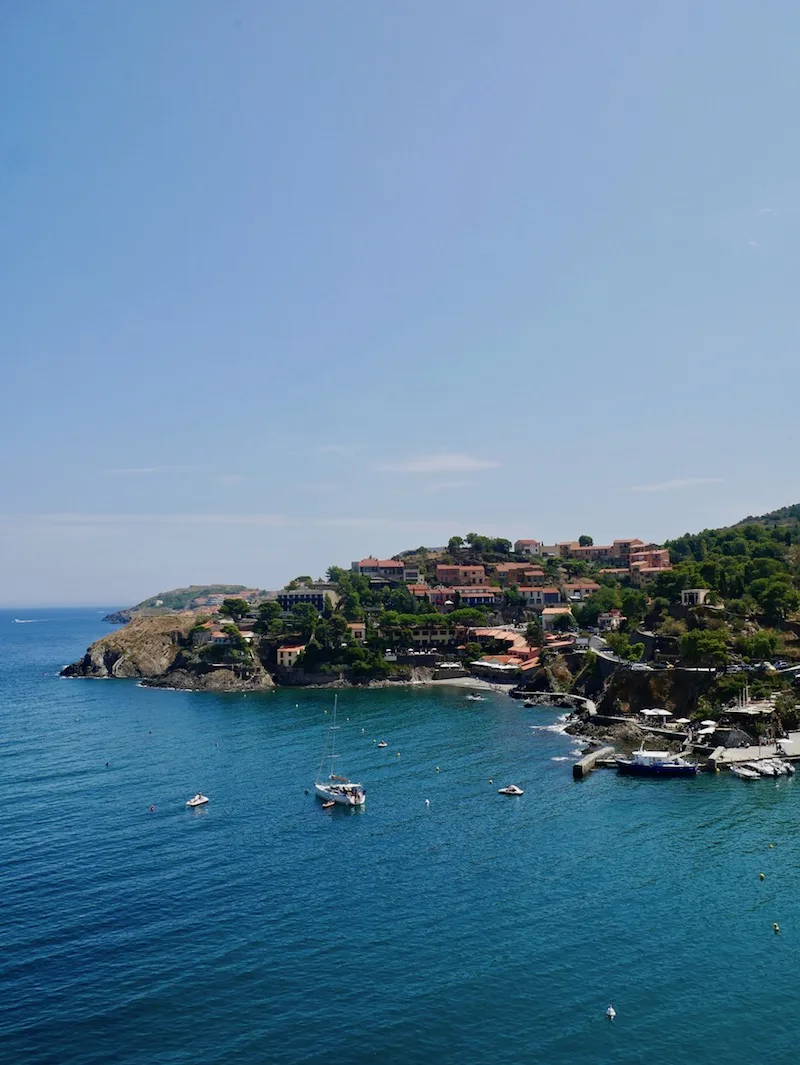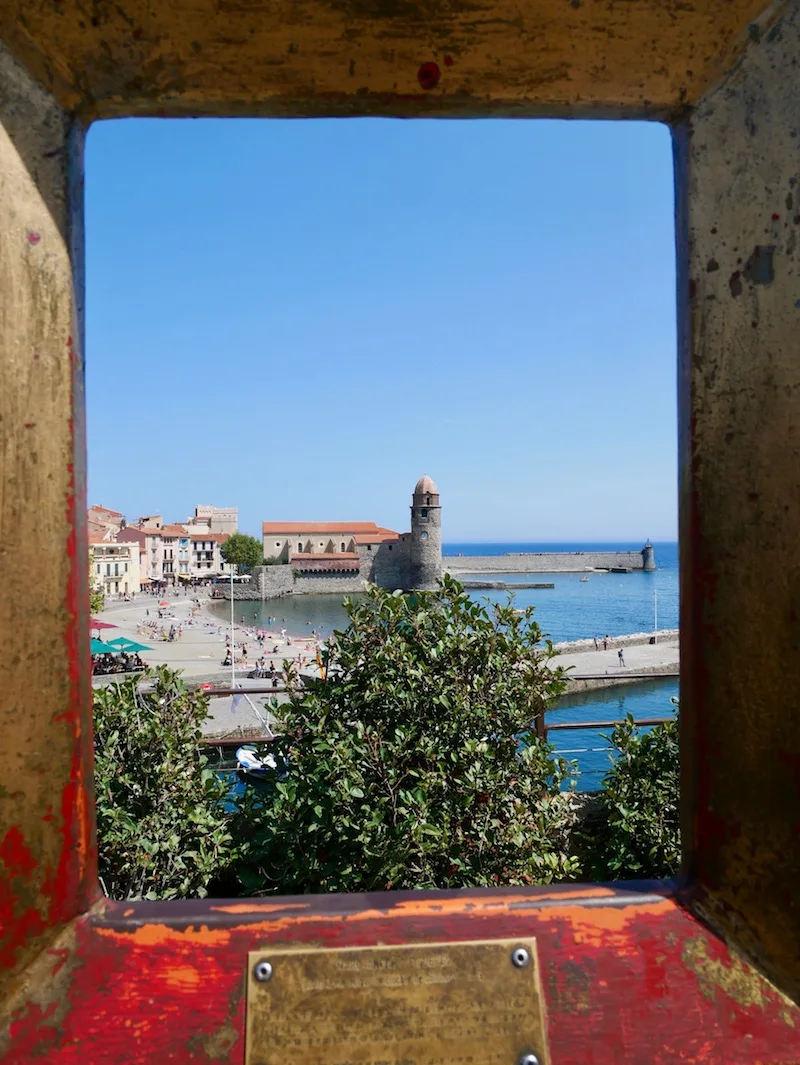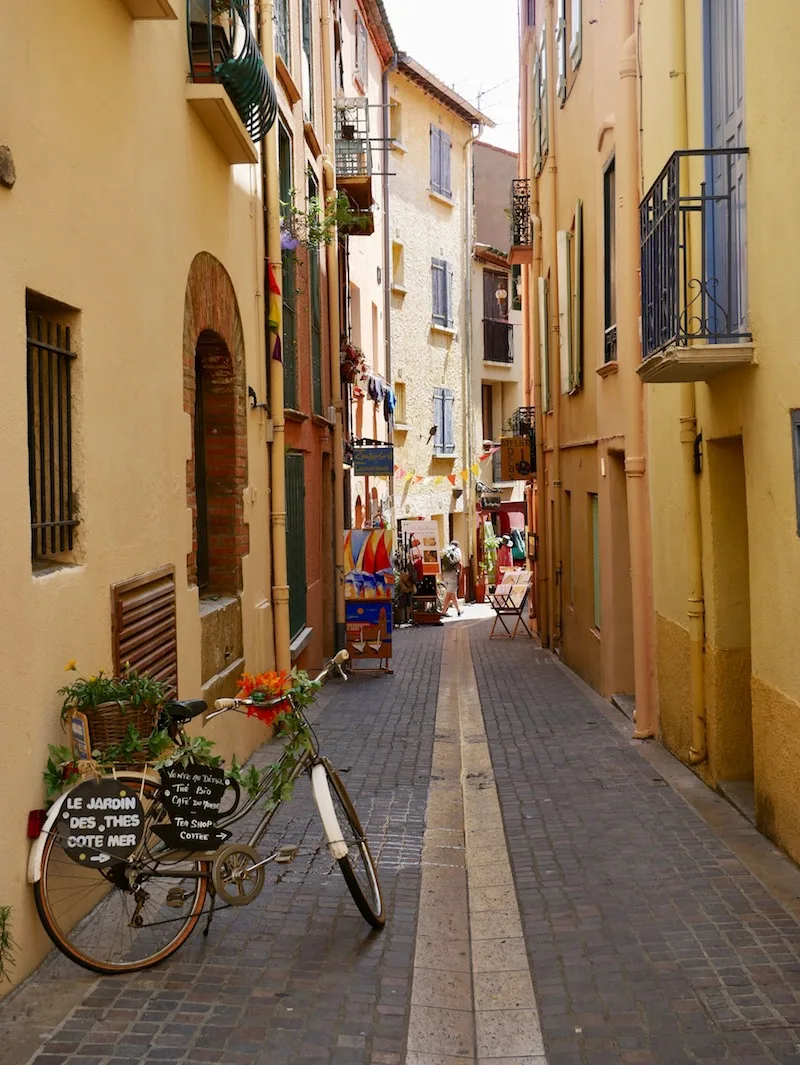 Argeles sur Mer
There's a little train from the campsites to the nearby town of Argeles sur Mer. The beach is nice but be aware there isn't any shade. The town was basically a rundown tourist town. There were lots of arcades, lots of casual restaurants and lots of ice cream shops. In all honestly, Sam and I weren't impressed but the boys loved it (much more than they loved Collioure!) They loved riding the train there, playing on the arcades and going to a cheap restaurant for chicken nuggets and chips!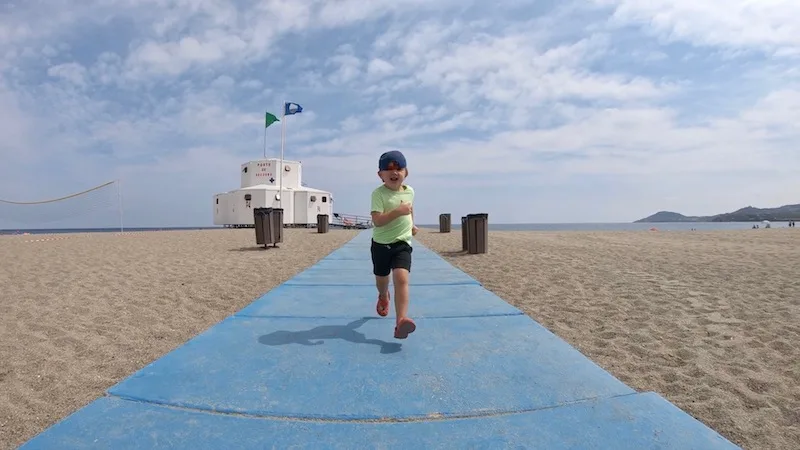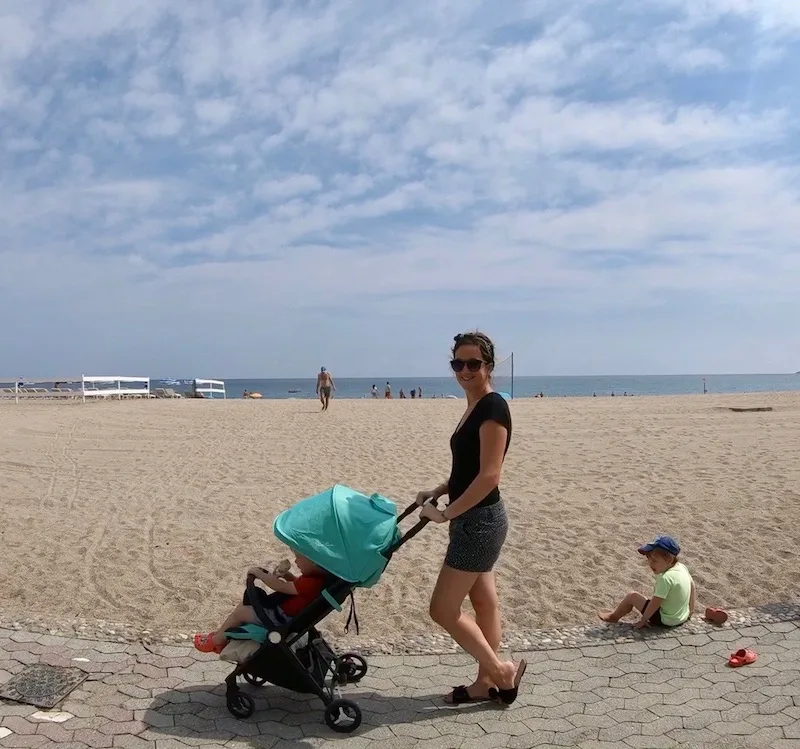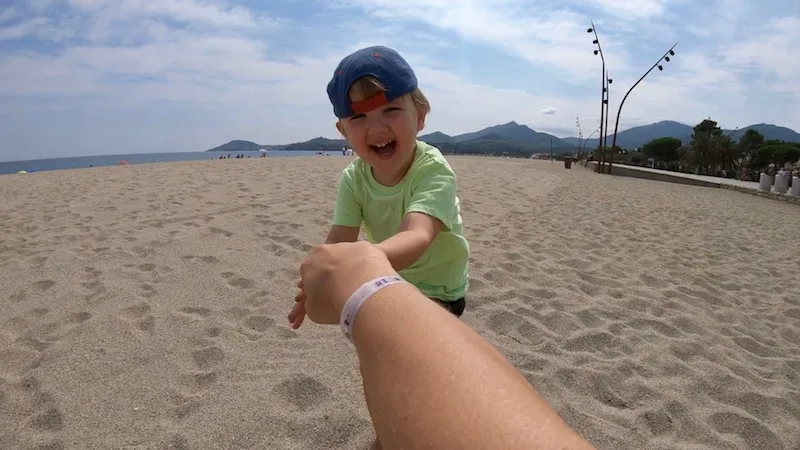 Canvas Holidays Review: My overall thoughts
If you can get a cheap, off peak deal with Canvas Holidays (many of which you'll spot on the homepage of their website) then I highly recommend them. I can't think of a cheaper way to have a family holiday in the sun with so many activities and entertainment options for the kids.
But just remember that it is basic. There is nothing luxurious about the mobile homes. The main draw is the campsite with the swimming pools and the activities.
At the minute, I can see a one week stay in a 4-person mobile home at Domain les Ormes (a campsite we stayed at a few years ago and thought it was brilliant) for £245. If you also manage to get cheap flights then you can book your flights and accommodation for under £1,000. You don't need a lot of spending money because so many activities are included, so you could have a holiday for a family of 4 for about £1,500. If you decide to drive your own car over then it's probably even less.
Staying in a mobile home is ideal for families who like to have their own space and privacy and like to make their own meals. We are definitely one of these families!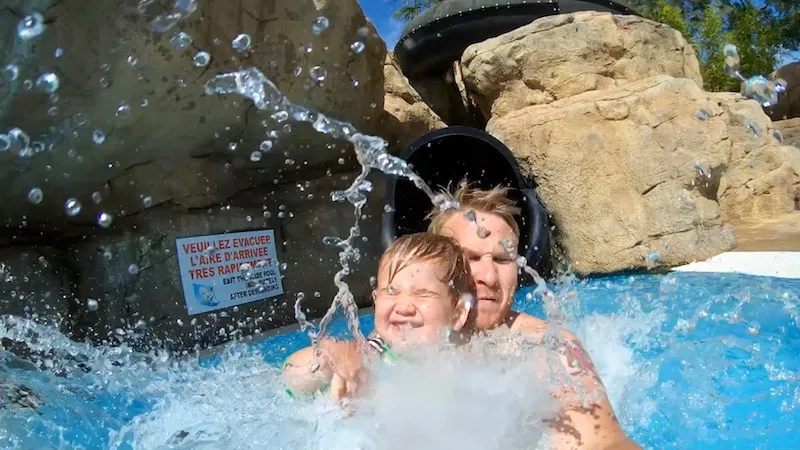 I was surprised how much of a difference the incredible pool complex made to our holiday. George is 3.5 now and this is the first holiday where he's been totally confident on water slides and swimming and we couldn't get him out of the water. We spent all day in the pools and by dinner time we had two very tired little boys!
During our stay at Camping La Sirene there was a family opposite us and it was their 19th year staying at the site with Canvas Holidays! They'd loved their holidays there and visited for two weeks every single summer and, to me, this says it all. If you love it, you really love it!
Who is Canvas Holidays best for?
I think Canvas Holidays are great for families who want a budget-friendly holiday in the sun. It's for families who are happy to have comfortable but basic accommodation and would like to prepare their own meals.
Update for 2023: We now have 3 children and I'm desperate to visit Canvas Holidays again. I think it would be even better for our family now that our older two children would love to use the kid's clubs and evening entertainment and they'd love the swimming pools even more.
As a family of 5, this would also be a much more affordable holiday option for us. Many hotels require us to book two hotel rooms so staying in a 3-bedroom caravan (for less than a hotel room!) would be ideal.
If you have any questions about staying with Canvas Holidays then please do leave them in the comments below.