I've been using the Izmi baby carrier for a few months now. Despite having a couple of baby carriers, the Izmi carrier has become my go-to carrier thanks to the small size, soft structure and comfort for both me and Joseph.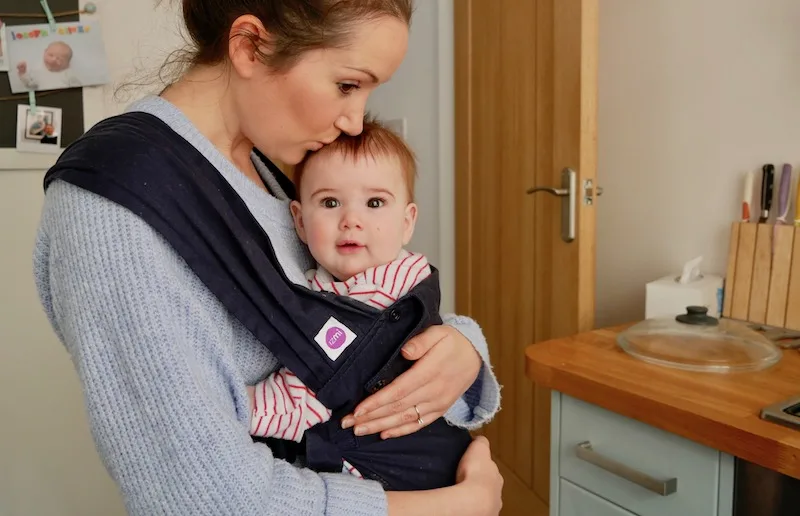 It's soft, comfortable and supportive and we both love using it. Up until recently, Joseph fell asleep pretty much as soon as he was tucked up in the carrier. He's now six months old and doesn't fall asleep at the drop of a hat but he still loves being in the carrier.
You can read more about the specs of the Izmi baby carrier here and I thought I'd give you the lowdown on why I love it.
It's small and neatly packs away into a little bag
When you're not wearing the Izmi baby carrier it tucks away neatly into the little bag it comes with. I cannot tell you how useful for this is! It just makes it so much easier to take it out and about with you, either in your bag, the shopping basket of your pushchair or just slung over your shoulder.
Baby carriers are awesome when you're wearing them but when you take them off they always seem to be in the way – particularly the structured carriers.
As I travel a lot I like to be able to take the carrier with me so it works really well for my lifestyle, but it also works for everyday situations.
We also have a two year old, George, who doesn't like being in the pushchair but can't walk very far. We rarely take a double pushchair because it's a bulky nuisance, so when George gets tired I pop him in the pushchair and put Joseph in the carrier. I don't feel like the Izmi carrier adds any extra bulk so is just really easy to take out and about.
It's easy to use
Have you ever tried to use a baby carrier that feels like it's a puzzle to actually get it on? And then you need to figure out how to get the baby inside! You shouldn't need a degree to use a baby carrier!
The Izmi baby carrier is really easy to put on. You can do it on your own and won't need any help from someone with an extra pair of hands. You might need to do it in front of the mirror the first few times you wear it but I can pop it on and off really easily now. I can even get Joseph out while he's still asleep and get him into bed! #MumSkills 😉
It's structured
I prefer baby carriers with straps and buckles. You can get ones that are like an enormous piece of material that you wrap around and around and around. I have lots of friends who like this style but I prefer the simplicity of a structured carrier.
The good thing about the Izmi carrier is that it has the structure and also the nice soft material you'd normally associate with a wrap. The material isn't too thick so you feel nice and close to your baby as you give them a cuddle.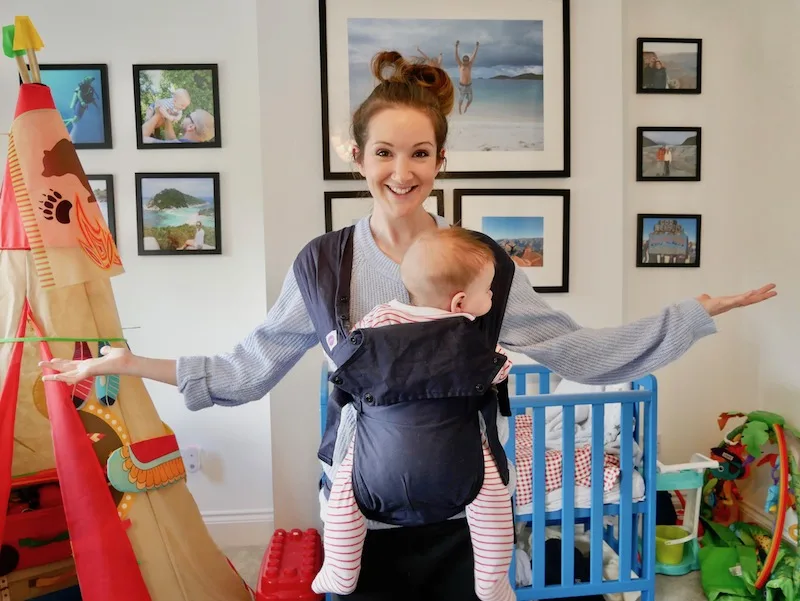 No hands! The best thing about using a baby carrier!
It has an attached head support
Some of the baby carriers I've tried in the past have had a detachable head support. In theory it's a great idea but in reality I actually just lost the head support in a matter of days.
With the Izmi baby carrier the head support is attached and just poppers into place when you need it. And the best thing is that the head support isn't in the way when you're not using it.
I used it all the time when Joseph was little and wobbly headed but now I just put it up when he's asleep. When he's awake he prefers it to be down so he can look out.
Multiple carry positions
You can wear this on your front, your side or your back. I only ever wear it on my front and usually have Joseph facing me but as he gets older he'll probably want to face out.
It's unisex
I know all baby carriers are unisex but some just feel more feminine than others. Sam has used the wrap style carriers before but definitely prefers the structured carriers as they're 'more masculine' (apparently!)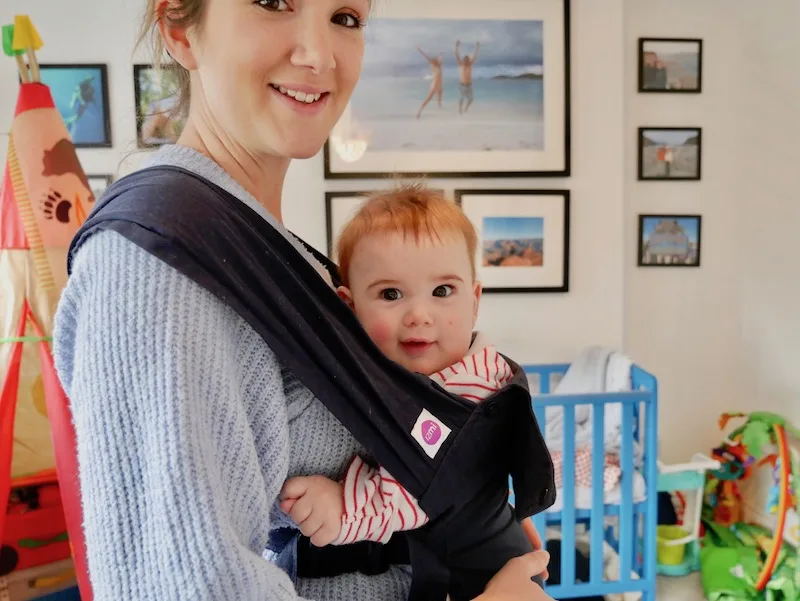 It can be used from birth to 15kg
Now there's no way I'd be carrying a 15kg child but it's good to know you can!
You can adjust the seat to make it wider or smaller
You can reposition the body of the carrier to make the seat wider or smaller to ensure your babies legs and bottom are perfectly supported. They should be supported from knee to knee so you'll need to adjust the carrier as they get bigger.
This also helps to evenly distribute your baby's weight, making them easier to carry and it makes it more comfortable for them.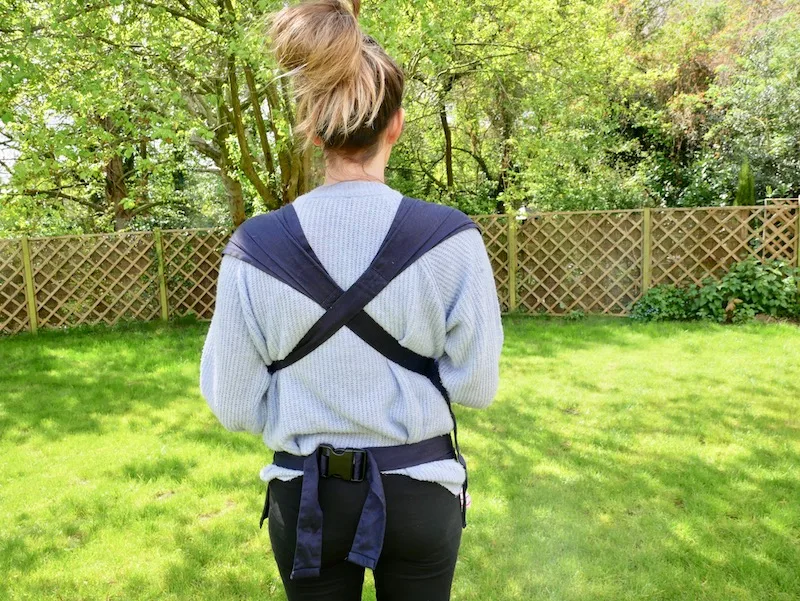 The wide shoulders
When you put the Izmi baby carrier on, make sure the shoulder straps are spread wide across your whole shoulder and don't bunch together. When they're wide they will distribute the weight of your child across your whole shoulder and it's much comfier. Thanks to these shoulder straps it's really easy to carry a baby and doesn't hurt your shoulders or back.
The Izmi baby carrier is available from Amazon for £75.