If you've never heard of Ladakh in India before then don't worry, you're not alone. But if you're the kind of traveller who likes epic adventures and immersing yourself in stunning landscapes and outdoorsy activities then this is a place you'll want to know more about. Trust me, Ladakh looks incredible and this little known gem will be firmly on your bucket list by the time you finish reading this post!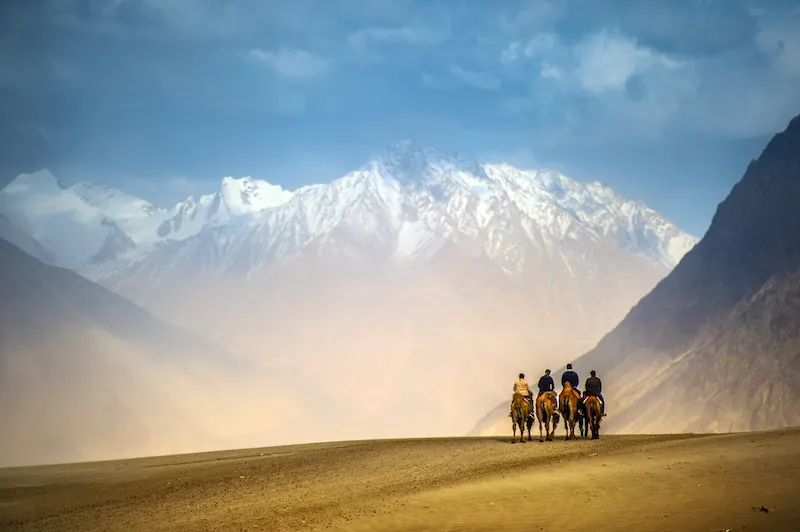 A wild, rugged, yet beautiful region in the state of Jammu and Kashmir in North India, Ladakh is a destination of immense scenic grandeur and strong religious identity. Both of these characteristics play a key role in a traveller's experience of Ladakh, with some days allocated to outdoor adventure and exploring landscapes, while others will be spent visiting awe-inspiring monasteries and colourful temples.
Ladakh holds many similarities to Tibet and Nepal, and given the presence of the towering mountains of the Himalayas, you'd be forgiven for thinking that you've accidentally slipped across the border and out of India! Yet India this is, and there is perhaps nowhere else in the country that symbolises the diversity of the Indian Subcontinent and its strong traditions quite like Ladakh.
For a flavour of the kind of experiences that lie in store for visitors to the region, here are the top 10 things to do in Ladakh and 10 reasons to get it on your bucket list!
If you're short on time when you visit India or you prefer the luxury of having someone organise the finer details of your trip for you, check out this site for Ladakh tour packages. Tours just make life so much easier, particularly in countries where it can be difficult to find all the information you need online.
#1. Go hiking in the Zanskar mountain range
Hiking is one of the most popular and rewarding activities in Ladakh, and you won't be short on locations and trails to choose from when it comes to planning a walk. Among the finest locations to explore on two feet is the Zanskar range. Reaching heights of up to 4,900m, Zanskar's scenery is remarkable even by Ladakh's standards, with its desolate, jagged peaks, winding rivers and dramatic gorges sure to take up plenty of room on your camera's memory card.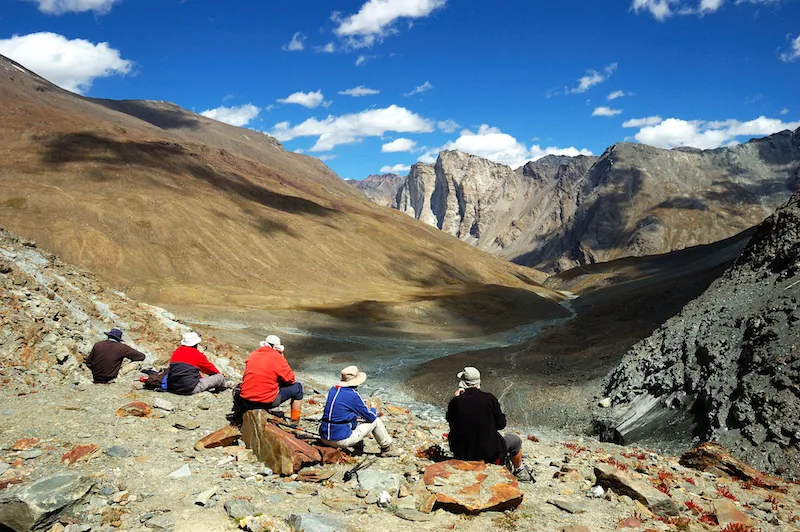 #2. Camp beside Pangong Tso Lake
Featuring as a backdrop in the popular Bollywood film, '3 Idiots', and drawing in many visitors who set foot in Ladakh, Pangong Tso Lake is one of the region's natural gems. This long, sprawling lake actually stretches across the border into Tibet, and while you can't boat on the lake, the possibility of camping beside it will give more than enough opportunity to absorb its beauty.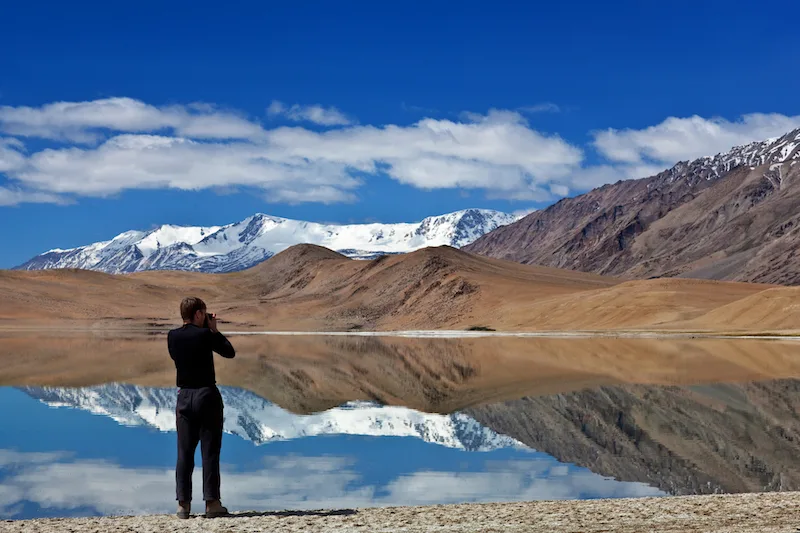 #3. Visit some of Ladakh's famous monasteries
In addition to its famous mountains and lakes, Ladakh is home to a fair few famous monasteries. Boasting everything from striking architecture to the most precarious and breath-taking locations, you should definitely tick off one or two of the region's monasteries during your visit. Among the most famous are Lamayuru Monastery with its towering mountain location, Hemis Monastery which is famous for its masked parade, Spituk Gompa Monastery found carved at the top of a hill, and Thiksey Monastery which bears a remarkable resemblance to Potala Palace in Lhasa, Tibet.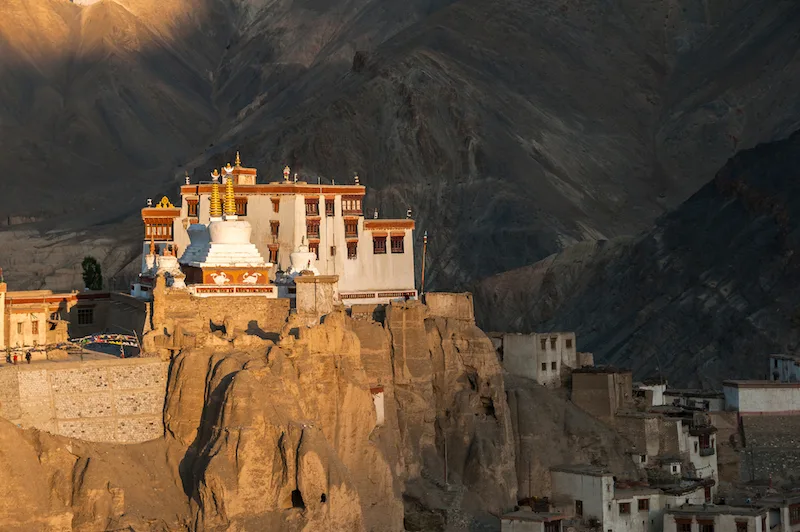 #4. Trek to the Drang Drung Glacier
Located in the Suru Valley, famous for its wild character and inhospitable landscapes, who would have thought that this area of Ladakh would be so ideal for mountainous adventure sports? One of the best things to do in the Suru Valley is take on the tough, but rewarding, Drang Drung Glacier trek. You'll need to be quite an experienced trekker, and go with a decent guide, but the reward from this three-day adventure is the chance to gaze upon Ladakh's largest accessible glacier.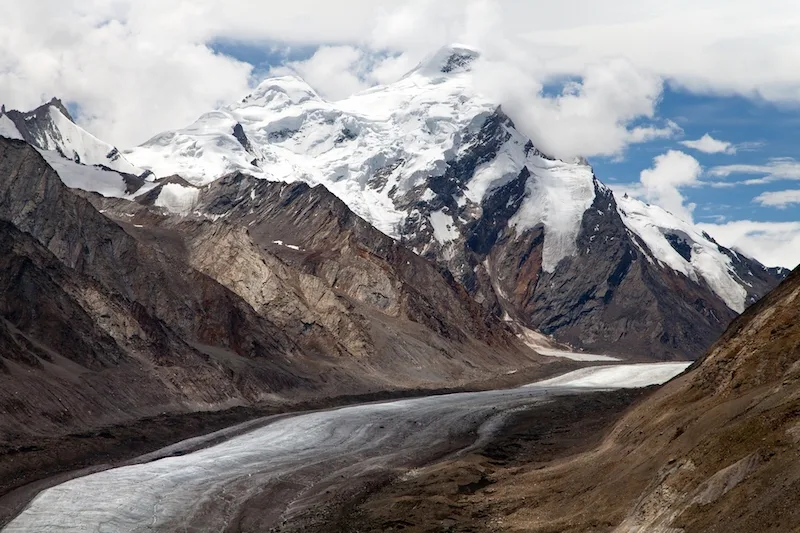 #5. Take a drive on the Khardung La Pass
Recognised as the highest civilian motor road in the world, the Khardung La pass is one of the most spectacular roads on the planet. Referred to as the 'gateway to the north', the pass has become a tourist hotspot in itself, with its numerous colourful Tibetan flags, backed by pure white snow, becoming a must-have photo in the adventurer traveller's scrapbook.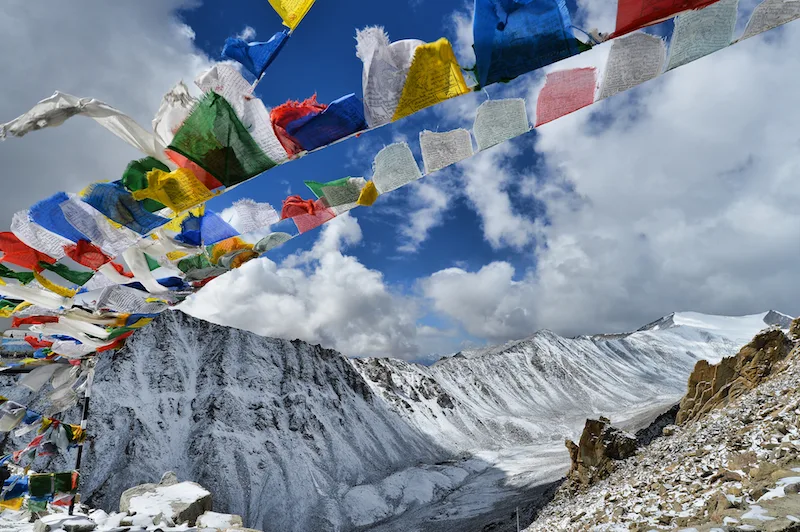 #6. Go rafting in the Zanskar Valley
As well as its superb hiking opportunities, the Zanskar mountain range offers numerous other outdoor adventures for those looking for a shot of adrenaline during their visit. One of the most popular activities, during the summer months, is white water rafting on the the Zanskar River. This area is considered one of the best places to go rafting in the whole of India; just make sure you don't fall in, that water is icy!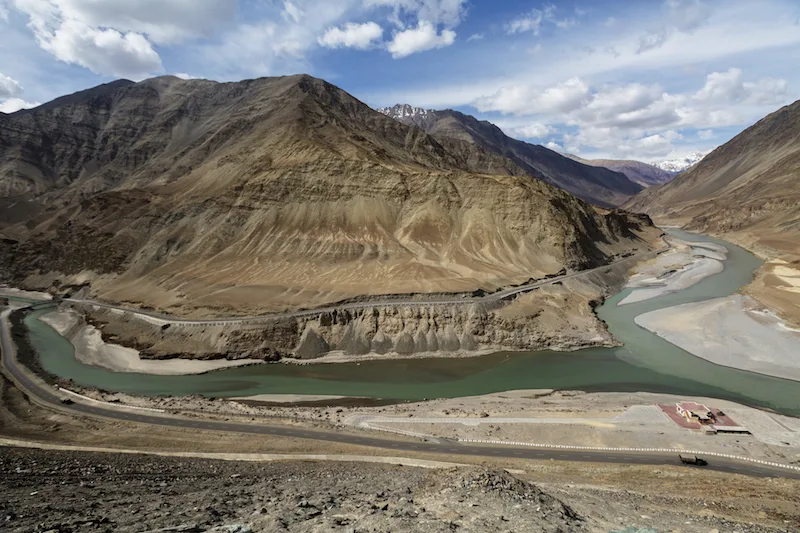 #7. Explore the Hemis National Park
Hemis National Park is South Asia's largest national park and is a protected area for several incredible and endangered mammals. Best visited between May and September, the park is particularly popular with birdwatchers who make the most of the numerous birding tour opportunities on offer into the park. There are other wildlife tours that focus on the bigger beasts, with the likes of leopards, Asiatic ibex and Tibetan wolf on the list of potential sightings.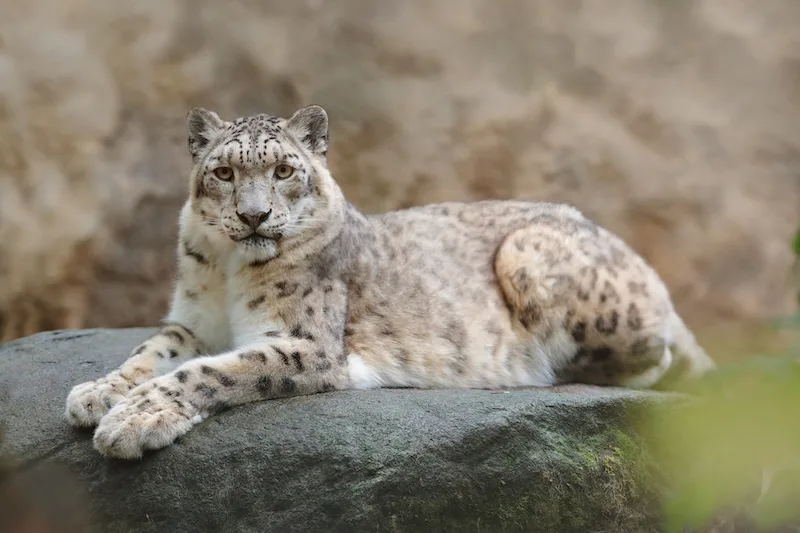 #8. Defy gravity at Magnetic Hill
One of the quirkier attractions in Ladakh, Magnetic Hill showcases a phenomenon whose science is unknown….kind of. The landscapes form a natural, optical illusion that makes a downhill road visually appear as an uphill road. Many groups head to this tourism hotspot, park their vehicles in the 'magic' spot, and watch as they begin to slowly roll 'uphill'. It makes for a great video at the very least!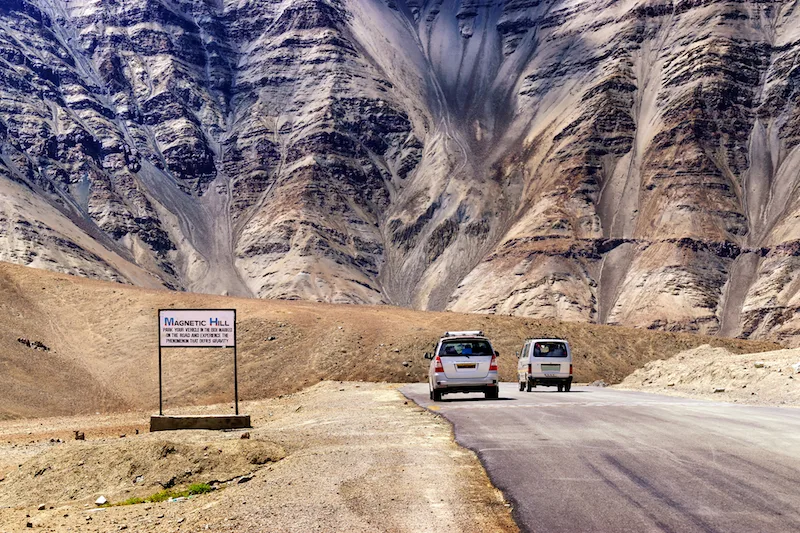 #9. Meditate at Shanti Stupa
Located high on a hill in Chanspa, the Shanti Stupa is considered one of the most peaceful and significant Buddhist monuments in India. The vantage point of the stupa presents some breathtaking views, especially for sunrise and sunset. If it's the sort of thing you're into, many visit here to take advantage of the quiet surroundings and meditate.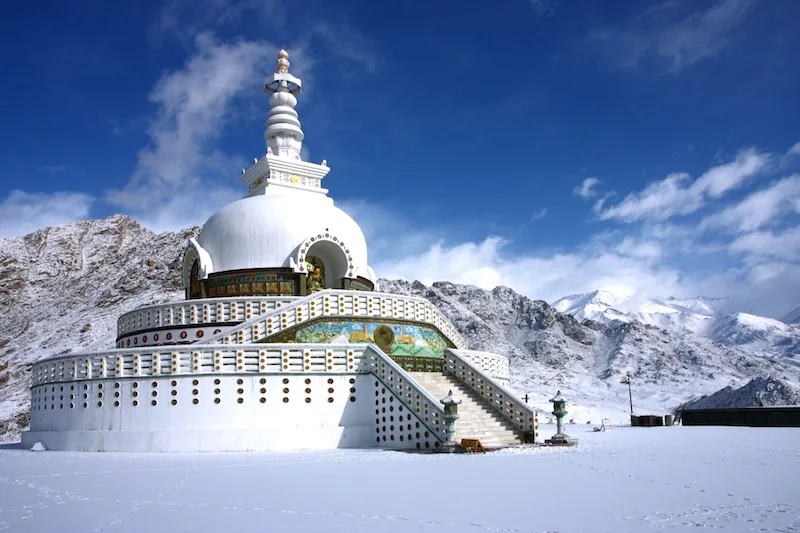 #10. Discover a desert in the snow at the Nubra Valley
Given the panoramas of snowy mountains and blue lakes, you'd think Ladakh is the last place on earth to encounter a desert. The Nubra Valley holds this surprise, home to sprawling sand dunes that present an Arabian adventure in North India.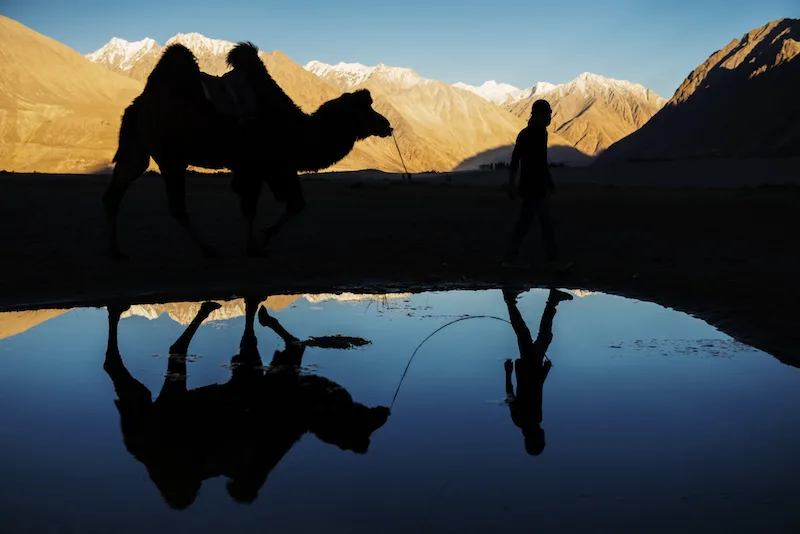 [one_half]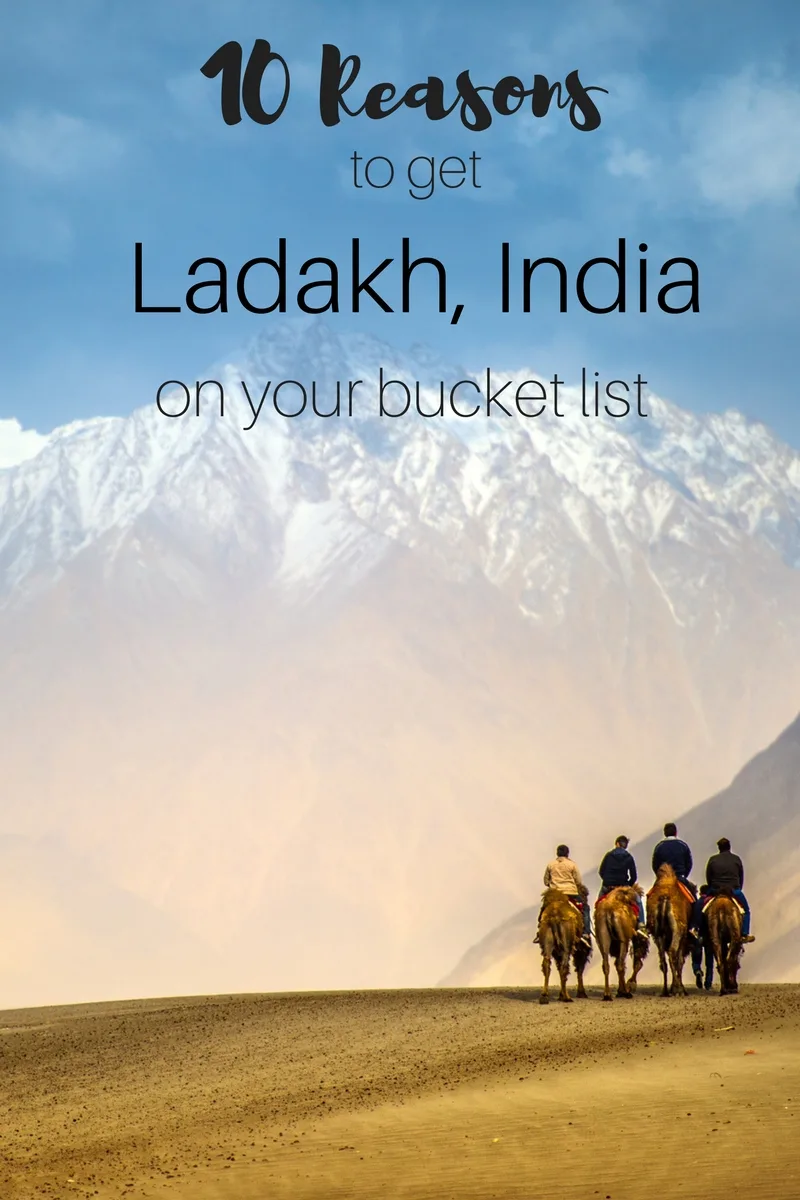 [/one_half]