Ardèche in Southern France may not be an area of France you're familiar with. Ardèche wasn't on my radar until I visited last week and was absolutely blown away by how beautiful it was. A combination of dramatic scenery and quaint villages had me in love with the area as I drove through the winding roads.
I had just a day and a half in Ardèche but I'm already desperate to go back and soak up more of those amazing views.
If, like me, you don't know much about Ardèche then keep reading to find out more and five things you need to while you're there!
---
About Ardèche
The Ardèche region is in southern-central France and forms the south-west corner of the Rhone-Alpes. It is considered to be one of the most remote, rural and scenically beautiful areas of the country! There is a wild and rugged character to Ardèche, and while it may be a relatively small area of France, its climbing and winding roads lead into a secluded backcountry which makes it feel enormous.
Ardèche is home to a mixture natural and historical attractions. The landscapes are famous for rolling hills, forests and dramatic gorges, while the ancient villages and even-more-ancient attractions are part of an unthinkably long history. There are so many things to do in Ardèche, from getting active amid beautiful protected nature reserves to exploring the traditions and heritage of the region. Here are five things you should consider popping in Ardèche your itinerary. The first four things I managed to do in one day as they're all fairly close and it was easy to drive between them.
5 things to do in the Ardèche
#1. Explore Pont d'Arc Cavern
The Pont d'Arc Cavern is a cave famed for containing the earliest known cave paintings in the world, dating back over 30,000 years.
The cave is located in one of Ardèche's typical limestone cliffs among the Gorges de l'Ardèche, and since is discovery in 1994 it has become recognised as one of the planet's most important prehistoric art sites. The art is amazing but it's the evidence for ancient human life and people just like us living there all that time ago that fascinated me. It's a UNESCO World Heritage Site with mostly animal paintings featuring horses, cattle and mammoths. Human footprints and fossilised animal bones have also been discovered here.
You can't actually go in Pont d'Arc Cavern but a replica has been created nearby. In 2015 the Caverne du Pont d'Arc Museum was opened and is well worth a visit. Initially I didn't imagine this would be so amazing but once you're inside you genuinely feel as though you're in the original cave and will probably forget that you're not.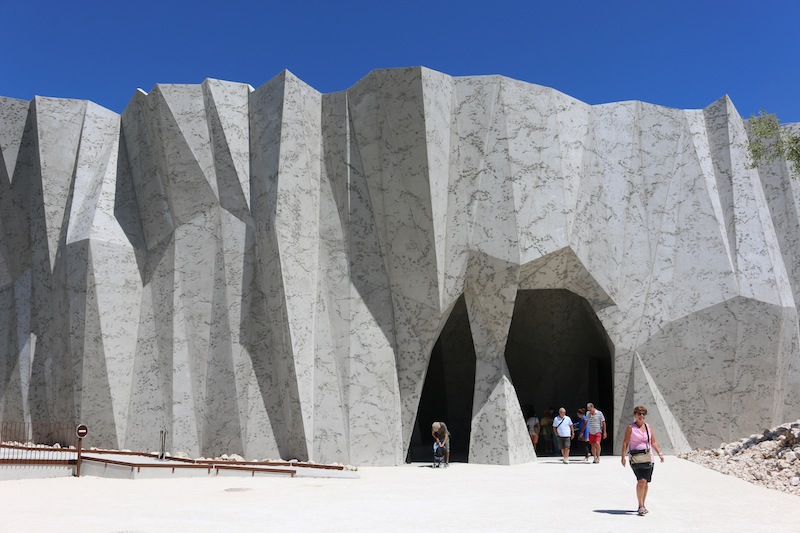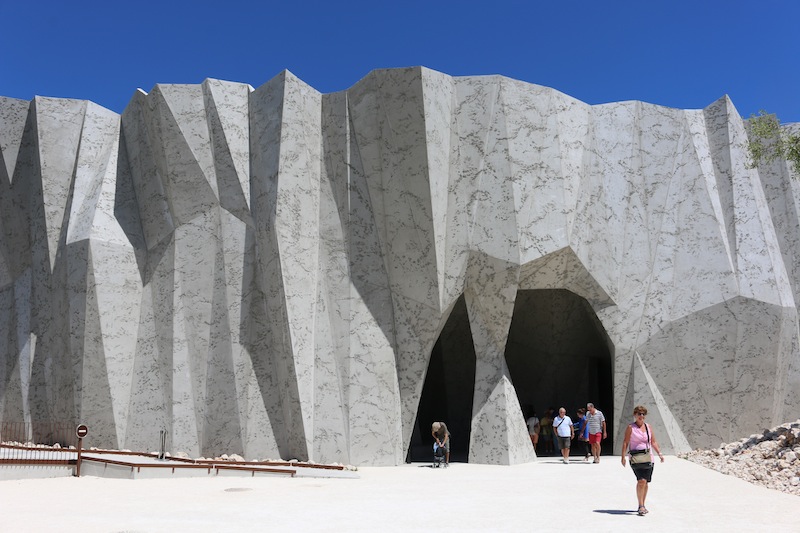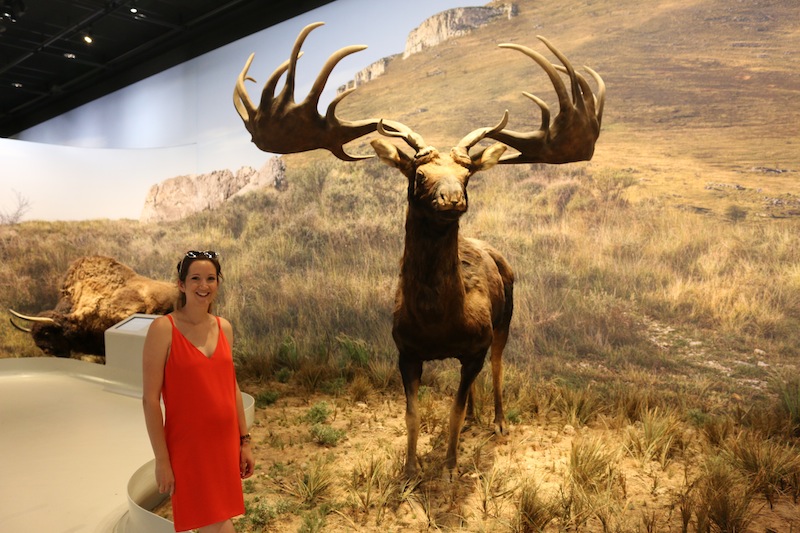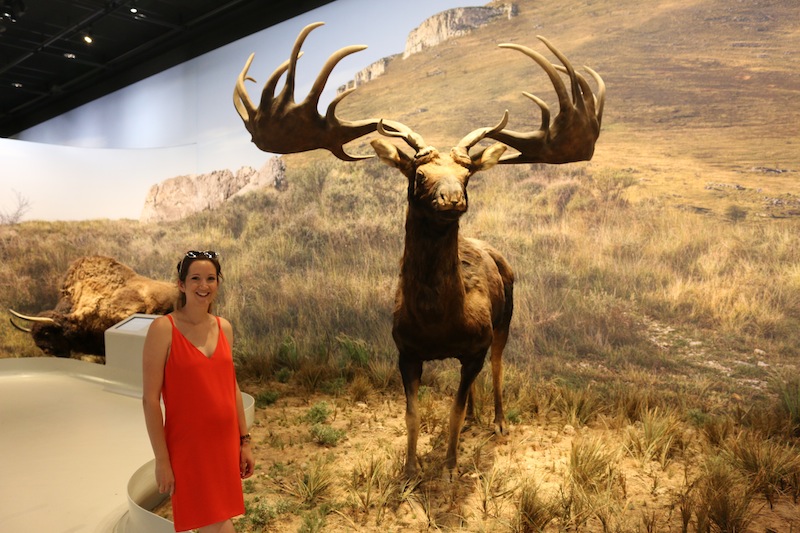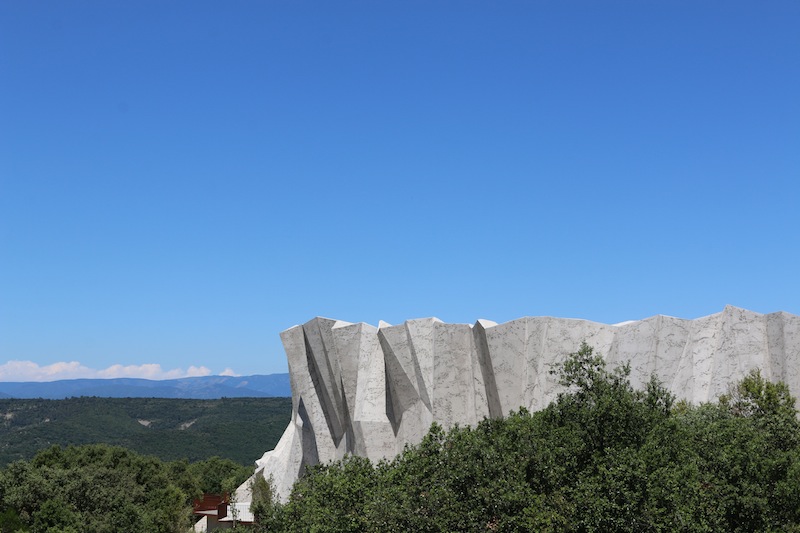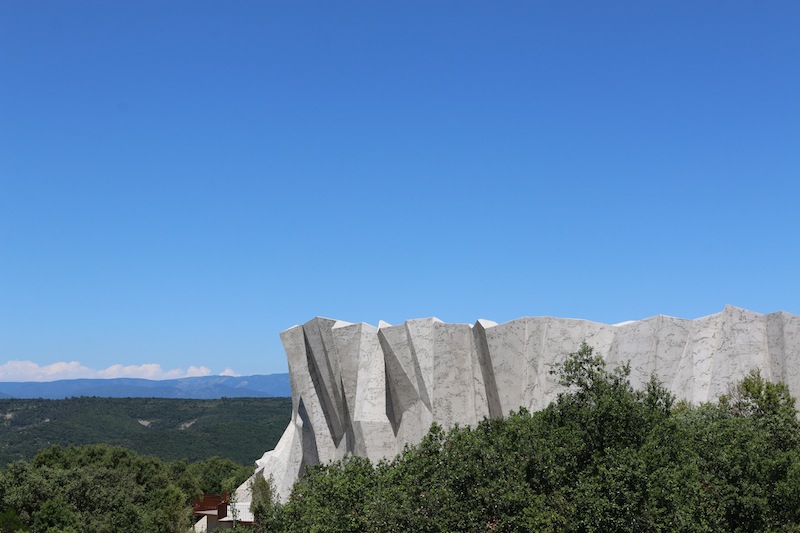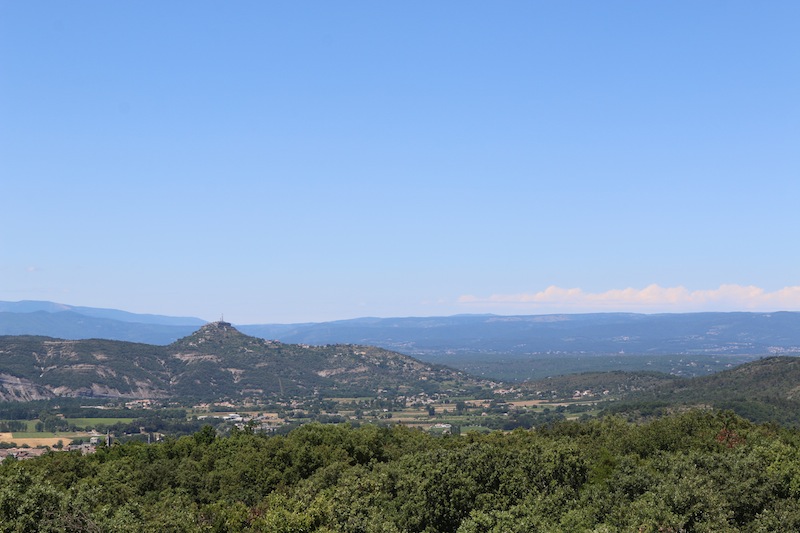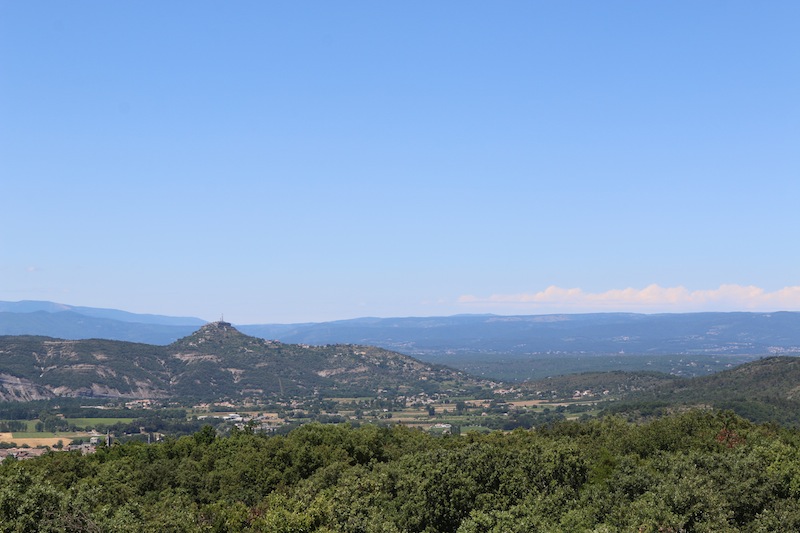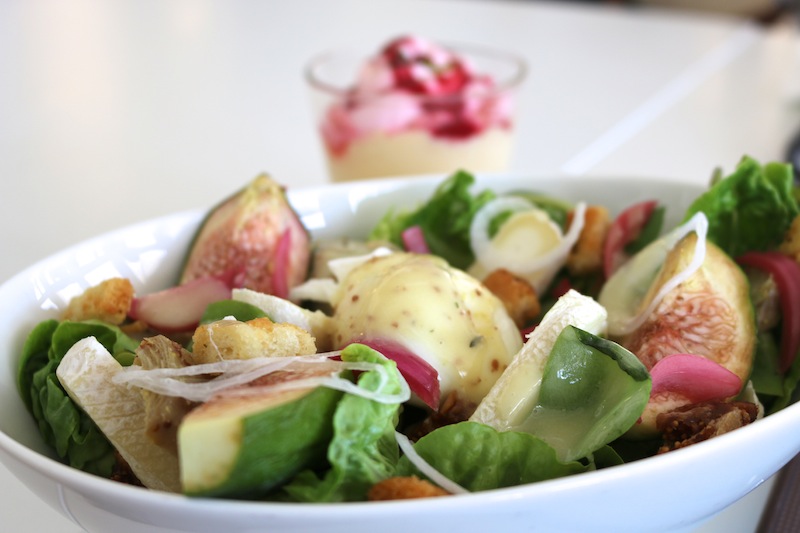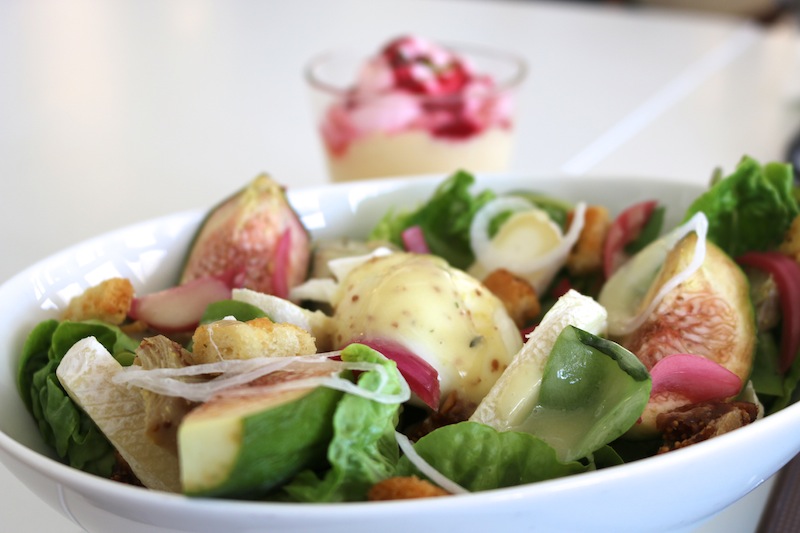 Top tip: Stay for lunch as the cafe is delicious or bring along a picnic as there are many spots to enjoy the views
#2. Go kayaking at Pont d'Arc
Easily the most iconic image of Ardèche is the Pont d'Arc, a stunning natural 60 meter wide bridge and archway bending over the Ardèche River. The area is popular for sunbathing, swimming and kayaking thanks to the gentle water and gorgeous sandy beach.
You can rent a kayak or canoe for a gentle paddle and to admire the Pont d'Arc from different angles. Floating along the river as you wind through dramatic gorges and incredible rock formations.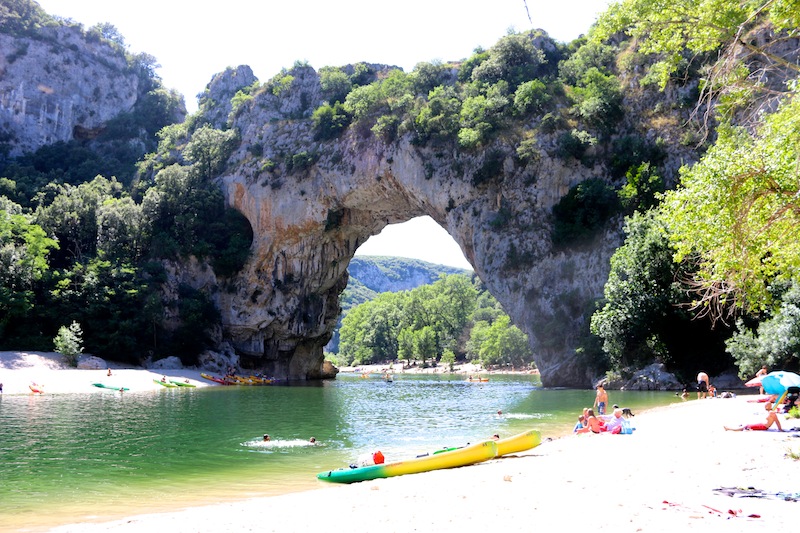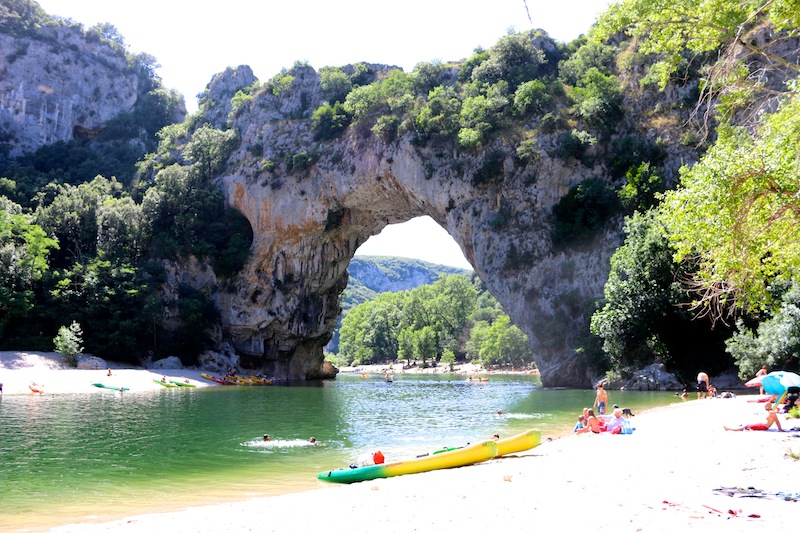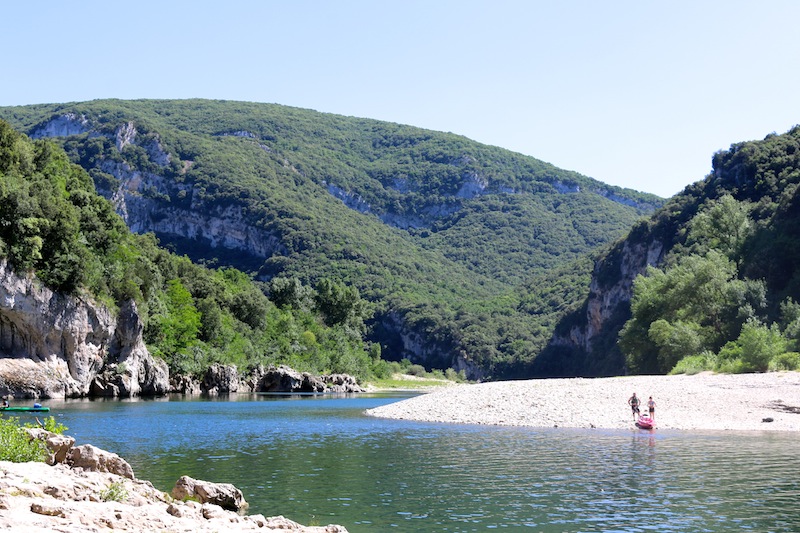 #3. Visit the Lavender Museum and Distillery in St-Remèze
The Lavender Museum and Distillery in charming St-Remèze is a great place to visit to get an in-depth insight into the cultivation of lavender (there's a lot more to it than you might think!)
A visit to the museum begins with a 15-minute video explaining the local history of lavender and work in the fields, before leading visitors through a range of exhibits where you can see exactly how the oil is extracted. You can check out the distillation warehouse to learn more about the process of obtaining essential oils from the plant. A wander around the museum's garden is a colourful and aromatic experience and the gift shop will keep you entertained for a while!
Don't forget to stop by the cafe where you can try food and drinks flavoured with lavender. Lavender ice cream or lavender lemonade were firm favourites of mine!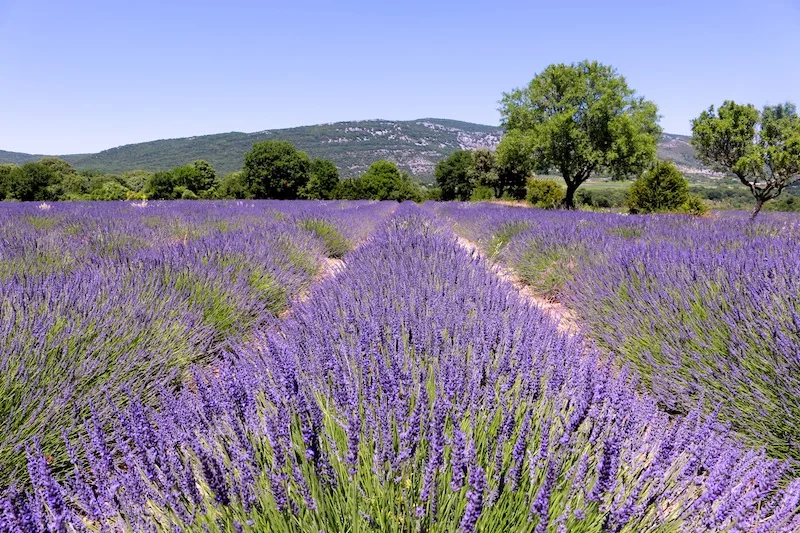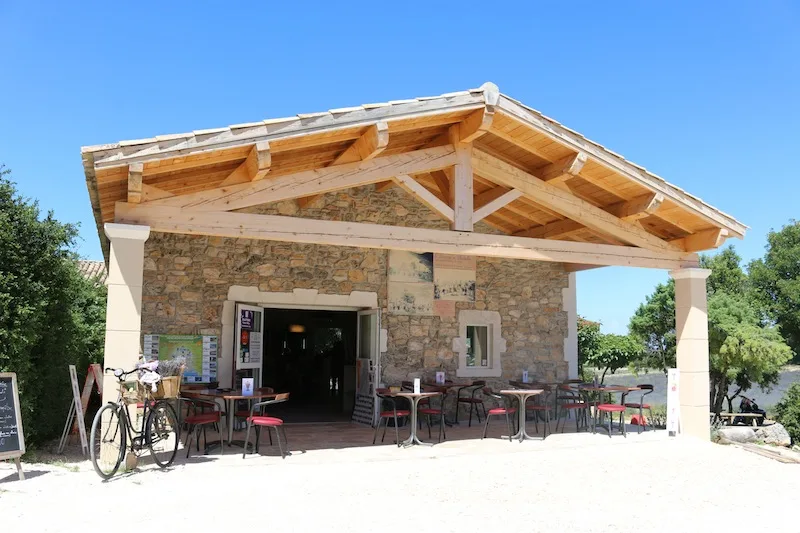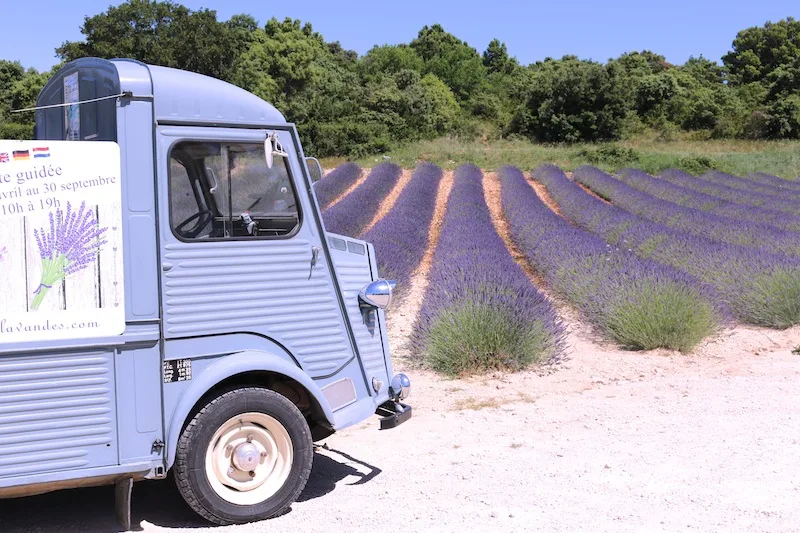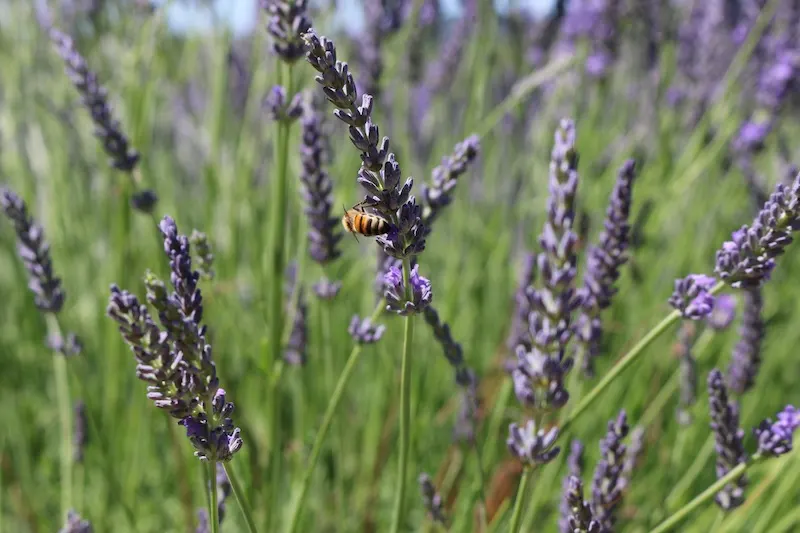 #4. Discover Madeleine Cave
Madeleine Cave is another amazing feature of the canyons and gorges of Ardèche. The cave is found in the heart of the Ardèche Canyon beside the Ardèche River on the road from the Pont d'Arc.
If you've ever been to a similar cave filled with stalagmites and stalactites before you may think you'll know what to expect but this is bigger and better than any one I've ever been to before. There's an incredible music and light show in the most impressive chamber that will make you feel like you've stepped inside a dramatic horror film. It was amazing.
A journey inside the cave will display a world created by water millions of years ago, featuring three large chambers or 'rooms' defined by incredible rock formations, natural baths and pure white columns formed by calcium carbonate.
Make sure you spend some time admiring the views from outside the caves too. You can see across the Ardèche gorges from the Madeleine viewpoint and admire the view known as 'The Cathedral'.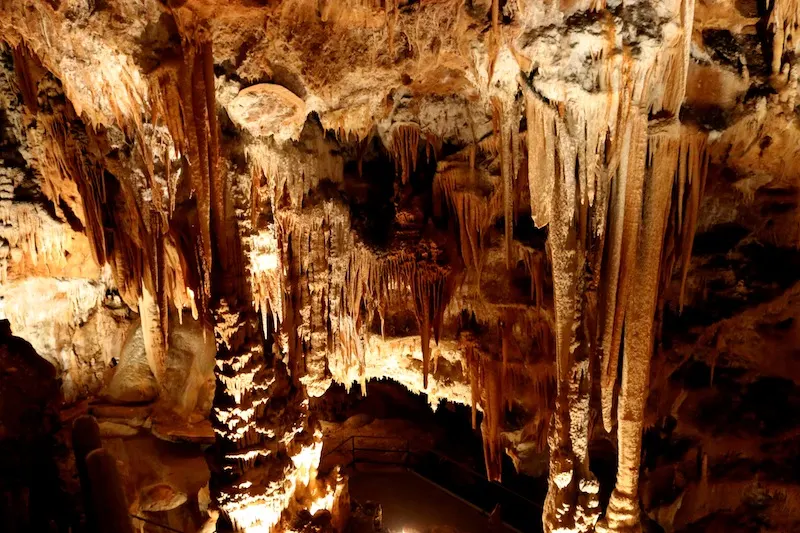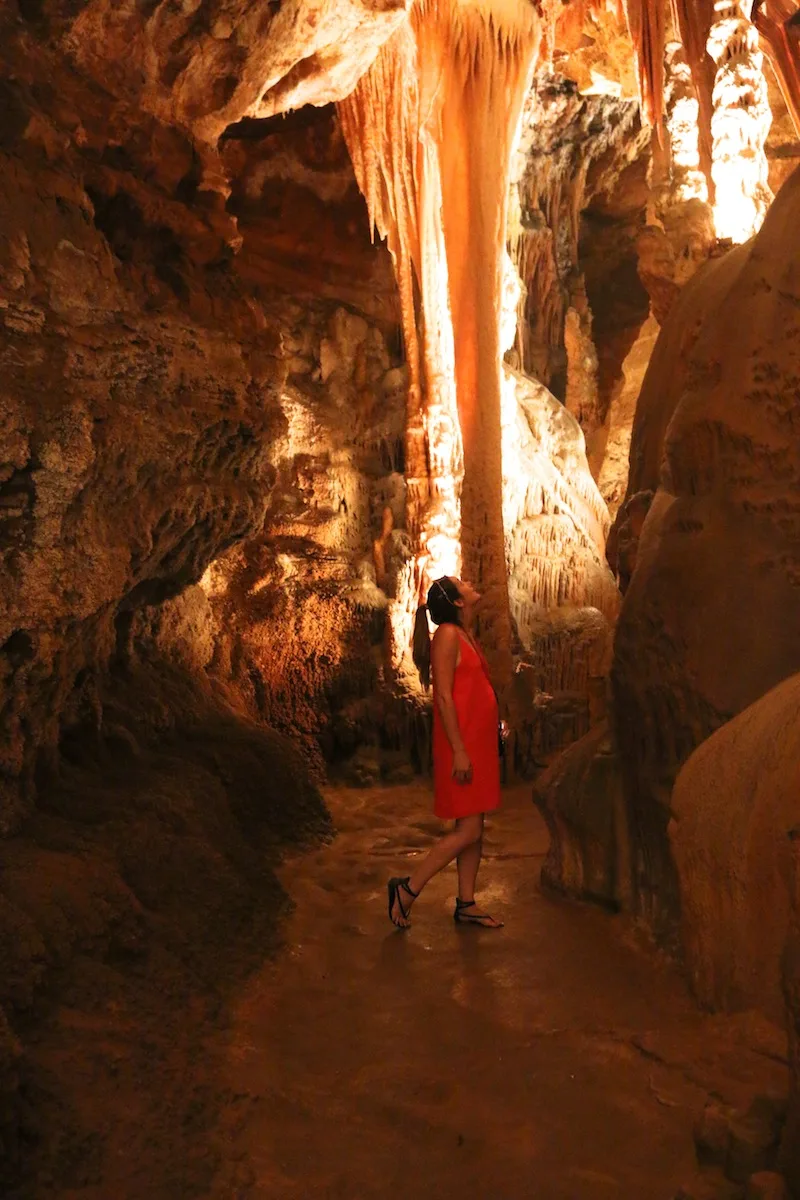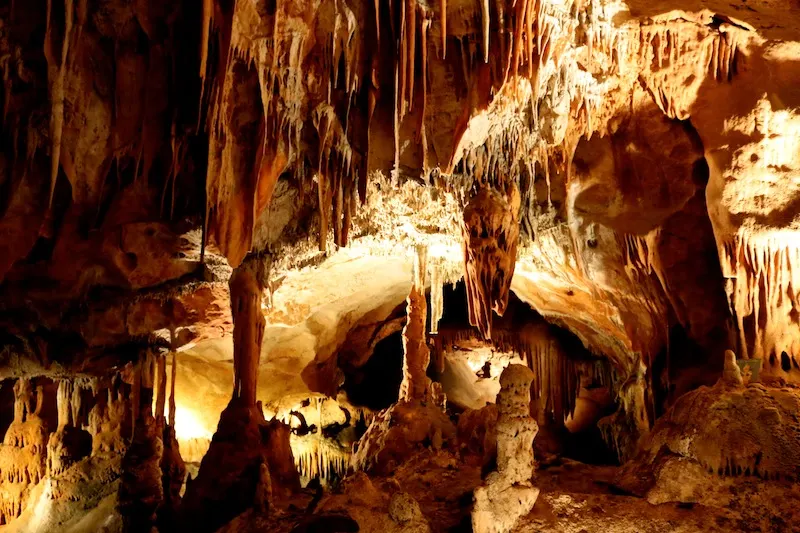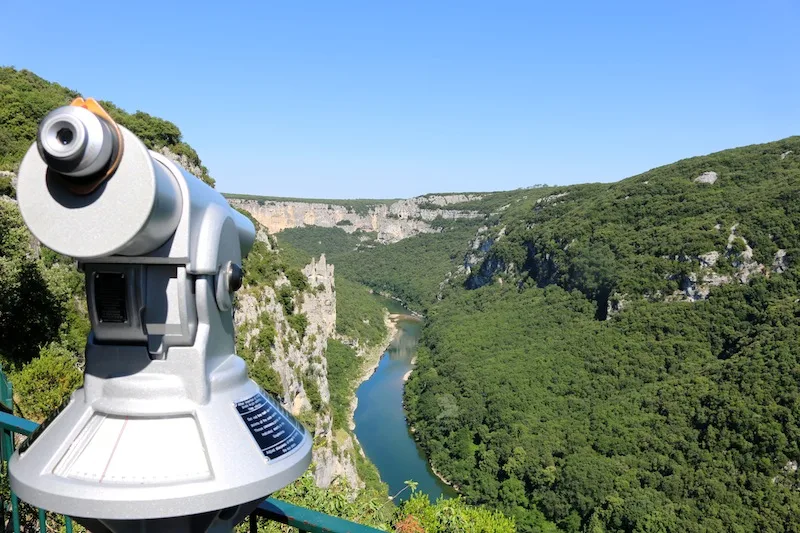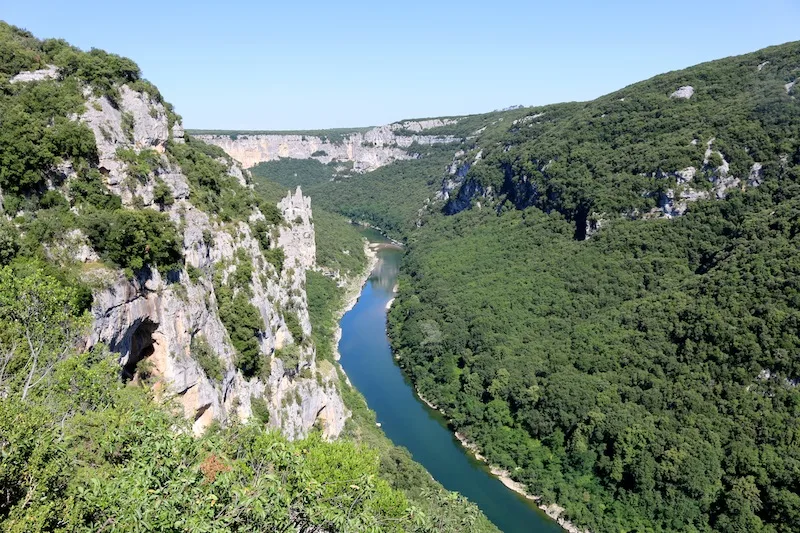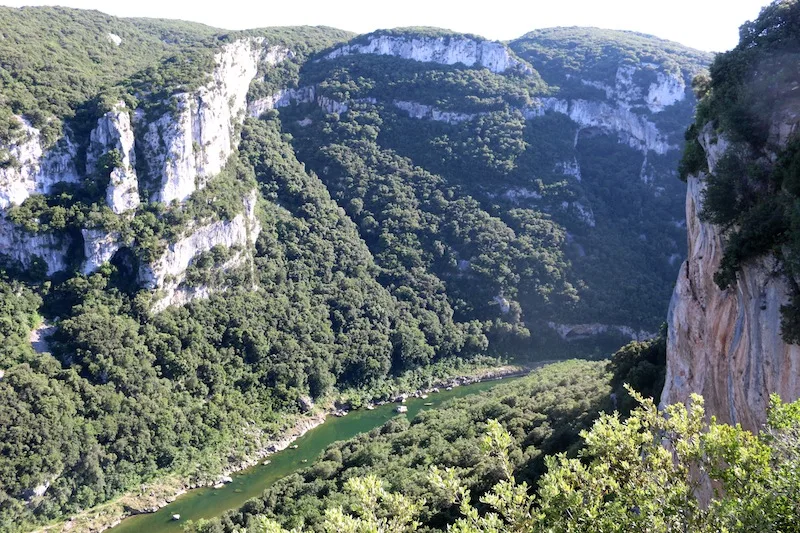 5. Visit Chateau de Crussol
This is one I didn't get the chance to visit but next time I will!
Hanging on the edge of a cliff at a height of 200 metres, the mainly ruined Chateau de Crussol is an incredible sight as it overlooks the Valley of the Rhone. The castle was built from limestone and was completed in the 13th century, though across the subsequent centuries it has taken something of a battering, ranging from abandonment and sacking to mine explosions and lightning strikes. The castle is now classified as an 'official historical monument of France', and finding its role in the 21st century via a number of renovations and reconstructions which include the 3,000-seat Thèâtre of Verdure, which hosts a number of events and festivities.
---
[column size=one_half position=first ]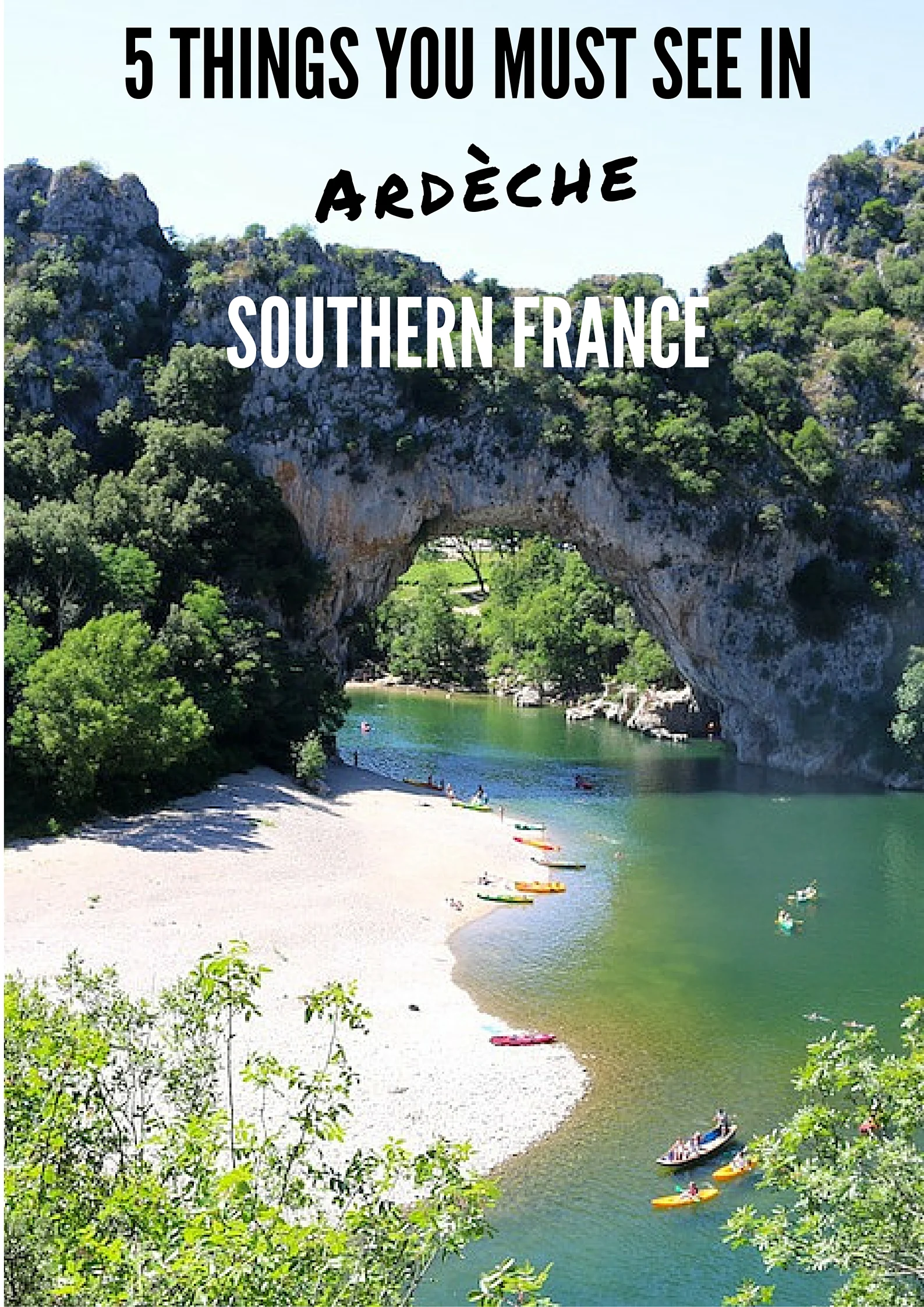 [/column]
[column size=one_half position=last ]
The Ardeche Low Down
I stayed in two hotels in Ardeche. The first was Chateau de Balazuc which is a luxury option in the beautiful village of Balazuc. You can read about my stay in my last post: I'd like to introduce you to Balazuc.
On my second night in Ardeche I stayed at Hotel Les Petits Oreillers in St Martin. This was a simple and affordable hotel option in another lovely village. It was clean, comfortable, friendly and modern and the breakfast was great too so it a good option if you're travelling on a budget.
I travelled to Ardeche via train. I took the Eurostar to Paris and then the TGV (a lovely train) to Valence and picked up a hire car at Valence train station. Train tickets are available through voyages-sncf.com.
You can fly direct to Lyon from Birmingham, Southampton, Edinburgh and London airports.
[/column]