Balazuc, in Ardeche, Southern France, is the kind of village French dreams are made from. The medieval village has been named a 'Village of Character' and officially classified as one of the 'Most Beautiful Villages in France'.
If I asked you to picture a typical French village this would be it, but with about 50 times more charm, character, dramatic scenery, quaintness and personality. Add a nail-biting drive along narrow and winding roads with views that quite literally take your breath away and you're close to picturing Balazuc.
After those winding roads with hairpin bends and what I'm sure were vertical drops but I was actually too scared to look, I arrived in Balazuc on a high of adrenaline and excitement. I'd finally arrived and I was ready to explore!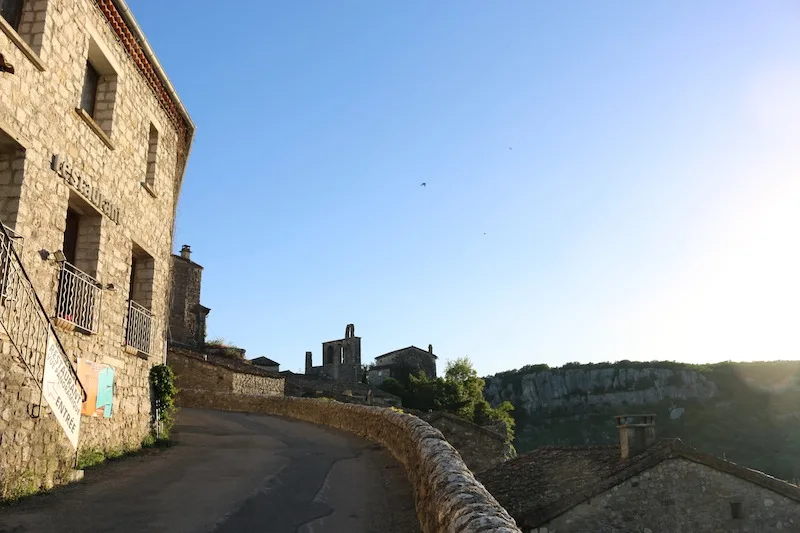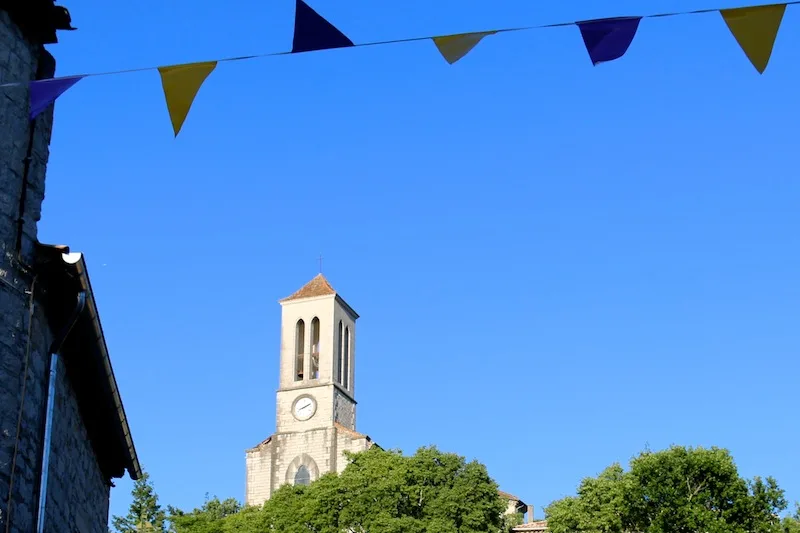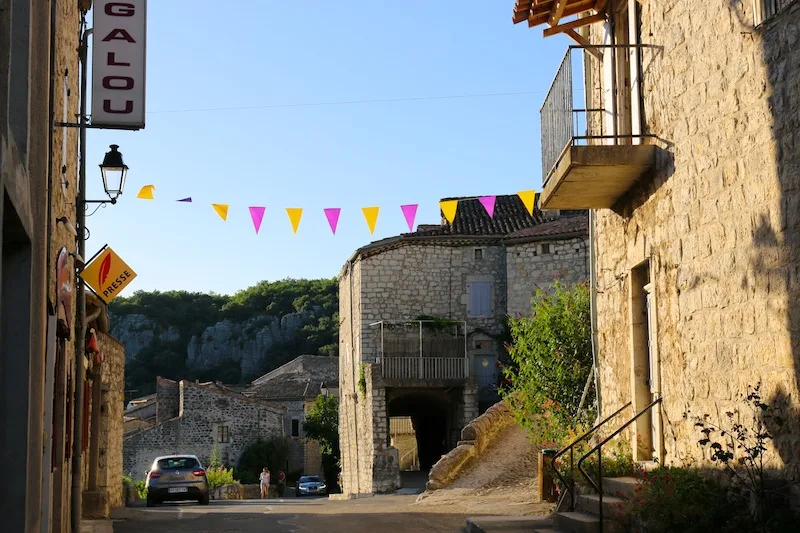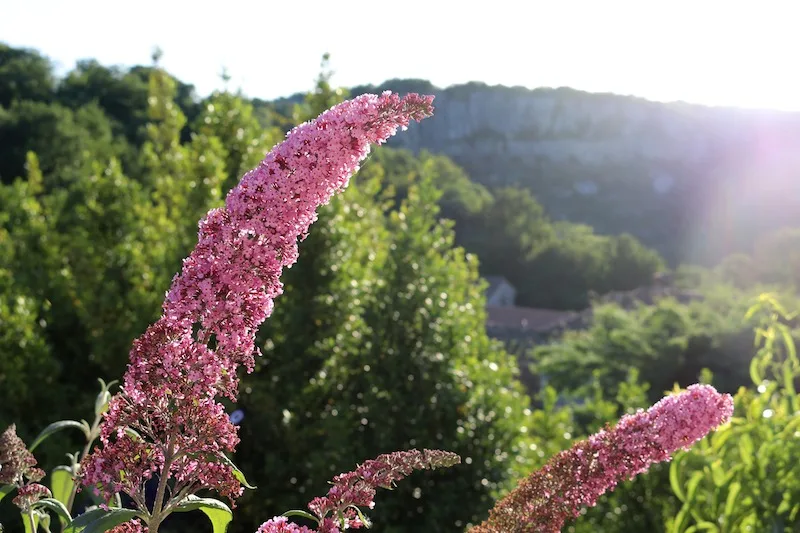 It was 6pm and the 35 degree heat knocked my energy levels down a notch or two and kicked me into a slower pace to match the locals. This is not the kind of village where you excitedly rush around. It's the kind of village where you ditch your car and wander slowly on foot, taking your time and possibly stopping for a cold beverage or an ice cream to cool you down.
Give yourself time to soak up those views down to the Ardeche River and embrace the sounds of people laughing and splashing in the water below. Their voices echo off the dramatic cliffs that surround Balazuc like a protective arm and fill the village with laughter.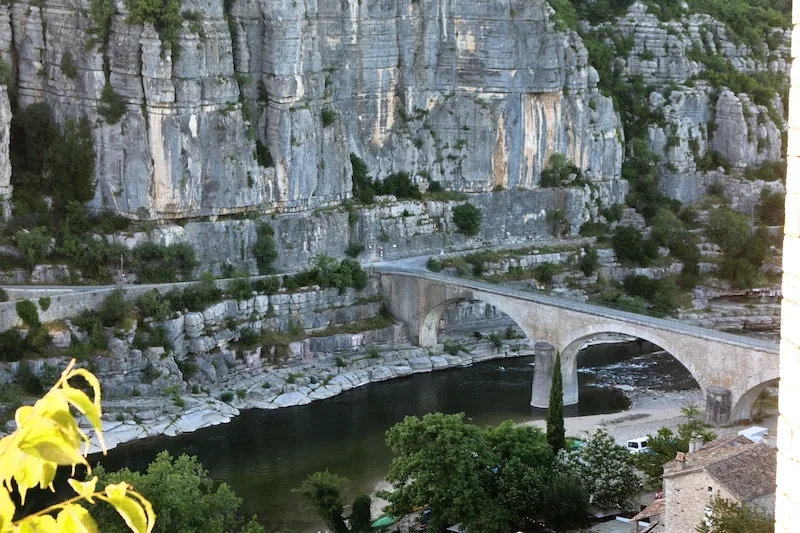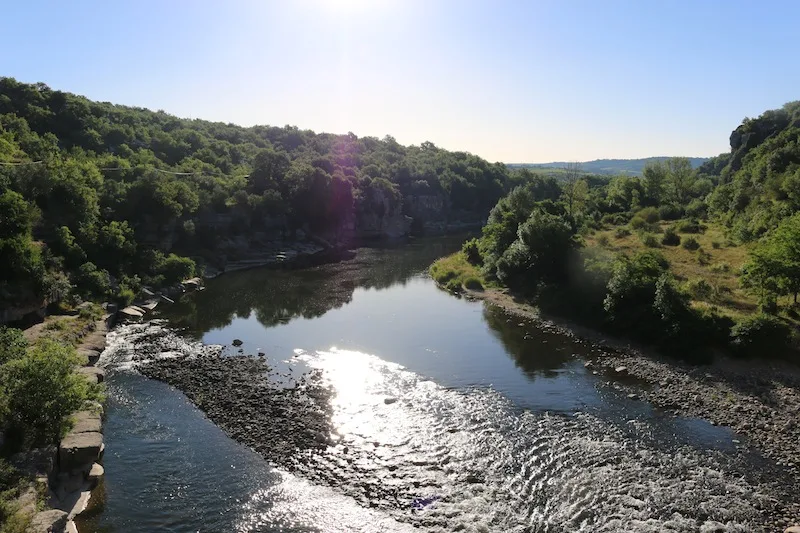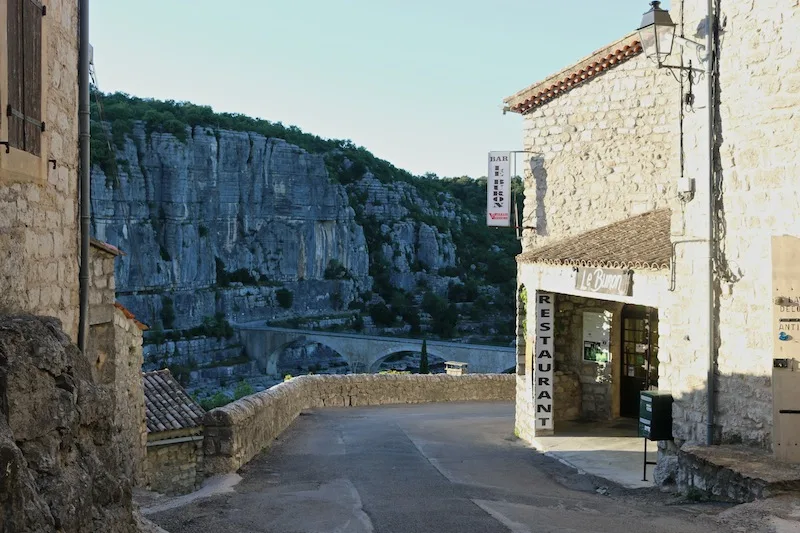 Get lost down the cobbled alleys and see where the pretty maze of buildings takes you. Colourful flowers tumble from tiny balconies and plants climb up the stone walls to meet the blossoms above. Crooked doorways and peeling shutters are gorgeously rustic but make me desperate to know what lies behind them.
As I wandered down these charming streets, half searching for my hotel but mostly just admiring the village, a local dog follows me around. He stops each time I pause to take a photo and then rushes to join me again when he realises I've moved on. It's like having an unofficial four-legged escort showing me around his village.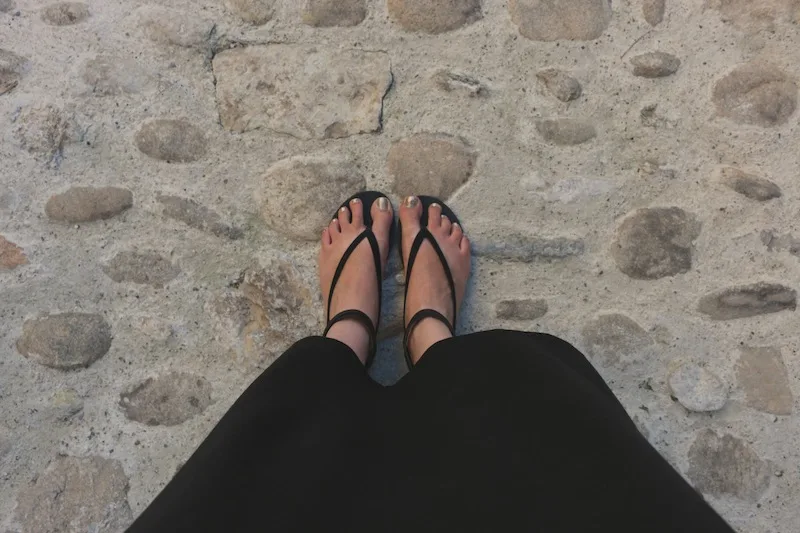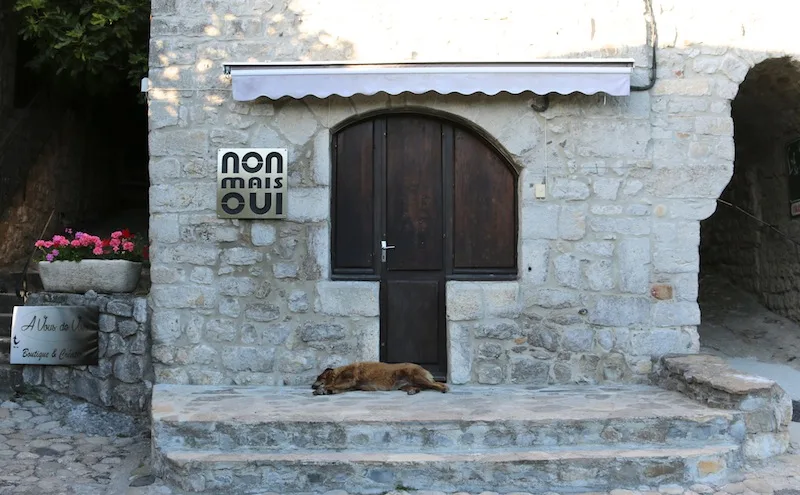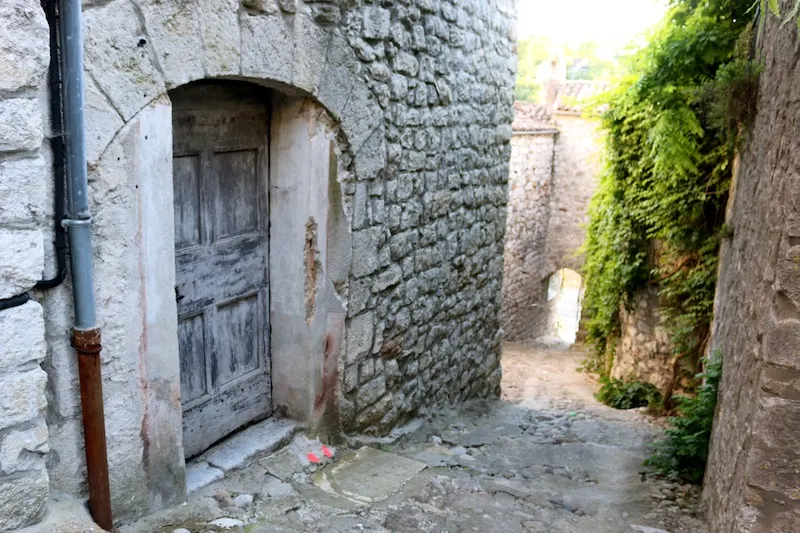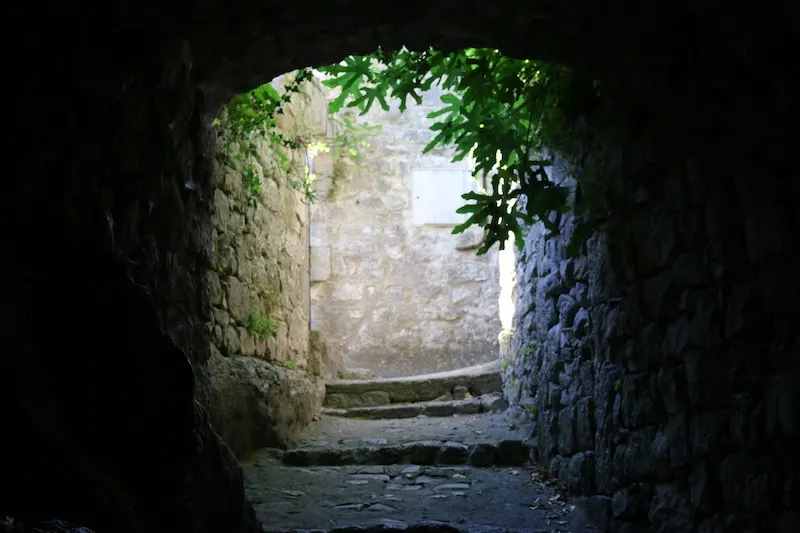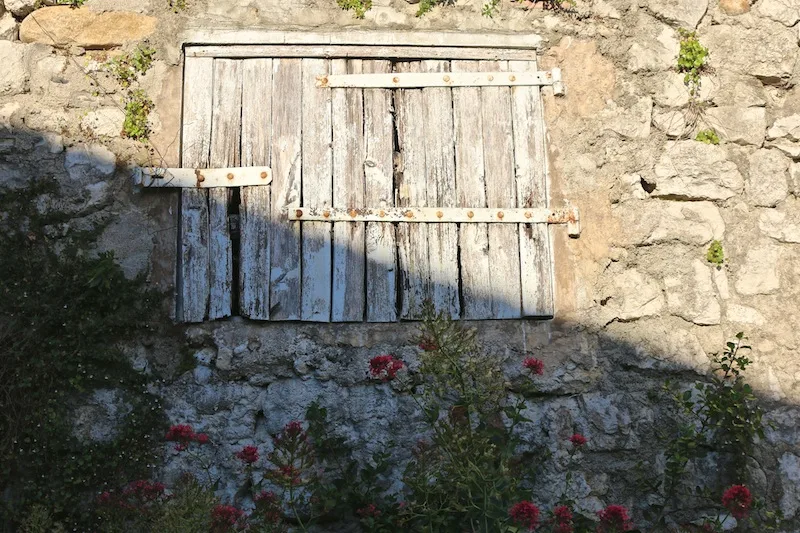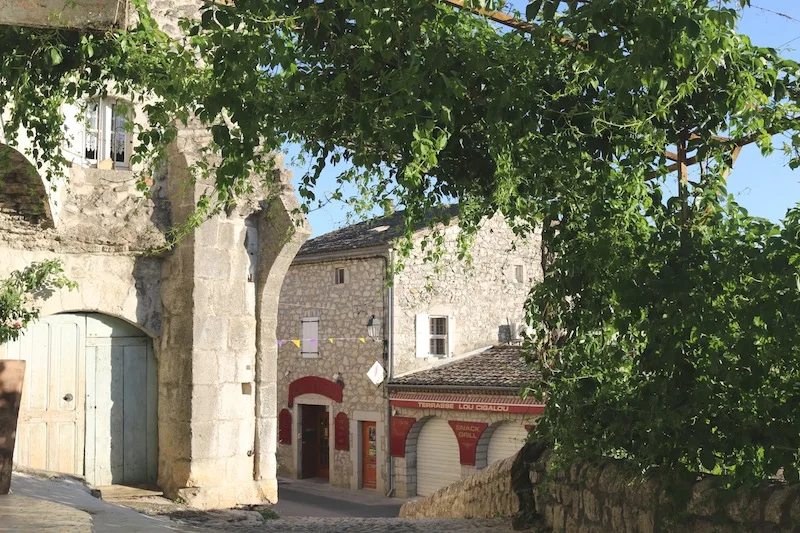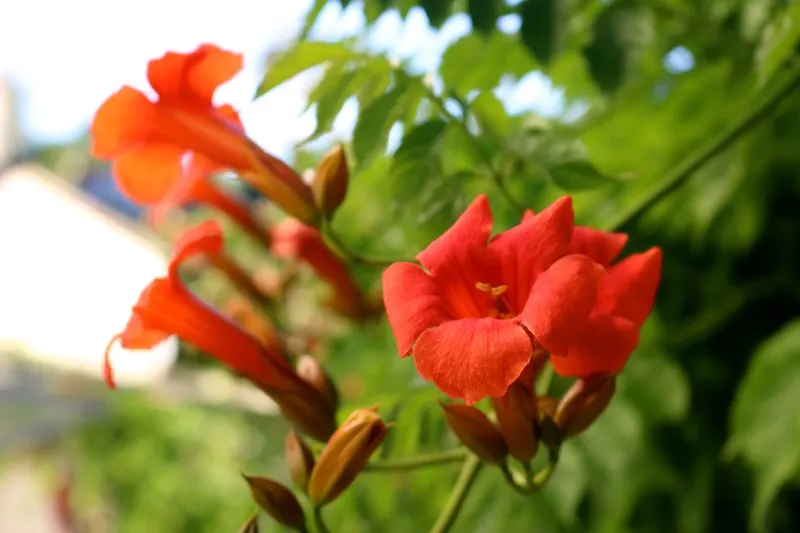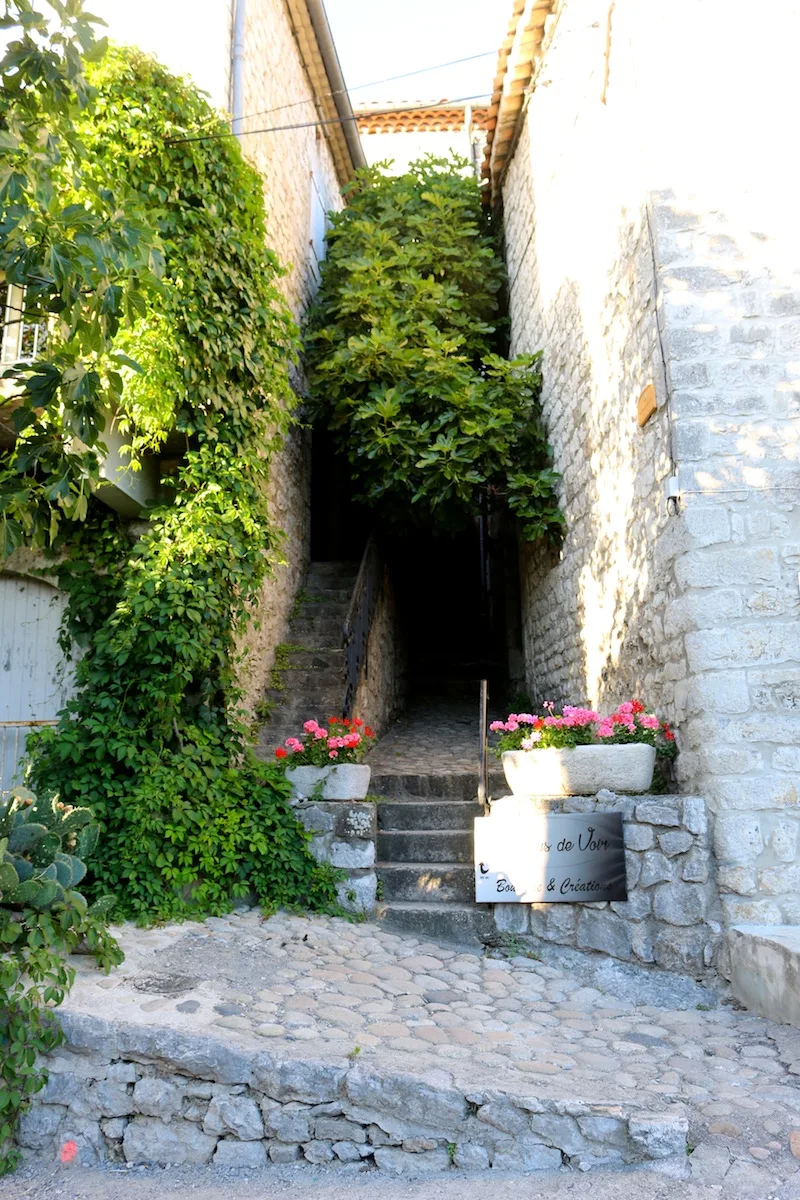 I eventually spot signs for 'chateau' and after some reassurance from an ice cream seller – reassurance in the form of nods, smiles and pointing – I climb the hill to reach Chateau de Balazuc.
I arrive at the main gate which looks more like a grand and impressive home than a hotel so I'm unsure what to do. I linger awkwardly and admire the view until a lady throws open a shutter and smiles down to me.
"Hello…bonjour…I'm Monica…I'm staying here tonight….?" I say with uncertainty.
"I know," she calls back to me and within seconds she appears from behind a gate and welcomes me inside with a cool drink and quick tour.
We walk past a small lap pool, half dazzling in the sunshine and half covered inside a sort of grotto. We make our way around a homely but grand living room, dinning room, office and kitchen before I'm taken to my impressive bedroom. The design is simple, stylish and elegant but this is a real home too and it's comfortable and cozy despite the size.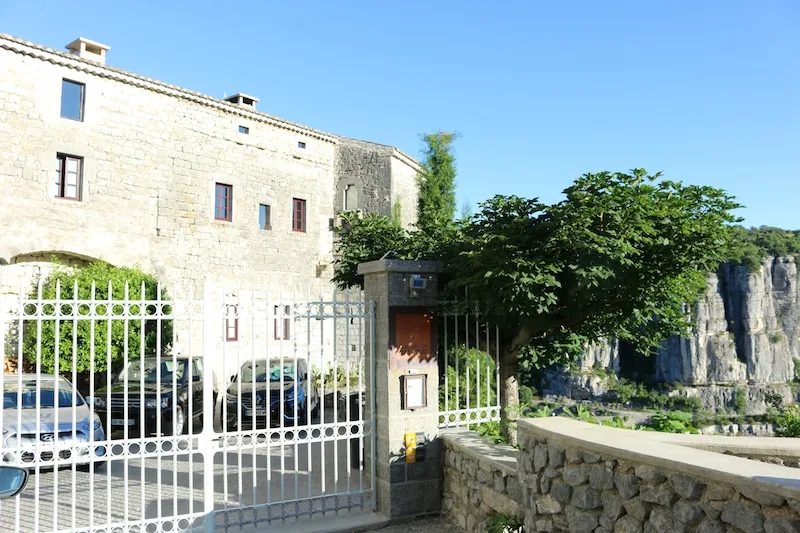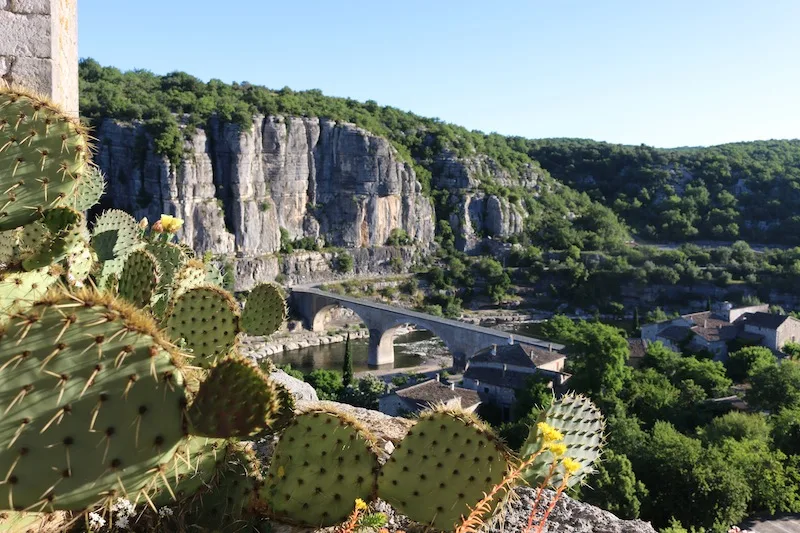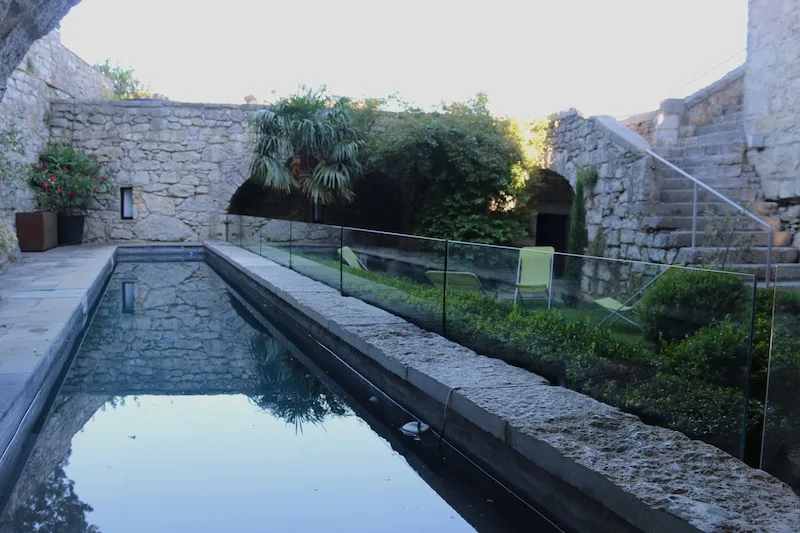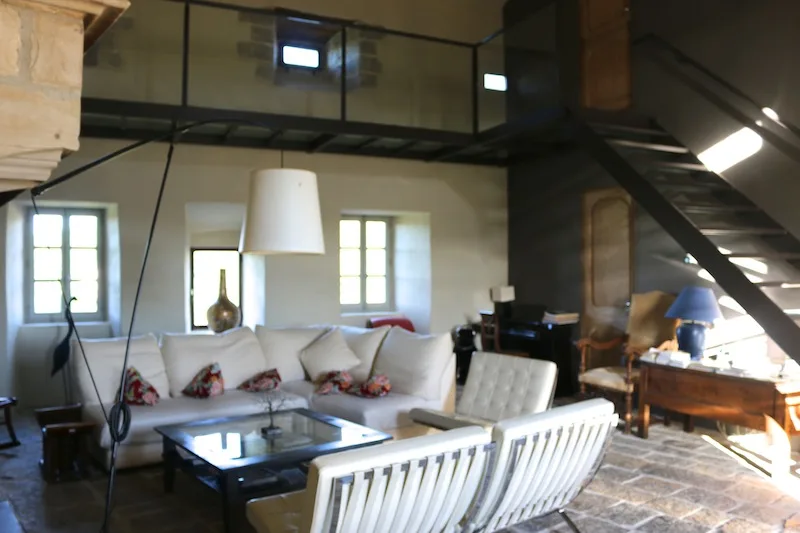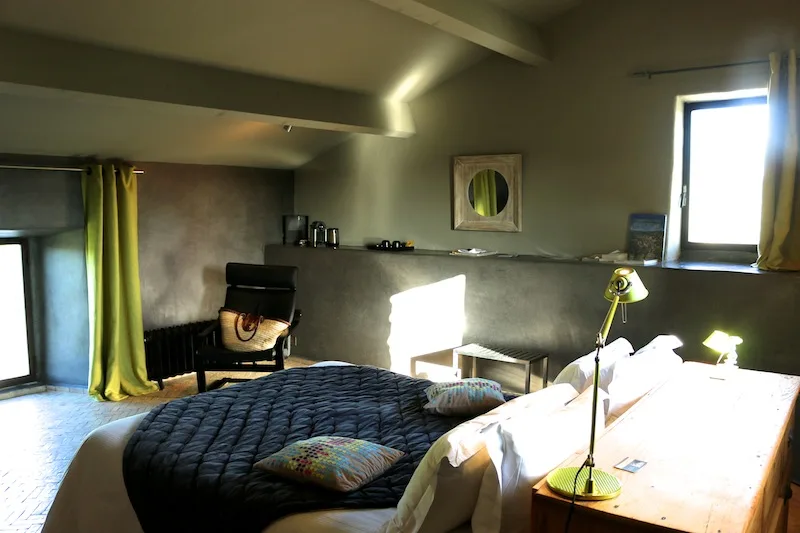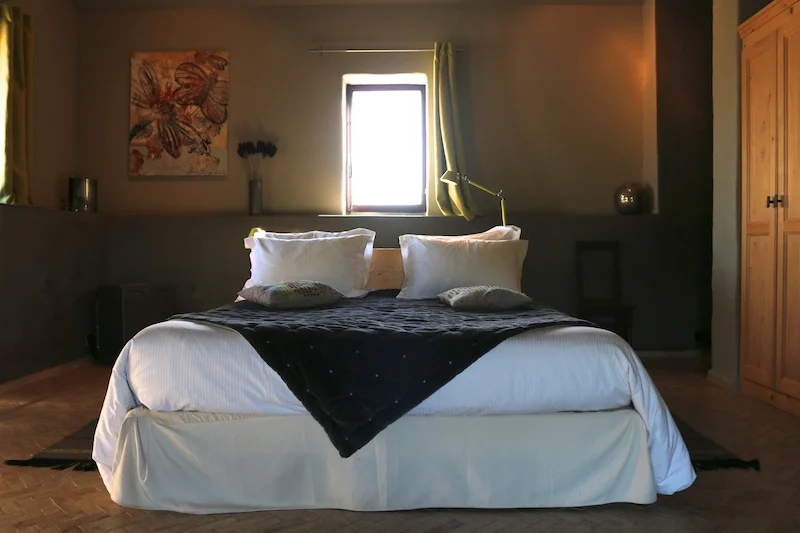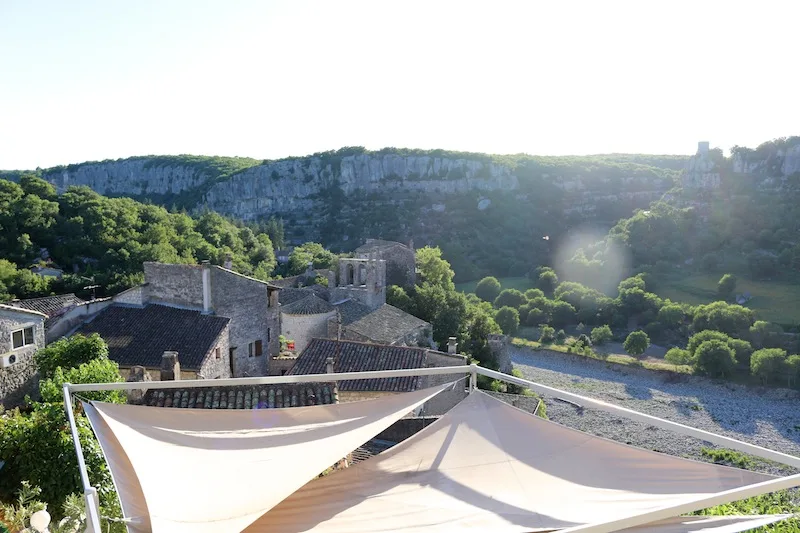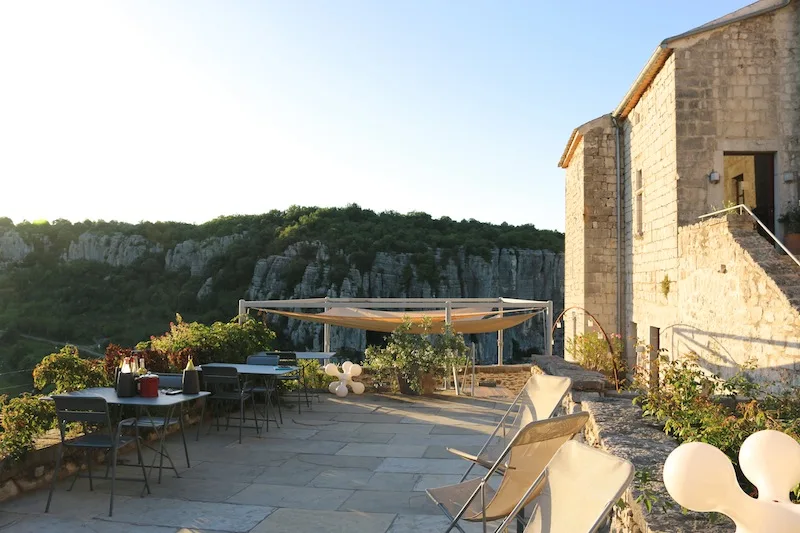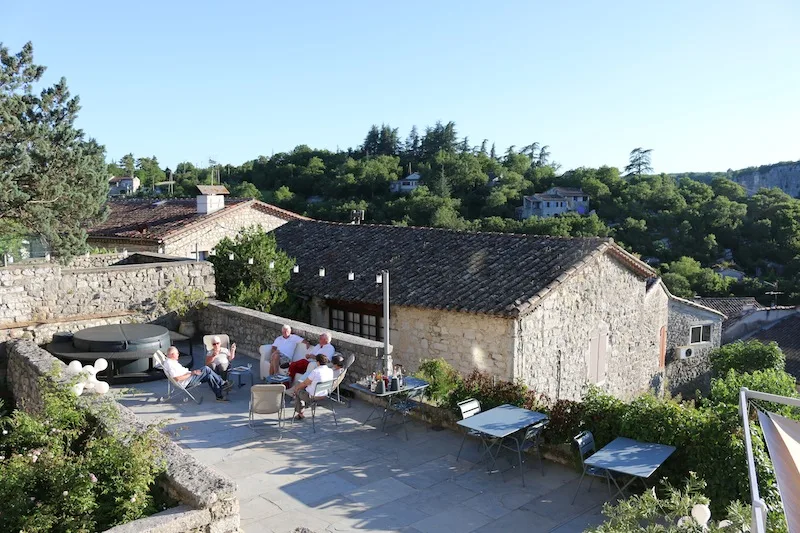 Chateau de Balazuc has four double bedrooms and is a place we Brits would refer to as a 'boutique B&B'. Owners, Florence and Luc Lemaire, live within the chateaux. They're both ex-journalists but as natural hosts and entertainers they'd always dreamt about owning a guesthouse.
At 7.30pm drinks are served on the terrace looking down over the village. This is a nightly tradition hosted by the friendly owners with the intention of welcoming guests and making them feel at home. And, let's be honest, who wouldn't want to sit out in the fading afternoon sun and enjoy a drink in such a gorgeous setting?
I joined Florence and Luc and four other guests, including a French couple who spoke no English and a Scottish couple who spoke no French. I imagined us awkwardly sipping our drinks in slice but Florence and Luc made us feel so welcome and the conversation flowed as generously as the wine.
I ate dinner outside with Florence and Luc. Florence had prepared a delicious salad platter using local ingredients and nothing else.
The highlight of the meal was cailette, a local specialty made with pork. It wasn't much to look at, appearing similar to a giant sprout on the outside, but it tasted delicious. I tried a few versions during my trip to France and Florence's was definitely the best.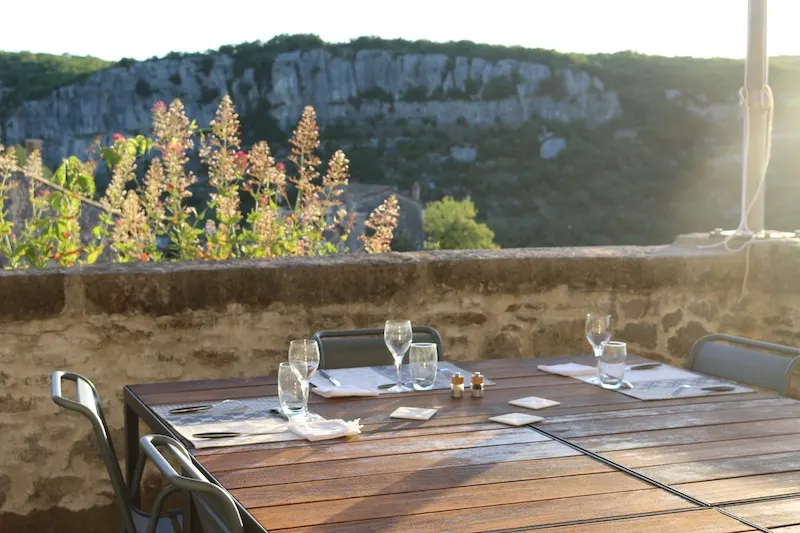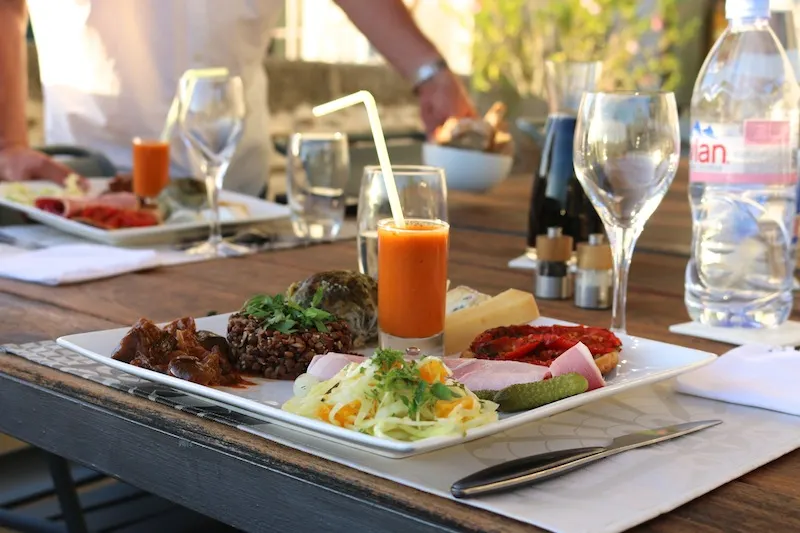 I woke up early the following morning to make the most of my short stay in Balazuc. The village was silent and still and even my four-legged friend wasn't around to join me. I walked down to the river and the sandy beach where the enormous pillars of the bridge provide shade on a hot day. The views across to the village are best enjoyed from the other side where you can see Balazuc clinging to the rock.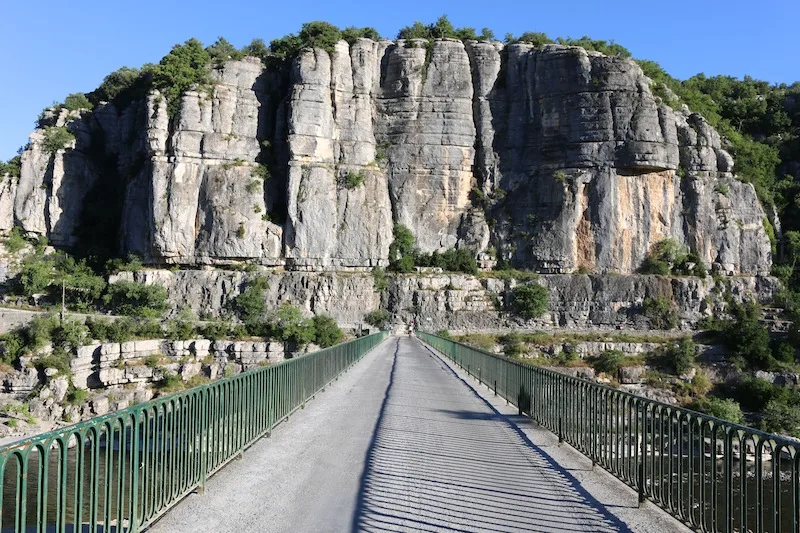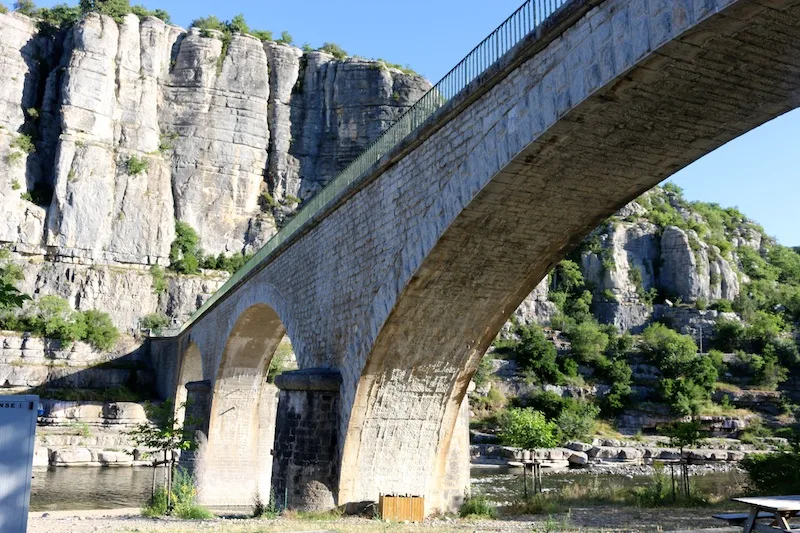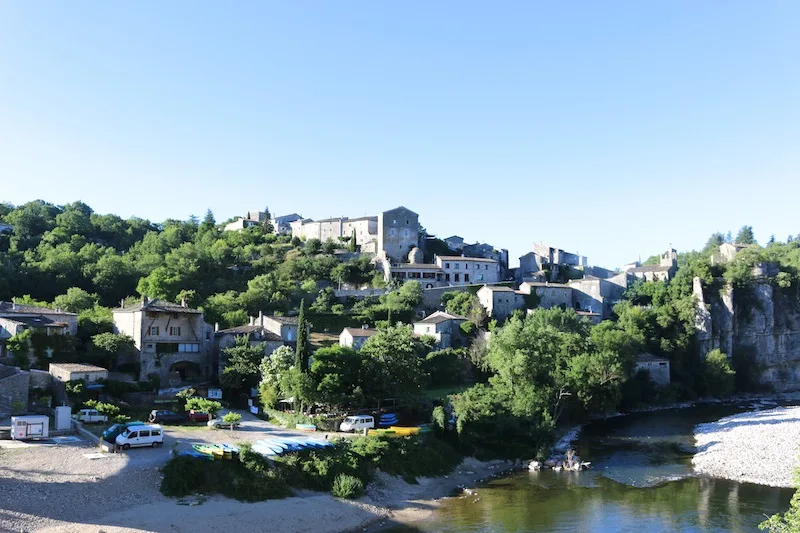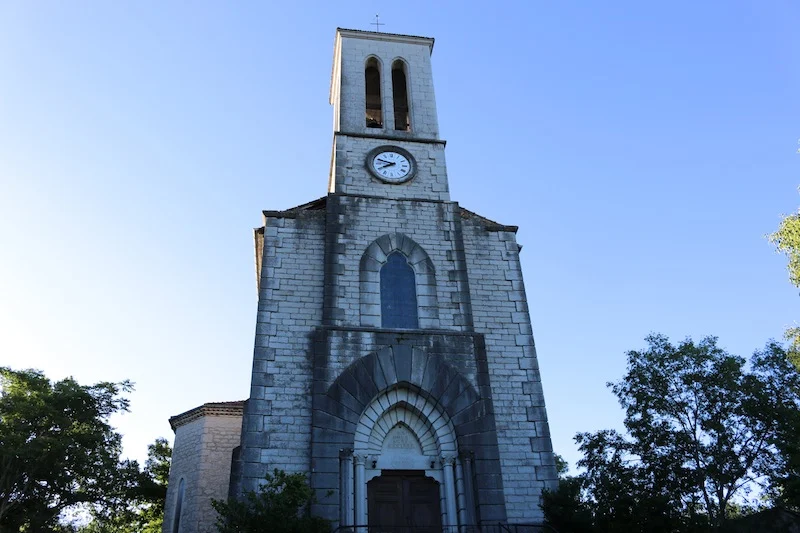 Breakfast at the chateau was a feast of bread, ham, cheese, eggs, croissants, fruit, yoghurt and a sweet lemon cake homemade by Florence. I love the French custom of sweet treats at breakfast.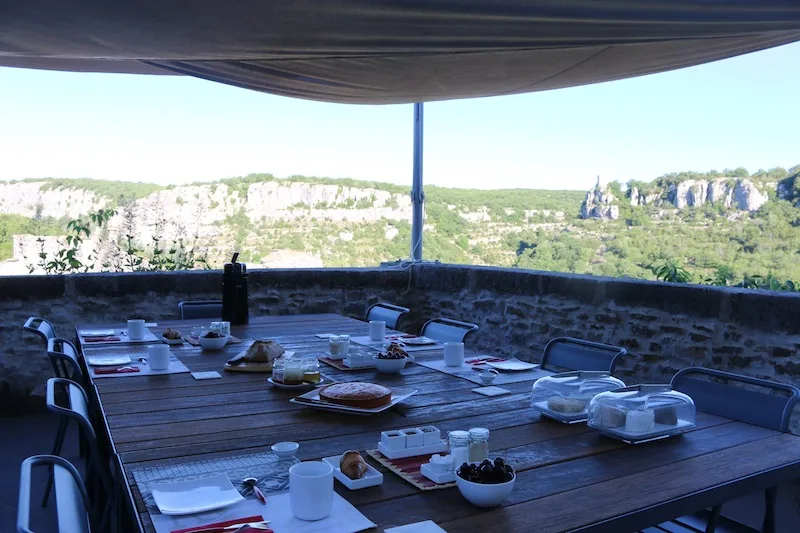 And far too quickly my time in Balazuc was over. If I'd had longer (and I wasn't 6 months pregnant!) I would have loved to go kayaking along the river. This is a popular activity in Balazuc and looks like a gorgeous way to see the area from a different perspective.
---
Pin this for later…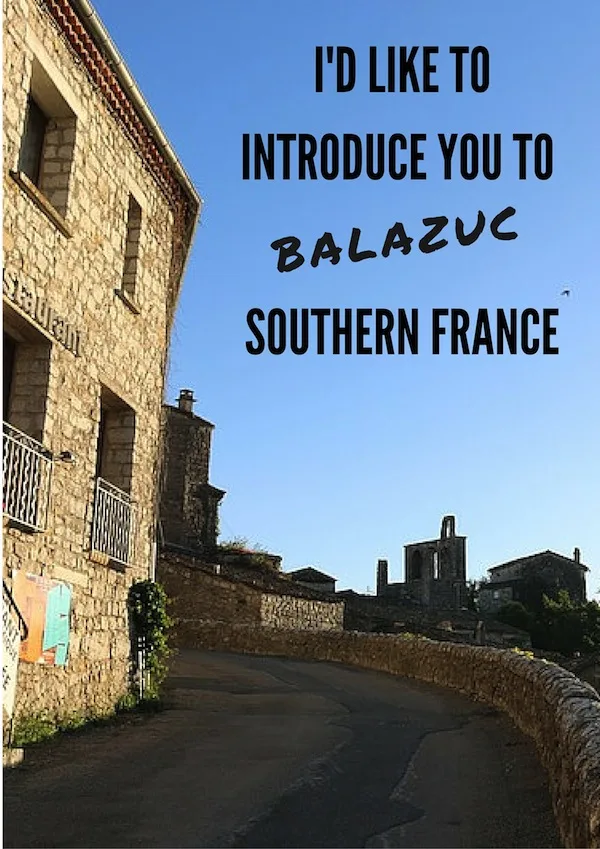 Need to know
Balazuc is in the heart of south Ardeche, between Vallon-Pont-d'Arc and Aubenas. Find out more about Ardeche on the Ardeche Guide.
It's best to drive to Balazuc. It is 45 minutes from Montelimar or 90 minutes from Avignon, Nimes and Valence. It is 2 hours from Lyon.
I took the Eurostar to Paris and then the TGV (a lovely train) to Valence and picked up a hire car at Valence train station. Train tickets are available through voyages-sncf.com.
You can fly direct to Lyon from Birmingham, Southampton, Edinburgh and London airports.