Where is the best place to see the sunset in Paris? I've visited 5 beautiful sunset spots in Paris to find out where is best and to show you where you should watch the sunset in Paris!
Have a magical time and remember, Paris is always a good idea.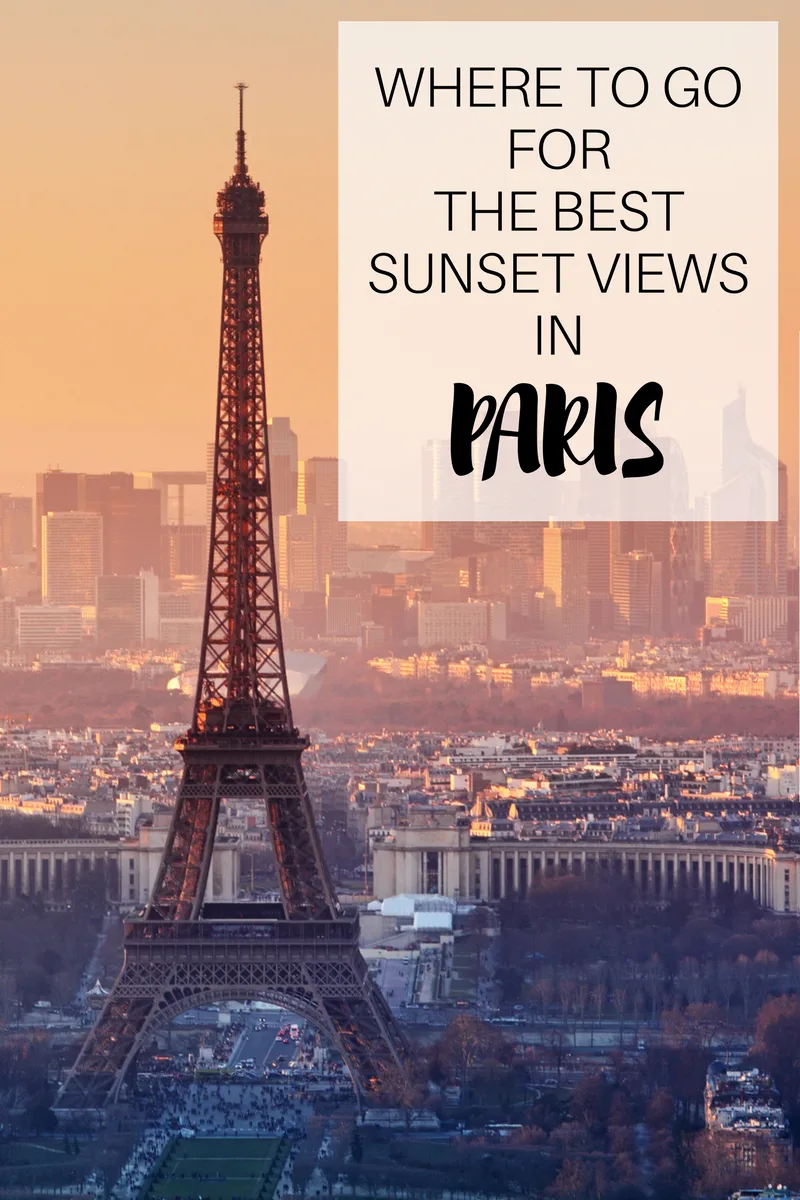 When you're sauntering along the streets of Paris you can't help but notice how incredibly beautiful it is. Everything is pretty. Even the street lamps are pretty. And Paris at sunset is one of the most magical places in the world.
When you get up high and have a view over the entire city it's something else completely. From a high viewing point you can fully appreciate the enormity of Paris and you start to realise how many incredible landmarks there are.
The sunset views in Paris are made even better by the fact there aren't many skyscrapers in Paris so you really can see for miles and miles.
You can see all these famous sights in one panoramic view and I can guarantee you'll be silenced by the beauty of it.
Add a gorgeous sunset that turns to sky from blue to pink to orange to red and it's even better.
Add a glass of champers and it's perfect.
Here are 5 places for the best view over Paris at sunset
1. Arc de Triomphe
Not only does the Arc de Triomphe look gorgeous but it's great to go inside, go to the top and enjoy the view. It's 50 meters high and if you visit after 6.30pm you'll also see the flame of the unknown solider.
2. Eiffel Tower
Of course, no trip to Paris would be complete without zooming to the top of the Eiffel Tower. It's not just about the view from the top, it's about riding the lift up one of the world's most iconic landmarks.
If it's a cloudy day then wait until after dark for a better view when the city is sparkling. If it's sunny it will look good at any time of day or night.
To avoid the queues it's worth booking a ticket in advance but this does mean you're scheduled in to a specific time slot. Remember that sunset tickets sell out quickly and make sure you buy your ticket from the proper Eiffel Tower ticket website (currently €15) rather than on a site like Viator where you'll be charged a minimum of €40.
3. Sacre Coeur Basilica Viewpoint
Located on Montmartre hill, it's unsurprising Sacre Coeur attracts the crowds who come to admire both the church and the view. Aim to visit the church about an hour before sunset and stay for the views.
4. Palais de Chaillot (Trocadero)
Palais de Chaillot is also know as the Trocadero. There are two museums up here and they look right out to the Eiffel Tower so you get a great view with perfect photo opportunities.
5. Montparnasse Tower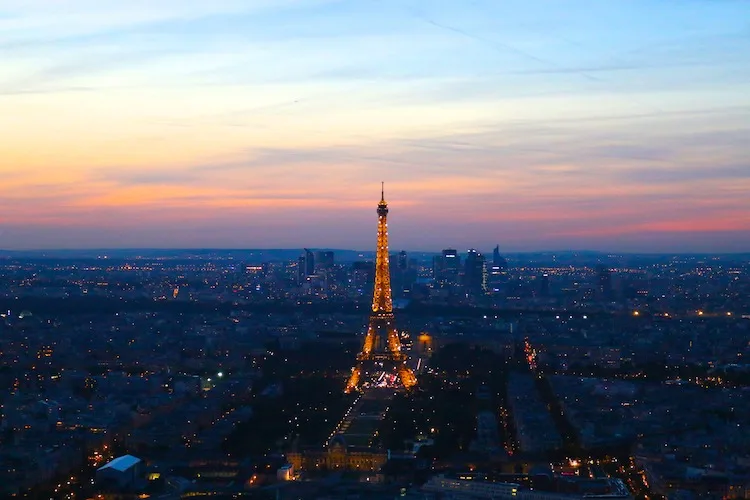 When I visited Montparnasse Tower to watch the sunset I arrived at 7pm and stayed until about 8.30pm as I watched the sun melt into the city. Paris fell into a temporary state of blue gloom before lights began to flicker on and it was sparkling once again.
The view from the Eiffel Tower might be good but any view with the Eiffel Tower in it is better.
Montpanasse Tower is actually a really ugly building so don't be put off when you arrive. There will probably be a short queue to get your ticket (€8.50) and get in the lift which takes you to the 56th floor. They're very proud about this being the fastest lift in Europe and takes just 38 seconds to reach the top.You can then walk up to the 59th floor where the panoramic terrace awaits. There's a small champagne bar up here and a café on the 56th floor.
From the top you can see:
The Eiffel Tower
Arc de triomphe
Les Invalides
Musee d'Orsay
Opera Garnier
Sacre Coeur
The Louvre
Notre-Dame
Jardin de Luxembourg
Pantheon
Bastille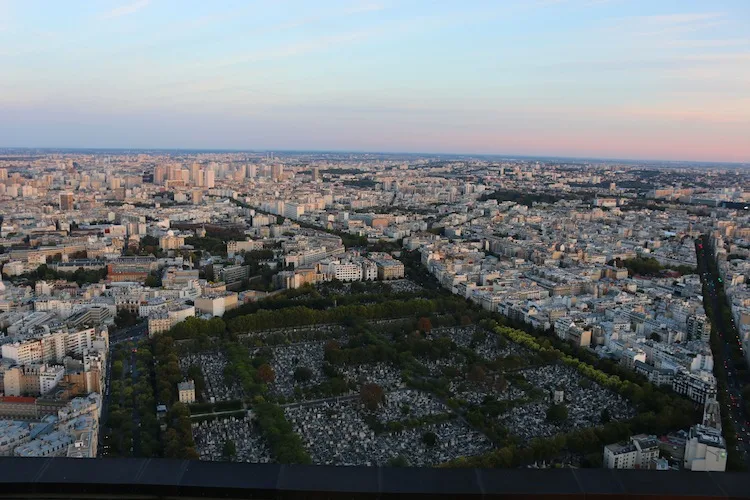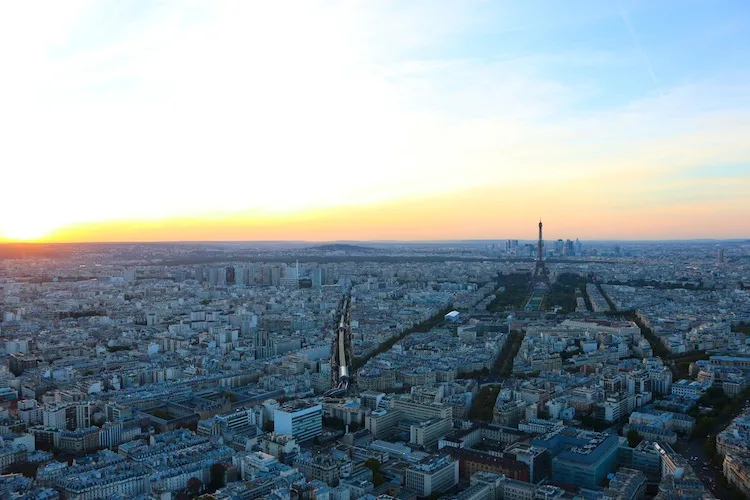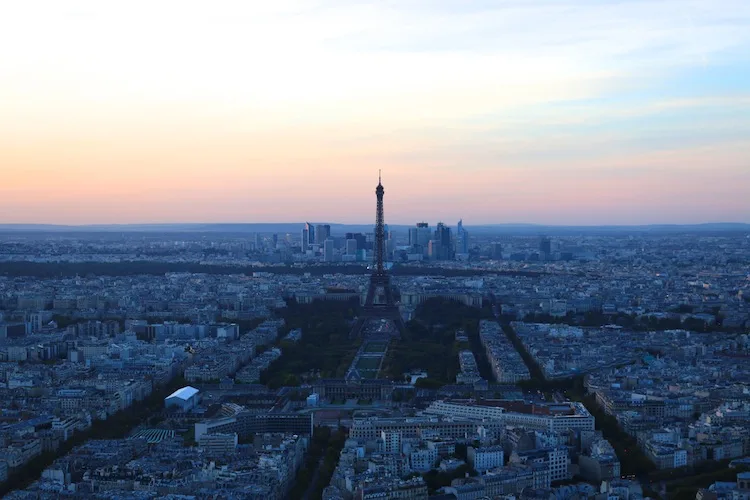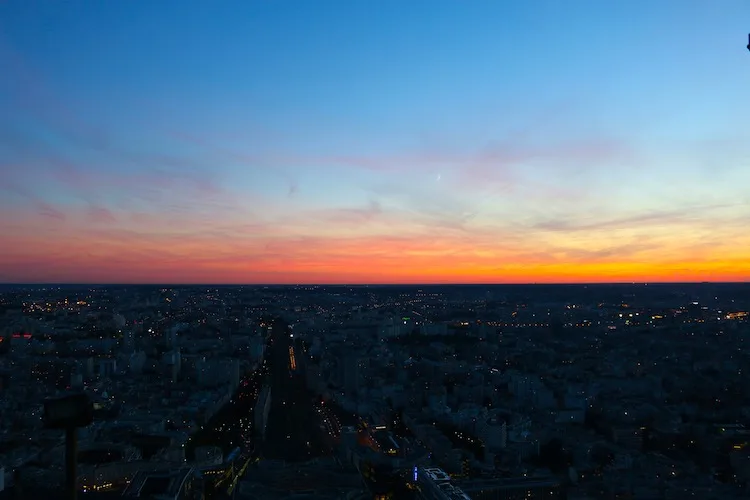 Not bad, right?
Where do you think is the best place in Paris to watch the sunset?