For the past 5 years I'd been doing my best to convince myself I enjoyed snowboarding. Everyone likes snowboarding and I felt almost guilty about not joining in with the snowboarding excitement. I tried so hard to like it but having a board strapped to me feet just wasn't for me.
Most of my friends snowboard so it hadn't even crossed my mind to ski. And let's be honest here, snowboarders look cool with their baggy pants and their laid back attitude.
But snowboarding is HARD! While you're learning you spend the majority of the time on your bum or your knees as you frustratingly fall to the ground again and again and again. I've had many snowboard-induced meltdowns (similar to that of a 3 year old) at the top of the mountain where I've been near tears and wanted to give up.
Yes, I was that person whinging, "I don't like it, I want to get down!"
But you've got to give me credit for trying, right? I tried and tried and tried again. And then eventually I gave up and decided to give skiing a go instead.
"If at first you don't succeed, give up and try skiing because it's so much easier!"
I was invited out to Tignes with Mark Warner and had 5 days of 3 hour lessons with Evolution2. I'd read great reviews about Evolution2 online and they were recommended by Mark Warner so I knew I was in safe hands. I'd also heard that France is the hardest place in the world to be a skiing instructor so I knew this was a good place to learn – if I couldn't do it here, I wouldn't be able to learn anywhere!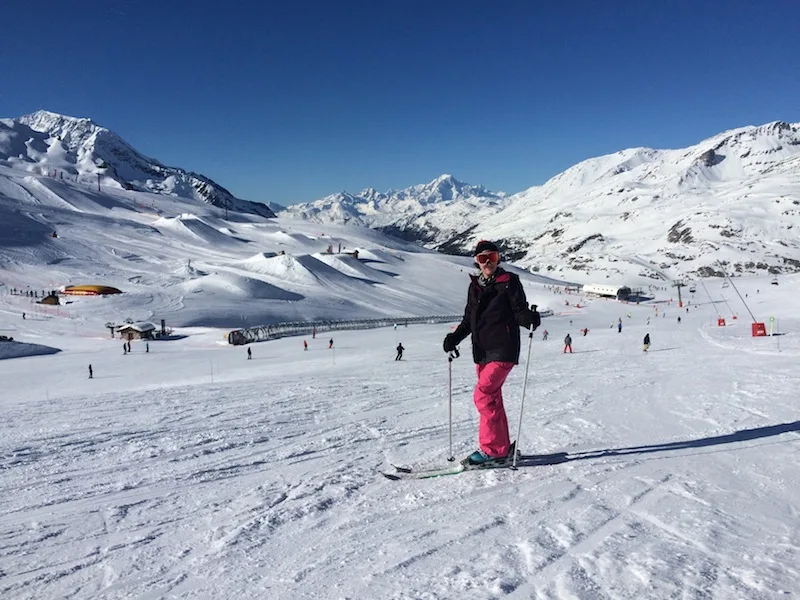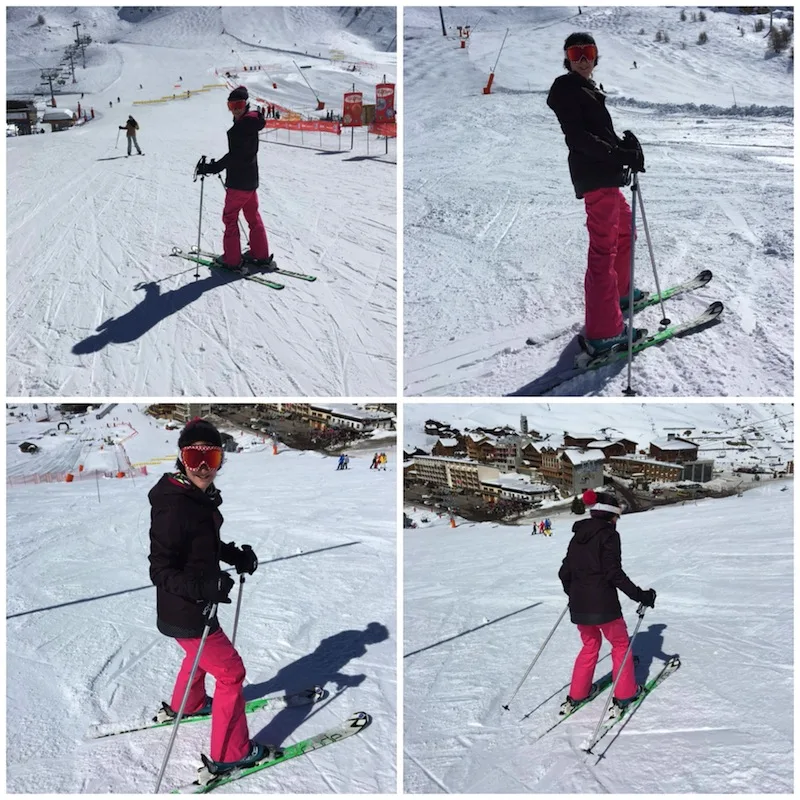 Snow plough!
I was pretty nervous – this was me giving winter sports their final chance. If I didn't like it this time I was going to wipe my hands of snowsports and admit that I'll never be a snow bunny.
We had afternoon skiing lessons due to availability. I'd wanted morning lessons but I'm actually glad we had the afternoon ones. In the afternoon it's so much quieter, you don't need to queue for lifts and there aren't massive groups of ski schools getting in your way. It also meant that I could drop George off at childcare and have some time to chill out in the morning before rushing to the slopes.
Tignes was actually very, very quiet so groups and queues aren't a problem at any time of day – but in the afternoon it's so quiet you can have a whole run to yourself. (This is accurate in mid-March)
Sam hadn't skied since he was about 11 so he joined in with the skiing lessons too. He's a really good snowboarder so was nervous about learning to ski but he picked it up within an hour and was quickly upgraded to a better group.
I was a bit nervous putting on skis for the first time but within seconds everything clicked into place. This just felt so natural. I was a bit wobbily but having the poles by my side made me feel more confident.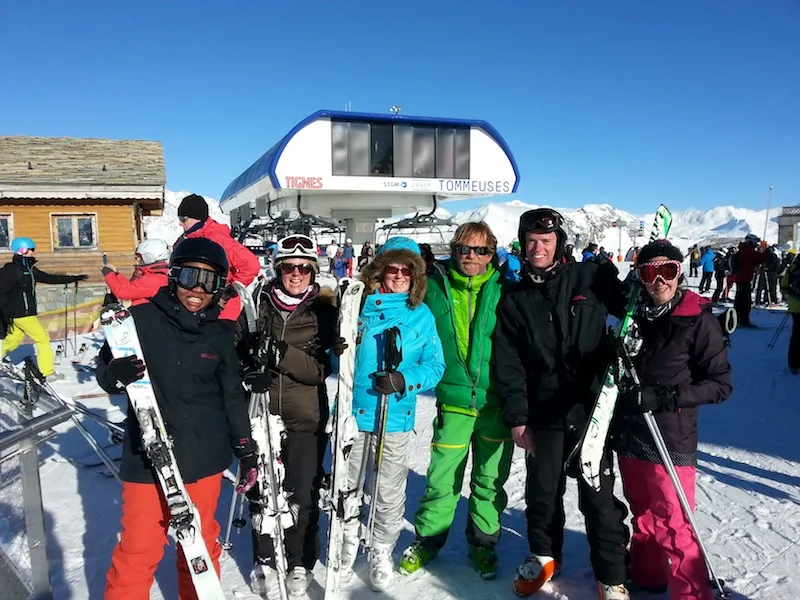 Our group was split into two and straight away we were heading down tiny slopes and learning to snow plough.
Next up was the button lift – the dreaded button lift for anyone on a snowboard. But on skis this was so simple.
During my first lesson, all I kept saying was, 'This is so freaking easy, why didn't I learn to ski sooner!? Why did I waste so much time on snowboarding!?'
Obiously, skiing isn't that easy, it's just so much easier than snowboarding.
Skiing is like running a marathon. It's very difficult but we humans have a natural instinct to run and (provided you have no injuries) pretty much anyone could train to run at least a half marathon.
But snowboarding is like running a marathon backwards. There is nothing natural about running backwards. It's awkward and scary and goes against every instinct you have. Your brain would be screaming at you, 'What are you doing, you fool!? Turn around and run forwards, this is unnecessarily difficult!'
I know, I know, there are hundreds of thousands of people who have successfully managed to learn to snowboard. They'll probably even enjoy it but now that I've tried skiing I know I will never be one of those people.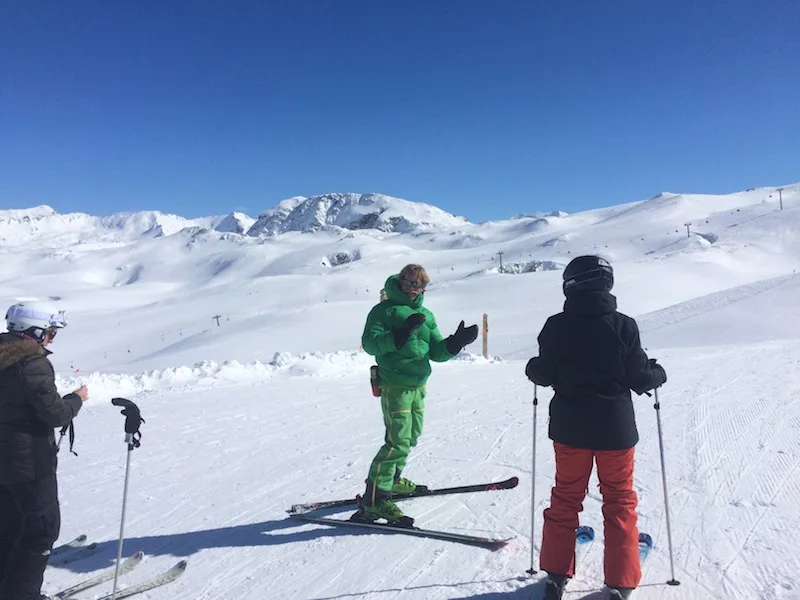 By the end of the first day things were going well. I hadn't fallen over once, I hadn't cried, I hadn't thrown a strop and I hadn't had a single moment where I thought I might die. I would actually go as far to say I was enjoying it.
We spent the majority of the 3 hour lesson on the nursery slope and I didn't want the lesson to end. This was a new feeling – I usually can't wait to get off the slopes and get into the pub but for the first time ever I was loving being on the slopes.
Each day on my skis got a little bit better. We went a little further, a little faster, a little higher and I got a little more confident as every minute flew by.
I loved the fact that Evolution2 is a large ski school. The individual groups are small but if you're struggling to keep up or you're progressing faster than the rest of the group you can easily switch between groups – meaning you learn at your own pace. My group began at 4 people, went up to 8 midweek and then there were just 2 of us on the final day. This also means that you never feel like anyone is holding you back or anyone is pushing you to do more than you're comfortable with.
It was all British people in every group and there was a natural easiness between us. You bond quickly when you're in that situation and I loved the supportive encouragement from my group.
After 5 days of lessons I can honestly say that I've found a new sport I love. I might not be very good or very fast but I'm already excited for next year!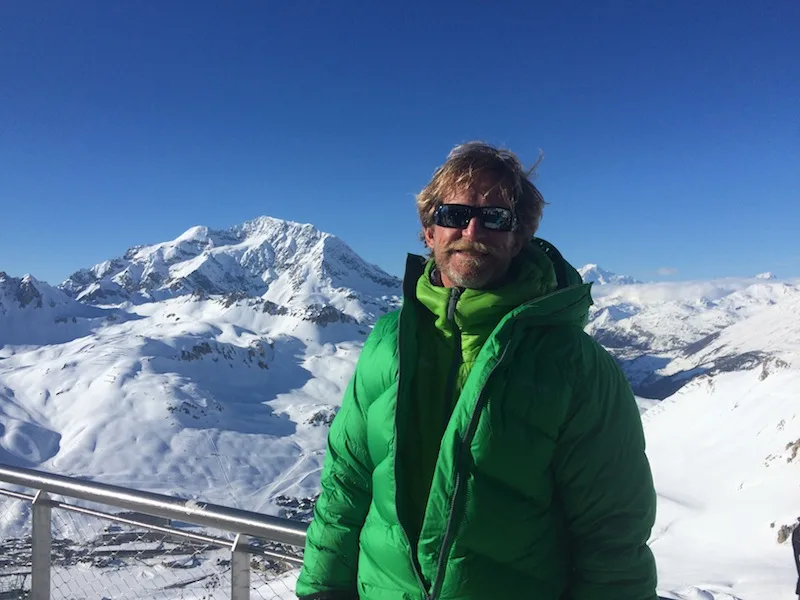 Massive thanks to my instructor Claude – I couldn't have done it without you!
My holiday low-down
My trip to Tignes was part of a package holiday with Mark Warner
I flew from Manchester to Grenoble with Jet2. Mark Warner arranged the 3 hour coach transfer to the resort
I stayed at the gorgeous Hotel Aiguille Percee which is located about 100m from the slopes.
Breakfast, afternoon tea, 3-course evening meal and unlimited wine with dinner was included
I made full use of the hotel crèche for my one year old son, George. (Check out my post: What it's really like to go skiing with a baby)
You can book your lift passes and ski lessons directly through Mark Warner
My 5-day 3 hour lessons cost £164
Disclaimer: I visited Tignes as part of a media trip with Mark Warner