One of the best things about travelling to a new country has to be trying new food and Gambian cuisine didn't disappoint. Full of spicy flavor, the tasty rice based dishes are usually fish based with plenty of vegetables.
Ida Njai is somewhat of a superstar in The Gambia. Mention her name to anyone in the tourism industry and they're bound to give you a beaming smile and tell you what a legend she is.
This entrepreneurial businesswoman claims to be the only person in The Gambia offering authentic home cooking classes. She's been running the cookery school since 2008 and has tourists from Monday to Thursday throughout the tourist season (September – May). For the rest of the year she prepares meals for busy families who don't have the time for home cooking. She studied and worked in the UK and also spent five years working at Mangala Lodge, one of the best places to stay in The Gambia. After so long working in the tourism industry she decided she wanted to do something different and give tourists a genuine insight into Gambian life and that's when Cooking with Ida was born. She also plans to write a cookery book which I really hope happens so I can get my hands on a copy!
Cooking with Ida
Ida welcomed us like old friends as she ushered us into her courtyard where she had a surprise waiting. Two rails of brightly clothes stood on rails and she directed the men towards one and the women towards another. Yes, we were dressing up in traditional Gambian clothing and in the style that most people still dress. I asked Ida to pick out an outfit for me and, after a lot of help to get dressed, I ended up looking like this: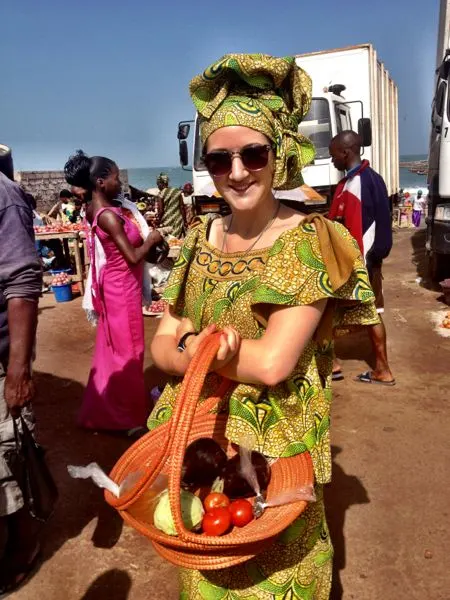 I actually felt great to be wearing bright and ladylike clothes and to have my hair scooped off my face so I happily wiggled around (the skirt was seriously restricting) dressed like this for the rest of the day.
We were making Fish Benachin so once we'd been transformed we headed to the market where we picked up some fresh fish and vegetables for our meal. I've never in my life been to a market like this and could have sat all day watching the young men wade in and out of the sea collecting heafty buckets of fish from the fishermen.
The women waited on shore with buckets and wheelbarrows ready to be filled while they gossiped and haggled and bargained.
Unlike most fish markets, this one felt alive with energy and colour and noise. It obviously stank of fish but it was more of a fresh and delicious scent that was carried back out to sea with the breeze. After much deliberation, we finally opted for a red groper, a black groper and some barracuda.
We reluctantly left the market and headed back to Ida's home where the fun really started.
After a fruit smoothie we were set to work on peeling, chopping and slicing while Ida and her employees (who are all family) began working on the main sauce for the dish.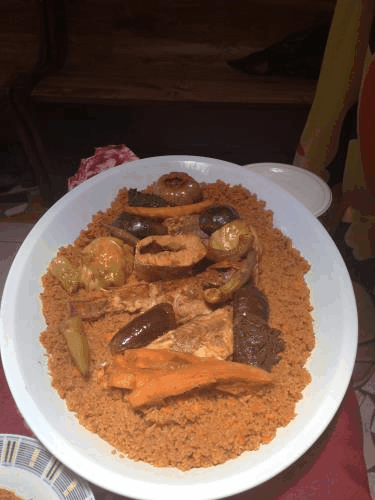 Recipe for Fish Benachin
Ingredients
Fish
Seasonal veg
Salt
Pepper
Oil
Tomato paste
Tomato powder
Garlic
Dijon mustard
Hot peppers
Rice
How to make Fish Banachin
Pound your peppercorns, onions, garlic and fresh tomatoes together in pestle and mortar. Ida actually used a wooden bowl with a huge wooden instrument that you can stand up to use it was so big.
Add your vegetable oil to a pan and when it is hot, add your pounded ingredients along with tomato paste and tomato powder.
Stir, add 5 cups of water and allow to boil for 10 minutes but ensure nothing sticks to the bottom of the pan.
Add some more water so you have a thin liquid then add all your vegetables and some salt.
Leave to cook until the vegetables are soft.
Once the veg is done, take the vegetables out and add the fish.
Once the fish is done, take it out and add the carrots.
While the carrots are cooking, make your rice and within 10 minutes it should be done.
Hot chili sauce
Gambians love spicy food so this was added on the side:
Combine hot peppers, garlic, oil, a little water, salt and Dijon mustard and cook for 5 minutes.
Simples . And spicy!
And the end result….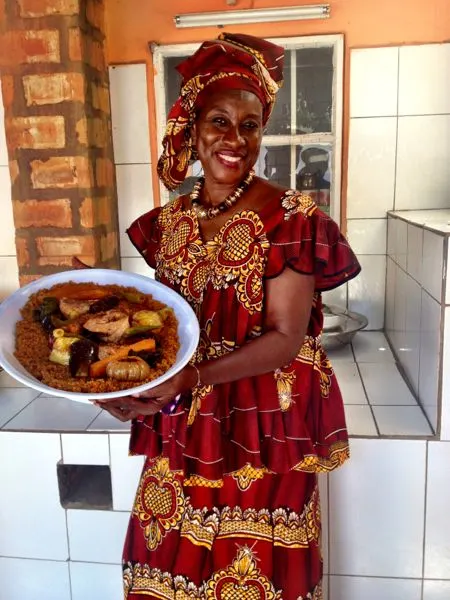 The meal was absolutely delicious and we ate in a traditional Gambian manner and all shared the same huge plate.