I like to mix things up while I'm travelling and experience authentic cultures but I'm not afraid to admit that I also love a bit of luxury. Anything that involves fine wine, delicious food, fluffy bathrobes, perfectly kept gardens, feather pillows, sparkling swimming pools and bathrooms as big as my living room will definitely get my seal of approval. Give me a boutique hotel on the beach or a luxurious spa on the cliffs overlooking the sea and I'm a very happy travel blogger. This is part of the reason why I loved my trip to The Gambia so much, because I had the perfect mixture luxury and adventurous and unique experiences.
The Sheraton Signature Massage
I can't even say the words 'Sheraton Signature Massage' which without physically relaxing my shoulders and letting out a little involuntary sigh of pleasure. Yes, it really was that good! I've had my fair share of massages but I'd actually go as far to say that this was the best massage I've ever had. But it wasn't just the massage that made it so good, it was the entire Sheraton Gambia experience that made me feel like I was floating on a cloud for the rest of the week.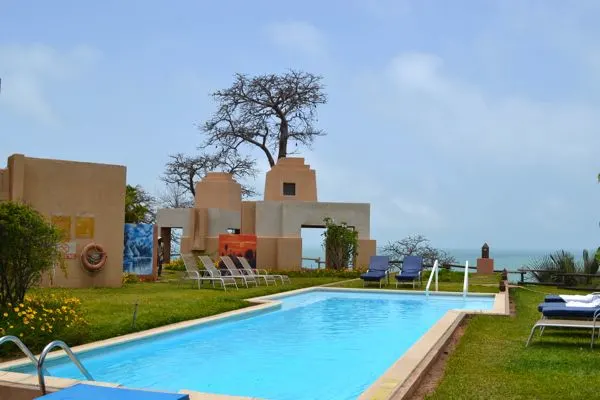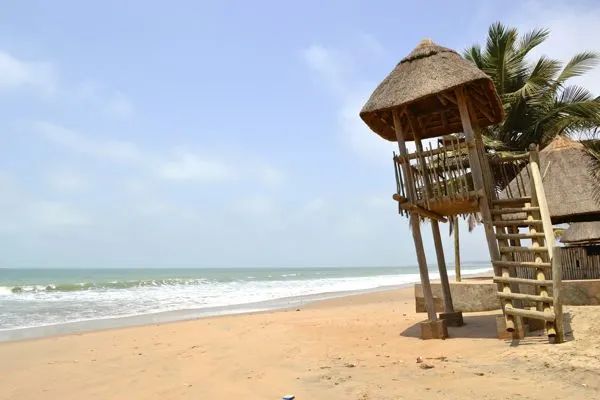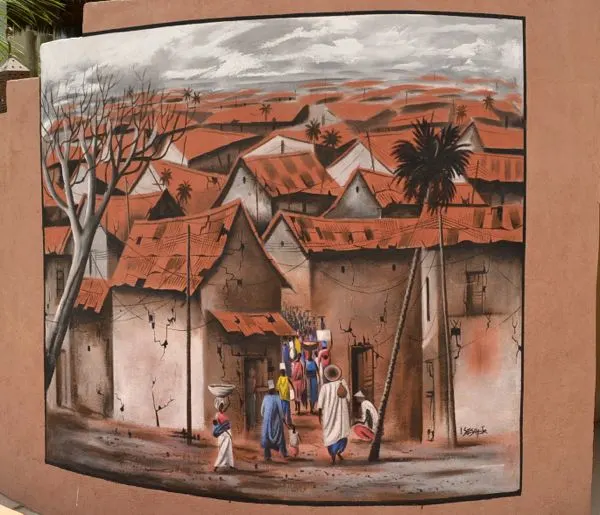 We arrived early to have a nosy around the Sheraton and strolled around the quaint little rooms to see all the new artwork that a local painter is creating. The manager was keen to make sure the hotel reflects the local culture and these paintings do a brilliant job. Some are vibrant and playful while others are thoughtful or intriguing but they all paint the perfect picture of The Gambia.
Next stop was the spa where we changed into Kimonos and lounged by the pool and enjoyed the sauna and steam rooms. One of my favourite things about visiting a spa is that you can waddle around in your slippers and dressing gown and no one bats an eyelid.
Whilst enjoying the sunshine I got chatting to the gardener who proudly showed off his flowers but also took me to a little pond around the side where huge lizards were lazing on the bank. I would have never spotted them myself, despite their enormous size, so it was great to have a garden guide to show me around.
Just as the sun was becoming a little too intense, it was time for the signature massage.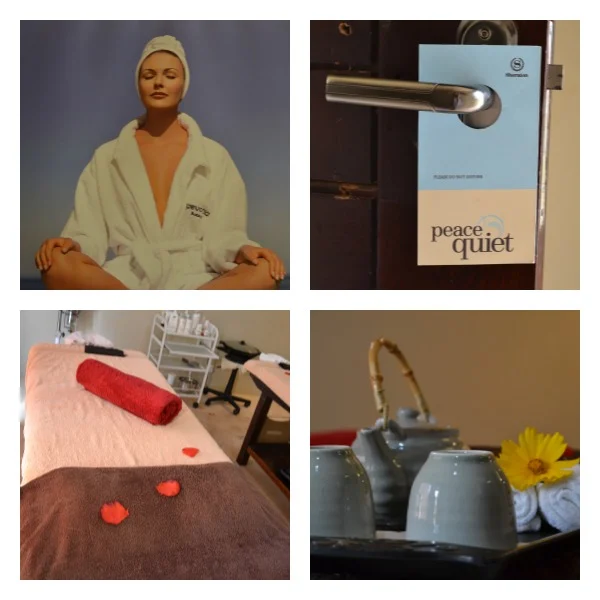 It began with a Swedish massage to work out all the kinks and knots that I didn't even realize I was holding. I spend most of my days hunched over a computer so it was a mixture of pleasure and pain as he worked out those crunches. He then moved onto hot stone therapy.
This was the first time I'd had a massage using hot stones and it wasn't anything like I'd expected. I've seen pictures where blissful women lie with the stones lined up along their spine and wondered what the hell that would ever do. I've even considered doing this myself during a hot day on pebbly Brighton beach but decided it would do nothing but burn me. The stones were super hot without being uncomfortable and my masseuse rolled them over my muscles with expert skill. He pushed the edges of the stones into my skin to get any remaining bits of tension out of my body and I soon felt like I was on a hot, oily cloud. It was delightful. The massage ended with an Indian head massage which I would have happily let him do all day as he sent tingles right from my head to my toes.
Feeling like a soft ball of clay, I rolled down from the table and quickly got dressed in time for a feast for lunch.
Ngala Lodge Resort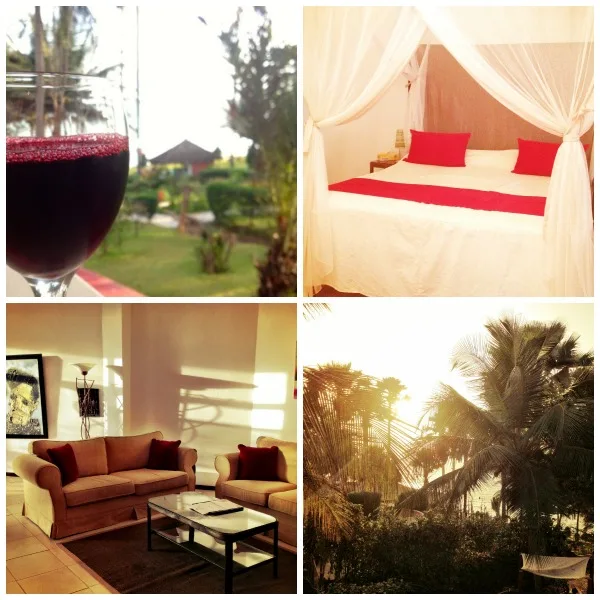 We were greeted at Ngala Lodge with a refreshing glass of Wonjo Juice in the tropical gardens. The juice is made from the hibiscus plants that grow within the gardens and is deliciously sweet.
I was lucky enough to stay at Ngala Lodge for four nights while I was in The Gambia. The website describes the lodge as a 'piece of paradise' and they couldn't have picked a better description.
Ngala Lodge was voted as the fourth most romantic hotel in Africa by TripAdvisor and it isn't hard to see why. The lodge may not be a brand, spanking new, 5-star resort but it is filled with charm and character. I often find that the super posh resorts feel sterile and all have the same vibe and atmosphere but Ngala is completely unique.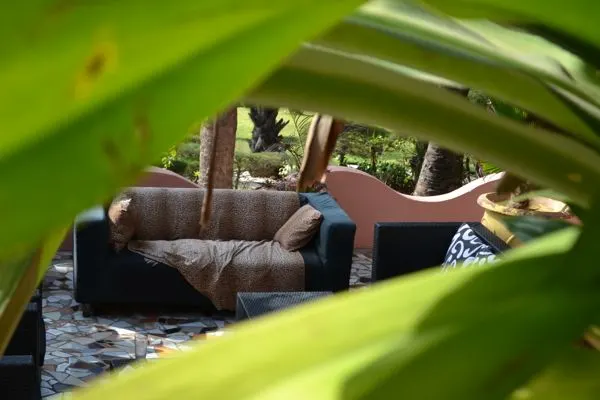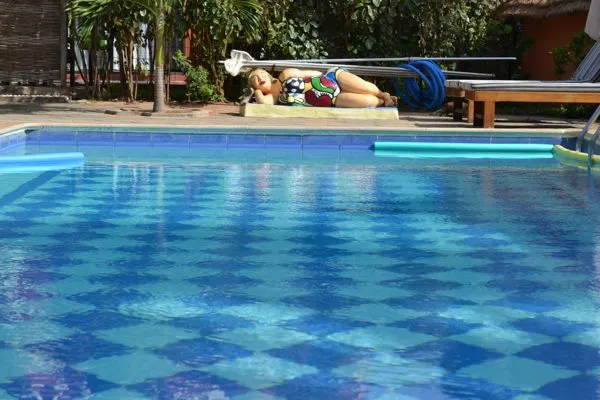 The gardens are filled with secret chill out areas that are tucked away among the flowers and trees. I went for a stroll down to the beach when we first arrived but was lost in minutes between the winding paths and nooks and crannies where yet another comfy sofa was calling me to sit down and relax. Following the sound of the crashing waves and the fresh sea breeze, I eventually stumbled upon this magnificent view.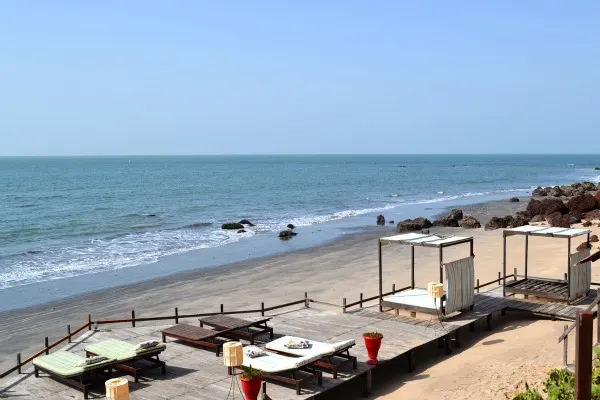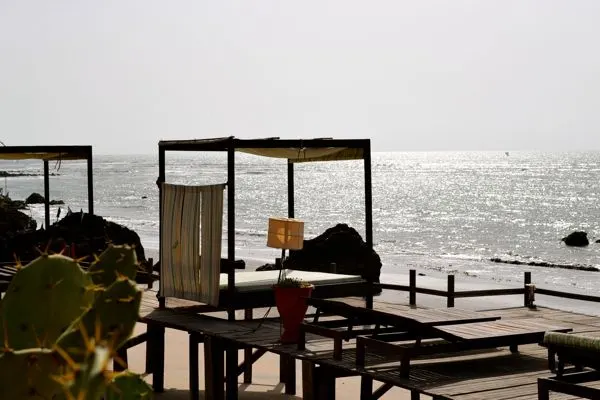 But it isn't the stunning views, tropical gardens, huge beds or verandas that look over the sea that make this place so special. The thing that makes is so perfect and keeps people coming back year after year is the staff. I don't think I've ever met such a friendly group of people with such amazing memories. Each and every one of them remembered my name, what I was doing every day, what I was looking forward to and what they've recommended and they even remembered how I took my coffee and my favourite glass of wine. It was incredible. And they were always there to suggest the best things to see and do and share stories about their wonderful country.