On Sunday I flew out of Heathrow at 8am for my big trip to New York and the night before I opted to stay at YOTEL at Heathrow Airport, a cabin hotel at Heathrow Airport. This meant I was able to skip the 3am journey to the airport and get a good night's sleep before my flight. Perfect.
What is YOTEL?
YOTEL is a hotel with a difference because the rooms are small cabins that can be booked by the hour. Now don't go thinking it's 'one of those hotels' where people book a few hours and ask no questions. This is a hotel for travellers who need a few hours sleep before or after a flight or during a stop over. It's also great for people who have early morning flights so they can get to the airport on time. YOTEL can be found in New York City, London Gatwick Airport, London Heathrow Airport, Amsterdam and Schiphol.
At Heathrow it's in Terminal 4 but all terminals are linked by the Heathrow Express so it's easy to travel between them all. YOTEL has the Japanese influence of the pod hotels but it has been combined with luxurious but affordable travel (my kind of travel!) The creator of YOTEL was tired of boring and expensive hotels at airports and decided to do something about it.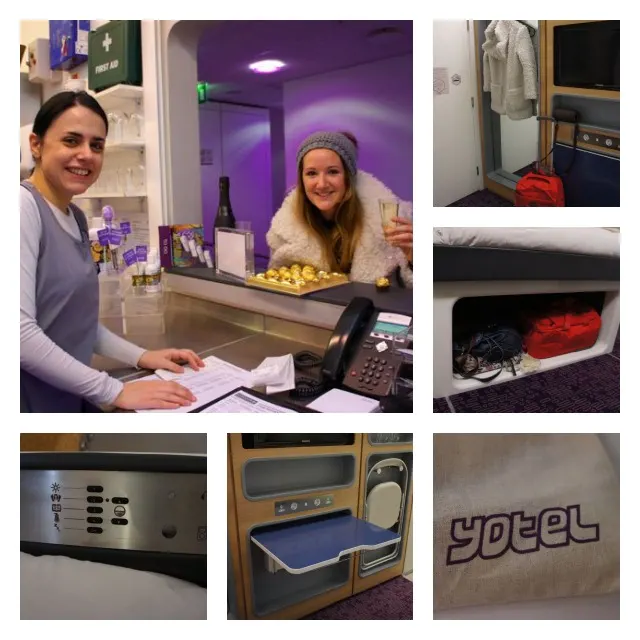 This is what it says on their website:
'At YOTEL we are very passionate about hotels and we have tried to create a 'First class experience at an affordable price'. YOTEL cabins may be smaller than traditional hotels rooms but through great design we offer a beautifully designed, flexible smart space to suit individual needs in which to relax, refresh, connect and sleep. We know the things that usually irritate you about hotel rooms and we've tried to take them all away!' [/quote_simple]

YOTEL is unique and interesting and it felt like it was designed by a frequent traveller. As someone who stays in hotels a lot, I get bored of the standard rooms that are unmemorable and dull. I also get irritated by bad design such as no plugs near beds, no lights near mirrors or rooms with little storage space or nowhere to get a drink. Thankfully, YOTEL had none of these annoying things.
My experience at YOTEL

I made my way to Yotel at 11pm after catching the tube to Heathrow. The tube is a cheap and easy way to get to Heathrow, particularly if you're not in a rush because it's cheaper than the Heathrow Express.
The hotel is tucked away in a corner and you'd barely notice it if you weren't looking but it is well sign posted from the tube so it's easy to find.
I was greeted by two smiley staff who immediately offered me a glass of champagne and a few chocolates. It was their 6th birthday so they were celebrating by giving all the guests bubbles and Ferrero Roche and they asked to have a few photos taken with me to share on their Facebook page.
They were so friendly that, of course, I agreed and it got me thinking about the good customer service experiences I'm searching for on behalf of American Express. A friendly welcome and a surprise treat can really go along way to make you feel good and lift your spirits.
I'd expected to be greeted by a sleepy receptionist who would rush me to my room so she could continue watching TV or playing Candy Crush but it was a lovely surprise to welcomed so heartily.
I was shown to my room where I was told how to work all the gadgets that made Yotel so special. The electric bed slid out when I was ready to sleep and the handy storage spaces meant the room didn't feel cramped despite the small size.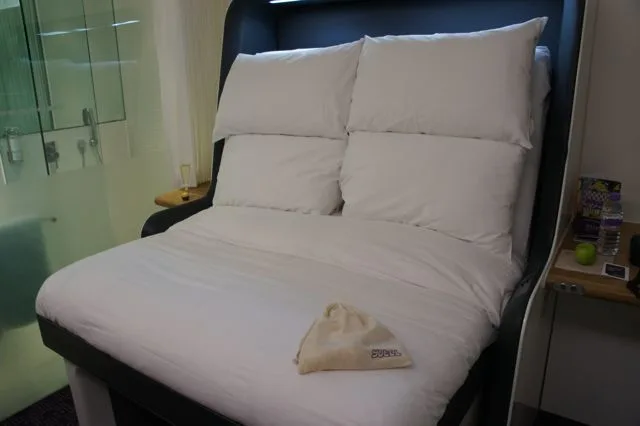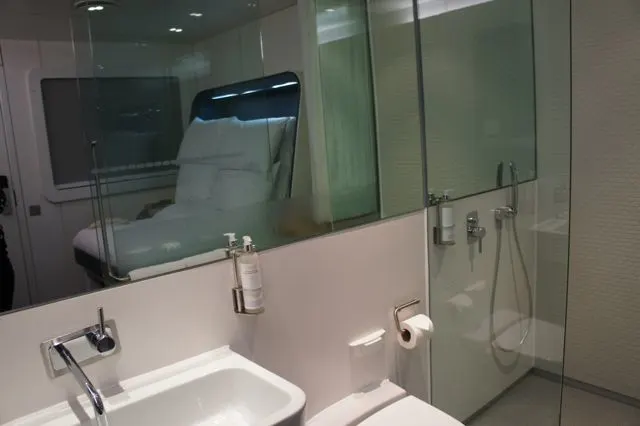 At the end of the day, this is just a tiny square room but it's the little things that make it a great place to stay. The bed was super comfortable with a thick duvet and huge pillows. The towels were soft and fluffy and the powerful rain shower is just what you need after a long journey. The complimentary toiletries smelt delicious and there was a relaxing shower gel to help you sleep and an invigorating one to wake you up.
There was a surprising array of mood lighting that turned the modern, white room into a cosy and comfortable space and there was plenty of space for suitcases and coats. There were plenty of plug sockets too and a place to put you're gadgets while they're charging – this is a real bug bear for me when hotels don't have enough plugs or they're in really random places with no shelves next to them! There was a TV, free WiFi, a food service and complimentary hot drinks.

The lady who showed me to my room returned a few minutes later with a cup of Earl Gray tea and I settled in for a good sleep.
I assume that people were coming and going all night but I didn't hear a thing and I slept like a baby until 5am.
I usually give myself a spare 45 minutes to an hour when I'm going to the airport as a 'just in case buffer' but when I was already in the airport I didn't need this extra time and felt comfortable cutting it fine.
As I left Terminal 4 I walked past a small crowd of people who were wrapped in coats and stretched out on the uncomfortable airport seats. They'd obviously arrived on the last tube and napped in the airport until it was time to go through security and I was so glad I wasn't one of these people.
I took the Heathrow Express to Terminal 5, as there is a free shuttle between all terminals. I was told that I could take the bus but at that time of the morning I'd need to wait outside in the cold and the friendly lady at reception recommended staying in the warmth and waiting for the train. It took about 10 minutes and I arrived at check-in feeling refreshed, stress-free and ready for my flight to New York.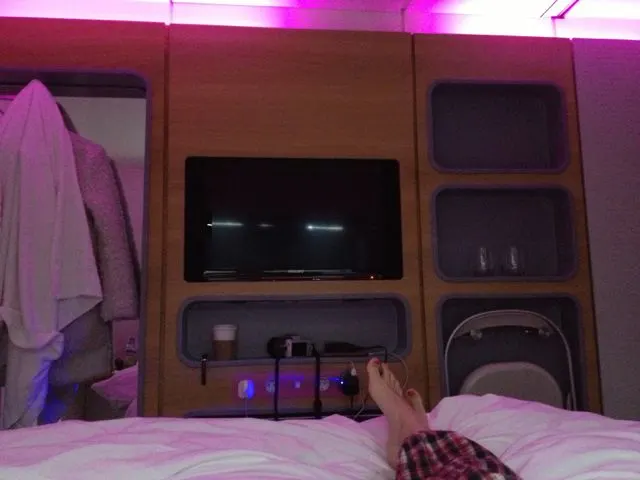 Would I stay there again?
Absolutely. I would recommend the hotel to anyone who has an early morning flight or lives a long way from the airport.
It ensures you start your holiday with no stress or hassle and it's a pretty cool place to stay too.
For me, it worked out cheaper than a taxi and so much easier than the night bus. London transport isn't exactly the most reliable system so I'd feel really nervous relying on the bus at that time of the morning.