Yes, you read that correctly, Holiday Inn Expresses are getting cool.
Last week I was in London and had the pleasure of staying at the Holiday Inn Express on Ealing Broadway, London.
I've stayed in more than my fair share of budget London hotels and they very rarely make it onto the pages of this blog because they're usually just so…meh. I honestly just have nothing to say about them. You know the type, there's nothing wrong with them, there's just nothing right with them. They have outdated décor, shabby bathrooms, rough towels and staff who look comatose through boredom. Locations are usually good but that's about it.
But finding a nice budget hotel in London is an almost impossible challenge so this is what I'm usually stuck with. Until now….
The Holiday Inn Express is a new generation of Holiday Inn's.
First impressions at the Holiday Inn Express Ealing
Walking into the Holiday Inn Express (after a brief and embarrassing moment of confusion with an automatic door – who can't work an automatic door!?) and I couldn't hide my surprise at how impressed I was.
I was welcoming inside with friendly smiles and speedily checked into my room.
"Wow, this is really nice…" I told the hotel manager, as if he didn't already know.
He looked around proudly at the modern sofas and the stylish seating area and nodded in agreement.
It's bright, modern and stylish with a calm and welcoming atmosphere that would make you feel just as comfortable reading a book or setting up your office and get some work done. The décor is simple, sleek and comfortable – a far cry from the dingy and outdated hotel receptions I'm used to.
I took the lift up to my room on the fourth floor and once again I was surprisingly impressed. It wasn't a huge room but thanks to the clever storage and sleek furniture it felt spacious and airy. I was lucky to have a corner bedroom with epic floor to ceiling windows that looked out over Ealing Broadway. It was also a disabled room so my bathroom was enormous!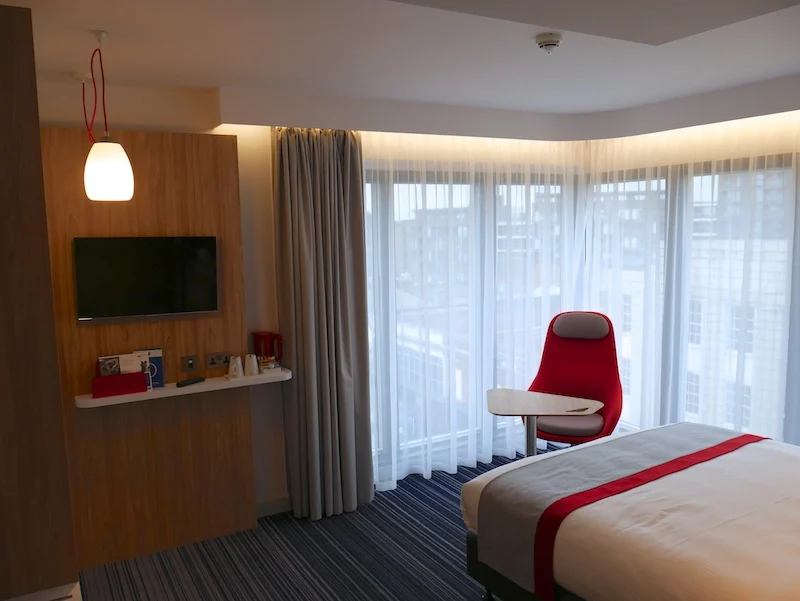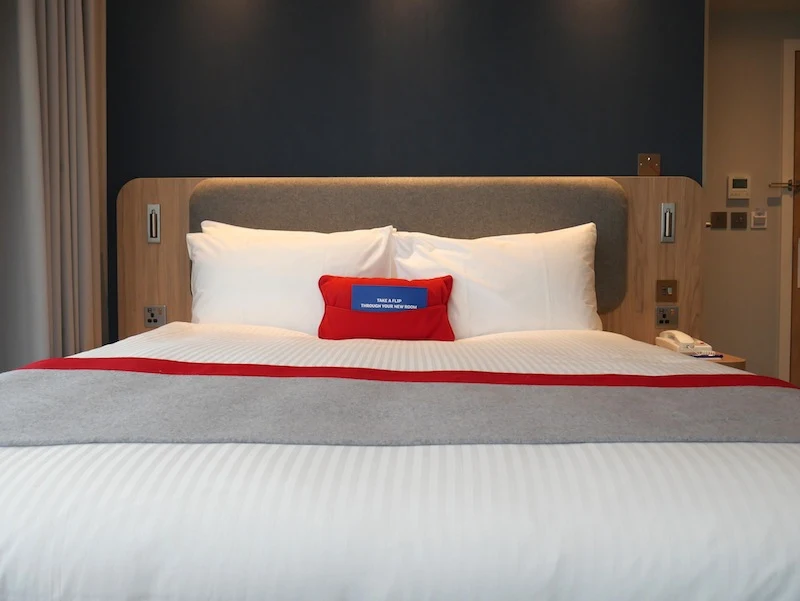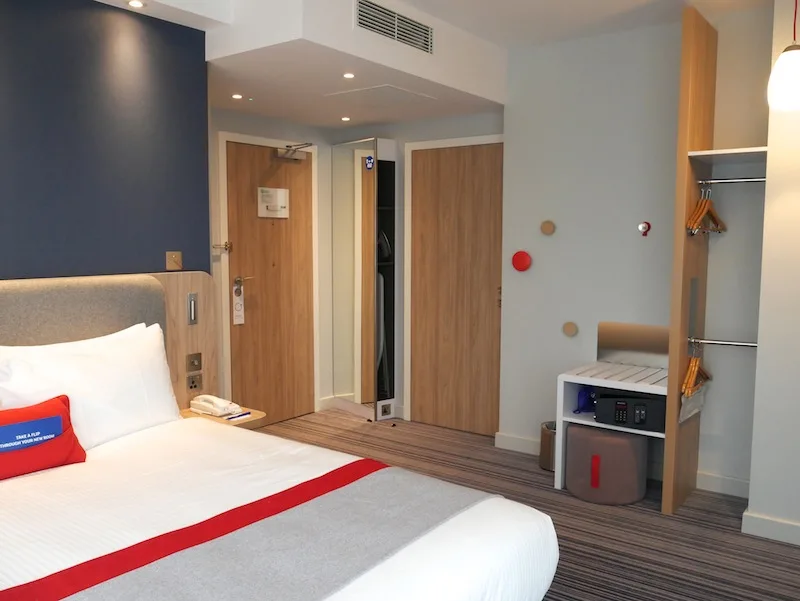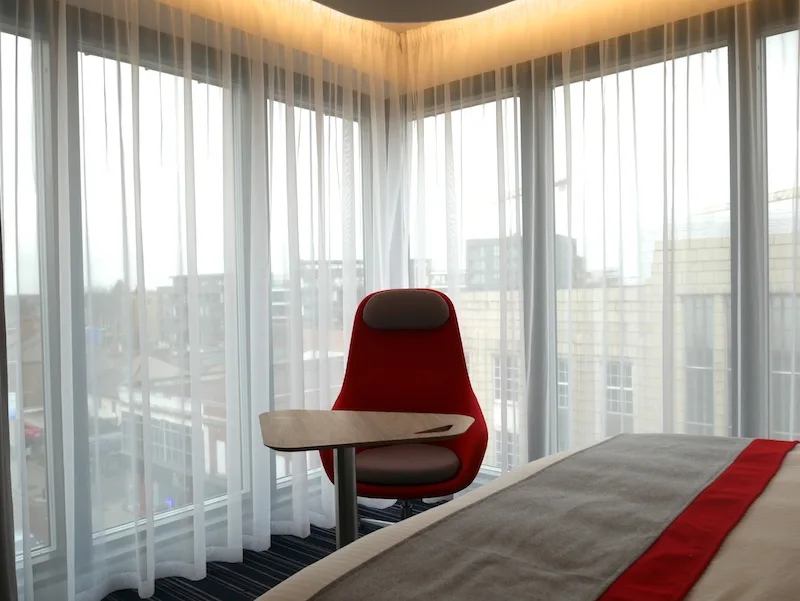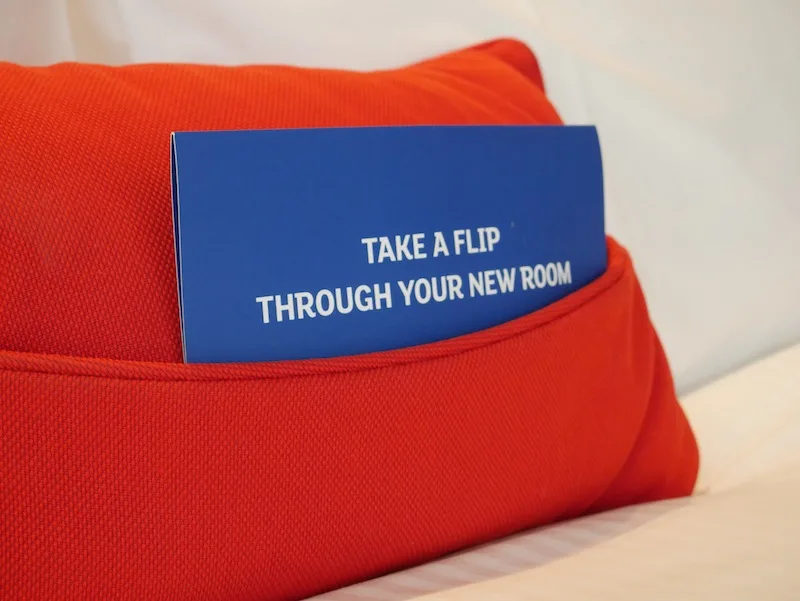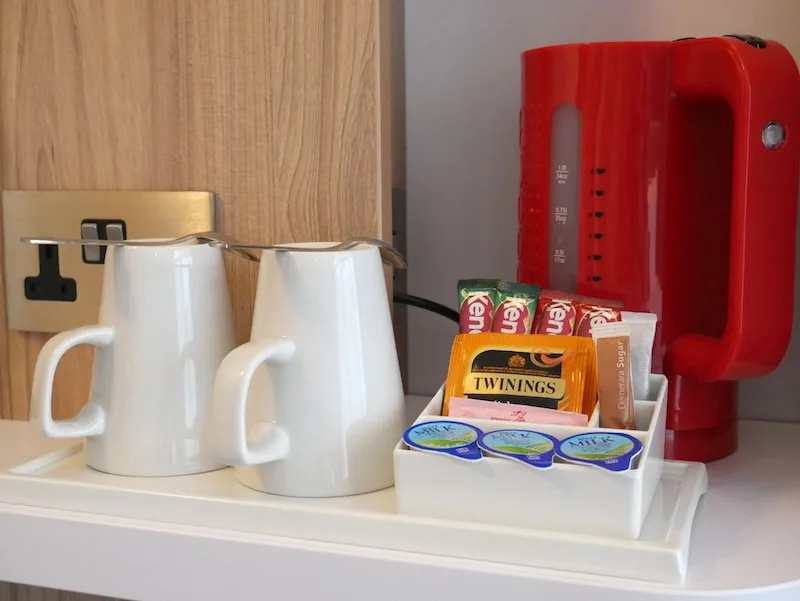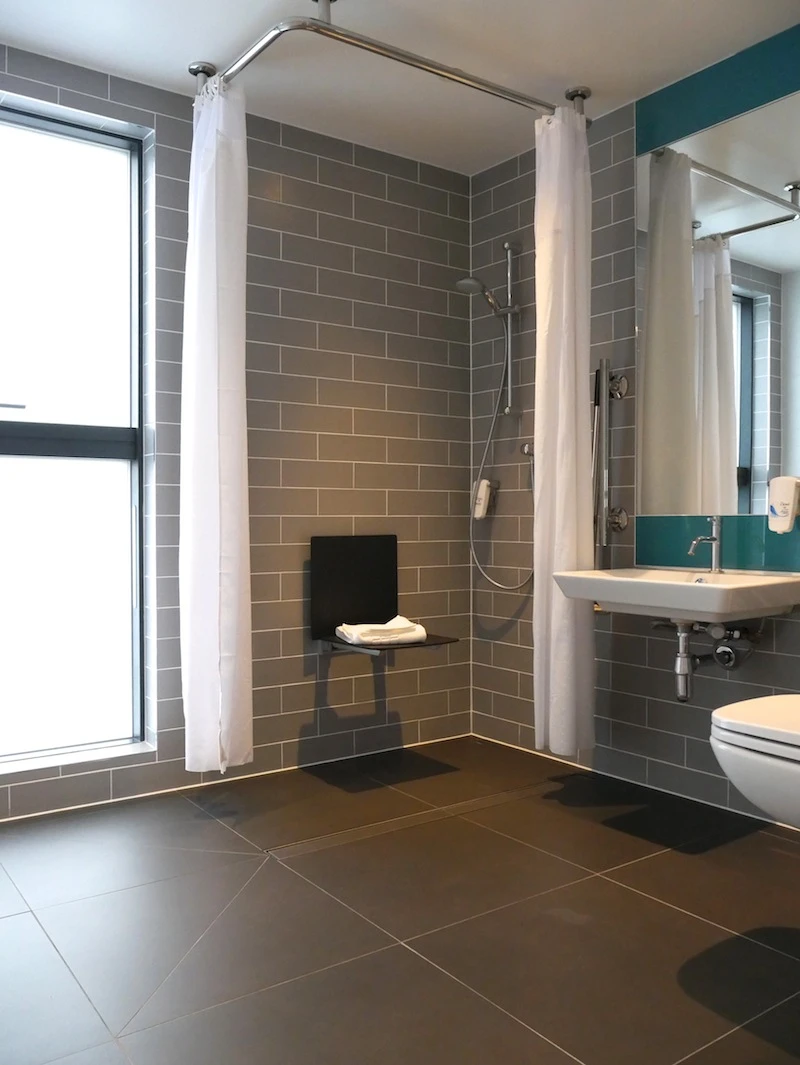 It ticked all of my hotel must-have's boxes:
Immaculately clean (obviously)
Plenty of plugs in useful places (NOT behind the bed)
A great shower (I'm fussy when it comes to showers)
Thick, fluffy towels
Plenty of tea and coffee
Fast WiFi
A full length mirror
A iron and an ironing board in the room (so you don't have to pester reception for one)
Somewhere comfortable to sit apart from the bed
A super comfy bed with a thick duvet
Air-conditioning that isn't too complicated to work
A hair dryer that won't take 4 hours to dry my hair
Nice but simple lighting
You see, I don't want a lot from a hotel room, particularly a hotel I won't be spending much time in. I'm not asking for a plunge pool or a butler or 20 types of moisturiser. But I'm always amazed by how many hotels get it SO wrong.
It's not surprising that the Holiday Inn Express was developed after extensive research to find out what guests REALLY want from their hotel stay. Today's traveller is apparently looking for a simple, smart and hassle free travel experience and this is exactly what you get at the Holiday Inn Express Ealing Broadway.
Once I was settled in (and had a brief swing around my twirly chair) I headed down to reception for lunch. A few guests were milling around but it was quiet and peaceful with a great soundtrack playing in the background. I ordered a delicious pepper soup with hot, crusty bread. I could have happily sat there all day while working my way through the muffins and snacks available.
I slept like a baby that night – for the first time in a long time as my own baby was at home! Since having a baby I've become one of those people who really appreciate a good night's sleep so I woke up feeling very happy. The bed was as comfortable as I'd been promised and I had one of those deliciously deep and dreamless sleeps.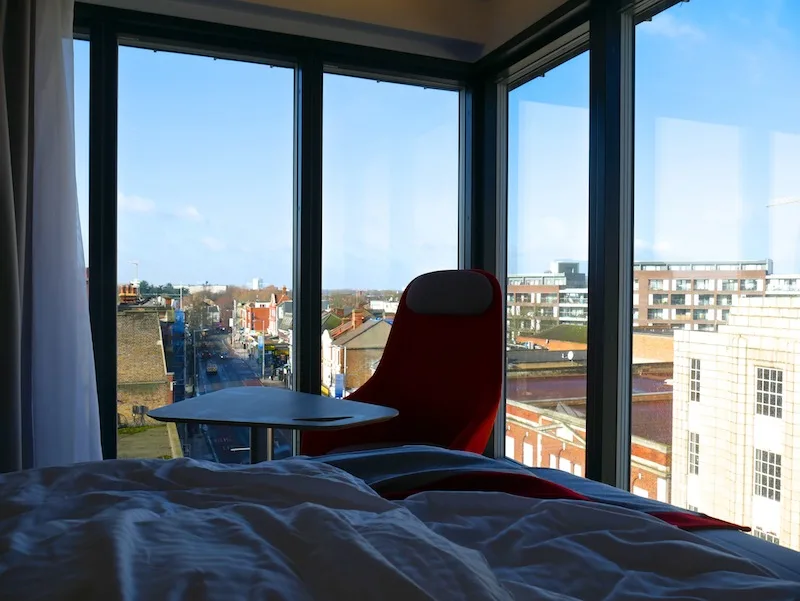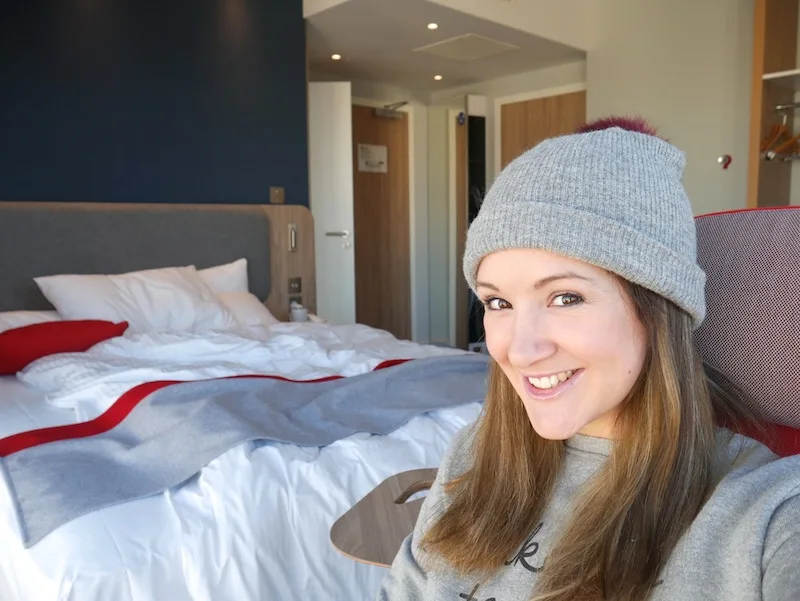 Breakfast
Breakfast the following morning was another welcome surprise with a delicious buffet. Once again, I've had more than my fair share of unappetizing breakfast buffets but this one did not disappoint.
A full English was on offer with delicious sausages, bacon, baked beans, scrambled eggs, toast, croissants, cereals, yoghurt, fruit and muffins as well as fresh juice and an unlimited amount of tea and coffees.
Breakfast is included for all guests and this really is a bonus as a breakfast like this would cost you a lot in many London hotels.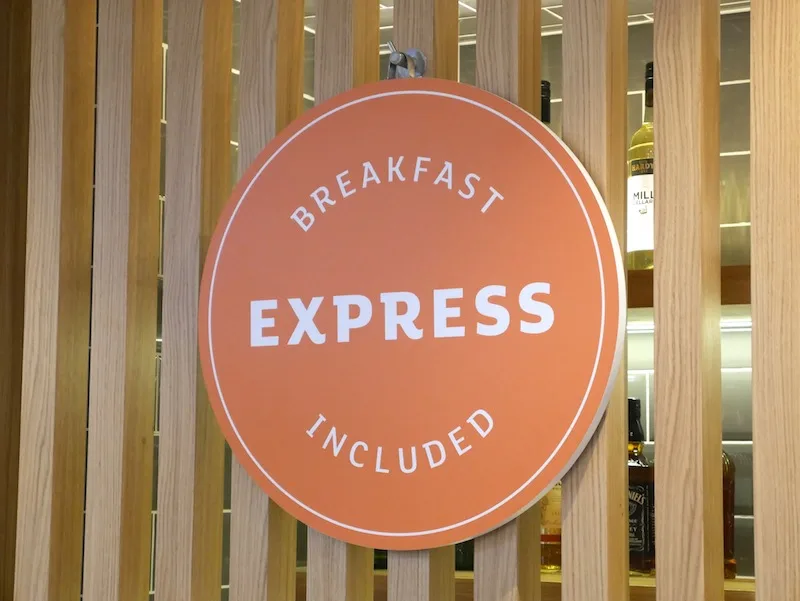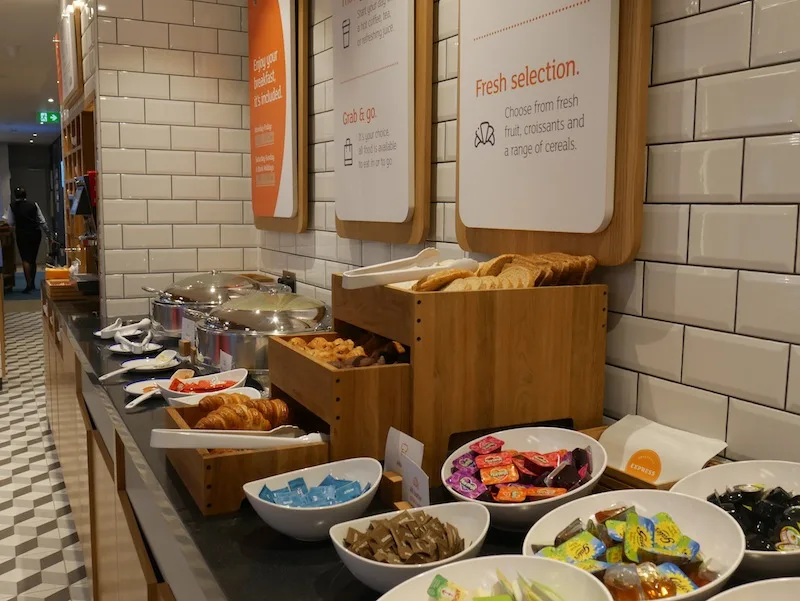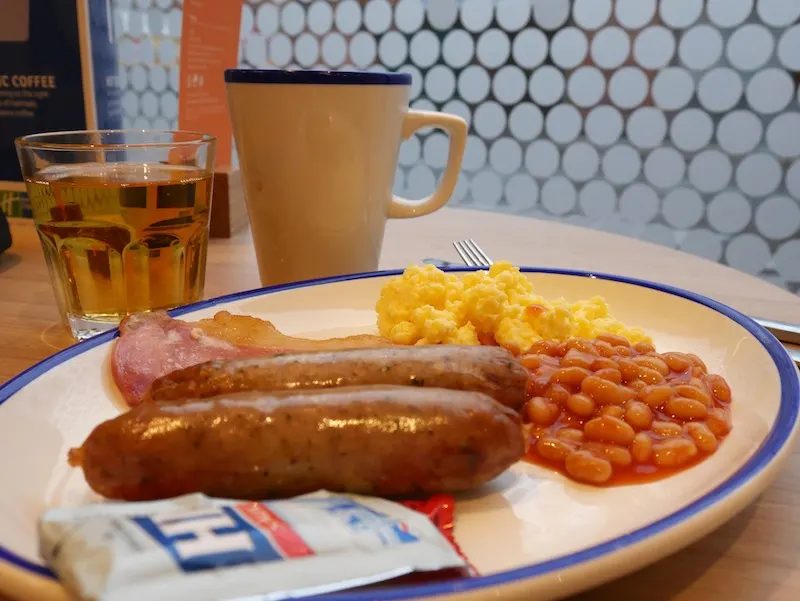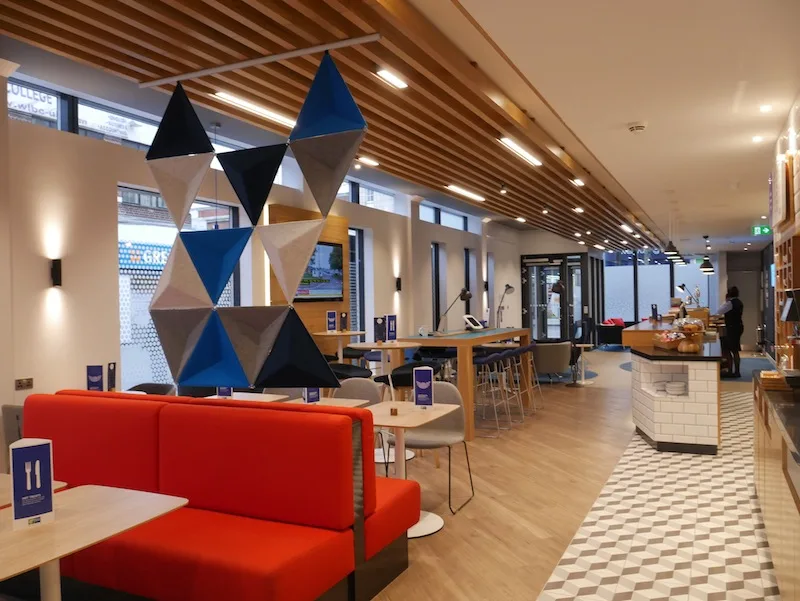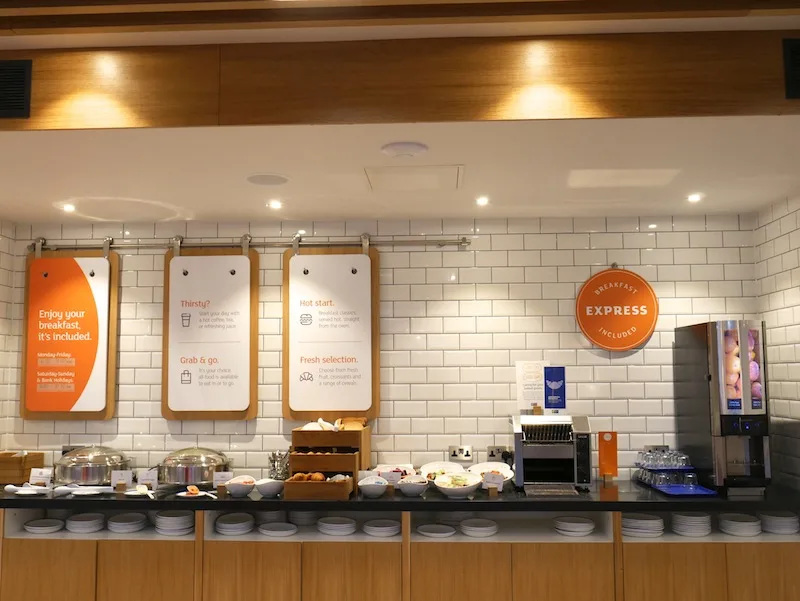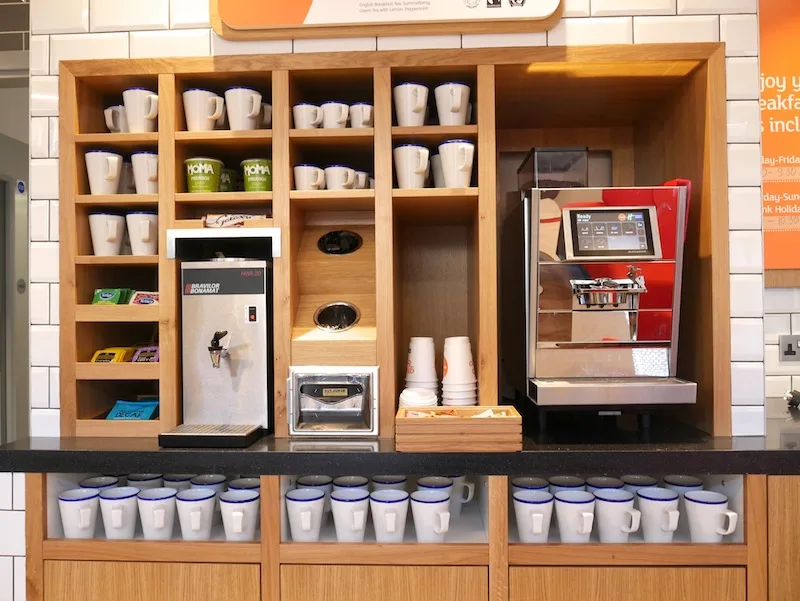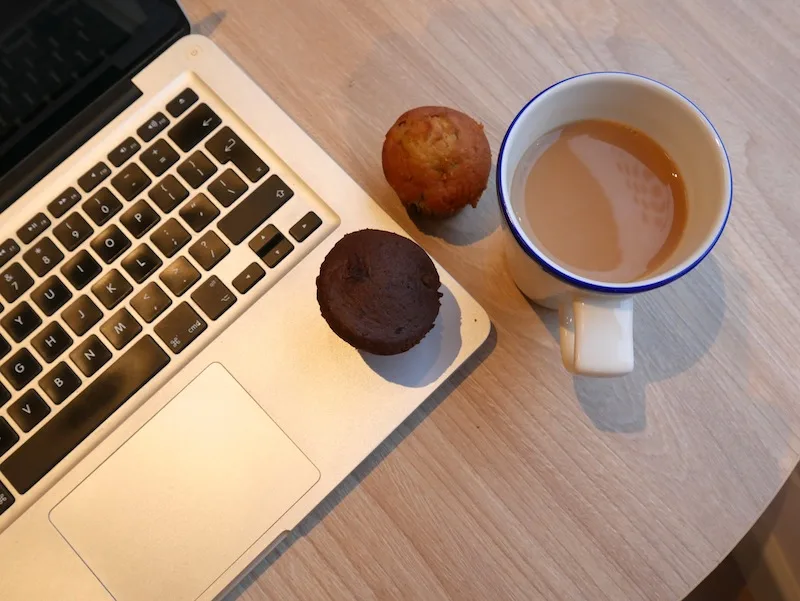 Final thoughts
Nearly 2 years ago I wrote this blog post, '10 Things I Wish all Hotels Had'. I wrote it after staying in a 'posh' hotel that looked nice but the experience was horrible because it obviously hadn't been designed with the guest in mind. There was one plug socket and it wasn't next to a mirror so I couldn't dry my hair properly. The air-conditioning and lighting system was so difficult I couldn't figure out how to turn anything off at night. There was free water but the housekeepers always left it out the fridge so it was warm.
"Come on, it's not rocket science," I kept thinking to myself. "The secret to a great hotel room is so simple, why are so many hotels getting this wrong!?"
I've gone a bit off track here but I feel like the Holiday Inn Express read this post (and read my mind) and have simplified everything but just made it so good.
A good hotel just needs to be clean, comfortable, stylish and welcoming. The staff need to be friendly and efficient without being too friendly or as though they're in a rush to get rid of you.
The food should be simple, delicious and affordable and, most importantly, the bed should be ridiculously comfortable. Everyone prefers their own bed but when a hotel comes a very close second, you know you're doing something right!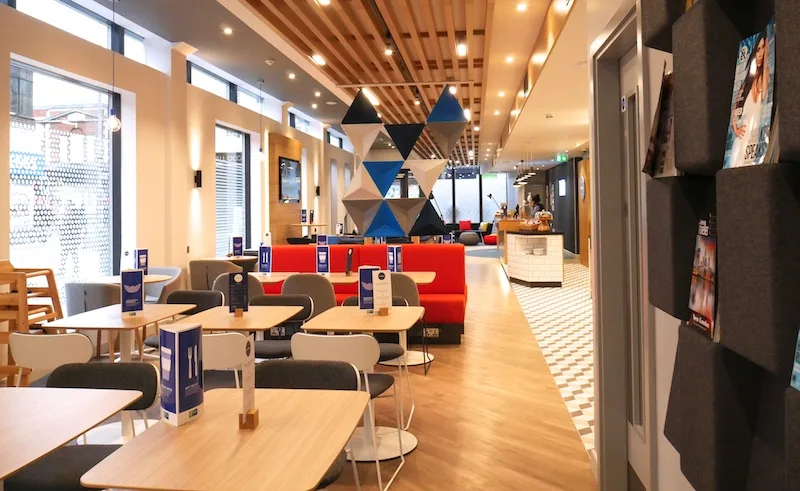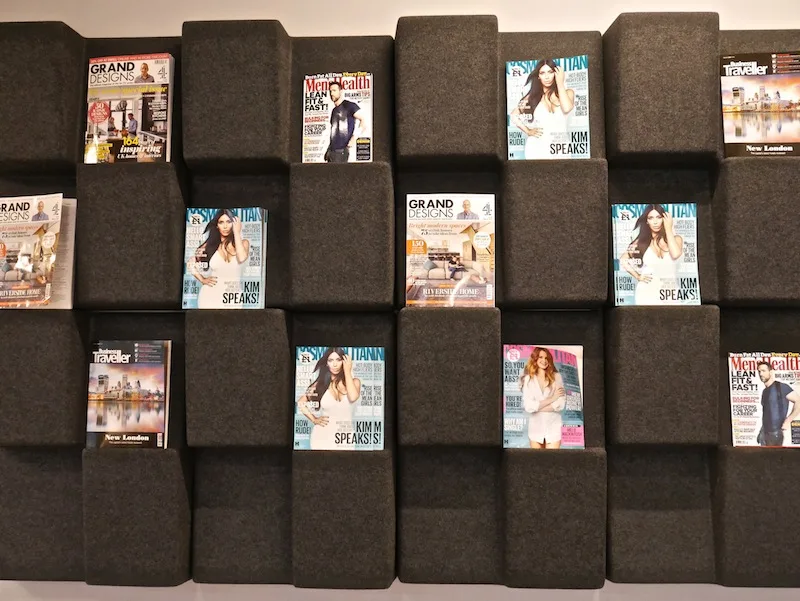 Who would stay at the Holiday Inn Express in Ealing, London?
Anyone visiting London on a budget – at around £85 per night this is a very affordable option for London. It isn't the most central location but it's very well connected via the Central Line, buses and train stations. It's generally very difficult/impossible to find a nice hotel in London for under £100.
Anyone travelling to Heathrow as it's only 8 miles from Heathrow and on the Heathrow Connect train line.
Business people and contractors who are working in the area
---
Disclaimer: My stay at the Holiday Inn Express Ealing was complimentary in return for this review. As always, all thoughts and opinions are my own.
To get the lowest guaranteed price on a hotel room join IHG® Rewards Club for free and book direct with Holiday Inn Express. For more information visit: www.ihg.com/holidayinnexpress/hotels/gb/en/reservation