It's easy to fall in love with Budapest.
Made up of two cities, Buda and Pest are divided by the majestic River Danube. And although both sides are now joined by a number of spectacular bridges, they're two very different places, each with a unique character, and each offering plenty to keep you busy.
There are so many amazing things to do in Budapest that a weekend isn't enough time to see it all. Seriously. On our last night there, Monica and I discovered an epic area of hipster bars and restaurants, as well as some incredible vintage shopping, but we only had time for one last meal.
But the great thing about not ticking everything off your to-do list is that you have an excellent excuse to return. I'm already dreaming about a trip back there to eat and bathe my way around this stunning Hungarian city. If you're short on time during your trip to Budapest then I recommend taking a 3-hour sightseeing tour. This will help you quickly tick off all those must-see sights so you can then get on with exploring the hidden gems. And if you're lucky enough to be going soon, these are the ten things you shouldn't miss while you're there.
#1. Relax at the thermal baths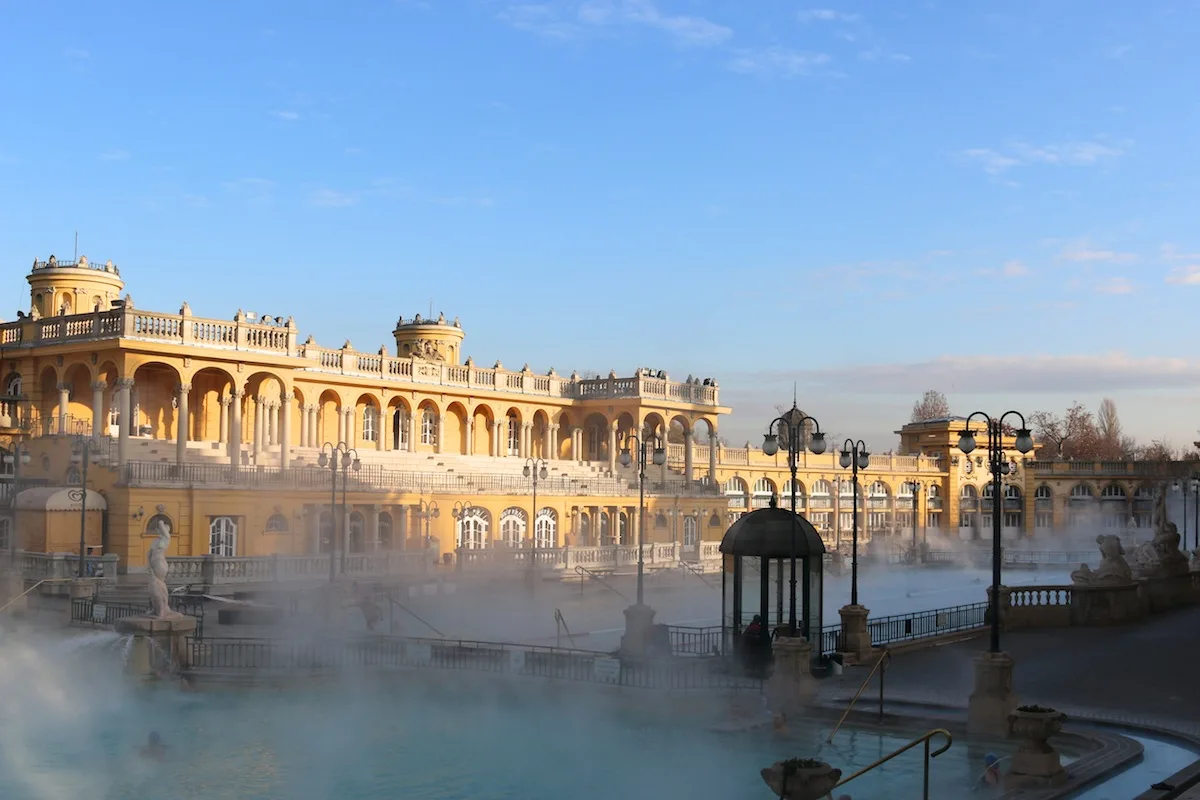 Bathing is a major pastime for locals as well as tourists in Budapest, and there are plenty of baths to choose from. The thermal water is warm year-round (the coolest pools are 27 degrees Celsius), so even a winter visit to Budapest means you can strip down to your togs.
The most famous of all of the baths – and also Europe's largest medicinal bath – is Széchenyi, a sprawling Neo-baroque building that's home to indoor and outdoor pools as well as a sauna and steam rooms. Another popular bath in Budapest is Gellert, a smaller but equally beautiful building that makes you feel a little bit like you're swimming inside a cathedral.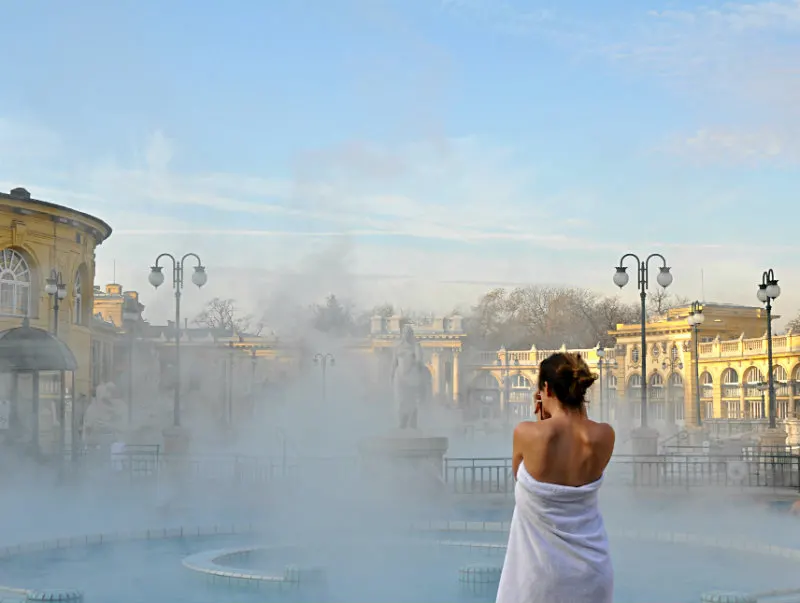 #2 Check out the views of Pest from Fisherman's Bastion
For sweeping views of the city, head up to Fisherman's Bastion on the Buda side of the river. Right across the Chain Bridge from Pest you'll find a funicular that ascends to Buda Castle. If you're feeling fit (or don't fancy paying) you can climb the stairs that wind their way up the steep hill.
The effort will be worth it though, as the views are incredible! Head to Fisherman's Bastion (and admire the multi-coloured tiles on Matthias Church while you're there) to see the intricate Houses of Parliament, Chain Bridge, and the vibrant city of Pest from above.
#3. Claustrophilia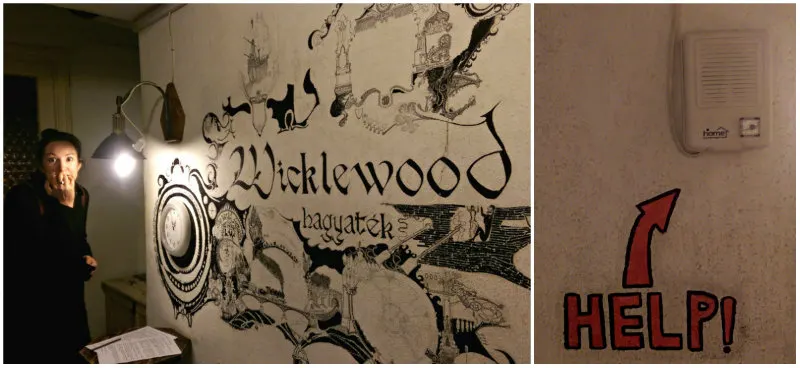 Not your average tourist attraction, Claustrophilia is really a must-do for anyone visiting Budapest. It's an experience, rather than a sight, but it's one you'll never forget. I can't tell you much without giving things away and ruining it, but I can tell you this: you'll love it.
Claustrophilia is challenge; a puzzle. You're given 60 minutes to solve clues and get out of the room you're in. Don't worry, though – it's not as claustrophobic as the name suggests. Nor is it jump-out-of-your-skin scary (unless, of course, your companion screams at random intervals. *cough*Monica*cough*).
I know I'm being cryptic, but trust me: the less you know before you go, the more fun you'll have. Just promise me you'll try it!
#4. Eat cake at Cafe Ruszwurm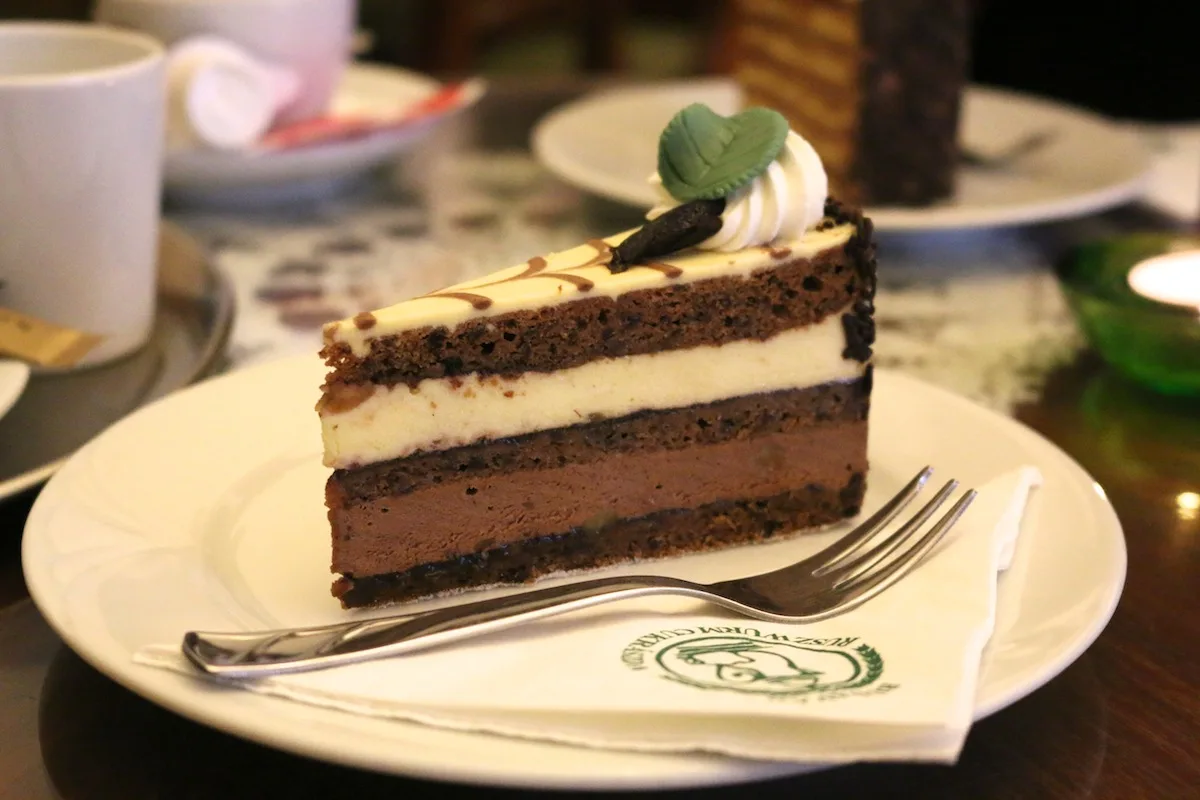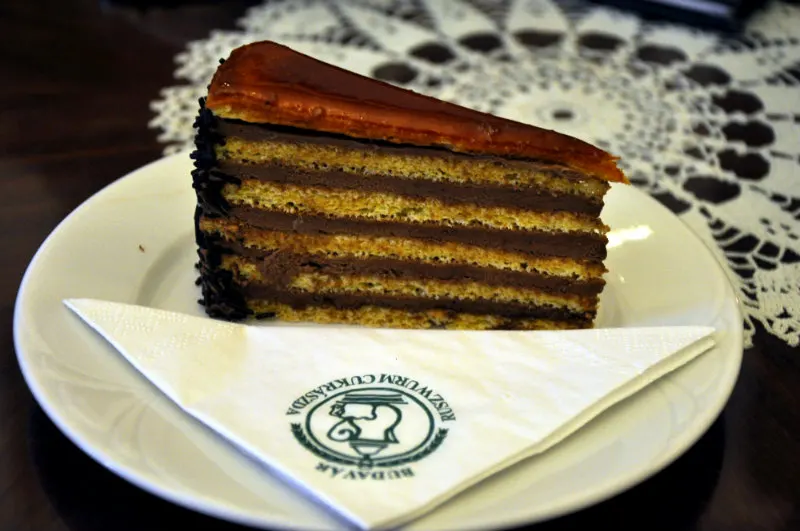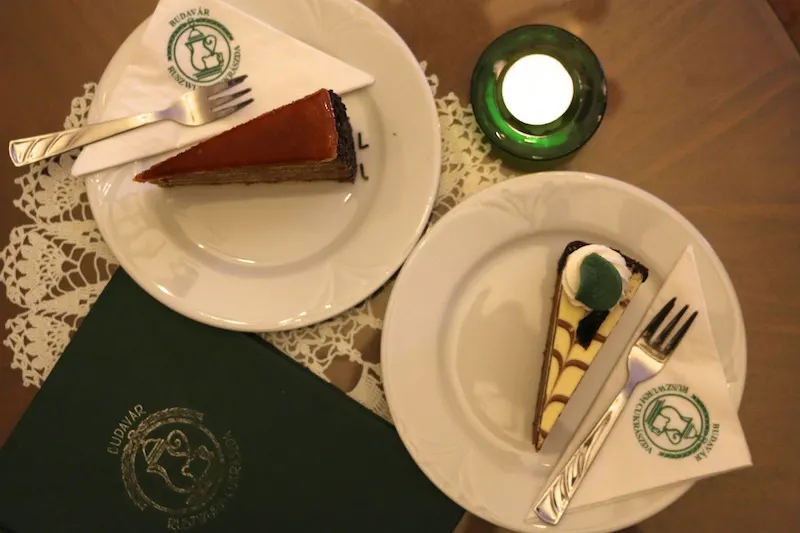 One of the famous 'Old World' coffee houses of Budapest, Ruszwurm is a charming spot in Buda to stop for a bit of light refreshment. In the early 1900s, cafe culture was a huge part of life in the city, especially for writers and artists – the hipsters of their time.
Ruszwurm is the oldest of the Budapest cafes, and one of the few to survive the world wars. Apparently it was once so popular that the Queen of Hungary would send her staff there to buy cakes for breakfast. And the cakes really are delicious!
For a properly traditional Hungarian coffee house experience, try the seven layer cake, or dobostorte.
#5. Party at Szimpla Kert ruin pub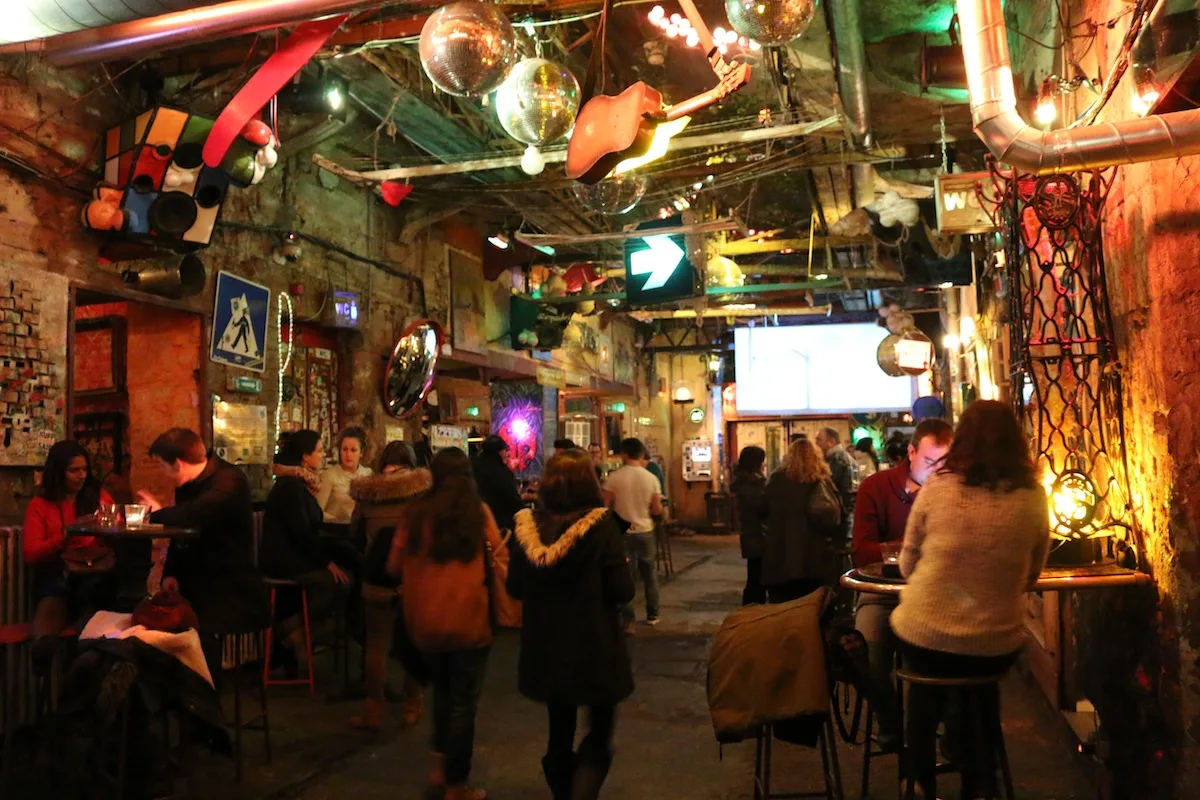 Ruin pubs are one of the most unique and quirky things to try in Budapest. They are not (necessarily) a place to get ruined, despite their name. Rather, they're ruined old buildings that have been turned into pubs and bars around the city.
The highest concentration of ruin pubs can be found in the trendy Jewish Quarter, and the most popular of all is Szimpla Kert, a derelict maze of bizarrely-decorated rooms and outdoor nooks. You're guaranteed a night out like no other when you visit one of the ruin pubs of Budapest.
#6. Marvel at the interior of St. Stephen's basilica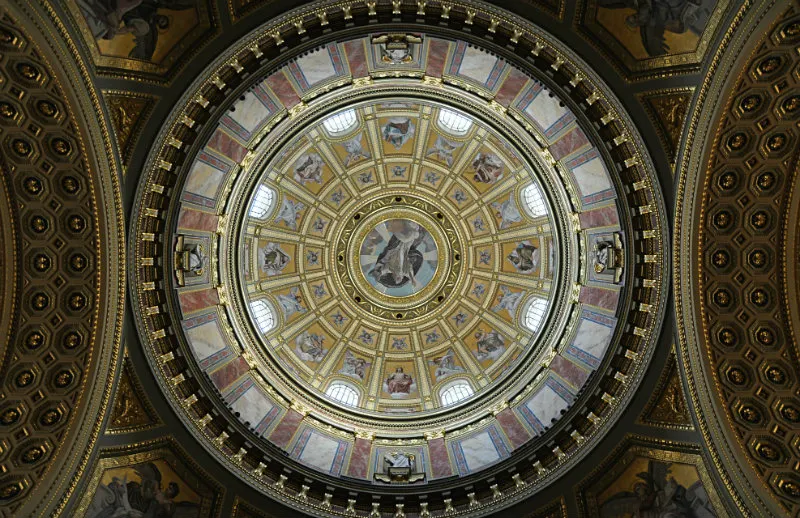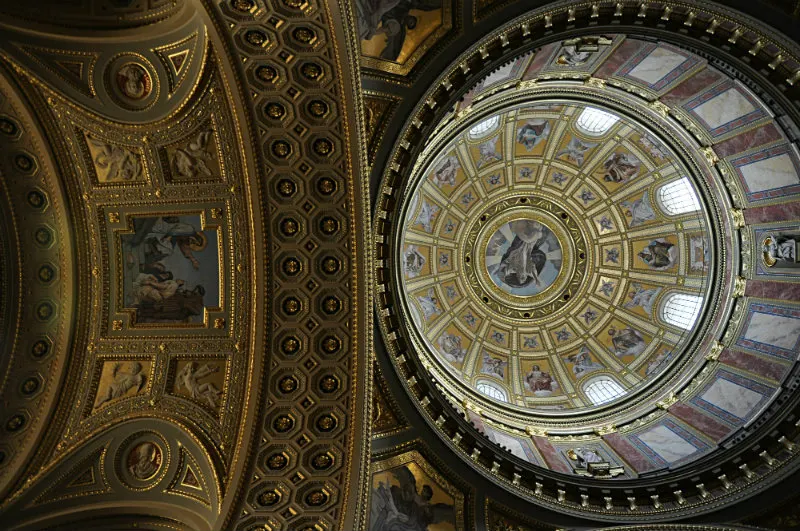 I love visiting churches when I'm in a new destination, and in Budapest there are loads to see. My favourite was St. Stephen's Basilica, a grand-looking building in a wide, paved courtyard that makes for excellent pictures both inside and out.
Entry is by donation of HUF 200 (around 50p), but the donation is made compulsory by the stern guy at the door gruffly muttering 'donation' in a thick Hungarian accent at everyone who enters. The interior is practically dripping with gold details, intricate decorations and spectacular paintings – be sure to look up to see the kaleidoscopic cupolas.
#7. Try traditional Hungarian goulash at the Opera House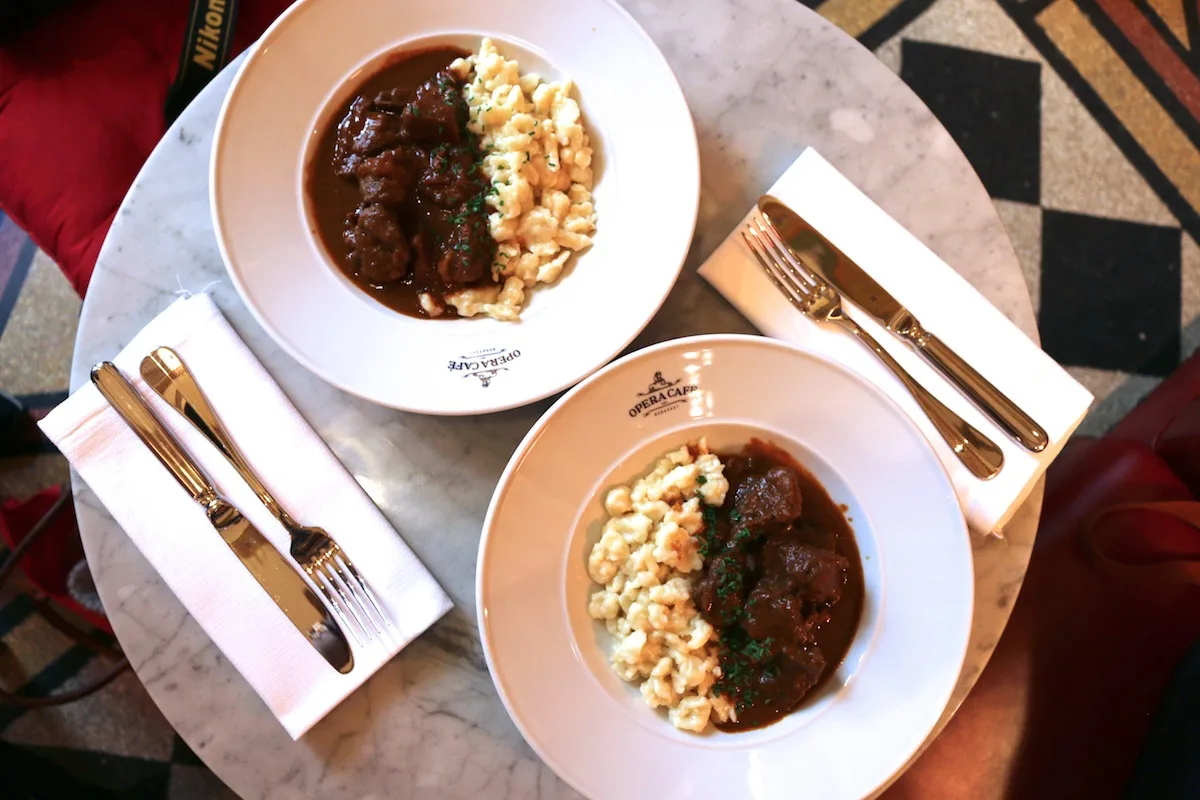 Traditional Hungarian food is hearty and warm – perfect for the country's long winters. There's a noticeable absence of fruit and veg on menus around the city, but you can always order sides if you're craving a few more vitamins. Goulash is one of the most popular dishes, and you'll find it all around Budapest.
My favourite place to eat this rich beef stew is in the Opera House, a grand building located on Andrassy Utca. This shopping street is lined with old majestic architecture, and the Opera House is no exception. The cafe, furnished with plush red leather chairs and gleaming marble tiles, also serves an enticing collection of jewel-coloured cakes.
It's OK, you can walk it all off while shopping later.
#8. See the Parliament building up close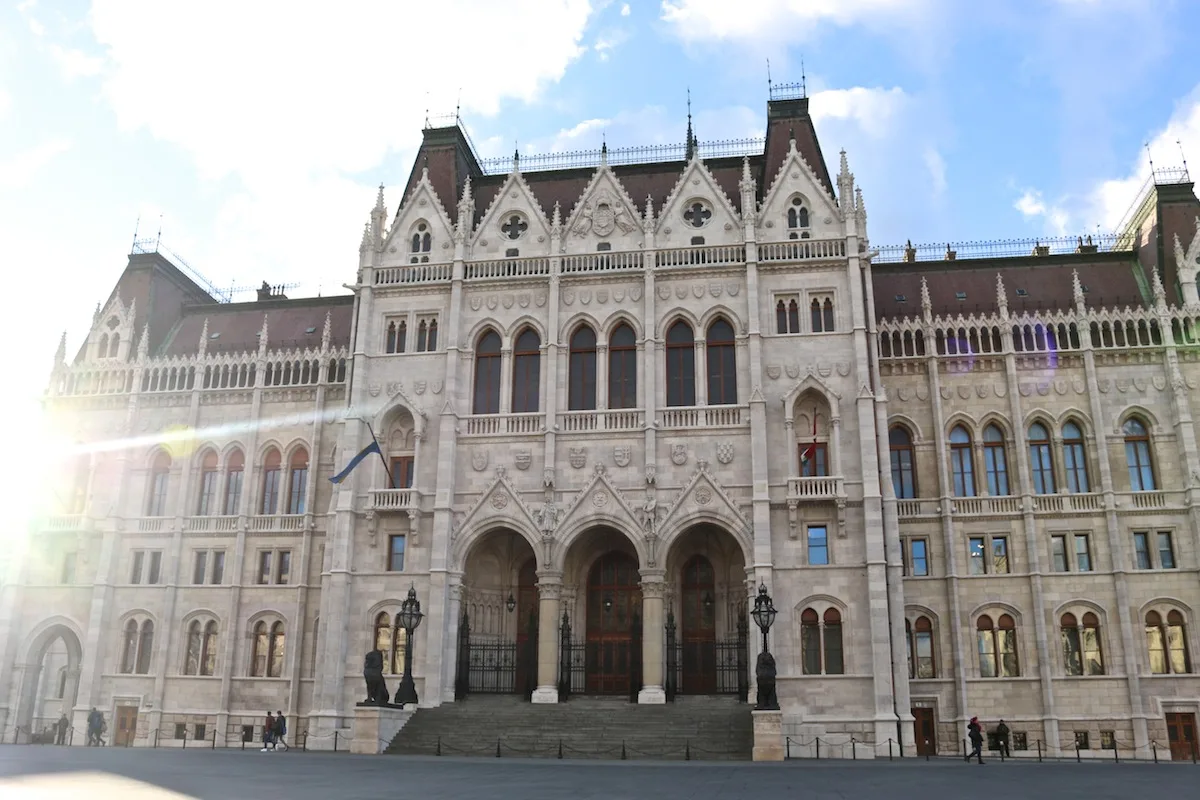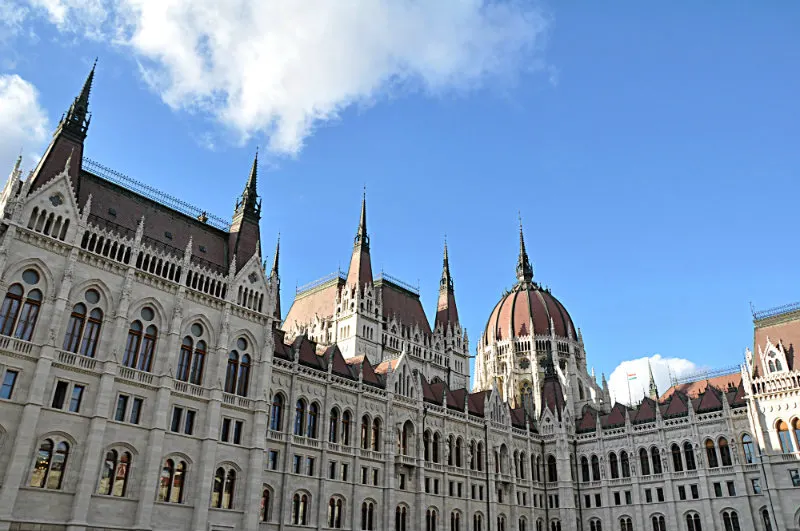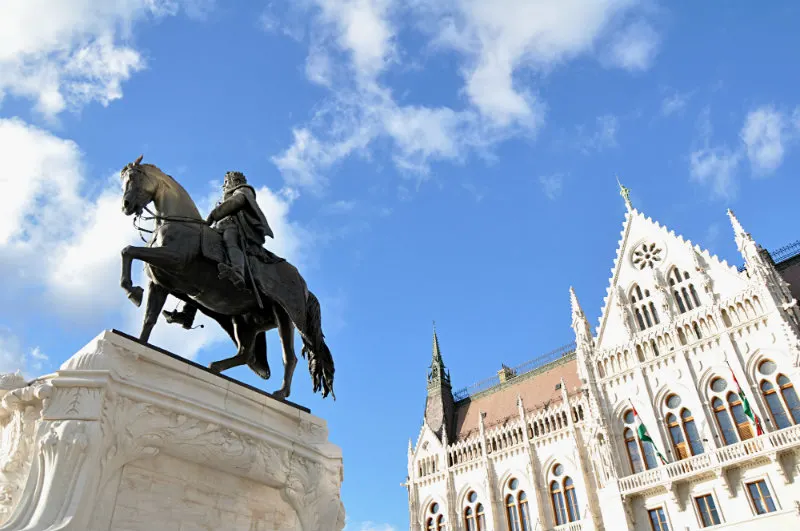 One of Budapest's icons is the Neo-Gothic Parliament building, often photographed from across the river at Fisherman's Bastion. But it's even more spectacular up close. The third largest parliament building in the world, it's over 100 years old and is home to over 20 kilometres of stairs! The Hungarian politicians must all be pretty fit.
You can see the inside of this limestone building if parliament isn't in session, for a fee of around HUF 2,000 (double it if you're not an EU citizen – sorry). I didn't get to see the interior, but I hear it's unbelievable. Either way though, the outside is beautiful and well worth inspecting up close.
You can also take a guided tour of parliament for £22.40!
#9. Eat & drink to your heart's content in Gozsdu Udvar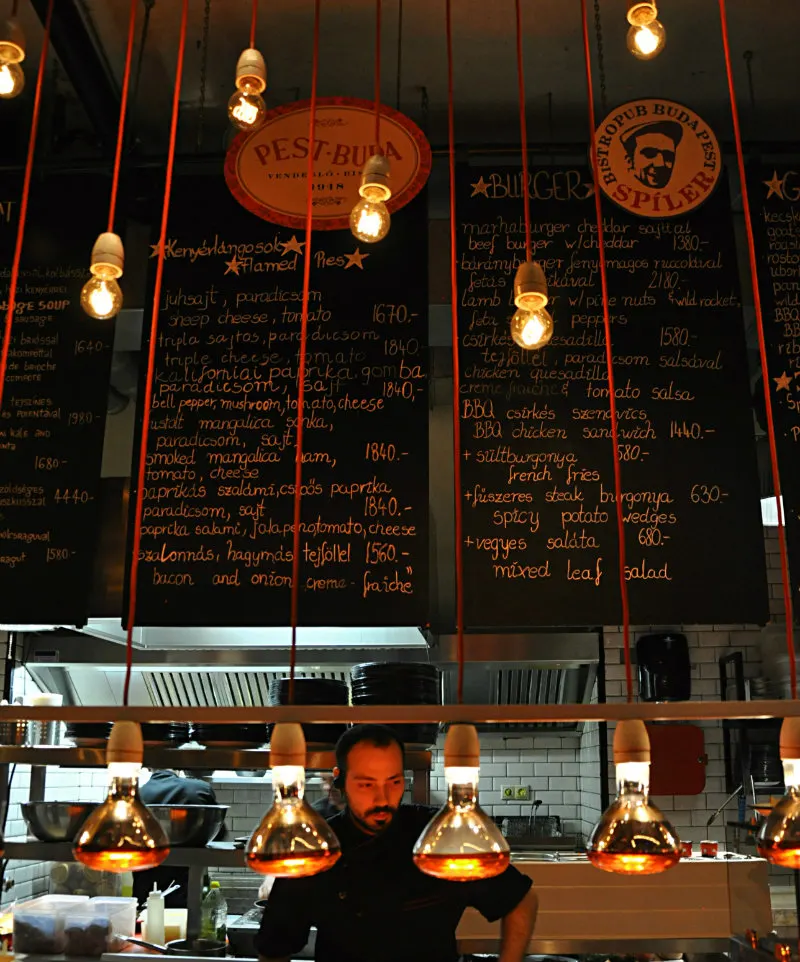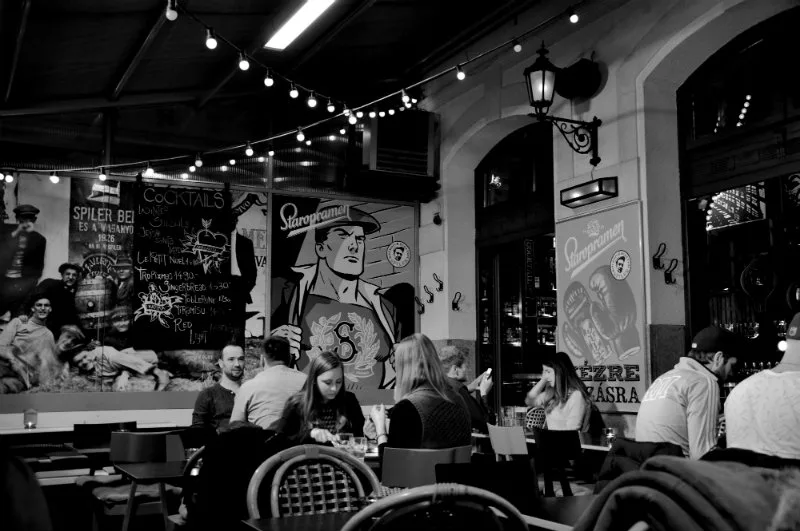 Foodies, listen up: head straight to the city's Jewish quarter and find Gozsdu Udvar (or Gozsdu Courtyard). Here you'll find old passageways packed with hipster bars, restaurants and pubs, each with a menu more mouthwatering than the last.
We visited Spiler (said to be worth the flight to Budapest alone – and while I wouldn't necessarily agree with that statement, the food was pretty flipping good) for a beer and burger and kicked ourselves for not discovering the area sooner.
Learn from our mistakes. Go there first.
#10. Coffee at New York Cafe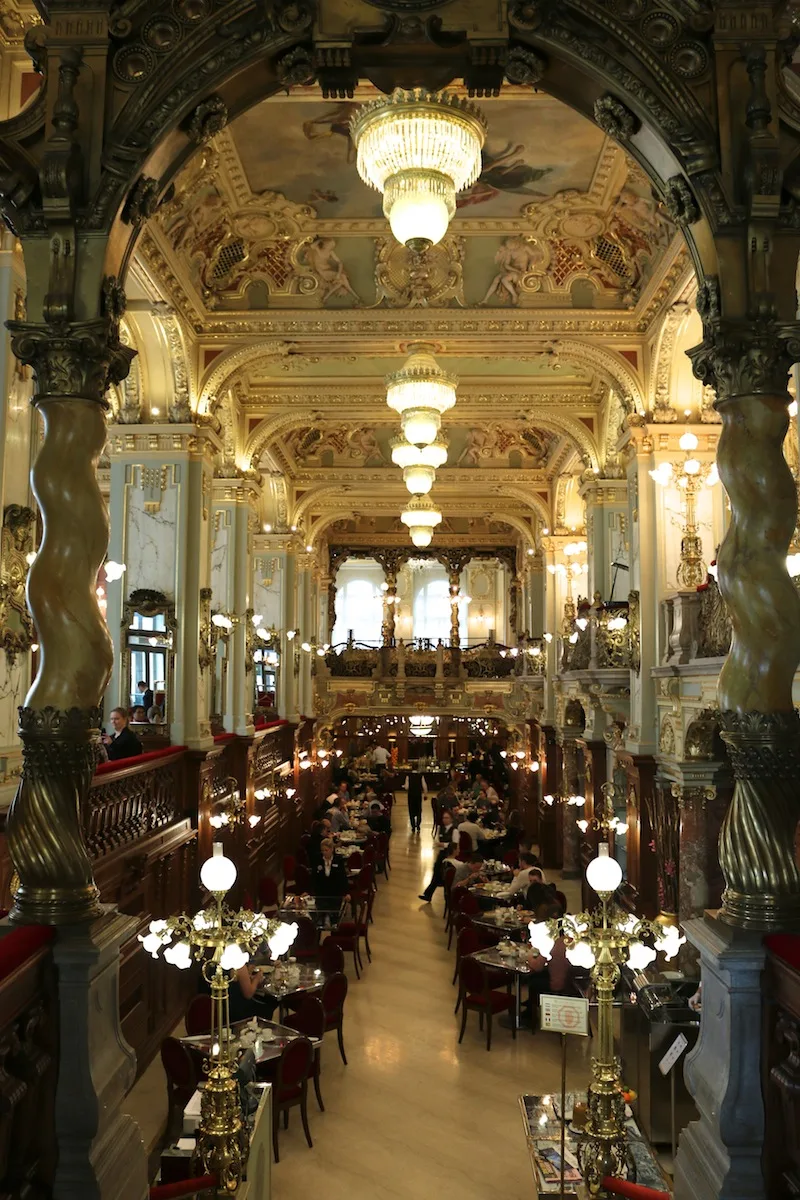 SO many people told us we should try this cafe, so after a supremely early photoshoot and a bit of relaxing in the waters of Széchenyi, we figured we deserved a treat. New York Cafe, tucked inside the Boscolo Hotel, has been called the most beautiful cafe in the world, and I struggle to disagree. It's like the inside of a palace, or a really fancy theatre, and it's full of tourists gaping at the beauty.
Although it's definitely worth a visit for its looks alone, the food and service aren't great – especially for the higher-than-average prices. Grab a coffee here and enjoy the four levels of opulence, but go elsewhere for breakfast.
Have you visited Budapest? What else would you add to this list?
Pin this for later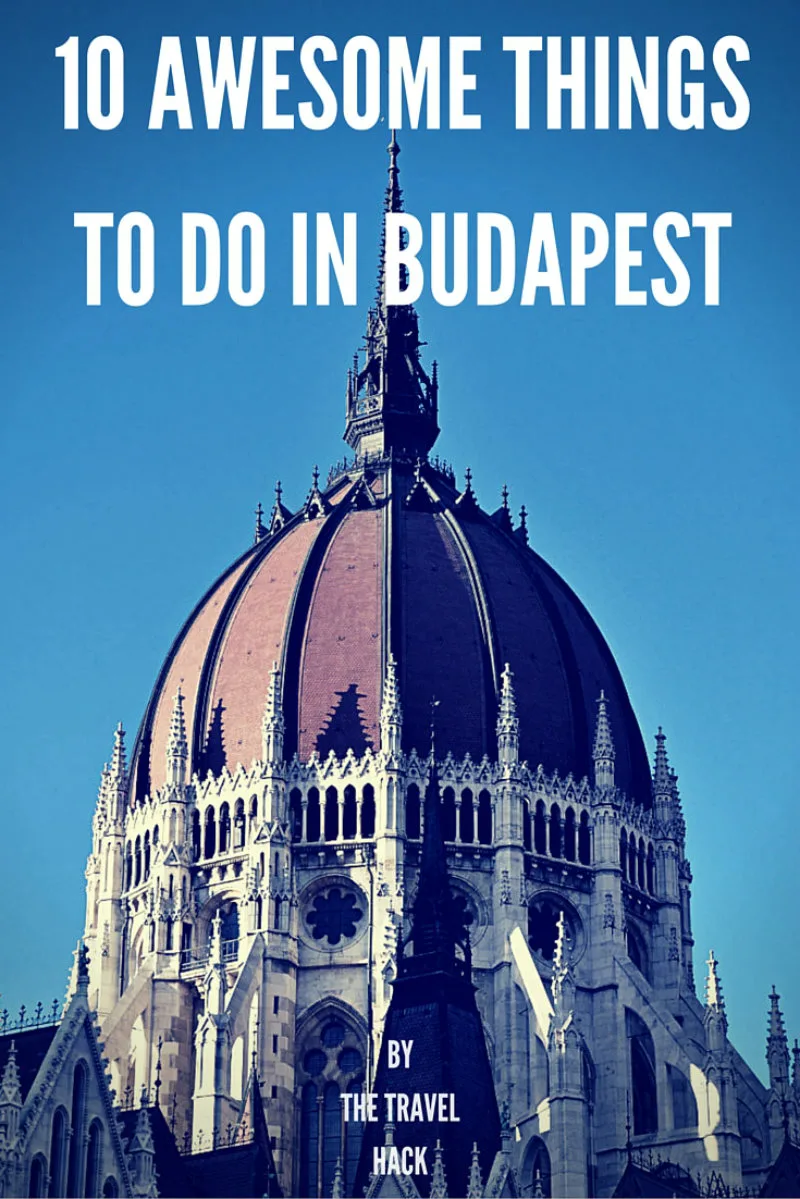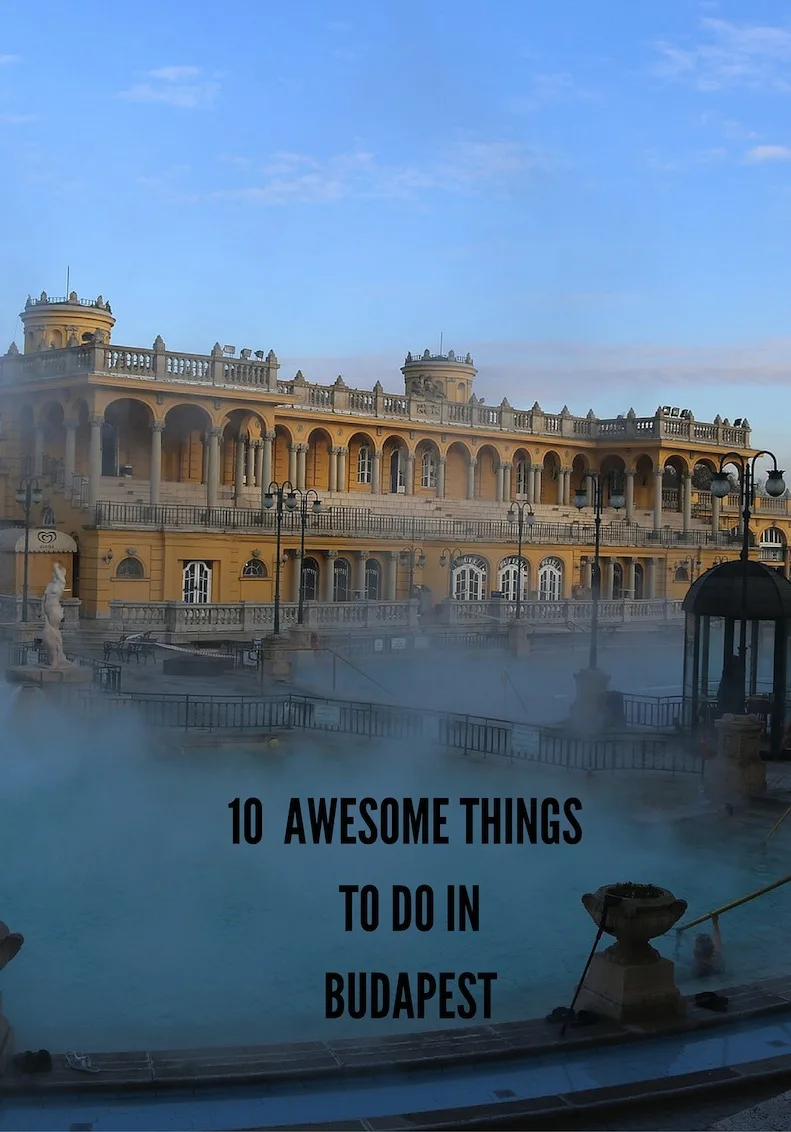 Here are some great tours you could do while you're in Budapest.